A broad red "carpet" designates the official route of Morgan factory tours.


Tour Morgan Motor Company's Factory in its 100th Year
as published in BritishV8 Magazine, Volume XXI Issue 2, December 2013

by Curtis Jacobson


Change in the Works
Morgan Motor Company is celebrating 100 years of production at its workshops on Pickersleigh Road in the charming spa town of Malvern Link. This article puts the celebration in context. On the first Monday of October 2013, BritishV8 dropped in and toured the Morgan works. Our report shows what has always made Morgan special and also what changes are occurring at Great Britain's oldest independent automaker.

Morgan builds uncommonly lightweight and nimble sportscars, and they do so with old-fashioned manufacturing techniques. Along our tour route we saw wood shaped with rasps, chisels, and planes. Aluminum body panels were cut and formed with handtools. Leather upholstery was hand sewn. On the other hand, elaborate and curvaceous aluminum fenders are now made by a partner company nearby where instead of using conventional mechanical presses, air pressure is used to blow super-heated aluminum into one-sided steel molds. CNC machines mill wooden assemblies with great precision, but our tour didn't pass into that part of Morgan's plant so our overall impression was "pre-industrial". There's never been a mechanized assembly line at Morgan. Cars may or may not move in a predictable order from one workstation to another. Morgan doesn't throw around fashionable industrial engineering terms like "kanban". They trust skilled workers to work calmly and smartly together.

And the company is booming! In 2012 they built almost 1000 vehicles. That's a build rate unseen since before World War II. 2013 has been an even busier year. Morgan has introduced new models and they're entering new markets. A new Morgan dealership has just opened in China's Shandong province. Yet Morgan seems to be standing on a dangerous precipice in at least two respects.

The first danger may be more omen than actual. Ash wood is a critical component of every Morgan vehicle. A terrible fungal blight is rampaging across Europe and Great Britain. Asian spores travel on a foul wind. Many millions of trees are affected. At some point in the foreseeable future Morgan will have to import ash wood from much farther afield and/or utilize a different species.


More importantly, Morgan management is in transition. The company is family-owned and has always had at least one family member engaged in day-to-day management. That changed on October 16th. Ostensibly due to a schism between family members, Charles Morgan has been banished. In his term as Managing Director, this grandson of the firm's founder had been credited with doubling the firm's sales. He had certainly been the driving force behind diversification of the model range and behind Morgan's return to motor racing. His charismatic presence has been popular with factory workers and customers alike. BritishV8 is in no position to predict implications of the change. At this time, we can only report that change is underway.

Change is unfamiliar at Morgan. The Morgan Motor Company was founded by Henry Frederick Stanley Morgan. "H.F.S." had previously studied engineering and had served as an apprentice at the huge G.W.R. railway factory in Swindon. Production of the Morgan "Runabout" three wheeler model began in 1911 at H.F.S. Morgan's garage business on Worcester Road. That garage was soon outgrown. In 1914, Morgan bought the site BritishV8 visited on Pickersleigh Road. Production moved into a new building there shortly after WW1 ended. H.F.S. Morgan continued to run the firm until 1959. Then, his son Peter led until 2003. From 2003 to 2006, Alan Garnett served as Managing Director, but Charles was there helping. Charles Morgan became part of a four-man management team in 2006, and was named Managing Director in 2010. The Pickersleigh Road works has been the physical and emotional heart of the company ever since it opened. Morgan has been sheltered in these old brick buildings.

Below, we present the Morgan factory in approximately 100 captioned photos. The company's products are central to the story, so we'll start with an overview:


Three Current Model Ranges: Classic, Aero, and Three Wheeler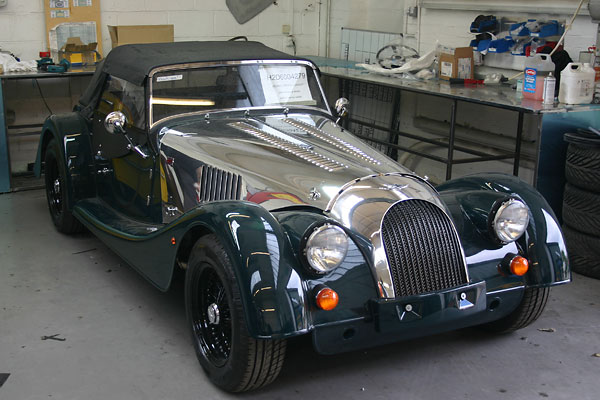 The Classic range includes "4/4", "Plus 4", "Roadster" (V6), and "Plus 8" models.
This range has evolved over more than three quarters of a century.
Pictured: one of only fifty spectacular 2014 "Brooklands Edition" Roadsters.
(I wish I had stepped over and latched its bonnet down tight for this photo.)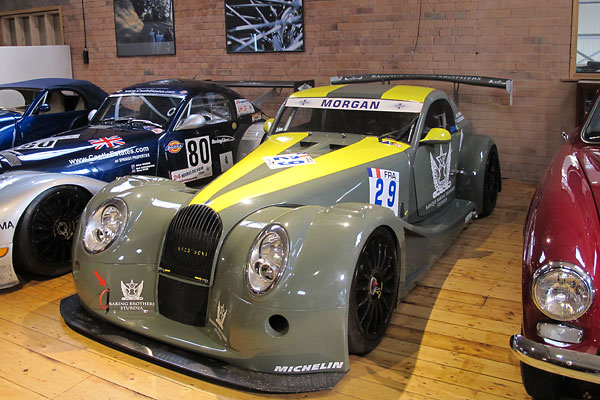 Launched in 2000, the Aero range is a new Morgan for a new century. The Morgan
website and current brochures show "Supersport" (targa) and "Coupe" (GT) variants
exclusively. During our tour we also saw a proper soft-top convertible version.
Aero models feature aluminum chassis and they're powered by BMW V8 engines.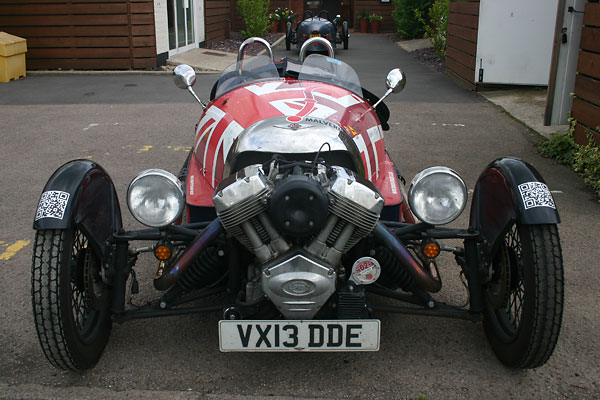 The Three Wheeler range was launched in 2011. Already, over 1000 have been delivered!
With the Three Wheeler, Morgan has returned to the United States market. It's considered
a motorcycle, so it doesn't have to be certified to U.S. crashworthiness standards.
In addition to standard and bespoke offerings, "Superdry" and "Brooklands"
themed special editions are currently available.


Meeting Outside the Reception Building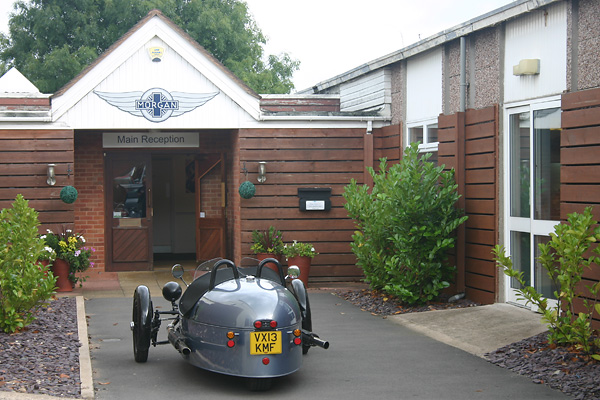 The Morgan Motor Company Visitor and Conference Center is where guided tours start
after a brief welcome video. Tours cost £12.50 per person and MUST be pre-booked.
Details may be found at www.morgan-motor.co.uk. Phone: +44(0)1684573104.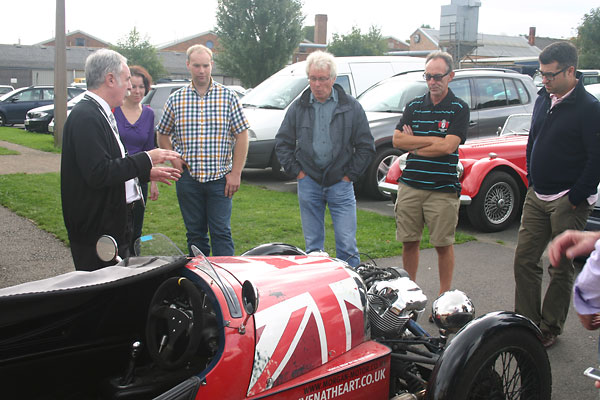 Tour guide Robert Dance led us outside where we gathered around examples of Morgan's
newest model, simply called "Three Wheeler". It's a time machine which lets you travel
back to when the company started. Morgan built three wheelers for 25 years before
introducing their first four wheeled automobile.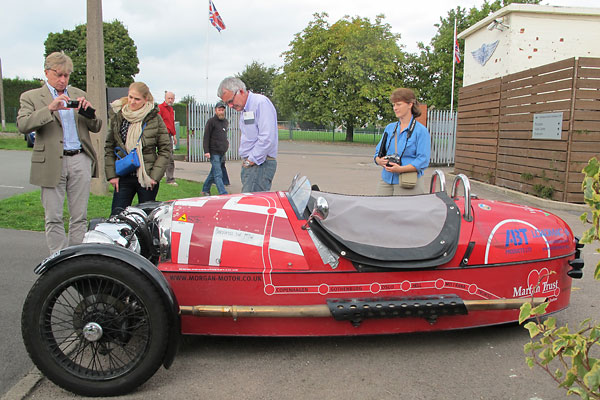 Morgan's three wheelers declined in popularity after WWII. Morgan finally discontinued
production of them in 1953 to focus exclusively on four wheeled models.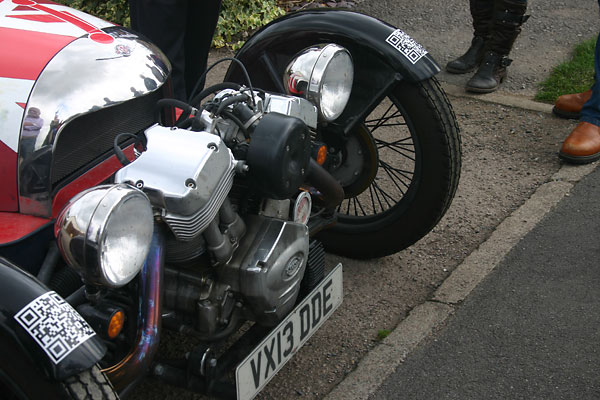 An S&S Cycle produced 1976cc V-twin engine coupled to a Mazda 5-speed gearbox provides
82 bhp at 5250 rpm, 0 to 62 mph in 6.0 seconds, and 115 mph top speed. It weighs just 1157#!
In England: £25,950 base price, plus VAT. In U.S.A: ~$45,000.


Walking Across The Grounds

That's a new "Aero" convertible in the foreground. But please note the buildings to the right.
Our tour started in the furthest one, then proceeded downhill through four more before
crossing the road to visit three on the left. The natural incline is used to advantage:
cars are generally hand-pushed downhill from building to building as they're assembled.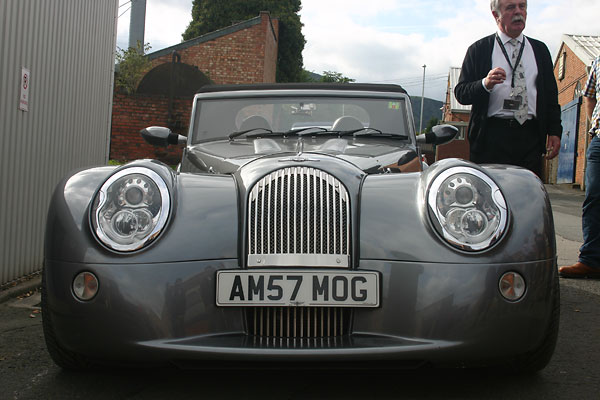 "21st Century Coach Building" is the description our guide used. The Aero range features
elaborate "Super Plastic-Formed" (SPF) aluminum bodywork. Super-heated aluminum panels
are formed onto (or into) one-sided steel molds, primarily by application of pressurized
air. The SPF process is now used for the sweeping fenders of the Classic models too.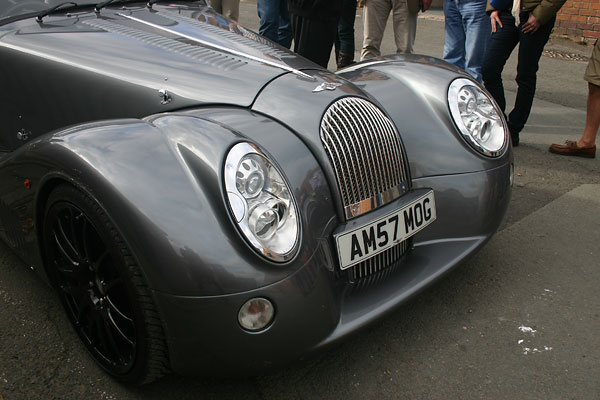 Prime mover? The Aero range comes with a 4799cc BMW V8 rated 367 bhp at 6500rpm and 370 lb/ft
of torque. Customers are given their choice of a BMW 6-speed manual or a ZF 6-speed automatic.
which produce ratings of 23mpg (manual) or 26mpg (automatic) combined average fuel economy.
Width 1751mm. Dry weight 2601#. ABS, cruise control, electronic brake distribution, and drag
torque control are all standard features. All leather components are hand-stitched.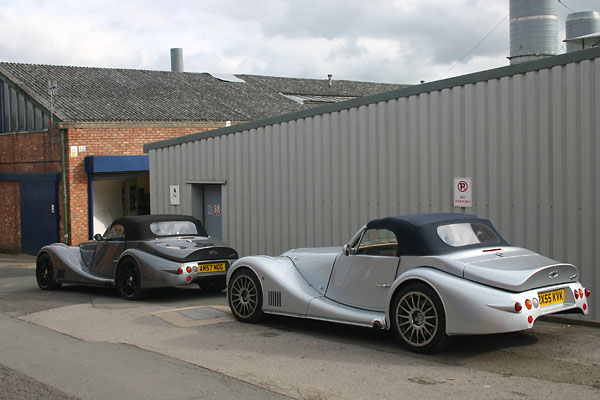 Base price for an Aero Coupe is currently £83,292, to which you may need to add Britain's
Value Added Tax. (That converts to about $135,000 U.S. dollars before taxes, etc.)
However, this photo shows Aero convertibles, not coupes and not Supersports.
This model isn't currently listed in Morgan sales literature.


Step Into Morgan Headquarters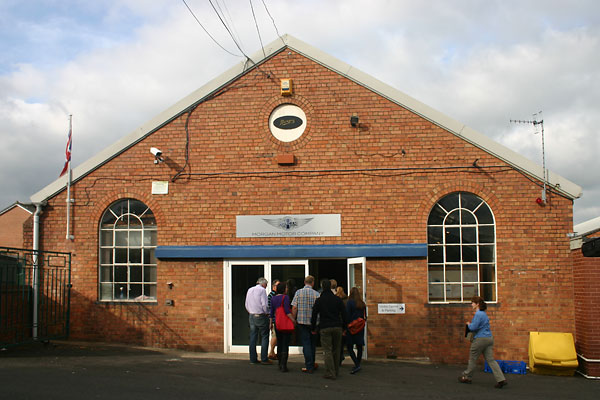 Headquarter offices are housed in the Pickersleigh Road site's original production
building. We stepped inside the lobby to see a small display of historic Morgans.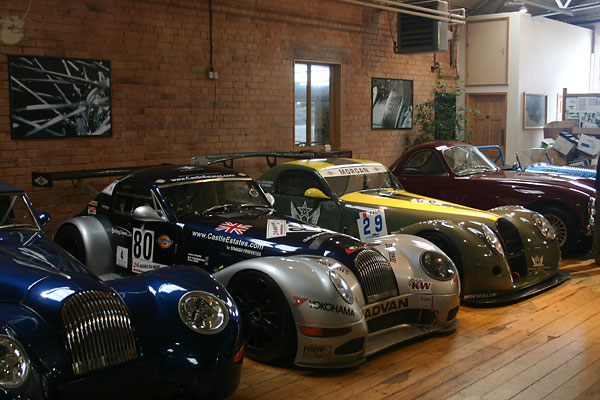 The #80 Aero 8 GTN had good potential and bad luck. It completed 222 laps in the 2004
24 Hours of Le Mans race, but the winner that year completed 379 laps. The #29 Aero
and its teammate (not shown here) split victories in the first two races of the 2009 FIA
European GT3 Championship Series, upsetting factory-supported Audi R8LMS and Aston
Martin DBRS9 racecars and a very large field. That two-car Morgan team ultimately
finished fifth of fifteen teams in points over twelve Championship Series races.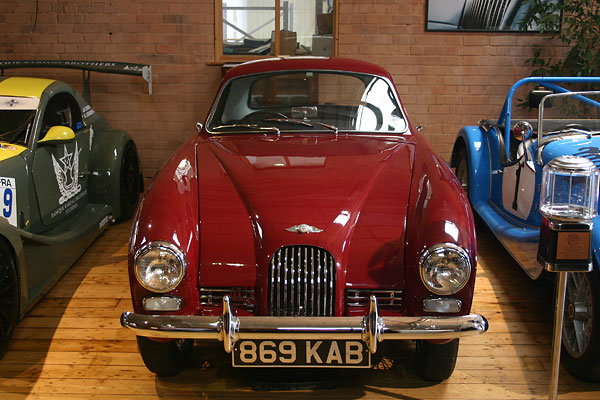 This is my favorite Morgan model, the "Plus 4 Plus". Sadly, stars were out of alignment for it.
Introduced in 1963, only 26 of these were ordered and built. (All 26 are accounted for. At least
one still vintage races in Europe.) Look beneath this Plus 4 Plus' beautiful fixed head coupe body
and you'll find a normal Plus 4 chassis and Triumph engine. Morgan fans didn't embrace this model,
and it didn't help Morgan sell into new markets or niches either. If it had been introduced a few
years earlier, potential customers might have compared it favorably to heavier cars such as the
(similarly Triumph powered) Peerless GT. On the other hand, if an equally handsome coupe body
had been offered on the Plus 8 chassis... well, we'll never know what might have happened.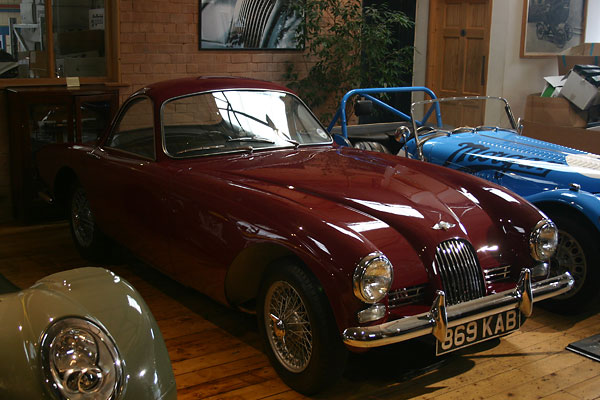 Triumph discontinued their 2138cc four cylinder engine in 1968, which left Morgan scrambling
to find a suitable replacement. Ulitmately, they sourced a Ford engine for the Plus 4 model.
While beating the bushes, they were also offered Rover's fantastic aluminum V8. An opportunity
they couldn't resist, the Morgan Plus 8 model was an instant success. (More here.) With Rover
V8, the Plus 8 served as Morgan's flagship model for 36 years. Compared to a contemporary
Plus 4, the 1968 Morgan Plus 8 chassis was stretched 2" in length. Bodies were similar except
steel floors were installed in lieu of wood.


Chassis Assembly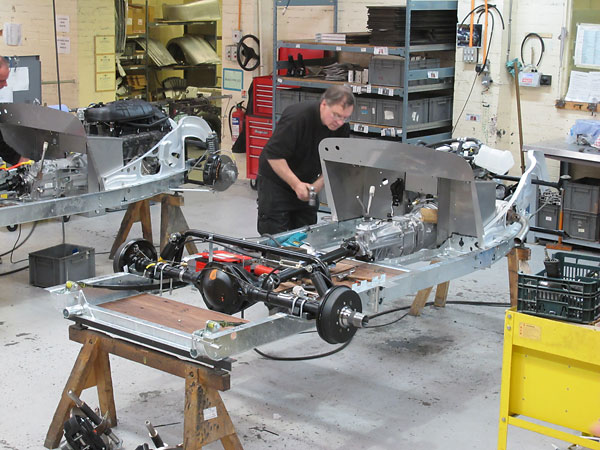 The world's longest running production vehicle, Morgan's "4/4" (four wheels and four cylinders)
entered production in 1936. The earliest 4/4 Morgans were originally powered by 1122cc Coventry
Climax engines. When production resumed after WWII, Standard 1267cc engines were used.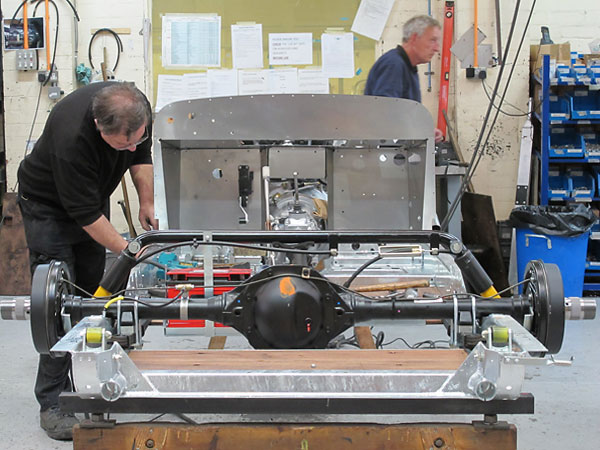 Since 2009, the 4/4 model has been powered by Ford Sigma 1595cc 4-cylinder engines which
deliver 110 bhp at 6000rpm and 97 lb/ft of torque. Mazda 5-speed gearboxes help these
lightweight (1753#) cars achieve a 44.1mpg average fuel economy rating. Width: 1630mm.
£27,563 base price, plus VAT.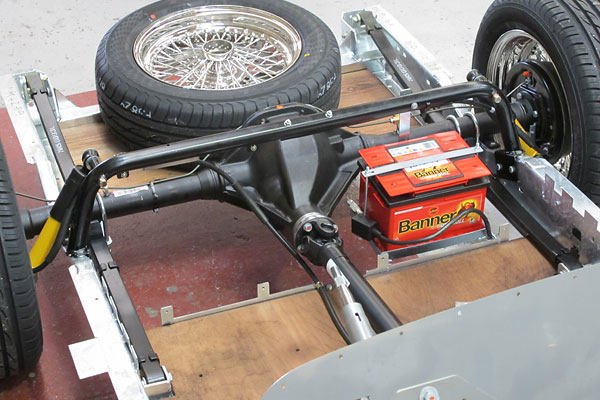 Frame and suspension designs have been remarkably stable over the years. Morgan ladder frames
are low and wide, with z-section framerails. Note that they're galvanized.
Rear axles sit atop underslung leafsprings. Floorboards really are boards.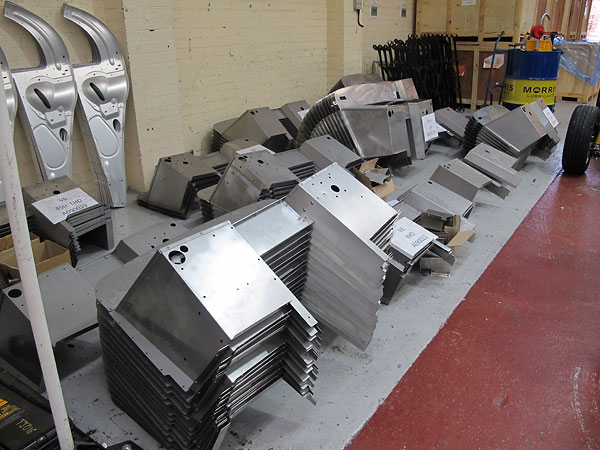 We're at the firewall installation workstation, and just across the walkway we observe
roughly two month's supply of firewalls. These parts are stainless steel, not aluminum.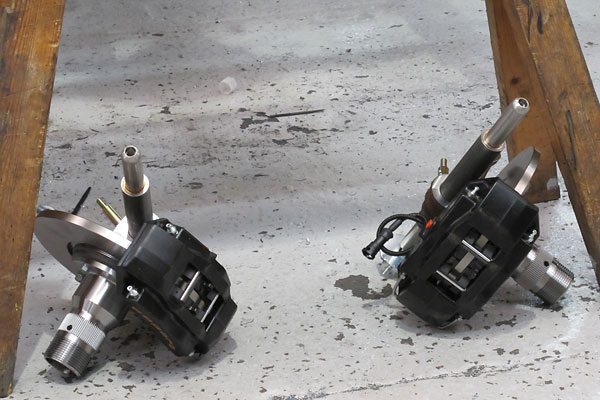 Sliding pillar front suspensions have been among the most characteristic and unusual features
of Morgan cars from the beginning. Hub carriers slide up and down, maintaining a fixed camber
angle regardless of bumps and body roll.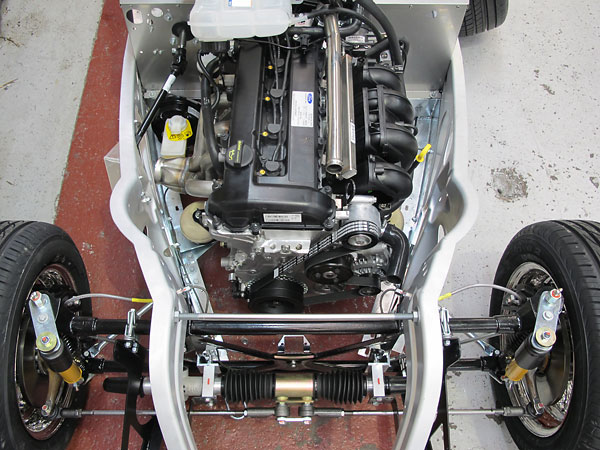 Coil springs are mounted on the pillars, above and below the hub carrier assemblies.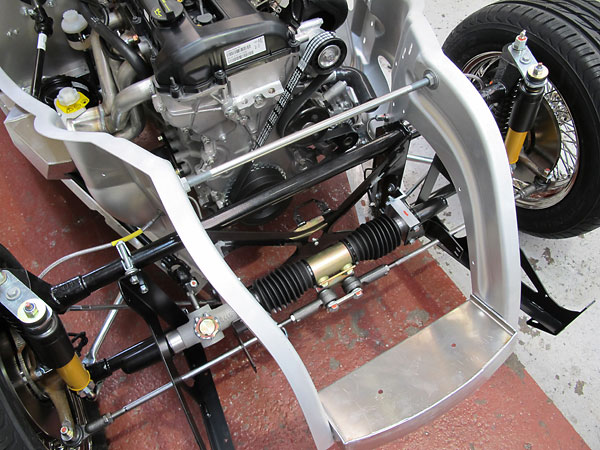 Later model Morgans have very long steering links, protruding out from the center of
their steering racks. The length of these links helps reduce bump steer tendencies.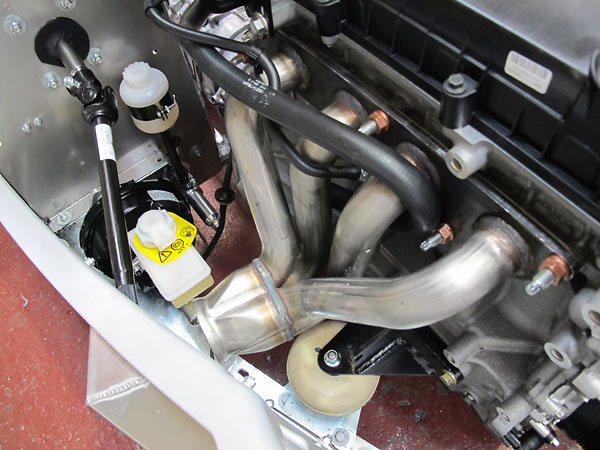 Exhaust header, motor mount, and master cylinder details. Incidentally, Morgan was one of
the first automakers to make catalytic converters standard across its range. More trivia:
to pass U.S. and specifically California emissions regulations, from 1974 though 1991 all
United States market cars were converted by independent dealers to run on propane. After
that, Morgan met U.S. emission requirements by using Rover's electronic fuel injection.
Morgan withdrew its Classic models from the U.S. market in 2006, due to difficulty meeting
supplemental restraint (airbag) requirements. Importation of Aero models continued until
2008 when a special exemption for rear crashworthiness certification expired.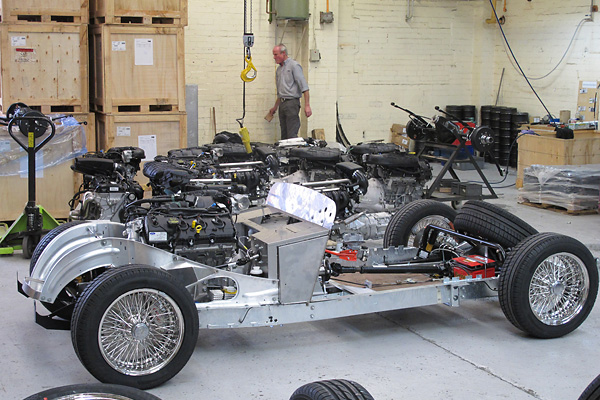 More powerful and wider than the 4/4, the Plus 4 model is "The world's favorite Morgan."
The Plus 4 model designation dates to 1951. Early Plus 4 cars had Standard's Vanguard
2088cc engines, which were rated 68bhp. Current Morgan Plus 4 cars use Ford Duratec
1999cc 4-cylinder engines which produce 145 bhp at 6000rpm and 140 lb/ft of torque.
40.4mpg combined average fuel economy rating. Width 1720mm. 1933# dry. £30,238 plus VAT.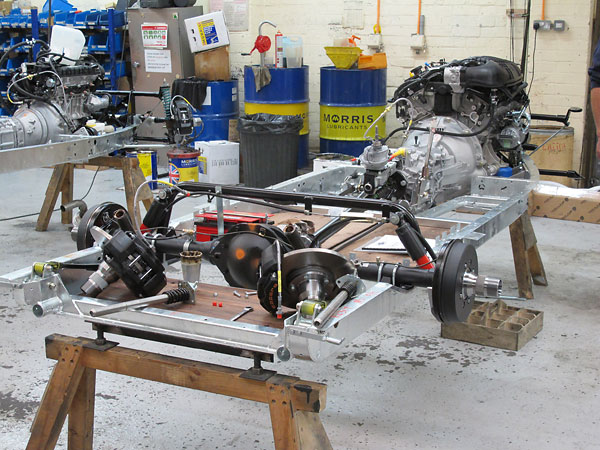 Here we see a 3.7L Ford Cyclone V6 and a Ford 6-speed manual transmission, so we know
we're looking at Morgan's "Roadster" model. The V6 engine produces 280 bhp at 6000rpm
and 280 lb/ft of torque, while providing a 28.8mpg combined average fuel economy rating.
Dry weight: 2094#. Width 1720mm. £38,250 base price, plus VAT.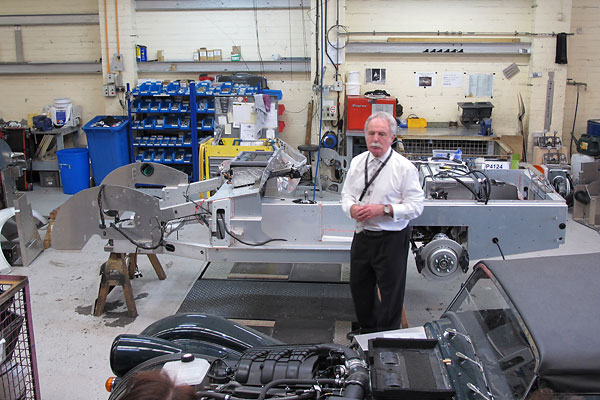 Of the Plus 8, Morgan says: "It weighs just 1100kgs, yet meets European safety standards."
Its body is shared with the Classic range, but its aluminum chassis is shared with the Aero
range. It features a BMW 4799cc V8 engine with the customer's choice of either a BMW 6-speed
manual or a ZF 6-speed automatic transmission. The engine is rated 367 bhp at 6500rpm
and 370 lb/ft of torque. The car delivers 23mpg (manual) or 26mpg (automatic) combined
average fuel economy. Width 1751mm. Dry weight 2425#. £71,000 base price, plus VAT.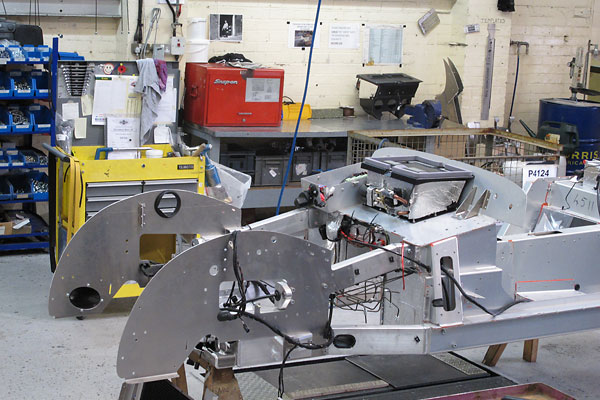 According to the Morgan website, all current car models measure ~4010mm in length.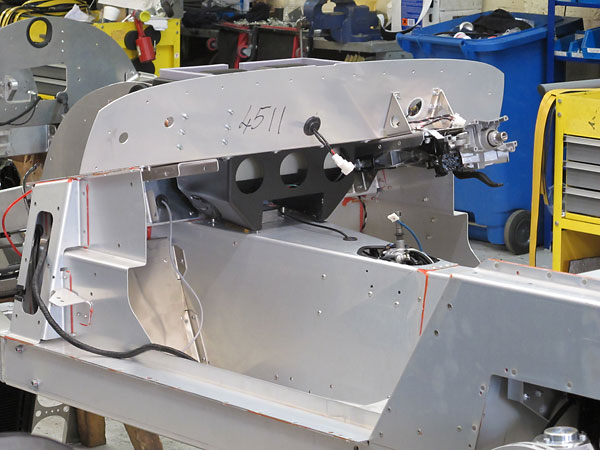 The aluminum chassis of the Aero range and the Plus 8 are built by Radshape Sheet Metal Ltd.
in Birmingham from 10-gage (~2.5mm thick) aluminum held together by heat-cured Alcan AVT
adhesive. A small number of spot welds help hold the chassis together until it's bonded.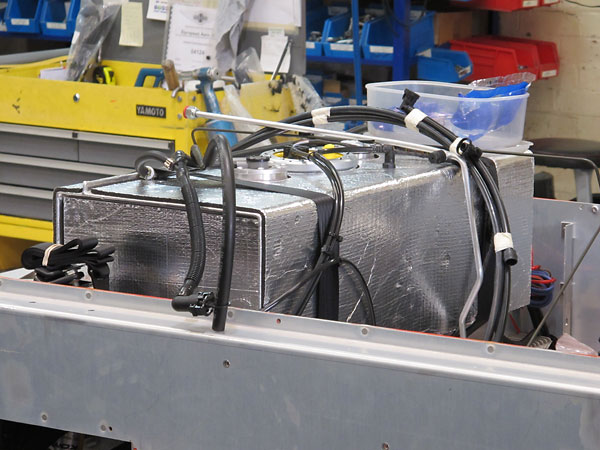 Fuel capacity: ~18.5 U.S. gallons.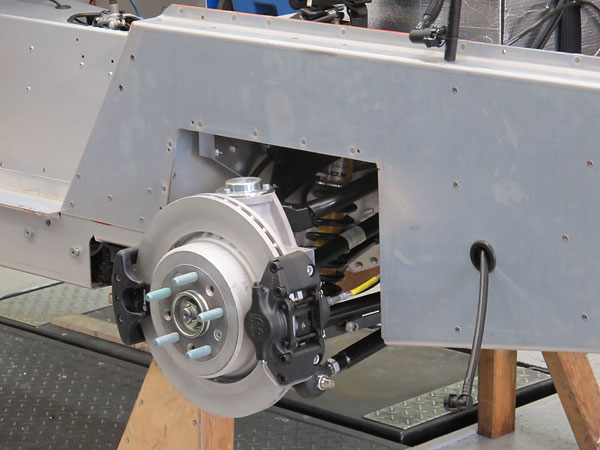 Independent rear suspension featuring long wishbones and aluminum uprights. If you had
x-ray vision, you'd see something very unusual: the coilovers are fully floating! In
other words, they're connected to control arms at both ends - inboard at the top and
outboard at the bottom. There are no anti-sway bars. Carefully selected spring rates
and a very low roll center are reasons why they aren't considered necessary.
Note: the second brake caliper is for a hydraulically operated parking brake.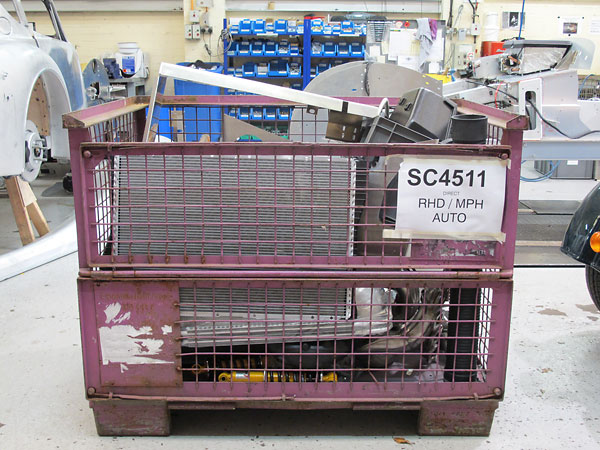 Each chassis is assembled by a single technician who works from a bin of parts, as photographed.


Enjoying this article? Our magazine is funded through the generous support of readers like you!
To contribute to our operating budget, please click here and follow the instructions.
(Suggested contribution is twenty bucks per year. Feel free to give more!)
Wood Shop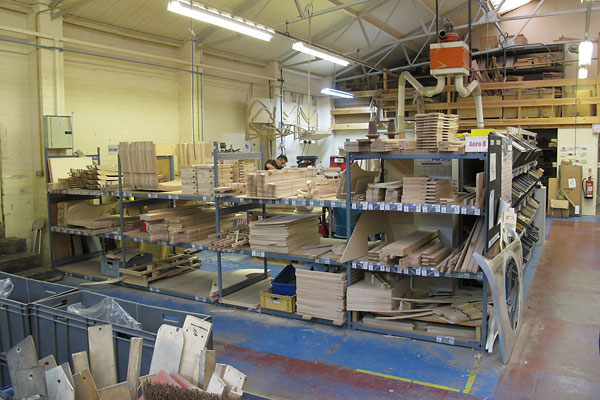 Although the earliest Morgan three wheelers used French black poplar for body subframes, Morgan
soon switched to ash wood. Belgium was traditionally Morgan's preferred source, despite occasional
problems with embedded WWII-era shrapnel. In very recent years, trade with the Far East has brought
fungal spores for which European trees lack natural immunity. First in Europe and now throughout Britain
a fungus called Chalara is wiping out commercial reserves. The fungus causes rapid dieback of foliage.
In just a few years, sixty to ninety percent of British ash trees will be killed.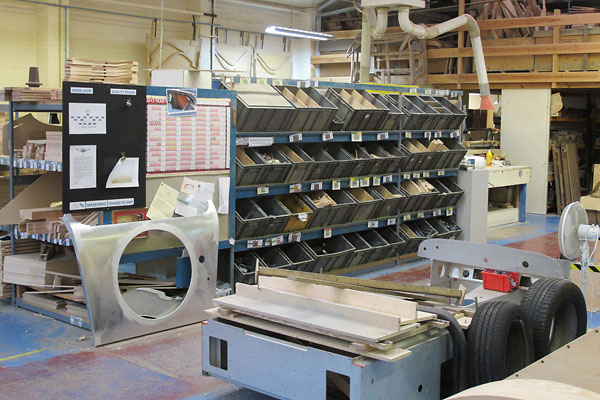 Ash trees killed by fungal infection may be harvested because the quality of the wood isn't affected, but
supply lines are collapsing. Meanwhile in America, the larvae of an Asian beetle known as the emerald
ash borer are destroying billions of ash trees and their wood. American ash isn't suitable for Morgan's
use anyhow because our varieties grow too fast (with more widely spaced growth rings).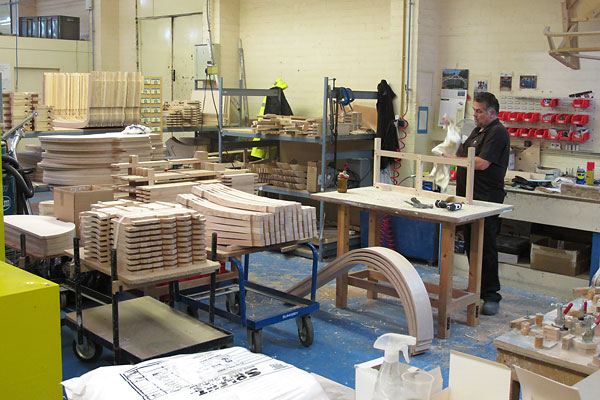 Strength, toughness, straight grain, and a minimal number of knots are basic characteristics Morgan
requires - but they also require wood that can be formed to shape. See the curved parts in this photo?
The more gently curved parts in the center were formed in bag presses: a plastic film is set over the
wood and a vacuum pump pulls the film and wood into shape. Deeper curves are formed with
mechanical clamping. (See below.)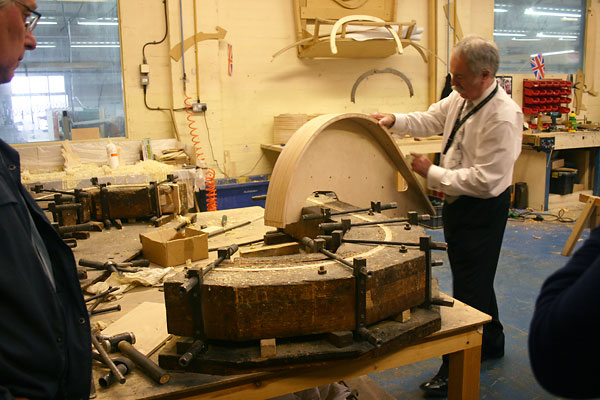 The sweep of Classic series Morgan rear fenders has remained unchanged since the 1950s.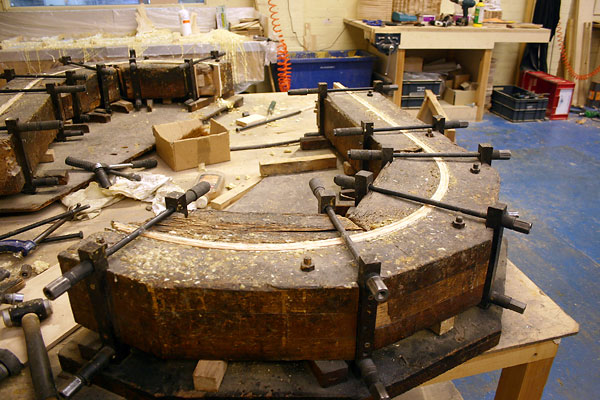 In fact, for over six decades countless Morgan rear fenders have been formed on these
two simple fixtures. The trick is that they're comprised of three layers of wood. Each layer
is about 1/4" thick. They're glued together to a total assembled thickness of about 3/4".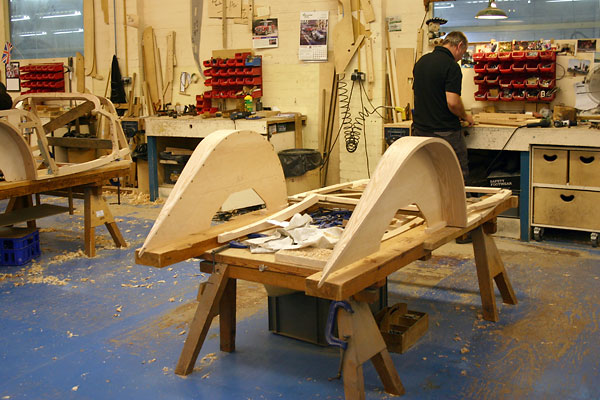 The cure time of the glue that's currently used is about six hours, which limits production
of Classic series cars to about two per day. After the glue cures, the rear fender arches
are trimmed to width on a bandsaw. The width required varies from model to model.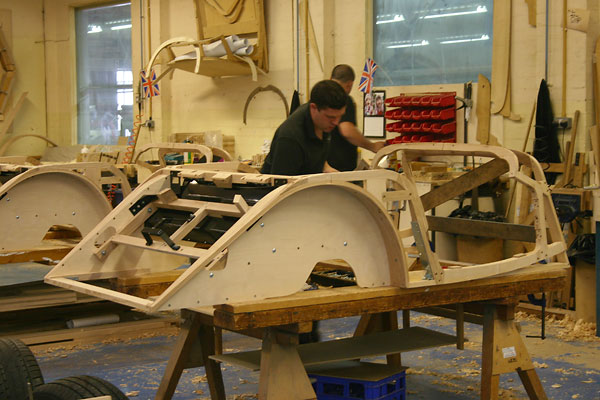 Rear fender arches are just one example of formed wooden parts.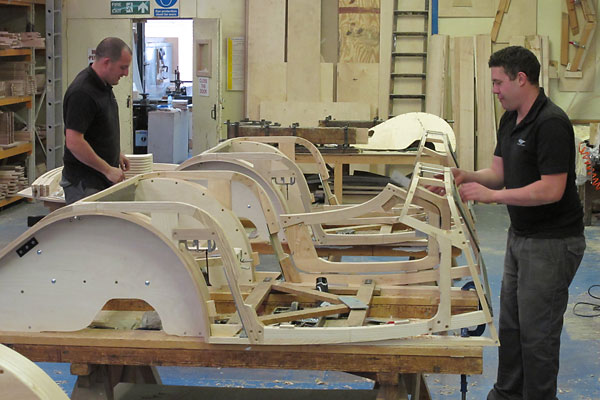 Morgan employs approximately 177 people. Nearly all of them started with the company
as apprentices. The result is an exceptionally well seasoned and loyal workforce.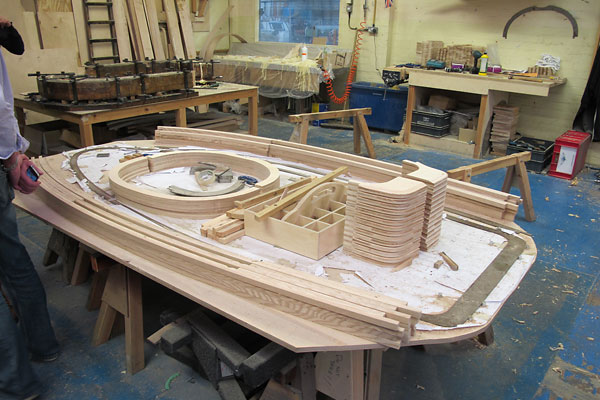 Three wheeler body subframes are assembled on this table. You can see how
various wooden members have been kitted together in preparation.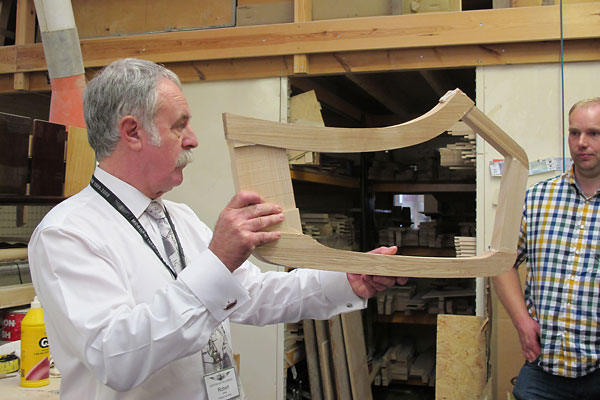 Classic series doors are much more elaborately shaped than most people realize.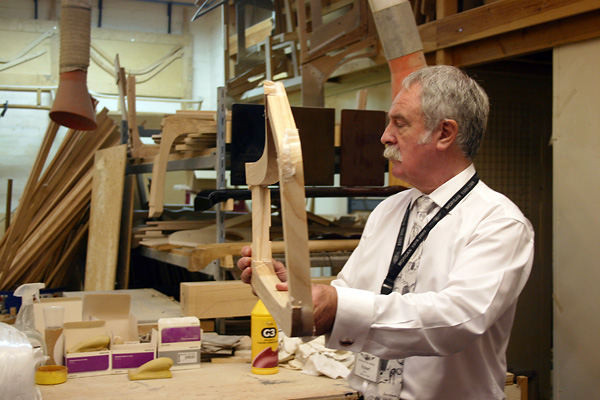 The door surface curves from top to bottom and from front to back. This curvature
is achieved with precision by use of a CNC milling machine after initial fabrication.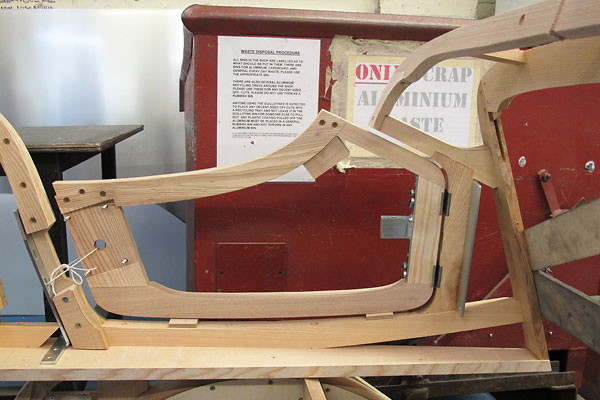 For side-impact protection, a piece of steel tube will be installed between the door
hinge and latch. (That installation occurs after the car is paneled and painted.)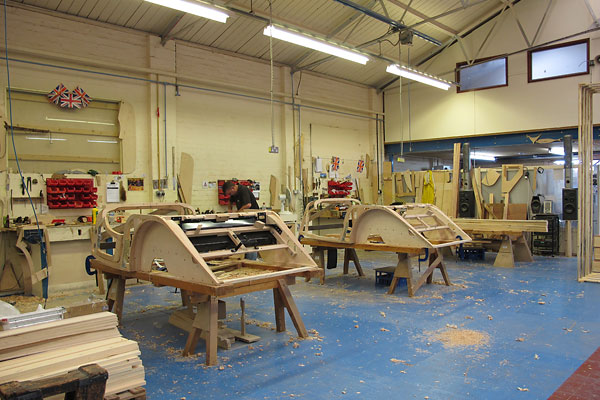 Every Morgan car is accompanied by a build book as it travels through production. Each
production stage has its respective page. As technicians complete their work, they autograph
the book. For an extra charge, Morgan includes photographs of the car's assembly.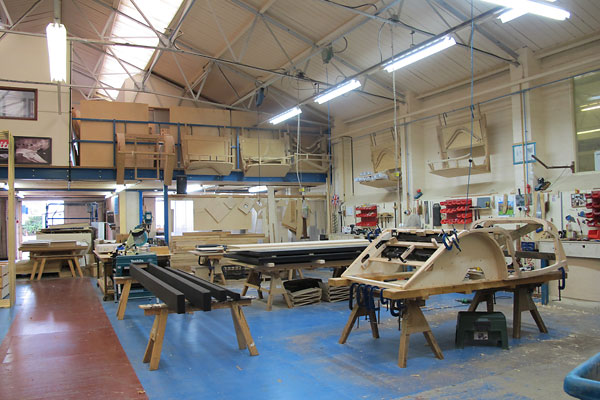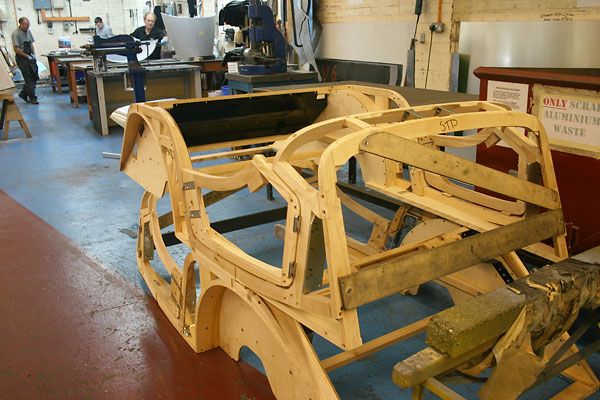 After being made in the wood shop, ash subframes are sent out to be dip-treated for
enduring protection from rot. These two are back, ready to be paneled by hand.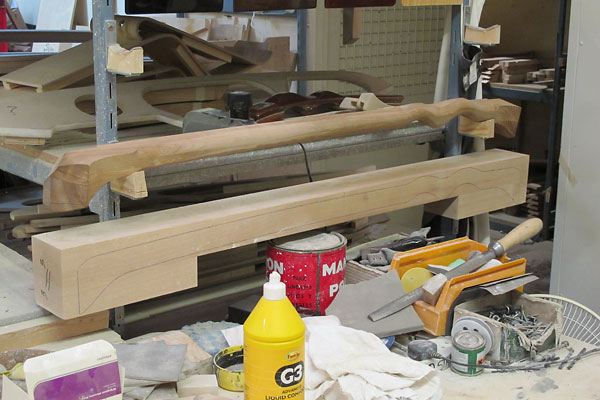 Morgan Aero dashboard caps are CNC milled from ash wood.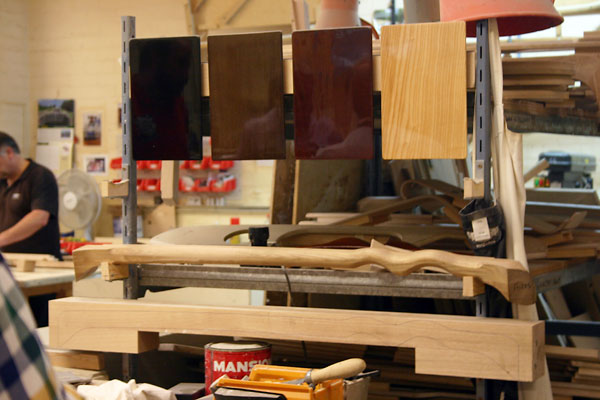 Customers may choose between four color options. Left to right:
raven, tawny, brown velvet, and natural ash.


Panel Shop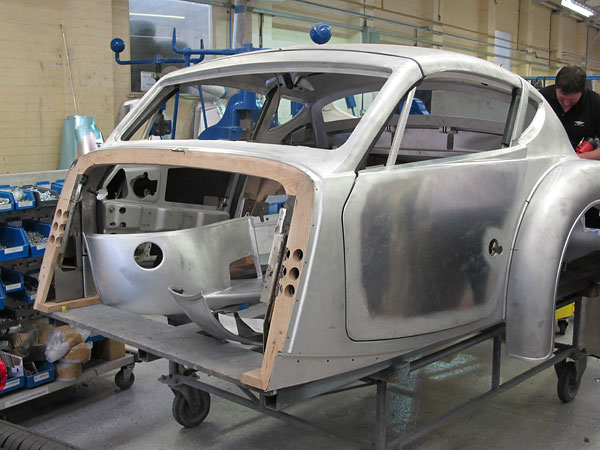 Even on the top-of-the-line Aero models, aluminum body panels are tacked to ash wood. This
Aero Supersport is "an advanced supercar designed for practical long distance touring."
It features a BMW 4799cc V8 engine with the customer's choice of either a BMW 6-speed
manual or a ZF 6-speed automatic transmission. The engine is rated 367 bhp at 6500rpm
and 370 lb/ft of torque. The car delivers 23mpg (manual) or 26mpg (automatic) combined
average fuel economy. Width 1751mm. Dry weight 2601#. £105,750 base price, plus VAT.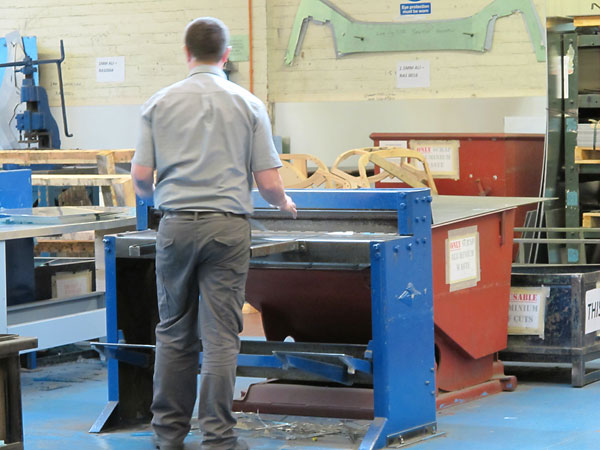 In recent years, Morgan has increasingly utilized laser cut blanks from outside suppliers
rather than cutting aluminum to shape in-house. Still, a number of small foot operated
shears like this one are necessary for low volume and custom work.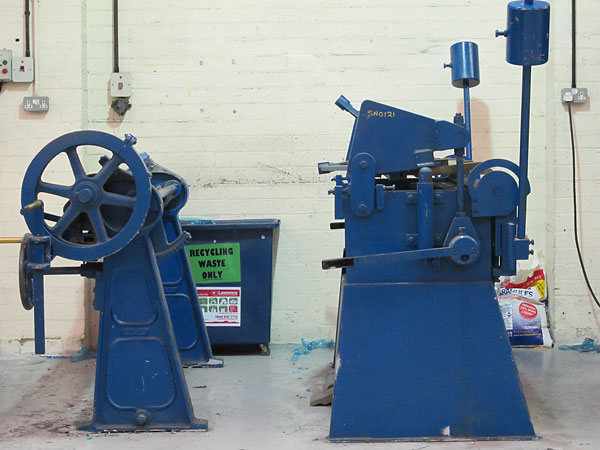 Two robust, manually operated machines: a slip roll (left) and a cornice brake (right).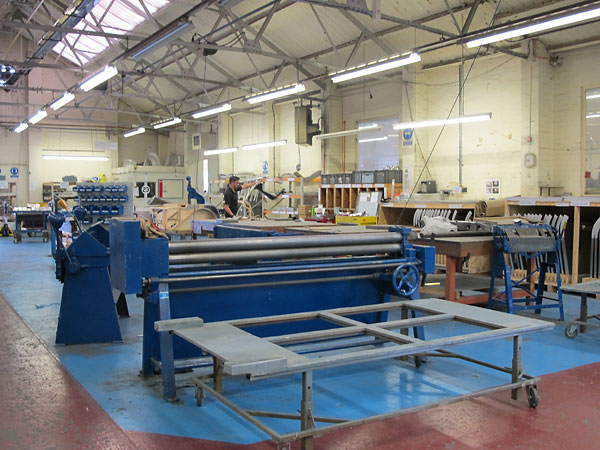 A large, motorized slip roll.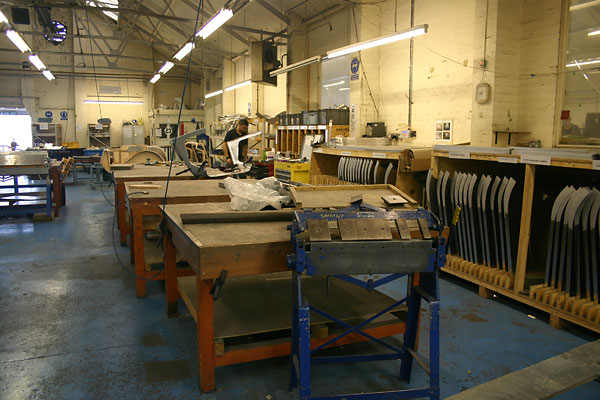 A handy little box and pan brake.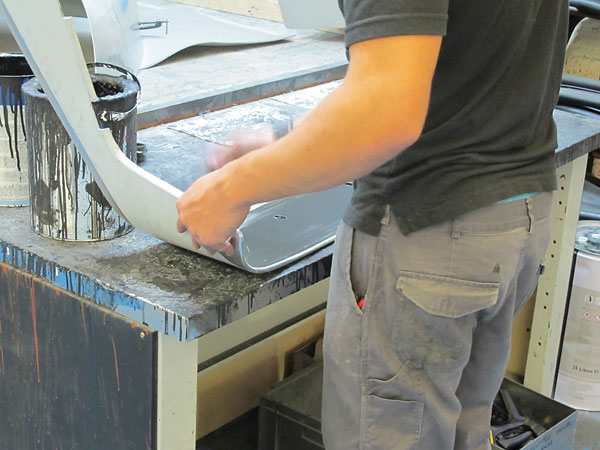 Mastic sound deadener is applied by brush to the underside of a Classic series cowl.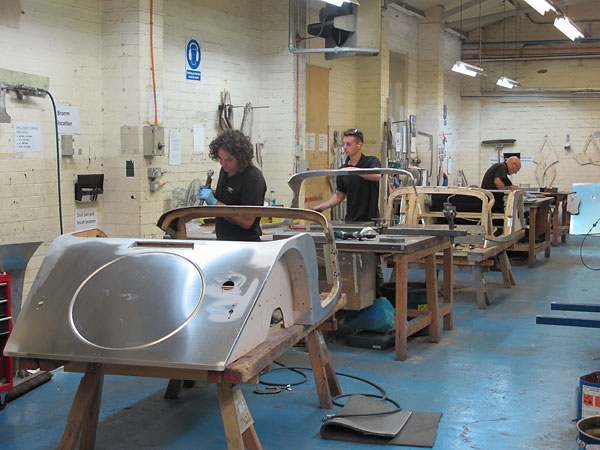 Fitting cowl panels.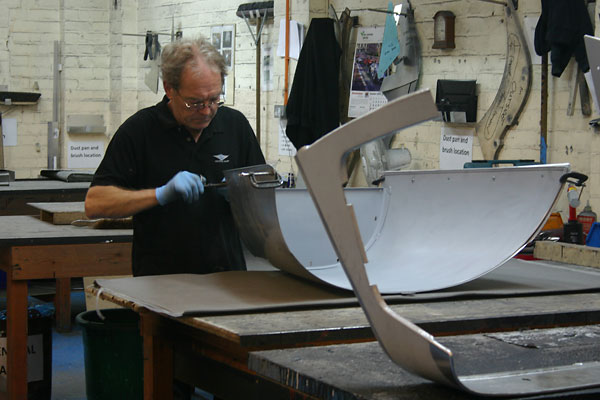 Fabricating a Three Wheeler bonnet.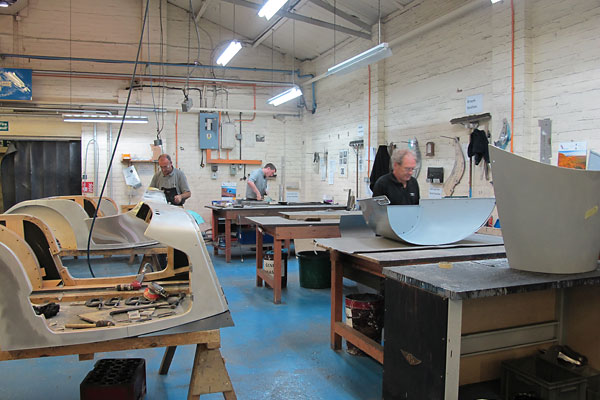 A second Three Wheeler bonnet has been completed.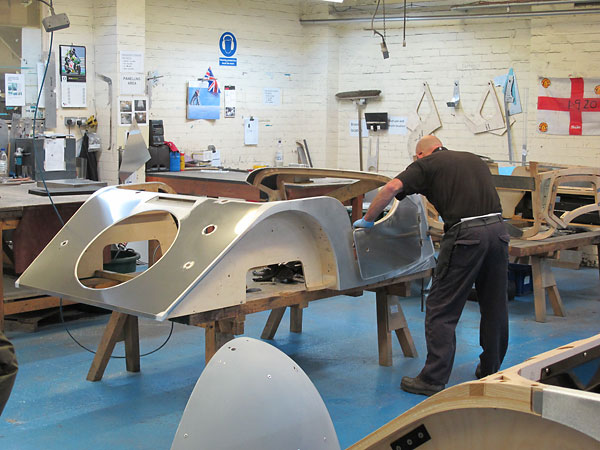 Fine tuning door fit with a few taps of a small hammer.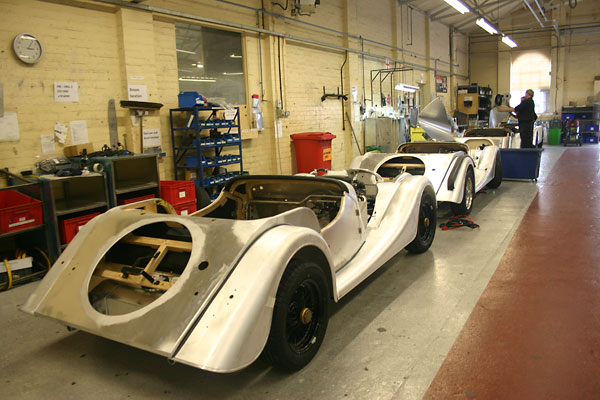 We missed a photo opportunity; I don't have a snapshot of a body being set down
onto a chassis. Once the two are mated, a custom bonnet can be fabricated.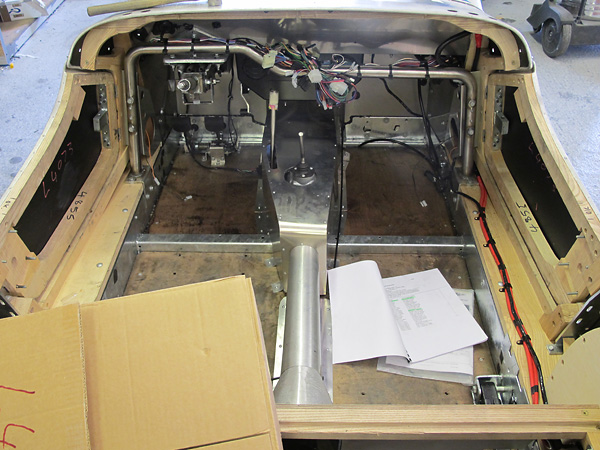 Tubular stainless steel dashboard and steering column support.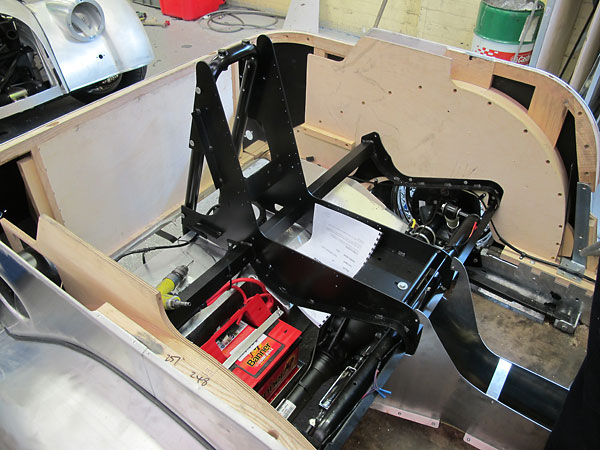 The structure that supports the back seat of a four seater Morgan.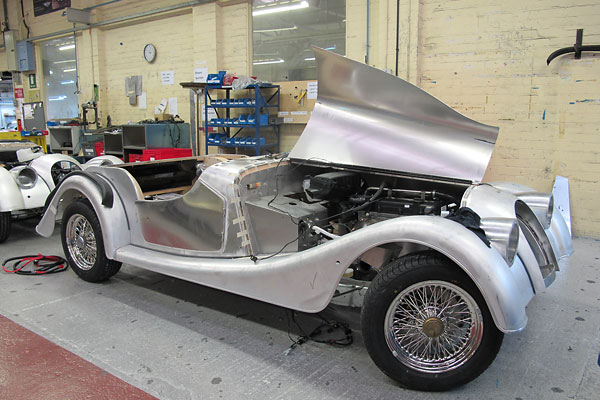 Classic series bonnets are still made and trimmed one-at-a-time by very highly skilled craftsmen.
Wings and cowls are no longer made by hand; instead they're formed using the SPF (blow molding)
process, similar to how the Aero bodywork is constructed.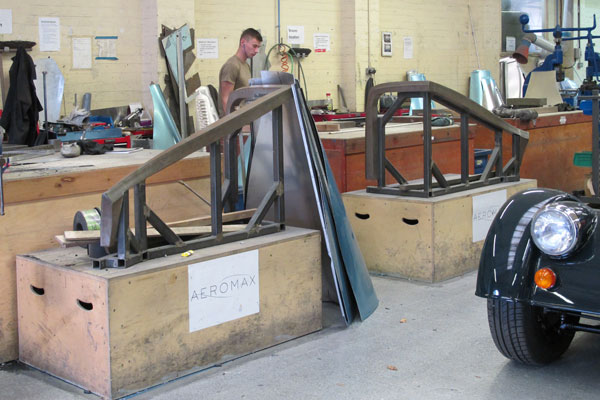 A supply of bonnet blanks have been roll formed to basic shape, but they still
need to be precision trimmed. Then hinges and latches may be installed.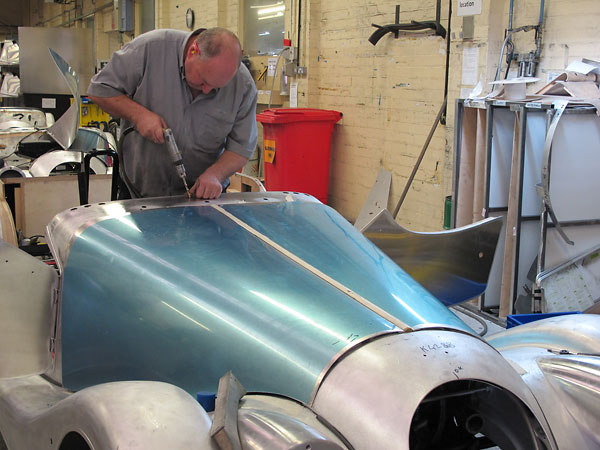 While the bonnet is being fitted a few other parts are installed here,
including climate systems and transmission tunnels.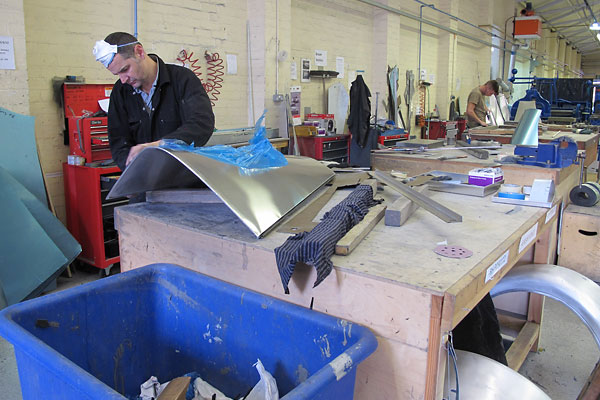 (I'm not sure what the guy in the foreground is doing, but the guy in the
background is installing a piano hinge down the center of a butterfly hood.)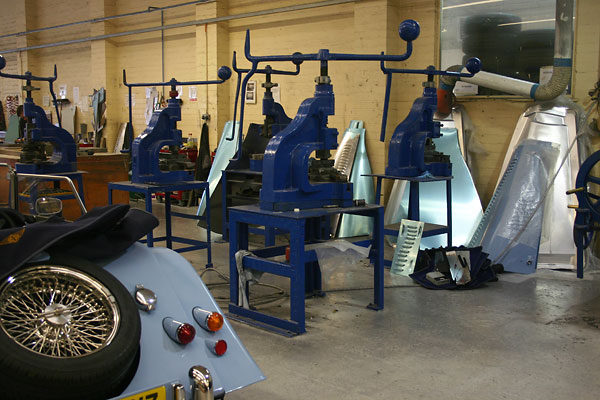 Apparently, these five fly-presses are used to stamp louvres of five different lengths.
The presses are hand operated and only stamp one louvre at a time.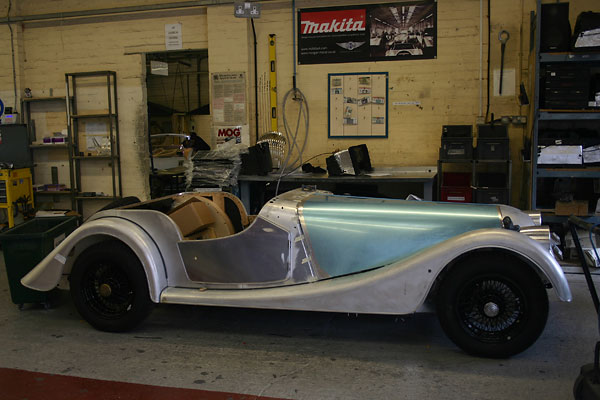 Morgans have been raced since very early days, and lady drivers have been particularly
important in their racing history. Gwenda Stewart began a campaign of record breaking
runs at the Montlhery circuit near Paris in 1929. She was incredibly quick, breaking 44
records and eventually managing an average speed of 115.66mph. Prudence Fawcett,
the daughter of a Sheffield solicitor, entered her 1098cc Coventry Climax powered
Morgan 4/4 racecar in the 1938 24 Hours of Le Mans. Sharing driving duties with
Morgan agent Dick White, she completed the race at an average speed of
57.2 mph (and with a best lap speed 65mph) to finish 13th overall.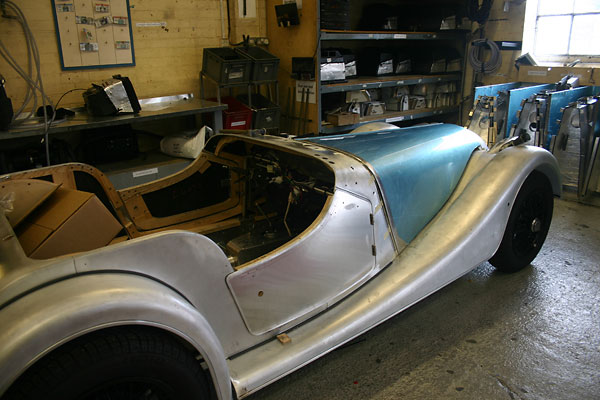 Morgan returned to Le Mans in 1962 with Christopher Lawrence and Richard Shepherd-Barron
in a Morgan Plus 4 racecar. Their average race speed was 94mph, with a fastest lap of 110mph,
That was good enough for a class win and for 13th place overall finish, after which Lawrence
drove the car back home. Morgan invited Christopher Lawrence back to manage another assault
on Le Mans shortly after they introduced their Aero 8 GT model in 2000. With DeWalt Tools
sponsorship, the Morgan team contested the 2002 24 Hours of Le Mans. They completed 181
laps before succumbing to mechanical problems.


Paint Shop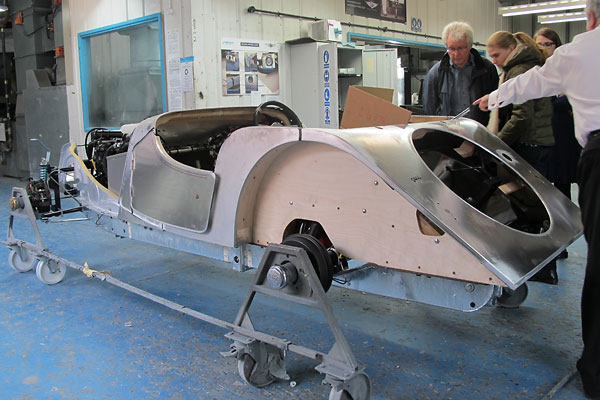 We stepped briefly into the paint shop, just long enough to see that wings and bonnets are
removed and cars are mounted on nifty trolleys for painting. Installing panels to check fit
and then removing them before painting is inefficient. Morgan is working to get variance
out of their build so they can streamline this. Note: Morgan was one of the first auto
manufacturers to convert to environmentally-friendly waterborne finishes.


Enjoying this article? Our magazine is funded through the generous support of readers like you!
To contribute to our operating budget, please click here and follow the instructions.
(Suggested contribution is twenty bucks per year. Feel free to give more!)
Trim and Upholstery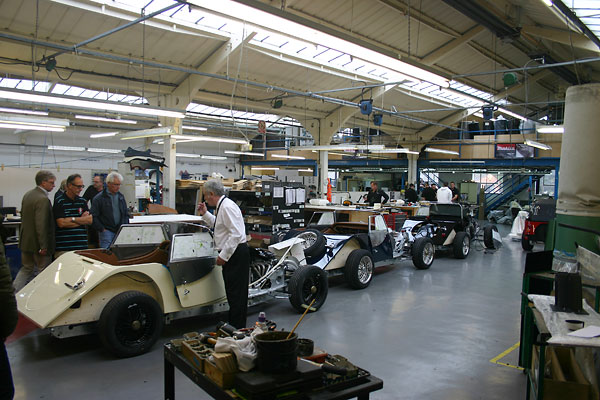 Electrical wiring and interior trim is installed before wings are reinstalled.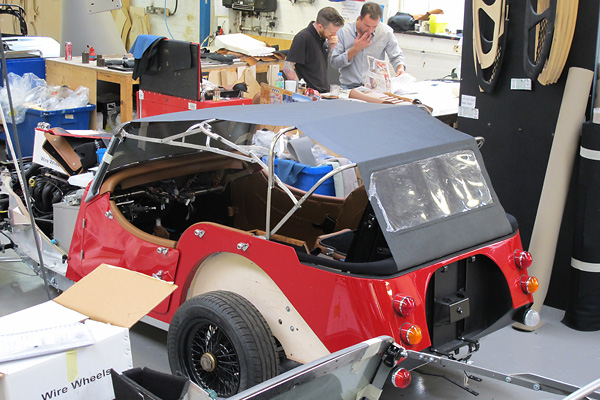 I imagine Morgan Four Seaters might be especially popular in Bermuda and other
island getaways. They're available in Plus 4 or Roadster drivetrain versions,
weighing 2044# or 2205# respectively.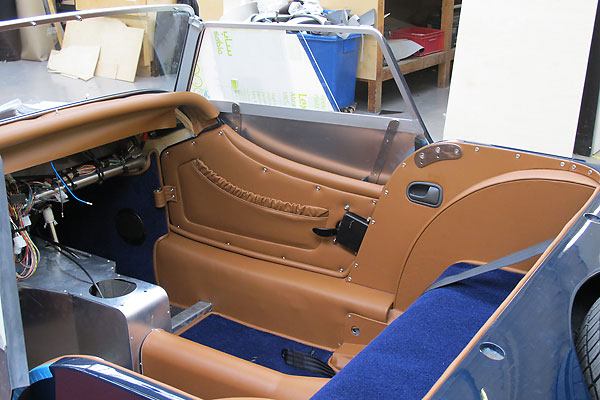 Morgan sources their leather from Scotland. There's very little barbed wire
in Scotland, so their hides include fewer scars.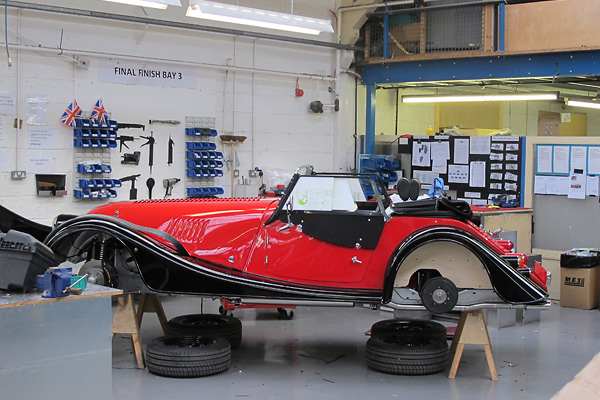 A rubber trim strip separates fenders from other bodywork. An extra
piece of this trim lays across this car's front fender.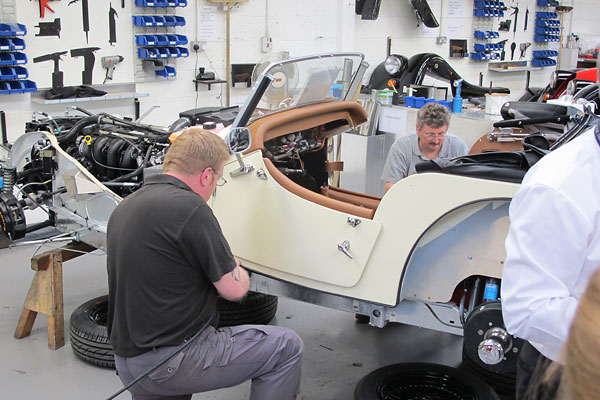 Morgan Motor Company has installed many different makes of engine over the years, including,
in roughly chronological order: J.A.P., Blumfield, Green-Precision, M.A.G., Anzani, Blackburne,
Matchless, Ford, Coventry Climax, Standard (Triumph), Rover, Fiat, BMW, and S&S. Additionally,
H.F.S. Morgan used a Peugeot engine in his first prototype, a Dorman engine was used in the 4-4
prototype before Morgan decided they preferred Climax engines, and a Buick "215" was installed
in the first Plus 8 prototype because Rover couldn't provide a sample expeditiously. A QinetiQ
hydrogen fuel cell and a Zytek Automotive electric motor have been installed in recent show cars.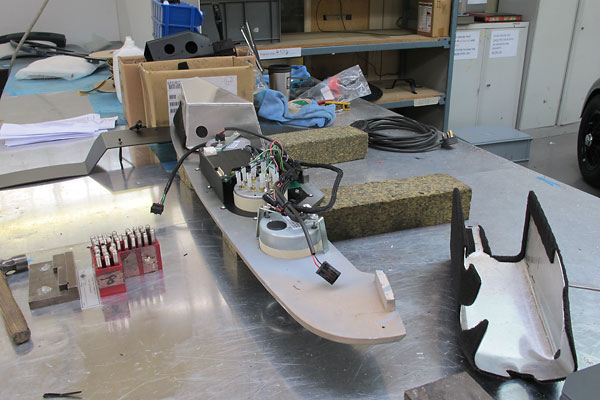 In an era when far too many automobiles have LCD touchscreens built into their dashboards,
I spent two hours in the Morgan factory and didn't see a single computer screen or
printer of any description. Study these photos and see if you can find one!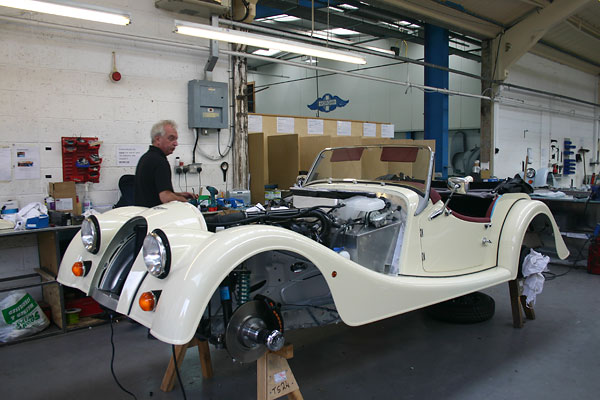 Morgan technicians use laptop computers to check and to program engine computers.
(I know it's true, but I didn't see that operation during my tour.)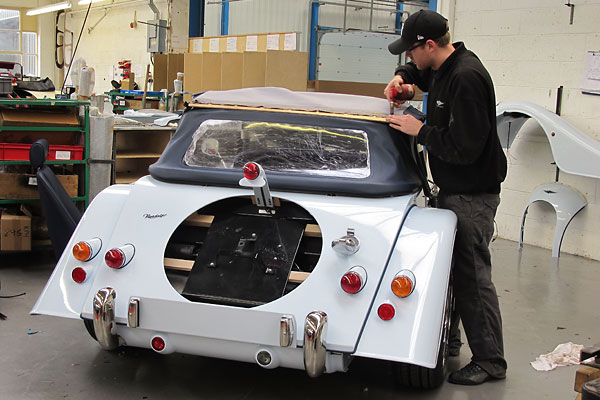 If a spare tire is mounted on the rear deck, the third brake lights is
mounted on a stem instead of being neatly recessed.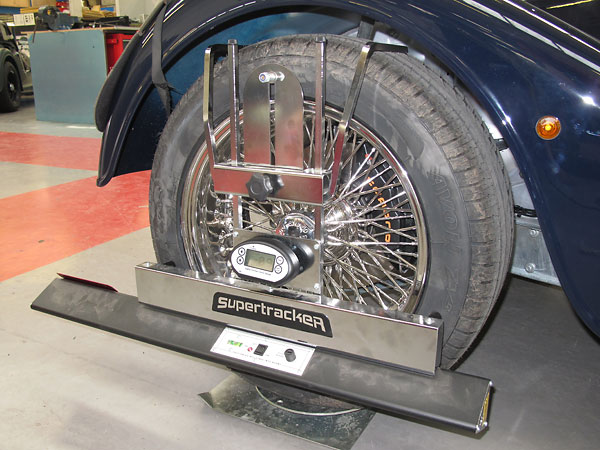 Morgan uses Supertracker (Made in U.K.) laser suspension aligners and MWS wire wheels.


Did you enjoy this article? Our magazine is funded through the generous support of readers like you!
To contribute to our operating budget, please click here and follow the instructions.
(Suggested contribution is twenty bucks per year. Feel free to give more!)
Three Wheeler Production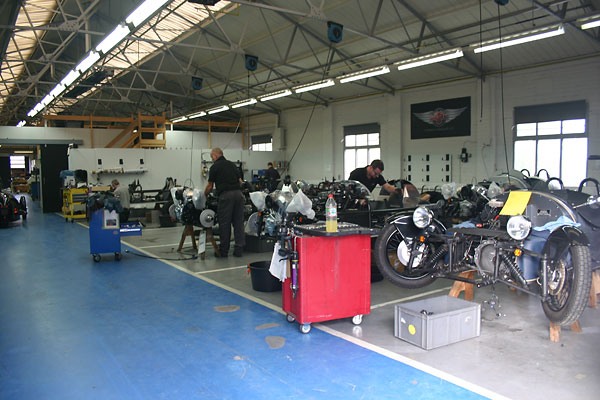 Morgan Three Wheelers are assembled in these few workshop bays.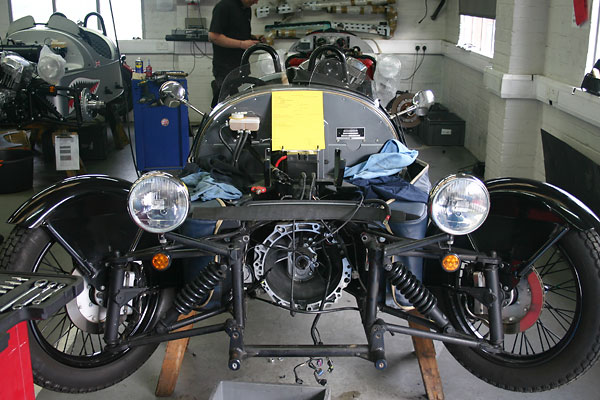 This photo reveals a huge departure from previous Morgan practice. The new Three
Wheeler features wishbones and coilover shocks in lieu of sliding pillars!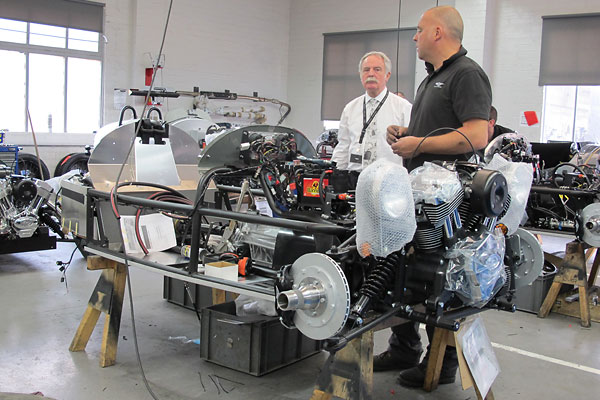 A recent Morgan press release says for 2014 they've redesigned the Three Wheeler chassis
to be stiffer. This must be the "before" picture. Curved tubes. No triangulation at all.
No stressed skin. This frame could be so much lighter and so much stiffer, so easily.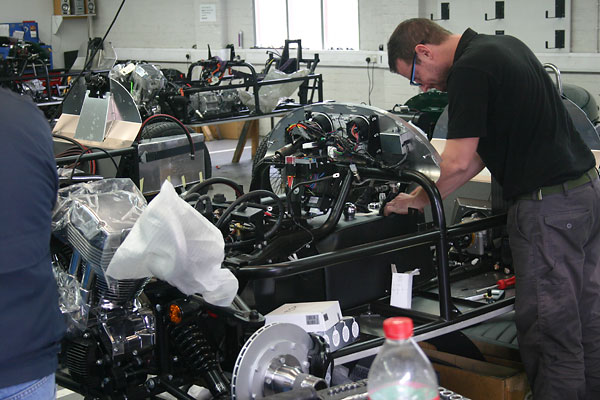 The Three Wheeler fuel tank is generously sized. With over eleven U.S. gallon
capacity, cruising range is approximately 450 miles.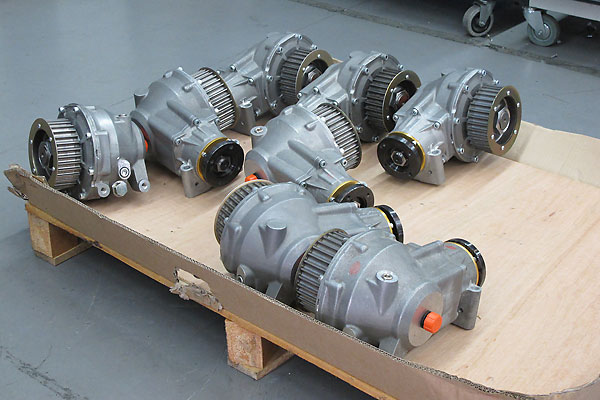 Another change announced for 2014: bevel boxes will be isolated from the chassis
to reduce noise, vibration and harshness ("NVH") complaints.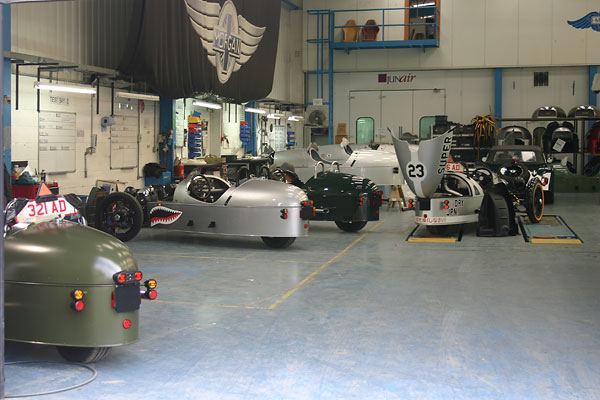 Morgan offers many vinyl wrap graphic options. They've even teamed with a fashion clothing
company to market special edition Three Wheelers with garish kanji character graphics.


Pre Delivery Inspection. Repair bay. Despatch bay.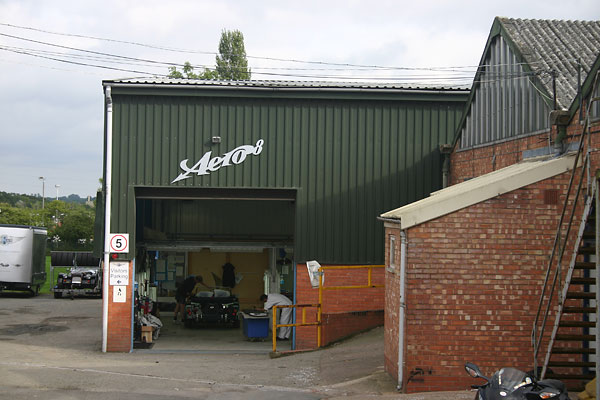 All Morgan cars are road tested, then given a complete technical PDI. Repairs are made,
and then underbody corrosion protection is applied. One more inspection, and then
the vehicle is prepared for shipment. Many Morgans are shipped directly to customers.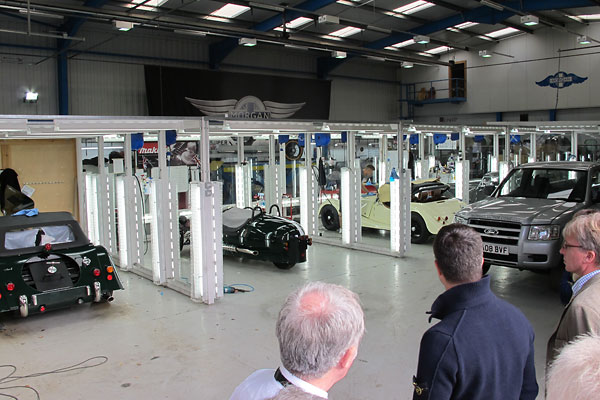 Vertically mounted florescent lamps are extremely helpful for paint inspection.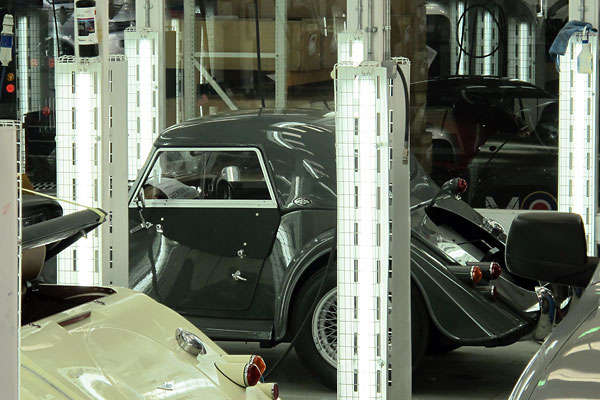 Apparently most Morgan customers prefer soft tops. Fiberglass hardtops like this one
are a factory option. Our guide reckoned this was the second one he had ever seen.


The Morgan Motor Company Museum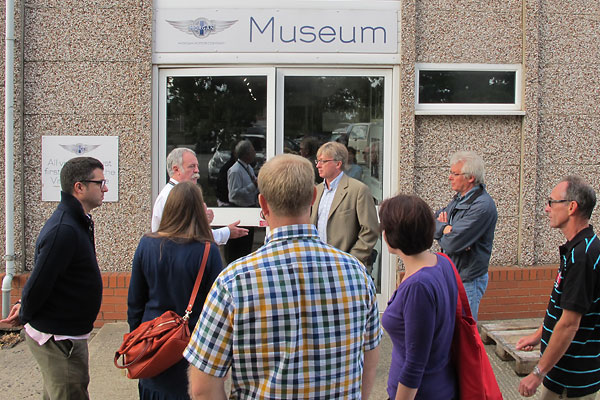 Morgan Motor Company Museum: open Monday-Thursday 8:30am-5pm & Fridays 8:30am-2:30pm.
Entry to the company museum and gift shop are free. Morgan cars may be rented here too!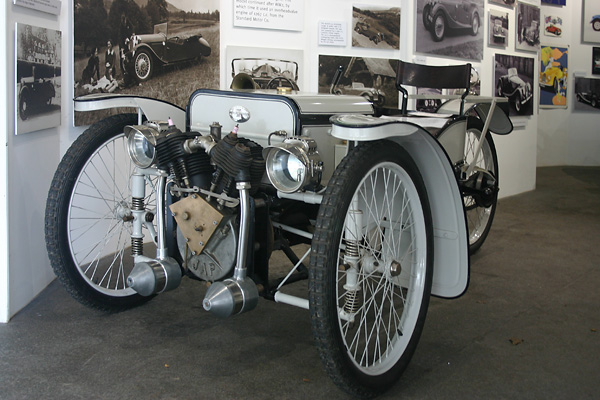 Built by Morgan archivist Martyn Webb, this is an accurate replica of Morgan's first production
three wheeler. Webb sourced many genuine pre-WW1 parts to complete it. The 1910 "Runabout"
model had a single seat and was powered by a J.A.P. eight horsepower V-twin which drove
the rear wheel. By selecting between two chain-and-sprocket sets, the driver had two forward
speeds. There was no reverse. To its credit, this one of the first production automobiles in
the world with independent front suspension. About 20 were built. None have survived.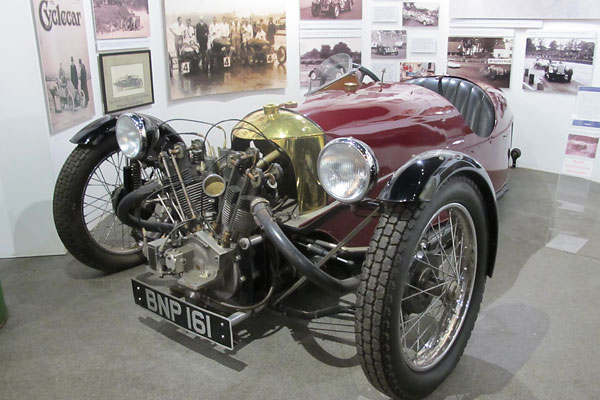 Harry Morgan initially considered both three and four wheel designs. He chose to build
three wheelers because of to their lower cost. His very first prototype was built in
1909, in the Malvern College workshops. Production started two years later.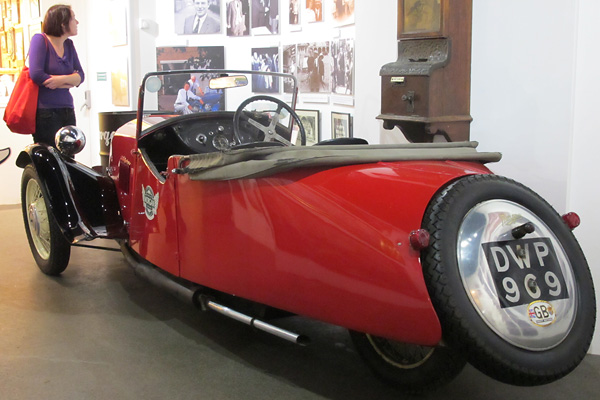 By 1932, Morgan three wheelers were equipped with 3-speed transmissions and a reverse gear.
Morgan's F-type (of 1935) featured a Ford side-valve engine under a conventional bonnet.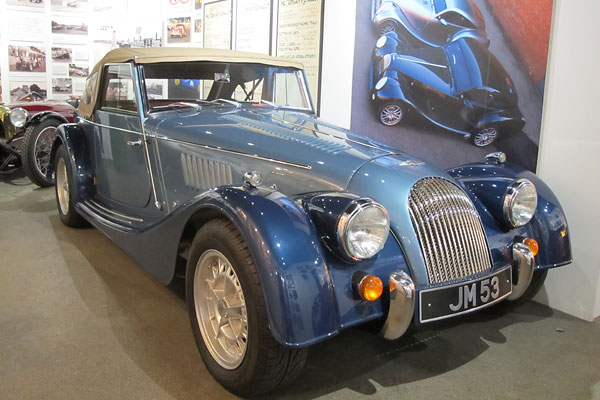 This car belonged to Peter Morgan's wife. According to our tour guide, it
was the first Morgan built with an automatic transmission.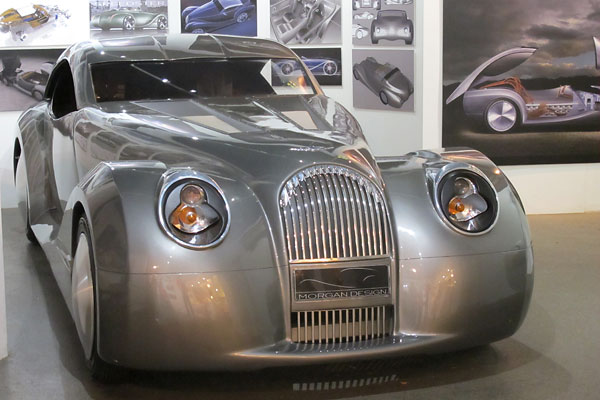 This is Morgan's original "LIFEcar" (LIghtweight Fuel Efficient car) prototype. When this prototype
was shown at the 2008 Geneva Motor Show, Morgan and its technology partners envisioned a
hydrogen fuel cell powered supercar with no tailpipe emissions. That version won't go into
production. In 2010, Morgan announced that the project had evolved and that a new
LIFEcar 2 model would feature a more immediately practical series hybrid drivetrain.
Morgan hoped production would start in 2012. It may happen yet.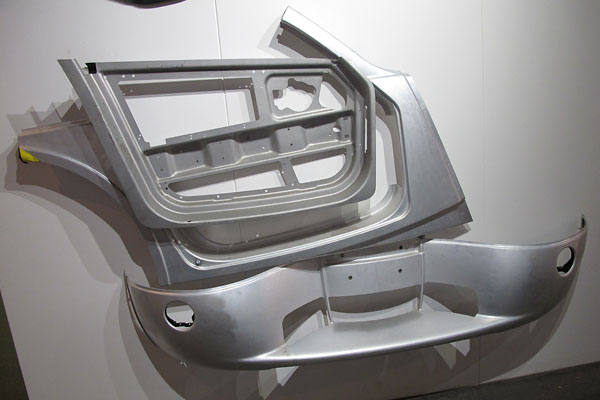 Superform Aluminium in Worcester provides three dimensionally formed exterior panels,
created via a process known as Super Plastic-Form (SPF). In a nutshell, aluminum sheet
is heated to 450C and is then blown into and/or around a one-sided cast steel form.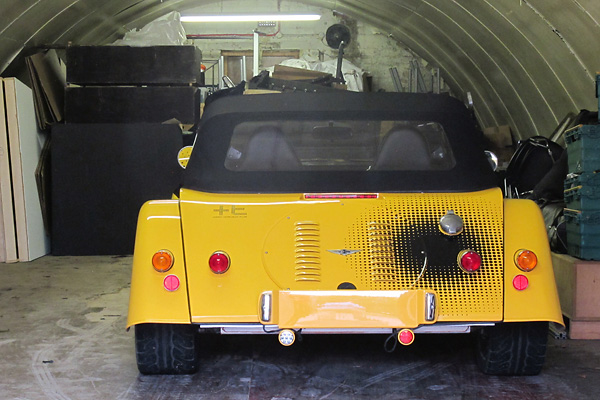 This Morgan "Plus E" all-electric promotional prototype debuted at the 2012 Geneva Auto Show.
Its Zytek Automotive electric motor produces ~94 bhp and 280 lb-ft of torque; enough for a
sub six second zero-to-sixty score. Interestingly, Morgan employed a Mazda five speed to
keep the motor's output in its sweet spot and to make the car more entertaining to drive.
Down side: the lithium ion batteries employed bring the curb weight of 2756 pounds,
which is about 330# more than a current Morgan Plus 8. Range: ~120 miles of smiles.




Disclaimer: This page was researched and written by Curtis Jacobson. Views expressed are those of the author, and are provided without warrantee or guarantee. Apply at your own risk.

Photos by Curtis Jacobson for BritishV8 Magazine. All rights reserved.