Touring "British Motor Heritage"
as published in British V8 Newsletter, Volume XV Issue 2, September 2007

by: Curtis Jacobson
Background Information
In 1975 British Leyland Motor Corporation formed a small division to provide technical information and genuine service parts for all the classic models of vehicles under its corporate umbrella. The "Leyland Historic Vehicles" division was charged with supporting both the British Motor Holdings side of the family tree (Austin, Morris, MG, Wolseley, Riley, Jaguar, Guy, and Daimler cars) and the Leyland Motors side (Triumph, Standard, Rover, and Alvis cars and utility vehicles plus Leyland trucks and buses.) For the sake of efficiency, the new division was managed from one centralized office.

As an aside, it's interesting to note that Leyland Historic Vehicles gathered up a large collection of actual cars. Many of these cars were subsequently restored, and some of the division's expenses were funded by leasing cars for television, movie, and photographic uses. That part of Leyland Historic Vehicles ultimately evolved into The Heritage Motor Center museum at Gaydon.

With the British automobile industry undergoing continuing turmoil and reorganization, Leyland Historic Vehicles became the British Motor Industry Heritage Trust ("BMIHT") in 1983.

British Motor Heritage Ltd. was formed as the commercial ("parts") division of BMIHT, with a focus on body stampings and sub-assemblies off original factory tooling. Over the following years, British Motor Heritage operated as an autonomous subsidiary of The Austin Rover Group and its successors. (The Austin Rover Group was renamed Rover Group PLC in 1986, and was acquired by British Aerospace plc in 1988. In 1995 BMW bought the Rover Group from British Aerospace.)

When BMW divested itself of Rover in 2000, British Motor Heritage wasn't included in the deal. BMW actually retained British Motor Heritage until November 2001, allowing veteran British automotive executives David Bishop, Neil Morrick, and John Yea to put together a financial takeover and management plan.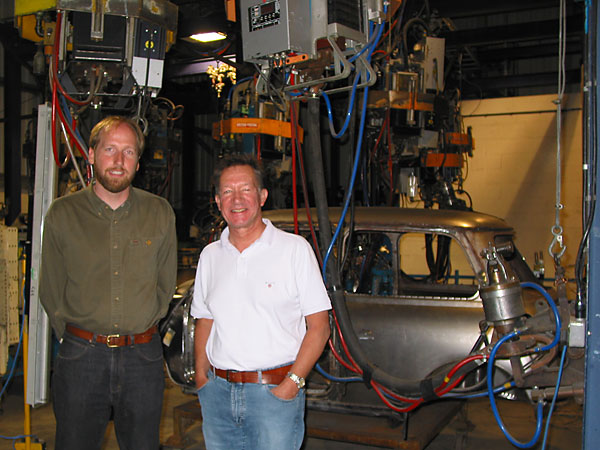 Chris Gardner (at right) of British Motor Heritage welcomed British V8 into their facilities in May 2007.
British Motor Heritage Today
British Motor Heritage continues to be an independent, privately-owned, entirely-British company. In early 2006, David Bishop and Neil Morrick returned to retirement, leaving John Yea in managerial control. John Yea is also the majority shareholder in the company.

British Motor Heritage is based in Witney, Oxfordshire (about 12 miles west of Oxford, 14 miles northwest of Abingdon, and 65 miles west of downtown London.) Their staff of about 40 employees operates out of a single 51500 square foot building on a 3.6 acre site. This facility includes management, engineering, production and warehouse space. Steel stamping operations are outsourced, but assembly operations are done in house.

BMH owns and maintains an archive of the original engineering drawings and specifications of BLMC vehicles and their predecessors.

BMH also owns and maintains many of the original press tools and assembly fixtures for these vehicles. The oldest tools in their possession date back to about 1948, and are used to make service parts for Morris Minors. Some of the newest tools are used to make service parts for MG Rover Group vehicles such as the "MG TF" (which ceased production in 2005, but recently restarted production in China and at Longbridge under new company ownership.)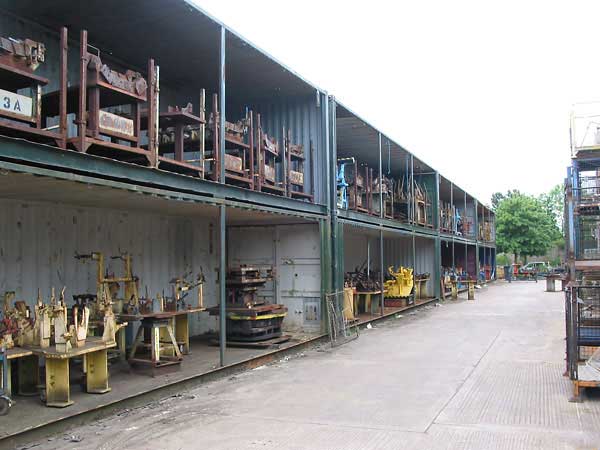 This photo shows a very small fraction of the original factory tooling maintained by British Motor Heritage.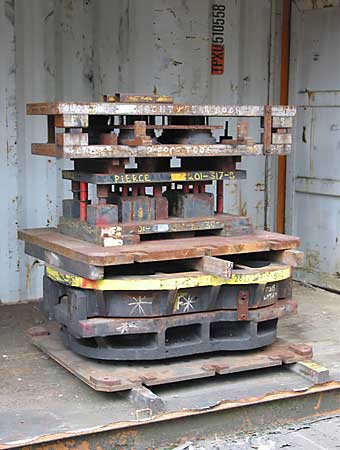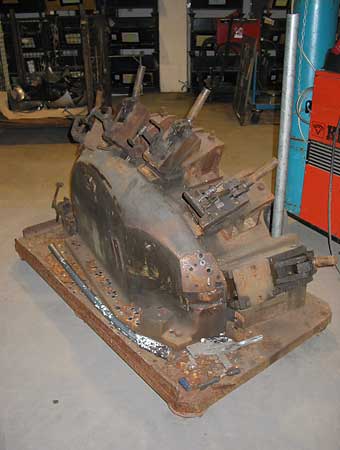 At left: three sets of pierce dies in storage. (These cut steel panels to size.)
At right: a Morris Minor tool that punches bolt holes around the edge of a fender.
British Motor Heritage's core business is the sale and manufacture of previously-unavailable parts for classic British cars. BMH parts are exclusively distributed through a worldwide network of "Heritage Approved Specialists". If you want a new, complete, and authentic steel fender for an MGB (or a London taxi-cab for that matter), this is the place to get it!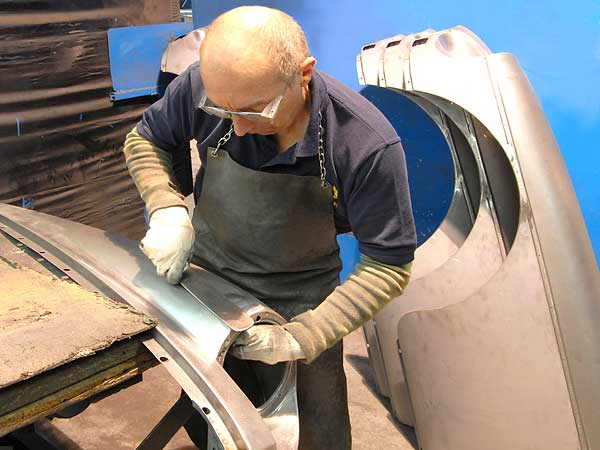 MG never expected MGB production to be so long-lived, so they didn't invest in more elaborate tooling
that would've saved handwork. Authentic MGB front fenders are made from 10 different pieces of steel.
Fine detailing of the fenders requires especially great skill.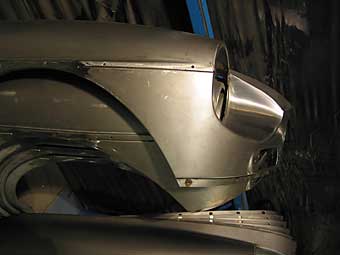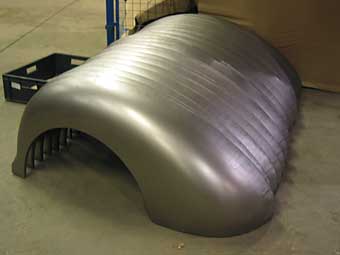 At left: a production run of chrome-bumper MGB front fenders, in process.
(There's a hidden weld in the headlamp bucket, where you see brighter metal.)
At right: a production run of MGA quarter panels.
Some reproduction body parts for classic British cars are available from "knock-off" parts suppliers. It's very important to recognize that knock-off suppliers only cherry-pick the most profitable body and trim parts. If anything ever happens to British Motor Heritage, the knock-off suppliers won't be able to help you with harder-to-find parts. The continued success of BMH is important for the long term viability of our hobby. Buyer beware! Some of the major catalog parts suppliers offer cheap copies alongside genuine BMH parts. Before you buy, make sure to verify you're buying genuine parts.

What if you only need a patch panel? British Motor Heritage is also the exclusive distributor of the UK-made "Steelcraft" range. What's the difference? The Steelcraft brand is known for economical patch panels that can be welded into larger assemblies for rust repair, etc. Steelcraft parts are manufactured in the UK by Taylor Pressform Ltd. Production started in 1974, and about 400 different parts are currently produced. How can the number be that large? For one thing, Steelcraft also makes a lot of simple and less cosmetically important stampings (such as the backing plate for MGB front disc brakes.) Please note that Steelcraft parts are NOT made on original factory/production tooling. Steelcraft parts are clearly labeled "Steelcraft".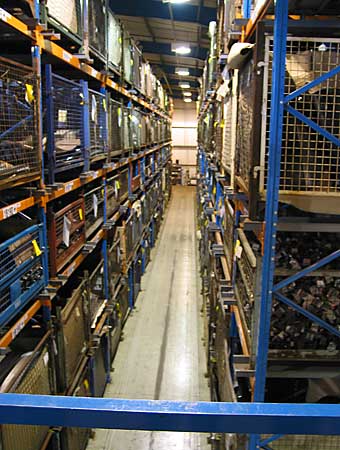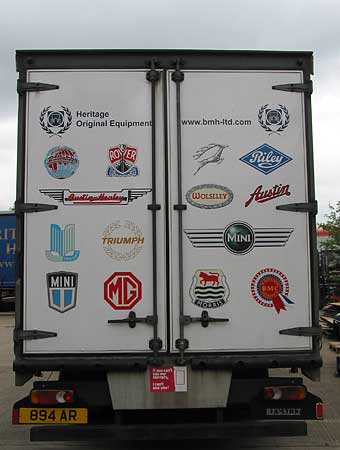 At left: just one aisle of British Motor Heritage's large parts warehouse.
At right: British Motor Heritage's parts operations keep this truck busy.
British Motor Heritages's annual sales are in the ballpark of 4 million British pounds. Because the stamped parts they handle are only economical when produced in quantity, British Motor Heritage is obliged to carry a relatively large inventory. The value of their inventory averages about 2 million British pounds. The BMH manufacturing system currently lists about 10,000 different part numbers.

British Motor Heritage is an ISO9001-2000 accredited supplier to Ford (for Jaguar and Land Rover parts).
A Unique Mission
Whatever BMH is today should largely be credited to the visionary leadership of David Bishop, who began combing through the back lots of old BLMC facilities in the early 1980's to gather and collect old tooling. The preservation of old tooling has helped keep repair, restoration, and even building of "new" reproduction classic British sports cars feasible for enthusiasts.

Although retired now, David Bishop's contribution as a "manufacturing guy" has been very important. His dedication to preserving the art and craft of old-school production techniques has been adopted and is being emulated by others. Furthermore, David Bishop's vision has not only kept old cars on the road, but also been crucial to keeping the British sports car hobby thriving.

How has this affected our niche... specifically engine swappers? If it weren't still possible to purchase excellent MGB fenders brand new, competition for "parts cars" would be fierce and the supply of cars for engine swaps would be more expensive.

On the other hand, engine swaps are becoming more refined, sophisticated, and higher-budget. Our cars now routinely sell for higher prices than pristine "original" and "restored" cars. Using brand new Heritage bodyshells has begun to make a lot of sense within our niche!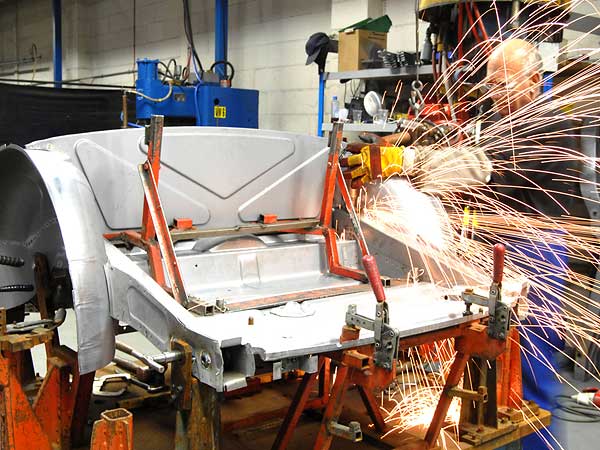 An MGB roadster bodyshell is being assembled on original factory fixtures.
What is a Heritage Bodyshell?
In concept, the idea is deceptively simple: a Heritage bodyshell is a complete car body. It's a sheetmetal foundation that's ready to go to the paint shop, and then ready for all the mechanical, accessory and trim parts to be installed onto it. British Motor Heritage first introduced the MGB-roadster Heritage bodyshell back in 1988. Just pause for a moment and think about this:
Heritage bodyshells have been in production for longer than the original MGB was!

Over the last eighteen years, Heritage bodyshells have evolved tremendously. The very definition of Heritage bodyshell has changed. Originally, the MGB unibody was provided without bolted-on body parts such as doors, hood ("bonnet"), and trunk lid ("boot lid"). The cost of procuring and installing these parts wasn't the issue... the problem was that fitting these parts wasn't a job for do-it-yourselfers. In the context of sixties-era automobiles, "fitting" frequently meant assertive use of a hammer. Probably the single most important improvement made to Heritage bodyshells is that all major panels are now pre-installed and aligned by experts who know just where to smack!

Another obvious change from those early days has been the proliferation of distinct bodyshell variants. Shortly after the chrome-bumper roadster bodyshell was introduced, BMH followed with the GT model, and with rubber-bumper models. There were lefthand-drive variants versus righthand-drive variants. There were two-wiper (European spec) roadsters versus three-wiper (North American spec) roadsters. Pull-handle doors versus push-button doors... BMH even responded to requests for chrome-bumper shells with rubber-bumper underpinnings to provide roomier engine and tranny areas for engine swaps.

MG Midget and Austin-Healey Sprite enthusiasts started calling... and Triumph TR6 enthusiasts... and classic Mini enthusiasts... not to mention the Rover factory with their RV8 program! BMH says that they currently build 42 distinctive bodyshell models.

More importantly, BMH reports that "combined total production of bodyshells to date exceeds 6000 units" including MGB roadster and GT, MG RV8, MG Midget and A-H Sprite, Triumph TR6, classic Mini, and Mini Clubman.

Let's take a step back and think about what's involved with making a Heritage bodyshell. First, BMH had to recover "lost" tooling from all around Britain. When the various car plants were shut down, tooling was scattered. Some of it remained with suppliers, but supplier facilities were shutting down too. Quite a lot of tooling went to scrap yards. Finding, identifying, purchasing and reconditioning old tooling was a major undertaking and investment.

Perhaps you want a bodyshell built exactly to 1967 specs in every possible respect. Sorry, but that's not a realistic expectation. Here's why: running changes were made to the factory tools over time to accommodate ever changing production needs, model year specific features, changing requirements of various export markets, and changing option packages. So, if you're expecting an exact and specific combination of mounting holes and weld-nuts in your firewall, you very probably won't get it. Typically, a Heritage bodyshell will have a few extra mounting holes and/or weld nuts. This seems to be particularly true on earlier year-model cars.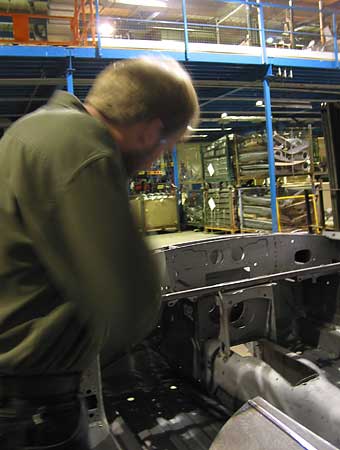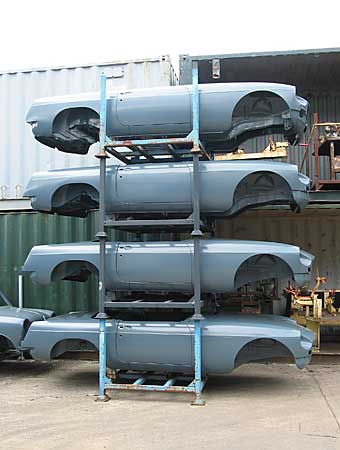 At left: Curtis inspects an incomplete MG RV8 bodyshell. Note the distinctive firewall and center console.
At right: MGB Heritage bodyshells back from being E-coated and primed. (The top one will have rubber bumpers.)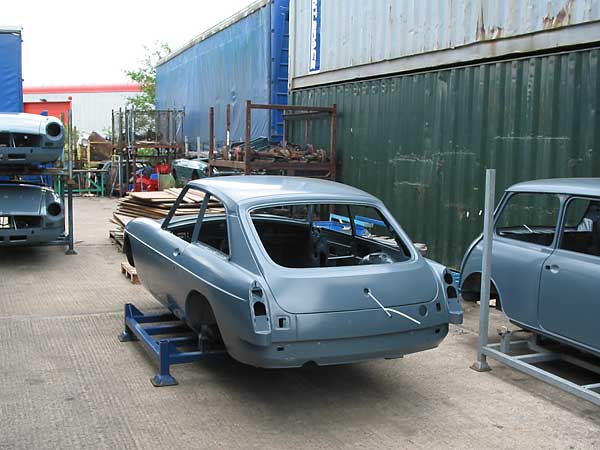 Heritage MGB-GT bodyshell. Fit of bolted-on body panels (like the GT hatch lid) is now carefully controlled.
Are Heritage Bodyshells as Good as New?
In some respects, Heritage bodyshells are categorically superior to "original" bodies. The most obvious improvements are in the area of corrosion protection. All original BLMC bodyshells were stamped from plain carbon steel. To dramatically improve corrosion protection, British Motor Heritage began using galvannealed (NOT galvanized) zinc coated steel sheet for all MG bodyshells starting in 1993.

Galvannealed steel is coated with zinc on both sides by a continuous hot-dip process. Immediately as the steel exits the coating bath, the molten zinc is subjected to an in-line heat treatment that converts the entire coating to a zinc-iron alloy. (Iron actually diffuses from the steel into the coating.) The surface typically has a matte finish that's very different from the dappled metallic appearance of a galvanized coating. At times, galvannealed coatings may appear similar to uncoated cold rolled steel.

The zinc coating dramatically reduces rust in two ways: not only does it provide an additional barrier layer on the steel surface, but the zinc also functions as a sacrificial protector against galvanic corrosion. In other words, even if the zinc coating is scratched and salt water contacts the steel, the nearby zinc will tend to corrode instead of the steel. Galvannealed steel differs from galvanized steel in that the coating is thinner, harder, smoother and more even in appearance, more scratch and scuff resistant, and far preferable in terms of paint adhesion. Still, the galvannealed coating isn't a perfect solution. For one thing, the zinc coating is typically burned off around welds, the zinc coating doesn't cover die-cut panel edges, and it is subject to damage in press operations and part handling.

To further improve corrosion resistance and provide a more consistent basis for paint, British Motor Heritage also sends all assembled bodyshells out for E-coating. "E-Coat" is a technology used worldwide for high-quality, low-cost, environmentally-friendly, corrosion protection. Approximately 98 percent of all automobiles produced worldwide are primed with E-Coat because of the exceptional corrosion protection it provides!

E-coat should NOT be confused with powder-coating! The "E" in E-Coat indicates that the primer is deposited by completely immersing the bodyshell in an "electrophoretic" liquid paint emulsion. An electrical current is passed through the paint tank, causing the paint in contact with the metal bodyshell to adhere. The coating thickness is controlled by voltage adjustment. The current is typically only applied for about two minutes. (This is a subtle difference between E-coat and plating processes where coating thickness is controlled by amperage and especially by time.) The newly adhered paint blocks further deposition until an exceptionally even covering of paint is achieved. (The variation is typically 0.1 to 0.2 Mil, versus a thickness variation of 0.5 to 2.0 Mils for paint spraying techniques. Furthermore, spraying techniques tend to produce even less consistent protection on sheet metal edges, sharp corners, and recesses.)

Heritage bodyshells have been E-coated since the start of production back in 1988. Since 1993 all Heritage bodyshells have been E-coat primed after assembly, over top of their galvannealed zinc coating.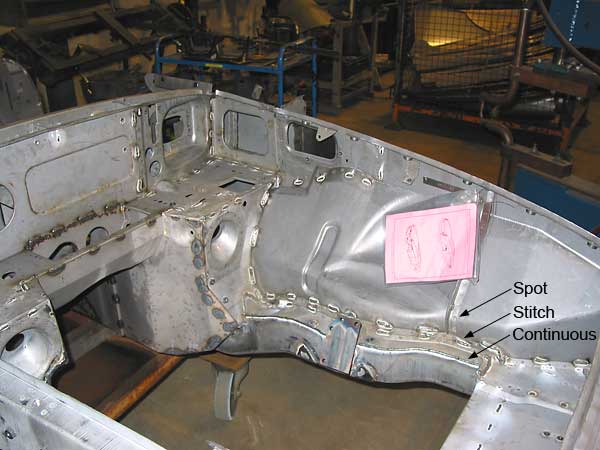 Want a stronger, stiffer bodyshell? British Motor Heritage now offers seam-welding before E-coat and paint.
Stronger and Stiffer - The Competition Bodyshell Program
All of the classic BLMC models were built using spot welds and spot welds remain the main welding technology for Heritage bodyshells, but there were always a few places where the spot-welder electrode tips couldn't reach. (The welding equipment has to reach both the front and back side of the joint at once.) Back in the day, oxy-acetylene (flame) welding was used to weld these areas. Now, MIG electric arc welding is used instead. MIG welding involves use of an inert gas to "shield" the weld area (i.e. to avoid weld puddle contamination and to reduce splatter.)
Enjoying this article? Our magazine is funded through the generous support of readers like you!
To contribute to our operating budget, please click here and follow the instructions.
(Suggested contribution is twenty bucks per year. Feel free to give more!)
British Motor Heritage's NEW "competition bodyshells" feature extensive MIG welding that supplements the standard spot welds for significantly increased chassis stiffness, strength, and crashworthiness. The Heritage competition bodyshell program also includes an a la carte menu of optional features including: welded-in roll-cage mounting brackets, precision-made roll-cages, reinforced mounting features for racing-type shoulder harnesses, FIA-spec tow eyes, etc. See Heritage Competition Bodyshells and Equipment for detailed information.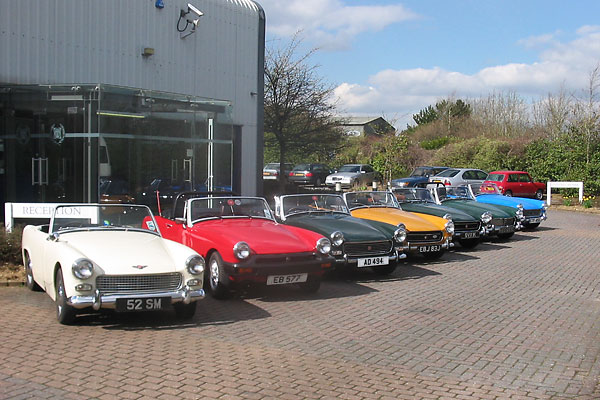 A Spridget Club Get Together at British Motor Heritage
Austin Healey Sprite and MG Midget ("Spridget") Bodyshells
MGB fans sometimes forget a few facts about the little "Spridget" models, like that the MG factory at Abingdon had already produced over sixty thousand Spridgets before MGB production started in May 1962. That number includes all 48999 of the Mk.I (aka "bugeye" or "frogeye") Sprites. Their production run lasted from March 31, 1958 through January 1961. The Mk.II Sprite and Mk.I Midget were both launched in 1961. In 21 years and 8 months of production, almost as many Spridgets were built as MGB roadsters. Like the MGB, these little cars featured elegant, modern "unitbody" construction instead of frame-on-body construction.

British Motor Heritage has collected up the original tooling, and has been building Heritage Spridget bodyshells since 1991.

Are you curious to have a look? See photos of MG Midget bodyshells being built.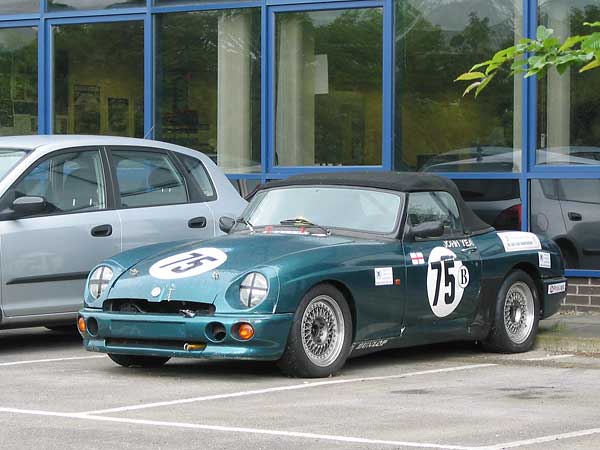 Managing Director John Yea's MG RV8 race car (parked outside British Motor Heritage)
MG RV8
British Motor Heritage played a pivotal role in the design, development and production of one of the rarest and most prestigious MG models. In 1990, Rover Group became interested in reviving the MG badge on an upmarket, limited-production sports car as a precursor to introducing more mass-market models such as the MGF. Code named "Project Adder", Rover purchased a Heritage MGB bodyshell and began mocking-up in modeling clay a thoroughly updated design.

Rover then contracted British Motor Heritage and Abbey Panels (famous supplier of hand-formed panels such as the original Jaguar XKE hood and the first Ford GT40 chassis) to bring concept to reality within a very modest development and tooling budget. British Motor Heritage would assemble the bodies for all RV8 cars.

First shown publicly in October 1992, the MG RV8 was obviously stylistically derived from the MGB, except featuring a wider and stronger stance. The RV8 was critically acclaimed, despite its premium price. Rover was especially delighted by response to the car at the 1993 Tokyo Motor Show. They wrote nearly 1300 orders! In fact, of the 2000 cars built, over seventy-five percent went to Japan. Rover assembled their final MG RV8 on November 22, 1995 after having accomplished their public relations goal.

Sadly for North Americans and mainland Europeans, Rover never even developed a left-hand-drive RV8, and at this time The British V8 Newsletter is only aware of three MG RV8 cars that have made it to North America.

Although all 2000 of the MG RV8 production bodyshells were built by British Motor Heritage, Scott Miller's RV8 is unique because he actually started with an aftermarket bodyshell and built his own car! Actually, Scott's car is even more one-of-a-kind than that because he invested all the special skill and effort to create a left-hand-drive RV8. You can read more about it here:
Rare: Scott Miller's Unique Left-Hand Drive MG RV8, or here:
Photos of Scott Miller's 1994 MG RV8

I guess it's small consolation to us now, but one of the best things about Rover's MG RV8 program is that it resulted in significant improvements to British Motor Heritage facilities. (I'm also happy about Rover's pioneering use of through-the-fender headers.) At this time the BMH isn't offering RV8 model Heritage bodyshells for sale.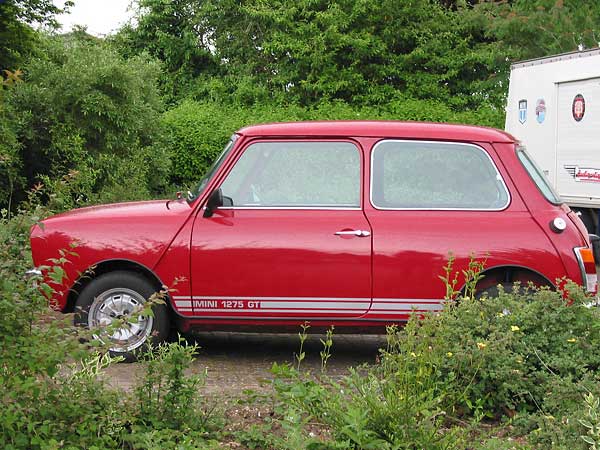 The Classic Mini and Mini Clubman models (including the "Mini 1275-GT") can be built from Heritage bodyshells.
Classic Mini and Mini Clubman
Naturally, there's a great deal of interest in everything to do with Sir Alec Issigonis's brilliant little over-achiever. Like most "younger" North American's, I mostly know the Mini from Austin Powers movies... but those movies have really sparked my curiousity. In total, 5.4 million classic Minis were manufactured over forty-one years of production. That build was spread over factories in eleven different countries. However, considering the worldwide popularity of the Mini as an icon of the sixties, remarkably few classic Minis were ever brought to North America.

BMH received the classic Mini tooling when production ended at Longbridge in 2000, and now Heritage Mini bodyshells are available in several interesting variants.

"Be the change you want to see in the world." Wouldn't a Heritage Mini bodyshell be an excellent platform for your next project? High performance and great gas mileage? Heck, why not build yourself an electric car? Trade in your sport utility vehicle now.
Another interesting but less obvious choice for your next hot-rod would be the Mini Clubman. The original Mini Clubman was produced from 1969 to 1980 in "saloon", "estate" (station wagon) and 1275-GT forms. (The 1275-GT version was a sub-variant of the saloon. It was the "performance package".) Strictly speaking, BMH only produces a Heritage bodyshell versons of the final-generation (1976-1980) Mini Clubman saloon. Although the Mini Clubman styling isn't universally popular, its larger engine bay suits installation of larger engines than a standard Mini. In England, hot-rodders frequently swap Honda VTEC, Vauxhall, or Rover K-series engines into the Mini Clubman. What would you put in your Mini Clubman? (Note: Clubman production totaled 626312 cars spread over eleven years of production. The breakdown was: 331675 saloons, 176688 estates, and 117949 1275-GTs.)

Note: galvannealed steel is not yet included on the new Hertage Mini and Mini Clubman bodyshells models, although they do come with E-coat primer.

What about Triumph TR6? For the time being, British Motor Heritage isn't accepting orders for Triumph TR6 Heritage bodyshells. They've produced a few... but production proved problematic because TR6 is a body-on-frame car. Even when BMH delivered a "perfect" TR6 bodyshell, there was no way to guarantee it would fit on a customer's (possibly tweaked) original TR6 frame. The TR6 bodyshells also proved especially susceptible to damage in shipping. If new aftermarket Triumph frames were available, BMH might consider marrying them to bodies and re-introducing the Heritage TR6 bodyshell.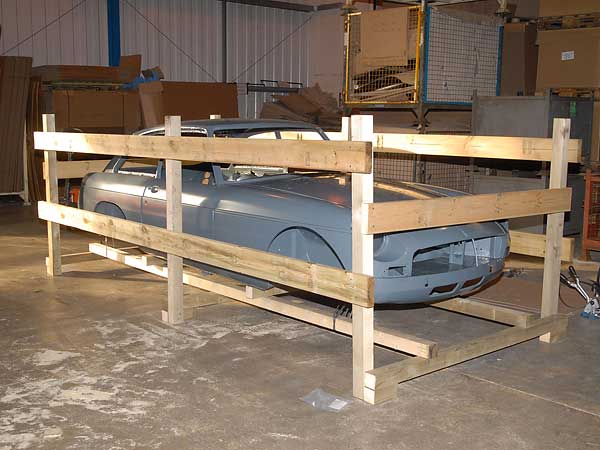 MGB-GT bodyshell being crated for shipment.
Order Your Bodyshell Factory-Direct
Until recently, Heritage bodyshells were only available through "Heritage Approved Specialists". Beginning in late 2006, British Motor Heritage now offers factory-direct sales too. Obviously there's potential for dramatically improved efficiency, but another motivation is that direct communication improves customer satisfaction.

British Motor Heritage prices their bodyshells in their local currency, "pounds sterling". They also add a 17.5 percent Value Added Tax ("VAT"). If you're purchasing a bodyshell for use outside the European Community, you may be able to get a refund of the value-added tax.

Shipping cost is also additional, and will have to be quoted on a case-by-case basis.

Purchasing a bodyshell by credit card is probably the easiest method. Check with your credit card company to determine current dollar-to-pound exchange rate and verify whether they have a surcharge on international purchases. (The credit card company's surcharge will probably be trivial. You could alternatively use an internation wire transfer, but the charge for that would be higher.)

Bodyshells are available in many variants. Here is a sampling so that you can get an idea of what they currently cost.
Note: currency exchange rates vary daily. Don't despair - they're likely to improve for North American customers soon.
(Prices below were current as of September 1, 2007. Exchange rates were current on September 1, 2007.)
MODEL #
SPECIFICATION AND KEY FEATURES
G.B. POUNDS
U.S. DOLLARS
Popular MGB Variants
HZA4246
67-74 MGB roadster, USA spec
£ 4400
$ 8880
HZA5547
76-80 MGB roadster, USA spec
£ 4400
$ 8880
BMH4011
"chrome-bumper" MGB roadster with V8 mods
£ 5100
$ 10256
HZA4248
67-74 MGB-GT, USA spec
£ 4750
$ 9586
BMH9010
74.5 MGB-GT, USA spec
£ 4750
$ 9586
HZA4251*
"chrome-bumper" MGB-GT with V8 mods
£ 5400
$ 10859
MG Midget
BMH8057
Oct.66 - Aug.69 MG Midget (square wheel arch)
£ 3800
$ 7669
CZJ366 (& 203)
Aug.69 - Aug.71 MG Midget (square wheel arch)
£ 3800
$ 7669
CZJ83 (& 84)
Aug.71 - Oct.74 MG Midget (round wheel arch)
£ 3800
$ 7669
Popular Mini Variants
BMP0343
76-85 MkIV Mini
£ 3200
$ 6458
AAA360210
86-89 MkV Mini "sports pack"
£ 3200
$ 6458
CZH594
69-80 Clubman/1275-GT Mini
£ 3300
$ 6660
MGB "Competition Bodyshell" Options
???????
incremental charge for MGB seam welding
£ 750
$ 1512
???????
incremental charge for MGB roll-cage
£ 1500
$ 3024
???????
incremental charge for MGB FIA-spec tow-eyes
£ 100
$ 202
???????
incremental charge for MGB shoulder harness reinforcement
£ 95
$ 192
???????
incremental charge for MGB aluminum hood
£ 125
$ 252
???????
incremental charge for MGB aluminum deep front valance
£ 395
$ 796
???????
incremental charge for MGB fiberlass rear valance
£ 350
$ 706
???????
incremental charge for MGB baffled/foam-filled fuel tank
£ ???
$ ???
MG Midget "Competition Bodyshell" Options
???????
incremental charge for MG Midget seam welding
£ 750
$ 1512
???????
incremental charge for MG Midget roll-cage
£ 1400
$ 2822
???????
incremental charge for MG Midget FIA-spec tow-eyes
£ 100
$ 202
???????
incremental charge for MG Midget shoulder harness reinforcement
£ 95
$ 192
Mini / Mini Clubman "Competition Bodyshell" Options
???????
incremental charge for Mini seam welding
£ 750
$ 1512
???????
incremental charge for Mini roll-cage
£ 1400
$ 2822
???????
incremental charge for Mini FIA-spec tow-eyes
£ 100
$ 202
* : for HZA4251 you must specify left-hand drive, or you'll get right-hand drive.
A ten percent non-refundable deposit is required with the initial order, and must be increased to a fifty percent payment before commencement of build. The remaining fifty percent payment is due upon receipt of the bodyshell.

What about shipping cost? You'll need to call for a quote and work from there. The cost will very depending on your delivery location and on whether more than one bodyshell can be shipped over together. (Three crated MGB bodyshells, for example, will fit in a forty foot steel shipping container - but the cost to transport one container is the same whether it's full or empty. Heritage will be happy to consolidate shipments if they can.) Just for reference, to give you a conservative high-side shipping estimate, a customer recently paid $4800 for door-to-door transport of a GT bodyshell from Heritage to the buyer's house in Seattle Washington. In this case, the international transport charge wasn't shared at all. The cost of the wooden crate is £330 (about $667) + VAT.

How long will it take? Heritage bodyshells are made-to-order, and they're made in batches. You'll need to check with Heritage to see when your bodyshell can be produced. Delivery time also needs to be quoted on a case-by-case basis. Just for reference, delivery from the port in England to Seattle Washington takes about twenty-five days.

Disclaimer: This page was researched and written by Curtis Jacobson. Views expressed are those of the author, and are provided without warrantee or guarantee. Apply at your own risk.

This article is part of a set of FIVE! If you enjoyed this article, check out:
BMH's Exciting New Competition Bodyshell Program
How BMH Built a Brand-New Vintage Race Car
The Building of an MG Midget Body
The Building of an MG MGB Body

Photos by Curtis Jacobson for The British V8 Newsletter, except the first, sixth and eleventh photos from the top of the article, which remain property of British Motor Heritage and which are used by permission. The photo of Spridgets lined up outside BMH is by Steve Clark, and is used by exclusive permission. All rights reserved.