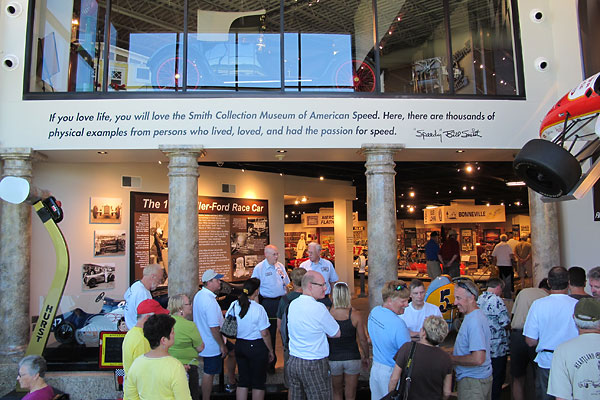 "If you love life, you will love the Smith Collection Museum of American Speed. Here, there are thousands of
physical examples from persons who lived, loved, and had the passion for speed." - "Speedy" Bill Smith


BritishV8 Tours: The Speedway Motors Museum of American Speed
by Curtis Jacobson


Sharing a Passion for Speed
BritishV8's seventeenth annual meet was held in Omaha, Nebraska. From Omaha, we enjoyed group outings in various directions. One of BritishV8 2013's most exciting and inspirational outings was our tour of The Speedway Motors Museum of American Speed in Lincoln. (The museum is transitioning to new name. Until recently it was known as "The Smith Collection Museum of American Speed".)

The museum is located on the campus of "Speedy" Bill Smith's company. Speedway Motors is of course a leading supplier of high performance parts for street rods and racecars, and Speedway has served those markets for over 60 years. The Smith Collection Museum was established in 1992. It's housed in a modern, 135,000ft², three story building. Guided tours are provided by knowledgeable and enthusiastic docents on weekdays at 2pm from May through September. Through the balance of the year, tours are given on Fridays only. Large groups may be able to make special arrangements. The admission fee is $10/person, but a coupon for free admission is given to visitors who spend $20 or more across the parking lot at the Speedway Motors parts counter.

Our BritishV8 group numbered over forty people, so we divided into two subgroups for tours led by Rich Johnston and Ray Valasek respectively. Both docents were patient with our questions and generous with their time. Our two hour tours were actually about two and a half hours long. The following photos show a very small subset of the museum's current display. The museum has much more in storage and in the process of restoration. I'm planning to make return visits!


Just Inside the Door: Miller Ford!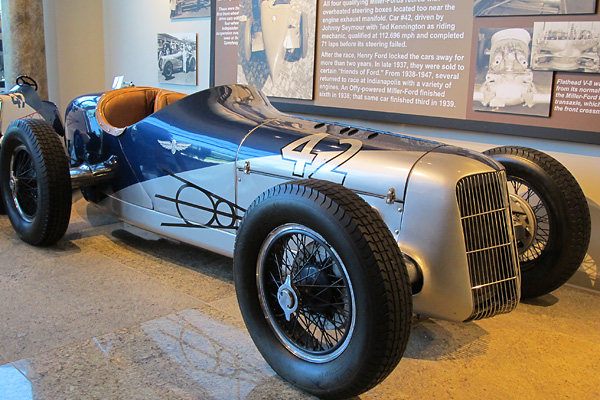 This exceptionally streamlined Miller Ford was designed and built to race in the 1935 Indianapolis 500.
Harry Miller had just survived bankruptcy and the loss of his engine business. Then, Preston Tucker
came to Miller and suggested approaching Ford Motor Company for sponsorship. Edsel Ford accepted
their proposal and agreed to finance a ten car team. However, the deal wasn't finalized until February
1935. Five Miller Fords were race-ready in time to qualify for the race. (Shown here: Johnny Seymour
and Ted Kennington's #42 Miller Ford which started 27th and finished 24th, retiring after 71 laps.)
All ten of the original Miller Ford racecars survive to this day.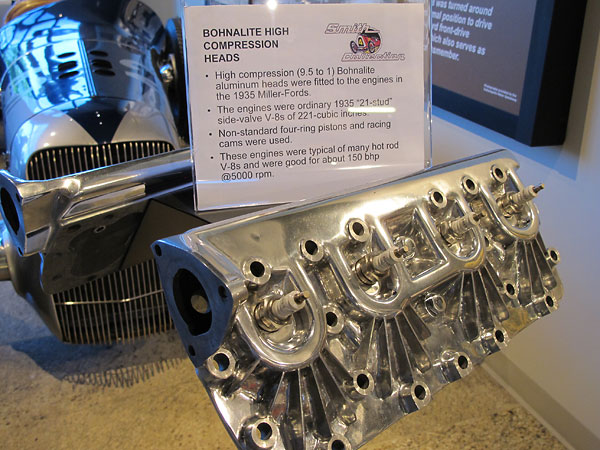 The 1935 Miller Fords utilized Bohnalite high compression aluminum cylinder heads. Even with these
heads, the compression ratio was just 9.5:1 and power output was only about 150bhp at 5000rpm.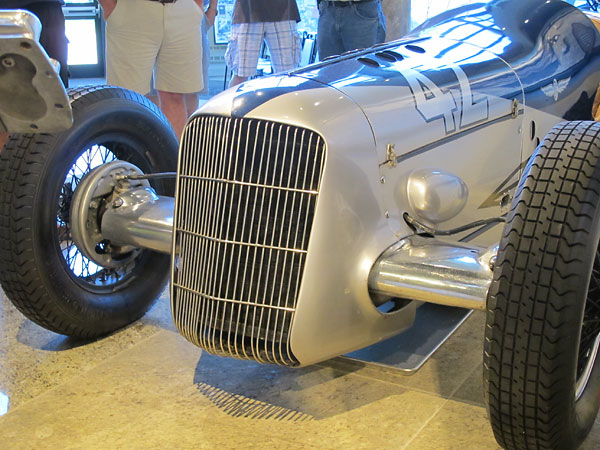 Using a production block Ford V8 put the team at a disadvantage, but they believed they could make up
the difference with superior aerodynamics. These are front wheel drive cars! Ford's side-valve V8 was
turned around backwards and mated to a two-speed transaxle. Eliminating the driveshaft helped Miller
get seat height down. Streamlining obscures the fact that these cars featured four wheel independent
suspension. Rather than use fairings, upper and lower control arms are sculpted and quarter
elliptic leafsprings are nested between them.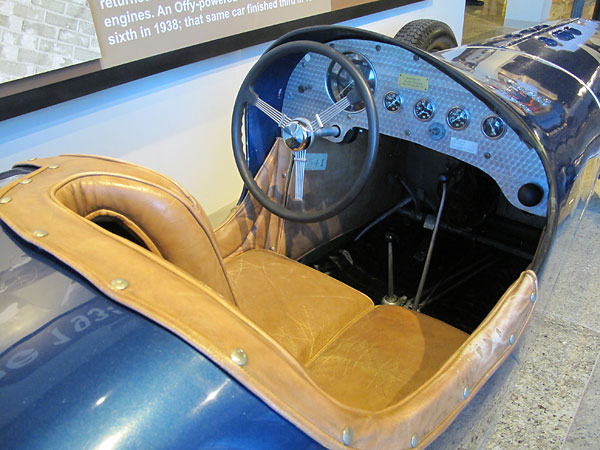 Four Miller Fords qualified and raced in 1935, but all four dropped out due to the same design mistake:
steering gears located too close to exhaust manifolds became so hot they bound up. Embarassed by the
race results, (Edsel's father) Henry Ford impounded the cars for two years. He ultimately relented and
allowed them to be sold. Some raced with Ford engines while others were re-powered with Offenhauser
engines. An Offy powered Miller Ford placed 6th in the 1938 Indy 500, and 3rd in '39. One Miller Ford
was rebuilt with the first Novi V8 racing engine; it placed 4th in 1941's Indy 500. The Ford powered
Miller Ford that Pete Romcevich drove (for Granatelli) in 1947 was historically significant. It was
the last production block engine at Indy until 1962 when Buick's aluminum V8 appeared.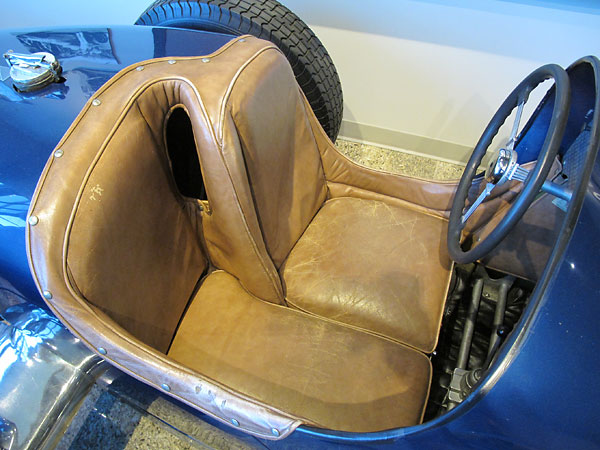 No seatbelts! Race rules stipulated a two person driver/mechanic team. The mechanic braced
himself by reaching through a hole in the seat to grab a handle mounted on the chassis.


Miller and Offenhauser Racing Engines

Introduced in 1926, Miller's "91" model (91cid) engine came third in a series of similar designs.
Notice that it has four twin-throat updraft carbs of Miller's own design. The 91 was also offered
with an optional supercharger. The 183, 122, and 91cid Offenhauser engines won
Indianapolis 500 races ten times between 1922 and 1934.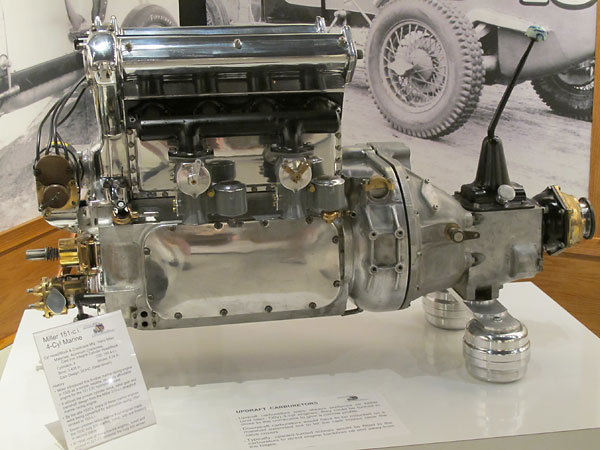 Miller's 151cid "Marine" engine was also introduced in 1926. Many design features were carried
over from Miller's 310cid straight eight marine engine. Athough conceived for hydroplane racing,
car racers discovered and adopted these engine; often stroking them to 183cid or even 221cid.
(These were relatively economical compared to straight eights.) Seven of these engines competed
in the 1930 Indianapolis 500, and one finished 2nd. A "220" stroker won the 1934 Indy 500.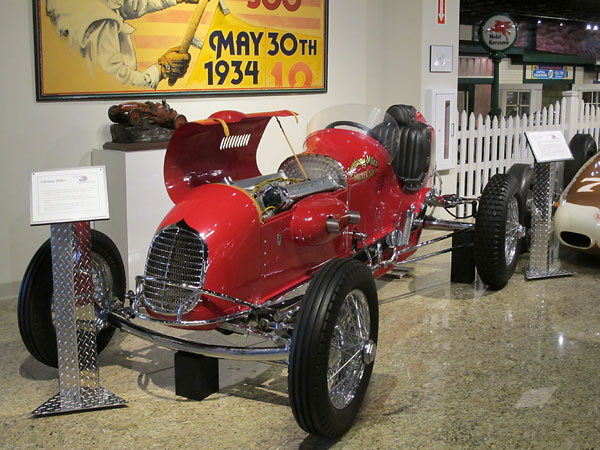 Let's digress for a moment to look at an example of the sort of car that used the Marine engine.
This is "The Christie Miller". It was built in 1937 by Floyd "Pop" Dreyer for Lyle Christie.
This car had a long career in the Midwest, raced by many drivers, but always owned by Christie.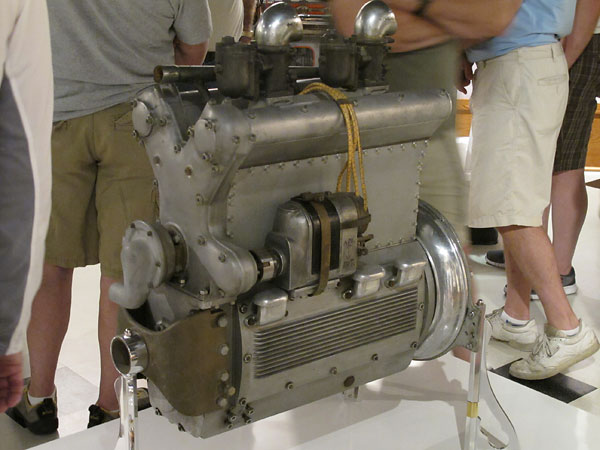 Miller engines traditionally featured barrel crankcases. Crankshafts are removed by pulling them
out through the rear. Cylinder heads and cylinders were cast as one integral component. (No head
gasket to fail!) This particular model was designed by Leo Goossen in late 1930 and early 1931.
It features dual overhead camshafts and twin downdraft carbs. Initially, displacement was 200cid
(3.875" bore and 4.25" stroke) and this 325# engine was rated 200hp at 6,000 RPM. Before long,
Miller began boring these engines to 4.0025" (220cid). They also changed to side intake ports.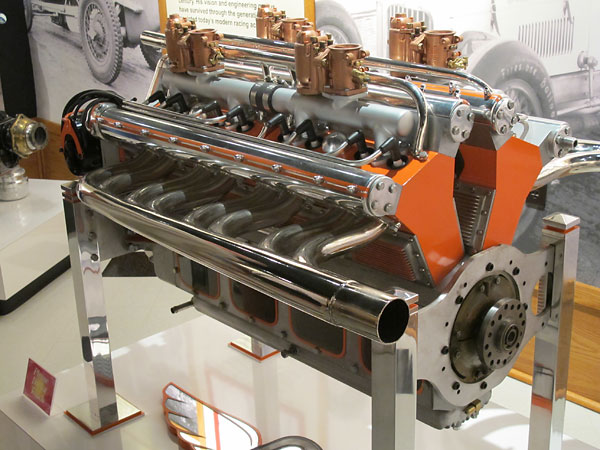 Also designed for Miller by Leo Goossen, Miller's V16 design debuted at Indy in 1931. This is
the second Miller V16 built, it was used in 1947's Indy 500. 2.625" bore. 3.125 stroke. 618#.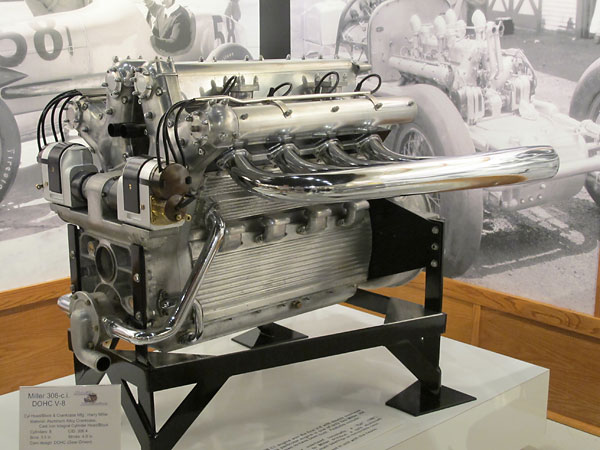 Miller's 308cid DOHC V8 was specifically designed for use in Miller's (two) 1932 four wheel drive
Indy Cars. One of these cars won the 1936 AAA Championship. The other traveled to Europe to
contest international races. This may be the first V8 to feature dual overhead camshafts. Cylinder
banks are arranged in a 45° V, and a flat (180°) crankshaft is used. New to Miller, its split aluminum
crankcase features babbitted bearings in removeable caps. Heads/cylinders are cast iron.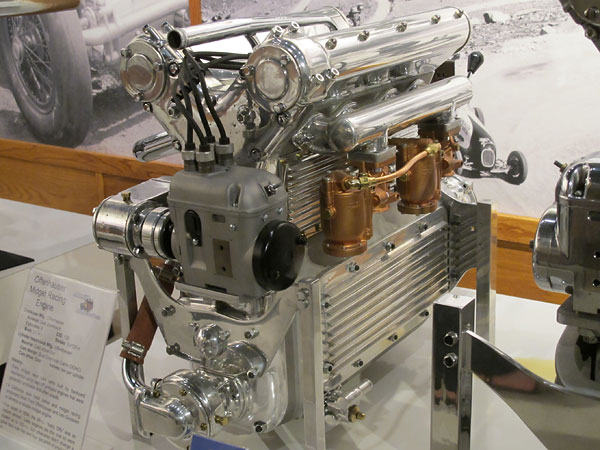 Fred Offenhauser bought out Miller's engine production business in 1934, and began producing
engines for Midget racecars. This series of engines started at 98cid, but was soon increased to
102cid. (The later version is shown here.) The design was remarkably stable for nearly four
decades. Basic specifications: aluminum crankcase with cast nickel iron heads/cylinders,
two-valves-per-cylinder, 3.0" bore by 3.6125" stroke.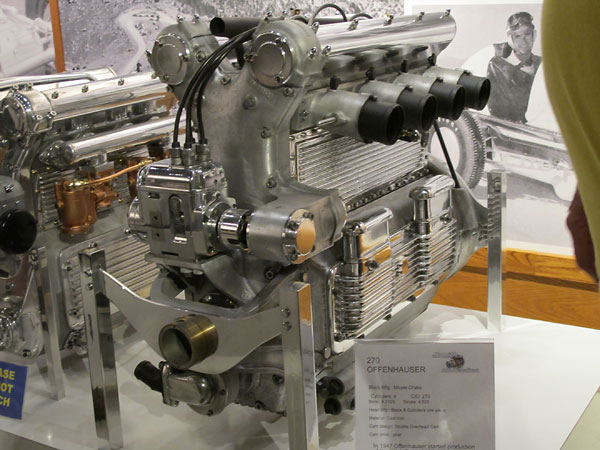 Dale Drake and Lou Meyer bought the Offenhauser engine company in 1946. In 1947, Offenhauser
started production of the "high tower" 270cid four cylinder engine. It featured dual overhead cams,
four valves per cylinder, five main bearings, 4.3125" bore by 4.625" stroke, and a compression
ratio of about 13:1. These engines produced ~415hp and easily revved to 6000rpm. Result?
Offenhauser engines completely dominated their chosen racing classes for fifteen years.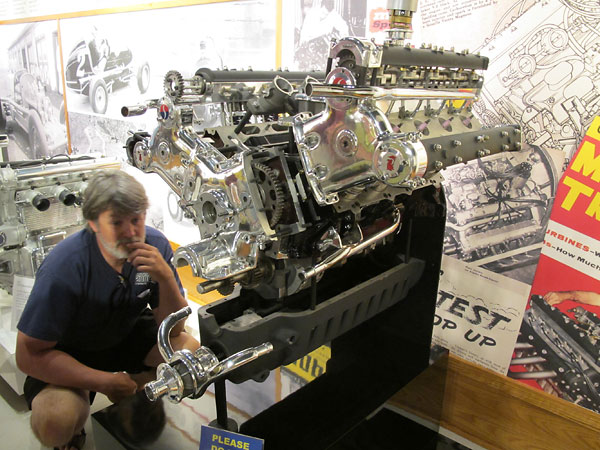 Didn't anyone compete with Offenhauser? J.C. Agajanian paid $225,000 to commission this
274cid V8 racing engine. He hired Leo Goossen to design it around a production Studebaker V8
engine block, with special machined-steel DOHC heads. A racecar with this engine arrived at the
1953 Indy 500, but its team withdrew after their high-torque starter damaged their crankshaft.


Diversity in the Midway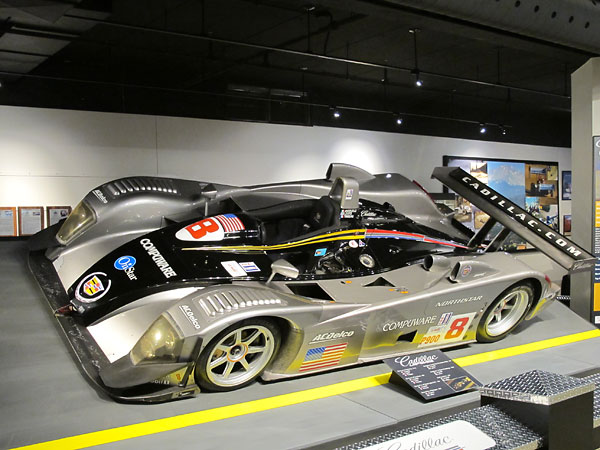 After two seasons of putting their name on American LeMans Series racecars designed and built
by Riley and Scott, for the 2002 season Cadillac decided to design and build their own chassis.
Yeah, right! Actually, Cadillac's 2002 LMP cars were designed by Nigel Stroud (formerly of March,
Hesketh, and Lotus Formula One) and built in Brackley England by Stroud's company: "3GR". This
racecar's "Northstar" engine bears no resemblence to the mass-produced engine of the same name.
Instead, it's a specially developed version of the Ilmor Indy Racing League engine. Nonetheless,
Cadillac LMP "02-002" placed 9th in the 2002 24 Hours of LeMans and 31st at Sebring.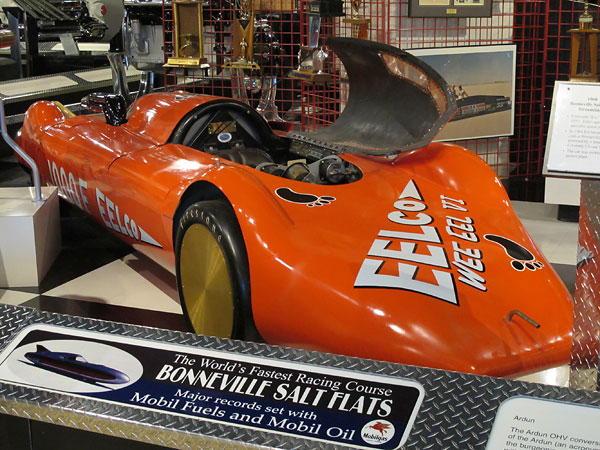 Ellsworth Lohn founded Eelco Manufacturing Company in 1953 to supply speed parts.
Lohn built Wee Eel VI in ~1960 for speed record attempts on the Bonneville Salt Flats.
In 1964 a 90cid Coventry Climax engine powered Ellsworth Lohn into the 200mph club.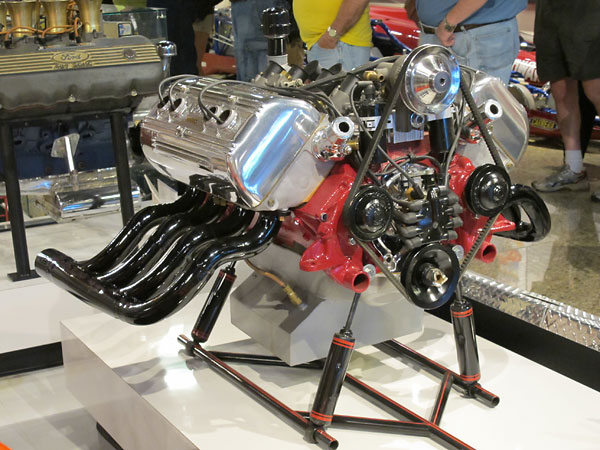 Of all the things Speedy Bill passionately collects, performance upgrades for Ford flatheads
must be Number One Priority. His museum includes huge collections of antique pedal cars,
lunchboxes, car club plaques, and Buck Rogers stuff but you're never far from yet another
flathead Ford. And, where engines are displayed they're usually on nifty custom stands.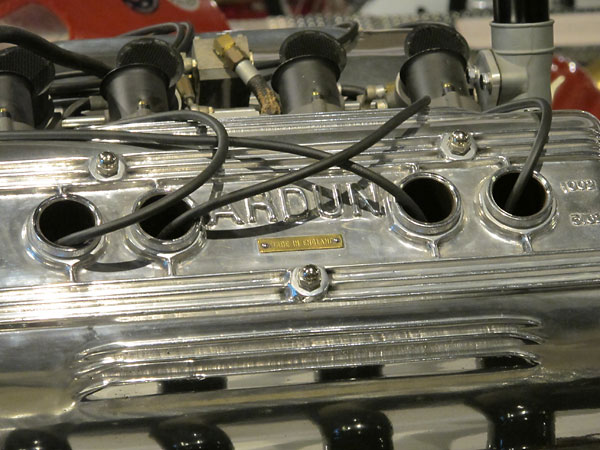 It's a museum of American speed, but international elements can be found throughout. Russian
immigrant brothers Zora and Yura Arkus-Duntov initially based their company in New York,
but they outsourced production of their famous Ardun cylinder heads to a foundry in England.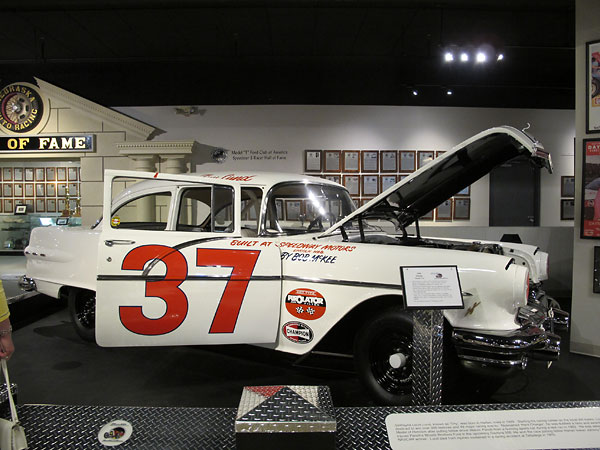 Bob McKee built a 1956 Pontiac stock car like this for racing legend Dewayne "Tiny" Lund. (This
reproduction of Lund's car was built by Greg and Bea Schneider of Minnesota.) After stock cars,
Bob moved on to more interesting projects. Bob put Buick's brilliant aluminum V8 in the back of a
Cooper Monaco racecar for Indy 500 winner Rodger Ward. That project led Bob to development
and production of robust transaxles so other racers could follow suit. Before long, Bob was
designing and building Can-Am racecars! Read a bit more about Bob here.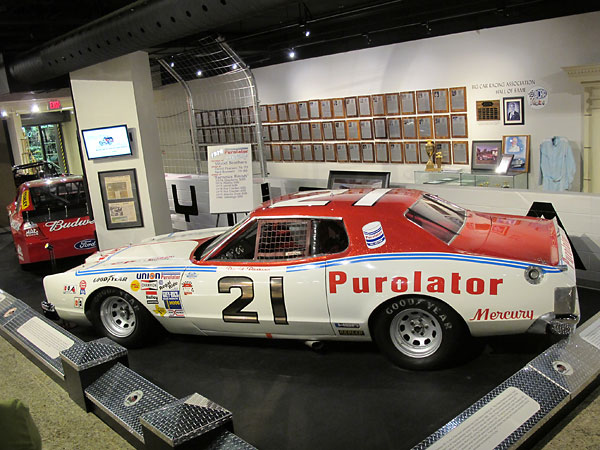 David Pearson's Wood Brothers Racing Mercury Montego with which he won the 1976 Daytona 500.
It may have been the most dramatic finish in NASCAR history. King Richard Petty was leading on
the last lap. David Pearson passed him cleanly for the lead. Coming through the last corner,
Petty retook the lead but didn't get by cleanly. The two cars both spun into the infield.
Petty's car stalled out, but Pearson managed to keep his engine running. Pearson's
wrecked Montego roared out of the field and across the finish line to victory.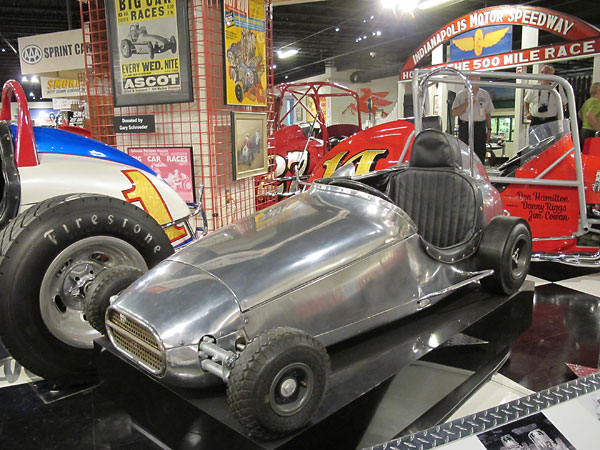 Lil Gump is a Quarter Midget racecar built by Bruce Bromme for his son in the late 1950s.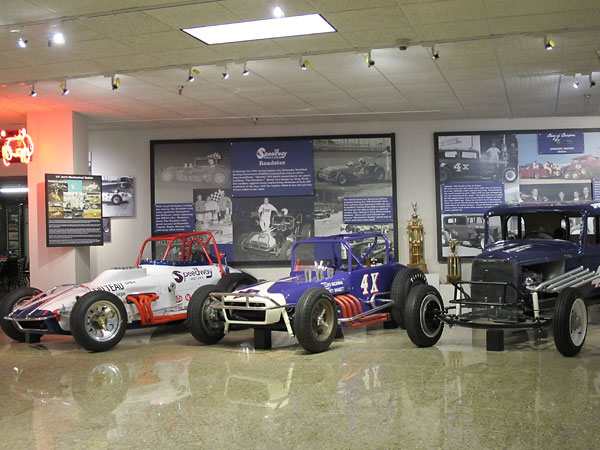 Speedy Bill's own creations. At right, the "4x" sedan exploited a loophole in early 60s rules. Setting
the engine back was prohibited, but nothing said you couldn't move the front axle forward. The 4X
sedan seemed invincable on short tracks, winning sixteen feature races in a row. Middle: "The
Roadster" was built for the 1964 season to compete in the Nebraska Modified Racing Association's
new Supermodified class. Note that the engine is offset to the left and the driver to the right.
The white car at left is one of three famous "Mechanical Rabbit" roadster style sprint cars
which derived from The Roadster. A collaboration of Don Brown and Greg Weld...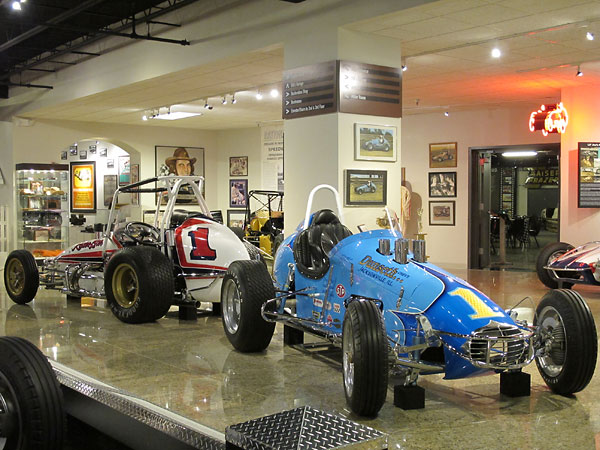 Greg Weld won the 1967 USAC Sprint Car Championship in this Dunseth team Chevy. You
might wonder if the paint job is unrealistically immaculate. No. The Dunseth team and racecar
builder Paul Leffler in particular were renowned for exceptionally high presentation standards.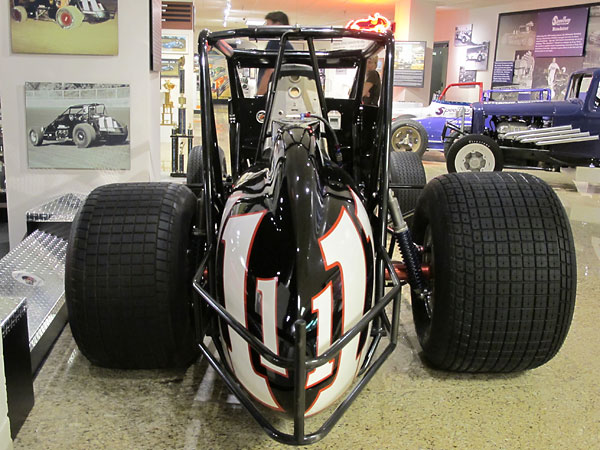 Check out this car's stagger! Wheels and tires of various sizes are positioned to help it get around
tight oval tracks. Bob East builds "Beasts" and this one was built it for co-owners George Snider
and A.J. Foyt. Davey Hamilton drove this car on paved tracks, whereas Tony Stewart and Snider
shared it on dirt tracks. Tony Stewart won his first Silver Crown race victory in this car
back in October 1997. (Note: Stewart also won that year's Indycar championship.)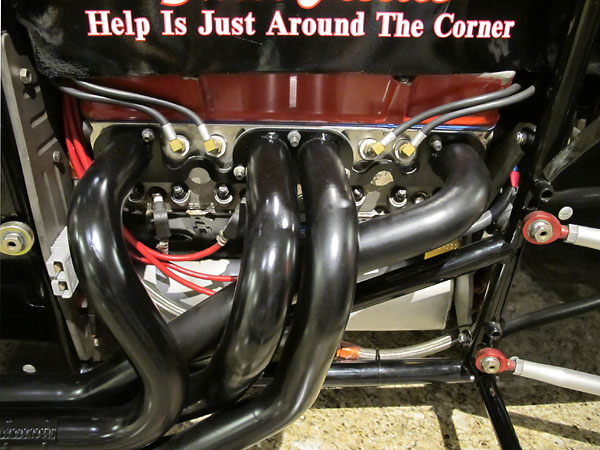 Nearly all modern Sprint cars feature simple mechanical fuel injection systems and burn methanol
instead of gasoline. The four black hoses in this view feed fuel nozzles mounted right in the Brodix
aluminum cylinder head. Heat helps with vaporization; placing nozzles low in the airstream helps
with airflow. Sprint cars can burn through as much as 30 gallons of methanol in a 30-lap race
if too many laps are taken under caution flags. What do they get for that fuel?
Their 410 cubic inch engines typically deliver over 800 horsepower.


Gasoline Alley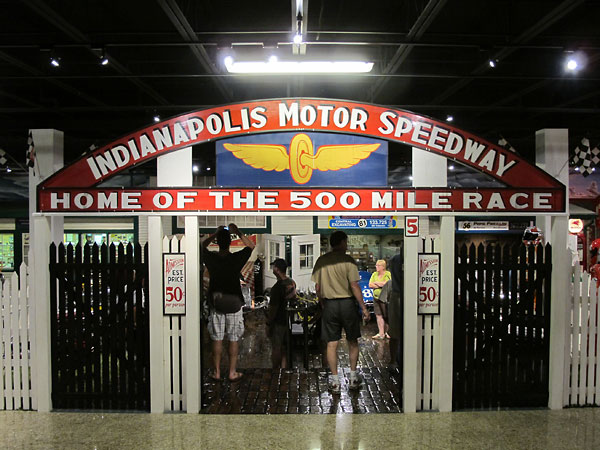 Indianapolis Motor Speedway - Home of the 500 Mile Race



Almost 100 Cornelian automobiles were produced by the Blood Brothers Machine Company of
Kalamazoo Michigan. They were advanced cars for their time: monocoque chassis, four wheel
independent suspension, rack-and-pinion steering, and a curb weight of less than 1000#.
Louis Chevrolet modified and raced a Cornelian in the 1915 Indy 500. He qualified at 81mph
and completed 76 laps before an engine failure. Many parts from Chevrolet's Cornelian
including his original engine (with broken valve), transmission, and clutch were used
in combination with a recreation of his chassis to build this 1914 Cornelian racecar.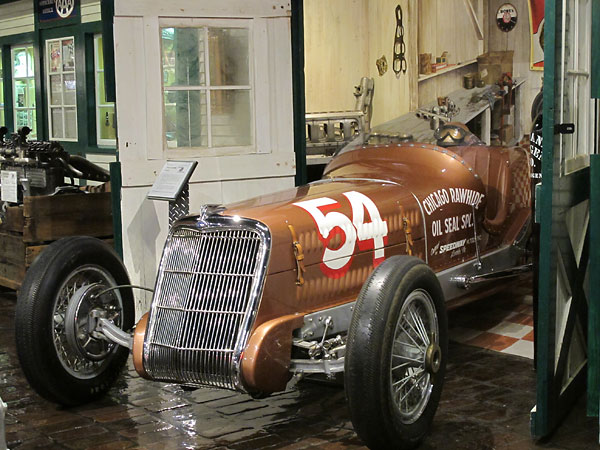 Mark Dees described a similar photo of this car in his book entitled The Miller Dynasty, as follows:
"The chassis used by Welch for his blown Offy was pure Ford in origin; it appeared here in 1935
when Ardinger failed to qualify it using a hopped-up flathead V-8." For 1937 the car apparently
also had a different grille and hood. Herb Ardinger qualified the #54 Chicago Rawhide Oil Seal
Special third in 1937 at 121.983mph. He finished 22nd, due to a connecting rod failure.
Compare: Vintage Photo of 1937 #54 Chicago Rawhide Oil Seal Special.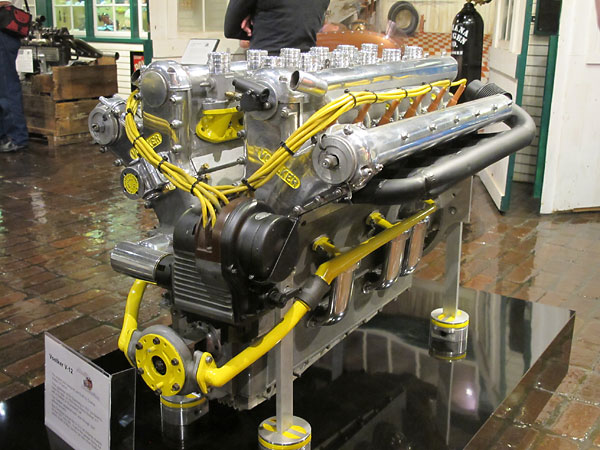 The history of the 500 includes many obscure engines. Charles Voelker of Detroit built this
273cid DOHC V12 - an impressive but ill-fated one-off. Although entered in every Indy 500
from 1937 through 1949, it only qualified for the big race once. In 1938, Henry Banks started
in 31st position and completed 109 of 200 laps before suffering a rod bearing failure.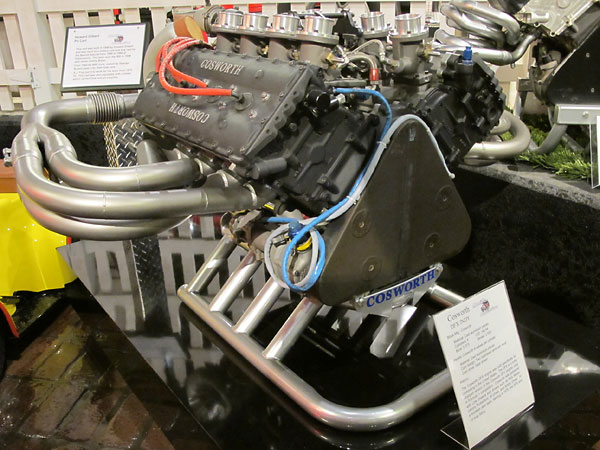 Introduced in 1976, the Cosworth DFX was a turbocharged 183cid variant of the Cosworth DFV
engine, which had already dominated Formula One racing for eight seasons. DFX powered cars
won the Indy 500 ten consecutive years from 1978 to 1987. DFX powered cars also won every
USAC and CART championship between 1977 and 1987, taking 153 race victories in the process.
Before the Cosworth DFX era ended, these engines were producing over 840 horsepower.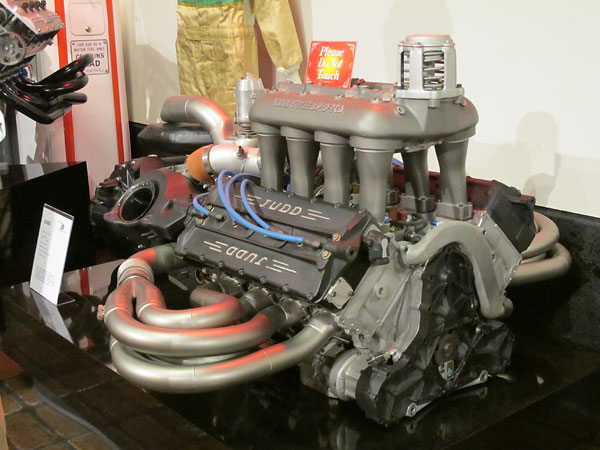 John Judd developed the Judd V8 for the Truesports Team. Bobby Rahal used a Judd V8
engine to win the 1988 Pocono 500, but the engine was otherwise unsuccessful.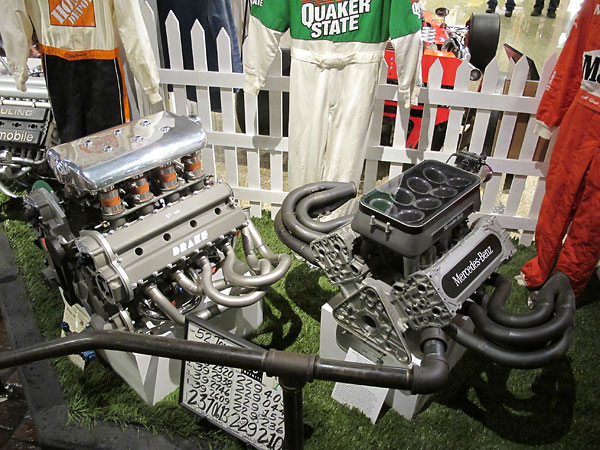 The Drake V8 filled in as Offy engines became obsolete in the late 1970s. Making ~570hp at 9500rpm,
it was never competitive. Next: the Mercedes 500I was developed by Ilmor for Team Penske to exploit
a loophole in Indy 500 rules that opened up in 1991. The loophole was within a rule intended to help
low budget teams race with less costly production-based engines such as Buick V6s. Pushrod engines
were allowed extra displacement (47.6ci) and turbo boost (10inHG = 4.9psi) The Mercedes engine met
the allowance's requirement by having pushrods. With 150-200hp advantage over the rest of the field,
the three car Penske team qualified fastest and dominated the 1994 race, eventually lapping the field.
(The loophole didn't apply anywhere else. The 500I engine was developed & built for exactly one race.)


Enjoying this article? Our magazine is funded through the generous support of readers like you!
To contribute to our operating budget, please click here and follow the instructions.
(Suggested contribution is twenty bucks per year. Feel free to give more!)
On The Road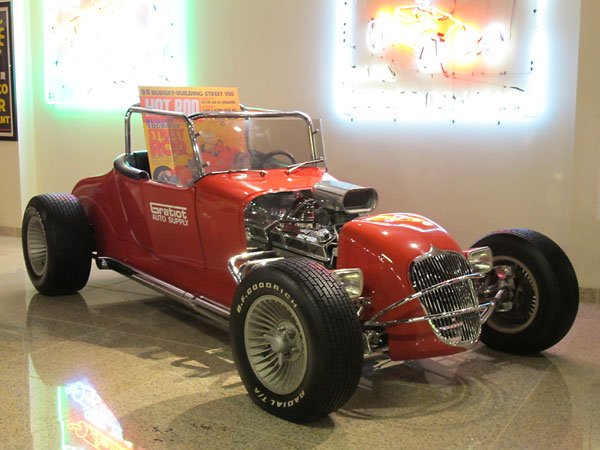 HotRod Magazine "Build Yourself a Street Rod" Cover Car.
Speedway sells almost every single part to build a T-bucket style street rod.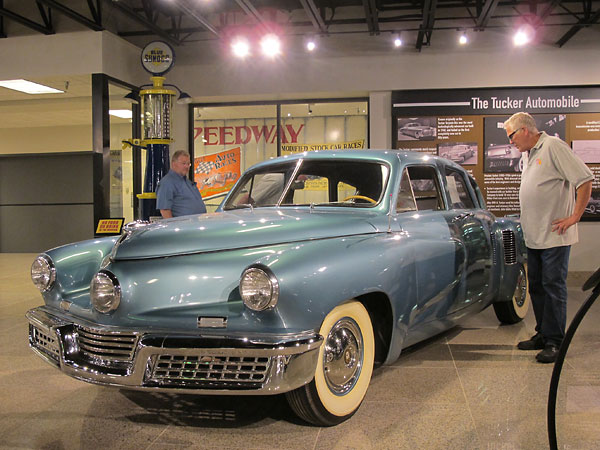 You might remember that Preston Tucker instigated the Miller Ford racecar project we presented
at the top of this article. Immediately after World War Two, Preston Tucker created an all-new
luxury car company. Although only fifty-one Tucker automobiles were built, the company did create
a tremendous splash. Designed by Alex Tremulis, the Tucker "48" featured a flat-six helicopter
engine, a Cord transmission, four wheel independent suspension, safety glass all around, and a
third headlight, among many other safety features. Note: during development Tucker called this
model "Torpedo", but that splashier designation was abandoned before the start of production.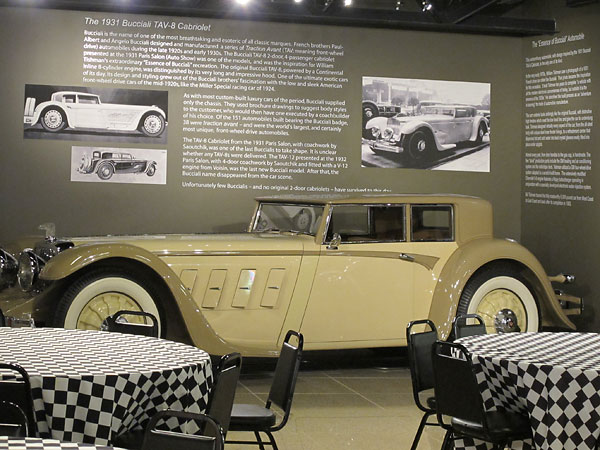 A photo of a Bucciali TAV-8 Cabriolet with body by Saoutchik as presented at the 1931 Paris
Motor Show inspired this lovingly built replica by William Tishman. Tishman designed and
handmade countless parts of this car. The drivetrain however features a turbocharged Chevy
V8 and a General Motors four wheel drive suspension. The original Bucciali was a front
wheel drive car. That's what TAV stands for: "Traction Avant" in French. 38 of the 151
cars Bucciali produced in their short history were front wheel drive. The long hood was
was required to house the car's original Continental inline eight cylinder engine.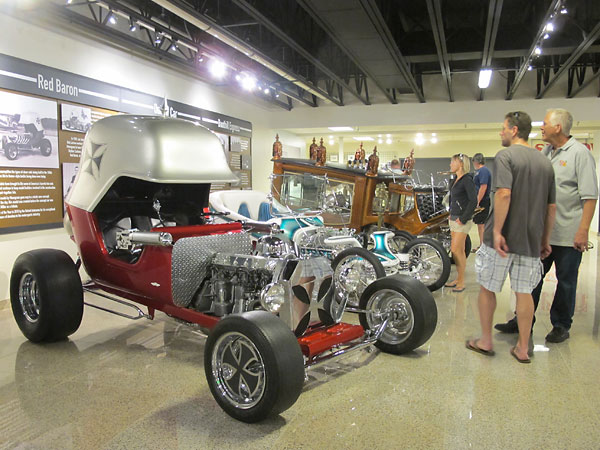 In 1967, Tom Daniel of the Monogram model company designed the Red Baron as a plastic scale
model in the T-bucket genre. Released in 1968, it rode the Kookie Kar craze to immense
popularity. It wasn't until 1969 that a full scale version of the Red Baron was created
by Skyline Customs for the car show circuit, at a cost of ~$10,000.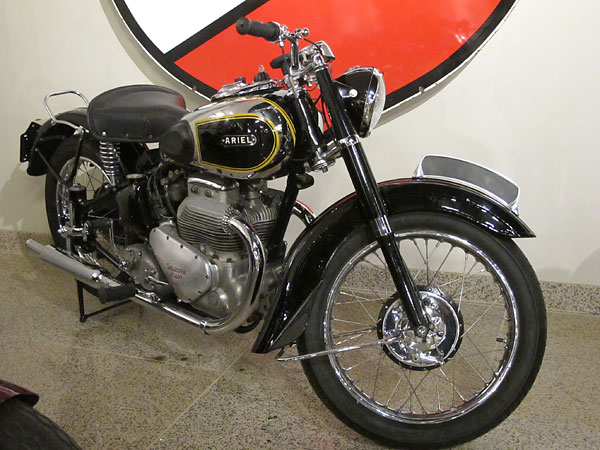 The Smith Collection displays a handful of motorcycles with noteworthy engines.
This is my favorite: an Ariel "Square Four"! The Birmingham company produced 15,639
Square Fours between 1931 and 1958. BritishV8 enthusiasts may recall that the
Square Four engine was designed by Edward Turner, who also designed the Daimler V8.


Restoration Shop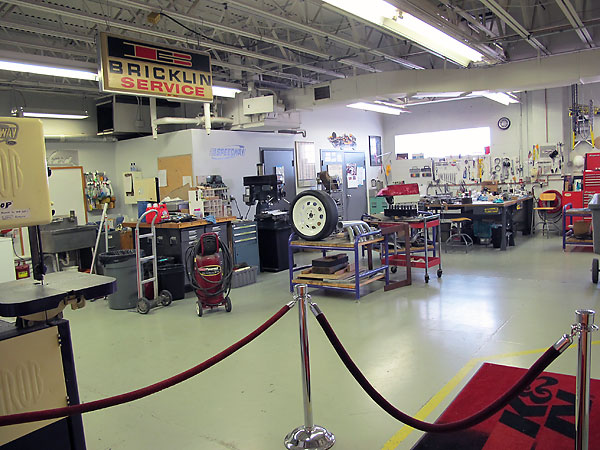 The Smith Collection's restoration and maintenance shop prepares their excellent exhibits.
A large machine shop and a warehouse are separately located within the museum building.


Over 600 Engines on Display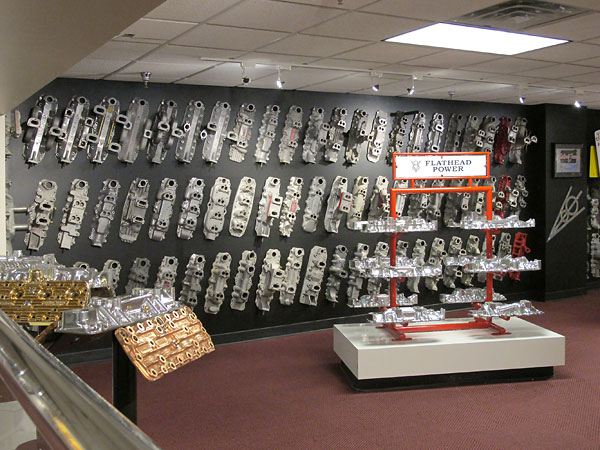 Speedy Bill's flathead V8 intake manifold collection. (I count eighty in this photo, but I've been
advised that 166 are currently on display and 64 more are in storage.) From the late thirties
through the mid fifties, Ford flatheads provided performance to hundreds of thousands of
enthusiasts. Ford's flathead V8 provided a foundation for the hot rodding industry.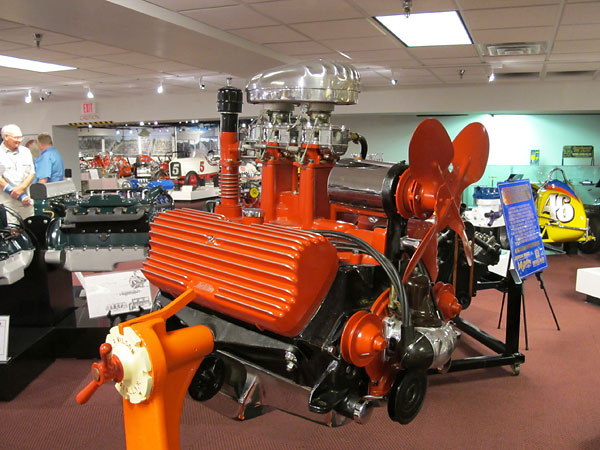 Originally conceived for hydroplane racing, Tommy Thickstun of Los Angeles developed splash
covers to bolt onto Ford flatheads. Two benefits: besides preventing spark plugs from shorting
out, they also suggested the familiar high performance appearance of Ardun-style cylinder heads.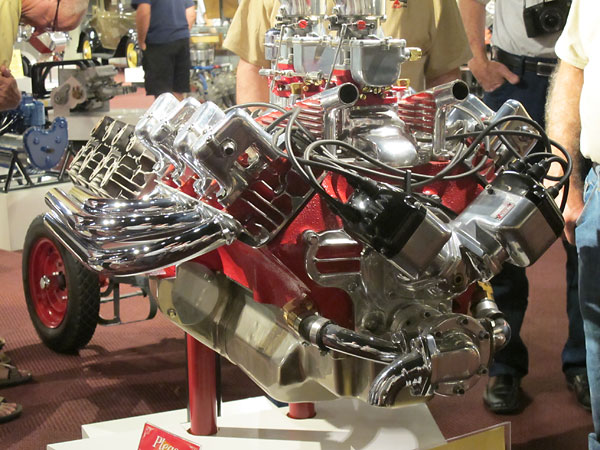 T. Noah "Tiny" Smith of San Antonio noted that Ford V8-60 engines tended to overheat, so he
designed a conversion which relocated exhaust valves into the cylinder heads. (Intake valves
remained in their stock location, in the cylinder block.) Smith "Jiggler" air cooled cylinder
heads looked cool, but they neither cured the cooling problem nor enhanced power production.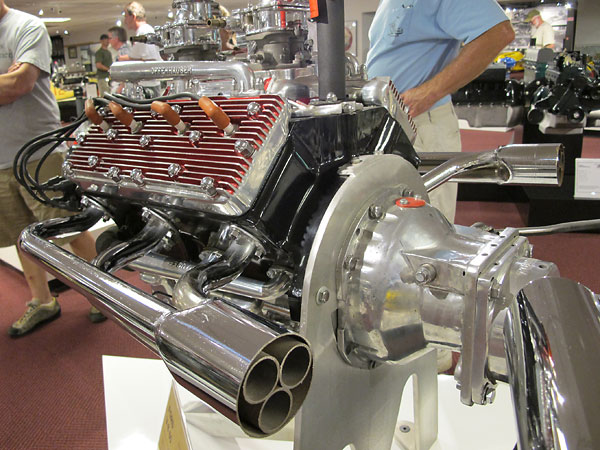 Introduced in 1937 and only offered in the U.S. through 1940, Ford called this scaled-down 136cid
flathead V8 the "Sixty" because in factory trim it produced just sixty horsepower. Performance
wasn't a priority in its design. Tax laws were. European countries and Britain taxed displacement
and bore size respectively. So, you might be excused for wondering why the Smith Collection
displays at least a dozen of these motors all gussied up. Midget racing rules were rewritten when
these engines became available. The sport's popularity exploded! Speedshops like Speedway
Motors found great success by offering parts to improve Ford's export-market economy car engine.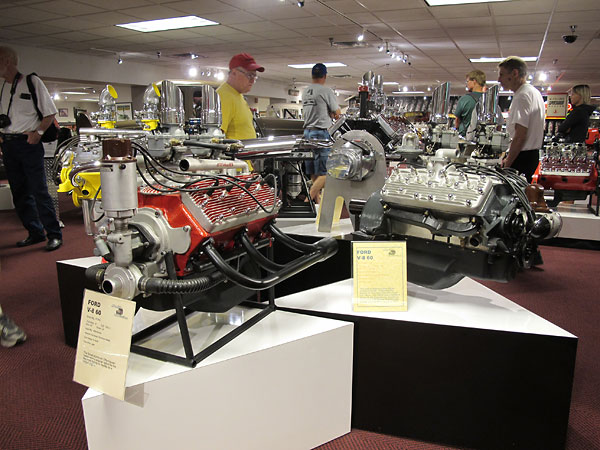 Two more Ford V8-60 engines. On the left: Offenhauser heads. On the right: Eddie Meyer heads.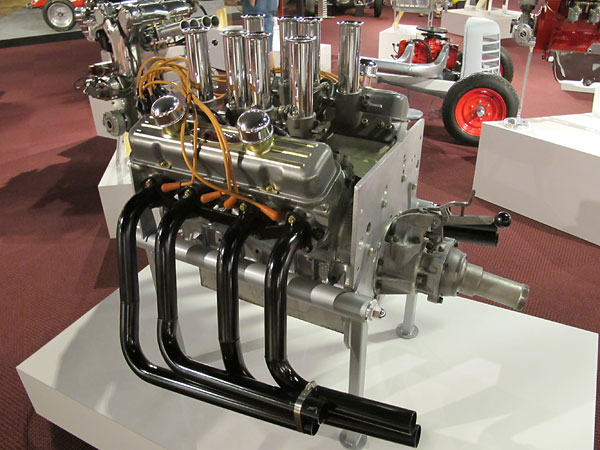 This is an Oldsmobile 215cid aluminum V8, circa 1961-63, fitted with Hilborn fuel injection. (You can
tell Oldsmobile and Buick versions apart by their cylinder heads and valve covers. Except for eight
drilled/tapped holes, their engine blocks are identical.) These compact and lightweight engines share an
exceptionally broad and distinguished history in professional and international racing. The list of teams,
drivers, cars, and victories associated with the "215" V8 is extraordinary: Thompson, Gurney, Brabham,
Hulme, McLaren, Amon, Matich, Reventlow, Hall, Sharp, McKee, Ward, and Graham Hill just for starters.
Exactly one Olds 215 appears in the Smith Collection and it appears without nameplate or description.
You might walk right past it. The story of this fascinating marvel of an engine remains largely untold.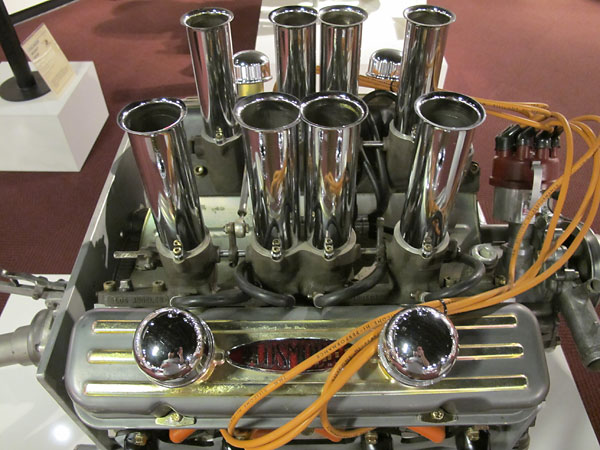 For fifteen years, no stock-block engines had competed in the Indy 500. One year before Jim Clark's
Lotus-Ford, Mickey Thompson built a Buick 215 powered rear-engine racecar for the 1962 Indianapolis
500 and recruited Dan Gurney to drive it. Gurney qualified 8th of 33 starters with an average speed
of 147.886mph. Transaxle failure caused Gurney to drop out of the race after 92 laps, but Gurney
showed impressive potential up to that point. He was named Indy's 1962 Rookie of the Year.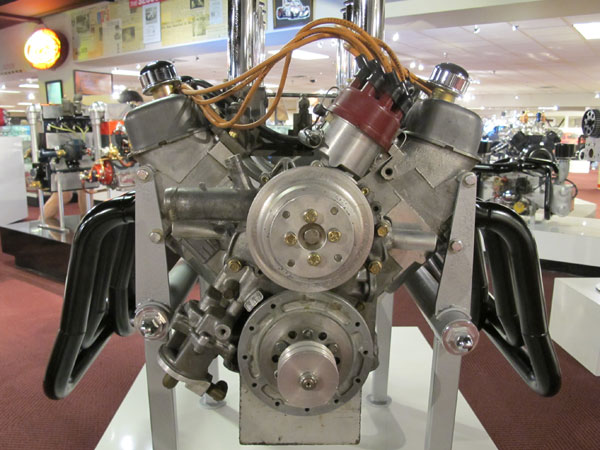 Oldsmobile's 215 is the only stock block American engine to ever win a Grand Prix race. Period.
Fitted with special cylinder heads, GM's classic aluminum V8 dominated the 1966 Formula One
season. It powered Jack Brabham to championship victory and to four race victories in nine starts,
plus two pole positions and one fastest lap. Teammate Denny Hulme scored fastest lap with his
Oldsmobile V8 powered racecar at Zandvoort and finished fourth in Drivers Championship points.
GM's aluminum V8 delivered Brabham a commanding victory over Ferrari in the Constructors Cup.
Hulme's fellow Kiwi, Bruce McLaren, won seven major international races with Olds 215 powered
(Zerex Special & McLaren Elva Mk1) sportscars in '64 & '65. Driving for McLaren, Chris Amon won
two major races in Olds 215 powered McLaren Elvas. Brabham's fellow Australian Frank Matich
used an Olds 215 to win the '66 & '67 Tourist Trophies and to contest the 1967 USRRC Series.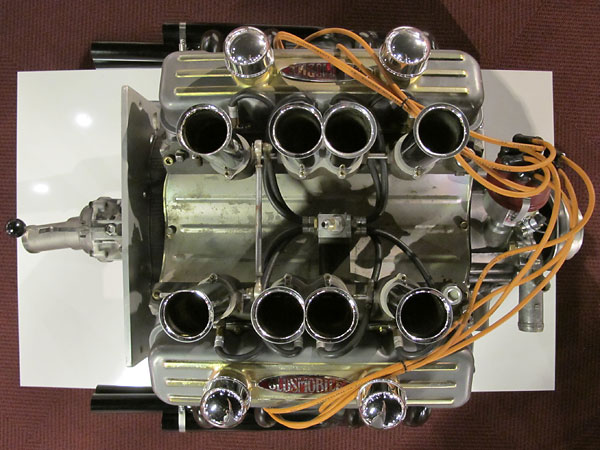 Thoroughbred vs. draft horse: the Buick/Olds aluminum V8 features an aluminum engine block and
cylinder heads whereas a Ford flathead engine is made of iron. Its basic architecture is far more
performance oriented: overhead valves vs. sidevalve, five main bearings vs. three, oversquare
bore/stroke ratio, 3.5" initial cylinder bore vs. 3.188" bore, etc. The aluminum V8 came from the
factory with compression ratios up to 11.0:1, versus just 7.2:1 for the Ford. From 1962, the Olds
215 was offered with a turbocharger. One horsepower per cubic inch, straight from the factory!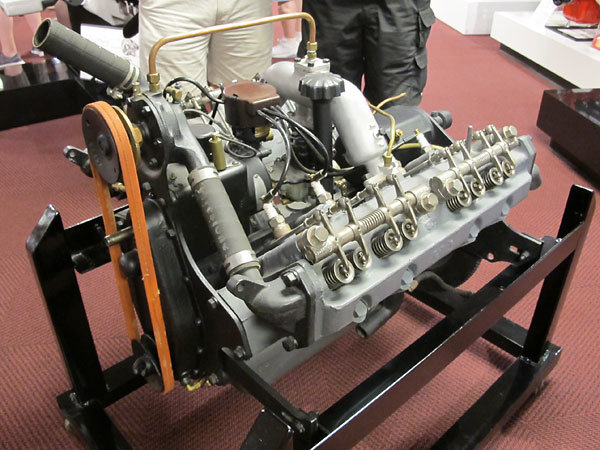 If any engine in the Speedway Museum stands out for being ahead of its time, it's probably this
Chevrolet. It features detachable crossflow cylinder heads with overhead valves operated by a
single centrally located camshaft plus a counterweighted crankshaft. 288cid via a bore of 3.36"
and a stroke of 4.00". Chevrolet advertised that this engine produced 55 horsepower... in 1918!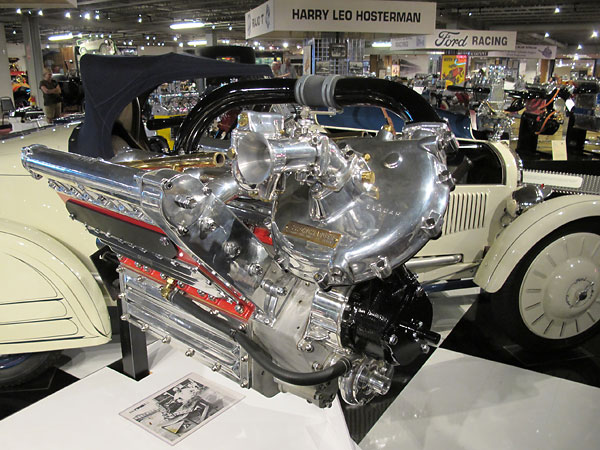 George Riley of Los Angeles produced this 221cid SOHC V8 engine in 1926. It was rated 175hp.
It's the twin of an engine we saw at last year's BritishV8 meet, which was photographed here:
Riley V8 at Hatfield Restorations. Only three of these engines are believed to have survived.
Speedy Bill's Riley V8 features a Graham supercharger.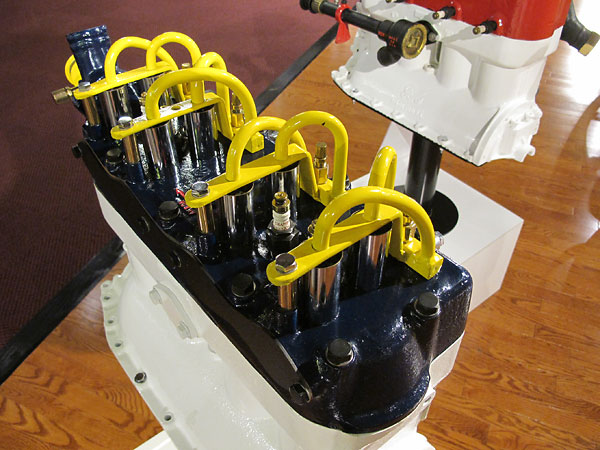 Developed to sit atop a Ford Model T engine, the "Akron Hed" was a cast iron cylinder head made by
the Williams Foundry of Akron Ohio. Hal Hosterman designed its unique valvetrain in which rows
of ball bearings within curved tubes substitute for pushrods and rocker arms. Nearly 2000 of these
innovative cylinder heads were made. They were available through various retailers including
the Montgomery Ward catalog.


Enjoying this article? Our magazine is funded through the generous support of readers like you!
To contribute to our operating budget, please click here and follow the instructions.
(Suggested contribution is twenty bucks per year. Feel free to give more!)
Fun for the Family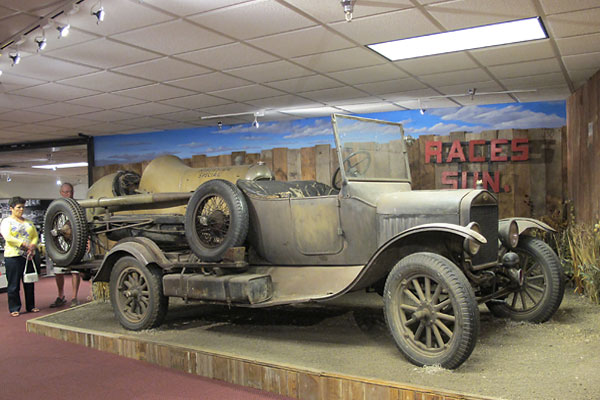 The Riverside Special is a Ford powered racecar with Frontenac DOHC cylinder head. Driven mostly
by Clyde Gilbert, it raced everywhere west of the Mississippi from Gilbert's home base in Longmont
Colorado. (Longmont Colorado is also the home of BritishV8 Magazine, of the ColoRODans hot rod
club, and of the excellent Dougherty Museum.) Here's the really amazing thing: the Riverside Special
has never once been removed from its unique Frontenac-powered Ford Model T truck since 1934!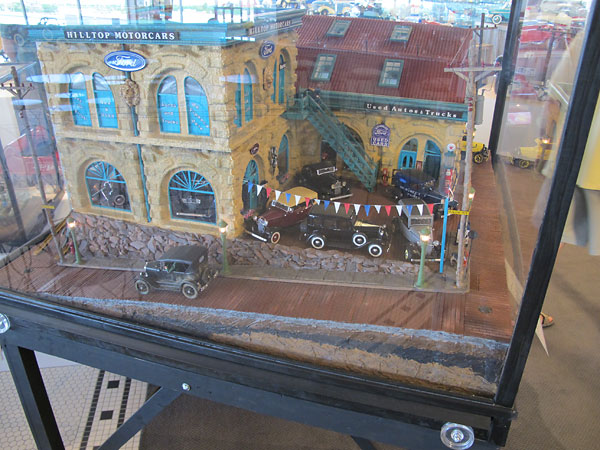 All fifteen models of 1932 Ford are presented here, in standard and deluxe form.
An intriguing sign on the rear side of the diorama breaks down Ford's 1932 production
in interesting ways. (Did you know Ford bodies were outsourced to various suppliers,
including Briggs, Murray, Baker, Raulang, the LeBaron division of Briggs, and Budd?)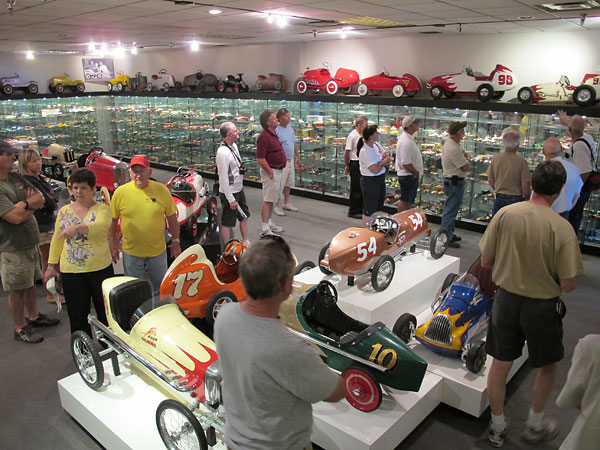 The Smith Collection presents room after room after room of toy cars. I won't pretend
that they interest me much... but I do firmly believe people who care about car culture
should try to share their enthusiasm with youngsters. Give a kid a ride!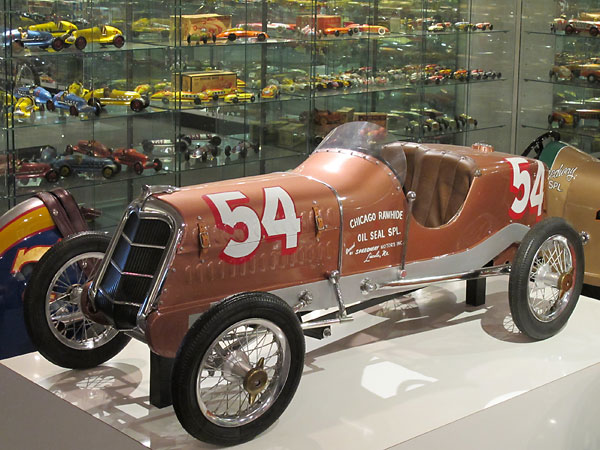 Chicago Rawhide Oil Seal Special pedal car. (A surprise gift to Speedy from his wife!)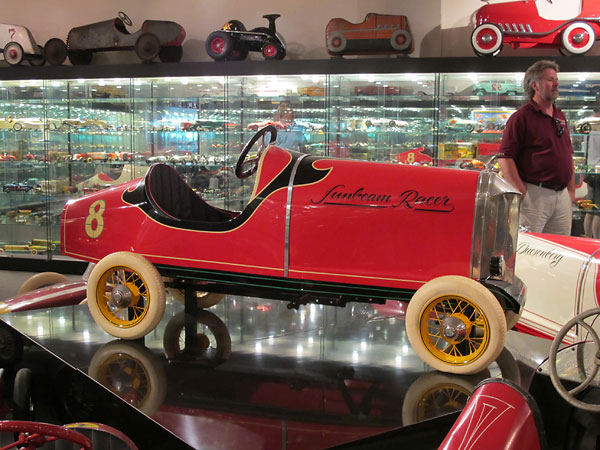 "Sunbeam Racer" pedal car, possibly inspired by Sunbeam's victory in the 1923 French Grand Prix.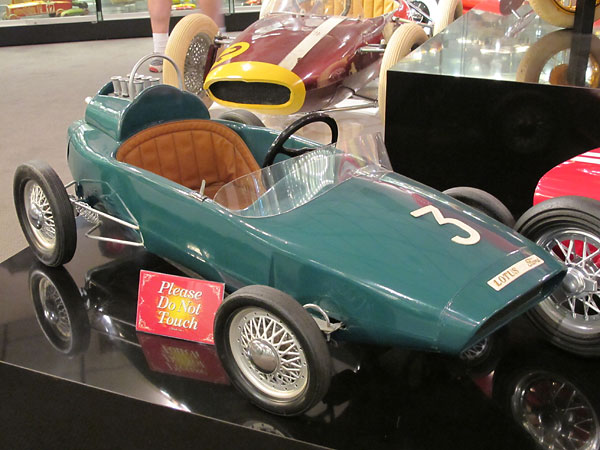 "Lotus Ford" pedal car, undoubtedly inspired by Jim Clark's Indy 500 racecars. In a green Lotus
racecar, Clark finished second in the 1963 Indy 500. Clark won the race in 1965.


Did you enjoy this article? Our magazine is funded through the generous support of readers like you!
To contribute to our operating budget, please click here and follow the instructions.
(Suggested contribution is twenty bucks per year. Feel free to give more!)
Parting Thoughts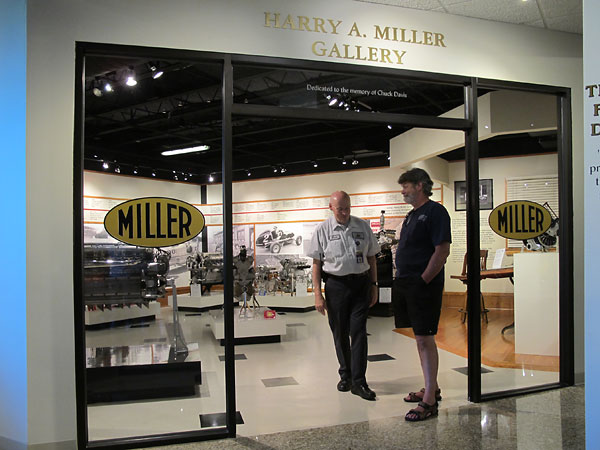 The Speedway Motors Museum of American Speed is a must-see for anyone interested in
American racing and street rod history. Its presentation of early American racecar engineering
by Harry Miller and Fred Offenhauser is particularly exceptional. If you're like our BritishV8
tour group, you won't want to leave when the tour is over. Go see for yourself!




Disclaimer: This page was researched and written by Curtis Jacobson. Views expressed are those of the author, and are provided without warrantee or guarantee. Apply at your own risk.

Photos by Curtis Jacobson for BritishV8 Magazine. All rights reserved.