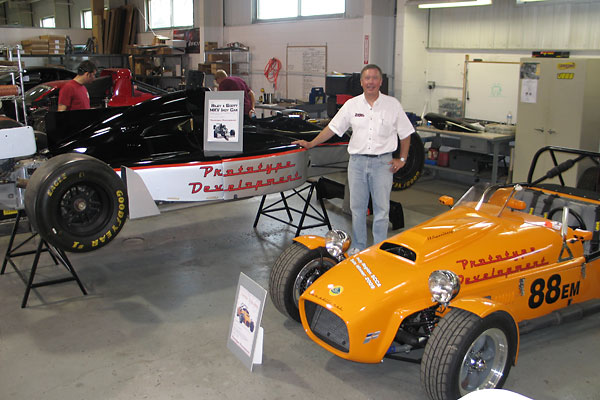 BritishV8 2010: Touring Mark Scott's Prototype Development Shop
as published in BritishV8 Magazine, Volume XVIII Issue 1, December 2010
by: Curtis Jacobson
From the Indianapolis 500 Hall of Fame museum, BritishV8 2010 participants traveled next to tour Prototype Development LLC, a specialized fabrication and racecar restoration shop. Prototype Development is owned by well-known racecar builder Mark Scott, previously of Riley & Scott Inc. Mark's newest venture provides precision parts to professional racing teams and to a diverse variety of industrial customers, plus services to individual automotive performance enthusiasts. They've been hired to do an impressive series of vintage race car restorations, including an ex-Jackie Stewart Lola T-90 Indy car. The Prototype Development staff also enjoys building and race-preping track-day and autocross cars. Prototype Development is particularly skilled and equipped for carbon fiber composite fabrication jobs.

The BritishV8 2010 gang couldn't have been more warmly welcomed into any shop! Mark Scott and his team rolled out the red carpet, set up displays of some of the wonderful cars they've worked on, and even fired up their grilles to feed us a delicious lunch of burgers and sausages.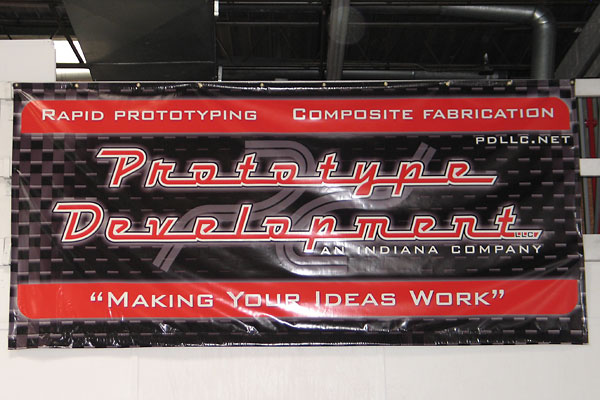 Prototype Development LLC, an Indiana Company
Rapid Prototyping - Composite Fabrication
"Making Your Ideas Work"


Mark Scott was born in England, but raised and educated in New Zealand. After completing school, he went straight into his dream career of building race cars and engines. He returned to England in 1975 to build engines for the McLaren Formula One team, and was a member of that team through the 1976 season when McLaren's driver Mark Hunt won the F1 world championship. After taking time off to race Formula Fords, Mark returned to McLaren as lead mechanic for Niki Lauda in 1982. In 1984 Mark joined Mayer Motor Racing to compete at the Indy 500 with drivers Tom Sneva and Howdy Holmes. He was chief mechanic for BMW's factory sports car team in 1985 and 1986. In 1987 he became chief mechanic for the Buick Indy car engine development team. Mark's career really shifted into high gear in 1990 when he partnered with Bob Riley to form Riley & Scott Inc. The partnership produced winning cars in SCCA Trans Am, Le Mans Prototype sports car racing, and Indy cars. The Riley & Scott business was purchased by Reynard Racing Cars in 1999.

One of the many highlights of visiting Prototype Development was the opportunity to look over a Riley & Scott Indy car with one of its original creators. Next to it in the shop we also got to study a Ferrari 333SP chassis, which is basically a 1990's Formula One car configured to wear a sports car body for endurance racing. Beyond that, two of the famous Kenny Black Ford Mustangs...

Having just come from the Indy 500 museum, my attention span for looking at completed cars was a little shorter than normal. No worries! I was fascinated to walk through the Prototype Development shop and see the tools and materials of their trade. My good friend Dave Craddock (of Preform Resources) was the perfect guy to do this with because he was willing to educate and inform me in two areas I'm only just beginning to study: advanced composite fabrication techniques and modern racecars. Just as I was starting to feel like I knew my way around the facility, Prototype Development staff member Rob Sparks started up an informal tour, which was also quite enjoyable and enlightening. Some of my snapshots and notes are included below.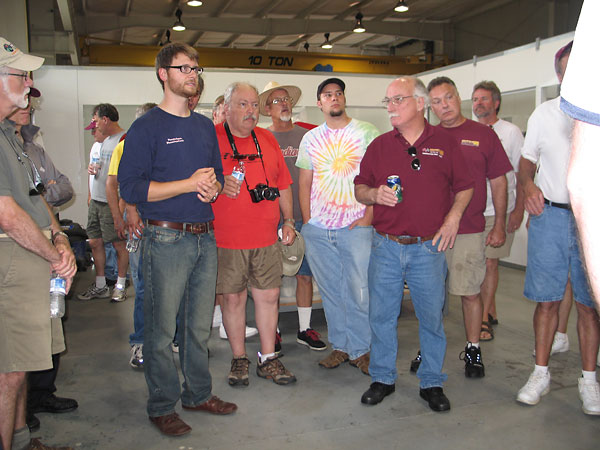 Rob Sparks gave BritishV8 2010 participants a tour of Prototype Development's workshop.


Enjoying this article? Our magazine is funded through the generous support of readers like you!
To contribute to our operating budget, please click here and follow the instructions.
(Suggested contribution is twenty bucks per year. Feel free to give more!)
Composite Materials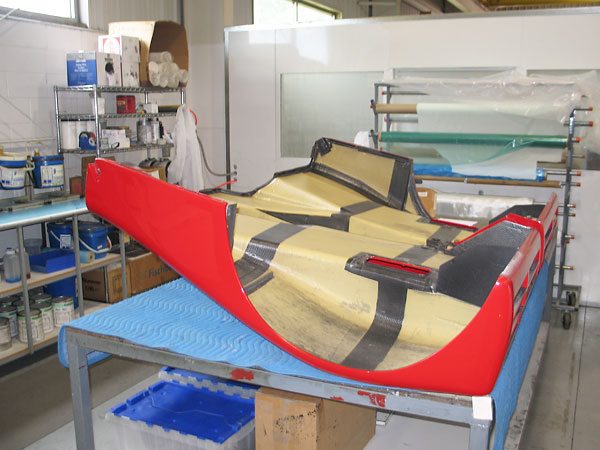 Restoring body panels of a Ferrari 333SP racecar. The 333SP model was built by Michelotto for Ferrari.
The tub and chassis design was contracted out to Dallara, and the magnificent 4L V12 engine was of course
developed by Ferrari. (It was an enlarged version of Ferrari's Formula One engine.) The Ferrari 333SP was
developed specifically for the Le Mans Prototype (LMP) class that started in 1993, and from its debut in 1994
the Ferrari was extremely successful... until 1997 when the new Riley & Scott LMP-car made it obsolete.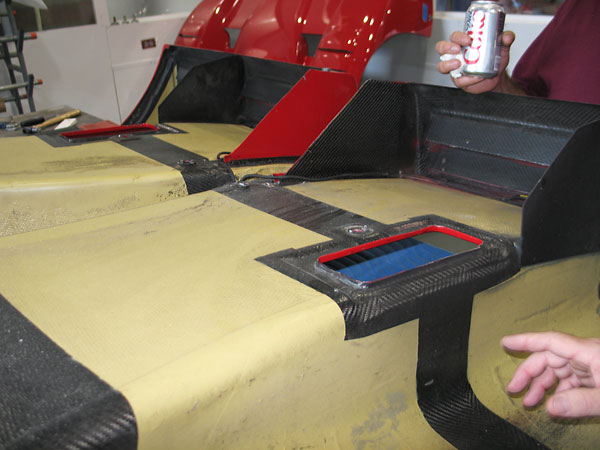 So what are we looking at here? This is obviously the tail section that covers the engine. The part demonstrates
a variety of composite materials and techniques. The yellow sections are formed from aramid (Kevlar) mat whilst
black sections are formed from carbon fiber fabric. Kevlar fibers are relatively "tough", meaning they tend to yield
(i.e. stretch) before they break, whilst carbon fibers are stronger but relatively brittle. Kevlar is significantly lighter
than fiberglass or carbon fiber. Places where the cross-section is thicker are evidently filled with honeycomb core
to add stiffness. (Most likely, the core itself is extruded out of Nomex, but it might be aluminum.)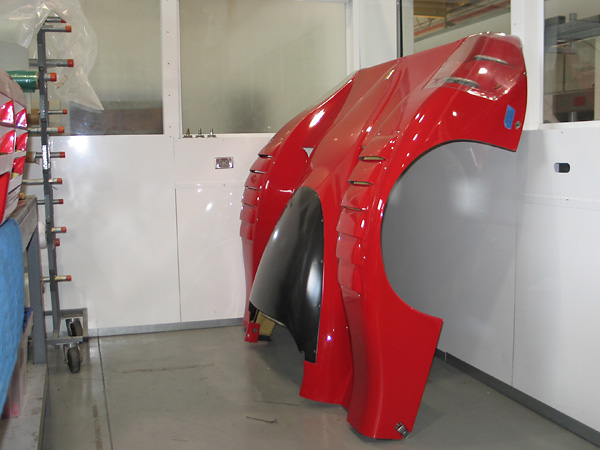 These elaborate body panels were made by vacuum bagging. In other words, a thin plastic sheet was layed over
the whole assembly and taped down with double-sided adhesive tape. A vacuum pump, pulling about 15psi,
was used to draw the wet composite fabrication down tight against the open, one-sided mold. Using a squeegee,
the operator would have worked air and excess resin to vacuum pump taps in the plastic sheet. The process of
vacuum bagging is very helpful for many reasons, three of which are: it helps eliminate air bubbles and voids in the
part, it removes excess resin so that the resulting part is lighter weight, and it yields a smoother surface texture.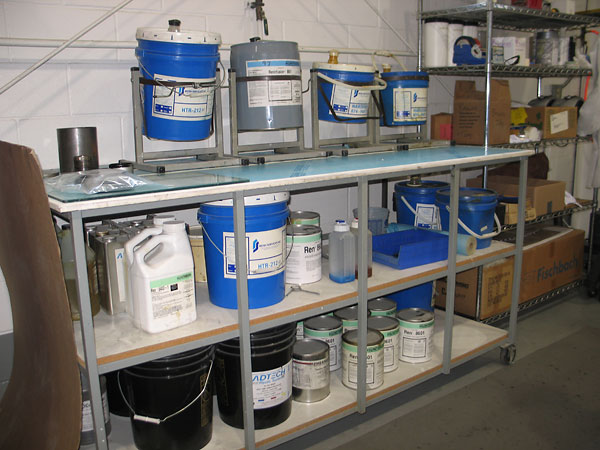 What exactly do we see here? Mostly a variety of epoxy resins with different uses and properties. Resins are
formulated to cure at different temperatures. Some are formulated specifically for laminating versus surfacing.
Besides resins, you probably see some thinners, hardeners, gelcoats, and mold release chemicals.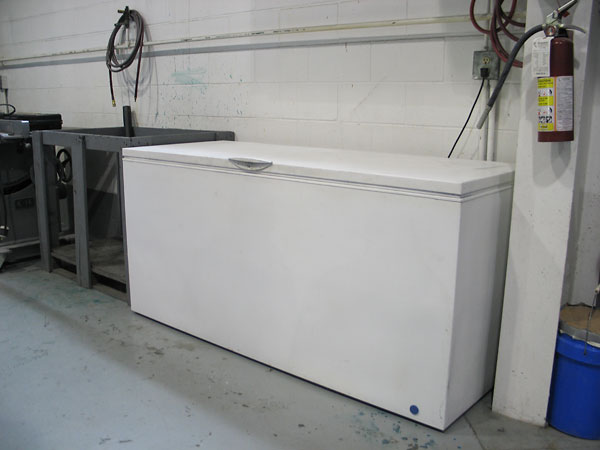 This refrigerator is for storing "Pre-Preg". Instead of the fabricator applying liquid resin to fabric, sometimes it's better
to purchase fabric with the resin already applied to it. The main advantages are that the optimal ratio of resin to fiber
is pretty well ensured and that the fabric is more convenient to work with. The downsides are that it's expensive, the
Pre-Preg materials only have a shelf-life of several months, and they require cold storage to maintain their properties.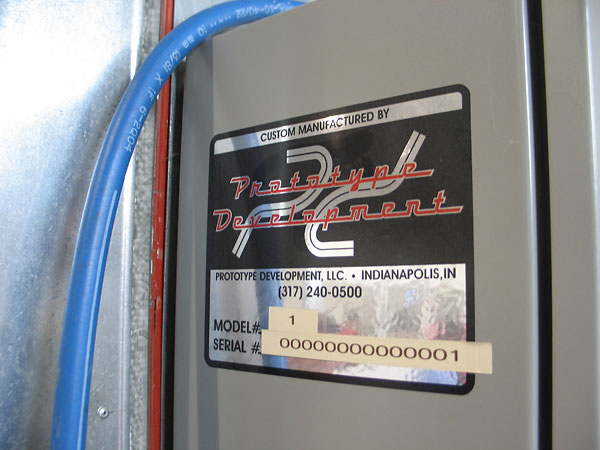 Prototype Development built their own curing oven, and has subsequently built a few curing ovens for other shops.
All plastic composite fabrications require heat to cure. Depending on the resin chemistry, the optimal amount of
heat varies widely. Generally, High Temperature Cure (HTC) epoxies are the strongest of the popular resins, and
Elevated Temperature Cure (ETC) epoxies are usually stronger than Room Temperature Cure (RTC) epoxies.
Even RTC epoxies often benefit from baking in a controlled post-cure heat cycle. Post curing can increase the
hardness and toughness of an epoxy composite fabrication by as much as twenty percent. Another reason for
a controlled post cure bake is that it can alter how the part will behave in a high temperature environment later.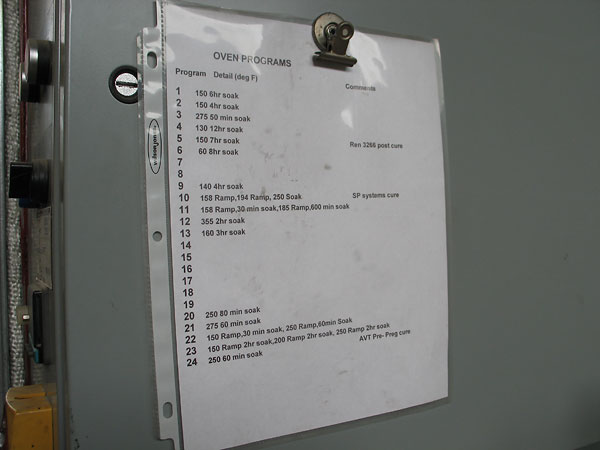 Here on the side of the oven we see a chart of various heating cycles corresponding to the different
epoxy resins Prototype Development works with.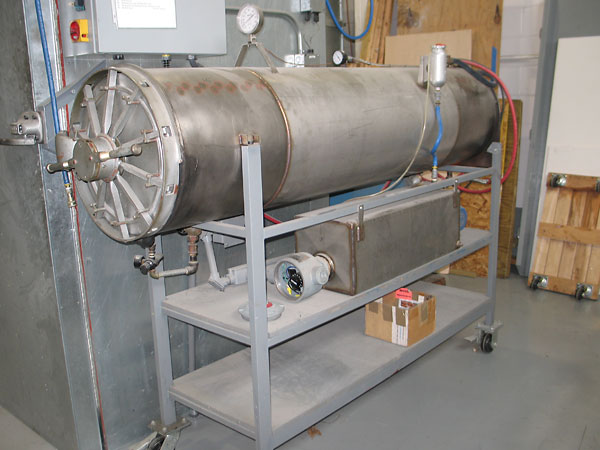 An oven is okay, but an autoclave is really interesting. Prototype Development purchased this composite curing
autoclave, cut it down the middle, and spliced in an extension so they can process longer parts in it. Composite
curing autoclaves like this typically heat to over 200F and pressurize to about 150psi. The whole point of the
autoclave is that it facilitates a higher fiber-to-resin ratio, which directly correlates to stronger parts.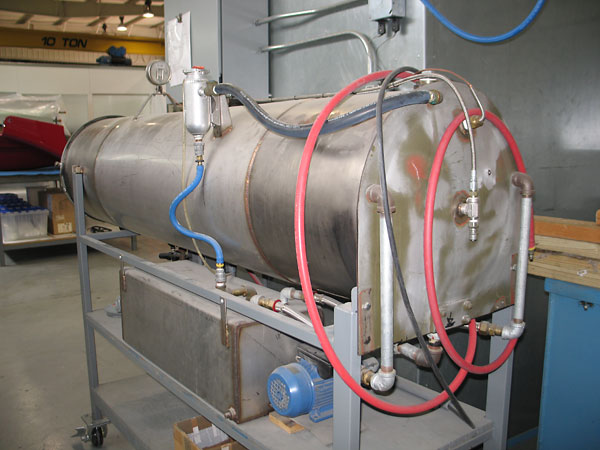 This photo just shows plumbing. The autoclave has a water jacket, and heated fluid is pumped through it.


Metallic Materials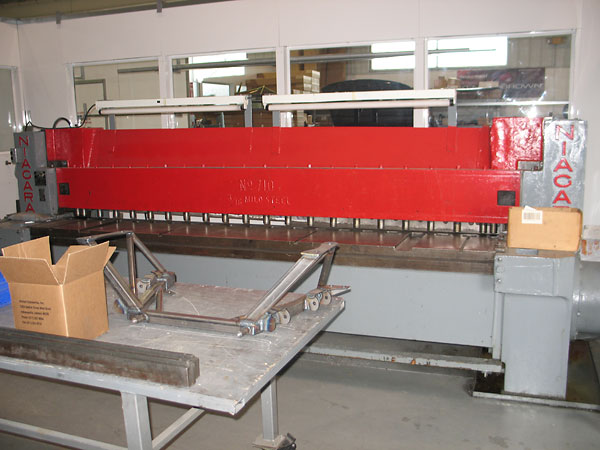 Stomp the pedal and "Whomp!" A shear the size of this Niagara will easily, neatly, and accurately slice
through 3/8" thick steel across its whole width of over eight feet. Of course it neatly cuts thin sheet too.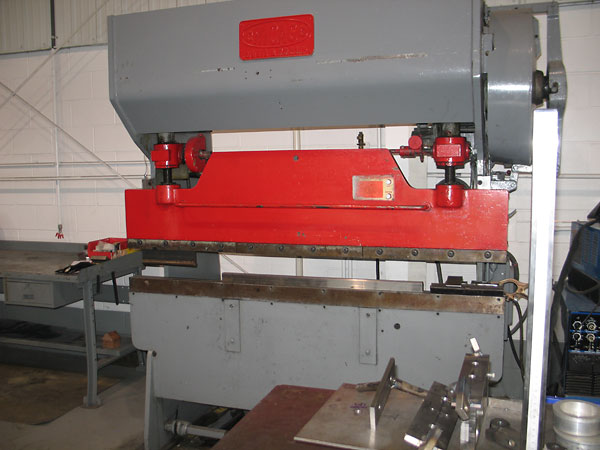 This six foot Chicago press brake is another quality, heavy duty tool. It will bend thick or thin metals with ease.
However, I didn't see what I expected next to this machine: in some shops you'll see a great rack of dies next
to the press brake which, for example, allow the brake operator to achieve specific inside radii to their bends.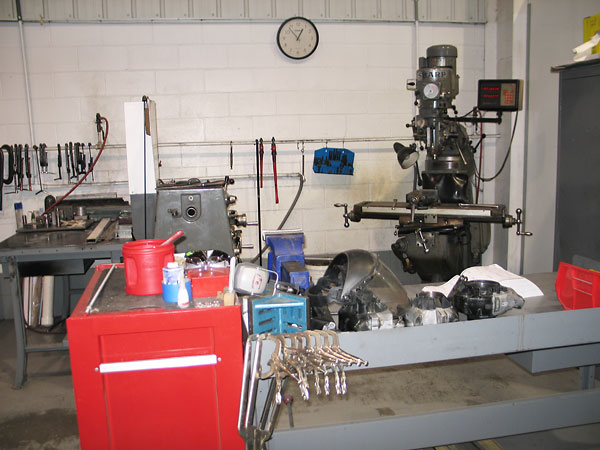 A machine shop wouldn't be complete without a lathe and a milling machine.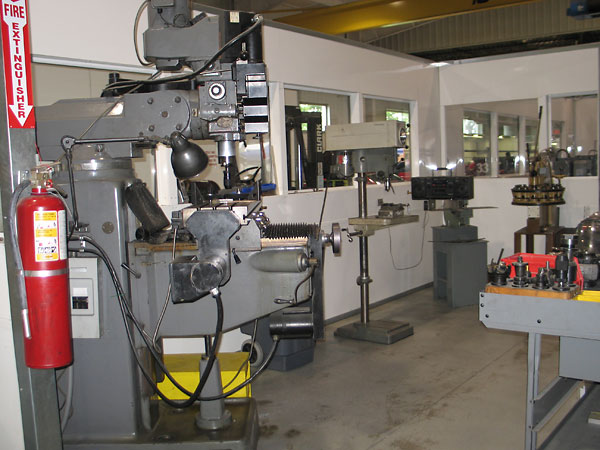 A view across the machine shop. Note particularly the nifty Rotex 18-station punch at far right.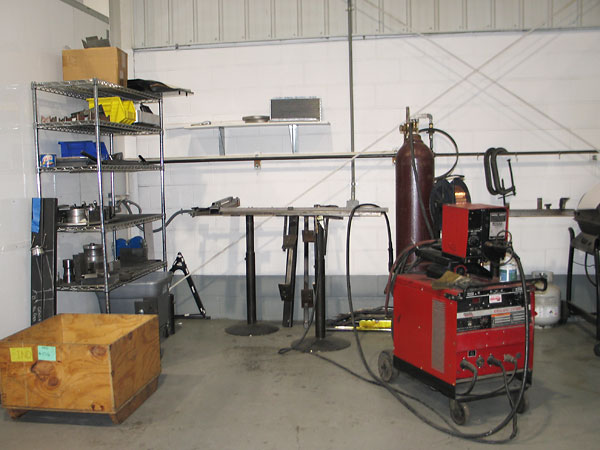 This is the welding station, complete with a Lincoln Idealarc CV-300 MIG welder.
(Note the big spool of copper-coated steel wire next to the bottle of shielding gas.)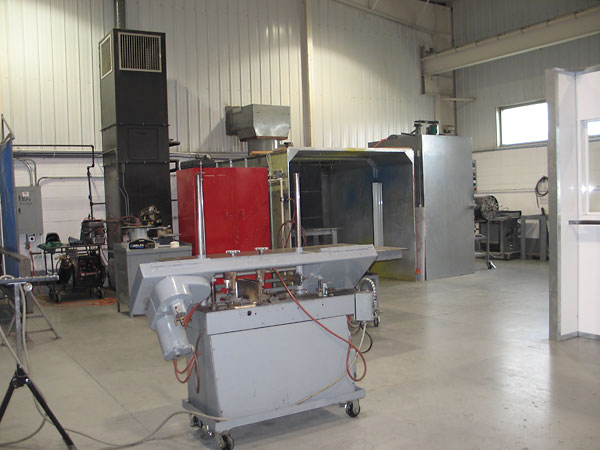 An immaculate workshop! Foreground: horizontal band saw. Background: paintbooth and composites curing area.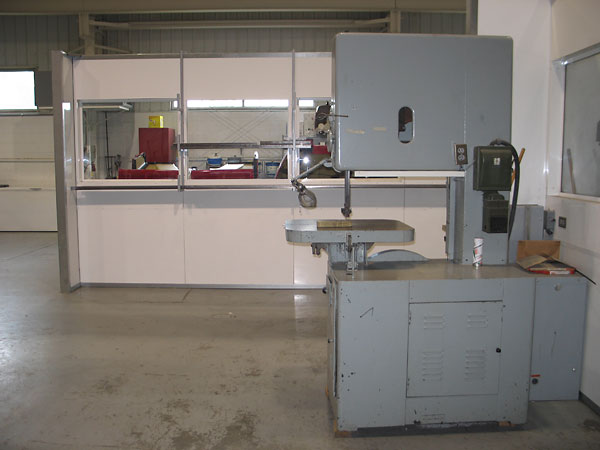 Foreground: metal cutting band saw. Background: composites fabrication area.


Car Projects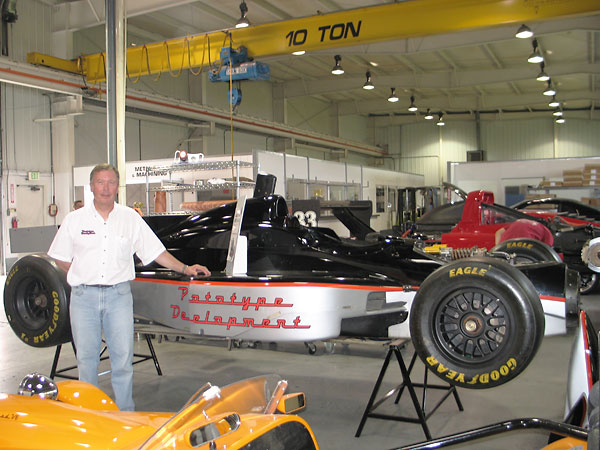 Mark Scott stands next to a Riley & Scott MkV Indy Car (circa 1997-99, about five were built).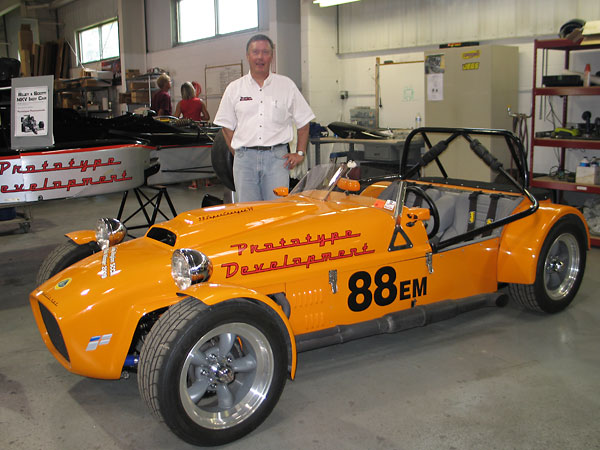 The Brunton Super Stalker is Mark Scott's favorite model of Lotus Seven replica. This example
is powered by supercharged GM 3.8L V6 that produces about 270hp. Quite enough for a 1400# car!
Prototype Development enjoys building these street legal, track day ready sportscars to order.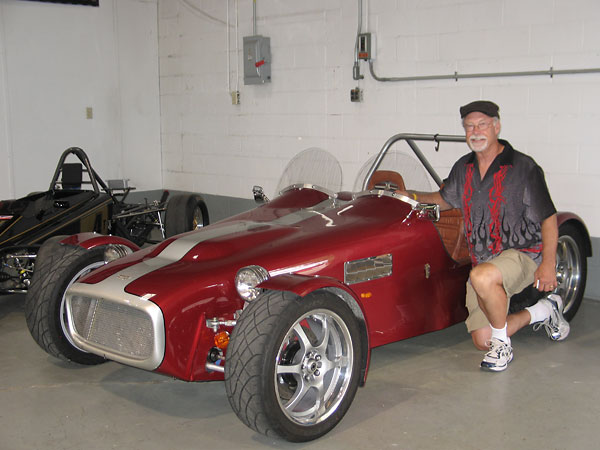 Paul Snyder's WCM Ultralite S2K (Honda 2.0L VTEC powered) Lotus Super 7 replica.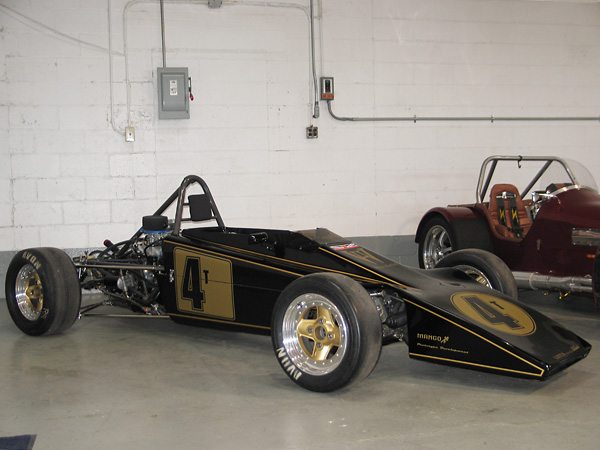 Gary Dausch's Lotus 61 Formula Ford. (Repaired and restored chassis and suspension.)


An Employee's MGB V8 Project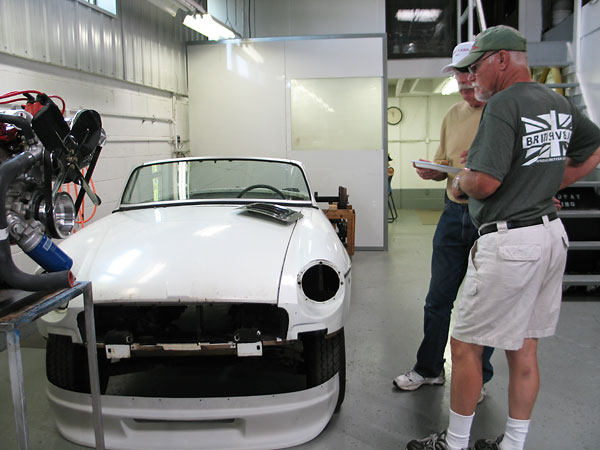 Ted Lathrop and Les Shockey survey a familiar sight: a rubber-bumper MGB awaiting conversion.
Someone has apparently been trial-fitting a new fiberglass "Special Tuning" style air dam.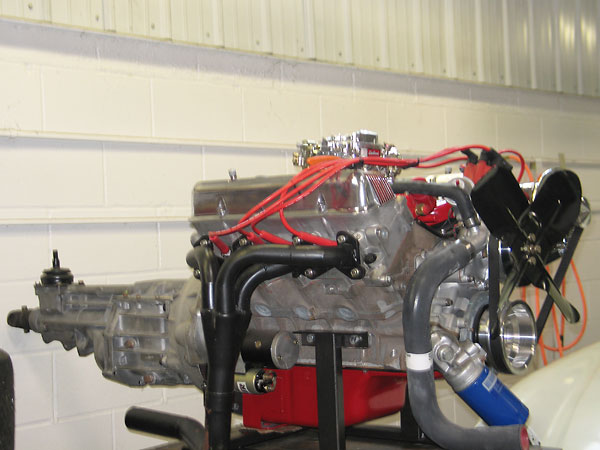 Rover 3.9 aluminum V8 (there are no bosses for crossbolted mains) and Borg-Warner T5 5-speed.
Note Weber gear reduction starter and D&D Fabrications swivel oil filter mount.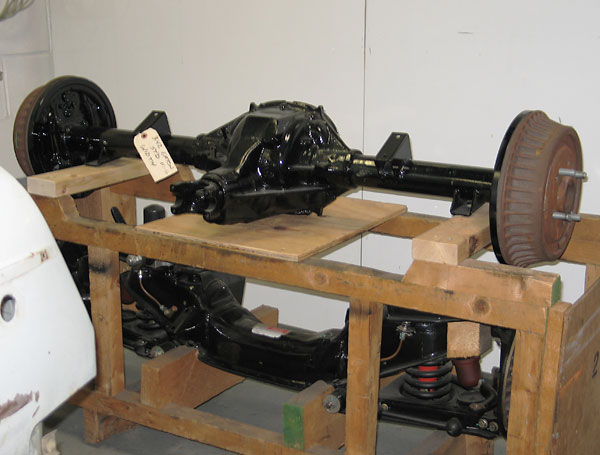 Top: Chevy 10-bolt rear axle with Eaton LSD and 3.42:1 gears, as were standard on Chevy S10 pickups.
Bottom: complete MG RV8 front suspension and brakes.


Disclaimer: This page was researched and written by Curtis Jacobson. Views expressed are those of the author, and are provided without warranty or guarantee. Apply at your own risk.
Photos by Curtis Jacobson for BritishV8 Magazine. All rights reserved.