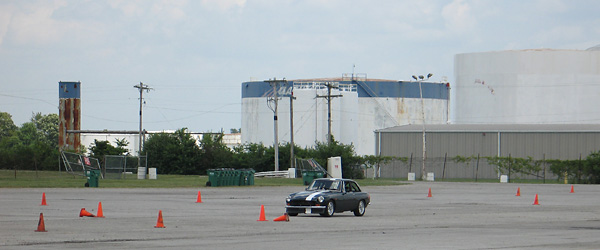 BritishV8 2010: Autocross in the Parking Lot of O'Reilly Raceway Park
as published in BritishV8 Magazine, Volume XVIII Issue 1, December 2010
by: Curtis Jacobson
Barry Rowe and Jim Hamilton of the Champaign County Sports Car Club made a two hour trek to Indianapolis to set-up and run a truly first-rate autocross in the large, flat parking lot of O'Reilly Raceway Park. The course was looooong by BritishV8 standards. It included a driver's choice slalom of some ten or twelve cones plus a fairly long straight coming back across the tarmac the other way. You could easily get lost out there, and several people did.

The only problem was the weather. A horrible electrical storm rolled in quickly and, dumped bucketfuls of rain on our heads. It also added unplanned ponds to the course. Our cone setters were endangered by lightning and they nearly drowned too. Barry and Jim ran as many cars through the course as they possibly could, then called a pause.

I think everyone who wanted to autocross got one run in, but very few people managed to get a second run and improve their times. Some of us tried to wait out the rain underneath the track's grandstands, but we were ultimately dissappointed by mother nature. (We drove back to the hotel in drizzling rain.) In the confusion of it all, I failed to record the event with the completeness, accuracy, and style I would have liked and I'm pretty sure we completely missed photographing some of the autocross participants. Nonetheless, this year's BritishV8 autocross was incredibly fun while it lasted. Thank you Barry and Jim!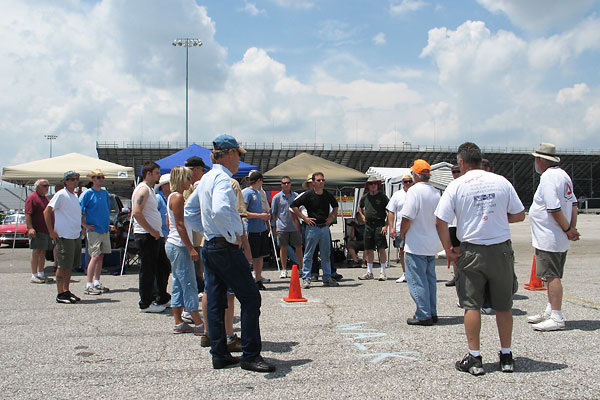 Barry Rowe (in orange cap) conducts a brief but very helpful drivers meeting. After this, we all walked the course.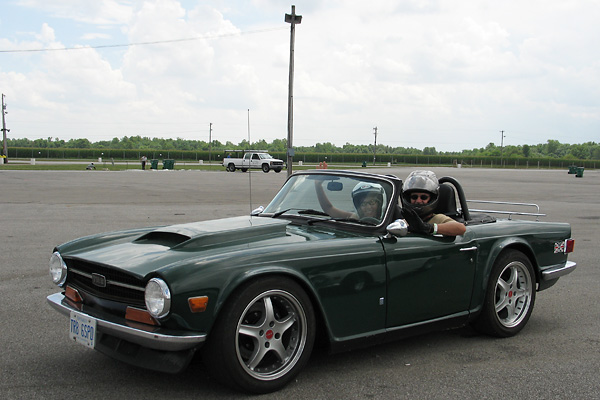 Ken Hiebert's 1972 TR6 with 1994 GM LT1 5.7L V8
(Ken driving: 50.885 seconds. Katie driving: 58.504 seconds, plus a one-second cone penalty.)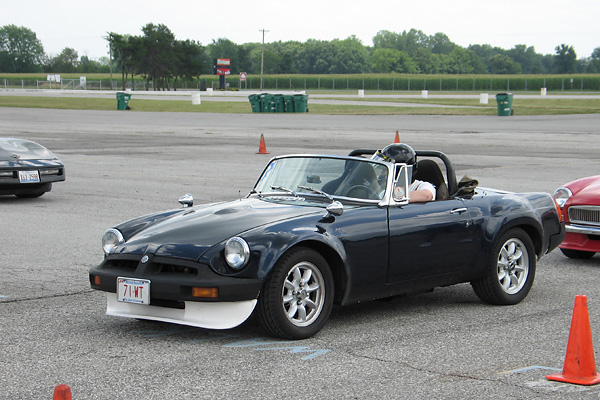 Tim Duhamel's 1979 MGB with 1962 Buick 215 V8 (55.957 seconds)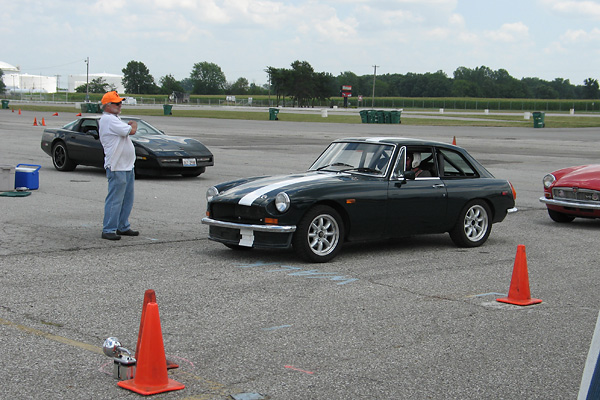 Curtis Jacobson's 1971 MGB/GT with 1963 Buick 215 V8
(57.271 seconds, when driven by Max Fulton. We don't have a time recorded for Curtis Jacobson's run.)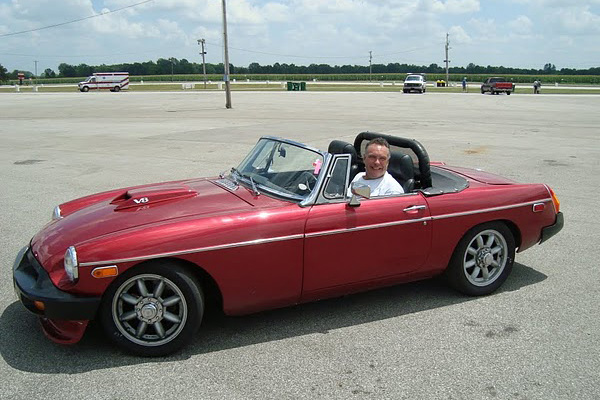 Bill Yobi's 1979 MGB with 1962 Oldsmobile 215 V8 (57.623 seconds)


Enjoying this article? Our magazine is funded through the generous support of readers like you!
To contribute to our operating budget, please click here and follow the instructions.
(Suggested contribution is twenty bucks per year. Feel free to give more!)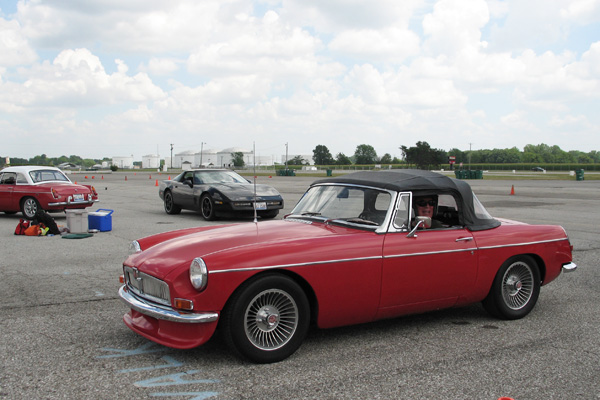 Scott Costanzo's 1968 MGB with GM 3100 SFI V6 (58.456 seconds)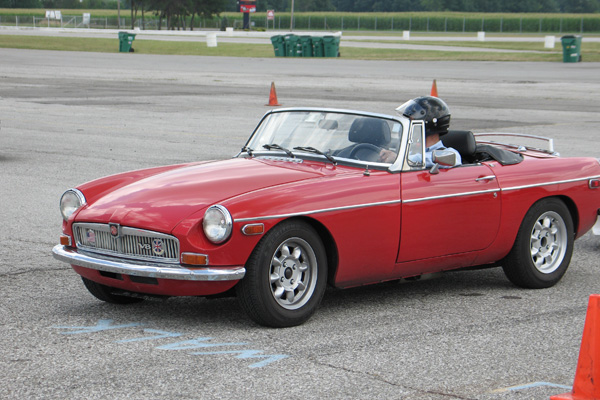 Merv Hagen's 1966 MGB with Ford Boss 302 V8 (57.413 seconds plus a two-second cone penalty.)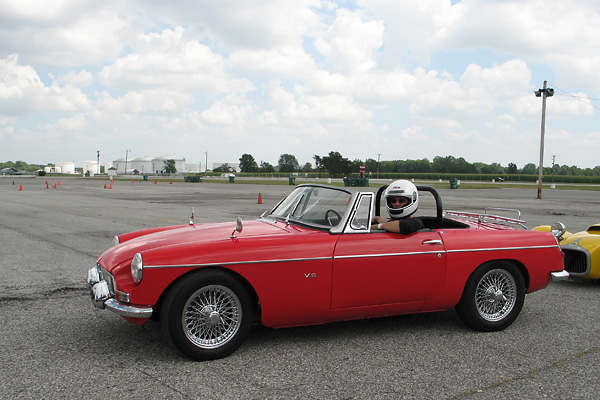 Gary Walker's 1964 MGB with GM 3.4L 60-degree V6 (60.644 seconds)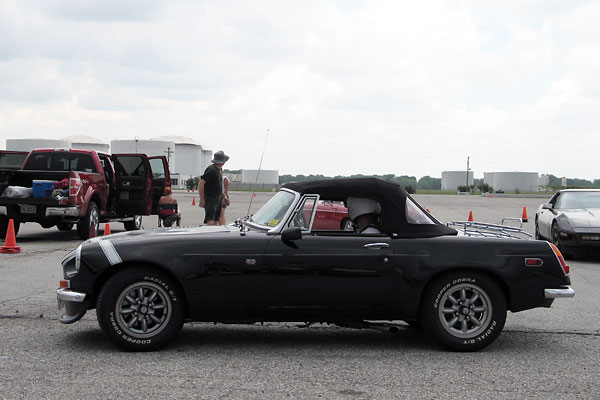 Peter Smith's 1976 MGB with Rover 3.5L V8 (60.811 seconds)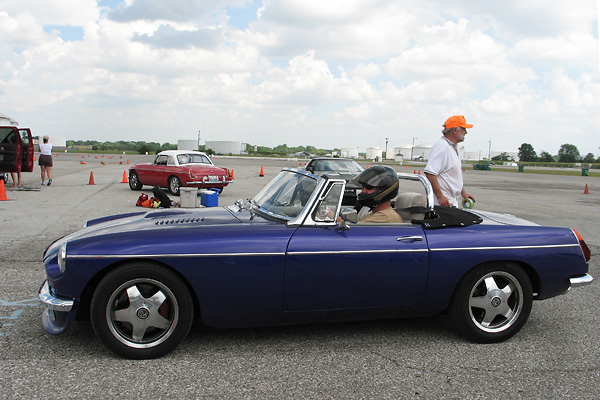 Mikel Moor's 1978 MGB with 1964 Buick 300 V8 (62.437 seconds)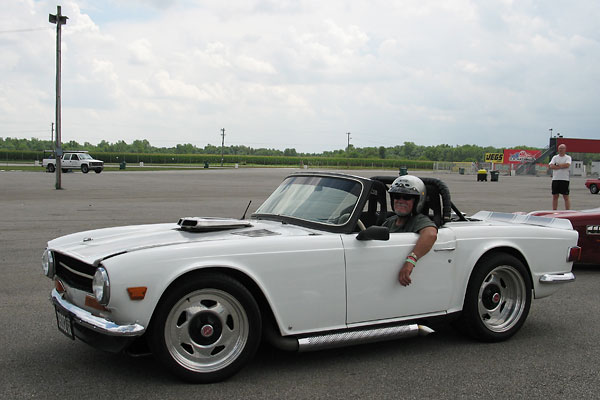 Les Shockey's 1969 TR6, with a Ford 351 Windsor V8 (46.543 seconds, due to a short cut)


Somehow I failed to get times recorded for these next four BritishV8s... That's a terrible injustice because I know the time they spent on course passed very quickly. If you can help me correct these omissions, please do so.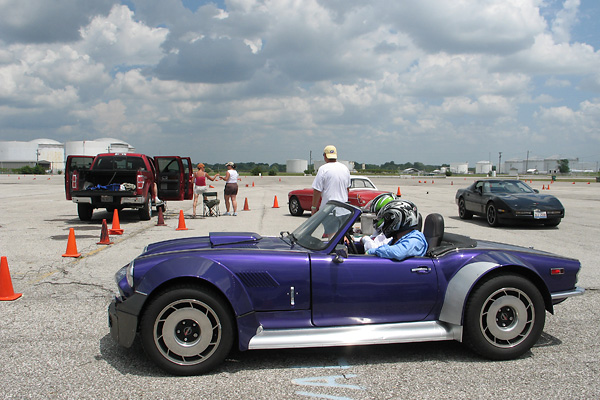 Phil McConnell's 1974 Spitfire with 350 Chevy V8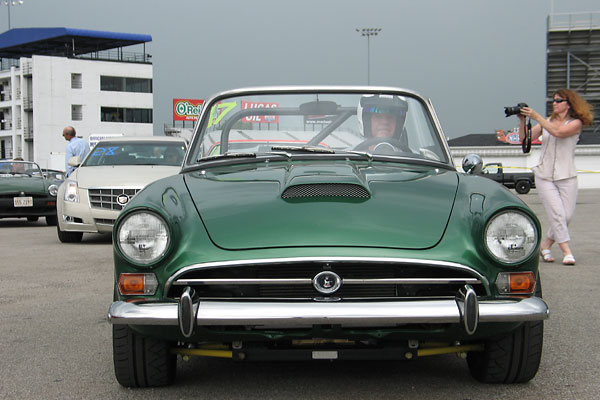 (Driver's Name?) Sunbeam Tiger with Ford V8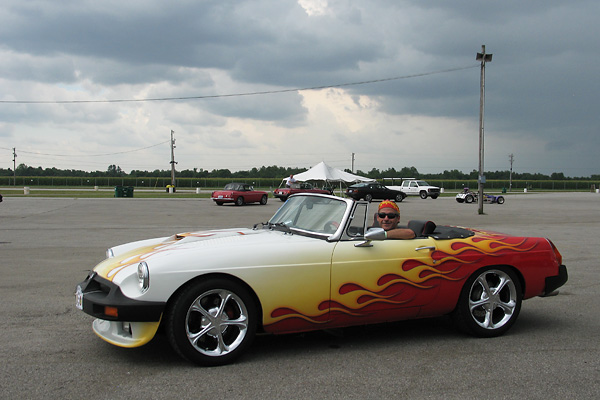 Steve Ward's 1980 MGB with GM LT1 5.7L V8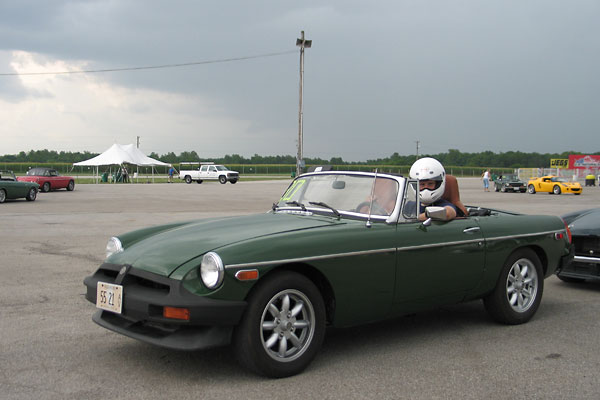 David Schafer's MGB with Ford 302 V8


These next four cars/drivers are members of an Indianapolis-area Lotus club who joined us for the day. Frankly, probably all four of them posted autocross times that would have dominated the top of our results list. I deeply regret that I didn't get their times copied down before the storm came. They would have been interesting to compare with us amateurs. Very nice guys... and their cars certainly added extra spice to our gathering!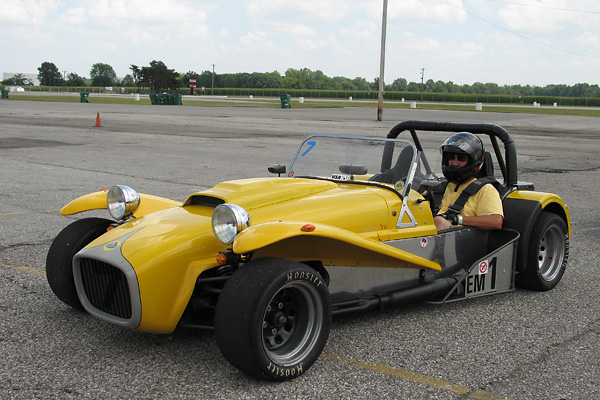 Jack Banker's Brunton Stalker with GM 3.4L V6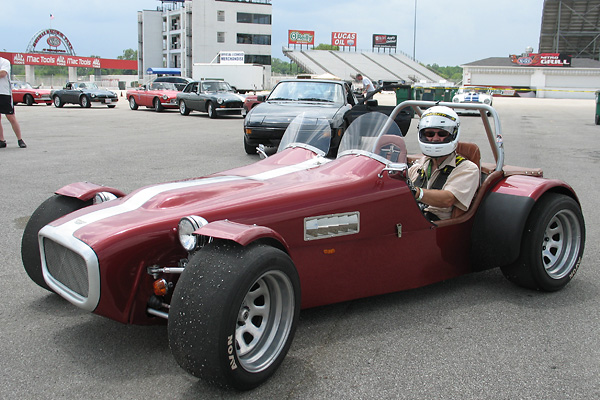 Paul Snyder's WCM Ultralite S2K (Honda S2000 2.0L VTEC engine), a 1965 Lotus Super 7 replica.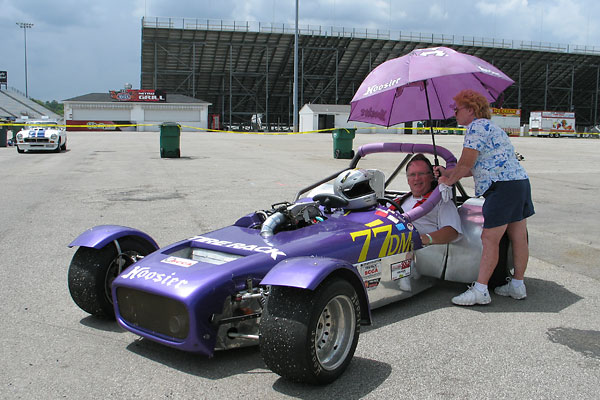 (please help me complete this caption!) Honda VTEC engine.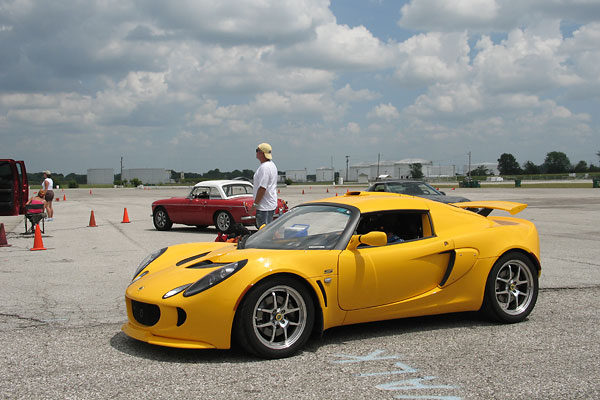 (Driver's Name?) Lotus Exige S with supercharged Toyota 1.8L DOHC L4.


Disclaimer: This page was researched and written by Curtis Jacobson. Views expressed are those of the author, and are provided without warrantee or guarantee. Apply at your own risk.
Photos by Curtis Jacobson, Max Fulton, and Artie Clark for BritishV8 Magazine. All rights reserved.