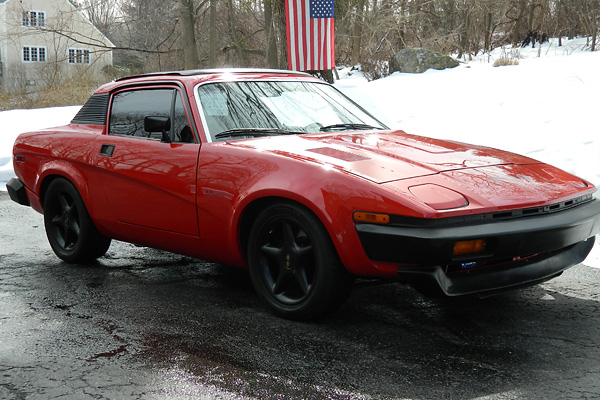 Lorenz Hassenstein's 1978 Triumph TR8 Coupe with Rover 4.6L V8
as published in BritishV8 Magazine, Volume XXI Issue 1, July 2013
Owner: Lorenz Hassenstein
BritishV8 UserID:
Lorenz
City: Ridgefield, Connecticut
Model: 1978 Triumph TR8 coupe (chassis #108)
Engine: Rover 4.6L V8
Conversion by: owner
How It Was Done
Throughout the five or so years it took me to build my 1968 MGB GT V8 track car, I forged a number of relationships with Triumph TR8 owners here on the East coast and finally decided to purchase a Wedge.

I started by purchasing a disassembled vermillion red TR8 Coupe shell (air conditioned), car #108. It included an interior and "two of everything" or so I was told. The car had been disassembled and the previous owner never got around to putting it back together. I got the shell from Woody Cooper and we had his paint shop slap some Vermillion paint on it which seemed to make sense as it was already disassembled.

I then purchased a drivetrain from Tim Lanocha. He had it in another car and had a buyer for the shell so he was willing to sell me the mechanicals. The purchase included a 4.6L Rover that was stock except for camshaft and lifters. The motor came with an open plenum intake, a Quick-Fuel double-pumper carb, and a set of headers. The transmission is a Tremec T5 out of a Modern Ford Mustang. The differential is a Ford 9" that was cut down to fit the TR8 and came with a 0.350 gear set. Lanocha also included shock absorbers, brakes, suspension, master cylinders, radiator, cooling fan, and six rims (2 for the front and 4 for the back). All I had to do was put everything on the shell and take it for a spin. Simple, right?

I decided to build the car and work out all the kinks and then go from there. It only took me a couple of months to put it together and as I put the last item on, the front bumper, I noticed the left front bumper mount was pushed in by an inch and there were two kinks in the frame rail on the same side. Once together the car looked like a crooked hammerhead shark. The lefthand fender was 3/4" higher than the righthand fender and the bumper certainly looked like a crooked smile. I wasn't a happy camper.

I proceeded to drive the car and work out the mechanical kinks. I commuted in the car into and out of Manhattan throughout the summer. It took 100° heat in stop and go traffic for hours at a time on the West Side Highway and never skipped a beat. Over time, I started to list all the issues the car had. I was unsatisfied with the paint job. The brakes were crap. The suspension and springs were inadequate. I think there were three different brands of tires on the thing. There was lots of room for improvement to say the least. But I could see the potential and I loved that the TR8 is unusual. I resolved to purchase another shell and start over.

I continued to drive the crooked TR8 and work out the kinks. Meanwhile I picked up a new TR8 shell and stripped it. The new shell had been hit in the right rear and the repair job was poorly done, so I cut it out and repaired it properly. I also heard that the rear suspensions pulled away from the body under load and that the floor panels would separate under the seat due to torque. The suspension links were wrong from the factory, and I decided to box them in to help them resist twisting. I consumed three spools of welding wire in the process. A couple of months later, I had the shell cleaned up and primed. I boxed in the seat frames with 1/4" plate and rolled the steel up the rear wall and stitched them into the rear control arm mount points. I also boxed in the upper and lower control arms on the rear suspension which together distributed the suspension load more evenly throughout the unibody. Finally, I created a strut brace to stiffen the front suspension which also serves as a mounting point for the remote brake/clutch reservoirs and radiator overflow yet doesn't interfere with the fresh air duct.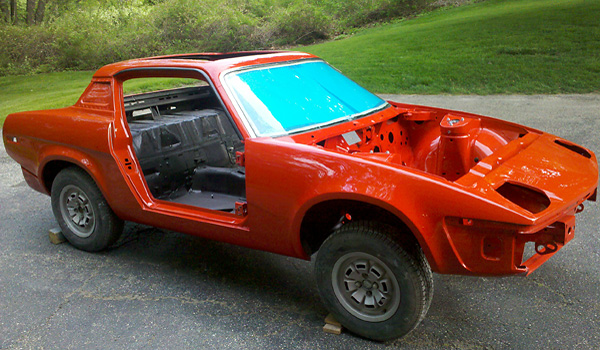 I got the replacement Triumph TR7 bodyshell into the bodyshop in December and it came back in February.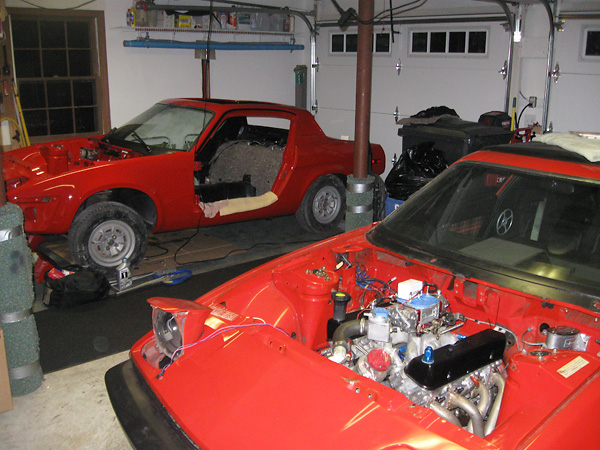 All I had to do now was swap everything from the running coupe to the newly restored body.


The interior and trunk were coated with black epoxy paint, and the entire underbody was coated with ceramic undercoating. The frame rails were all treated internally. It was an immaculate job. Best yet, all the modifications had been integrated into the new shell;

However, during the swap I uprated a few things: brakes, suspension, fuel system, electronics, cooling, intake, interior, and gauges. I also added a few engine changes, just for fun.

Fuel delivery mods started with a cleaned and treated tank. I also had the exterior of the tank powder-coated. I replaced the fuel level sender float and had a gravity feed port plumbed to an exterior mounted high-output racing fuel pump. Steel braided line and three fuel filters deliver the fuel to a pressure regulator inside the engine bay.

Electrical wiring was a combination of the existing TR8 harness to handle the lights and a modern wiring harness to handle the MSD ignition, factory gauges, cooling fans, stereo, air conditioning, fuel, wide band O2 system, water/methanol injection system, and NOS systems. Quite a bit of work was needed to get my T5 transmission to work with a stock Triumph speedometer. I sent a TR7 (4-cylinder) the tach out to be modified to accept the signal from the MSD ignition. The TR7 unit has a redline mark at 6,000 RPM.

Cooling is handled by the oversized Ron Davis radiator Lanocha originally provided. He also provided a puller fan and fan shroud. I also had a 12" 3,200 CFM pusher left over from my MG track car so I mounted it up front. The puller fan is controlled by SPAL thermostatic controller. The two fans keep the car running at 160° no matter what. I also replaced the thermostat housing and mounted a new overflow tank. Finally I had the intake manifold modified to allow coolant to exit from the rear of the cylinder heads, bypassing the thermostat and continuing directly into the radiator. This helps the engine run cooler on the hottest of days.

Spectre Performance has a great kit that includes everything you need to pull fresh air from the factory inlets into a dual-inlet plenum that I had powder-coated to match everything else on the car. The inlet jet for the Snow water methanol system is plumbed into the plenum directly over the primaries.

Interior mods included a 5-point safety harness, new seats with orange plaid fabric, new carpet, mechanical oil and temperature gauges, a vacuum gauge for the crank case vacuum pump, a wide-band O2 gauge, a new top and I built a new rear deck to support two 5x7 speakers and subwoofer. An amplifier sits on the deck in the trunk.

Finally I had a NOS system laying around for about 5 years that I thought would be put to good use on the TR. I sliced the spare tire compartment and halved its depth stitching it back together so you can't see it from behind the car. I then mounted two five pound bottles in the trunk and installed safety valves and bottle heaters which are fed from a fuse box in the trunk that also feeds the fuel pump. The solenoids are tucked under the tunnel and hidden from view. There's an activation switch under the dashboard and the system goes live via a full throttle switch activated by a small lever I welded to the throttle pedal. The system is set to deliver an additional 100 HP at the flywheel, which equates to 78 HP at the rear wheel.

Wheels (one set for the front and two for the back) were powder coated and Hankook street tires were fitted. The spare set of rear rims now have super sticky Nitto NT01 DOT slicks mounted; they provide a 1.7 second, 60 foot time out of the hole. The street tires are pretty good as well. I opted for modest 205/50R15 front tires so the car would stop in the rain. The 225/45R15 rear street tires are a step down from the slicks they sell.

Finishing touches included new badges and a pair of clear matte finish racing stripes down the hood and across and down the trunk. I have to fabricate new air conditioning compressor and crankcase vacuum pump mounting brackets this coming spring. I can't think of another thing to do to the car. It's fast, fun, safe and it turns more heads than many modern super cars that run through town. I love it.


Features and Specifications
Engine:
stock Rover 4.6L engine block (including cross bolted mains) and crankshaft. Stock Rover 4.0L pistons and connecting rods. Approximately 10.4:1 static compression ratio. Stock Rover cylinder heads (lightly modified) and valvetrain. Custom ground camshaft from PBM / Erson Cams. Copper head gaskets. ARP extended length head studs. Harcourt open plenum intake. Quick Fuel 650cfm double pumper carburetor. Snow water-methanol injection system. MSD distributor and spark plug wires. MSD Ignition with 3-stage retarder box. GZ Motorsport crankcase vacuum pump. Spectre Performance intake system.

Cooling:
Ron Davis aluminum radiator. Spal puller fan, controlled by thermostat. Spal pusher fan, manually switched. 160° thermostat.

Exhaust:
four-into-one headers supplied by The Wedge Shop. Custom 2.5" X-pipe. Dual mufflers.

Transmission:
Tremec T5-speed. Tilton clutch. Tilton hydraulic throw-out bearing.

Rear End:
Ford 9". 0.350:1 gears. Limited slip differential.

Brakes:
(master) Wilwood tandem master cylinder with remote reservoirs. Wilwood 2psi residual pressure valves.
(front) Wilwood 4-pot calipers and 11.75" vented rotors on 1.96" offset hats. (See below for details.)
(rear) Wilwood 4-pot calipers and 11.75" vented rotors. Wilwood adjustable proportioning valve.

Front Susp.:
fully adjustable front suspension. 2.5" inside diameter, 8" length, 275#/in coil springs mounted on adjustable perches. KONI adjustable shock absorbers. Custom hub-centering lug pattern adapter rings.

Rear Susp.:
four link rear suspension, with angled (inward at rear) upper radius rods. 2.5" inside diameter, 7" length, 275#/in coil springs mounted on adjustable perches. KONI adjustable shock absorbers. New droop straps.

Wheels/Tires:
American Racing 15" aluminum wheels, powdercoated black (front: 4x100mm lug pattern, rear: 5x114.3 lug pattern.) Hankook Ventus V2 (205/50R15) front tires. Hankook Ventus RS3 (225/45R15) rear tires, for street use. Nitto NT01 DOT rear slicks (225/45/15) rear tires, for track use.

Interior:
stock.

Body & Paint:
body restoration was completed in 2010. The undercarriage was sprayed with ceramic microsphere insulation-loaded paint. The color is Vermillion Red, with clear matte racing stripes.

Electrical:
Power Master 160 amp alternator.

Chassis Dyno:
304 BHP at 5,800rpm, 321 ft·lb at 3,800rpm without nitrous oxide.
370 BHP at 5,300rpm, 422 ft·lb at 3,900rpm with nitrous oxide.

Quarter mile:
12.7s without nitrous oxide. 12.1s with nitrous oxide.

Weight:
2,846#. (Very heavy for a TR8, mostly due to rear suspension reinforcement.)


Engine Installation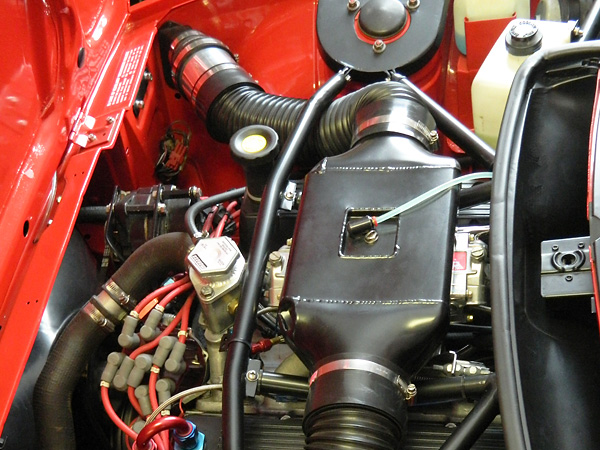 Lorenz built-up his engine and then had it fine tuned by Jeff Roell at Danbury Chassis Dyno.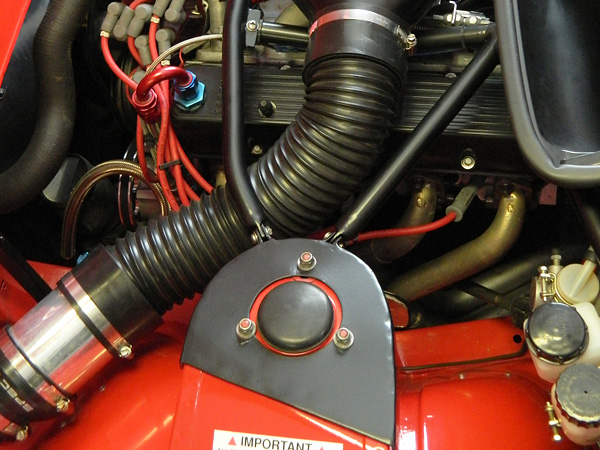 Exhaust headers were supplied by Woody Cooper.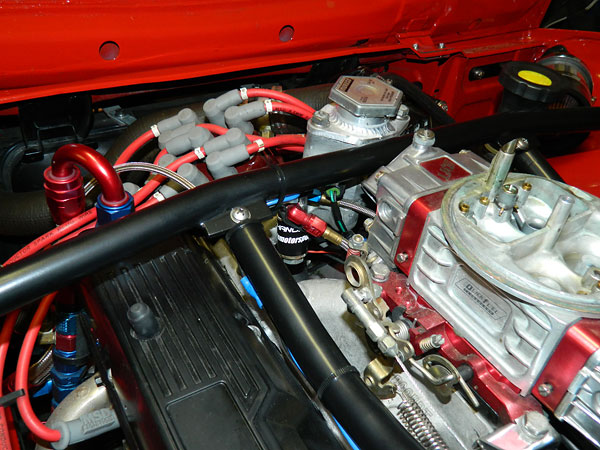 Quick Fuel 650cfm double pumper carburetor. (Note NOS plumbing.)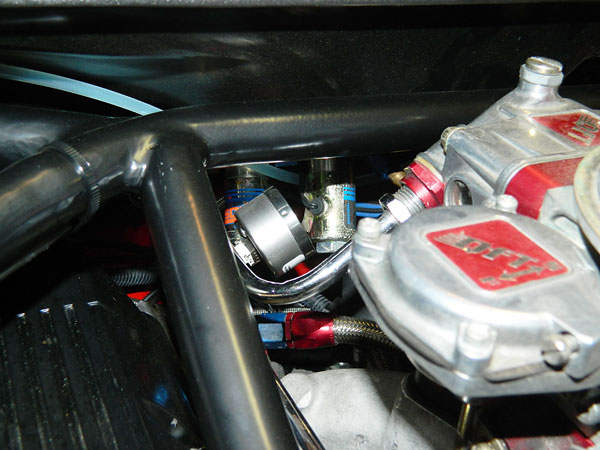 Fuel lines and choke mechanism.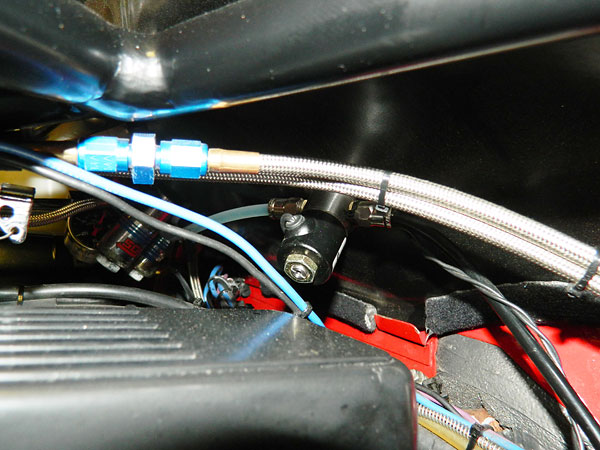 The Snow water/methanol injection system consists of reservoir, pump, control unit, safe
injection unit, solenoid, and jet. The solenoid (shown here) is mounted under the fresh
air intake and the jet is mounted above the primaries atop the plenum.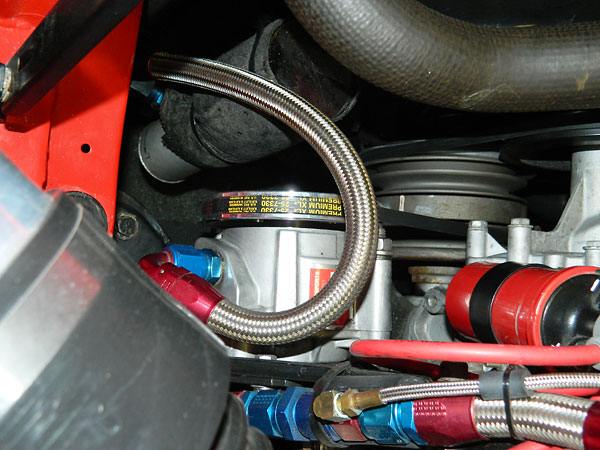 GZ Motorsport crankcase vacuum pump.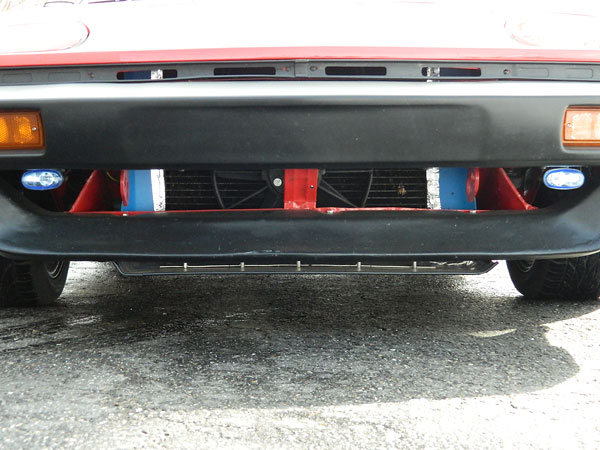 Ron Davis aluminum radiator. Spal pusher fan, manually switched.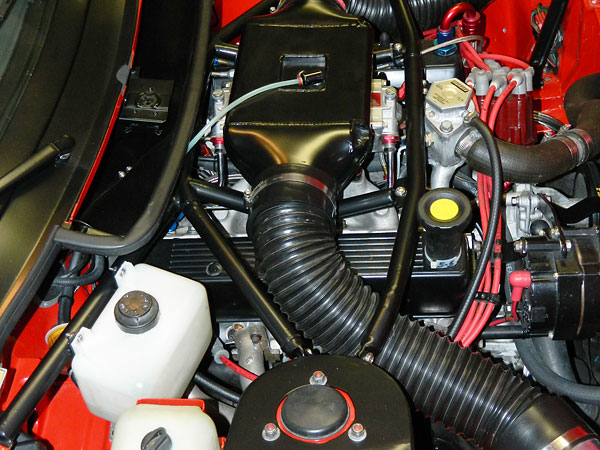 MSD distributor and spark plug wires.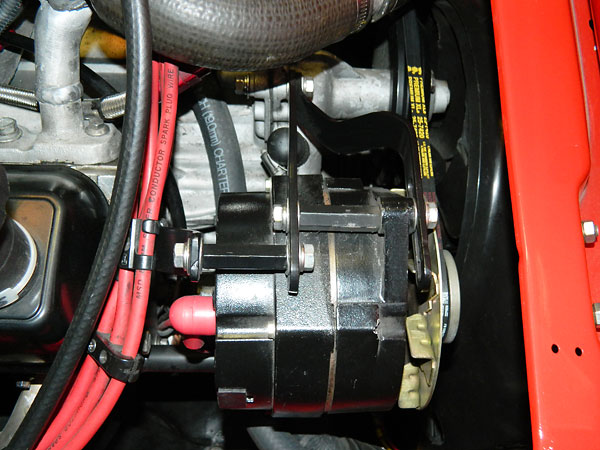 Power Master 160 amp alternator.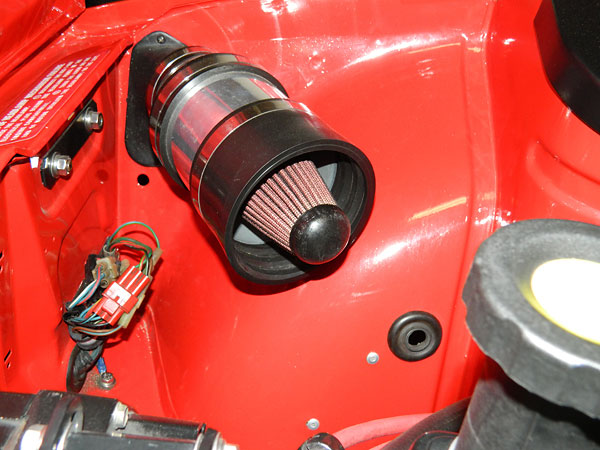 The Spectre intake system uses the TR8's factory cold air intakes. Air enters below the headlights
and runs to a pickups behind the fenders. Ducts in the engine bay house the filters and feed clean
air to the dual plenum. The low profile plenum fits under the hood without modification.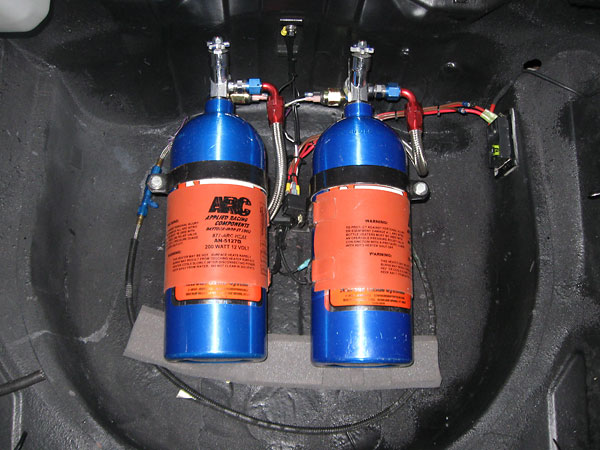 There are two 5# bottles of liquified nitrous oxide gas in the trunk. Electric blankets stir the
NOS to help keep the pressure up. "Arm" and "purge" switches are hidden under the center console.
A micro-switch mounted under the accelerator pedal triggers the system when the pedal is floored.
The MSD 3-stage retard box automatically retards ignition timing 5° as NOS is injected.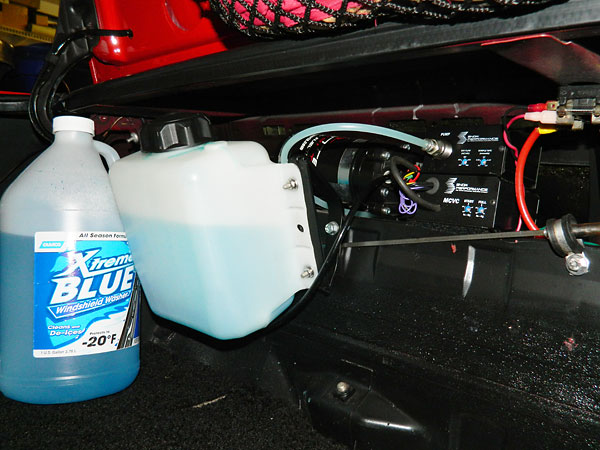 The Snow water/methanol injection system's reservoir, pump, controller and safe injection units
are all mounted in the trunk. The system triggers off of a tachometer signal and spray volume
varies with intake manifold vacuum. The system uses blue windshield washer fluid.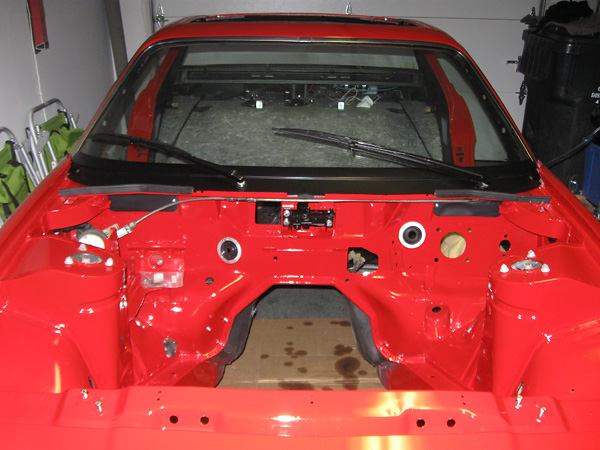 Very modest firewall modifications.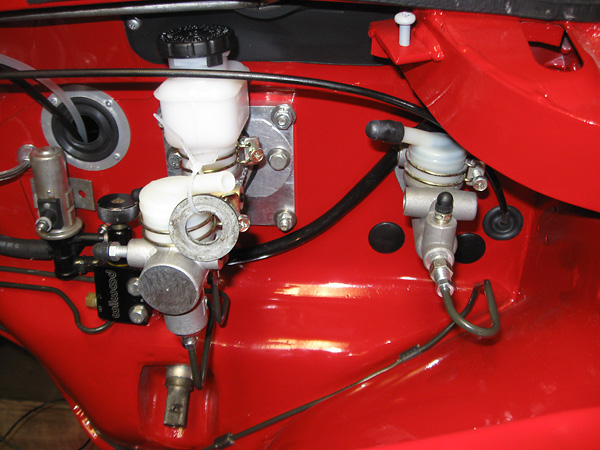 Lorenz initially built this car with an integral-reservoir Wilwood master cylinder. It conflicted with his
custom strut tower brace. He switched to a master cylinder with provisions for remote reservoirs,
(Wilwood master cylinder part# 260-8794. Reservoir part# 260-7577.)
The clutch master cylinder reservoir is also remotely mounted.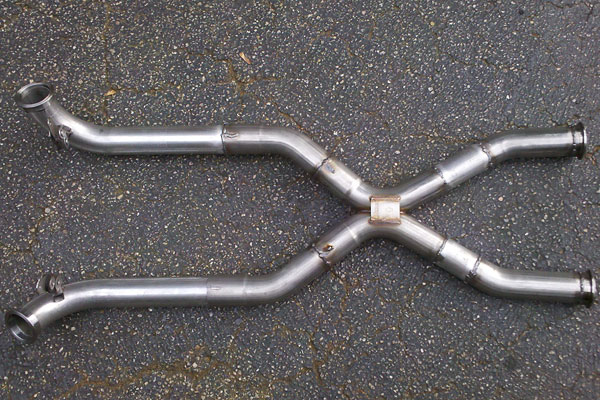 Custom 2.5" X-pipe.


Suspension and Brakes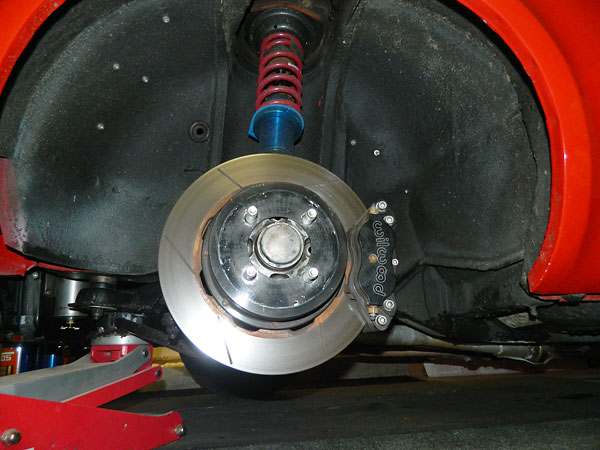 275#/in springs and KONI shock absorbers. Wilwood 4-pot calipers with 11.75" vented rotors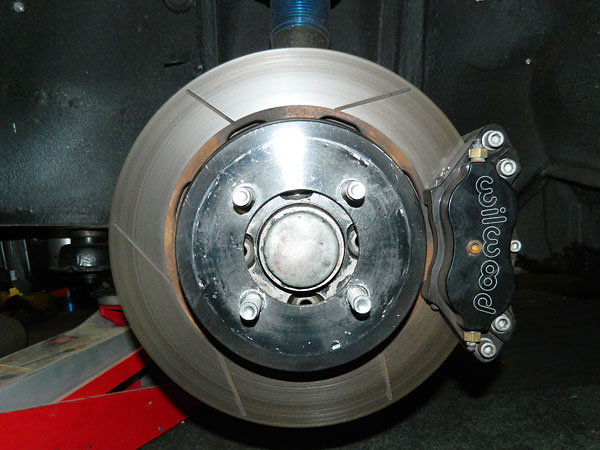 Stock Triumph TR7/TR8 hubs feature a 4x3.75" lug pattern, which severely limits wheel and
brake upgrade options. Lorenz solved this problem with custom 4x100mm hub adapters.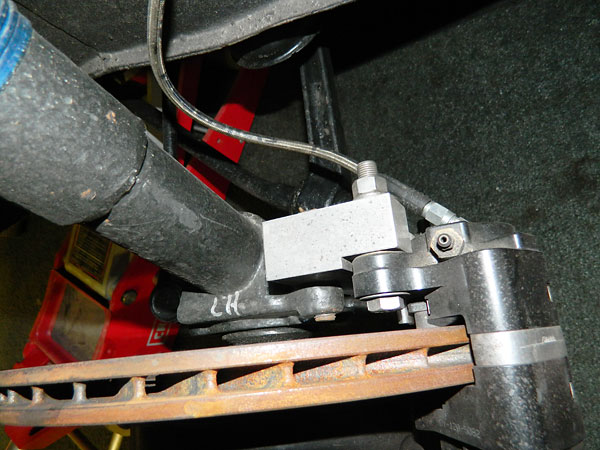 Wilwood Dynolite forged calipers (#120-5082), custom billet aluminum caliper mounts, 11.75" rotors
(#160-9009 and #160-9010), 1.96" offset rotor mounting hats with 8 holes on 7" circle for rotors but
undrilled for wheel lugs (#171-3753), rotor bolts (#230-0233D), street/strip brake pads (#150-8850K),
braided stainless steel brake lines #220-9101, and stainless steel "-3" 90 degree swivel fittings
to point the brake lines down from the body.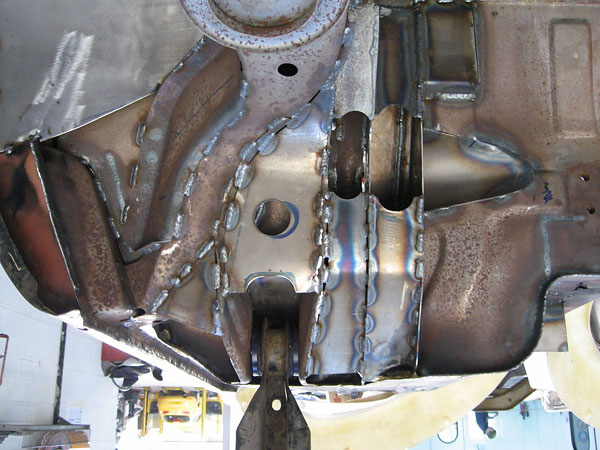 Substantially reinforced rear suspension attachment points.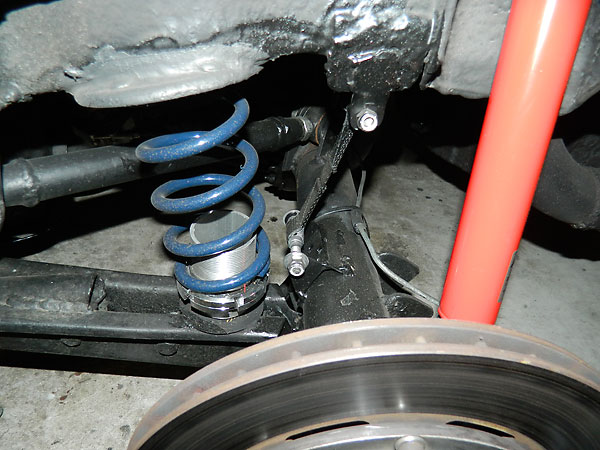 275#/in coil springs on adjustable perches. KONI adjustable shock absorbers. New droop straps.


Enjoying this article? Our magazine is funded through the generous support of readers like you!
To contribute to our operating budget, please click here and follow the instructions.
(Suggested contribution is twenty bucks per year. Feel free to give more!)
Interior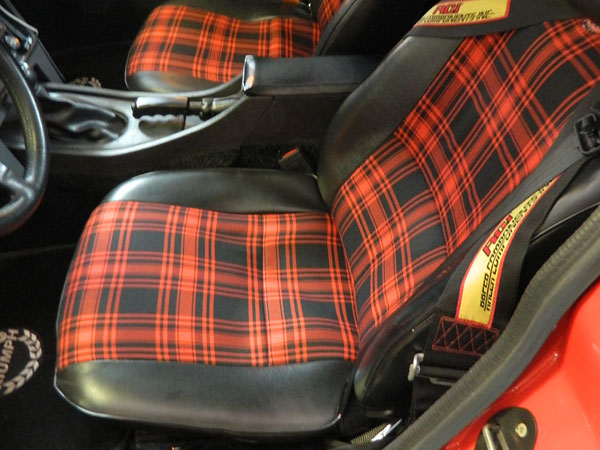 Triumph TR7/TR8 plaid upholstery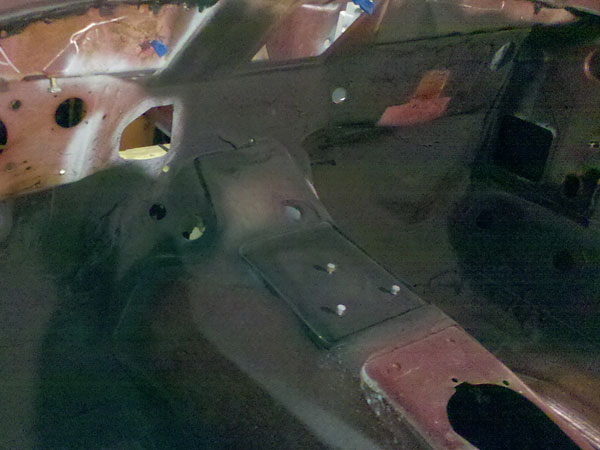 Sprayed-on sound and heat insulation with ceramic microspheres.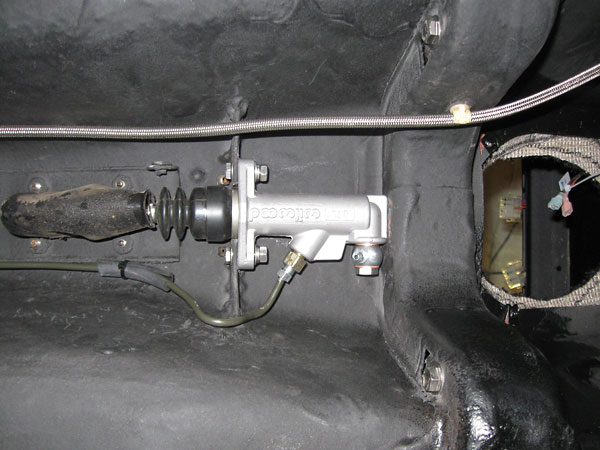 Wilwood 0.75" flow-through parking brake master cylinder plumbed into the rear brake line downstream
of the proportioning valve. It won't hold pressure forever but it's fine for short-term use.


Exterior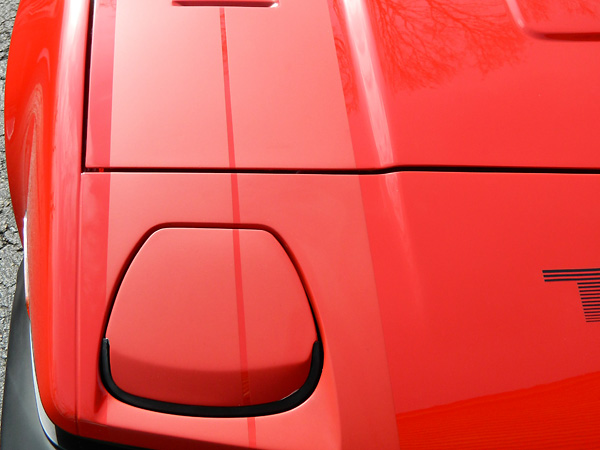 Pop-up headlights.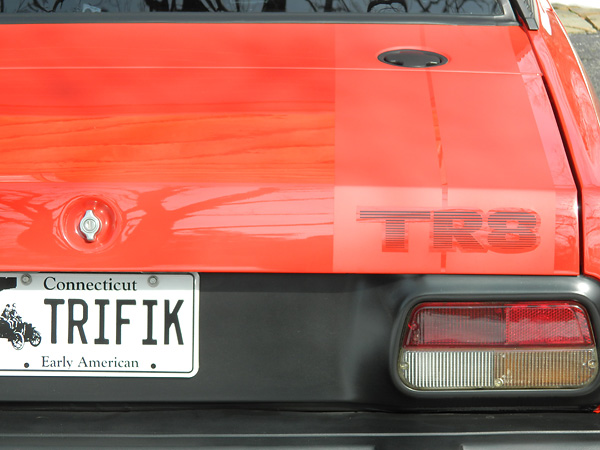 Recessed fuel filler cap.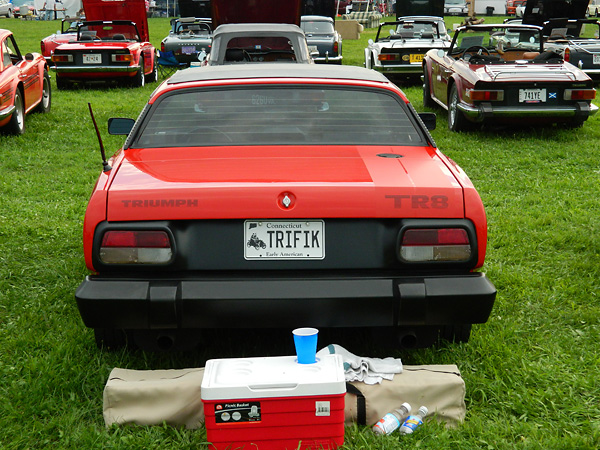 Vermillion Red paint with clear matte racing stripes applied by Julio Grosso in Danbury, CT.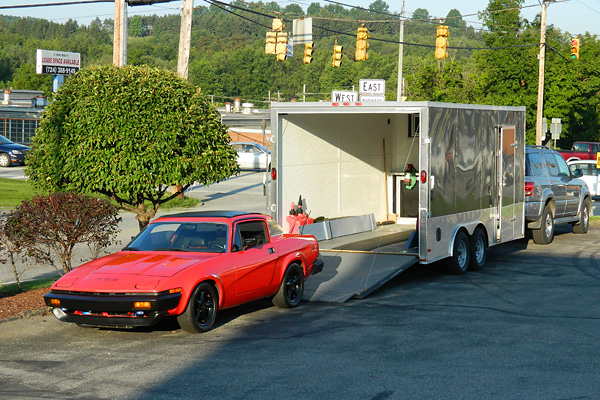 Although the Triumph TR7 was mainly produced as a coupe (i.e. with a fixed, steel roof), most Triumph TR8s were
convertibles. British Leyland committed to build 500 Triumph TR8 coupes to meet homologation requirements for
F.I.A. rally racing, but production ceased in 1980 long before that milestone was reached. Assembled in August
1977, Lorrenz Hassenstein's 1978 Triumph TR8 coupe is number 108 of only approximately 130 produced.