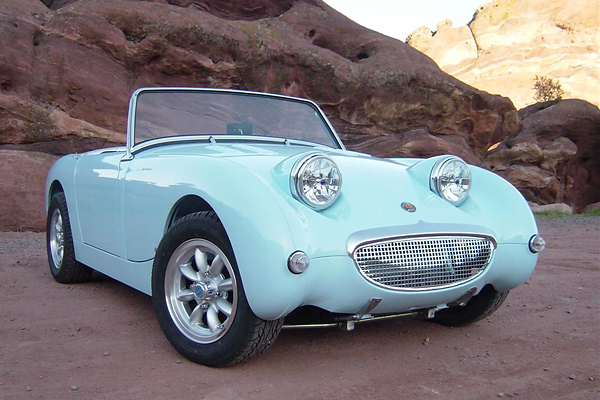 Bruce Uchida's BMW-powered 1959 Austin Healey Sprite
as published in BritishV8 Magazine, Volume XVI Issue 2, October 2008
Owner: Bruce Uchida
City: Lakewood, CO
Model: 1959 Austin Healey Sprite
Engine: BMW 2002 2L four-cylinder
Conversion performed by: owner
| | |
| --- | --- |
| Engine: | BMW 2002tii four cylinder engine (1990cc, single overhead cam, two valve/cylinder, rated 130hp at 5800rpm / 130ftlb at 4500rpm in its original configuration/installation.) Two Weber 45 DCOE carburetors. Mallory distributor. Bosch "blue" coil. Nippondenso 40A alternator. Remote oil filter. |
| Cooling: | Volkswagen Rabbit aluminum crossflow radiator. Custom fabricated aluminum header/surge tank. Single electric fan (pulling) with shroud. Oil cooler. |
| Exhaust: | homemade 4-into-1 header. Flowmaster "Hushpower II" (HP-2) muffler. |
| Transmission: | BMW (Getrag) 4-speed. |
| Rear Axle: | Ford Pinto (7.5"). |
| Front Suspension: | Frontline IFS, with an additional brace added between the shock towers. Non-concentric Delrin lower control arm bushings have been fitted to provide some camber adjustment. (They're currently adjusted to provide about a half degree of negative camber. Toe angle has been set to zero.) Custom fabricated tie rods. A speedwell front antisway bar has been mounted on homemade aluminum pillow blocks. |
| Rear Suspension: | stock quarter elliptic leaf springs. Adjustable upper control arms facilitate easy adjustment of pinion angle. A custom fabricated lower A-arm combines the function of anti-tramp bars and a Panhard rod. (The A-arm's axle connection is welded to the bottom of the differential cover and utilizes a polyurethane bushing. The front connections utilize Heim joints.) |
| Wheels/Tires: | Panasport aluminum 8-spoke wheels with Sumitomo HTR200 165/60R13 tires. |
| Brakes: | dual circuit Lockheed-type master cylinder. Front "big brake" kit (apparently utilizes MGB rotors and calipers). Rear (Ford 9" diameter) drum brakes. Wilwood brake bias valve (mounted through-the-firewall within the driver's reach) and 10psi residual pressure valve, both on the rear circuit. |
| Electrical: | Stewart Warner instruments. (The speedo and tach are mounted in custom-made adapter rings.) AEM "UEGO" air/fuel mixture gauge (which uses a Bosch wideband oxygen sensor). SVR sealed gel-cell battery. Signal Dynamics "Back OFF" electronic turn signal module (for automatic cancellation and for timing). The headlights and cooling fan are relay controlled. |
| Other Mods: | fuel tank relocated to the left to provide space for the muffler. Custom designed and fabricated bonnet hinges that pivot and move the bonnet forward as it opens up. (With these fitted, the back of the bonnet doesn't rub against the bulkhead. Dzus fasteners hold the bonnet down.) Maradyne "Model 5000" heater (mounted below the dashboard). |
How It Was Done
Engine Installation and Mechanical Details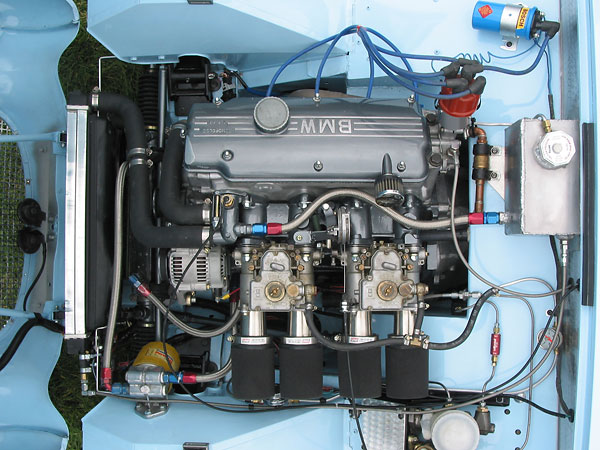 BMW 2002tii four cylinder engine.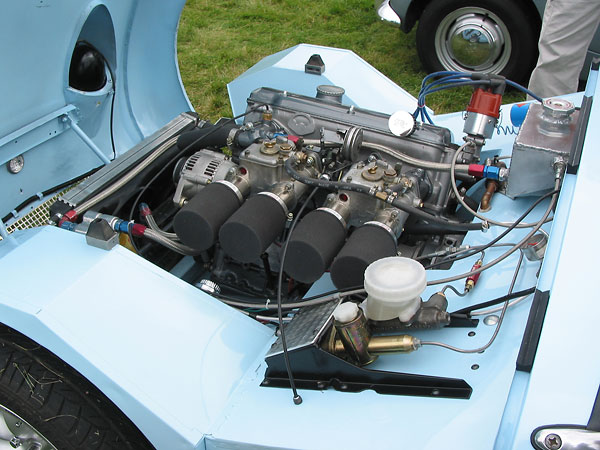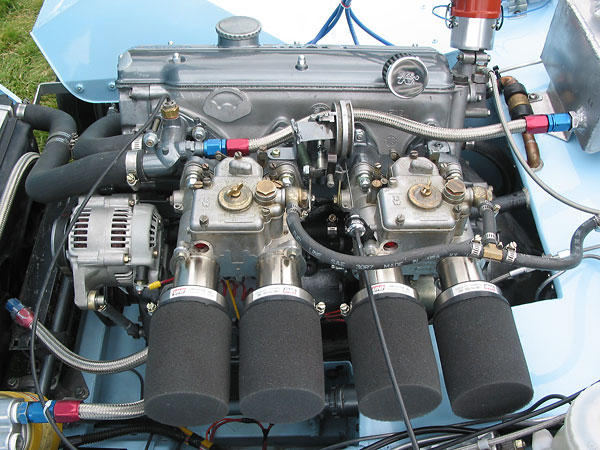 Two Weber 45 DCOE carburetors.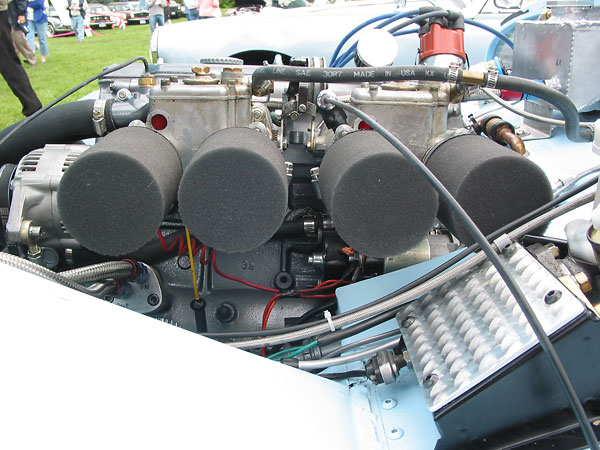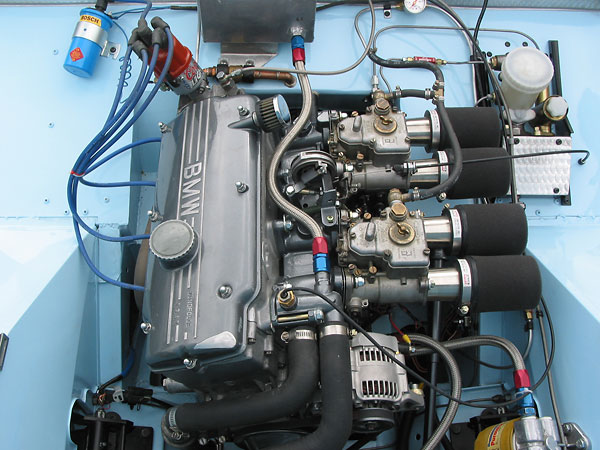 1990cc, single overhead cam, originally rated 130hp at 5800rpm / 130ftlb at 4500rpm.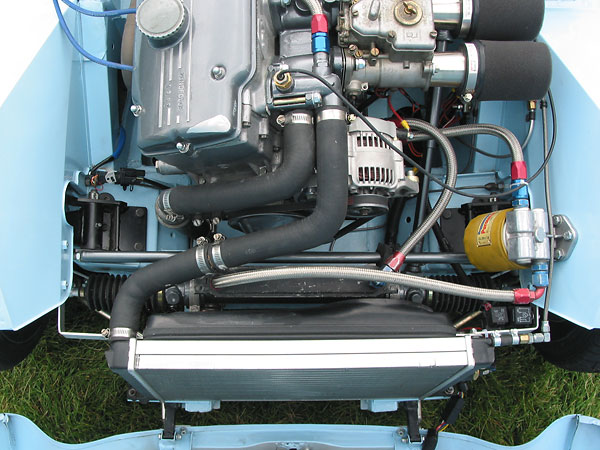 Some interesting front suspension details are visible here. This is an aftermarket design by "Frontline"
which replaces the Sprite's original knee-action shocks. (Koni telescoping shocks are used instead.)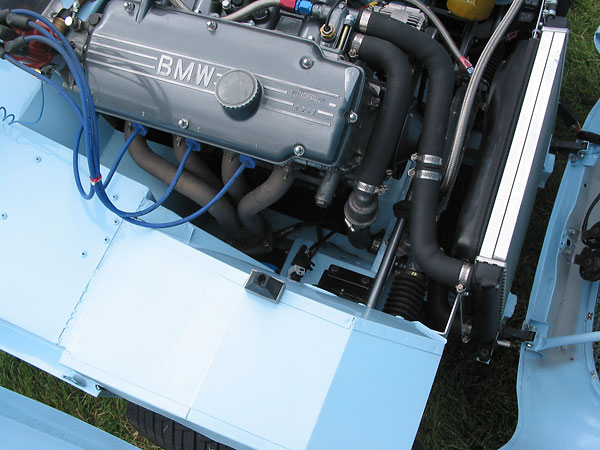 Custom fabricated 4-into-1 exhaust header.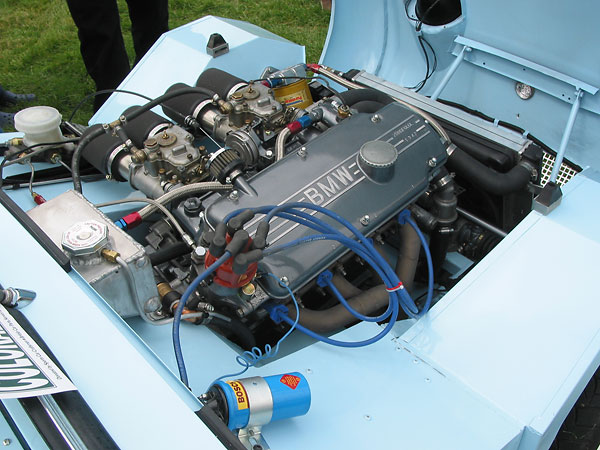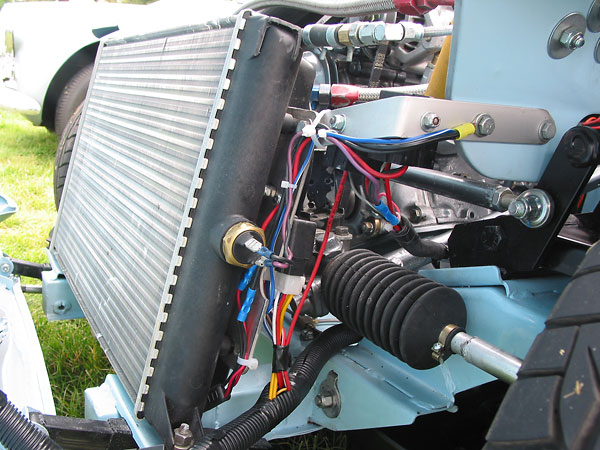 Volkswagen Rabbit aluminum radiator.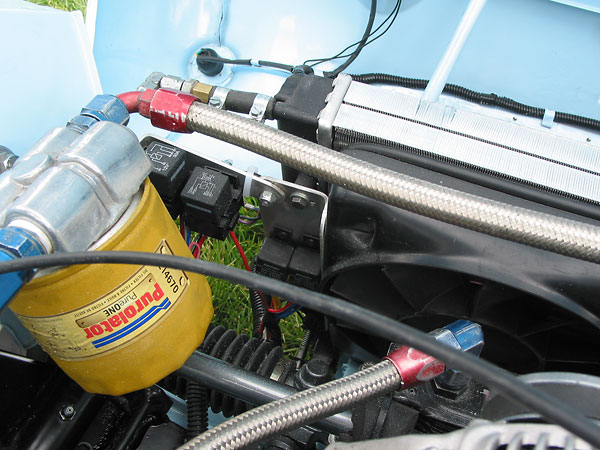 Remote oil filter. (Note also the headlamp and fan relays.)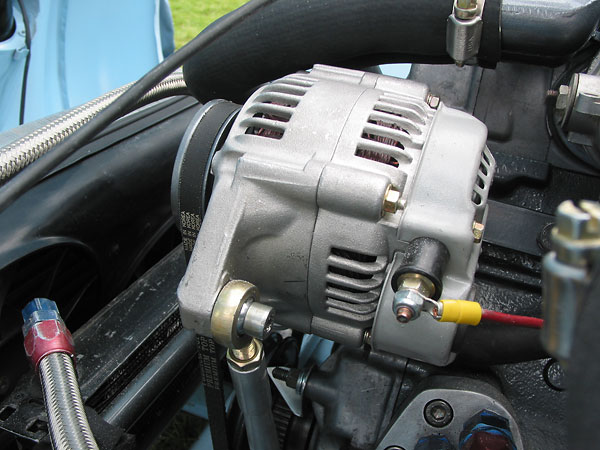 Nippondenso 40-amp one-wire alternator. (Note also the oil cooler.)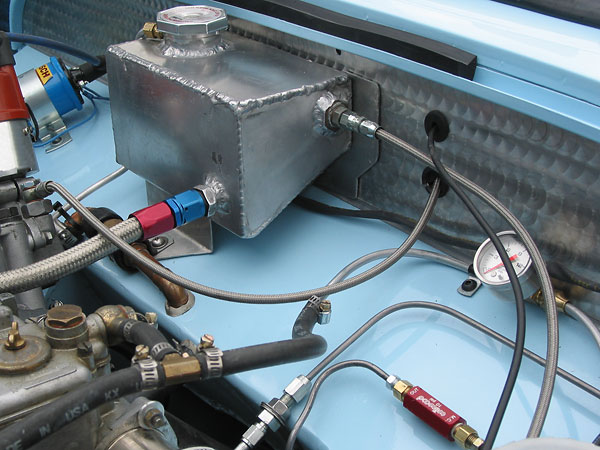 Custom fabricated aluminum header tank. (Note also the fuel pressure gauge.)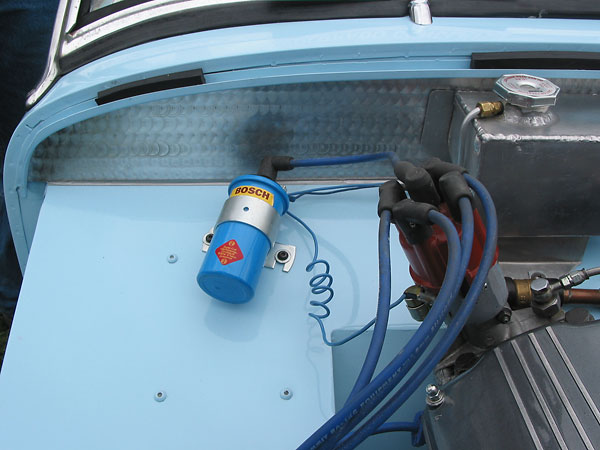 Bosch blue coil and Mallory distributor.


Enjoying this article? Our magazine is funded through the generous support of readers like you!
To contribute to our operating budget, please click here and follow the instructions.
(Suggested contribution is twenty bucks per year. Feel free to give more!)
Other Mechanical Stuff (brakes, suspension, etc.)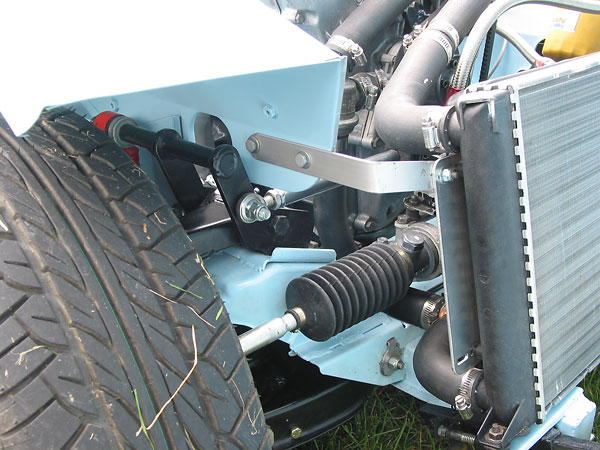 The Frontline front suspension kit replaces the original knee-action shocks.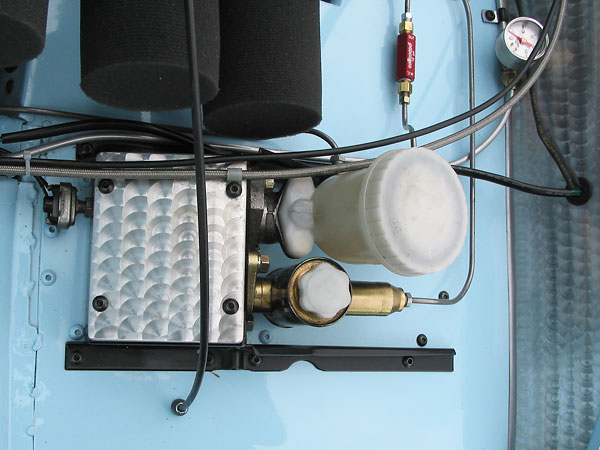 Later-model master cylinders as used on Midget 1275 or 1500.
(Dual circuit braking systems weren't standard on early Sprites.)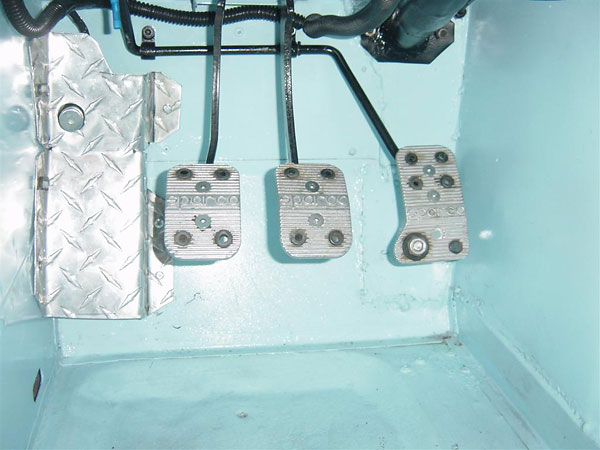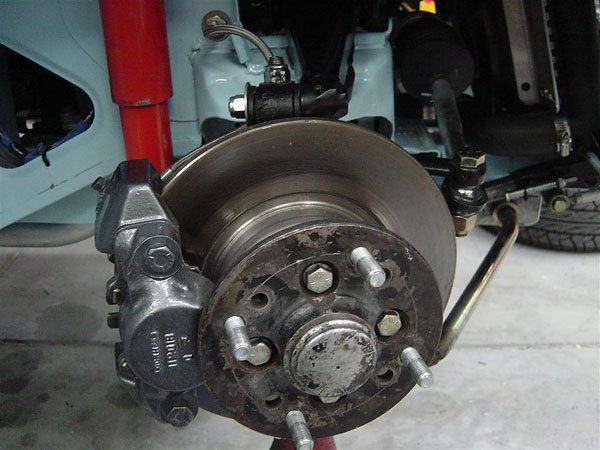 Note that the upper control arm has been radiused to make room for the Big Brake Kit brake rotor.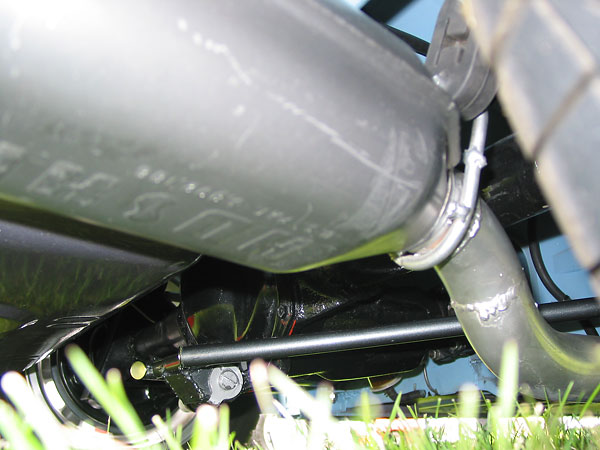 Flowmaster "Hushpower II" (HP-2) muffler.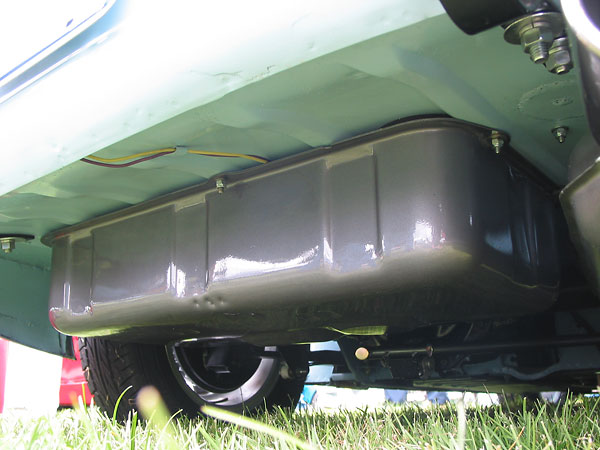 The fuel tank has been relocated to the left to make room for the muffler.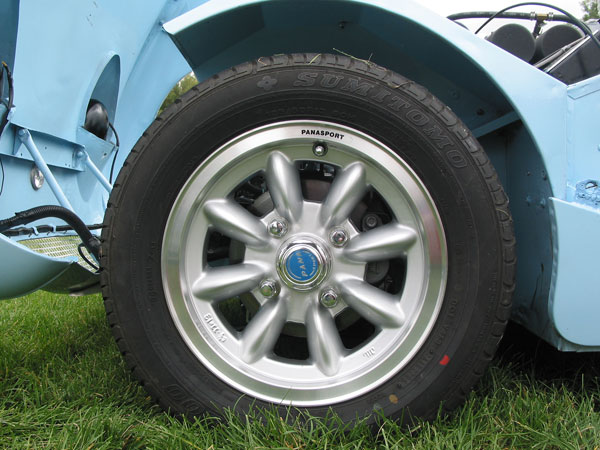 Panasport 8-spoke aluminum wheels.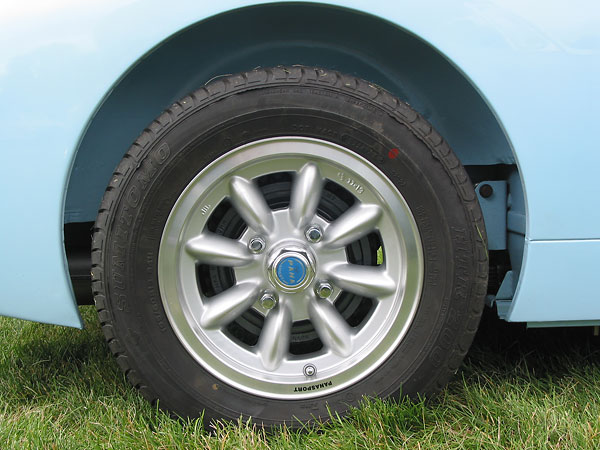 Sumitomo HTR200 tires.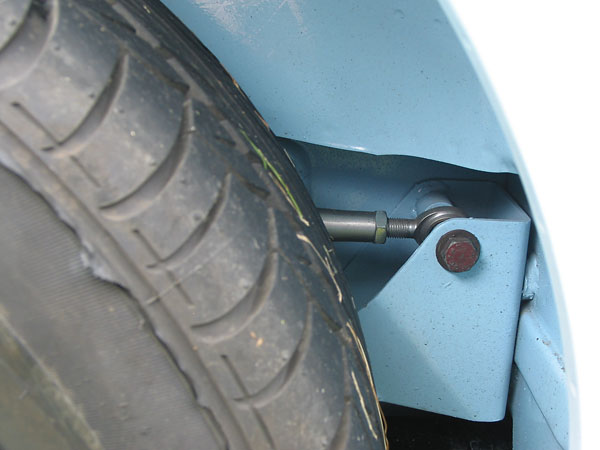 Adjustable upper control arms for setting pinion angle.


Hood Tilt Mechanism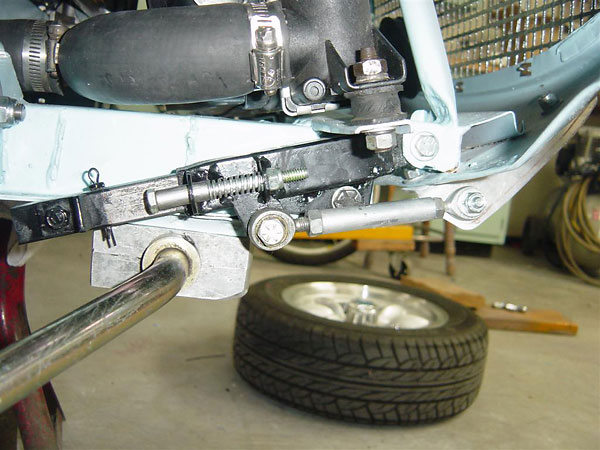 Custom designed and fabricated bonnet hinges...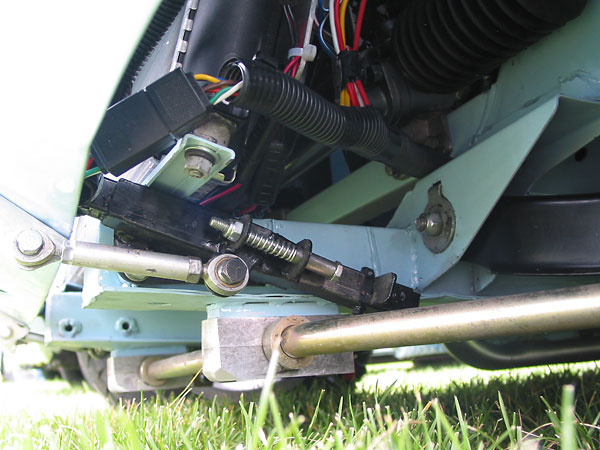 ...pivot and move the bonnet forward as it opens up.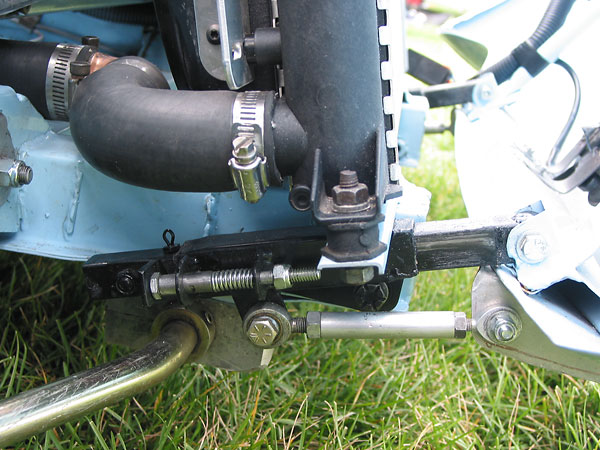 With these fitted, the back of the bonnet doesn't rub against the bulkhead.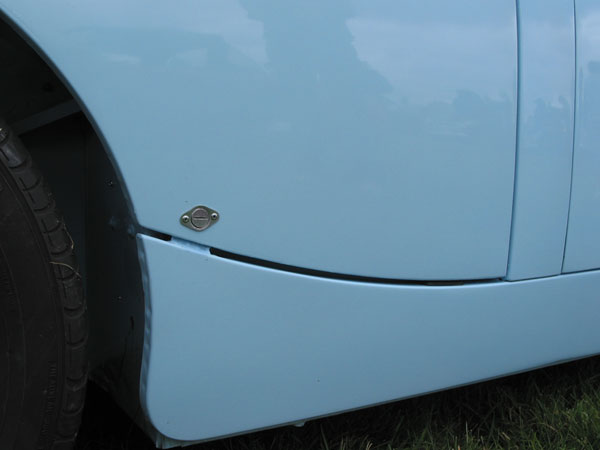 Dzus fasteners hold down the bonnet.


Interior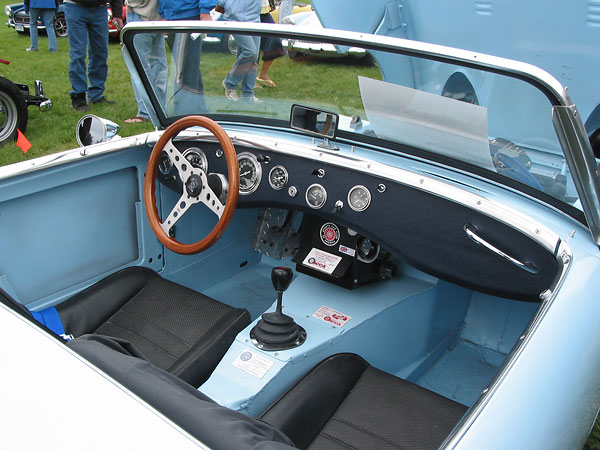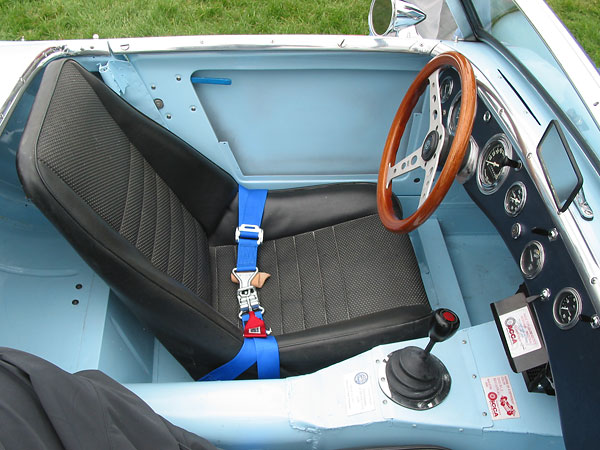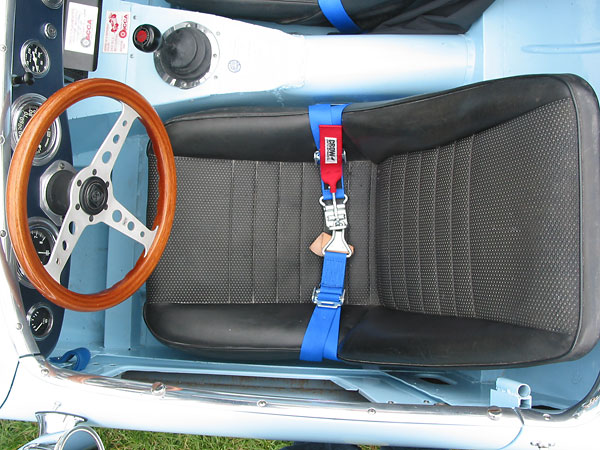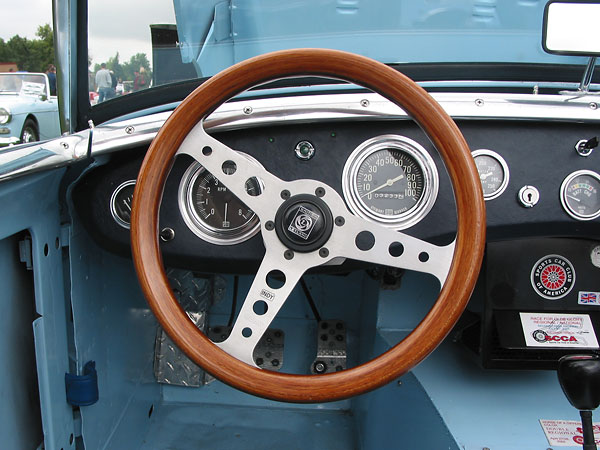 Momo "Indy" steering wheel.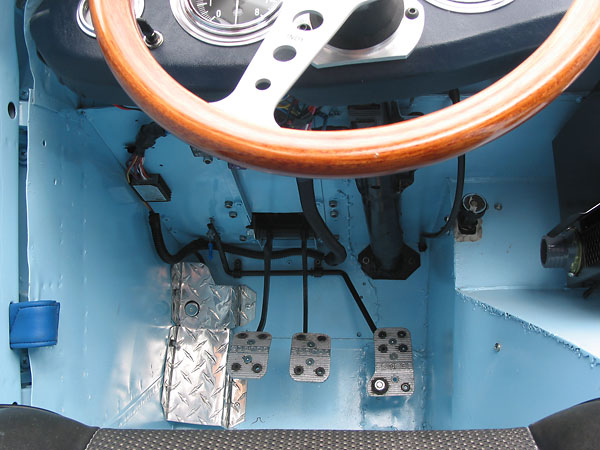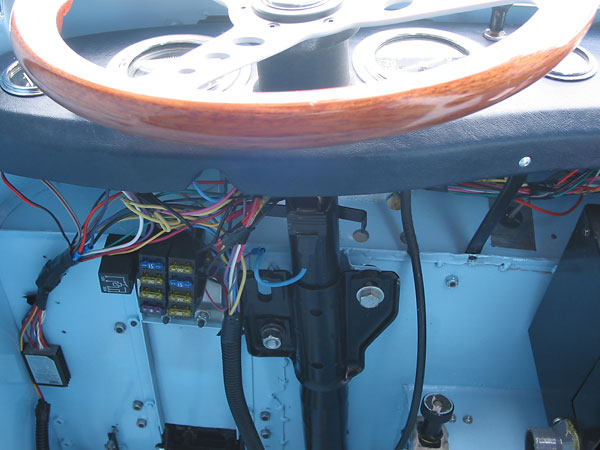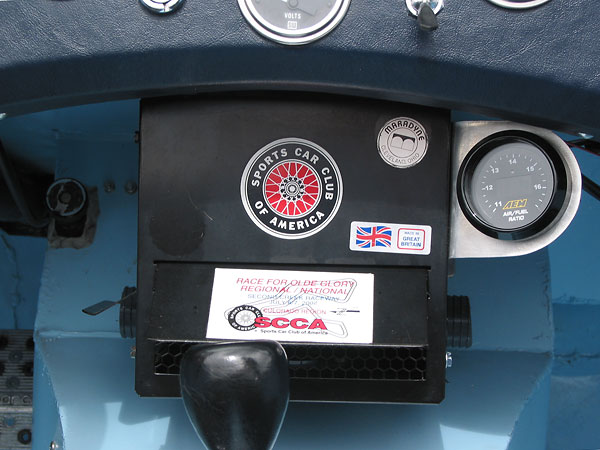 Left: Wilwood brake bias valve. Center: Maradyne Model 5000 heater. Right: AEM air fuel ratio gauge.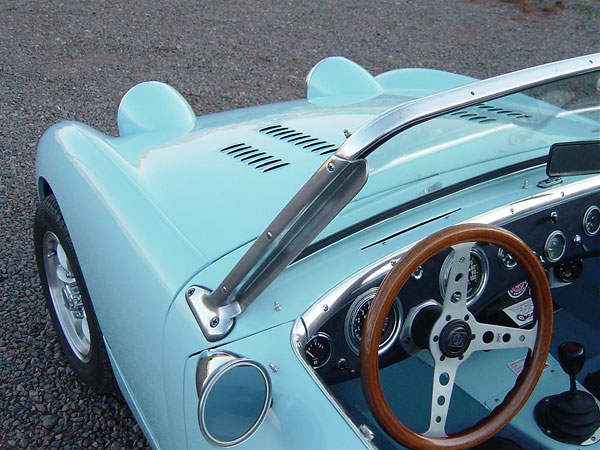 Glamour Shots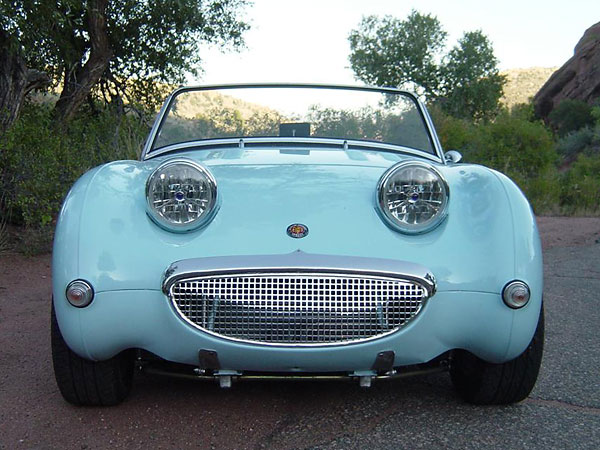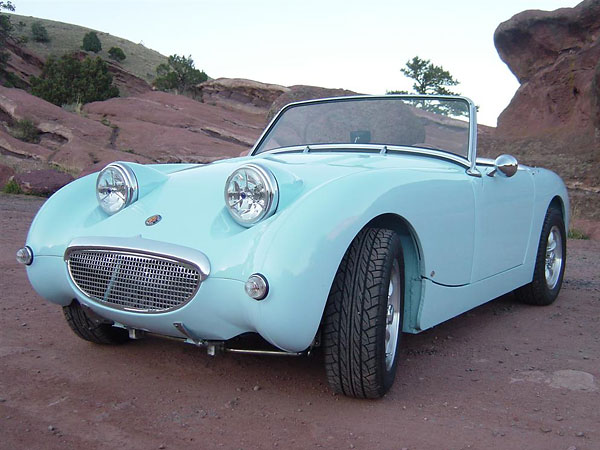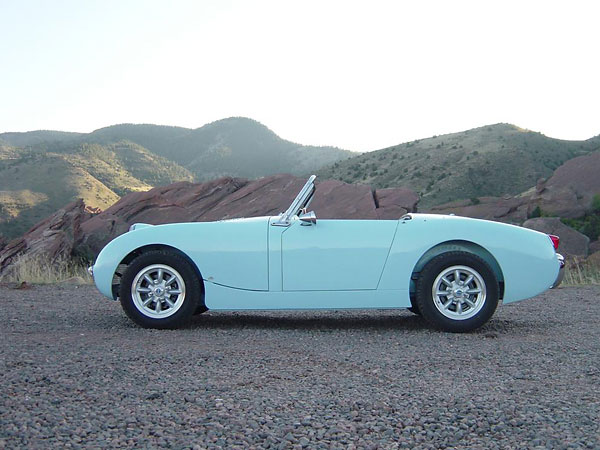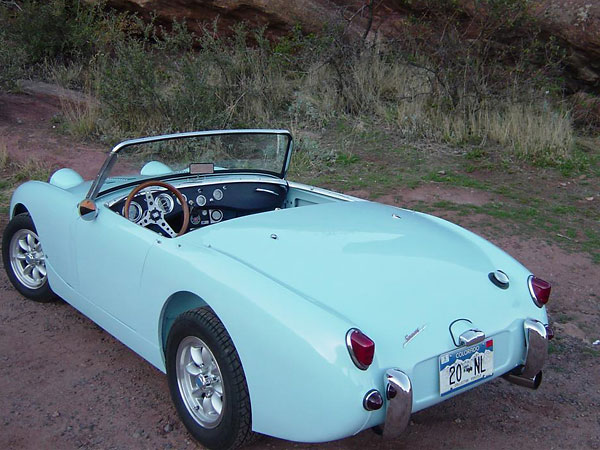 Bruce recommends the Glasurit "55" clear-over-base paint system.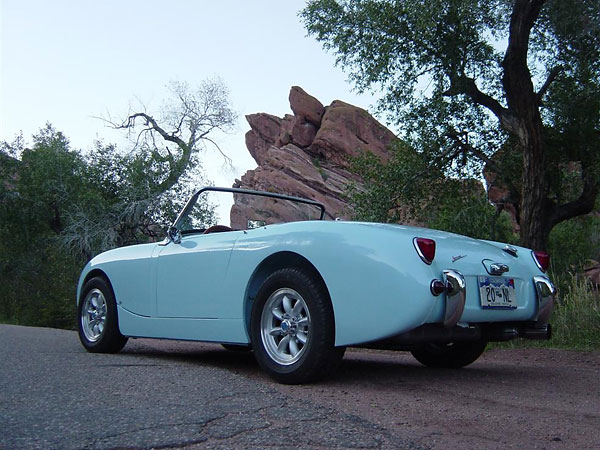 And for photo shoots? Red Rocks Park, Colorado (just west of Denver, between Golden and Morrison).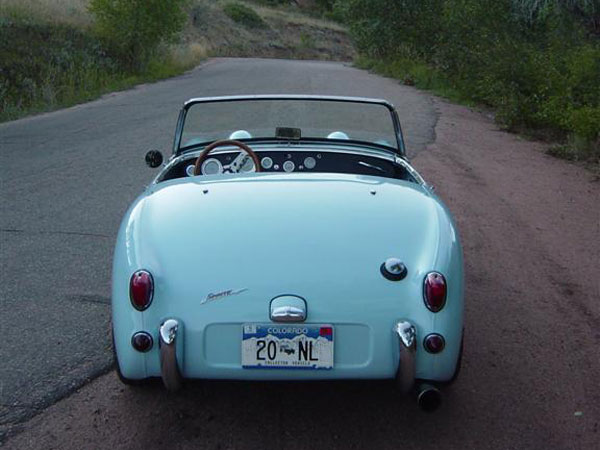 Photos from Colorado Conclave 2008 are by Curtis Jacobson for British V8 Magazine. All rights reserved.
The glamour shots taken at Red Rocks are by Bruce Uchida, and are used by exclusive permission.