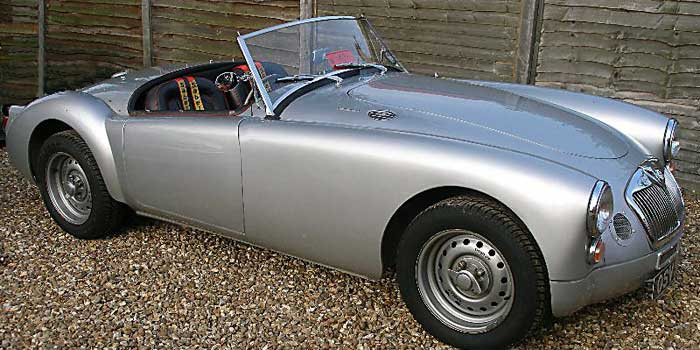 Steve Bowen's 1959 MGA with Mazda MX5 1600cc Twin Cam Engine
as published in British V8 Newsletter, Volume XV Issue 1, April 2007

Owner: Steve Bowen
City: Downham Market, United Kingdom
Model: 1959 MGA
Engine: Mazda MX5 (aka Miata) 1600cc Twin Cam Engine
Conversion performed by: Previous Owner
Exhaust:
All stainless steel exhaust system.

Transmission:
Mazda Miata 5-speed gearbox.

Suspension:
Stock MGB. Telescopic shocks front and rear. Front anti-roll bar.

Steering:
Stock MGB.

Brakes:
Stock MGB.

Wheels/Tires:
Replica Dunlop MGA Twin Cam wheels, based on TR6 steels with replica knock-off spinners. Low profile GoodYear tires.

Chassis Mods:
Stainless steel fuel tank and copper fuel lines. Battery disconnect switch.

Body:
Aluminum bonnet and doors. Fiberglass fenders and boot lid were hand built from the original shell. Sebring front and rear valance panels. Painted Mercedes metallic silver. MGA "Twin Cam" badges. Dummy Le Mans style petrol filler cap.

Interior:
MGA Deluxe seats in black leather with red piping. Sabelt four-point safety harnesses. Motolita wooden steering wheel. Dimmable rear view mirror. Pioneer Radio and CD player, four speakers, and electric aerial. Works style hard top in black with roof vent. Custom fitted side screens.

Completed:
2001

Performance:
Averages over 35 miles per gallon.

Comments:
In my opinion, the car is beautiful to look at, wonderful and fun to drive and is the perfect match of beautiful classic looks combined with modern drivetrain and decent brakes and suspension. All the fun of the MGA but without the headaches of body corrosion and leaking, temperamental B series engines!
I bought this car nearly 3 years ago from the man who restored and created it. He had owned it since 1993 and had rebuilt several MG's and other classics. He rebuilt this particular MGA so that it could be used EVERY day of the year, be fun and reliable, and have the classic good looks of the MGA combined with more modern underpinnings.