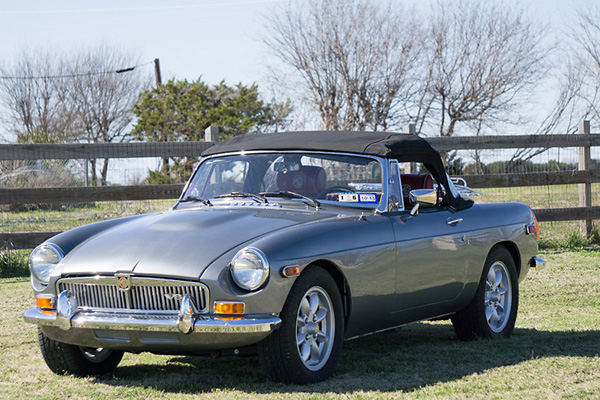 Ralph Ratta's 1980 MGB with Rover 4.0L V8
Owners: Ralph and Fay Ratta
BritishV8 UserID:
K9RWR
City: China Spring, Texas
Model: 1980 MG MGB
Engine: Rover 4.0L V8
Conversion by: owner
Features and Specifications
| | |
| --- | --- |
| Engine: | Rover 4.0 V8, rebuilt by Mike Alexander. Rover 4.0L cylinder heads, rebuilt with all new stainless steel valves and guides. New rocker arms, rocker shafts, and rocker shaft reinforcements. Crower stage 2 camshaft, valve springs, and lifters. Edelbrock four barrel intake manifold. Edelbrock 1405 500cfm carburetor, with electric choke. Edelbrock air filter. Grommet-mounted S.U. electronic fuel pump. Rebuilt Delco-Remy distributor with Pertronix Ignitor module (in lieu of breaker points.) Pertronix Flame Thrower ignition coil. D&D remote oil filter adapter. |
| Cooling: | D&D Fabrications aluminum radiator. 14" electric fan. |
| Exhaust: | ceramic coated RV8-style through-the-apron headers. H-pipe. Dual SpinTech mufflers. Fuel tank centered to accomodate dual tailpipes. |
| Transmission: | rebuilt Borg Warner "World Class" T5 5-speed. D&D Fabrication bellhousing, lightweight flywheel, and driveshaft. McLoed clutch and hydraulic throw-out bearing. Modified 1983 Camaro shifter. |
| Rear End: | rebuilt stock 1980 MGB (Salisbury) axle. |
| Front Susp.: | rebuilt stock MGB, with 2-inch lowering springs. Lever shock absorbers. Upgraded sway-bar. |
| Rear Susp.: | rebuilt MGB, lowered 2 inches. Polyurethane bushes. Panhard bar. Moss Motors telescoping shock conversion kit. |
| Brakes: | stock MGB. |
| Wheels/Tires: | 15" replica Minilites. |
| Interior: | PJM Motors leather seat covers and upholstery kit. Vintage Air A/C. Moss Motors electric window kit. Pioneer stereo. Rockford Fosgate speakers in rear. Powered radio antenna. SuperBright LED interior lighting. Dynamat sound deadening mastic. |
| Electrical: | Advance Auto-Wire wiring kit. 100 amp alternator. Gear reduction starter. LED turn signals and brake lights from BMC British Automobile, LLC. Stock headlights and side marker lights. |
| Instruments: | SpeedHut fuel level (E-F), oil pressure (0-100psi), programmable speedometer (0-160mph), tachometer (0-8000rpm), voltmeter (0-18V), and coolant temperature gauges (120-260F). |
| Body: | shaved side trim strips. Preform Resources fiberglass MG RV8 style hood. Moss Motors rubber-to-chrome bumper conversion kit. 2005 Mini Cooper dark silver 2-stage paint. Various chrome pieces re-chromed by Speed and Sport Chrome. |
| Completed: | December 26, 2014. |
Engine Installation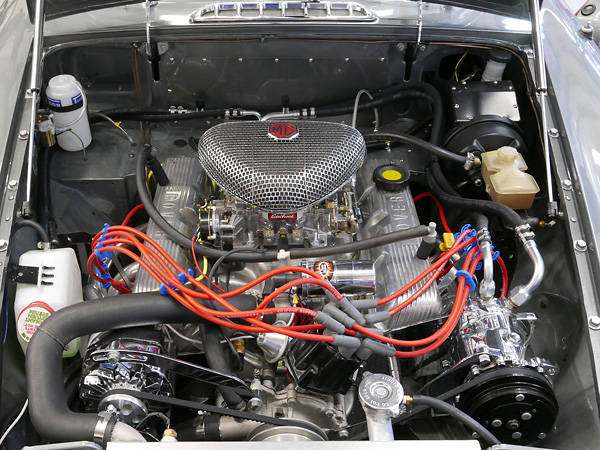 Rover 4.0 V8 engine with Edlebrock intake manifold and carburetor.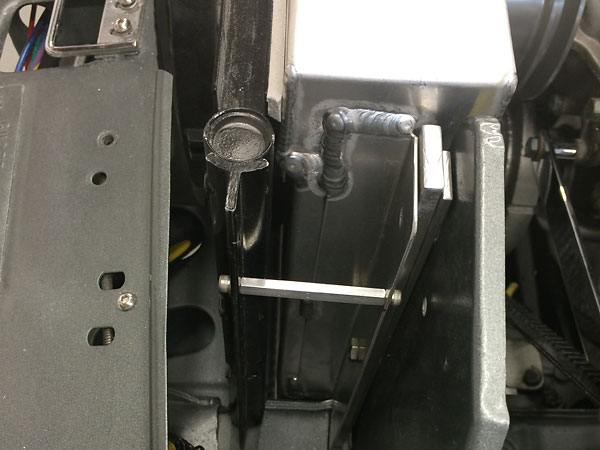 Radiator pushed forward via spacers.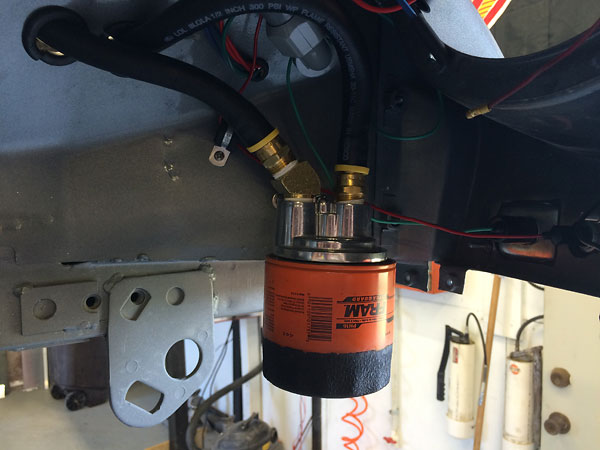 Remote mounted oil filter.


Chassis and Suspension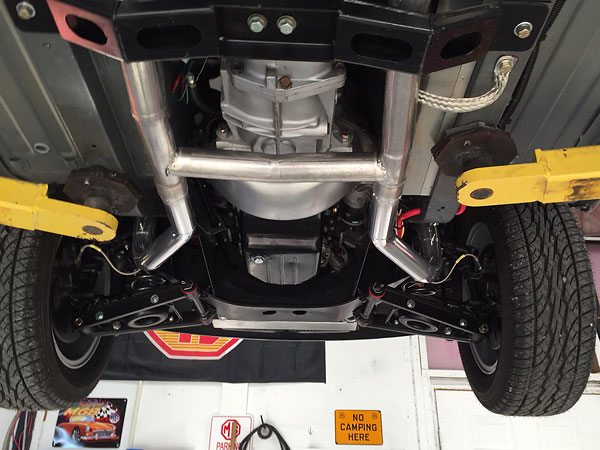 Exhaust H-pipe.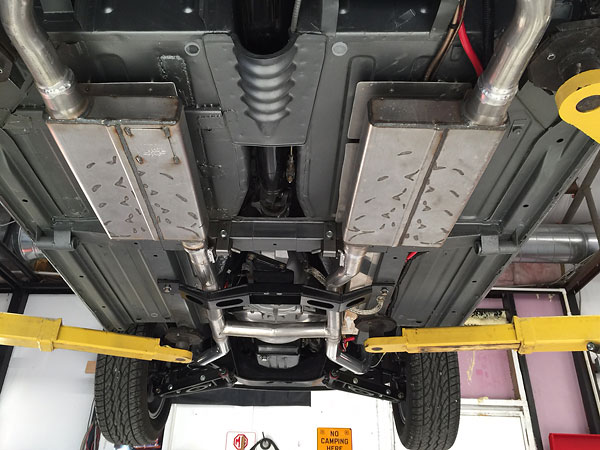 SpinTech mufflers.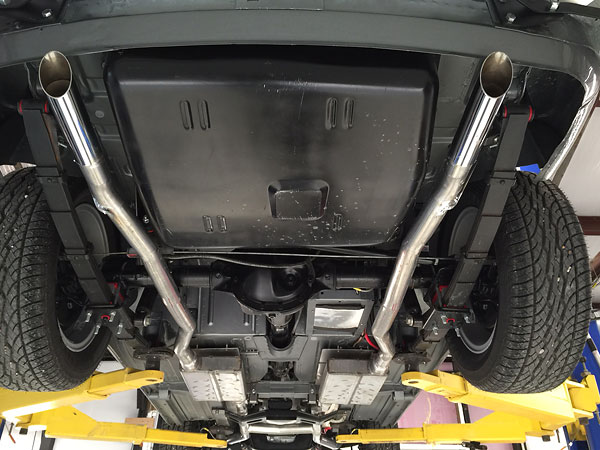 Dual exhaust pipes on either side of the (centered) fuel tank.


Interior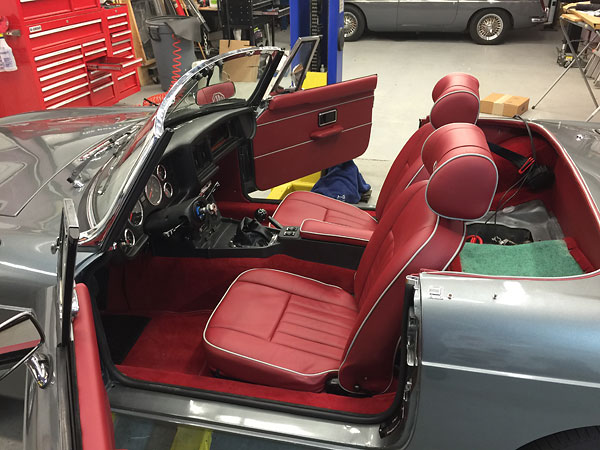 PJM Motors leather seat covers and upholstery kit.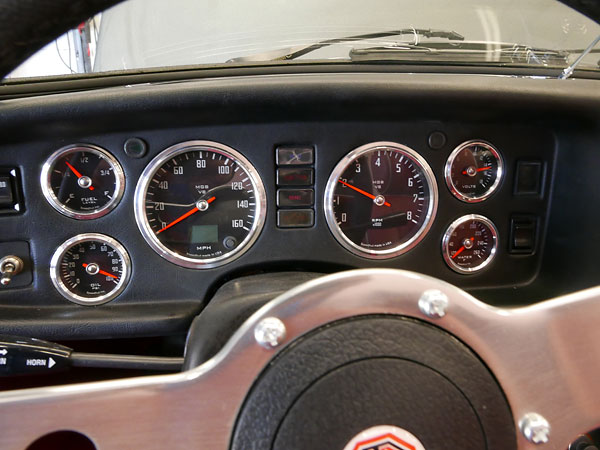 SpeedHut fuel level, oil pressure, programmable speedometer, tachometer,
voltmeter, and coolant temperature gauges.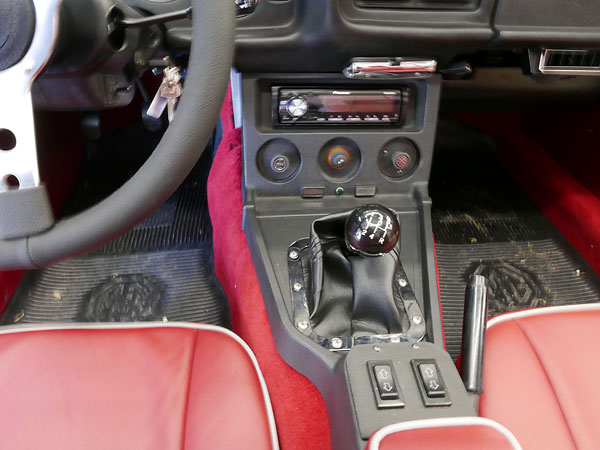 Modified 1983 Camaro shifter.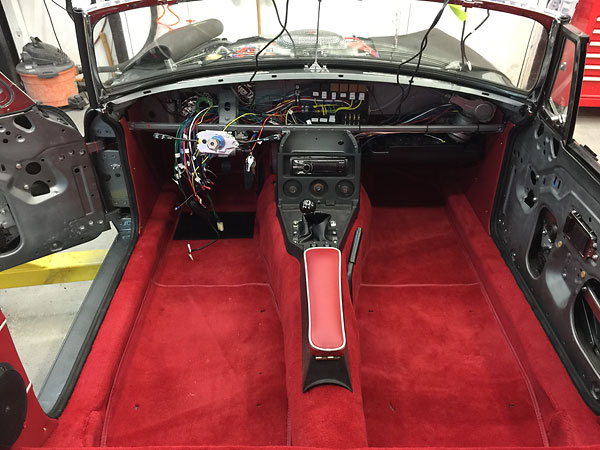 Center console and carpet.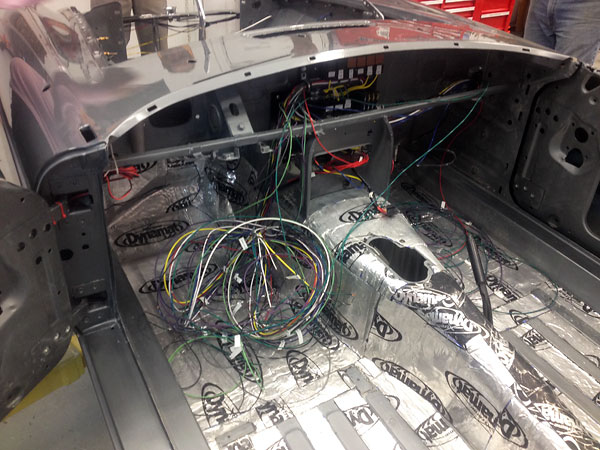 Dynamat and wiring harness installation.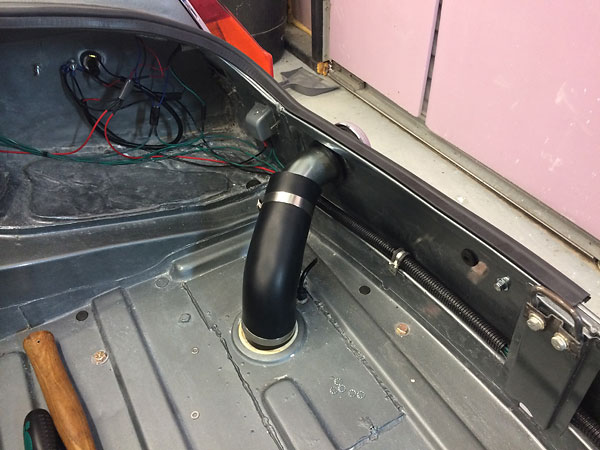 Relocated fuel filler to facilitate centering the fuel tank.


Enjoying this article? Our magazine is funded through the generous support of readers like you!
To contribute to our operating budget, please click here and follow the instructions.
(Suggested contribution is twenty bucks per year. Feel free to give more!)
In-Process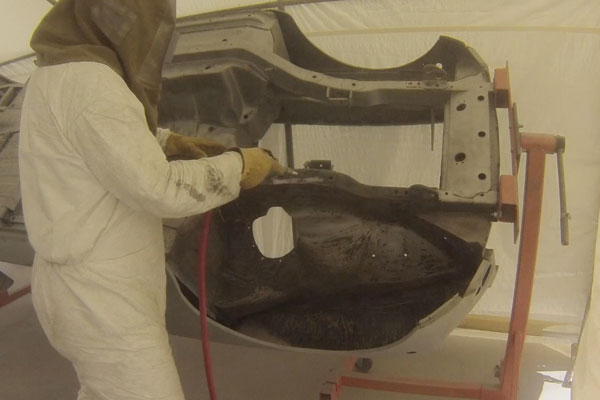 Sandblasting with heavily-modified Harbor Freight sandblaster, within a 10' x 17' portable garage.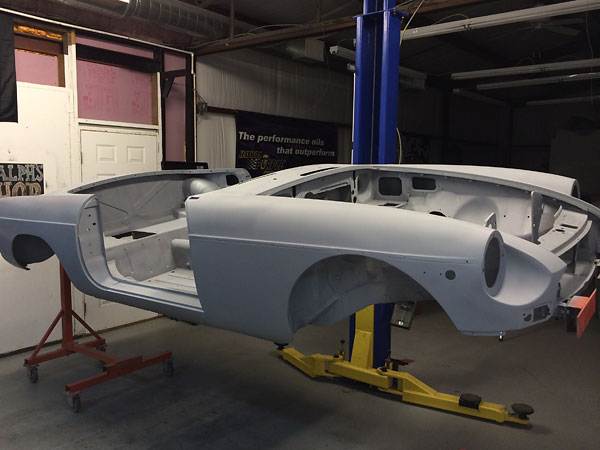 Originally used Eastwood primer.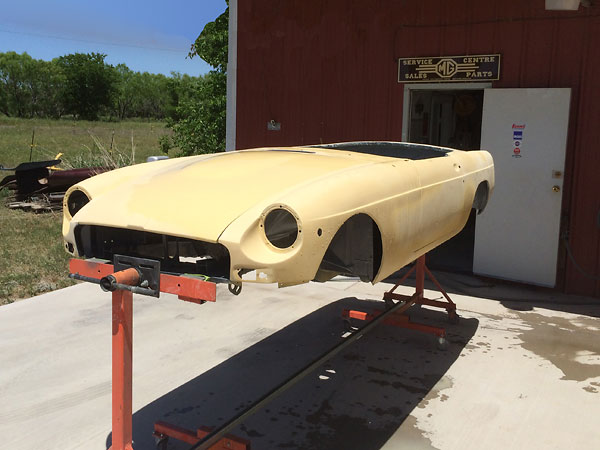 Decided to switch to Chromabase primer.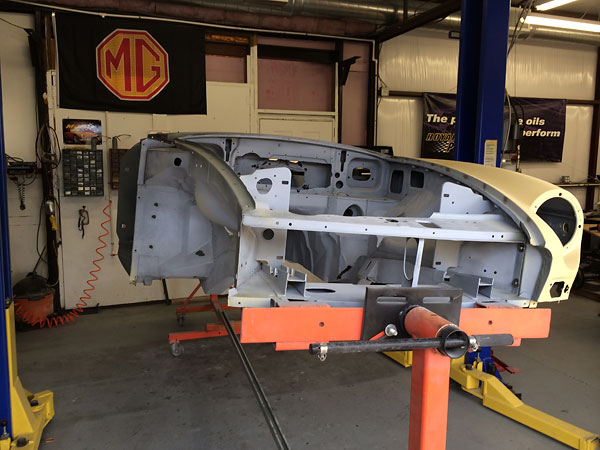 Rotisserie assembled from two reinforced Harbor Freight engine stands.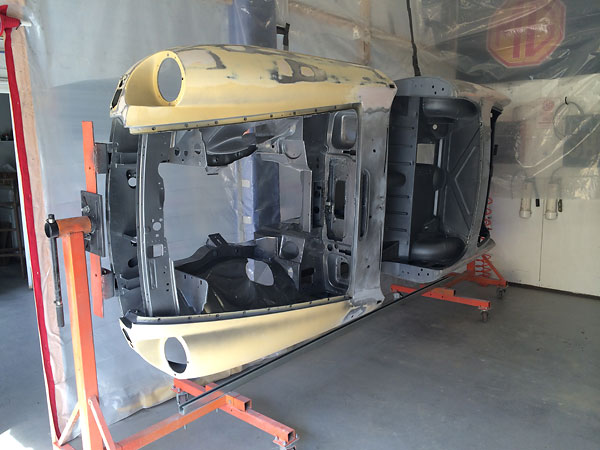 Passenger side fender back on after repairing a problem with how the top seam was sealed.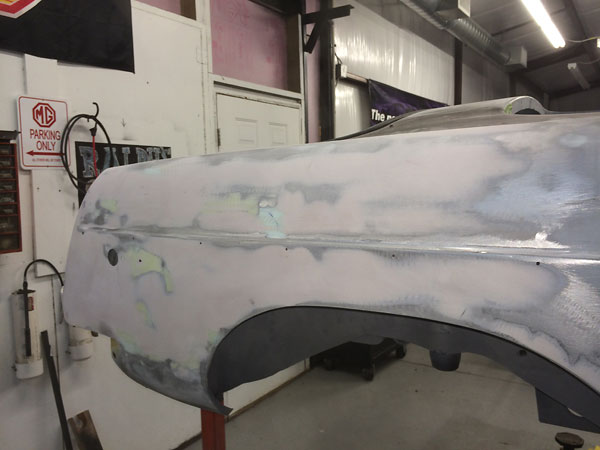 Rear quarter panel repair in progress.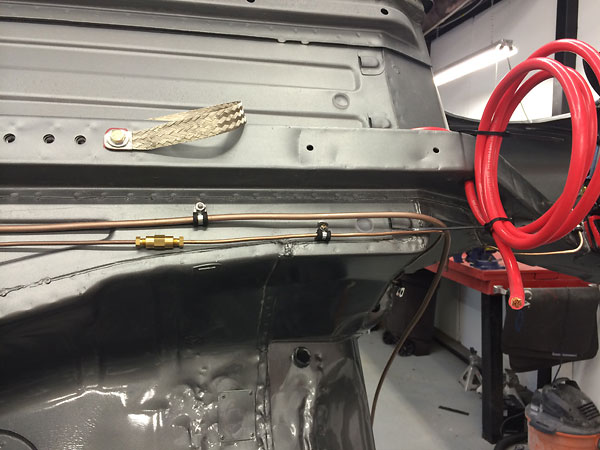 Punched holes in frame support with grommets to run cable to battery.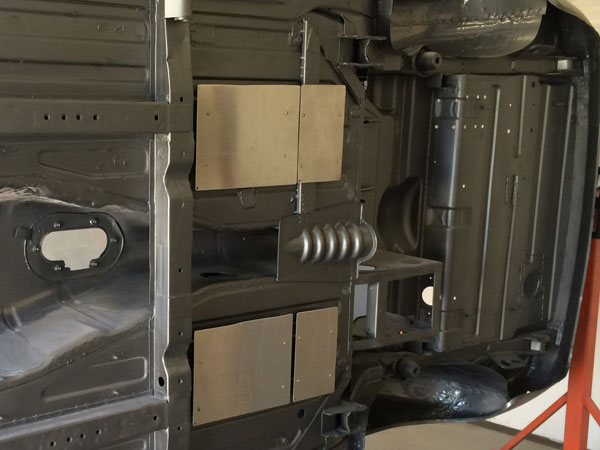 Heat shields between muffler and body.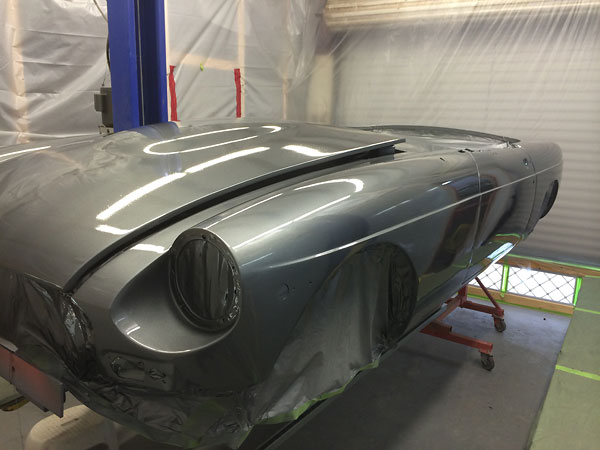 Painting completed. Note home-made paint booth.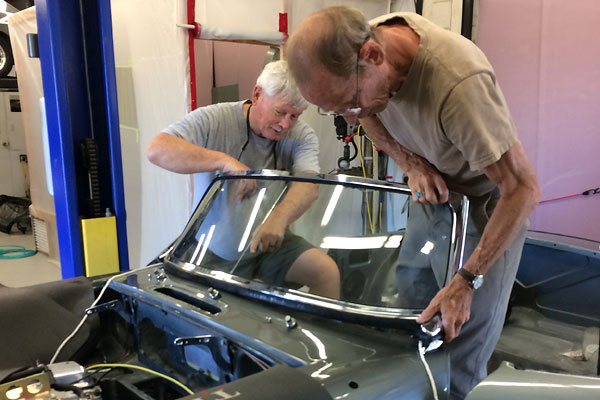 It took two men and a boy to install the MGB windshield.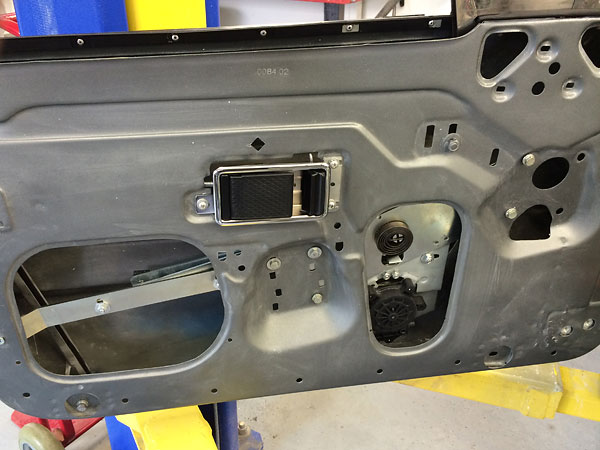 Moss Motors electric window kit.


Exterior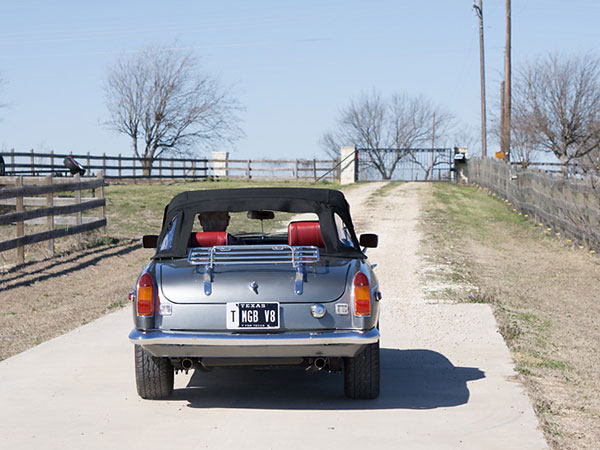 Ready for Texas!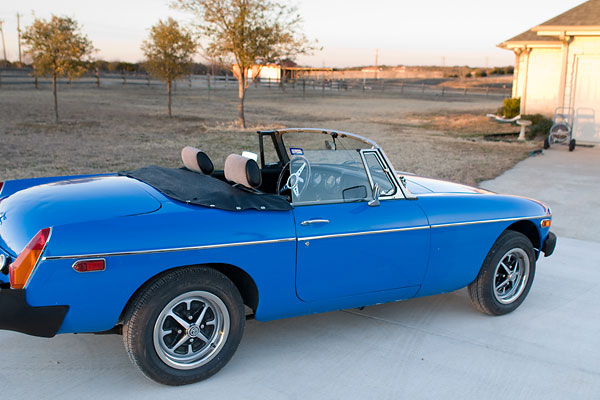 Ralph's MGB as purchased in 2010.


Photos by Ralph Ratta for BritishV8.org. Copyright 2015. All rights reserved. Use by written permission only. (Do not print, copy to your hard drive, or post these online without permission.)