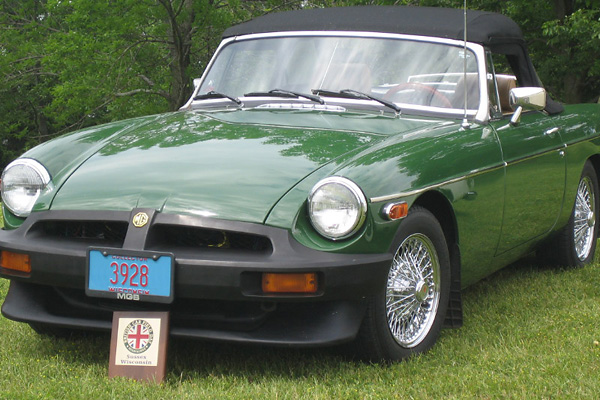 Michael Kurtzweil's 1977 MGB with Rover 4.0L V8
as published in BritishV8 Magazine, Volume XVIII Issue 1, December 2010
Owner: Michael J. Kurtzweil
City: New London, Wisconsin
Model: 1977 MGB
Engine: 1999 4.0L Land Rover V8
Conversion by: owner
Engine:
Rover 4.0L (from salvage yard). Crower Cam (intake 258 duration, 0.430" lift). Dual port Offenhauser manifold. Edlebrock carburetor. Delco distributor. Delco electronic ignition. D&D swivel mount oil filter. Engine torque bar from Clive Wheatley.

Cooling:
MGB GT V8 radiator. Water pump and timing cover from D&D Fabrications.

Exhaust:
block hugger 4-into-1 headers. Single exhaust, with one Hushpower muffler.

Transmission:
1987 Borg Warner T5 with 0.63:1 5th gear. McLeod hydraulic throw-out bearing (clutch release). Modified Chevy S10 drive shaft (from D&D Fabrications).

Rear Axle:
narrowed Chevy 10-bolt (S10 pickup truck) with 3.07:1 final drive ratio.

Front Susp.:
lowered (-1") coil springs. Spax tubular shock absorbers. Caster shims from A&C Tucker. Polyurethane bushings.

Rear Susp.:
stock leaf springs. Aluminum lowering blocks (-1"). Spax tube shock absorbers. Polyurethane bushings.

Brakes:
(master) stock (MGB power brakes).
(front) stock MGB.
(rear) stock Chevy drums.

Wheels/Tires:
Dunlop bolt-on wire wheels.

Instruments:
Smiths/Cobra gauges from the Gaugeguys.com

Electrical:
complete V8 wiring harness from Advance Auto-Wire.

Body:
gas springs for the bonnet from Little British Car.

Completed:
June 13, 2009. 1200 miles driven since completion.


Comments:
It's fast! Bonus: the gear ratio I selected lets me cruise highways at about 1800rpm at 72 MPH.

I'd researched this project on and off for about 6 months. Then this winter I was going to pull the 4 cylinder to have the engine bay painted. One thing led to another and the decision was made to go with a Rover aluminum V8. I found a good 4L engine in a salvage yard and broke it down in my shop at home. Mark at D&D Fabrications provided technical support and parts.

I started in late December of '08 and finished up in mid-June '09. The project took lots of weeknights plus every weekend for 6.5 months. I tried to focused specifically on the engine during the weeks, and on weekends I turned my attention to the overall car. I belong to the Fox Cities British Car Club, and club members share a great workshop facility. I couldn't and wouldn't have done this engine swap without the club's support. When the engine was ready, I took it to the club and then all my spare time was spent at the club shop.

Problems? The hydraulic throw out bearing gave me fits. Before I even started the engine, bad clutch hydraulic fittings caused a big leak. I had to pull the transmission to repair it. Later, the HTOB's hydraulic line chafed against the pressure plate, sprung a leak, and left me stranded 100 miles from home. (My bad for not properly securing it.)

The Advance Auto-Wire wiring set excellent quality but wiring is over my head. I wired the front and rear end of the car and engine compartment, but when everything got to the dash I ended up hiring a wiring specialist to complete it. He saved me a lot of headaches. My profession is graphics and this was my first venture into a serious mechanical project, but I always wanted to see if I could do something like this. It was worth it, but I wouldn't do it again.

Engine Installation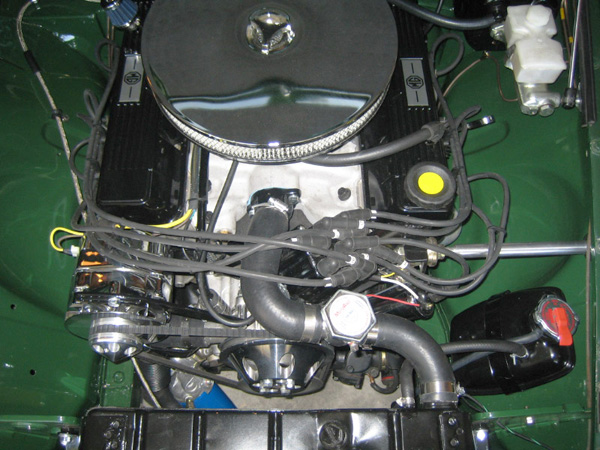 Rover 4.0L (from salvage yard). Notice the D&D Fabrications swivel mount oil filter.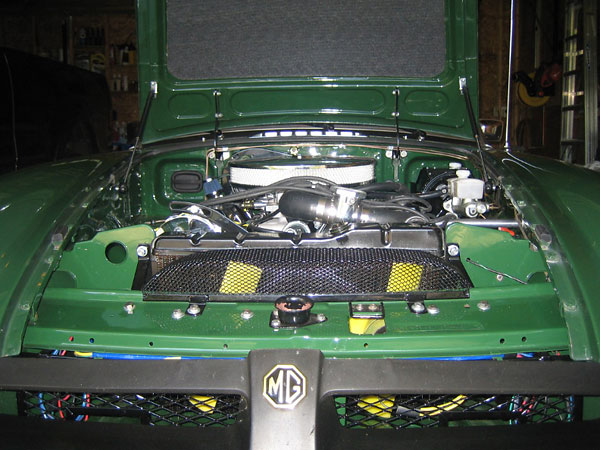 MGB GT V8 radiator.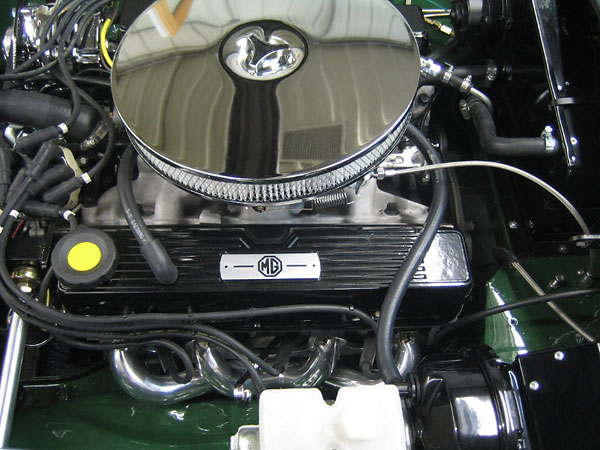 MGB power brakes.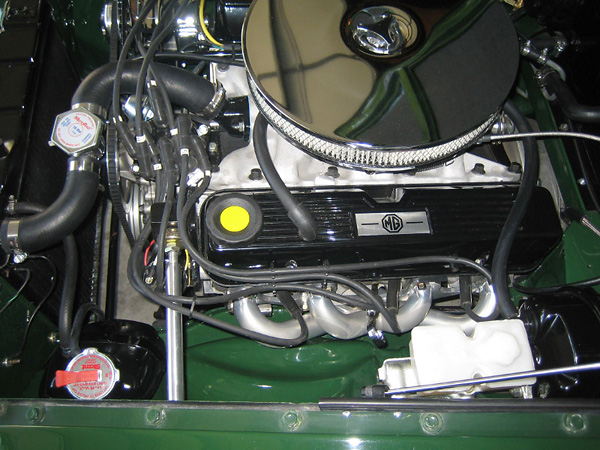 Delco-Remy distributor.


Interior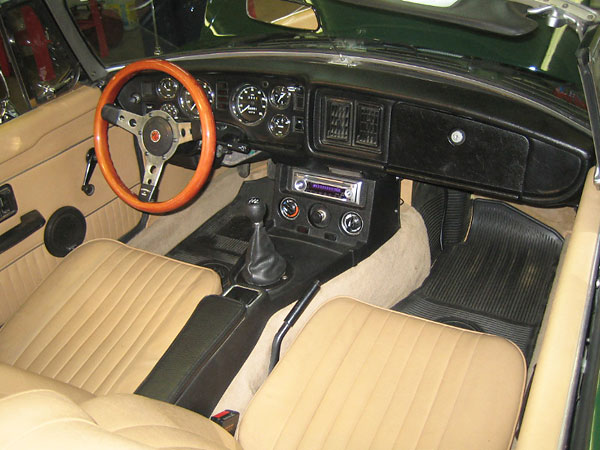 Mountney wood-rimmed steering wheel.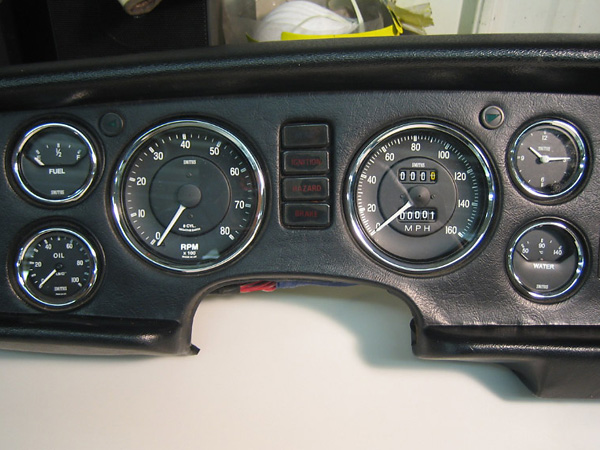 Smiths/Cobra gauges from Gaugeguys.com


In-Process Photos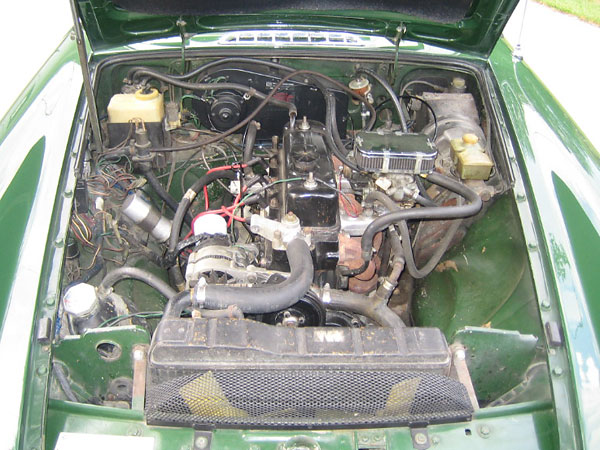 Before: the B-series four cylinder enging in place.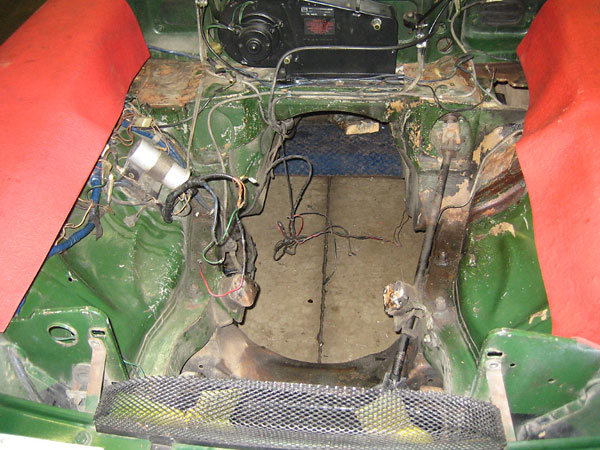 The engine has been removed but It'll be awhile before the engine compartment is ready for prime time.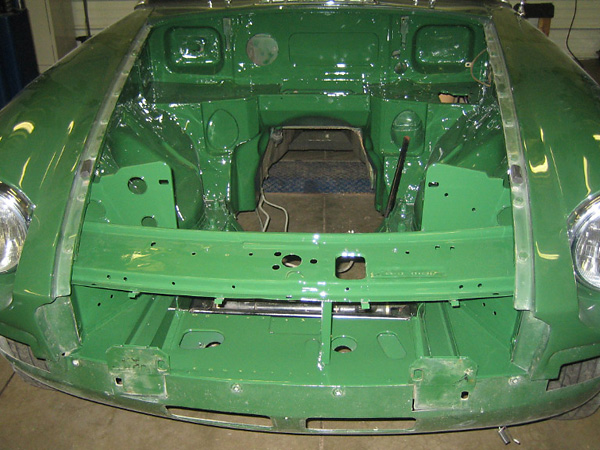 1977 MGB engine compartment, firewall, and radiator supports.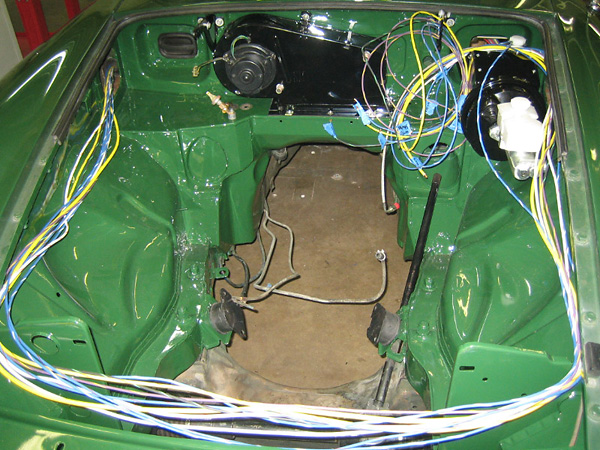 Installing an Advance Auto Wire wiring kit.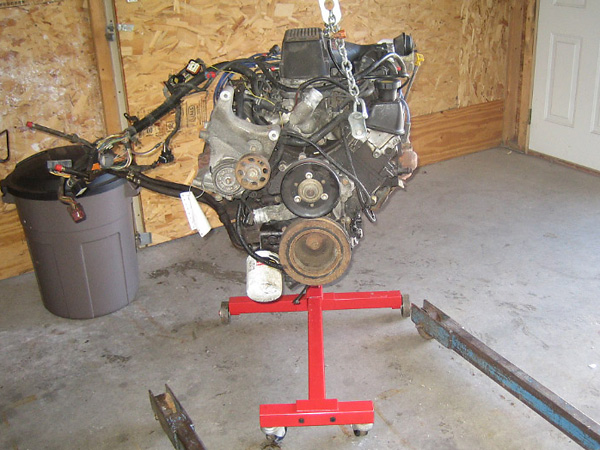 Junkyard find: a perfectly good Rover Aluminum V8 (4L version)!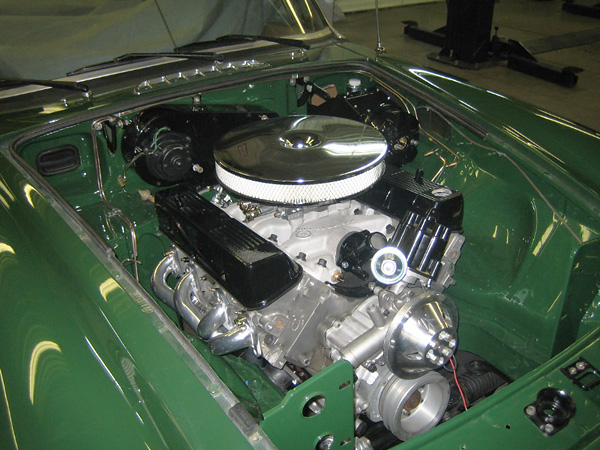 Water pump and timing cover from D&D Fabrications.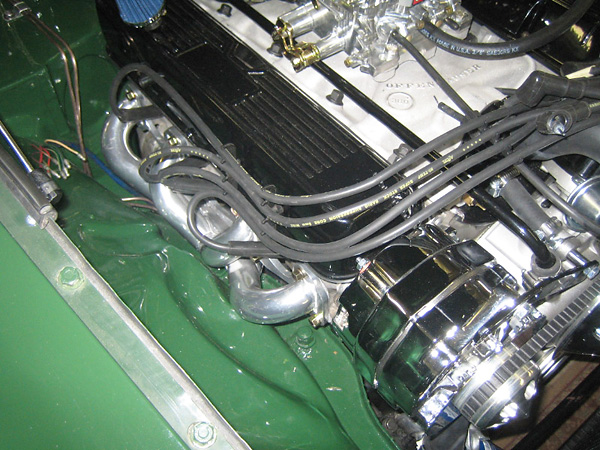 Edelbrock carburetor. Delco-Remy style alternator.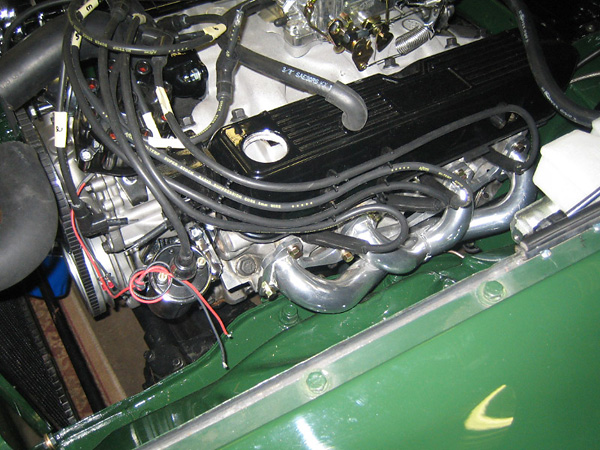 Four-into-one block-hugger headers.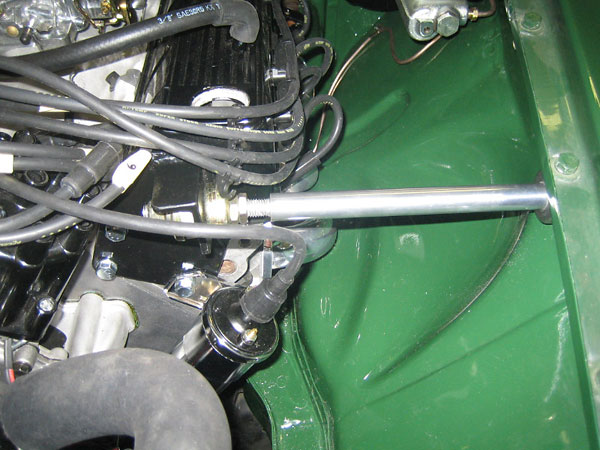 Clive Wheatley engine steady bar.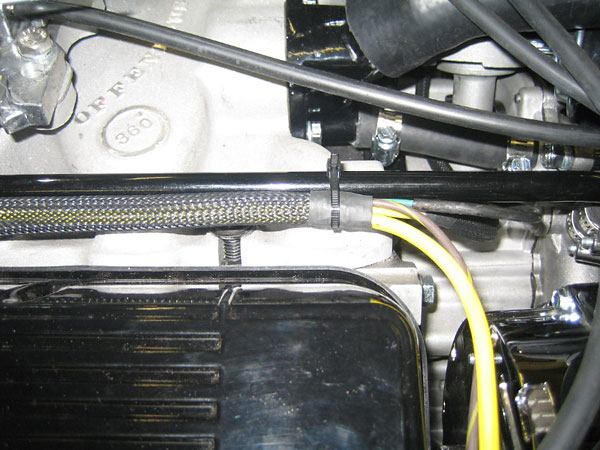 Offenhauser Dual Port intake manifold.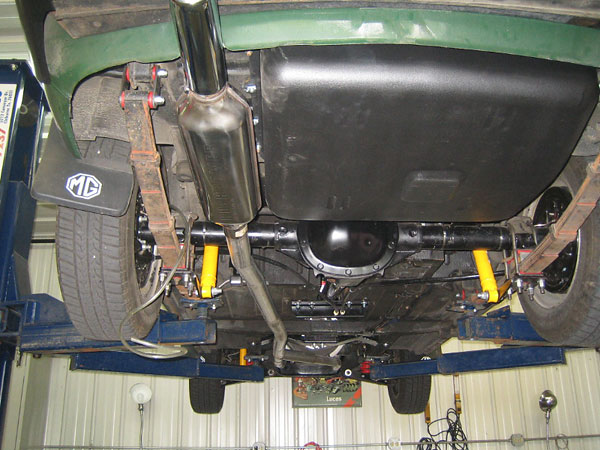 Chevy 10-bolt rear axle. Single exhaust, with one Hushpower muffler.


Exterior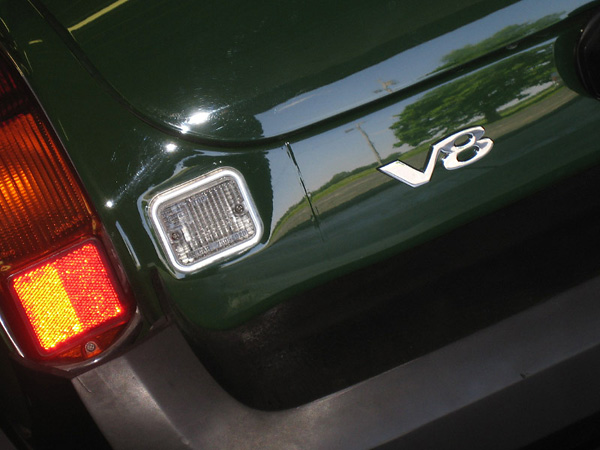 Rover V8 chrome emblem.


All photos by Michael Kurtzweil for BritishV8's exclusive use. Copyright 2010. All rights reserved.