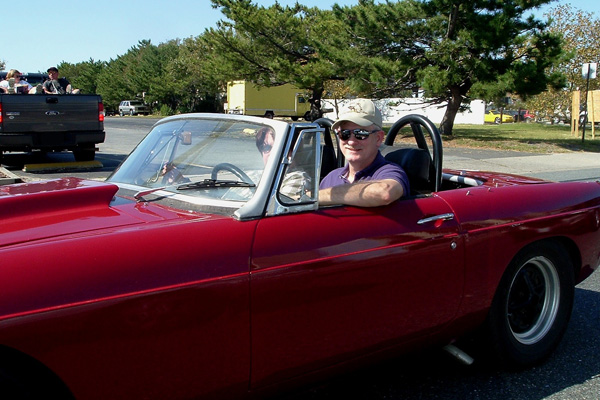 Larry Nicholas' 1964 MGB with Ford 302 V8
as published in BritishV8 Magazine, Volume XVIII Issue 1, December 2010
Owner: Larry Nicholas
City: Mechanicsville, Maryland
Model: 1964 MGB
Engine: Ford 302 V8
Conversion by: Greg Myer and Larry Nicholas
Wheels That Heal
by Greg Myer

This "How It Was Done" is an update on Larry Nicholas' car. Much of the build has been discussed in three earlier BritishV8 articles: Part One, Part Two, and Part Three.

After this conversion was almost completed the first time, Larry wanted to finish it up. Instead, he had serious heart health issues. The car sat. Against strong advice, Larry covered it with a rubber tarp. The heart problems caused depression, and Larry just didn't care to do more with the MGB at that time.

Several years went by and I wanted to help, so we made arrangements to get the car back and complete it. It took a lot of work but it was worth it! I think the results speak for themselves. Everyone who has driven it loves it and wants one. At the recent Endless Summer Cruisin' event, here in Ocean City, MD it drew a crowd wherever it went. It was the smallest car we saw cruising around. At the "Wheels That Heal" show in Salisbury, MD. many people wanted to know what it was and how it was done. (We refered them to BritishV8.org, of course.)

Since the three previous articles, I've built and installed a custom roll structure. I had S&W Race Cars of Spring City, PA bend the dual main hoops from DOM (i.e. seamless "drawn over mandrel") tubing. When I received the hoops a few days later, I welded the foot plates on and notched some tubing for braces and a crosspiece. It was all designed to fit under the MGB's convertible top. I think this design might work better than some others in the event of a rollover because it attachs to the MGB's unibody bodyshell in six different locations. I hope we never find out!

The camshaft selection just makes this engine. It idles at 650rpm in gear when warm with a nice lope. It pulls from idle all the way through the RPM range to 5000rpm and more. The rebuilt C4 with its secret recipe torque converter works better than any automatic I ever drove. Pulling the shifter into 1st and flooring it will smoke the tires. You need to feather the throttle for traction. Once it grabs, you just hang on until you slap it into 2nd. The transmission will stay in gear until you shift it, unlike many automatics that shift into 2nd at a programed RPM no matter what you do to hold it in 1st.

We applied Bill Guzman's traction conrtol modification and it works great. No wheel hop ever! You can read all about that here: Easy Traction.

The exhaust exits four feet from the driver's ear, so we wanted mufflers that weren't too raucous but still sounded good. DynoMax Super Turbo mufflers did the trick. They are reverse flow Turbo mufflers that have fiberglass packing against the shell to reduce reverberation and that tinny sound you get with some other turbo mufflers.

The car cools very well. The Falcon Sprint radiator was designed for this engine and has transmission cooler connections - making it just what we needed. With a front mounted electric fan and fan shroud, the car never reaches 200F even idling in traffic on the hottest days. The fan automatically kicks on at 190F and off again at 180F. Moving down the highway pushes enough air that the fan seldom comes on. Idling around Ocean City on a warm day with the top down heated the driver more than the motor. I believe the holes in the fender wells allow sufficent airflow for all of this to work as well as it does.

Is Larry still depressed? Take a look at that smile and you have the answer.


How It Was Done
Engine:
Ford 302 bored 0.030" over, to 306 cid. Flat top pistons. Ford cast iron cylinder heads with 3 angle valve job and minor porting. Comp Cams EX250H camshaft, with kit. Edelbrock F4B high rise aluminum intake manifold. Edelbrock AFB 4-barrel carburetor. Accel electronic distributor. Accel Super Coil ignition coil. High volume oil pump. Remote oil filter mount. Custom fabricated motor mounts & transmission crossmember.

Cooling:
1965 Ford Falcon Sprint model from NAPA. Electric fan mounted in front of radiator.

Exhaust:
through wheel well 4-into-1 headers. Dual 2" exhaust. DynoMax Super Turbo mufflers.

Transmission:
Ford C4 3-speed automatic, rebuilt by Glen Parks of Waldorf, Maryland. Torque converter by Glen Parks. Custom driveshaft with new heavy duty U-joints. B&M QuickSilver ratchet shifter.

Rear Axle:
Dana 44 from a postal Jeep. 3.07:1 gears. Limited slip differential.

Front Susp.:
modified front crossmember (for oil sump clearance). Heavy duty coil springs. Revalved Armstrong shock absorbers. Energy Suspension red polyurethane suspension bushings.

Rear Susp.:
heavy duty leafsprings. Bill Guzman's lower spring traction control trick. Tube shock absorbers.

Brakes:
(master) stock MGB (Girling, 1968-74) tandem master cylinder. Wilwood adjustable proportioning valve.
(front) stock MGB.
(rear) drum.

Wheels/Tires:
later model (1970-80) MGB Rostyle wheels.

Electrical:
complete wiring harness from Advance Auto-Wire. Delco-Remy alternator. Single 12V battery. Ford starter relay (on passenger-side inner fender).

Interior:
later model (1973-76) steering wheel. Later model (1970-72) MGB seats, with adjustable headrests and sewn-in narrow pleats. Dual hoop roll bar.

Body:
stock, with Unlimited Products (SC-404) hood scoop added. Deleted bumper overriders and front grille. Six coats of Candy Apple red, with three coats of clear.

Completed:
Summer 2010.


Engine Installation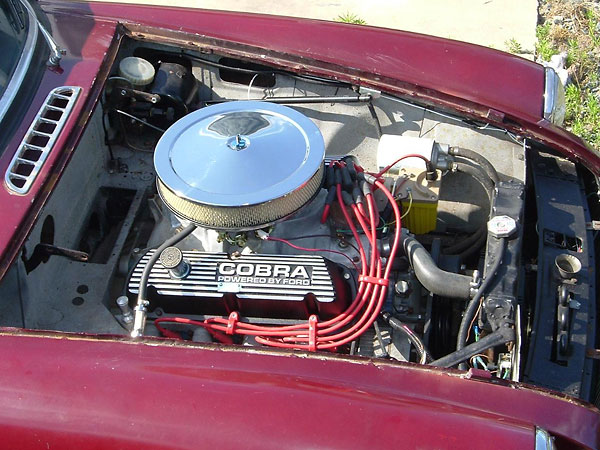 Ford 302 bored 0.030" over, to 306 cid.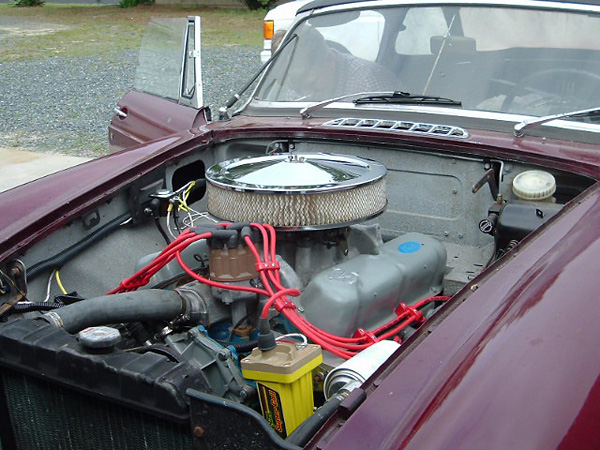 Edelbrock F4B high rise aluminum intake manifold.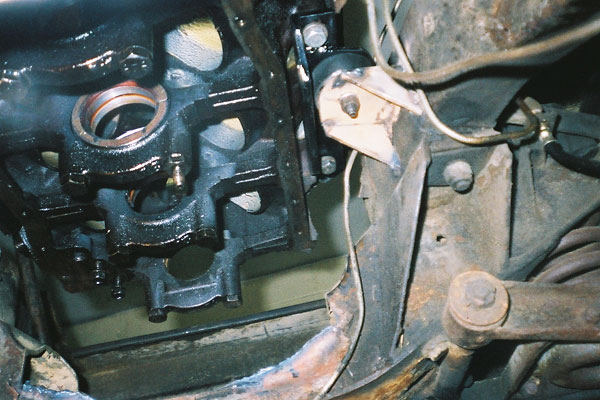 Test fitting the Ford engine on the new motor mounts.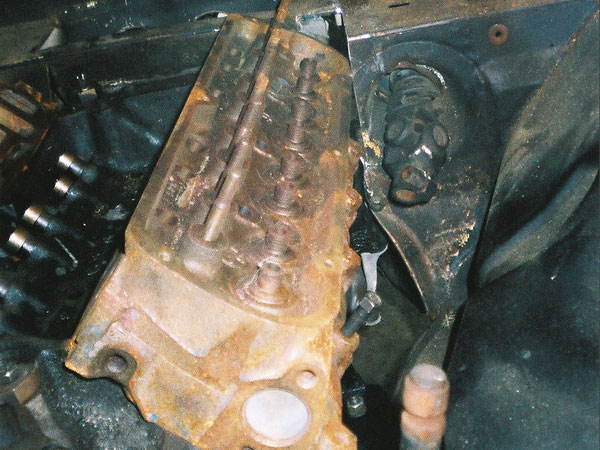 Checking for clearance between cylinder heads and steering pass-thru.


Front Suspension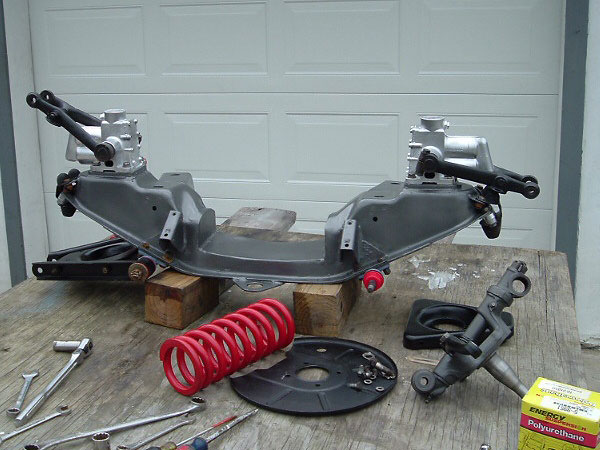 The front crossmember has been modified for oil sump clearance.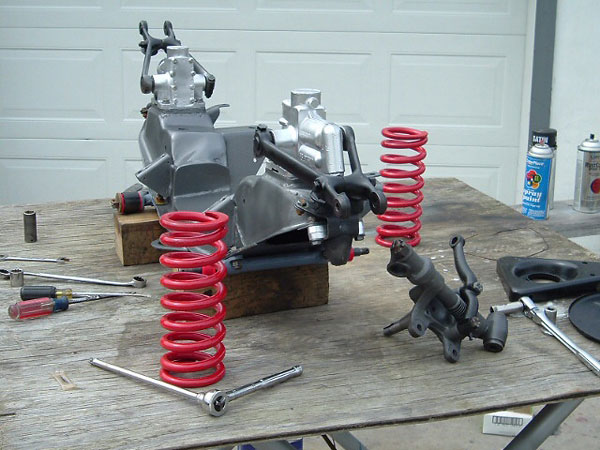 Heavy duty coil springs and revalved Armstrong shock absorbers.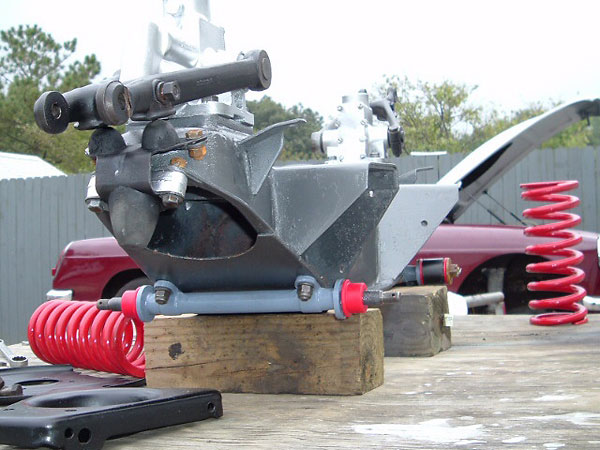 Energy Suspension polyurethane suspension bushings.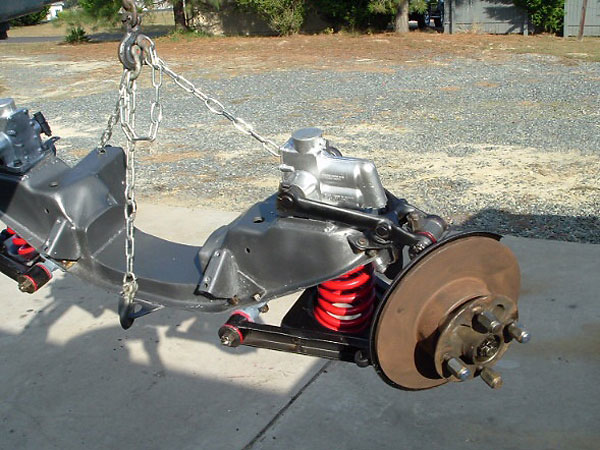 One of the nice features of the MGB model is that its front suspension can easily be installed as a unit.


Interior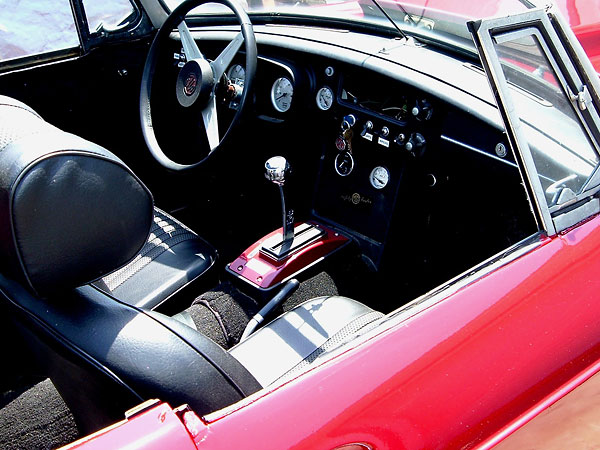 B&M QuickSilver ratchet shifter.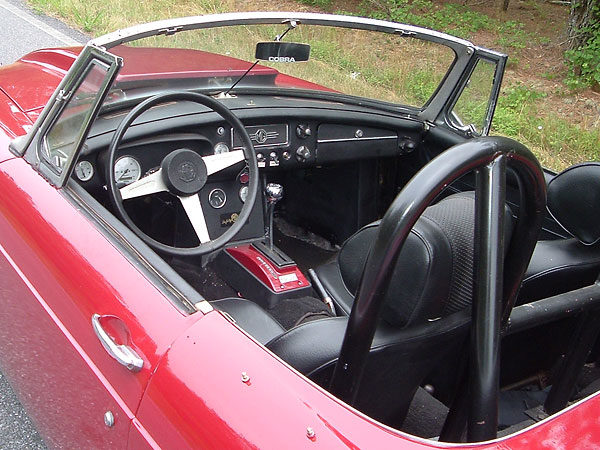 Later model (1973-76) steering wheel.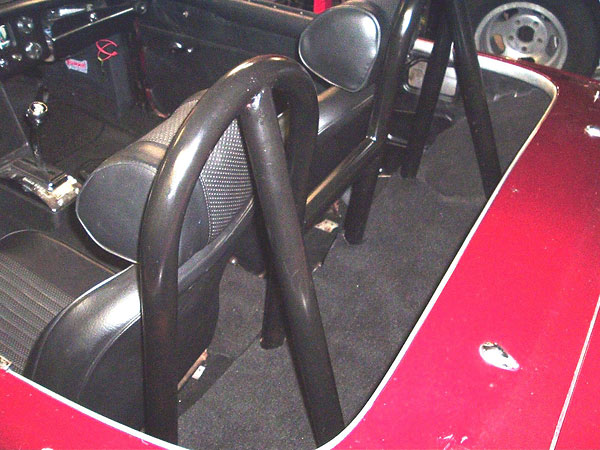 S&W Race Cars of Spring City, PA mandrel bent quality seamless tubing to order, so that
Greg Myer could fashion this custom roll bar assembly. Greg says he highly recommends them!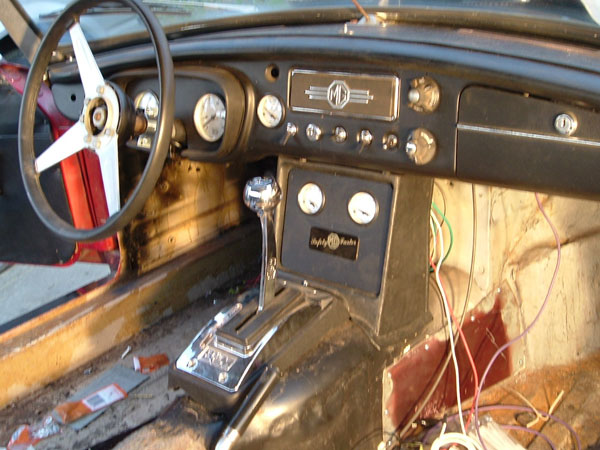 Speaker console reworked to house two gauges.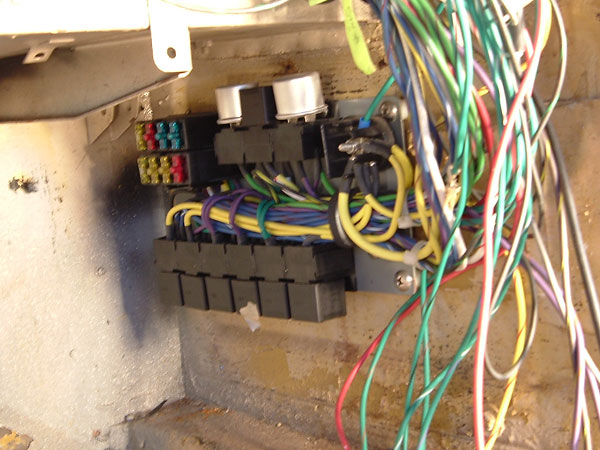 Advance Auto-Wire wiring harness.


Exterior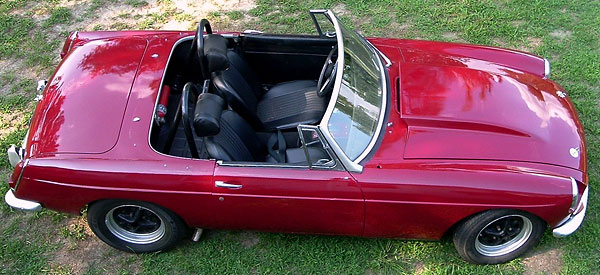 With a car this hot looking, it's a good idea to pack a fire extenguisher.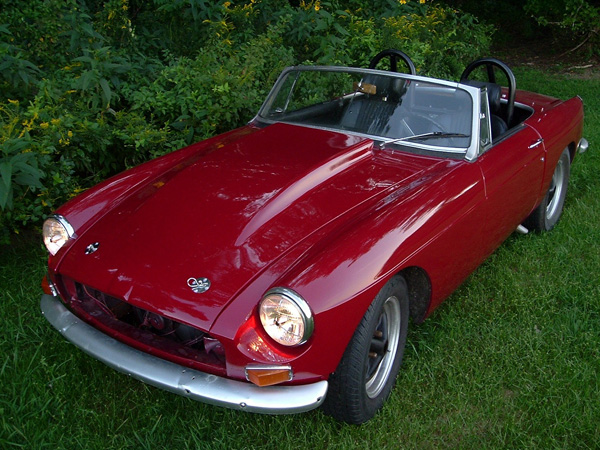 Wet paint! Six coats of Candy Apple red, with three coats of clear.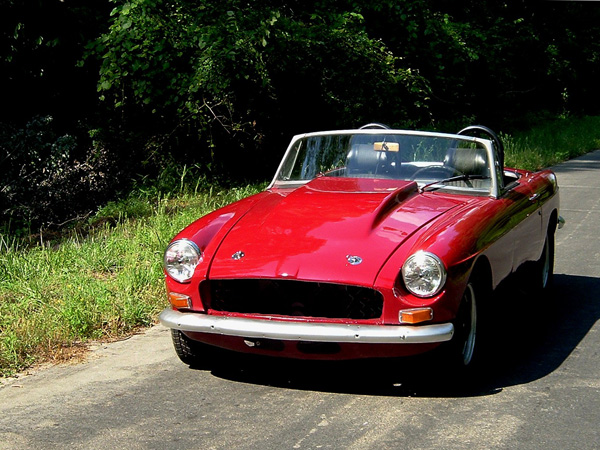 Deleted bumper overriders and front grille.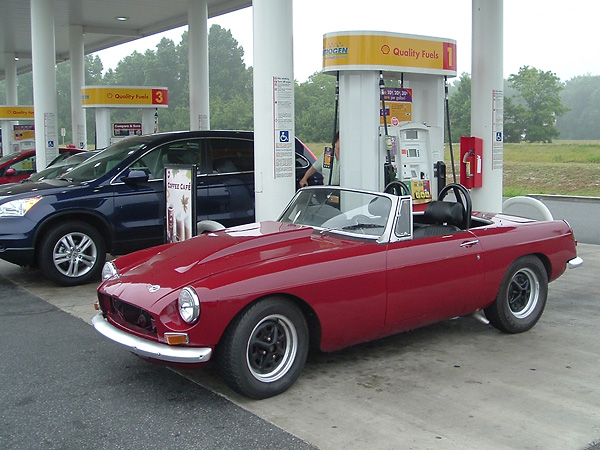 Later model (1970-80) MGB Rostyle wheels.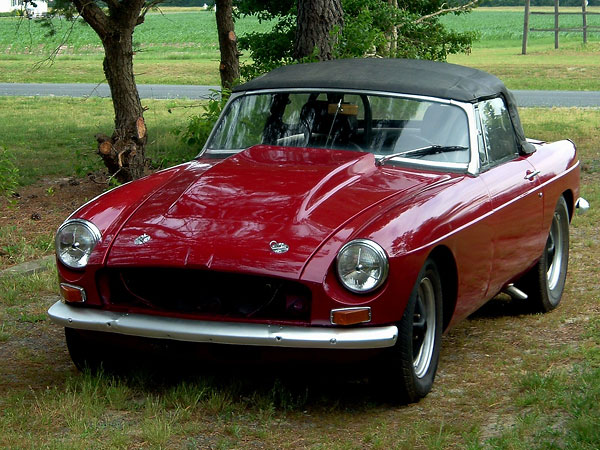 Unlimited Products SC-404 hood scoop.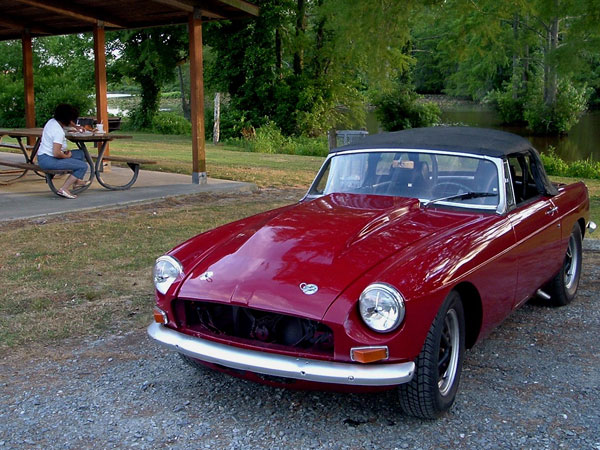 The custom roll hoops were carefully designed to be strong, yet not block use of the convertible top.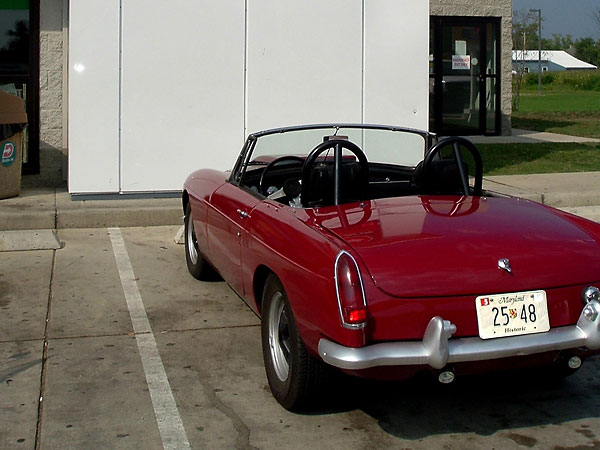 Back-up lamps didn't appear on MGBs until mid-1967.


All photos by Greg Myer for BritishV8's exclusive use. Copyright 2010. All rights reserved.