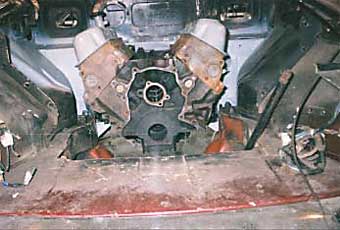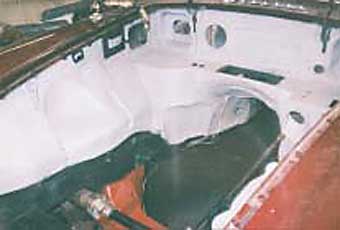 Larry Nicholas' '64 MGB V8, part 1
as published in British V8 Newsletter, Volume XII Issue 2, May 2004
by: Greg Myer
Several years ago, my wife and I were entertaining friends for the weekend: Larry and Cheri Nicholas, and their daughter Katlin. As I was working on an MGB at the time, Larry wanted to help. He took a keen interest in my car and even more so in one I had just traded for: A '64 MGB -- Complete! It even had the original engine, as far as we could tell. He wanted it, so we worked out a deal. It was given a quick paint job and a tune up. The carbs were rebuilt too. When finished, they came to retrieve it, and he drove off into the sunset. (Literally: they live below D.C. and we're here on the Eastern Shore.)
That might have been the end of the story, except that the old car kept letting them down - often at very inopportune times. Cheri and Katlin soon tired of pushing Larry and his little car home. Many adjustments and fixes were tried and made, but something else always popped up. On another visit we discussed an engine swap. I am in the process of swapping a Buick into my MGB-GT. Larry liked that and I have an extra one under the bench.
In the end he really wanted a Ford smallblock. He's a Mustang man at heart and always loved Cobras too. But he didn't want anything radical. Just a fresh 302 that would always start and keep running: easy on the ears and low maintenance, too. We plotted our course. We used what was at hand. I had a rebuildable 302 and C4 from a pickup. The car is not finished yet. It won't be for several more months. Larry is determined not to make this project a burden on the family. What with a mortgage and other family obligations, this sort of thing takes time. They come over and we party on the car whenever we can. In the meantime I've been getting lots of work done on it myself. (His car will be finished before mine. Rats!)
While the motor was apart for rebuilding, I used a spare, bare block to mock up what would be needed as far as motor mounts and clearances around the firewall and transmission tunnel. The truck bellhousing is larger than the space available in the car. We used it anyway. I wouldn't recommend it. Besides that, the early MGB is much tighter in the transmission tunnel and firewall area. A lot of sheetmetal had to be relocated. The motor mounts I chose to use are '57 Chevy units. They are 2.25 inches in diameter and 7/8 inch thick with a 3/8 fine thread stud on each side (NAPA p.n. 602-1061.) They cost $7.34 each. They are easy to use, and small enough to be out of the way. I welded mounts to the frame for them. Slightly low, so I would have space to shim one or both sides up to get the correct final fit. (How do things change after they are welded?) The transmission mount is the stock C4 type. I cut the MG crossmember so the mount would sit in the bottom of it.
Enjoying this article? Our magazine is funded through the generous support of readers like you!
To contribute to our operating budget, please click here and follow the instructions.
(Suggested contribution is twenty bucks per year. Feel free to give more!)
I slotted two holes to get side to side adjustability. I bolted it back up in the stock MGB location. This worked fine! The engine needed room at the firewall and in the tunnel, but sits far enough forward to allow the heater to remain. The front suspension crossmember needed massaging. A large notch was taken out and plate steel welded in to maintain strength. This is needed to clear the oil pan. It's a Ford rear sump unit, but since the oil pump is driven by the distributor, it's all the way forward and can create space concerns.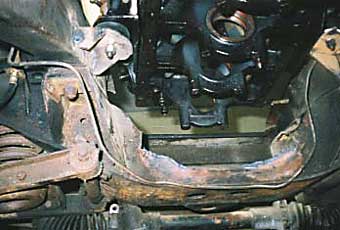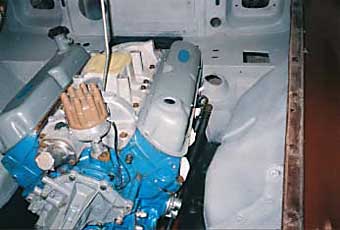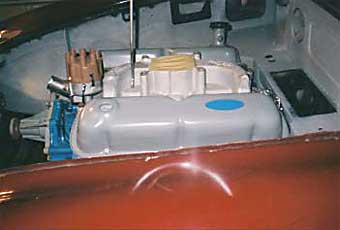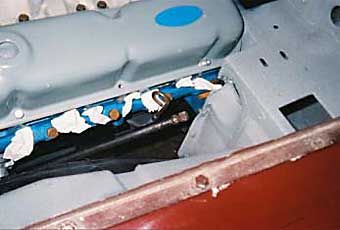 After several fittings, it was determined that the crossmember needed to be lowered slightly. This was done with 1/4 inch steel plate. There's enough extra length on the 4 bolts that secure the crossmember to allow for this. This had to do with the steering and spark plug clearance. I'm not done with it yet. All this "in and out" of the engine and transmission was facilitated by taking a note from Jim Stuart's page. I cut the slam panel out and made it removable. Jim leaves a few inches on each side and bolts another whole panel over it. I, however, welded tabs on the bottom of it and drilled some holes in the end pieces (see pictures). Both ways work, and can be a real time and back saver.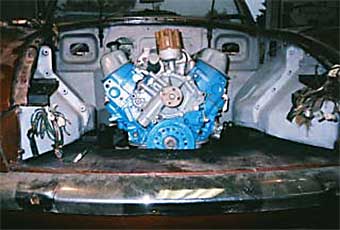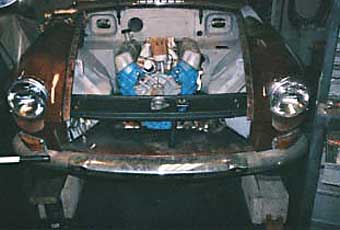 Turning to the rear, it was quickly decided to swap out the MGB unit. It's a wire wheel rear with 3.90 gears. Wires, with the kind of torque we're hoping to make, won't last long. A DANA 44 from a Postal Jeep was found. It's 52 inches wide and comes with 3.07 gears and a Posi unit. Just what the Doctor ordered, considering the mild hydraulic cam and automatic transmission.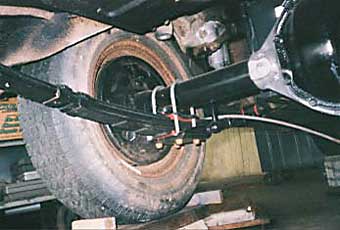 The MG spring pads were salvaged and welded in place. The whole unit was installed with MGB-GT 7-leaf springs on polyurethane bushings. For the time being, the stock shocks are being used.
This is an ongoing project. We'll document it as much as possible and keep the Newsletter posted. Future plans include wiring the whole car with a Dan Masters harness, deciding on a bolt pattern for the wheels (4 bolts in front and 5 in the rear right now). Front suspension rebuild and choosing springs for the increased weight up there. Brakes brought up to the new demands. A roll bar, and whatever else we find that we had no idea would need to be done.

The MG V-8 Newsletter, now The British V8 Newsletter, has been a great source of information and ideas for this project. It's far more than a simple swap, but the answers I've received from E-mail requests for more information from featured cars has been a big help. The web-site (www.britishv8.org) with more photos and also the mgb-v8@autox.team.net mailing list have been very helpful, too. All this help makes this project possible. There's always an answer to whatever problem arises.

The second photo shows the angle iron welded in place. As you can see, six (6) pieces of iron were used to follow the contours of the cross-member, as opposed to the two pieces shown in the simplified drawing. The second diagram shows the end-pieces, one of which is welded on each end of the notch to close up the remaining gaps and help keep the unit rigid. The third photo shows the end-pieces welded in place, all welds ground flush with the base metal, and a coat of primer applied. So now that you have no more excuses, get out there and start experimenting with all those cool new engines!


Disclaimer: This page was researched and written by Greg Myer. Views expressed are those of the author, and are provided without warrantee or guarantee. Apply at your own risk.