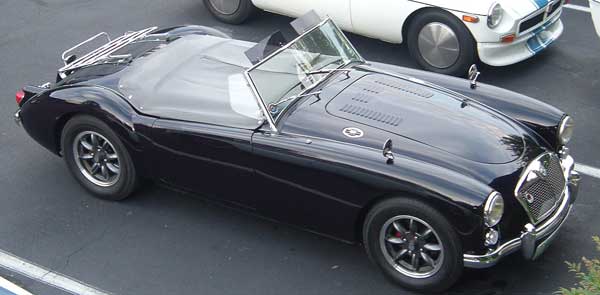 John Mangles's 1958 MGA with Buick 215 V8 Engine
as published in British V8 Newsletter, Volume XIV Issue 2, August 2006

Owner: John Mangles
City: St. Charles, MO
Model: 1958 MGA
Engine: Buick 215
Conversion performed by: John Mangles ("The MG Doc")
Intake:
stock Buick manifold, Edelbrock 500cfm carburetor, custom ductwork to K&N filter.

Engine Electrical:
Delco-Remy alternator (from a GMC Astro van), stock Buick ignition and starter systems.

Cooling:
MGB radiator, with replaced (high efficiency) core, over-sized ports, etc.

Exhaust:
block hugger headers and custom exhaust.

Transmission:
Borg Warner T5 5-speed, with GM hydraulic slave cylinder.

Rear axle:
Volvo 240 (narrowed about 5 inches), and limited slip differential.
(Editor's note: the Volvo 240 rear axle is a Dana 30.)

Driveshaft:
custom (1/2 Volvo / 1/2 GM).

Front suspension:
stock MGB.

Rear suspension:
stock MGA.

Brakes:
MGB brake/clutch master cylinder assembly, MGB disc brakes (front), Volvo disc brakes (rear).

Wheels/Tires:
Minilite (15" x5.5") with Toyo 300 Ultra tires.

Other:
custom made wire harness, MGB gauges, MGB windshield wipers (with two speed motor, cleverly controlled by an MGA headlamp switch and a relay!), louvered hood, stainless steel mesh grille, heated seats, lumbar supports, cruise control, Offenhauser aluminum valve covers.

Completed:
August 2005.

Miles Since Conversion:
approximately 10K (as of the British V8 2006 meet)

John's Comments:
"This car was built with mostly stock/shelf components, so if it breaks on the road I can get parts at AutoZone!"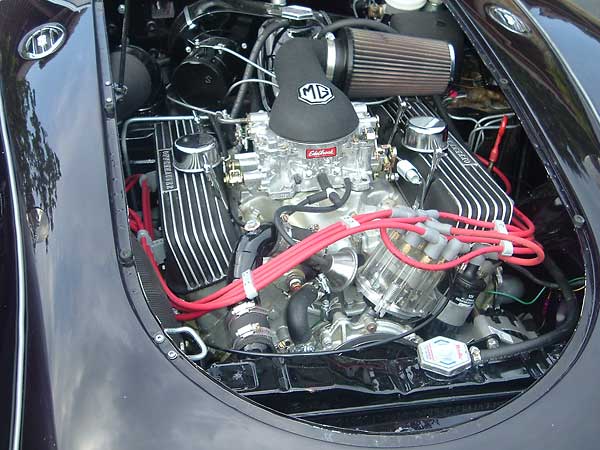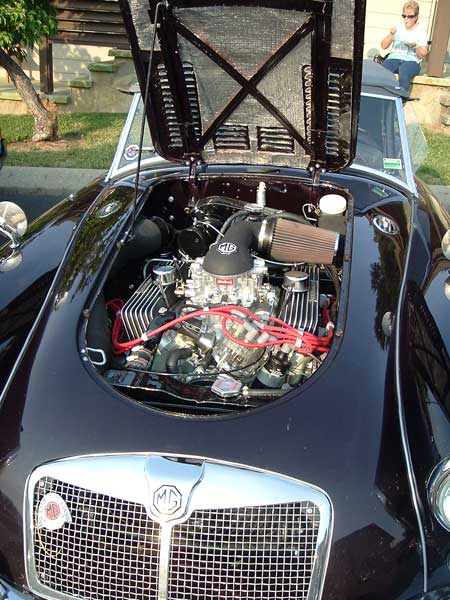 Custom Hood Louvers and Stainless Steel Mesh Grille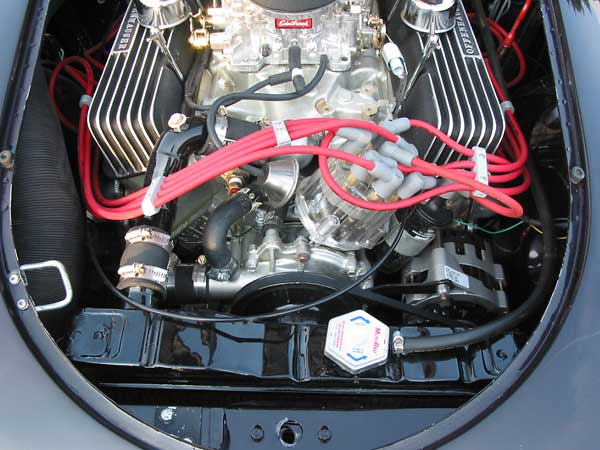 Rigid Copper Pipe in lieu of Radiator Hoses -
Bleeder in Upper Pipe for Purging Air from Cooling System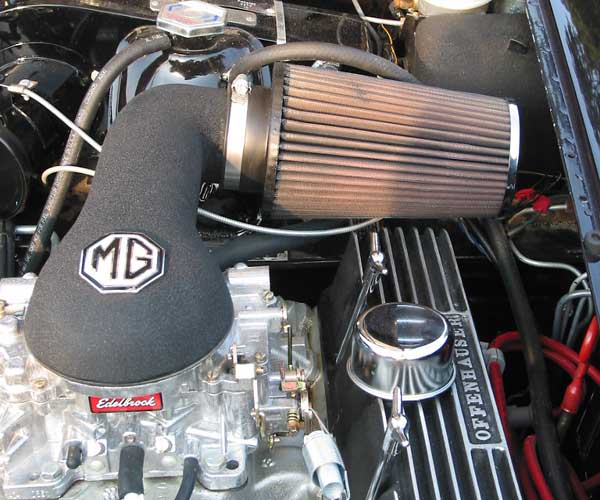 John Hammer-Formed this Intake Duct out of Thin Steel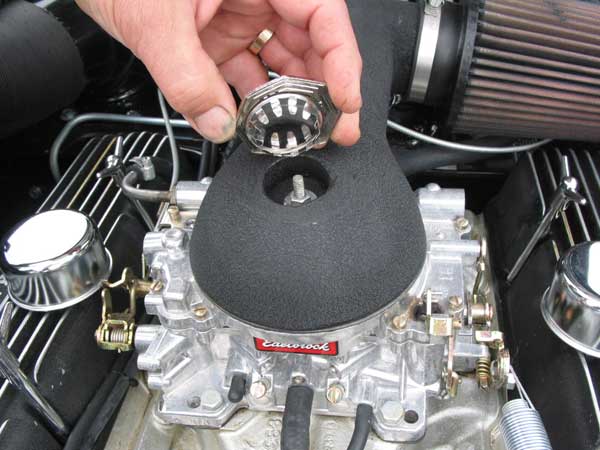 John Shows how an MG Badge Hides the Air Cleaner Removal Nut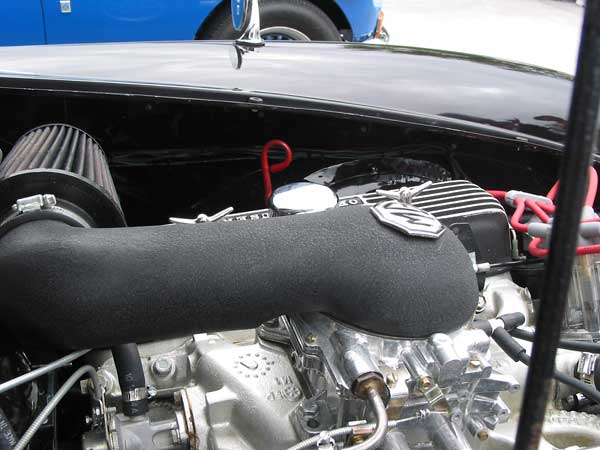 Wrinkle-Finish Paint Provides a Finished Appearance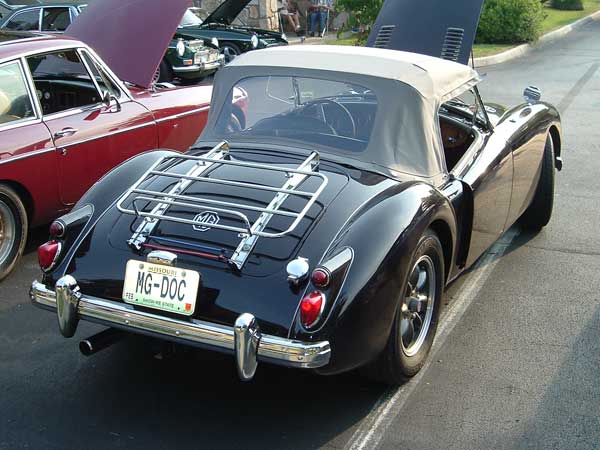 John Worked with a Local Paint Supplier to Formulate this Mysterious Deep Aubergine (Eggplant) Color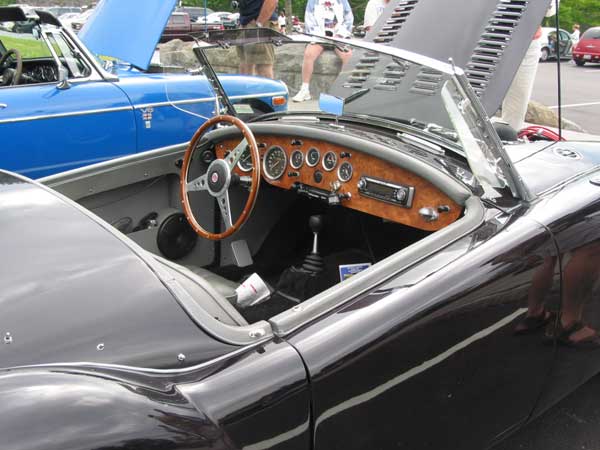 Custom Dashboard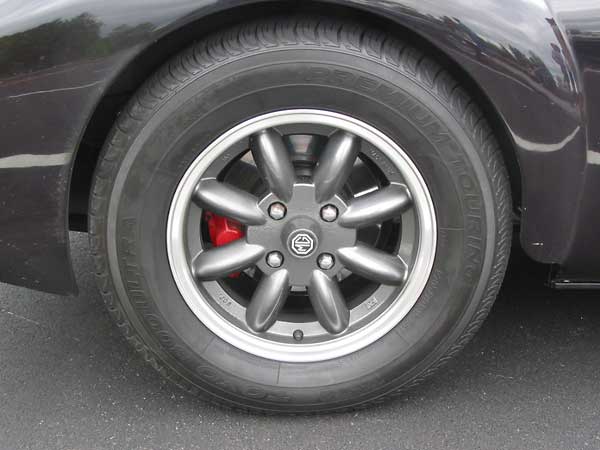 Volvo Disc Brakes can be Spotted Behind John's Minilite 8-spoke Wheels