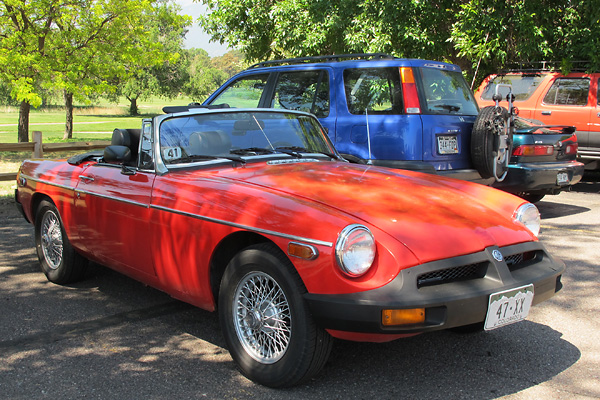 James Spradlin's 1979 MGB with GM 3.4 SFI V6
as published in BritishV8 Magazine, Volume XXI Issue 2, December 2013
Owner: James Spradlin
City: Colorado Springs, Colorado
Model: 1979 MG MGB
Engine: GM 3.4L SFI V6
Built by: owner
Features and Specifications
| | |
| --- | --- |
| Engine: | GM 3.4L SFI V6 from a 1994 Camaro. Classic Conversions Engineering motor mounts (new version). |
| Cooling: | modified original MGB radiator. |
| Exhaust: | Classic Conversions Engineering three-into-one headers, wrapped for heat control. Cherry Bomb turbo muffler. Single exhaust pipe. |
| Transmission: | Borg Warner T5 5-speed transmission (from a 1995 Camaro with a V8 engine). Stock Camaro flywheel, clutch, and pressure plate. Replacement (non-stock, iron/nylon) clutch master cylinder. Howe hydraulic throwout bearing style clutch slave cylinder. |
| Rear End: | stock axle, updated with 3.07:1 gear set. |
| Front Susp.: | stock MGB. |
| Rear Susp.: | stock MGB, except for red polyurethane bushings. |
| Brakes: | stock rubber-bumper MGB, rebuilt. Fly-off handbrake conversion (from Advanced Distributors.) |
| Wheels/Tires: | original Dunlop 60-spoke wire wheels. Falken Sincera SN828 185/70R14 tires. |
| Body: | stock. |
| Electrical: | Delco Remy 105 amp alternator. Aftermarket gear reduction starter. |
| Interior: | Momo steering wheel. Speedhut electronic tachometer and speedometer. All new upholstery and carpets. Kenwood AM/FM/CD/MP3 stereo radio. Kenwood speakers. Billet aluminum window cranks. |
| Performance: | averages 33 miles per gallon. |
| Completed: | 2012. |
Engine Installation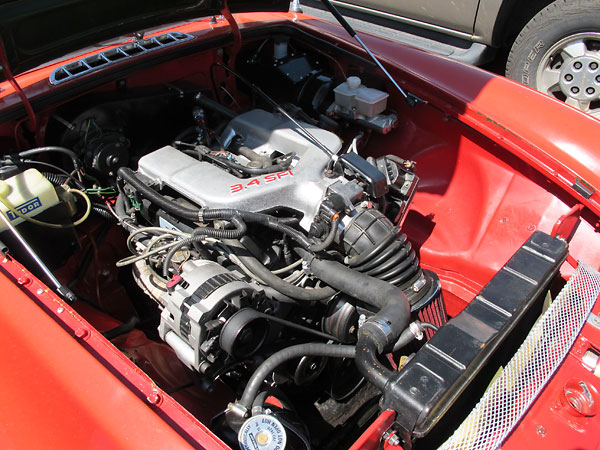 GM 3.4L "Sequential Fuel Injection" V6 from a 1994 Camaro.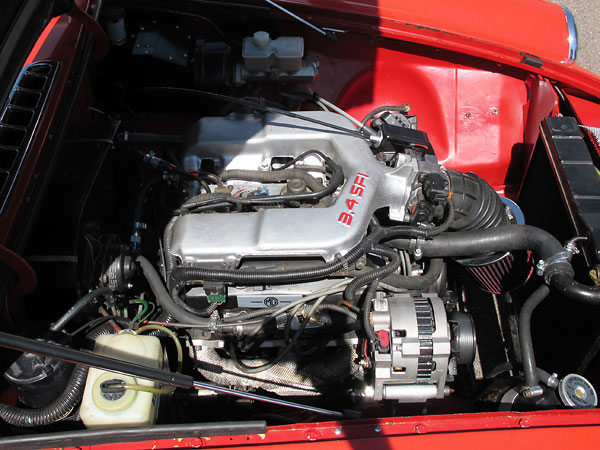 Sequential fuel injection systems can deliver discretely timed and metered pulses of fuel
for each of the engine's cylinders. SFI is generally superior to batch-fired EFI systems,
particularly in terms of fuel efficiency and air pollution at low engine speeds.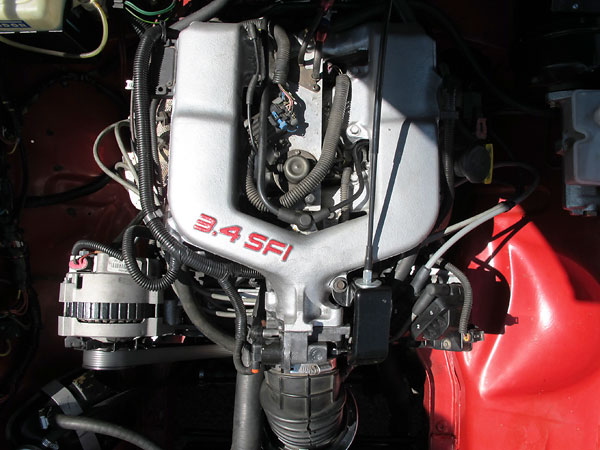 The self-tuning capability of EFI systems is a big deal to car enthusiasts in the Rockies.
As a rule of thumb, carburetors should be re-jetted for every 1500 foot change in altitude.
Consider that the 24-mile trip from Manitou Springs to the visitor center atop Pike's Peak
has 7698 feet of elevation change. Cars don't run well when carb jetting is off by 5 steps!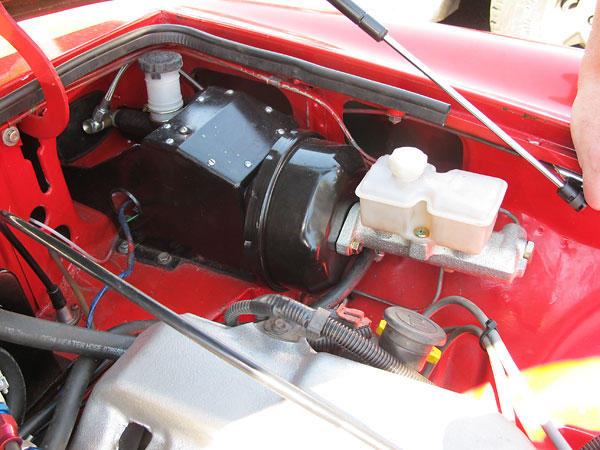 Late model MGB brake master cylinder and power brake booster. In the background: a
replacement clutch master cylinder from Bap Geon Import Auto Parts cost just $19.95.
Notice that it's iron with a removable nylon reservoir, rather than all-steel.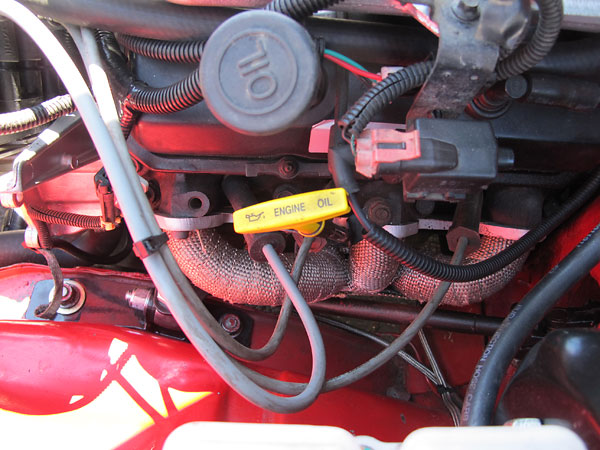 Oil filler and dipstick.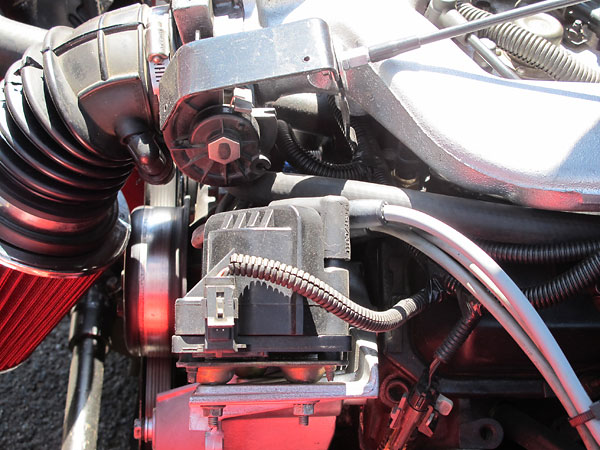 Throttle cable connection on the throttle body.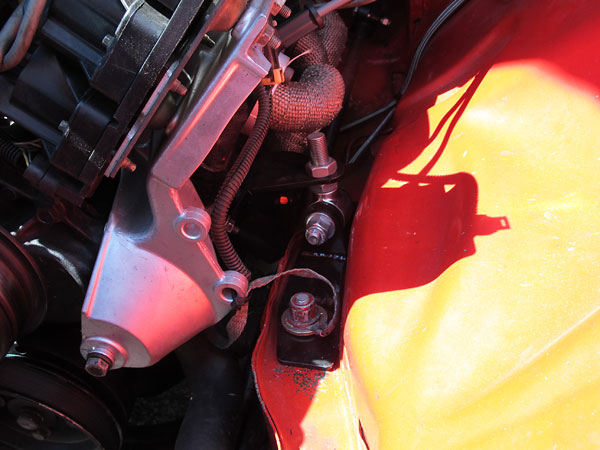 Current style Classic Conversions Engineering motor mount for GM 60° V6 engines.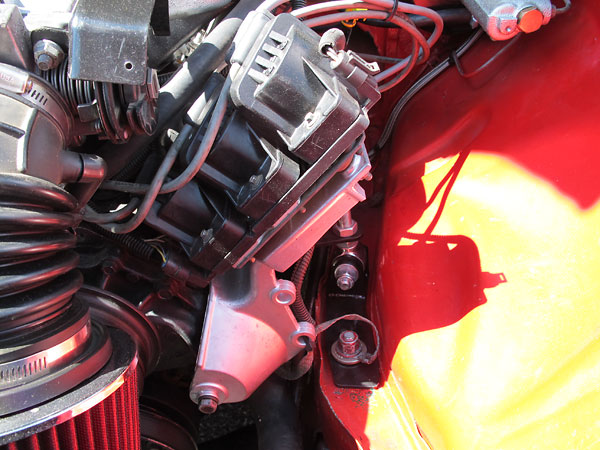 Three dual-terminal ("wasted spark") ignition coils. Note also the braided ground strap. Advantages of
braid? Flexibility and better performance with regard to grounding-out radio frequency interference.
RF noise travels on the surface of cables, rather than through individual wire cores. Flat braid has
proportionately more surface area than round cable. BTW: when choosing braid, wider is better.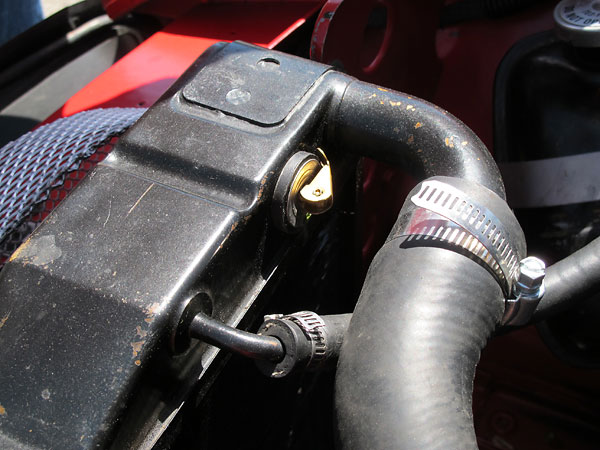 This rubber plug is temporary. It fills the hole where a temperature switch for the
electric fans used to be mounted. James plans to solder a plug over the hole.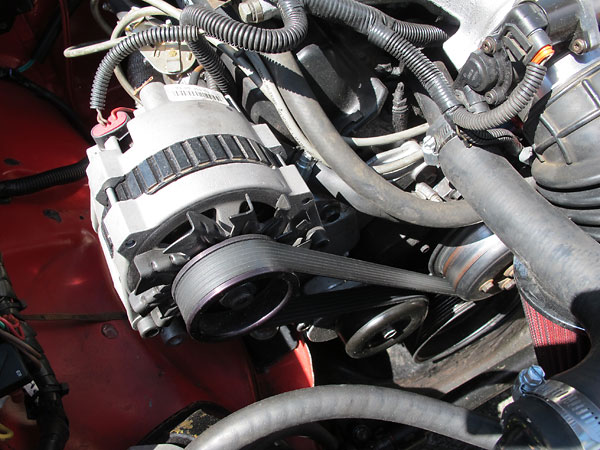 This engine was originally equipped with air conditioning. James installed
his alternator where the air conditioning compressor used to be mounted.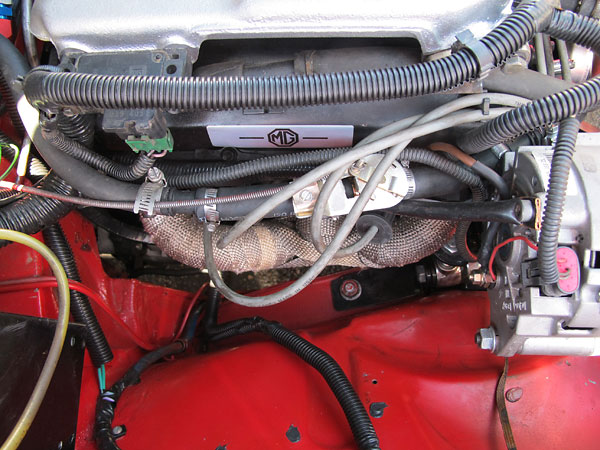 Classic Conversions Engineering three-into-one headers, covered with high temperature wrap.
James reports the exhaust wrap works so well, you can touch the headers and not get burned.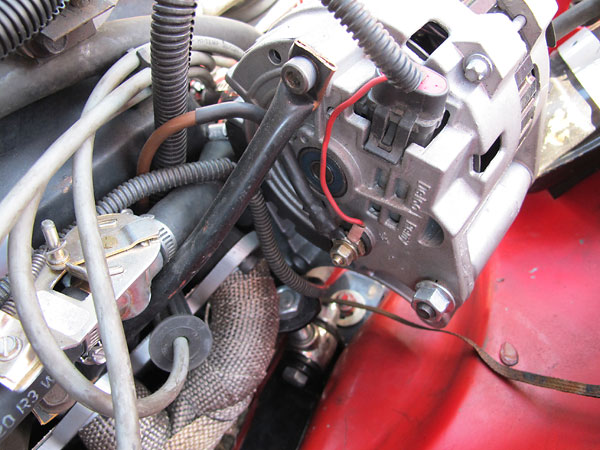 Delco Remy 105 amp alternator.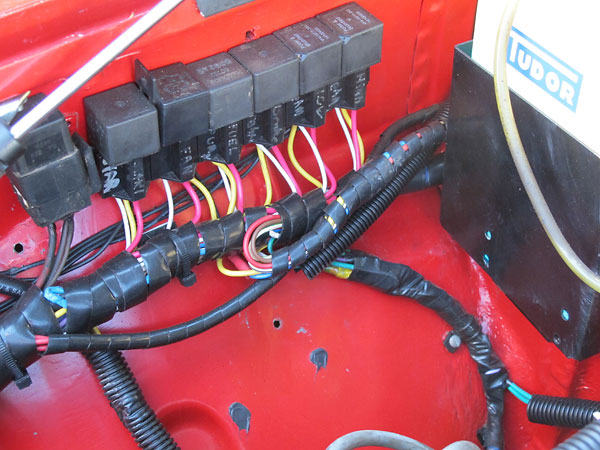 Electric relays: starter, fans, fuel pump, brake lights, low beam, high beam, etc.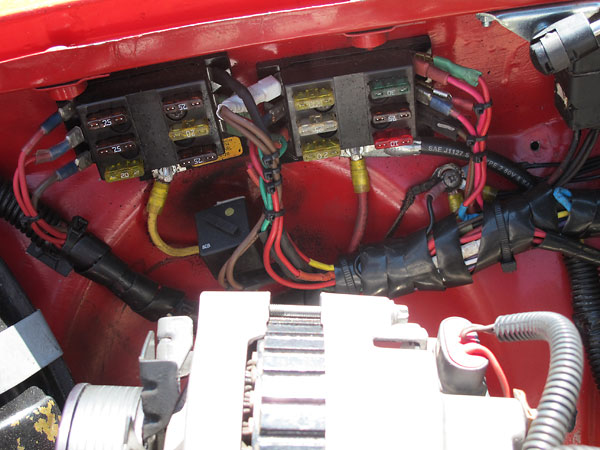 Fuse blocks. James did all his own wiring, from scratch. One feature of his design is that
his engine wiring disconnects quickly and easily from the main harness. Just three connectors!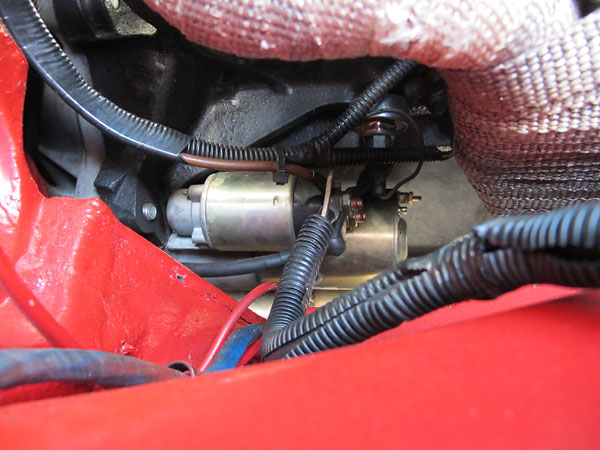 Gear reduction starter, viewed from above.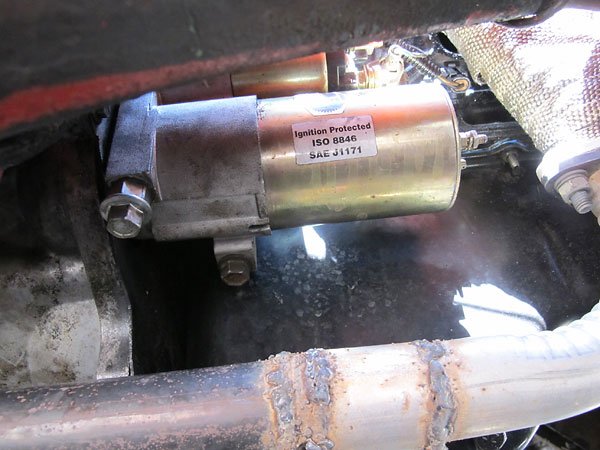 Gear reduction starter, viewed from below.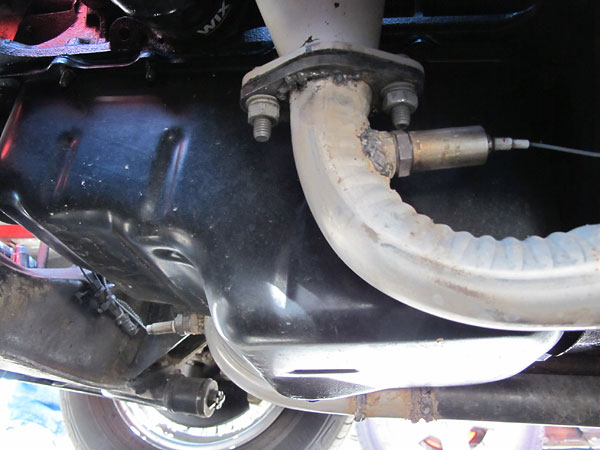 Two narrow band oxygen sensors (one on each side) for the electronic fuel injection system.
Note: these engines were originally equipped with low oil level sensors mounted in their oil
pans. James advises that bungs to fill the sensor hole are available from any auto parts store.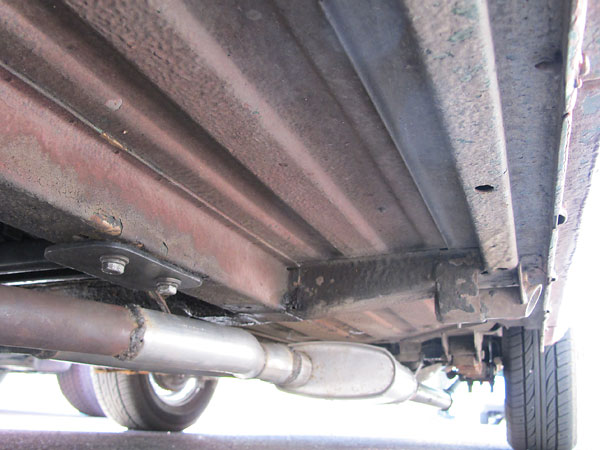 Single Cherry Bomb brand turbo-style muffler. James initially installed the muffler
at the rear of the car, but he found that moving it forward made the car quieter.


Suspension, Etc.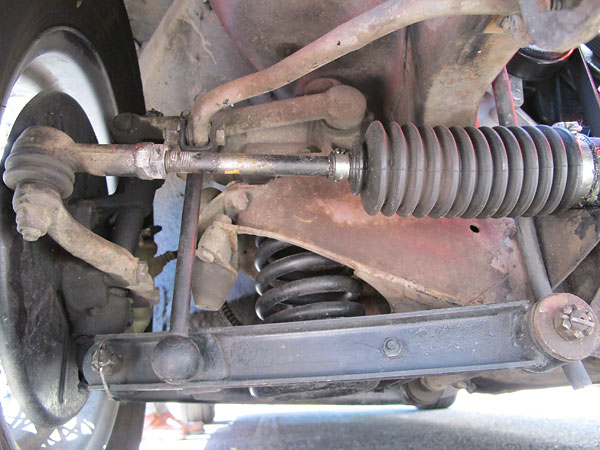 Stock MGB front suspension.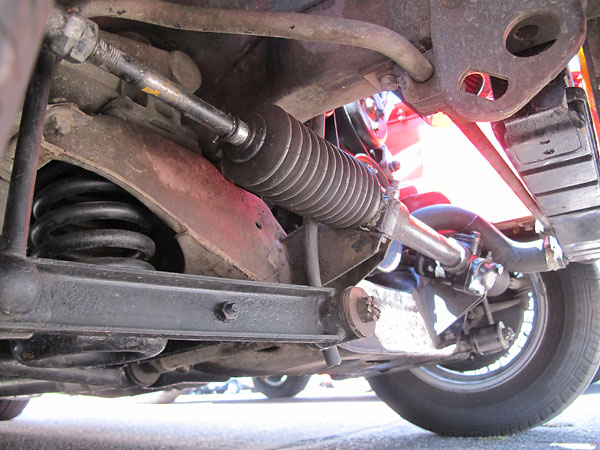 Original anti-sway bar.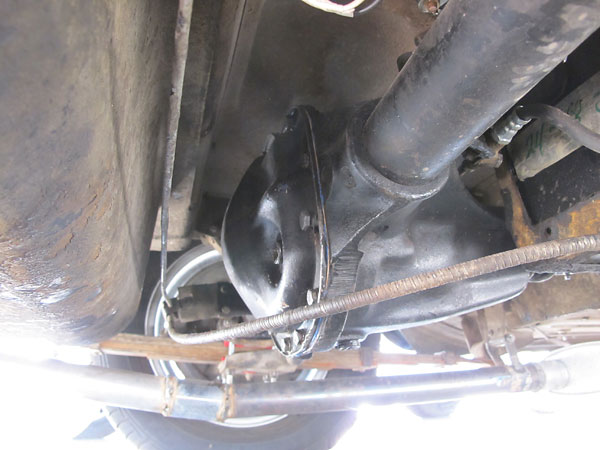 Stock MGB (Salisbury style) rear axle, updated from 3.909:1 to 3.07:1 gear ratio.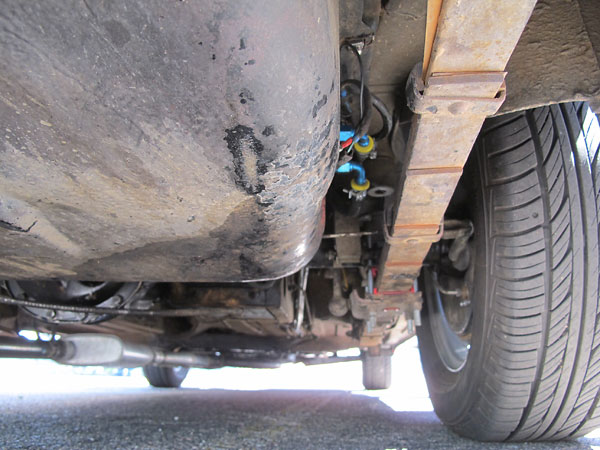 Stock MGB rear suspension, except for stiffer (red polyurethane) bushings and spring pads.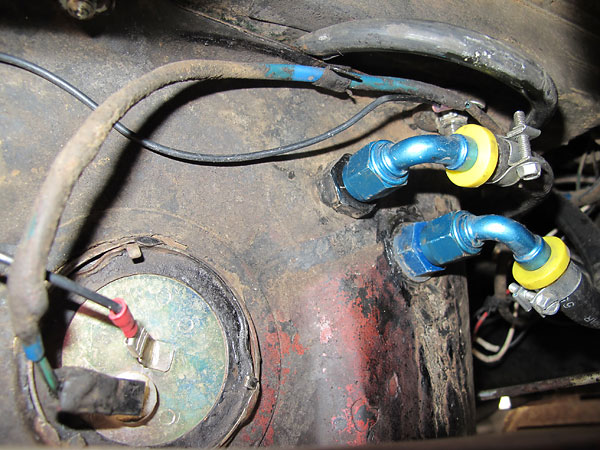 Summit Racing bulkhead adapter fittings for fuel lines.
(Earlier model style fuel level sender used with a late model fuel tank.)


Enjoying this article? Our magazine is funded through the generous support of readers like you!
To contribute to our operating budget, please click here and follow the instructions.
(Suggested contribution is twenty bucks per year. Feel free to give more!)
Interior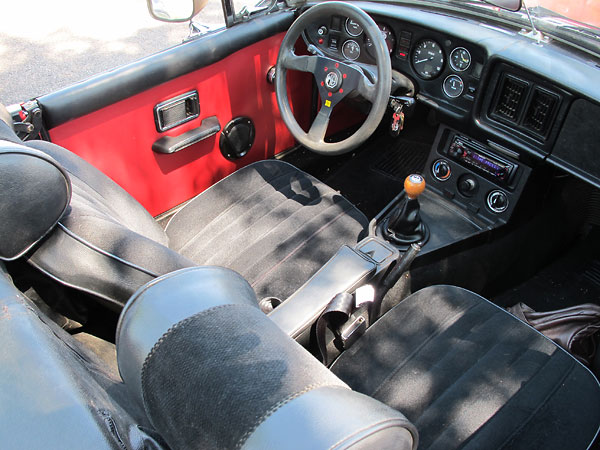 All new upholstery and carpets.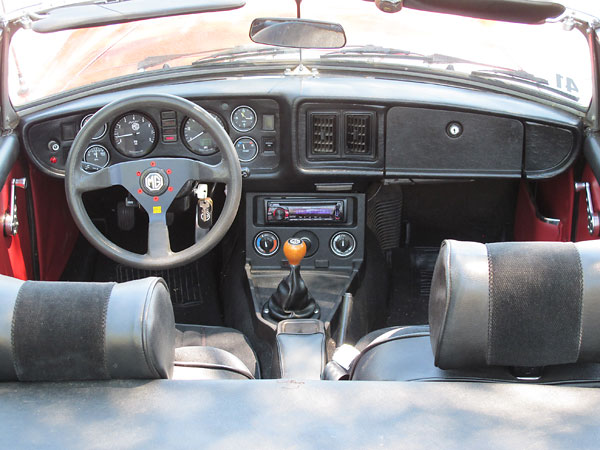 MGB gear shift lever has been grafted onto a Chevy/T5 gear shifter mechanism.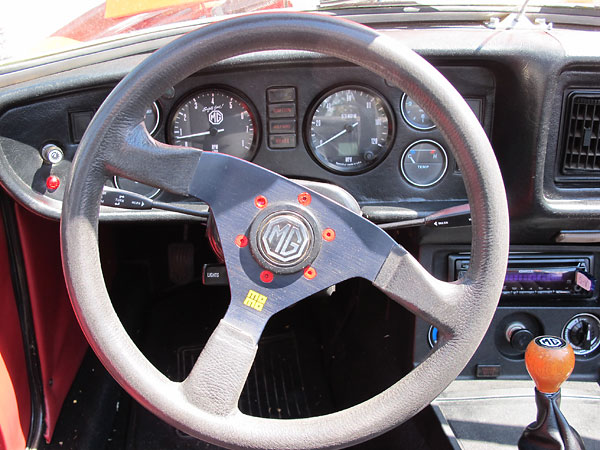 Momo steering wheel. Speedhut electronic tachometer and speedometer (with red illumination.)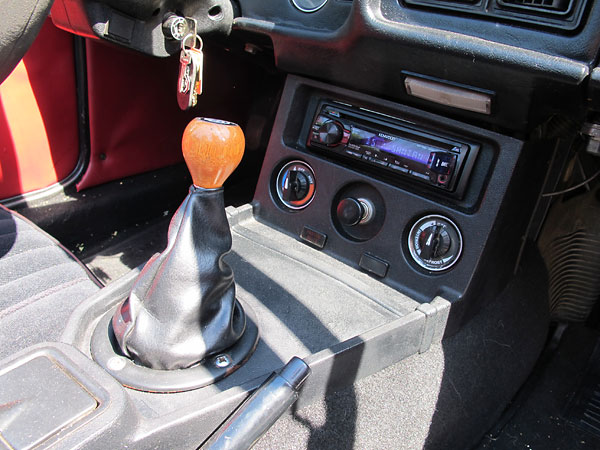 Kenwood AM/FM/CD/MP3 stereo radio.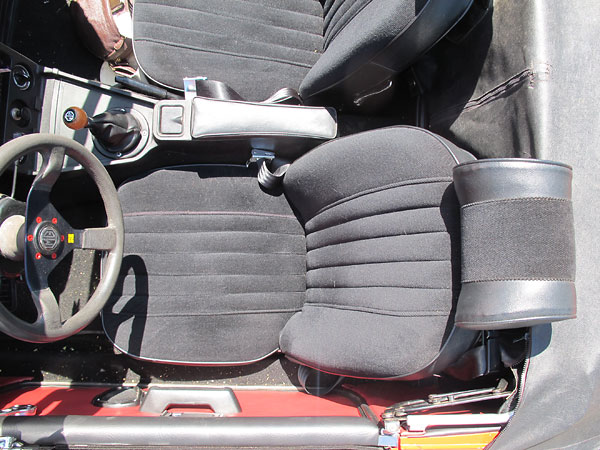 MGB seats, reupholstered in black cloth.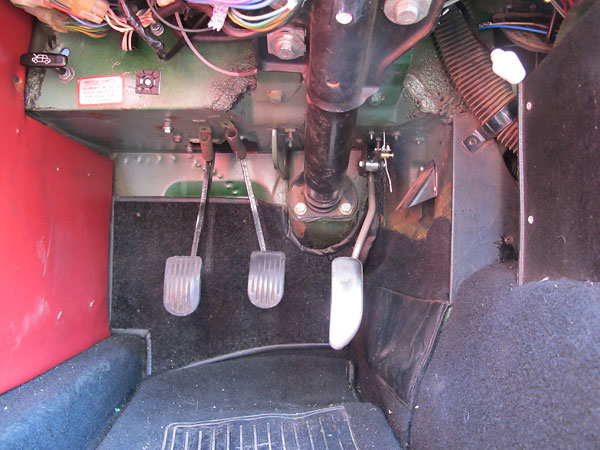 MGB pedals, unmodified.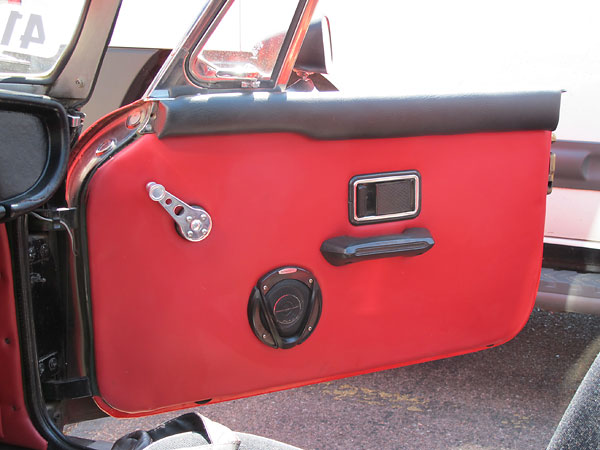 Billet aluminum window crank.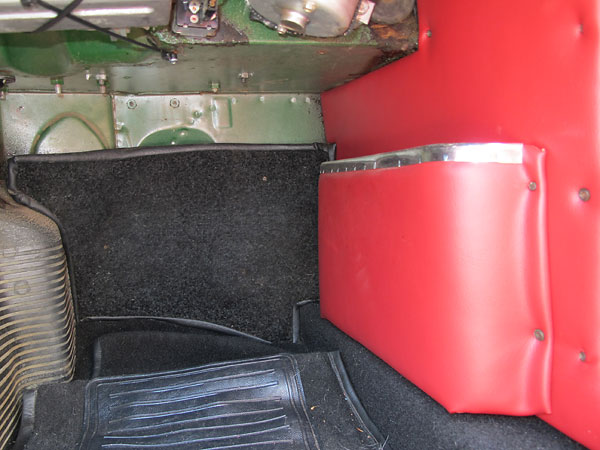 MGB map pocket.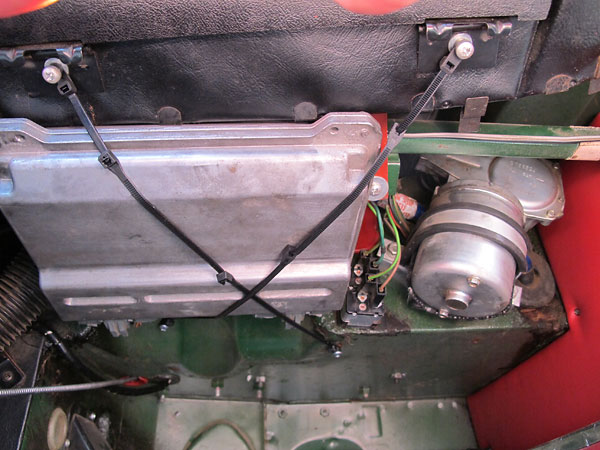 General Motors engine computer for electronic fuel injection and ignition.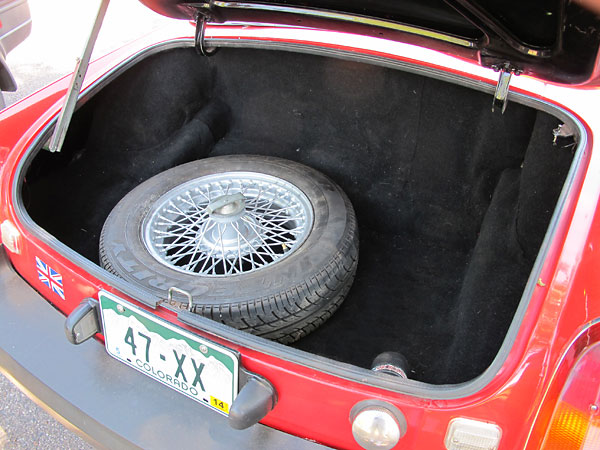 Spare tire storage.


Exterior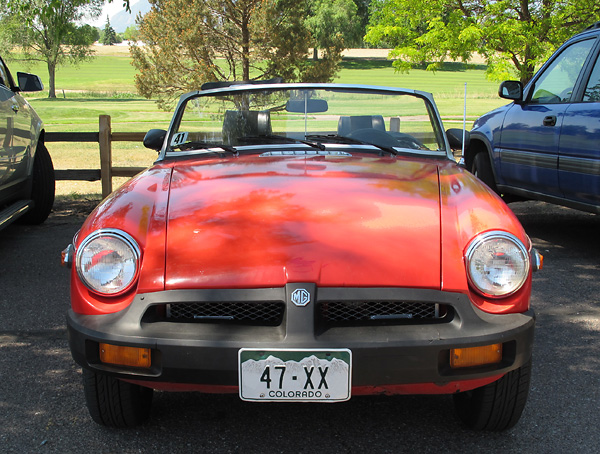 From mid-year in 1974 until production ended, this is what MGBs looked like from the front.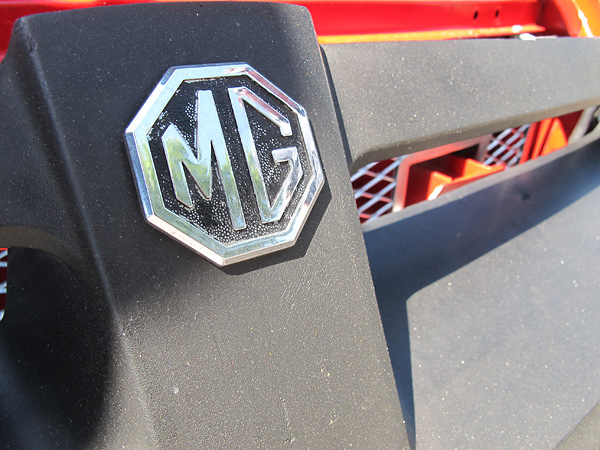 MG badge on a rubber bumper.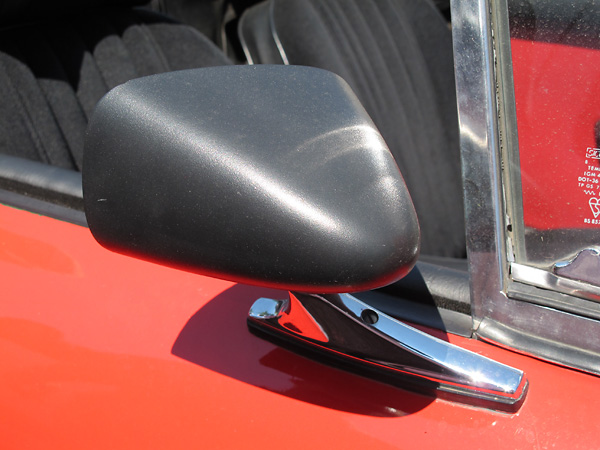 Larger-than-stock side view mirrors.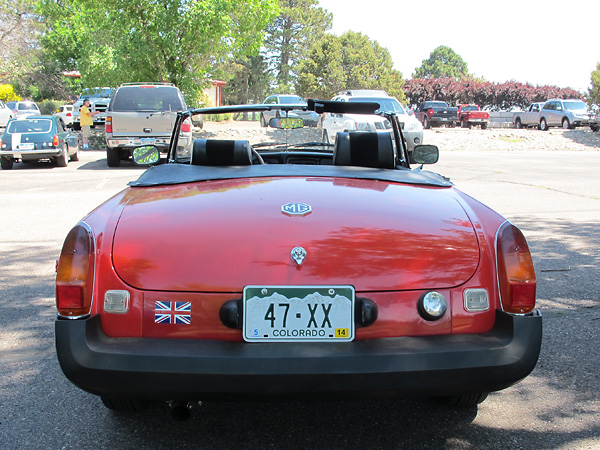 With its single tailpipe, this MGB V6 looks deceptively "stock" from the rear.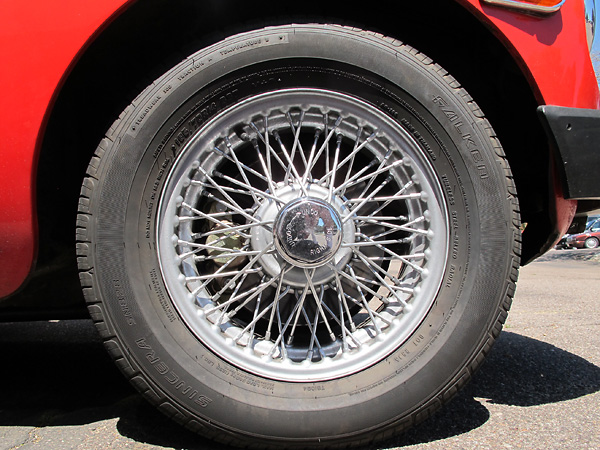 Dunlop 60-spoke wire wheels.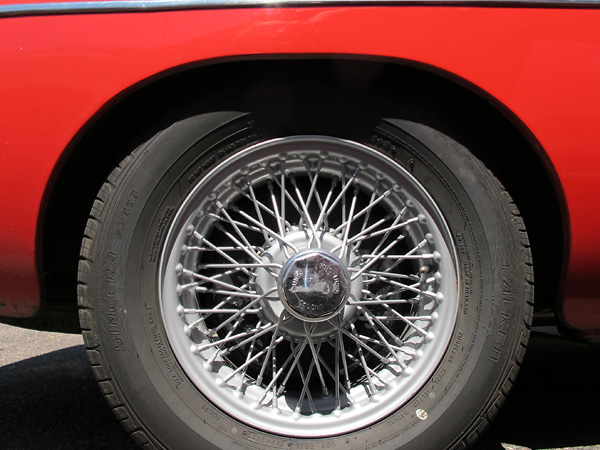 Falken Sincera SN828 185/70R14 tires.