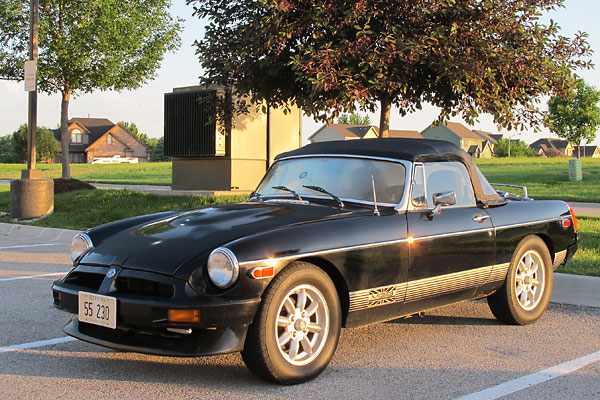 Black Bird: Alex Mantell's 1980 MGB LE with Ford 302 V8
as published in BritishV8 Magazine, Volume XXI Issue 1, July 2013
Owner: Alex Mantell
City: Sidney, Illinois
Model: 1980 MG MGB LE
Engine: Ford 302 V8
Built by: Pete Mantell, David Schaefer & Alex Mantell - Mantell Motorsports
Features and Specifications
| | |
| --- | --- |
| Engine: | 2000 Ford Explorer 5.0 V8 short block. 9.0:1 compression ratio. Ford B303 roller camshaft. Edelbrock E-Street aluminum cylinder heads. Ford Racing 1.6:1 roller rockers. Edelbrock Performer RPM air gap, dual plane, polished aluminum intake manifold. Edelbrock 600 cfm carburetor with electric choke. Edelbrock foam air cleaner. Summit Racing 7psi fuel pump. MSD 8598 distributor. MSD 6AL ignition controller (with 5400rpm rev limiter chip installed). MSD Blaster 2 ignition coil. Ford Racing spark plug wires. Motorcraft FL-1A oil filter. Mantell Motorsport Ford/MGB engine installation kit (modified engine crossmember with engine mounts and polyurethane crossmember mounting pads, transmission crossmember with transmission mounts, headers with exhaust gaskets and header bolts, remote oil filter adapter and filter mounting bracket, installation hardware, and comprehensive instructions.) |
| Cooling: | Mantell Motorsport aluminum radiator. Ford Racing short nose water pump. Mantell Motorsport pulleys. |
| Exhaust: | Mantell Motorsport "RV8 style" (through-the-fender) four-into-one exhaust headers. Flowmaster mufflers. Dual exhaust. |
| Transmission: | Tremec/Ford Racing Super Duty Z T5 5-speed manual gearbox. Stock Mustang 5.0 flywheel, pressure plate & clutch disc. Nissan slave cylinder. Mantell Motorsport slave cylinder bracket. Mantell Motorsport driveshaft. |
| Rear End: | stock MGB axle. 3.909:1 gear ratio. |
| Front Susp.: | Mantell Motorsports modified MGB front crossmember. Rebuilt lever shock absorbers. Stock coil springs. 3/4" anti-sway bar on polyurethane mounts, lowered. Polyurethane A-arm bushings. |
| Rear Susp.: | stock, except for polyurethane bushings. |
| Brakes: | stock MGB brake system. (Late model MGB master cylinder and power brake booster.) |
| Wheels/Tires: | Minator (KN Wheels Ltd.) eight spoke aluminum wheels. Fuzion Touring 205/65R15 tires. |
| Body: | Preform Resources' RV8 style fiberglass hood. Special Tuning style fiberglass air dam. Chevrolet Blazer LED third brake light. Centered fuel tank. |
| Electrical: | Summit Racing 100A chrome alternator. Summit Racing 18 circuit wiring harness and fuse block. |
| Instruments: | VDO gauges (tachometer, speedometer, fuel level, voltmeter, coolant temperature, and oil poressure.) |
| Interior: | Grant wood-rim steering wheel and Grant adapter. 1990 Mazda Miata seats. |
| Performance: | 340 horsepower. 310 foot pounds of torque. |
| Completed: | ~3800 miles driven since completion. |
Engine Installation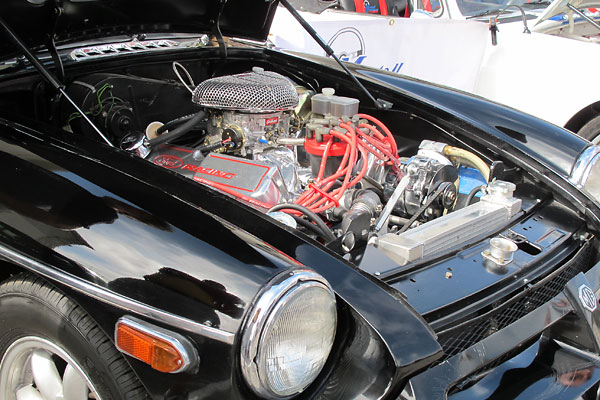 Ford Explorer 5.0 V8 engine.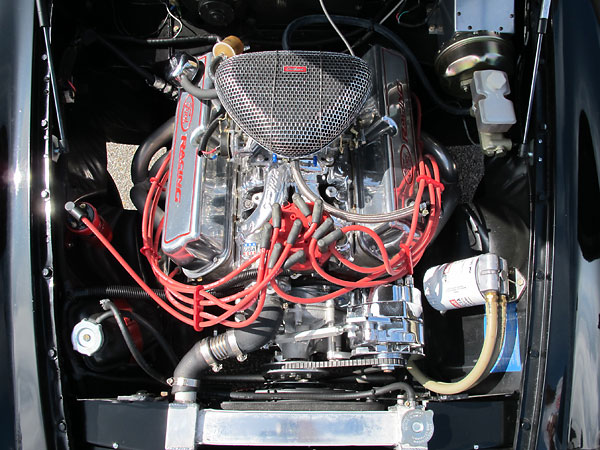 Edelbrock E-Street aluminum cylinder heads.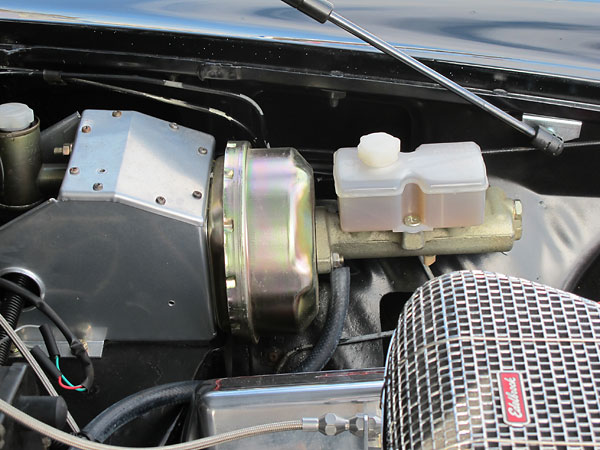 Late model MGB master cylinder and power brake booster.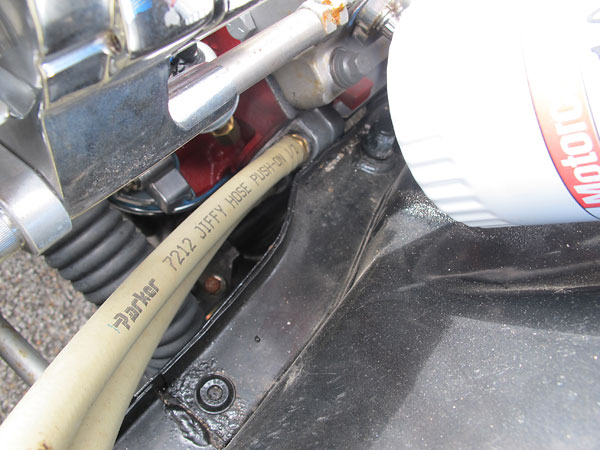 Plumbing for a remotely mounted oil filter.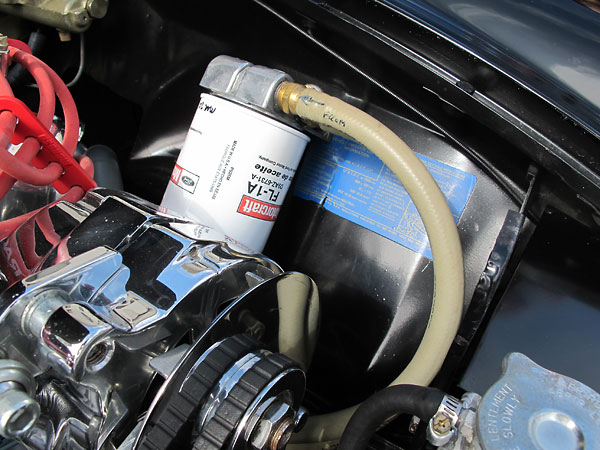 Motorcraft FL-1A oil filter, mounted remotely.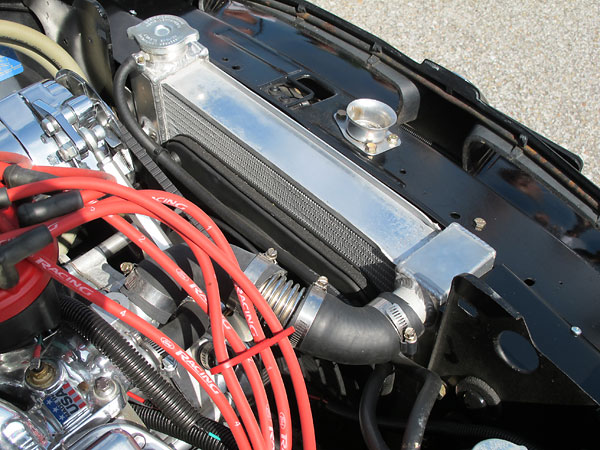 Mantell Motorsport aluminum radiator.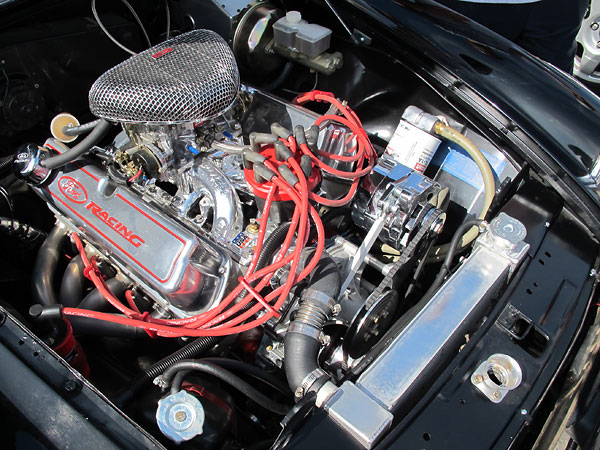 Edelbrock Performer RPM air gap, dual plane, polished aluminum intake manifold.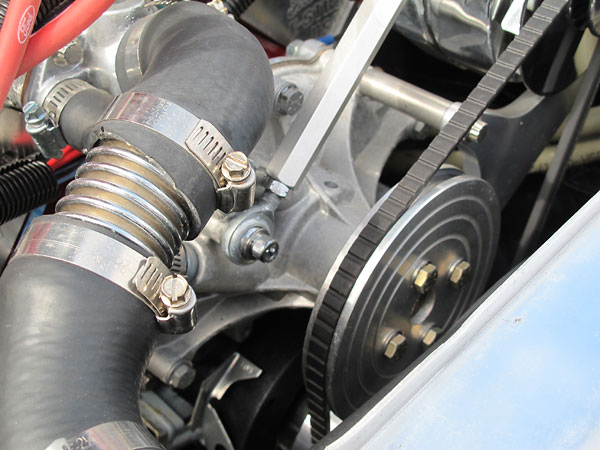 Mantell Motorsport aluminum pulleys.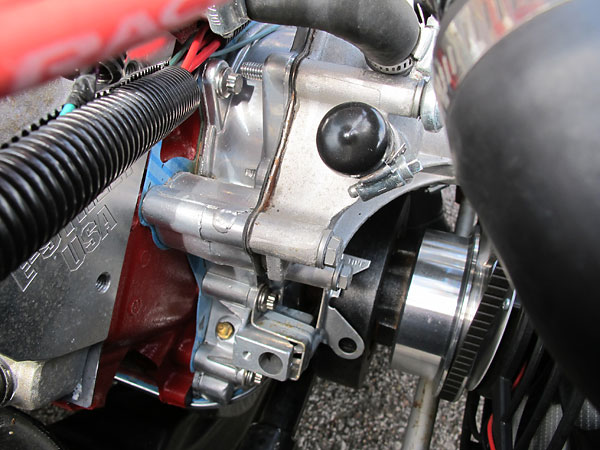 Ford Racing short nose water pump.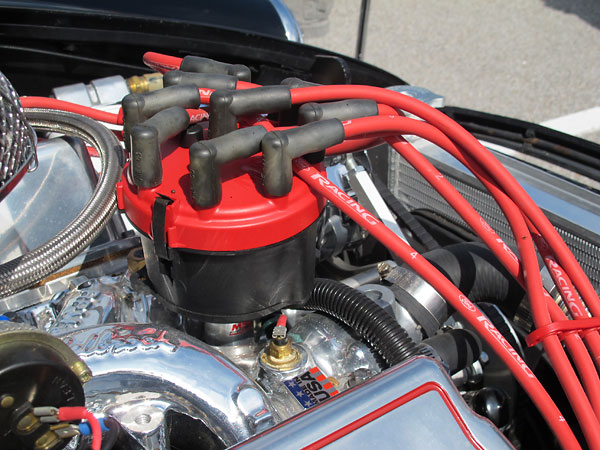 MSD 8598 distributor.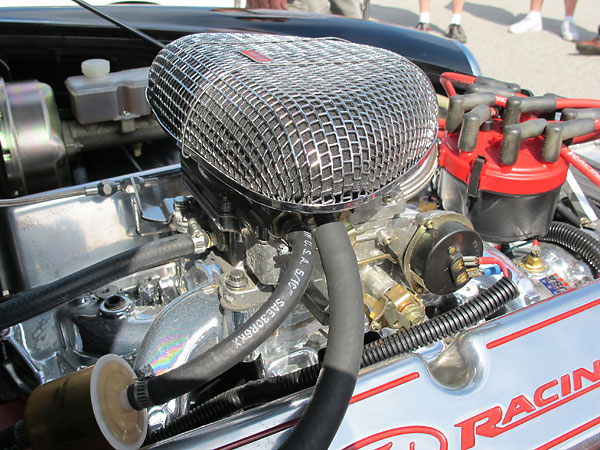 Edelbrock 600 cfm carburetor with electric choke.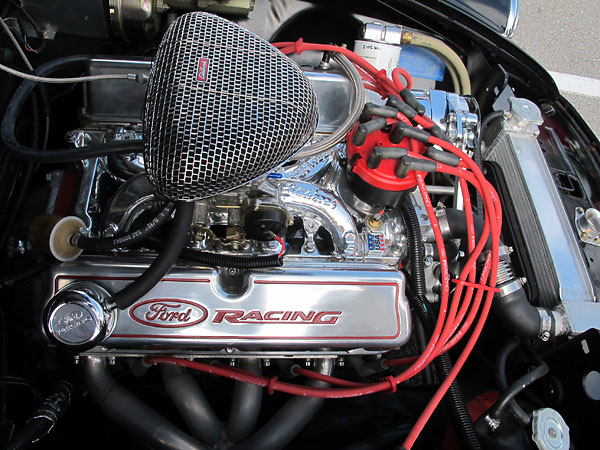 Edelbrock foam air cleaner.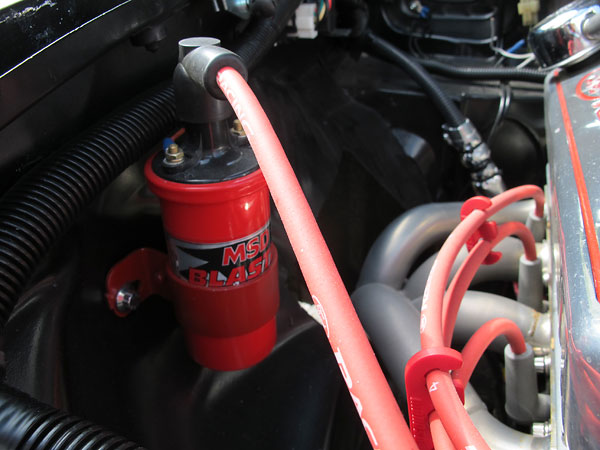 MSD Blaster 2 ignition coil.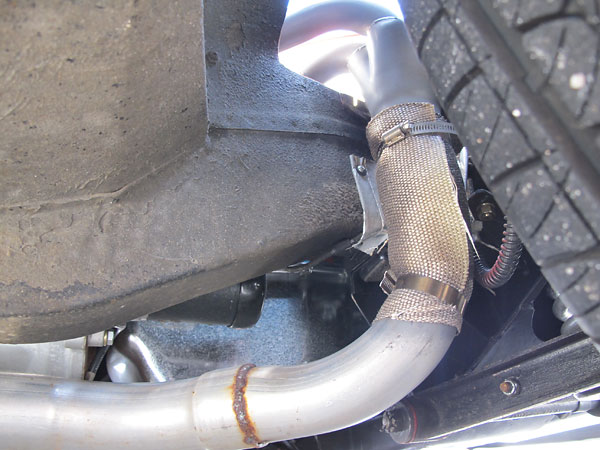 Mantell Motorsport "RV8 style" (through-the-fender) four-into-one exhaust headers.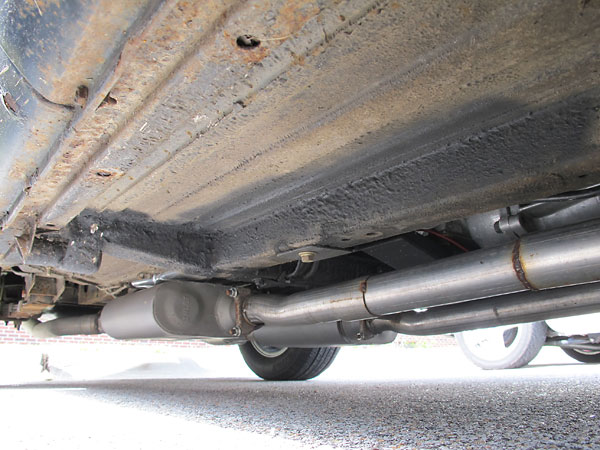 Dual Flowmaster mufflers.


Suspension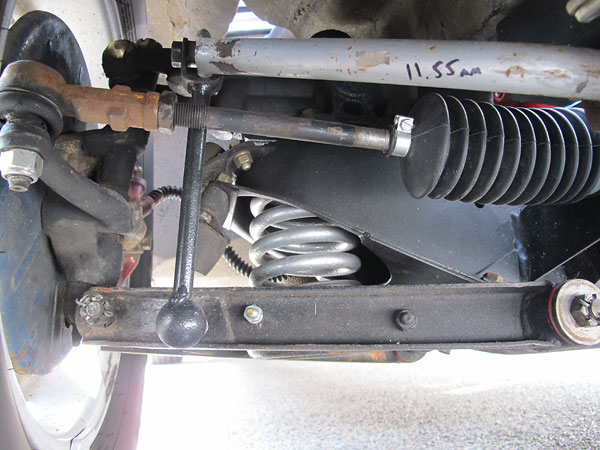 Rubber-bumper MGB front suspension.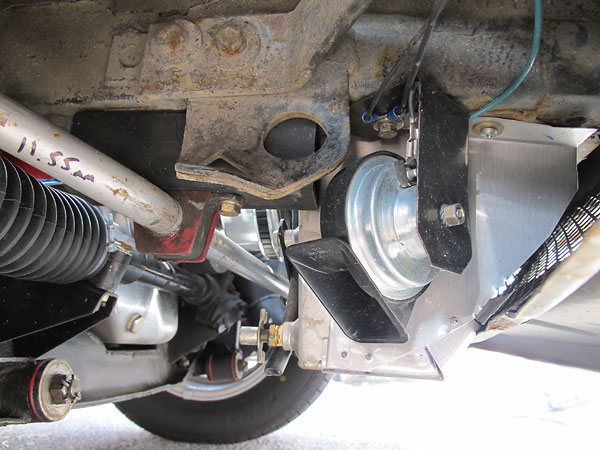 3/4" anti-sway bar, spaced down about three inches from the stock position.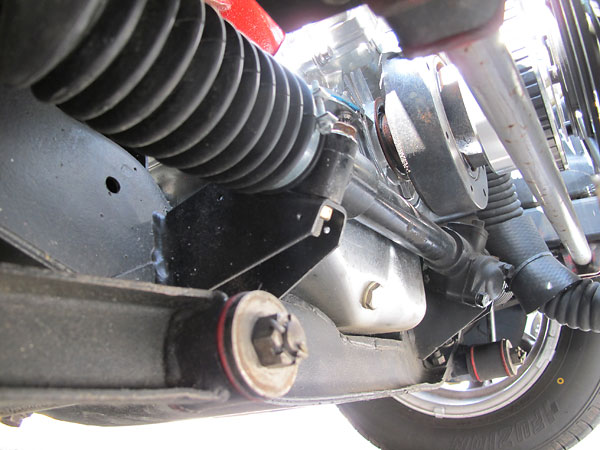 Stock rubber-bumper MGB front crossmember modified to make room for the Ford oil pan.


Interior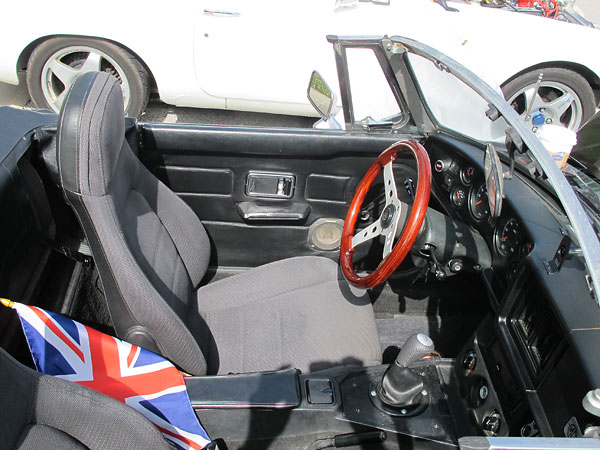 1990 Mazda Miata seats.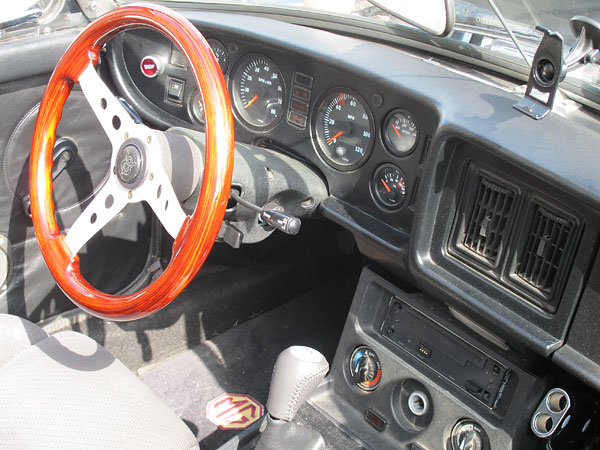 Grant wood-rim steering wheel installed on a Grant adapter.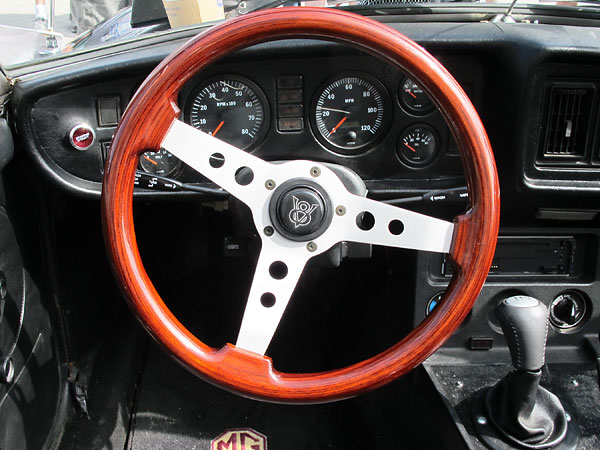 VDO gauges: tachometer, speedometer, fuel level, voltmeter, coolant temperature, and oil poressure.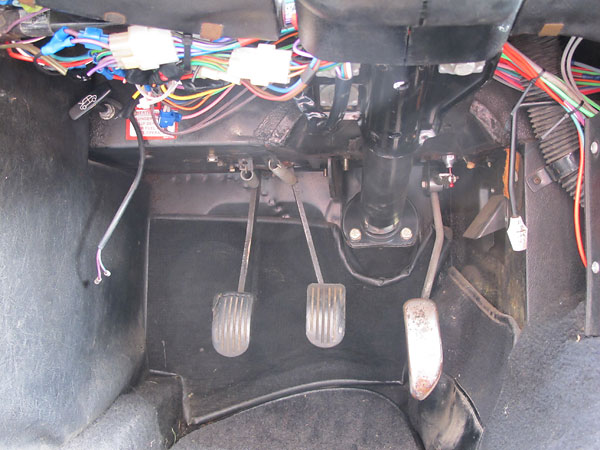 Pedal box.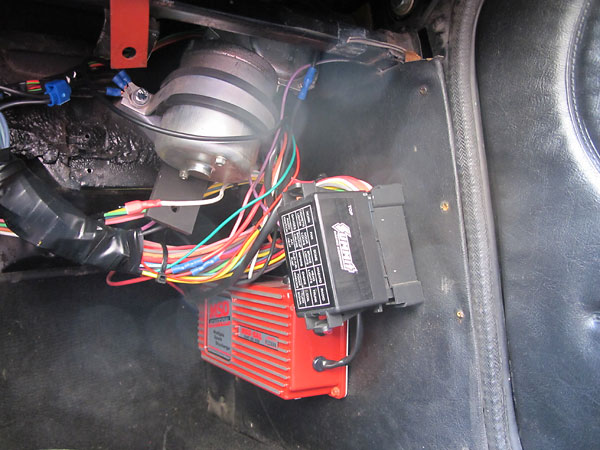 MSD 6AL ignition controller (with 5400rpm rev limiter chip installed).
Summit Racing 18 circuit wiring harness and fuse block.


Enjoying this article? Our magazine is funded through the generous support of readers like you!
To contribute to our operating budget, please click here and follow the instructions.
(Suggested contribution is twenty bucks per year. Feel free to give more!)
Exterior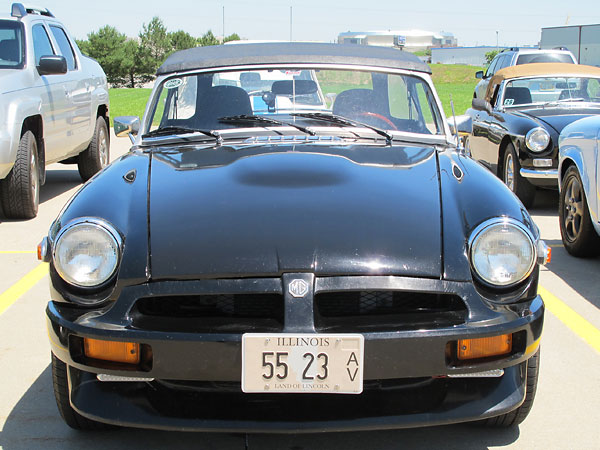 MG "Special Tuning" style fiberglass air dam.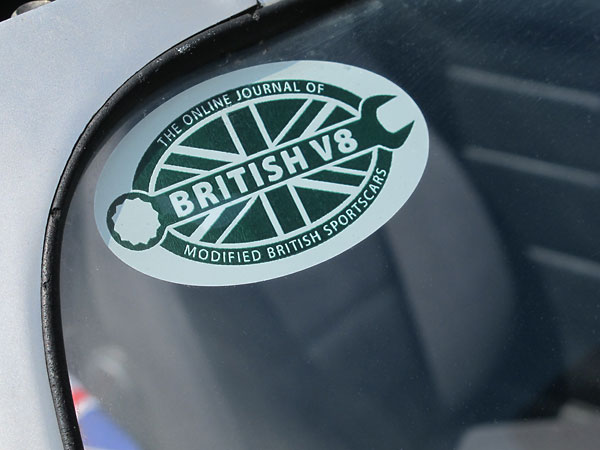 BritishV8: The Online Journal of Modified British Sportscars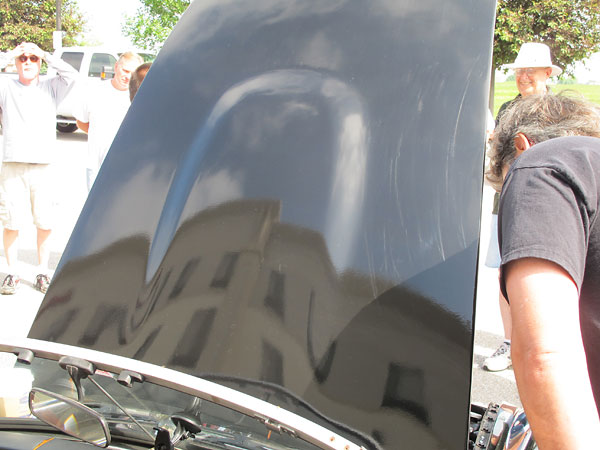 Preform Resources' RV8 style fiberglass hood.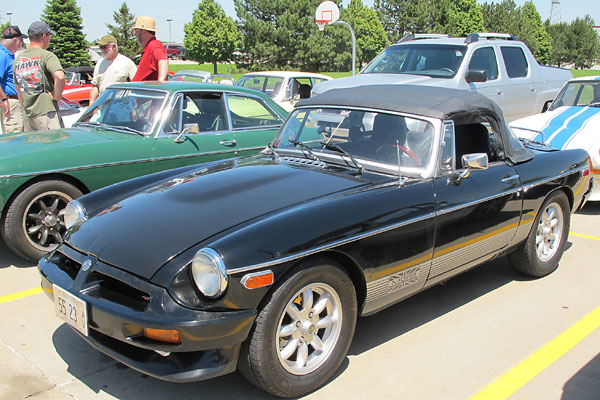 1980 MGB LE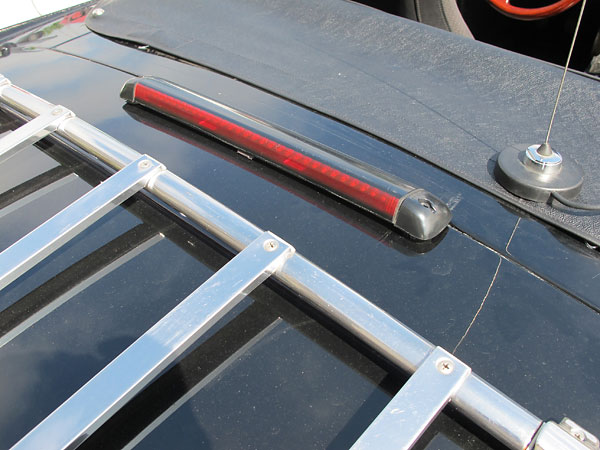 Chevrolet Blazer LED third brake light.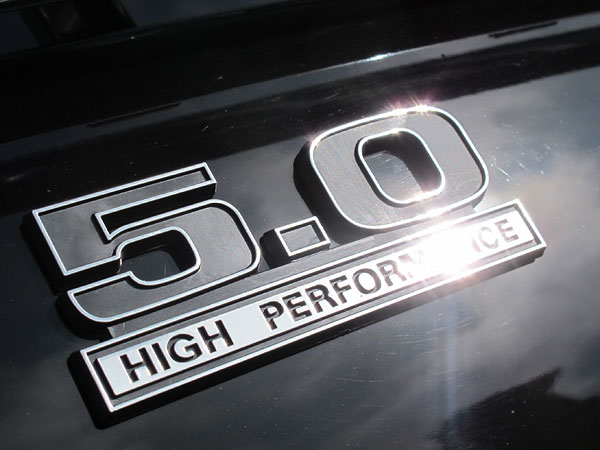 5.0 High Performance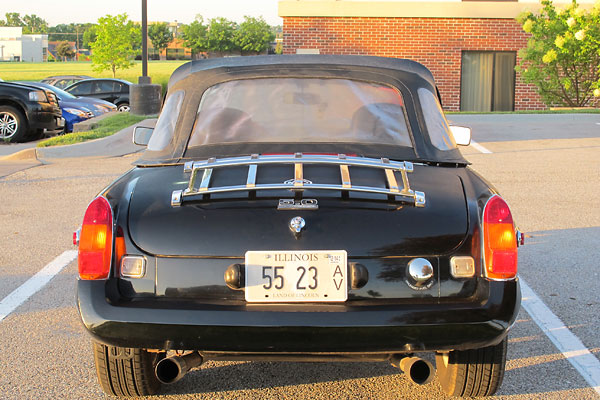 The MGB fuel tank has been shifted to the center to make room for dual exhaust.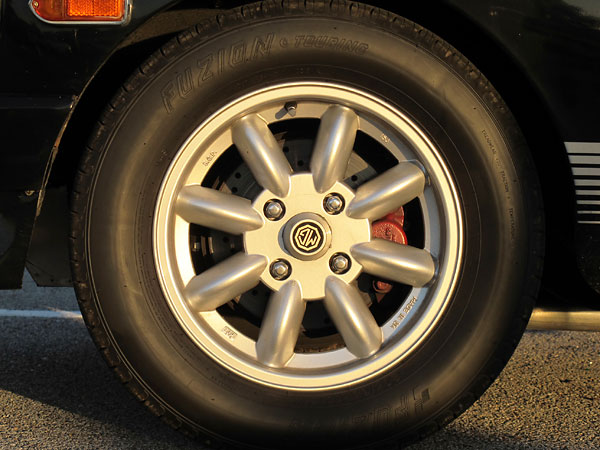 Minator (KN Wheels Ltd.) eight spoke aluminum wheels.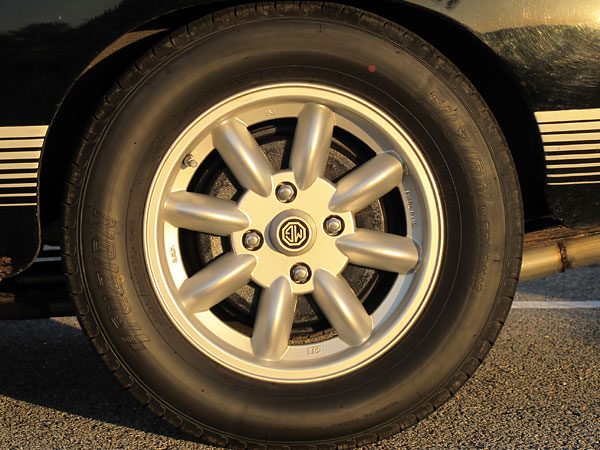 Fuzion Touring 205/65R15 tires.