the editor's car
In The Driver's Seat (Volume XVI Issue 2, October 2008)
by: Curtis Jacobson
This is Our Halloween Edition!
Here's your treat. You're reading the one and only magazine that's focused on serious performance upgrades for classic British sports cars. We also feature British cars that originally came with V8 engines. Our mission is to provide a diverse range of quality content: entertaining, educational, technical, and inspirational.

Our niche of the British car hobby isn't the largest, but it's by far the most vibrant and the fastest growing. The term "resto-mod" describes it: today's enthusiasts want to combine classic styling with modern performance, and they demand modern reliability.

Other websites and magazines "sell the sizzle", but we serve the whole steak. We use as many large, close-up photos as it takes to tell each story completely. This new edition contains 47 articles and over 992 color photos. Do the math. That's over 21 photos per article. You won't find THAT on a newsstand! And it ain't fluff either. We publish truly detailed, technical, and informative "how-to" and "how-it-was-done" articles.

But this may be our online magazine's last edition. Frankly, bundling articles together makes a whole lot more sense for a printed newsletter than it does for a huge, free, online resource. Websites perform best when they present dynamic, interactive content. If we're going to keep doing this, we must try harder to give people more reasons to visit week-after-week throughout the year. Seriously... 47 articles and over 992 big color photos? Who can absorb that much in one visit? Bottom line: don't be surprised if our format starts changing radically. Don't worry though: everything a person builds should be high-performance, not just our cars.
Enjoying this article? Our magazine is funded through the generous support of readers like you!
To contribute to our operating budget, please click here and follow the instructions.
(Suggested contribution is twenty bucks per year. Feel free to give more!)
What's New In This Edition?
I'm particularly proud of the special feature article we've put together on Les Gonda's MGB GT V8 race car... I have an ambition that it will be the first of a long series of articles featuring competitive race cars in greater and more spectacular detail than you've ever seen before. Don't miss it.

Additionally, we have a third installment of historical and reference articles related to the "factory" MGB GT V8 model and its predecessor the "Costello V8". Veteran automotive journalist Ken Smith collected these materials throughout the seventies and early eighties for a book project he hoped would commemorate the tenth anniversary of the factory MGB GT V8. He carefully tracked down original authors and publishers to get permission to reprint their work. Unfortunately, the project was delayed... until now. Explore the internet's best "Factory" and "Costello" MGB-V8 reference library.

At BritishV8, we celebrate the talents and creativity of our diverse community: a community with varying experience and training, tool and shop resources, financial budgets, time constraints, and transportation needs. Our unique "How It Was Done" format lets everyone pass along some of what they learned, as they show off their unique projects! No two modified British sports cars are identical; their differences are what make them so charming.

In this edition, we're proud to feature twenty-four new "How It Was Done" articles!

I want to briefly direct your attention to just two of these marvelous machines: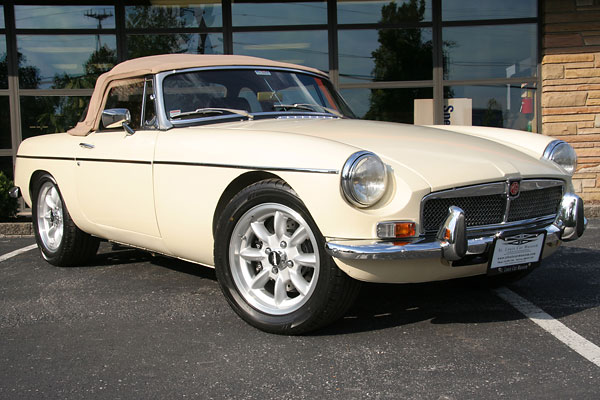 Ken Biermann's Rover aluminum V8 powered 1969 MGB

Ken Biermann was a good friend to many of us. An active, enthusiastic member of the BritishV8
community, Ken and his wife Ila participated in our annual meets even when their conversion was
in process. Ken's masterpiece, the MGB V8 shown above, was coming together just as he fell ill.
Ken passed away August 5th. We hope he'd be pleased with our attempt at a "How It Was Done".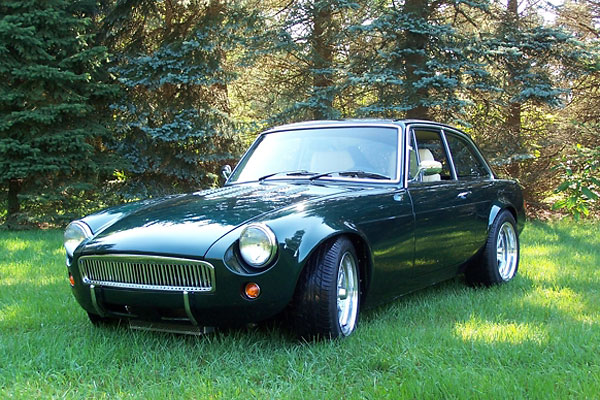 Dan Masters' 1974 MGB-GT with Ford 302 V8, by Fast Cars Inc.

On a happier note, I'm delighted to congratulate former BritishV8 Editor Dan Masters on completion
of his absolutely stunning MGB GT V8! This is the latest creation from the "Fast Cars Inc." workshop.
What can I say? It's a fantastic car. The How It Was Done write-up gets bonus points for completeness
and spectacular photography. I guess that's exactly what we'd expect from Dan, Ted, and company.

Mark Your Calendars Now! BritishV8 2009 June 7 - 10 Durham, NC
Meeting coordinators Max Fulton and Emily Turner are planning a busy schedule of exciting and unique activities to fill our time from Sunday evening though Wednesday night. Specifically, they're planning informative Tech Sessions (on car lifts!), "Show and Tell", Go-Karting, Chassis Dyno, a Craft Fair, a tour of a top-flight Machine Shop, and much more.


BritishV8 Message Board Turns One Year Old!
Did you expect that in one year we'd register 400 users, start 700 message threads, and log 5100 messages? Not a bad start, eh? The board is easier to use than other boards and it does a better job of displaying photos - but the fundamental key to its success is its community: more friendly, more helpful, more diverse, and more universally enthusiastic about radical performance upgrades to classic British sports cars.

There's still room for tremendous growth. We need to turn more newbies on to what we have here. We also need to promote the Classified Ad section. Check it out! Tell your friends about it!
BritishV8 is a Volunteer Effort
BritishV8 Magazine and website represent the work of many people. I want to take a moment to recognize and thank all the folks who've contributed articles, photos, and information. Returning readers will probably recognize some familiar names including Martyn Harvey, Dan Masters, Greg Myers, Larry Shimp, and Kelly Stevenson. Check out the article contributed by new writer Travis Overby. (Click on the links in it... it won't cost you anything and it will contribute to our operating budget.) I also want to all the folks who've contributed photographs (including especially Ken Hiebert and Jim Miller) and "How It Was Done" write-ups.

I continue to be encouraged by the generosity of readers. Since the last issue, we've been blessed with financial support from the following individuals: Simon Austin, Dave Bash, Jeb Blanchard, K.M. Bok, Dan Burdick, Toby Cairnes, Leslie Caldwell, Brad Chapman, John Crosse, Steve DeGroat, Barrie Egerton, Robert Fair, Rob Ficalora, Carl Floyd, Victor Guerrero, Bruce Harland, Martyn Harvey, Gert de Haas, Jerry Jackman, Bill Jacobson, Chris Jones, Matt Junker, Scott Kitzerow, Dale Knapke, James Koepke, Richard Lilly, Brent Lomnes, Paul MacDonald, Brian MacMillan, Mike Maloney, Dan Masters, Paul Menten, Mikel Moor, Richard Moor, Daniel Root, Jim Stuart, Jerry Tennison, Werner Van Clapdurp, Edd Weninger, Van Wilder, Richard Woodley, and Al Wulf.

Gentlemen, your contributions are being put to good use expanding the depth and breadth of our coverage.


Now More Than Ever: PLEASE THANK OUR VENDOR SPONSORS!
The biggest portion of our operating budget comes from advertisers. Our vendor sponsors are businessmen, and they NEED to KNOW their advertising investments are returning meaningful exposure and good will. They'll believe it when they hear it from customers like you.

Every single one of our sponsors is friendly, knowledgeable, and will help you with anything they can.

Now I've said this before but I'll say it again: to improve the performance of your car, pick up your telephone and start asking BritishV8 sponsors what cool stuff they've got. They're continuously developing and introducing new products. It's remarkable how much of their best stuff is under-advertised. "Click" on their ads. Call them. Ask questions. Here's the contact info you need: BritishV8's Handy Vendor Directory!