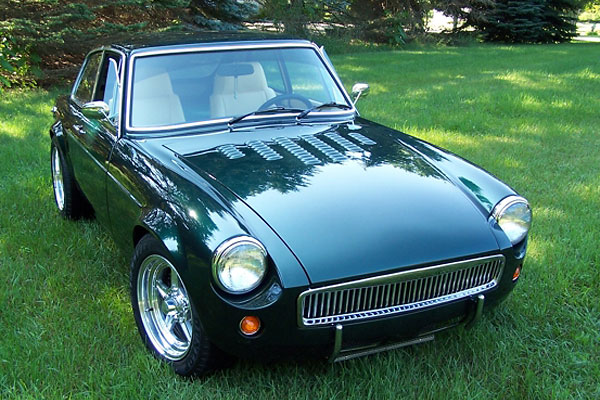 Dan Masters' 1974 MGB-GT with Ford 302 V8, by Fast Cars Inc.
as published in BritishV8 Magazine, Volume XVI Issue 2, October 2008
Owner: Dan Masters
BritishV8 UserID:
danmas
City: Alcoa, TN
Model: 1974 MGB-GT
Engine: Ford 302 V8
Built by:
Fast Cars Inc.
Paint and Body by: Don Marcott
| | |
| --- | --- |
| Engine: | Ford 302 crate motor (M-6007-B51), GT-40 aluminum cylinder heads, Ford hydraulic roller cam (M-6250-E303). Edelbrock Pro-Flo multiport fuel injection, Edelbrock/Magneti Marelli computerized EFI control, Power Master hi-torque starter (9503). Billet Specialties "TruTrac" pulley system. |
| Cooling: | Fast Cars aluminum cross-flow radiator. Flex-a-lite 118 electric fan. |
| Exhaust: | all stainless-steel system featuring Fast Cars block hugger headers, dual chambered mufflers, and a cross-over pipe. |
| Transmission: | Tremec "Super T5", with 0.73:1 fifth gear ratio. Ford MotorSport clutch. Howe hydraulic throw-out bearing. Stock MGB master cylinder. |
| Rear Axle: | Ford 8" with limited slip differential and 3.25:1 final drive ratio. |
| Front Susp.: | Fast Cars IFS. |
| Rear Susp.: | Fast Cars three-link. |
| Brakes: | stock MGB master cylinder. Wilwood discs on all four corners. |
| Wheels/Tires: | Billet Specialties "Street Lite" wheels (15x7 front and 15x8 rear) with Dunlop "G/T Qualifier" tires (195/60 front and 215/60 rear). |
| Electrical: | custom wiring harness featuring Advance Auto-Wire components, 15 relays, and 20 fuses. Classic Instruments gauges. Kenwood stereo receiver. 6.25" round speakers and remote mount CD changer. |
| Body: | All body seams filled. Recessed parking lamps in front from Factory Five Racing (#10621). Side marker and back up lights removed. Gas filler moved to right rear fender. Fenders flared using flares from a Dodge Omni. Underside and interior sprayed with "Lizard Skin" sound and heat insulation. Bumpers removed and replaced with chrome "nerf" bars. Door locks removed. Side chrome strips removed. Front and rear valances modified. Painted with 2003 Toyota Prius "Electric Green Mica" metallic paint. |
| Interior: | Fiero seats with Mr Mike "Italian Style" seat covers in "Lamborghini" (cream) colored leather. Electric seat heaters. Modified Mk1-MGB (steel) dashboard. Flaming River (GM style) tilt steering column. Power windows from Moss motors (#299-000). Power door locks. Cruise control. Air conditioning, featuring Vintage Air "Gen II Mini" under-dash unit. Rear seat removed and rear deck enlarged and flattened. Cherry wood floor hinged in the middle and fitted with custom removeable carpet covering. Big Al's Carponents "Marque" arm rests/door pulls on custom door panels. |
| Performance: | Fast. VERY fast. No hard data yet, but it will definitely pin you back in the seat. Corners like the proverbial slot car. I couldn't believe how well it sticks to the road compared to stock (or anything else I've driven, for that matter). Stops just as well. On its maiden trip from Michigan (650 miles), I got over 25 mpg at 70-80 mph. |
| Completed: | July 2008. (Approximately 1000 miles driven as of August 2008.) |
| Comments: | I waited 52 years to get this, ever since I "discovered" cars at sixteen. Don't wait that long. At 68, it's a little bit harder to get into and out of now, but once behind the wheel it's every bit as much fun as I had ever hoped it would be. |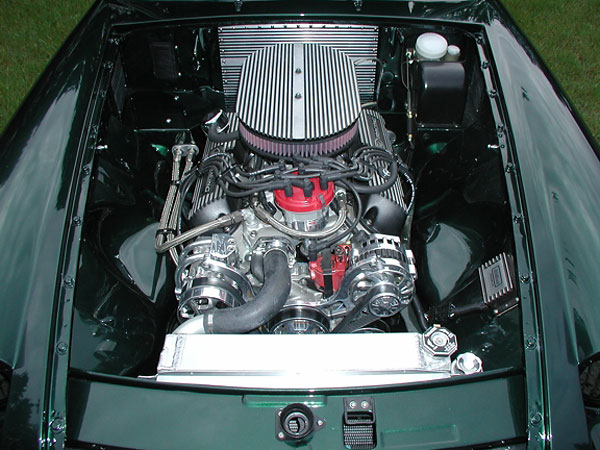 How It Was Done:
Preparing An MGB-GT Bodyshell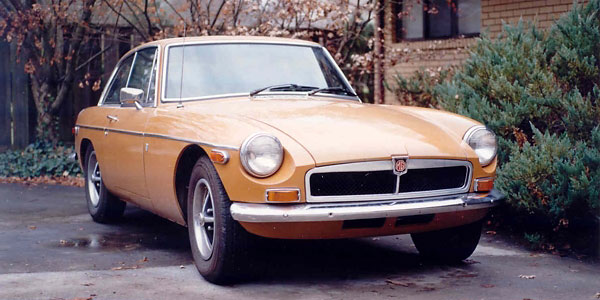 The "Before Picture"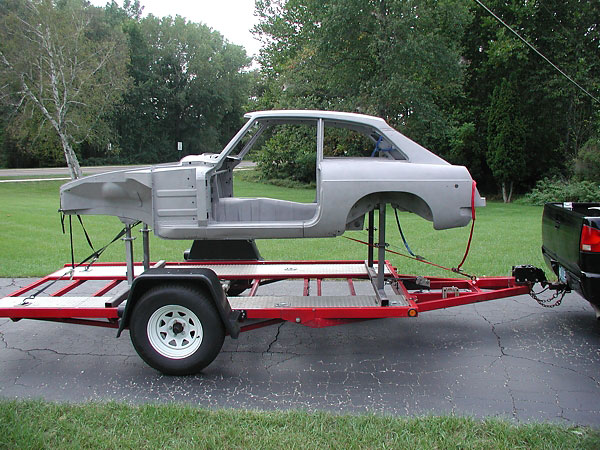 Stripped-down and ready for the process to get started.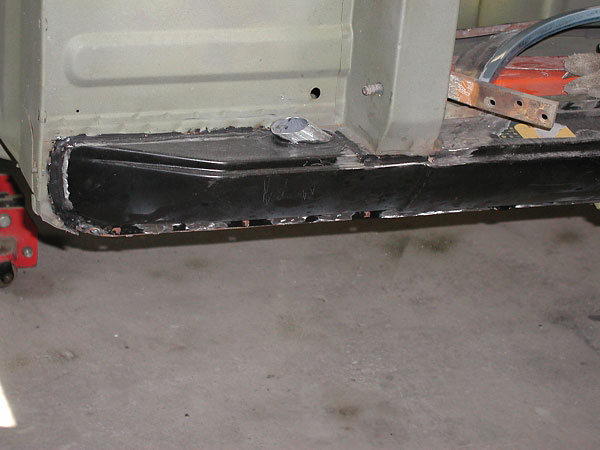 As is typical, various rust repairs were necessary. Wiring routing provisions were added too.

Making Room For a Small Block Ford V8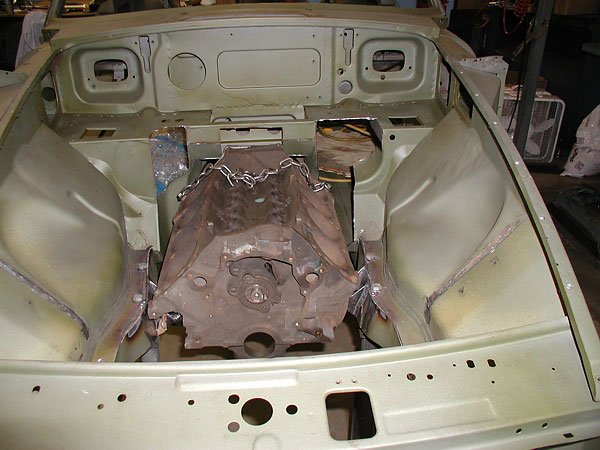 Trial fitting a small block Ford engine block. (Note seam welding forward and aft of new motor mounts.)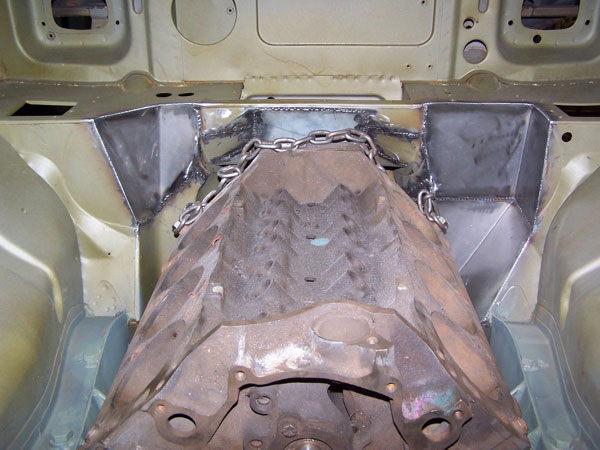 Firewall modifications to accomodate the small block Ford engine.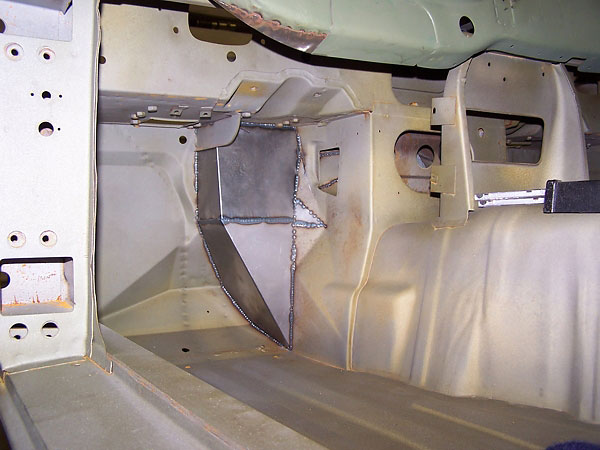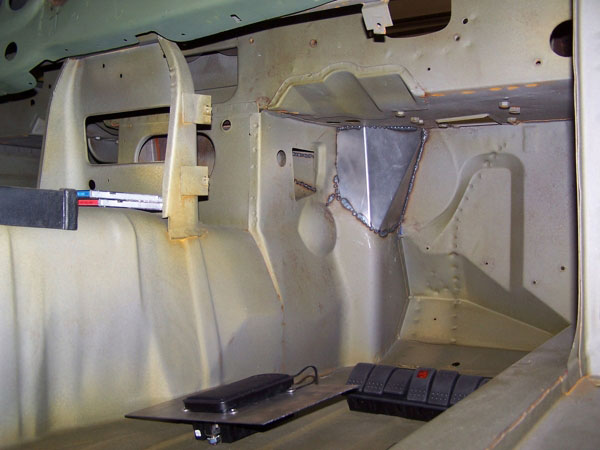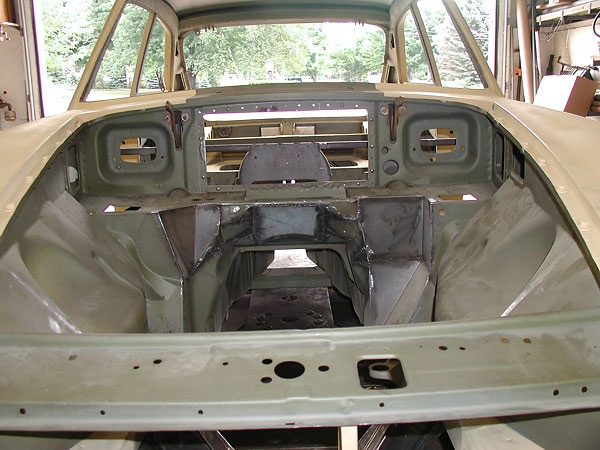 Firewall modifications for the air conditioning system.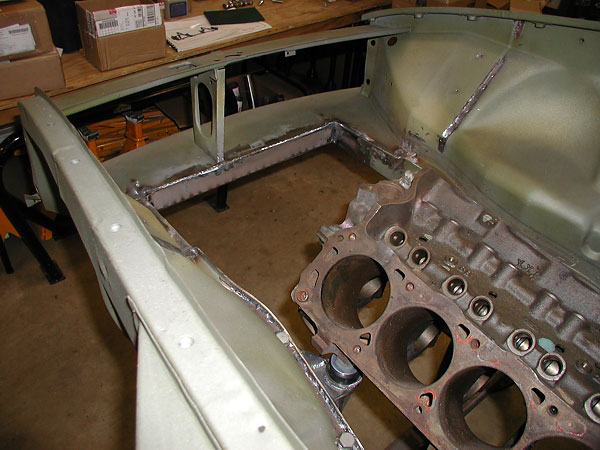 Front shelf modifications for the relocated radiator and A/C condensor.

Developing the Engine Installation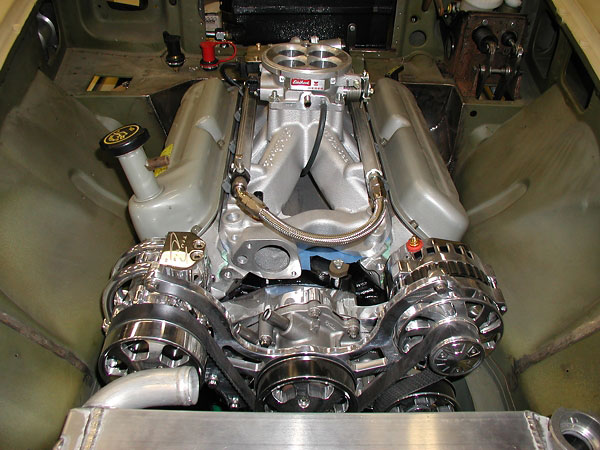 Trial installation of engine driven accessories and their pulley system.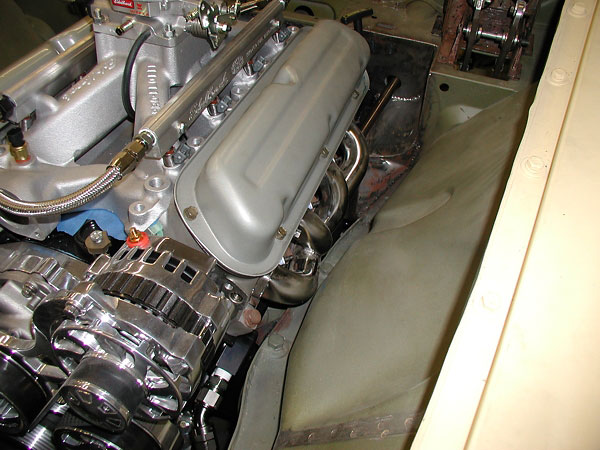 Making sure the exhaust system has sufficient clearance.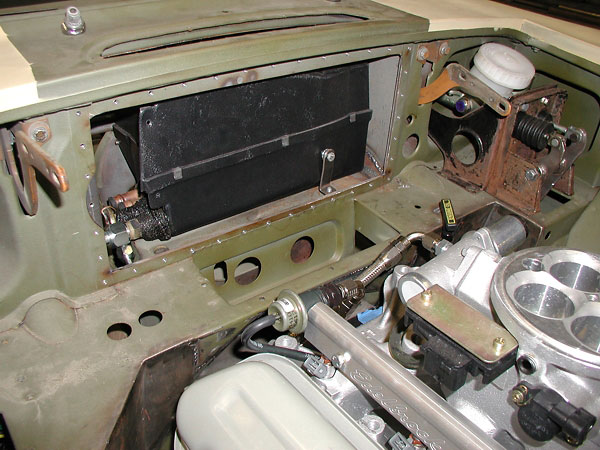 Confirming packaging of the air conditioning system.

Bodywork: Continuing Where Pininfarina Stopped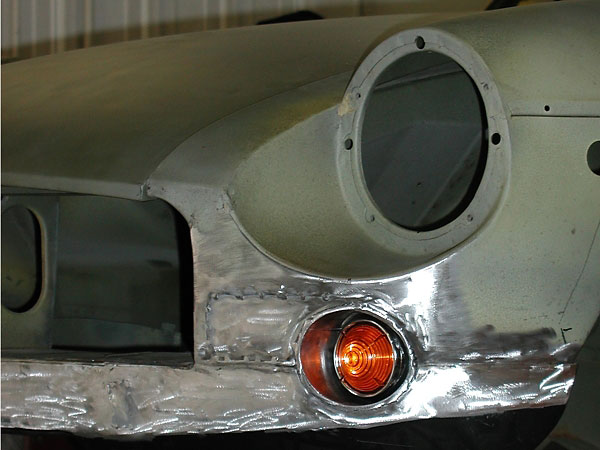 Cobra-style recessed parking lamps (Factory Five Racing part number 10621.)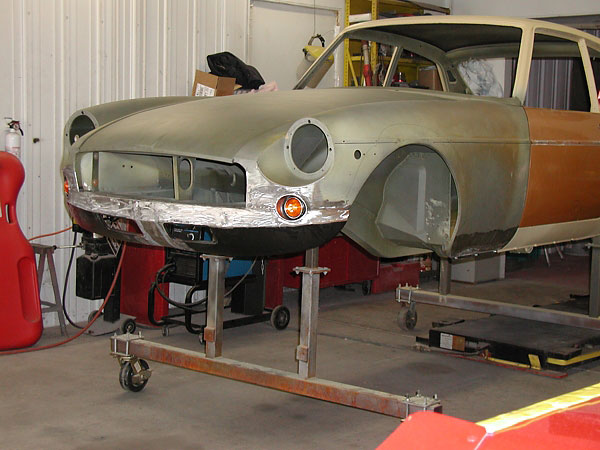 Blended-in steel front valance. (Notice that it's been cut and widened in the middle.)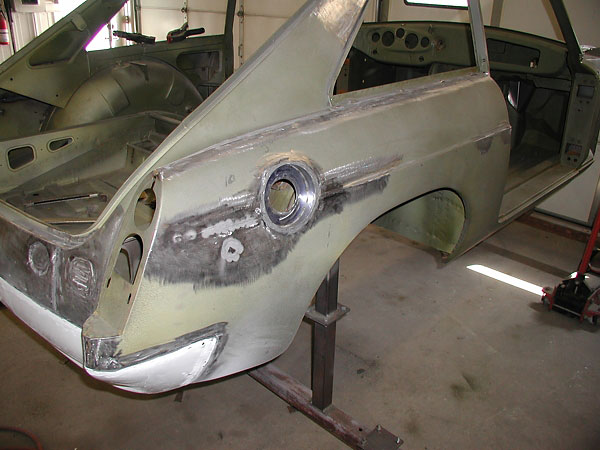 Fuel filler relocated and recessed into quarterpanel.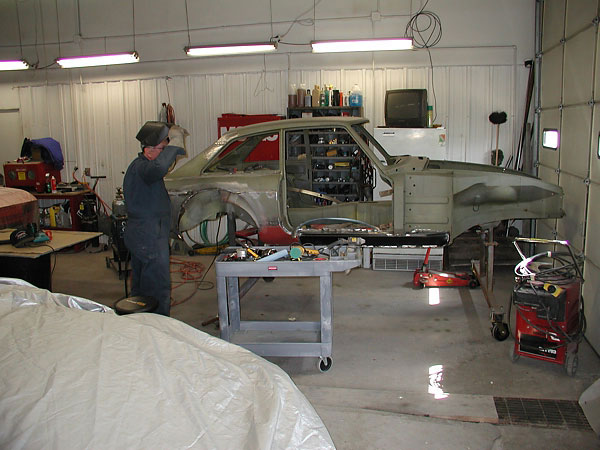 Preparing to install Dodge Omni fender flares at the rear.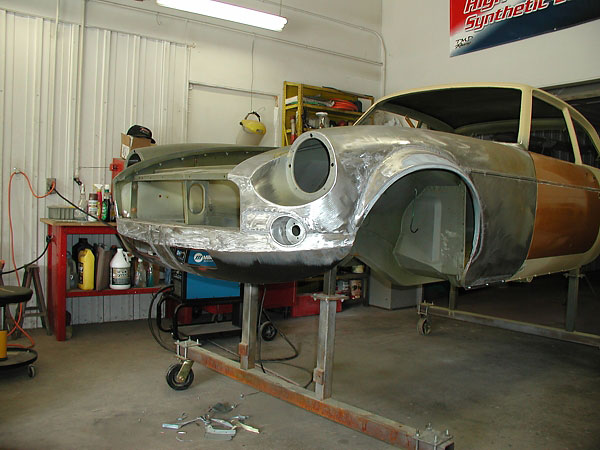 Dodge Omni fender flares at the front.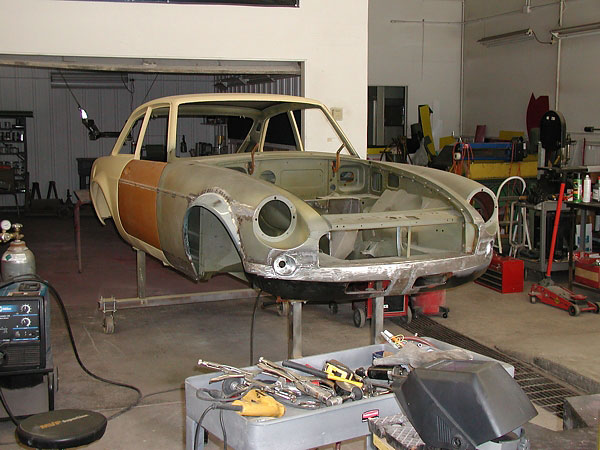 Interestingly, Dodge Omni "front" flares are used in all four corners, but "righthand" flares
are used at the left and "lefthand" flares are used on the right.

Bodyshell Modifications for the Rear Suspension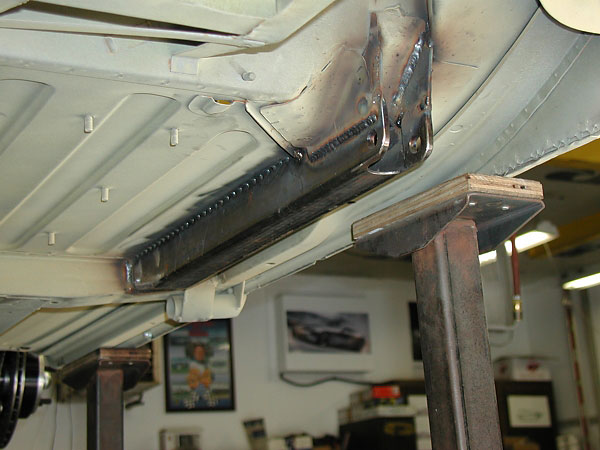 Reinforced rear suspension pick-ups.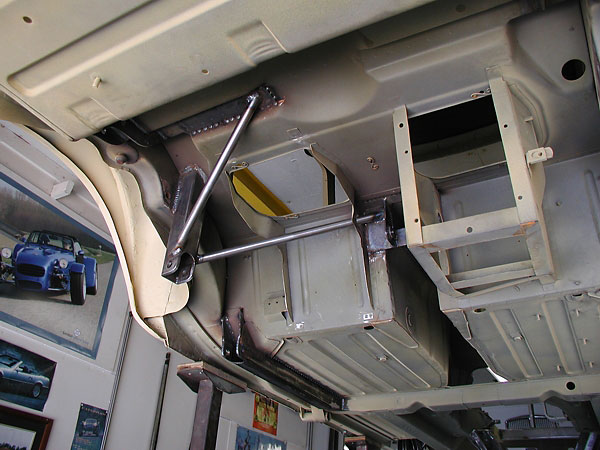 Panhard rod bracket. Note that the driver side battery box has been cut away.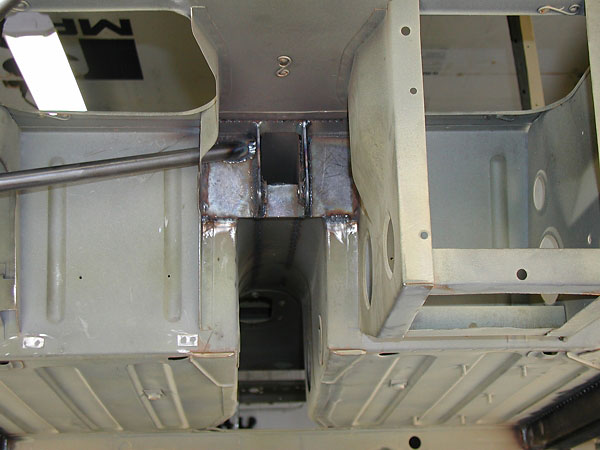 The bracket for the third link of the Fast Cars three-link rear suspension.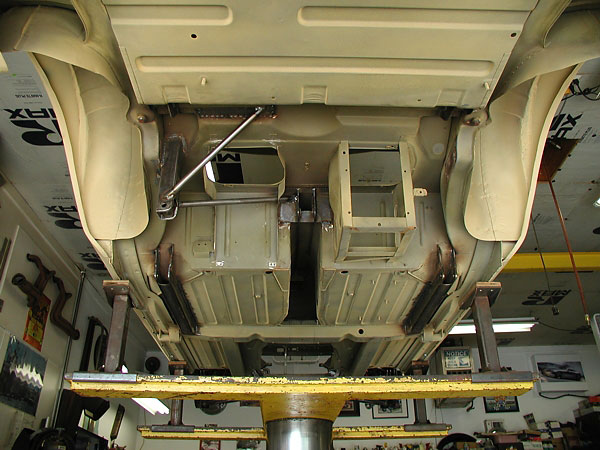 Complete overview of all the bodyshell modifications required for the rear suspension.

Bodyshell Modifications for the Interior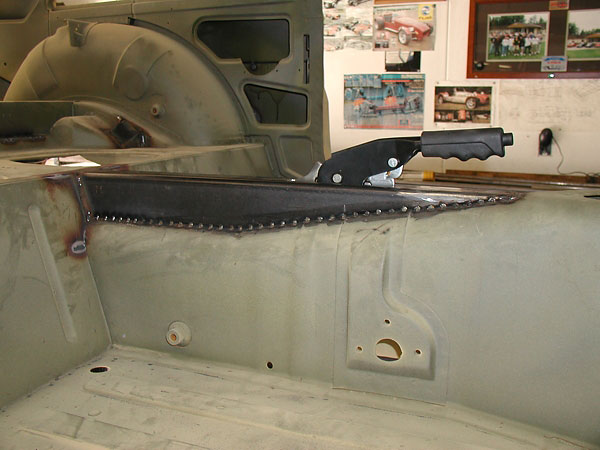 Parking brake lever mounting structure. (Note: this also strengthens the rear suspension mount.)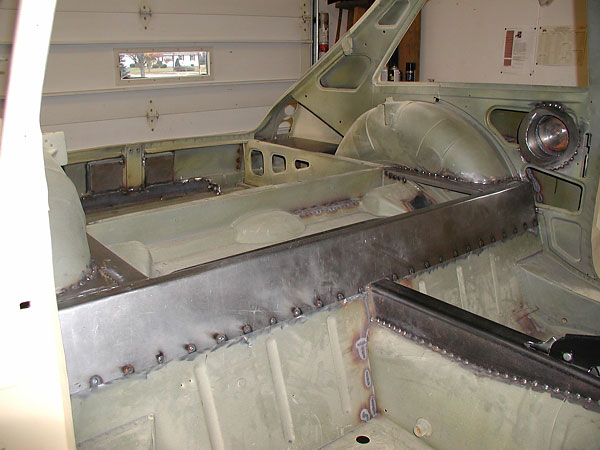 Rear storage compartment (above the battery box). Note also the driver-side speaker mount.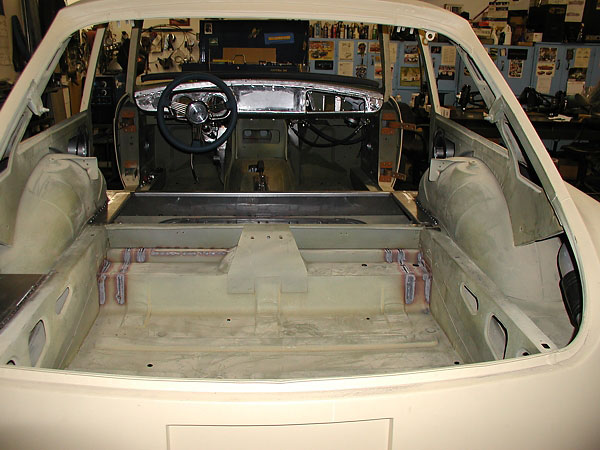 You can see in burned paint where brackets were welded-in for the coilover shocks...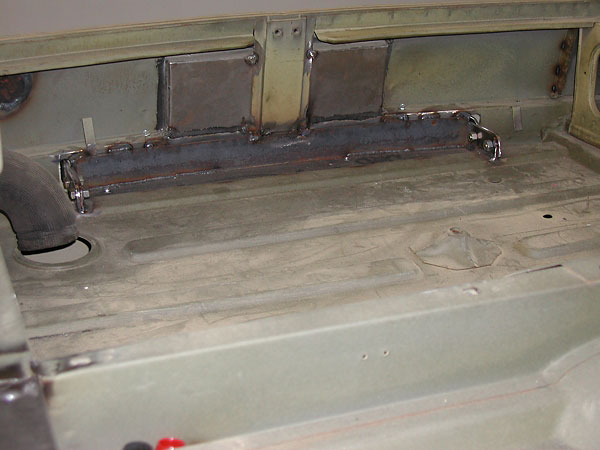 New metal has been added where the frenched-in license plate goes.
Under the license plate, you can see nerf bar attachment details.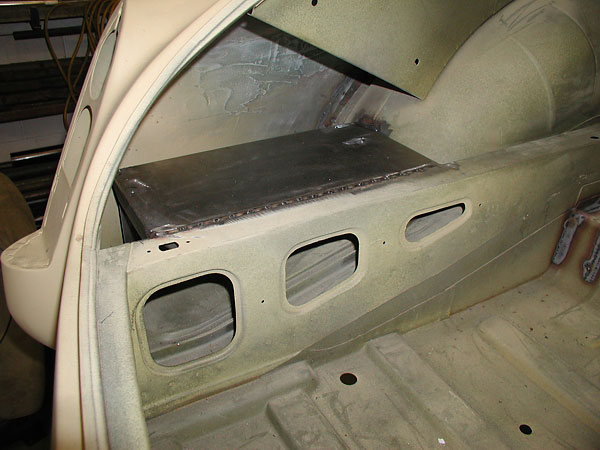 A CD changer will sit on this shelf.

Enjoying this article? Our magazine is funded through the generous support of readers like you!
To contribute to our operating budget, please click here and follow the instructions.
(Suggested contribution is twenty bucks per year. Feel free to give more!)
Suspension and Exhaust Trial Installations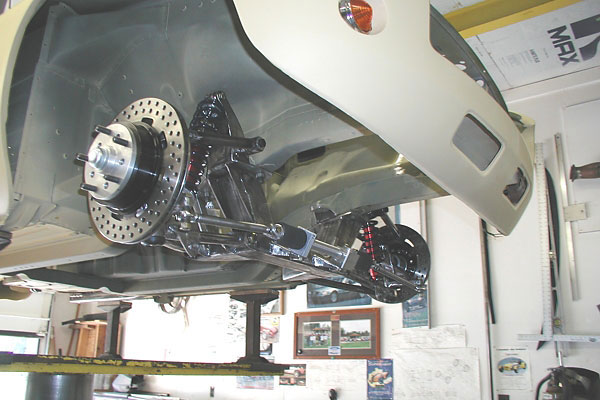 Trial installation of the Fast Cars front suspension.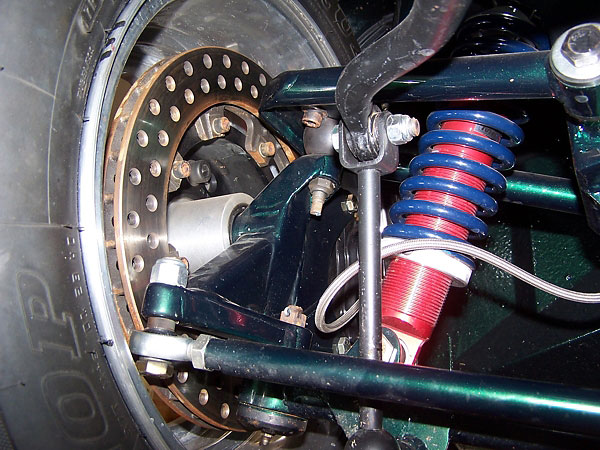 (Skipping ahead for a moment... this is what the front suspension will ultimately look like.)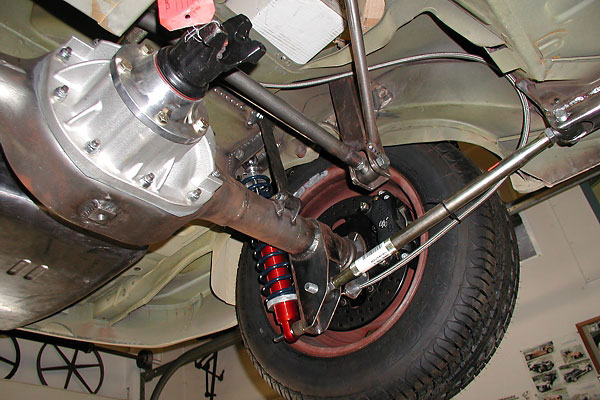 Trial installation of the Fast Cars 3-link rear suspension.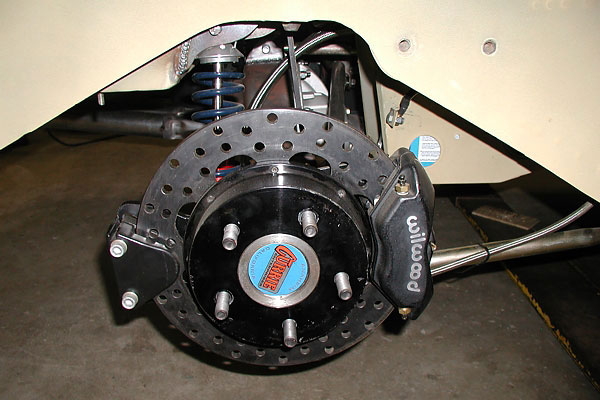 This view shows the Currie/Ford 8" rear axle with Wilwood brakes. (Second caliper is for parking.)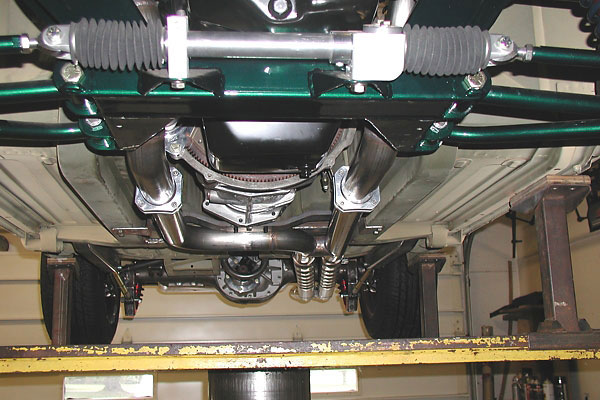 Overview of the custom stainless steel exhaust system, viewed from the front.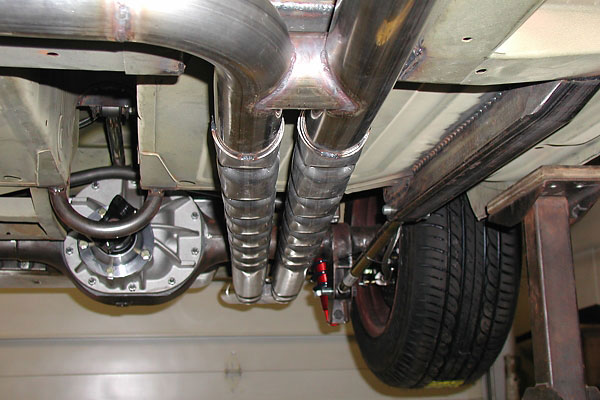 It's a dual exhaust system with a crossover pipe (as shown in the foreground here.)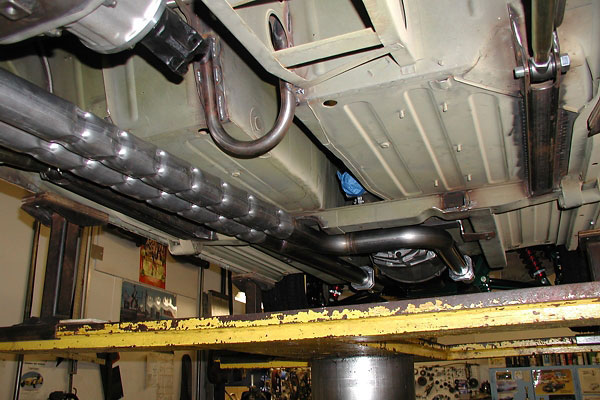 Chambered mufflers provide a throaty growl.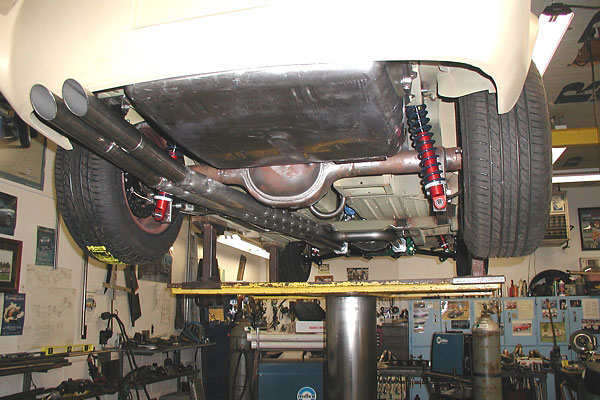 The tailpipes are routed straight across under the rear axle.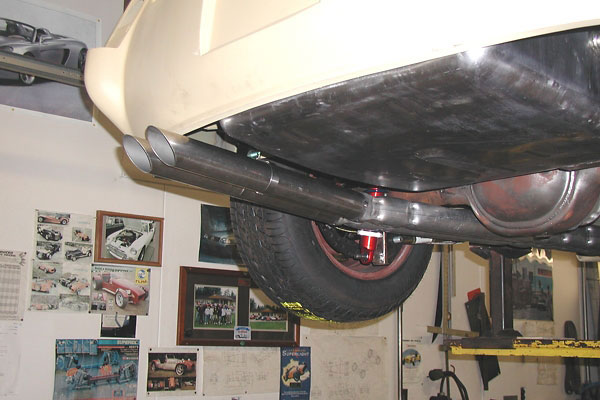 Both tailpipes exit on the driver side, so the fuel tank sits in the stock location.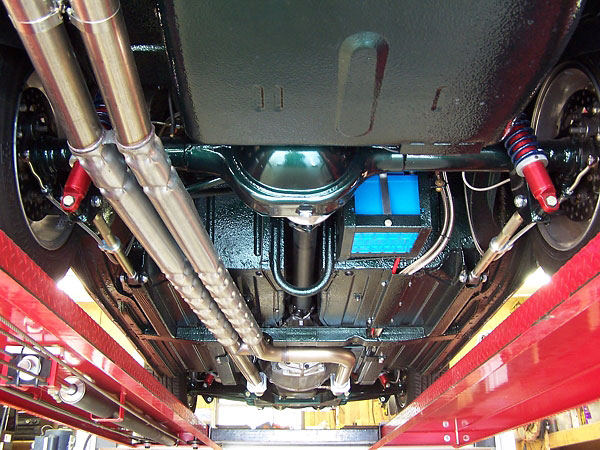 A look at the completed exhaust system...

Electrical Wiring and Dashboard Assembly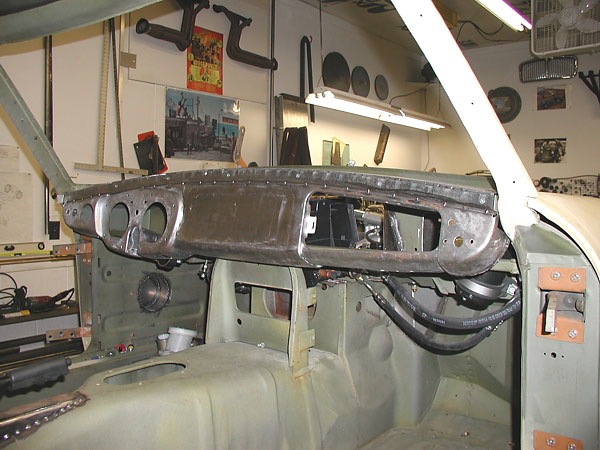 Stripped down, first generation (steel) MGB dashboard.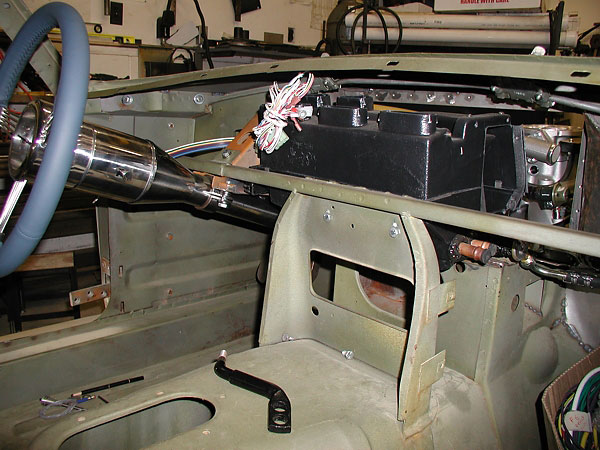 Vintage Air brand Generation II Mini under-dash air conditioning unit.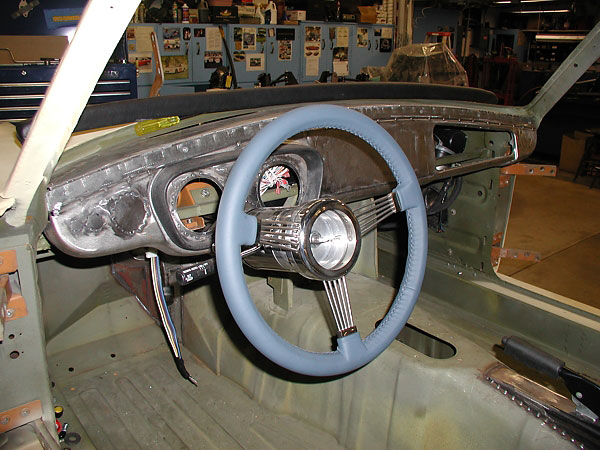 Various holes in the original dash were filled-in to make room for air conditioning vents.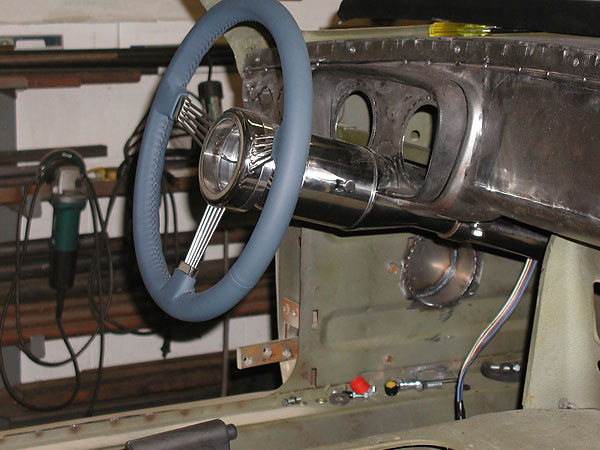 Flaming River brand (GM-style) tilt steering column.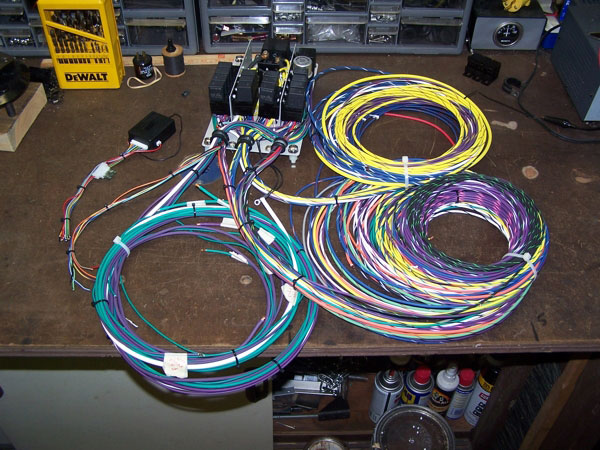 Advance Auto-Wire brand wiring system, with 15 relays and 20 fuses.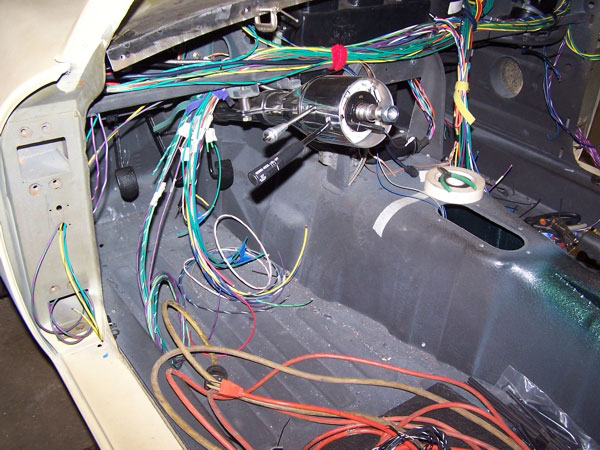 Laying in the Advance Auto-Wire wiring harness...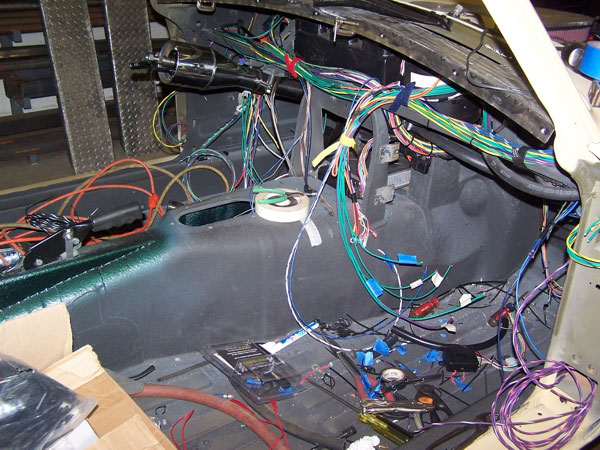 The car's underside and interior were sprayed with "Lizard Skin" sound and heat insulation.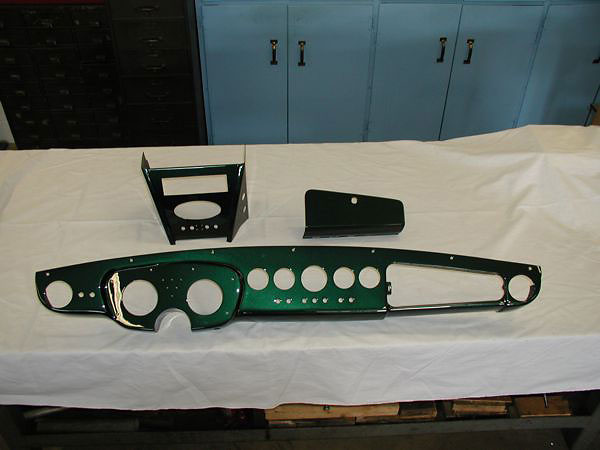 Dashboard and center control console were painted body color.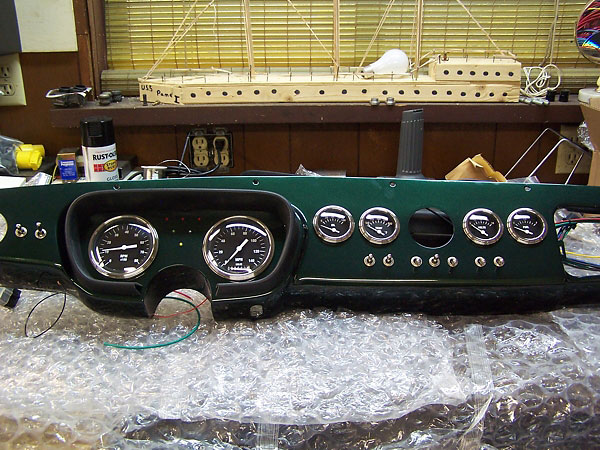 Classic Instruments brand gauges.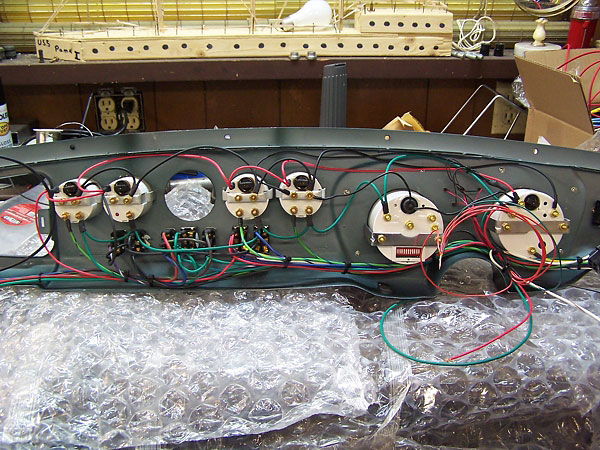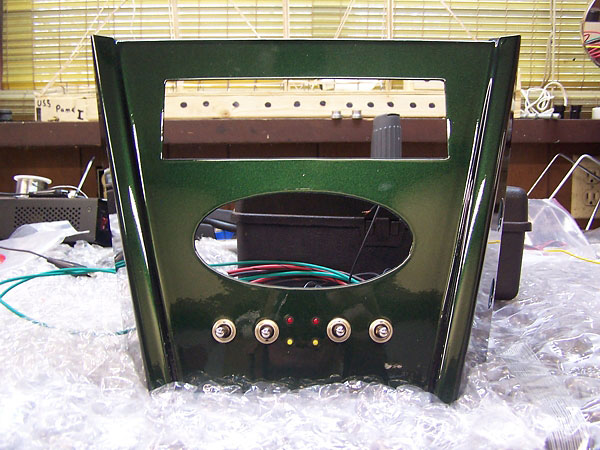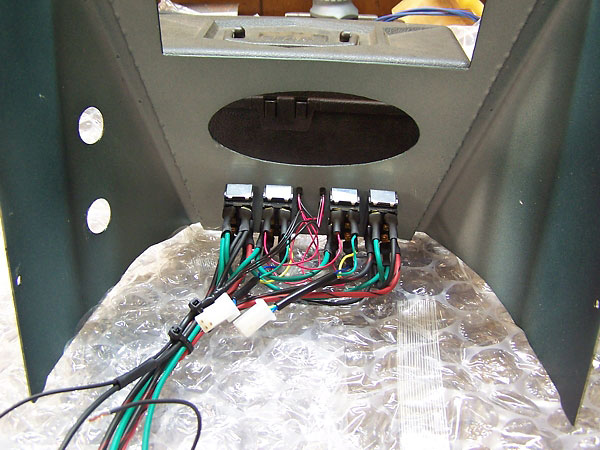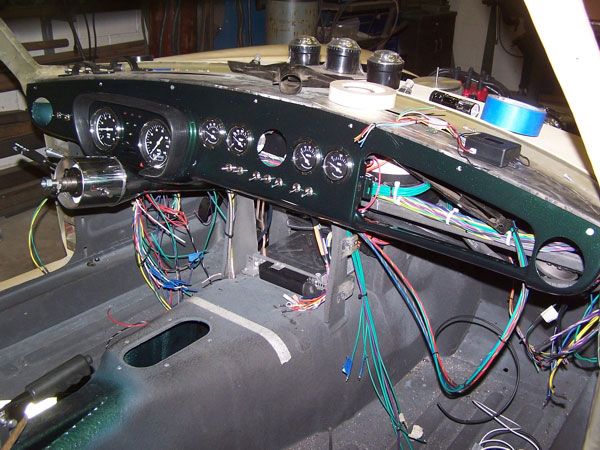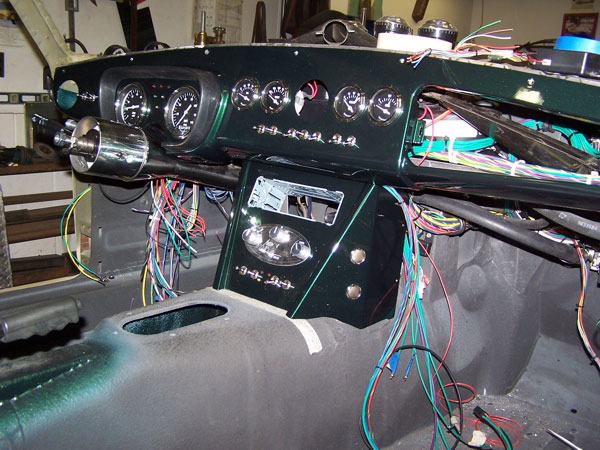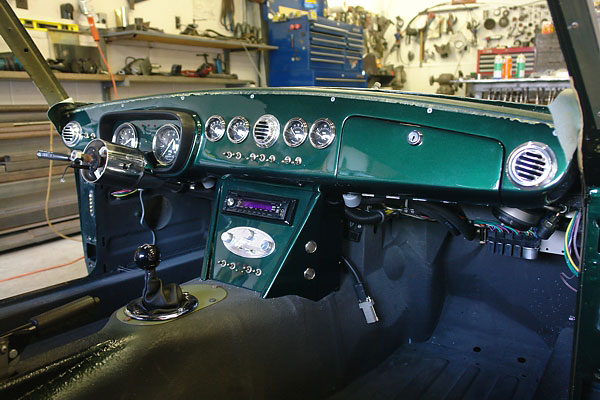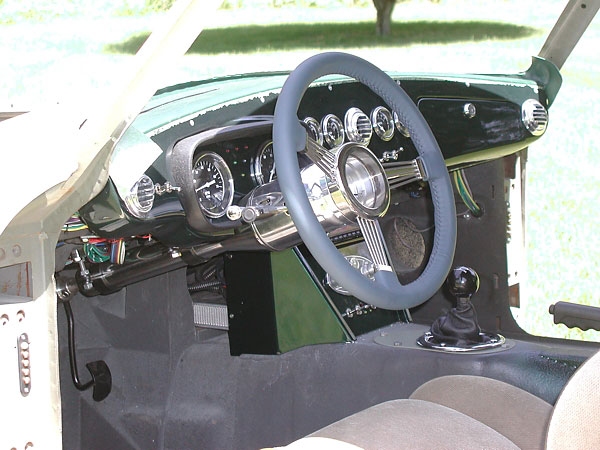 Spring-loaded electrical contacts on the door jams for power windows and door locks.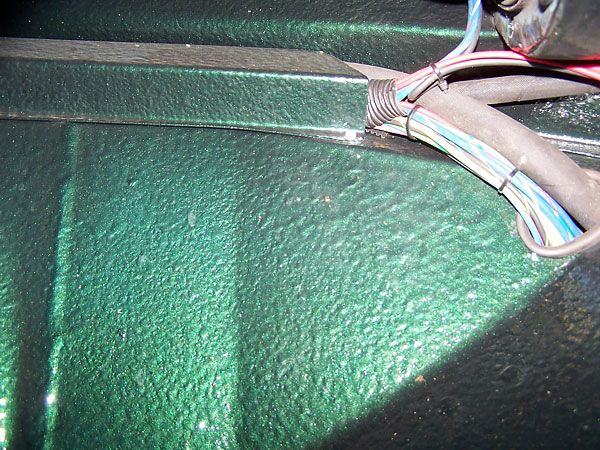 Wiring and air conditioning lines are hidden under the passenger side fender, and this steel cover.

Paint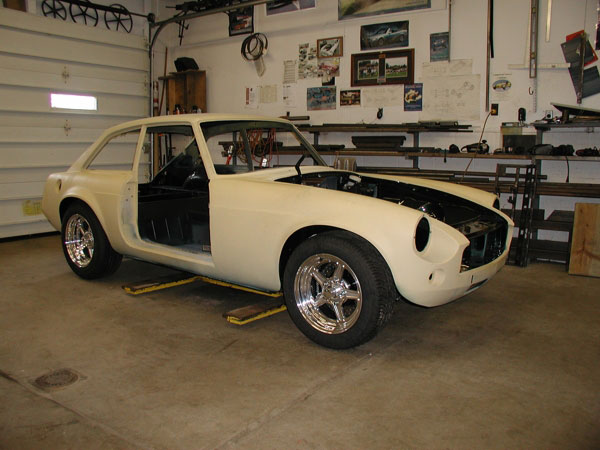 First the inside gets painted...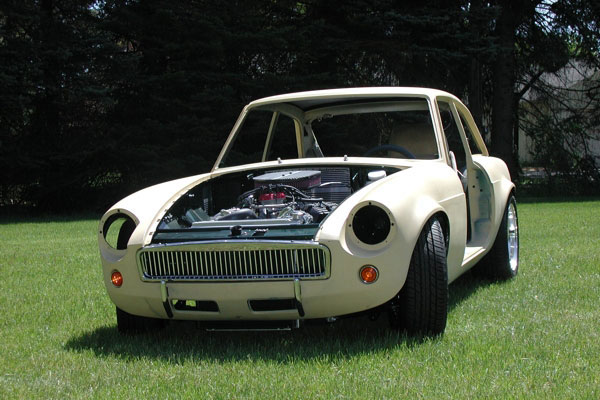 Then the mechanical parts get installed, and exterior parts like the grille get "test fitted".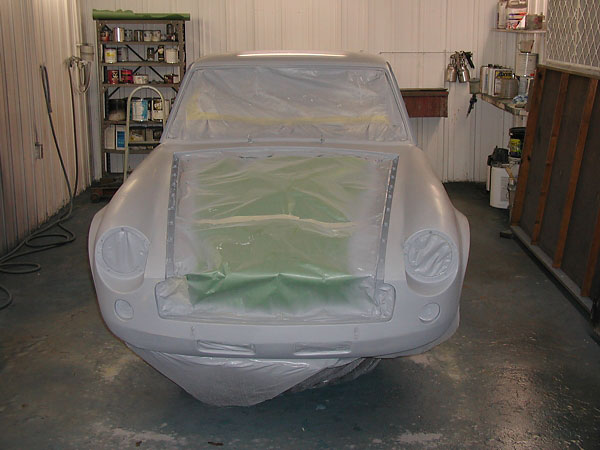 Final painting of the exterior requires a lot of careful masking!

Engine Installation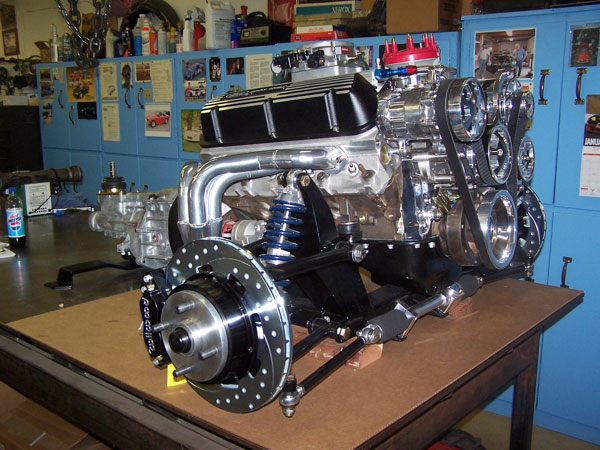 Ford crate engine dressed-up for installation. (These headers weren't ultimately used.)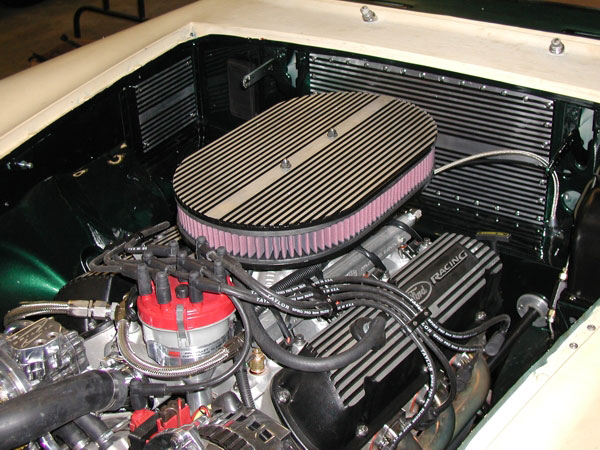 Custom milled aluminum air cleaner top and firewall filler panels.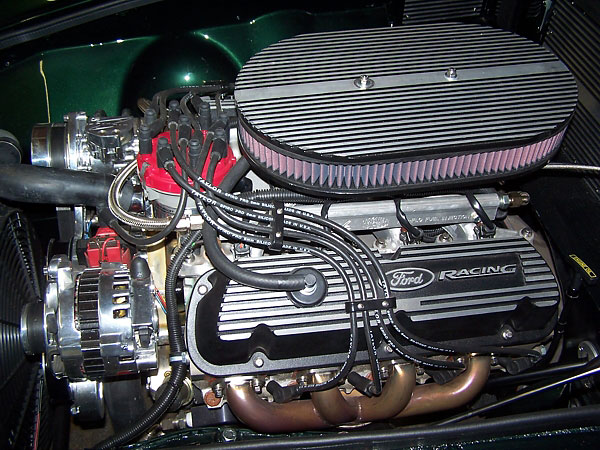 Fast Cars stainless steel block hugger headers.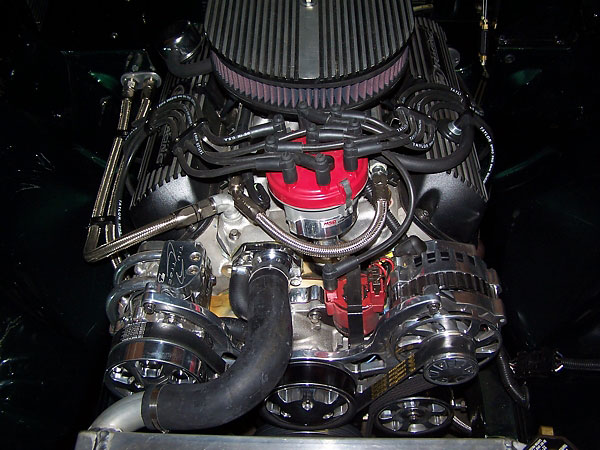 Billet Specialties "Tru Trac" serpentine pulley system.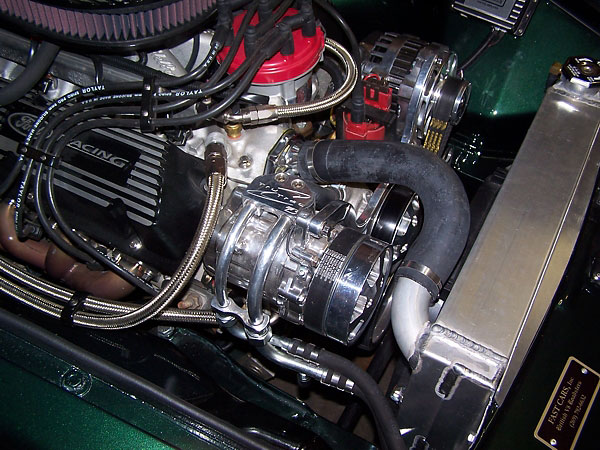 A polished Sanden "SD-7" a/c compressor came with the pulley system.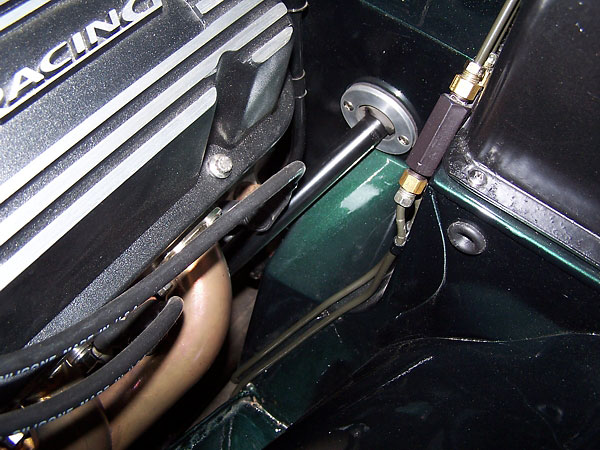 The upper steering universal joint has been relocated out of the engine compartment...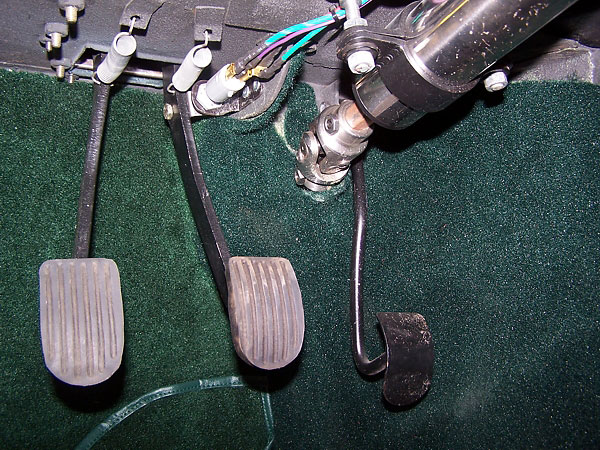 ...and into the foot box area. The brake light switch has also been moved to the clean/dry/cool side.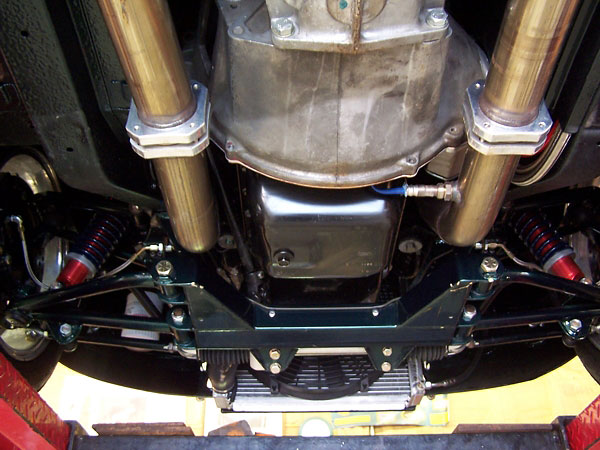 Excellent oil pan clearance is an advantage of the Fast Cars front suspension.
This photo also shows where an oxygen sensor has been mounted on the exhaust.

Interior Trim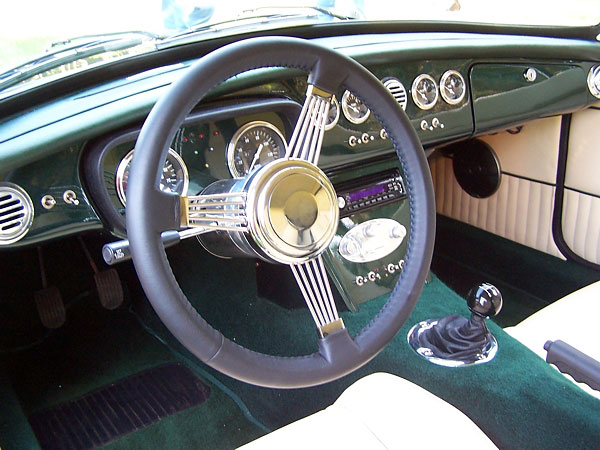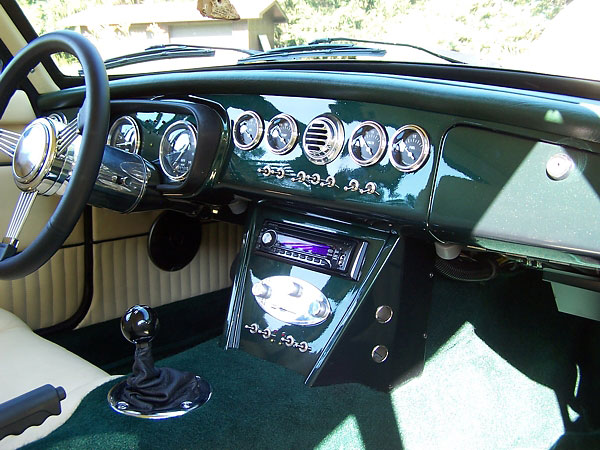 Power windows and power door locks are all controled by dashboard mounted switches.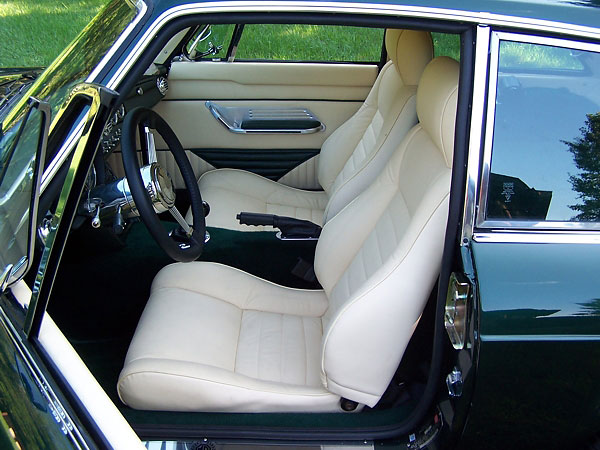 Fiero seats with Mr Mike "Italian Style" seat covers in "Lamborghini" (cream) colored leather.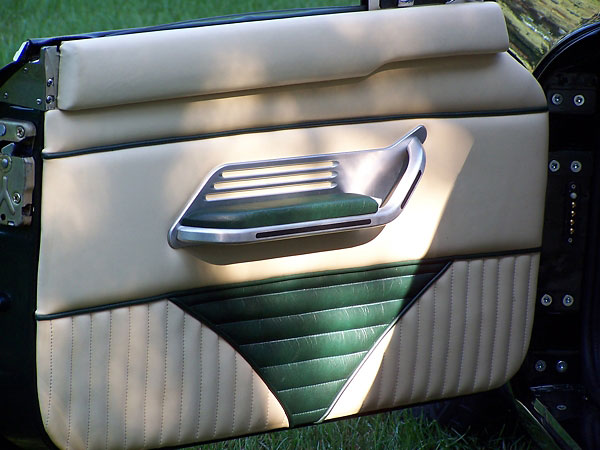 Big Al's Carponents "Marque" arm rests/door pulls on custom door panels.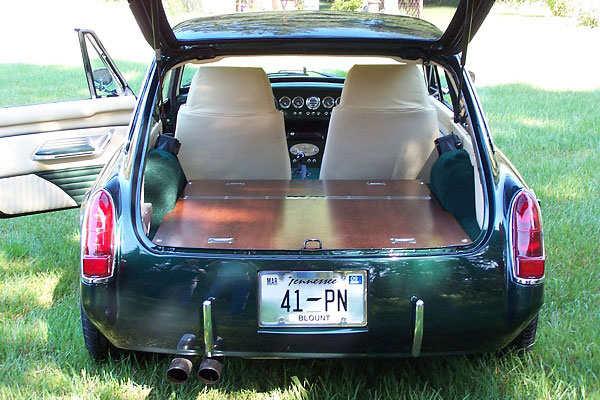 Cherry wood cargo floor is hinged in the middle...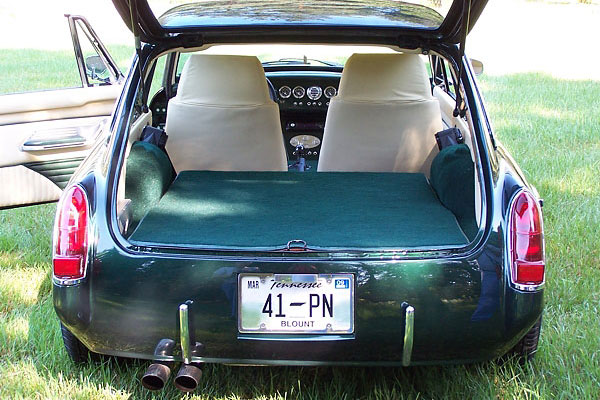 ...and fitted with custom, removeable carpet covering.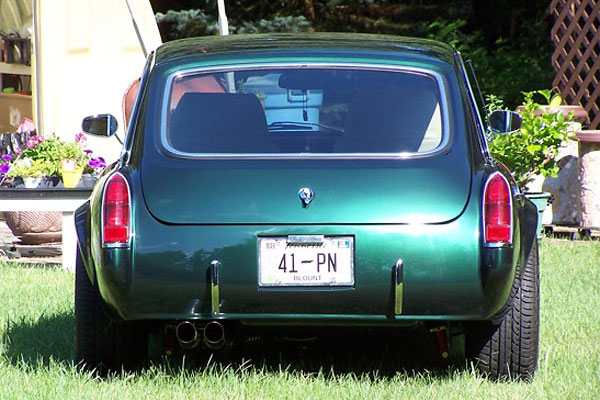 Chrome nerf bars in lieu of bumpers.

Detailed Look at the Cargo Area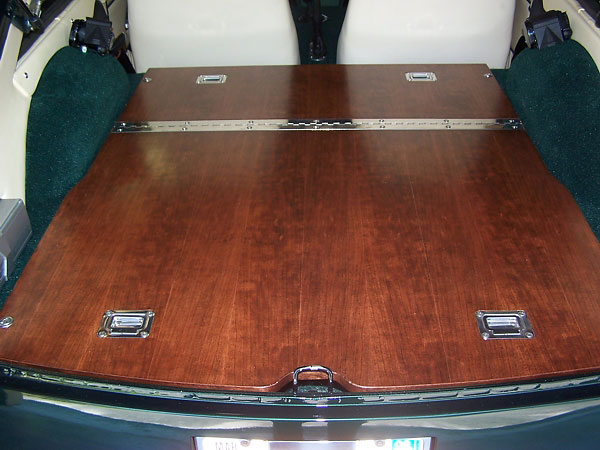 The cherry wood cargo deck is completely removeable, held in place by just four stainless steel pins.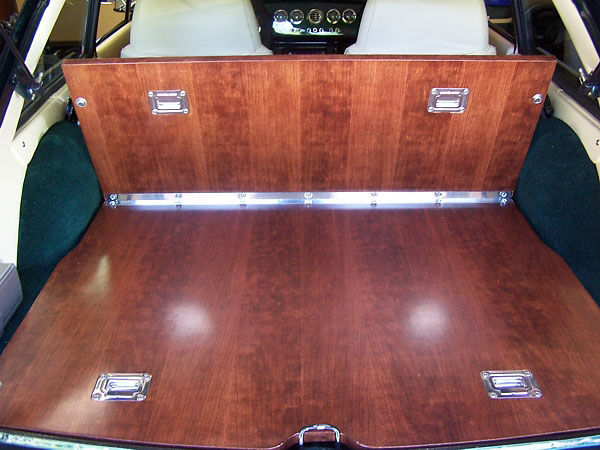 Even without removing the cargo deck, a piano hinge facilitates access to either front or rear compartments.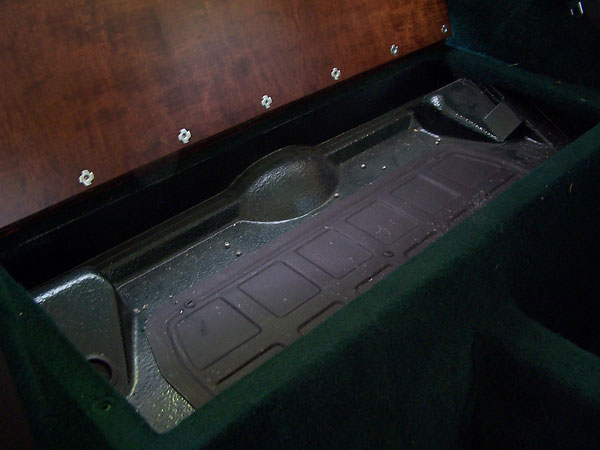 Battery access remains in the usual place, under the new forward storage compartment.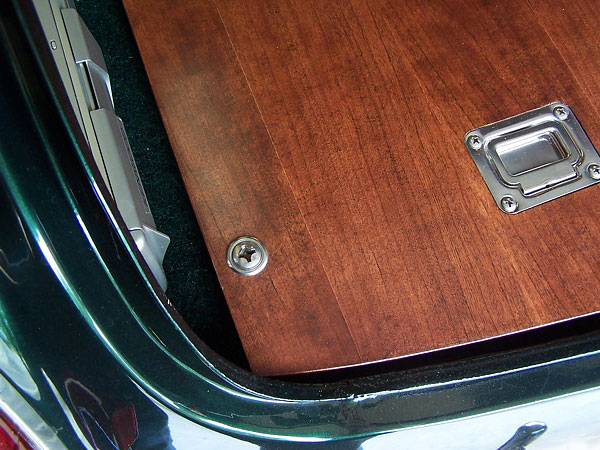 The bottom portion of stainless steel screws have been turned-down to make the pins.
However, their top portion is still threaded to mate with "nut-serts" in the lid.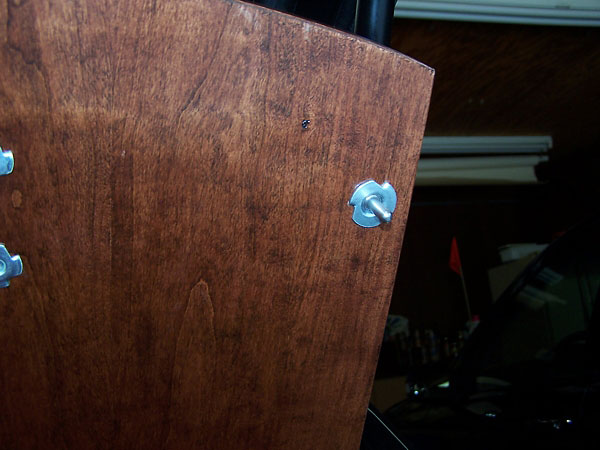 These aren't your usual nut-serts... they're stainless steel instead of zinc-plated.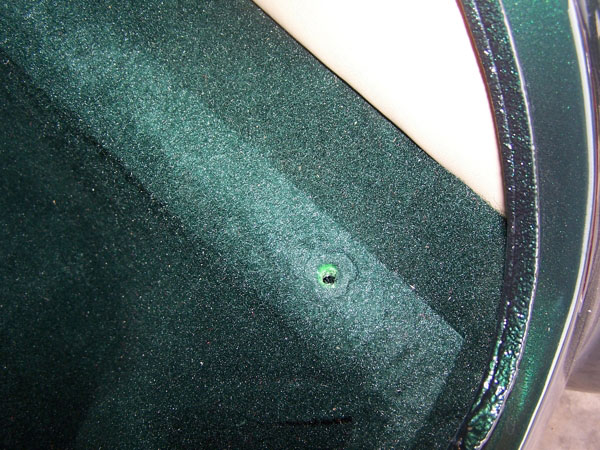 Here's one of the holes the alignment pins plug into.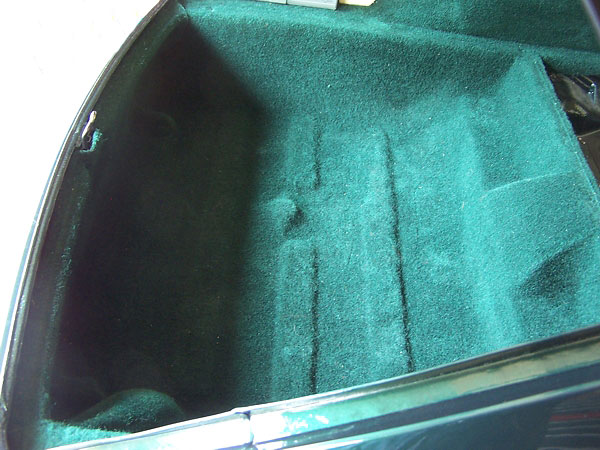 The cargo area underneath is carpeted.


Exterior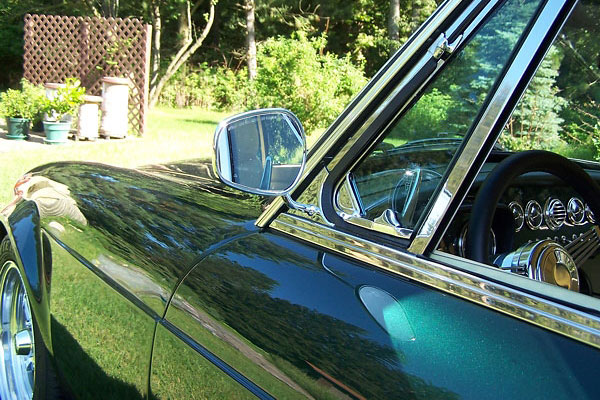 Harley Davidson side view mirrors.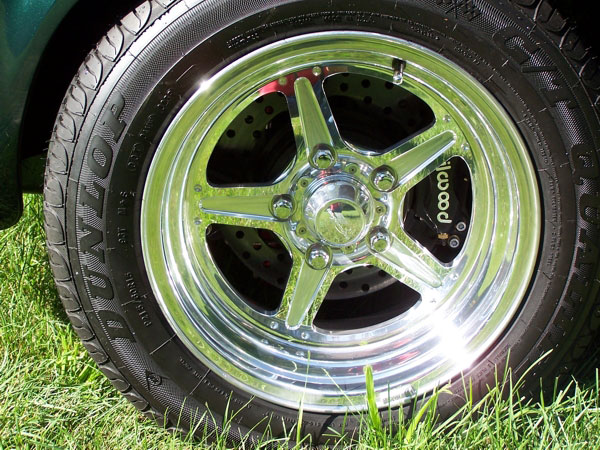 Billet Specialties "Street Lite" wheels (15x7 front and 15x8 rear) with Dunlop "G/T Qualifier" tires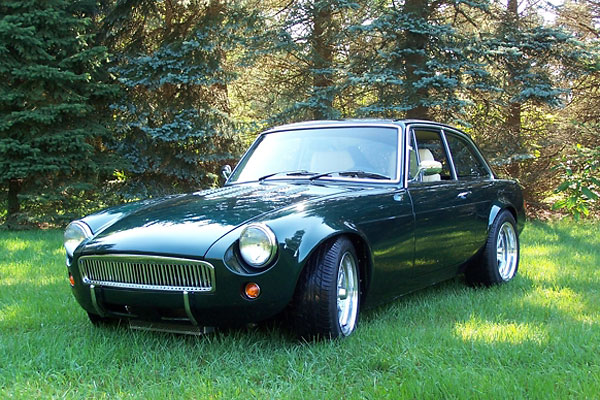 2003 Toyota Prius "Electric Green Mica" metallic paint.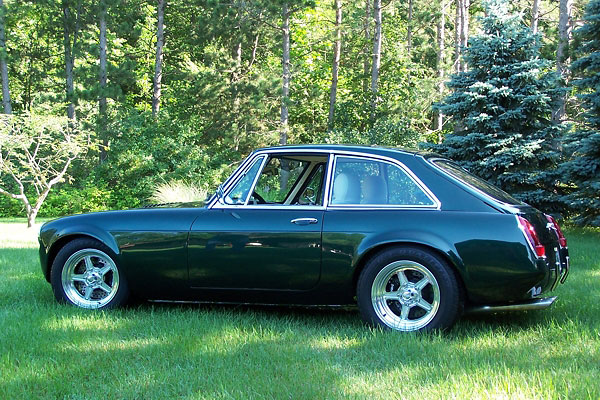 A subtle detail: the keyed exterior door locks have been removed.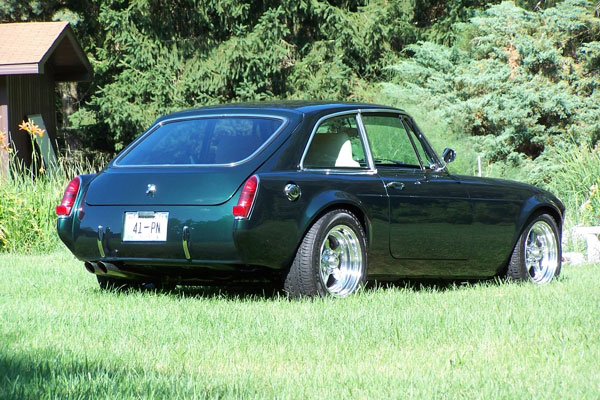 Photos for this article were taken by Dan Masters, Ted Lathrop, and Wayne Edwards respectively.
Copyright: 2008 (text and photos). All rights reserved. Use by written permission only.