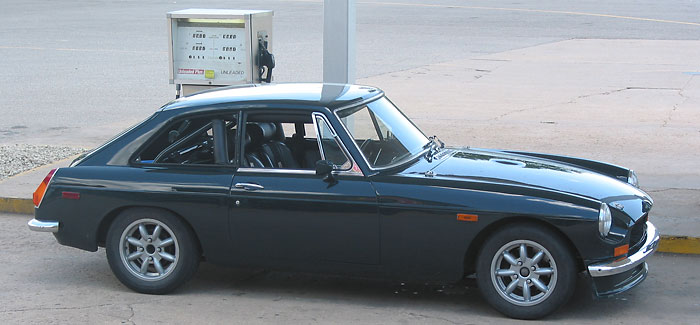 the editor's car
In The Driver's Seat (Volume XV Issue 1, April 2007)
by: Curtis Jacobson
Welcome readers! Welcome car enthusiasts, tinkerers, inventors, and hot-rodders! Whether you're an old-timer around here, or new to our newsletter and our rapidly growing branch of the old car hobby, I'm hopeful and confident you'll find both entertainment and useful information in this publication.
How did you spend your winter? When you weren't turning wrenches, did you catch any good car movies? Several movies I enjoyed this winter seem to echo the content of this newsletter issue.
I don't know if there's ever been a better car movie than "Grand Prix" (1966)! It's especially awesome in the new two-disc DVD special edition. Keep control of the remote so you can freeze-frame on construction details... it's almost as good as actually spending "
A Day At The Races
", as Greg Myer discusses in his column.
Note: "Grand Prix" is a special favorite among our crowd for a couple reasons. MGB V8 pioneer Ken Costello was one of the drivers employed in creating its groundbreaking footage. Also, if the Brabham cars shown in the film were perfectly authentic they'd have our favorite aluminum V8 engine block, the Buick/Olds 215. It won the championship that year.
You should also check out "Le Mans" (1971). I really enjoyed seeing the streamlined endurance racers. While you ponder them, you might find yourself contemplating how you might streamline your own car. We've included a few ideas for you in "
Practical Automotive Aerodynamics for MGB V6 and V8 Builders
".
Are you a fan of "B" movies? Check out Roger Corman's "The Fast and the Furious" (1955)! Okay, the acting and dialogue are just plain bad... but the real stars are the cars. The protagonist is a Jaguar XK120 and the antagonist is a Jowett Jupiter. A Triumph TR2, some Allards, and some MG's appear too. (The movie has lots of little "continuity problems" - it's fun to watch just for that!) This movie also provides a lot of footage of mid-fifties California road racing. The California racing culture inspired a young Tom Schnerk to put a 1949 big block Oldsmobile engine in his 1954 Healey.
Tom Schnerk's "How It Was Done" article
describes the earliest engine swap to appear so far in The British V8 Newsletter. It was completed FIFTY years ago this June!
To survive and thrive another fifty years our hobby needs to be shared with kids. I recently had the pleasure of viewing "Chitty Chitty Bang Bang" (1968). It's aged MUCH better than I expected. For maximum enjoyment, I recommend viewing it with a six year old. The movie starts with surprisingly cool recreated race footage of the 1907 through 1909 Grand Prix seasons! According to the credits, the vintage race cars were provided by The Henry Ford Museum.
Note: Chitty Chitty Bang Bang was written by Ian Fleming (of James Bond fame) for his son. Go figure!
Of course the star and title role of Chitty Chitty Bang Bang is a lovingly rehabilitated old racecar that transforms itself into a speed boat, an airplane, and a helicopter. It also navigates and drives itself. You know what? Given a couple more years I think Jim Blackwood's car may equal these marvels. Like inventor Caractacus Potts, Jim also started with an old race car. You'll want to read "
The Story of One Ultra Radical V8 MGB
" to learn more about the transformation.
Enjoying this article? Our magazine is funded through the generous support of readers like you!
To contribute to our operating budget, please click here and follow the instructions.
(Suggested contribution is twenty bucks per year. Feel free to give more!)
This new issue contains more of everything: more articles, more top-quality color photography, more "shop tech" advice, more writers representing more perspectives, and more of our extremely popular "How It Was Done" articles. We've got an especially broad spectrum of cars this time too, including our very first Lotus, a 9.65 second MGA, a unique V8 Spitfire, and another MGA with suicide doors. In fact, all the cars in this issue are exceptional - don't miss any of them!
The British V8 newsletter and website are a volunteer effort. They represent the work of many people. I want to take a moment to recognize and thank all the folks who've contributed articles, photos, and information. Returning readers will probably recognize some familiar names including Jim Blackwood, Martyn Harvey, Greg Myer, Jeff Schlemmer, and Larry Shimp. I also want to thank brand-new writers Joe Schafer and Bill Young, plus all the folks who've contributed "How It Was Done" write-ups.
Now it's your turn.
Click here to learn how easy it is to submit an article or photos
.
I continue to be amazed by the generosity of readers. Since December we've been blessed with financial support from readers Jeb Blanchard, George Cooper, Steve DeGroat, Paul Fitzpatrick, Herb Gundy, Scott Harris, David Maples, Les Matthews, and Richard Morris. You guys are wonderful! Your contributions will be put to good use, expanding the depth and breadth of our coverage.
Finally, I want to assure everyone that the next issue of The British V8 Newsletter will be even bigger and better than this one. How can I keep promising that? I know people JUST LIKE YOU have valuable ideas to contribute, and I know you're a generous bunch of people. Besides, we're coming up on another annual meet. Don't miss out on the fun - GET INVOLVED!
Very best regards,
Curtis Jacobson
---
Annual British V8 Meets:
NOW is the time for YOU to firm up your plans for attending the 2007 British V8 Meet! Your first two steps are:
(1) pre-register with event organizer Kurt Schley, and
(2) reserve your room at the Days Inn in Willoughby Ohio. (Phone 440-946-0500 and mention "British V8".)
Click here to download the British V8 2007 registration form!
Kurt Schley and his lovely fiancée Sue ( CONGRATULATIONS!!! ) are planning a full schedule:
Wed. Aug. 1st:
Plan to arrive, check-in, pick up registration forms, and socialize.
Thurs. Aug. 2nd:
Kurt has arranged our exclusive use of Nelson Ledges race track and Pete Mantell of Mantell Motorsport will be underwriting the track-time so we can all play for just $75-per-car! (Even if you don't care to drive the track, this will be a fun day for spectators and impromptu pit crews.)
Fri. Aug. 3rd:
We'll be autocrossing in the morning...
Sat. Aug. 4:
We'll be racing high-performance valve covers in the morning and weighing modified cars after lunch.
We'll also have a banquet and auction in the evening.
Of course, one of the great highlights of British V8 Meets is the expert "tech sessions". Kurt has reserved seven hours in the schedule for tech sessions and is recruiting a team of experts to assure they're especially valuable and informative!
So far, at least eight vendors have confirmed plans to participate in the meet. Some will offer discounted merchandise.
Additionally, there'll be a plethora of diverse social activities (for example, a spa outing is being planned by some of the ladies...) There will be vineyard tours and spirited country drives - British V8 meets are great fun for couples! - plus free time is being left for kicking tires and telling stories. Don't forget to bring your camera.
British V8
2008
is also now being planned by volunteers Paul & Mary Schils! The meet is scheduled for July 12-16.
A host hotel has not been named yet, but the event will be held near Elkhart Lake in the beautiful southeastern corner of Wisconsin, near the Road America race track. The "International Vintage Race" will be held immediately after our meet. If you can spare the full week you should certainly plan to stay over. We also anticipate enjoying spirited drives near The Kettle Moraine Glacier Area and a visit to the Experimental Aircraft Association's museum in Oshkosh. I'm looking forward to cheese, beer and bratwurst... and especially a traditional Wisconsin "Fish Boil".
Notice:
ALL
fans of modified British sports cars are welcome and encouraged to participate in our meets. Don't let our old "V8" name discourage you! We're happy that our participants and their cars are increasingly diverse. The meets are especially recommended for people who contemplating, planning, or engaged-in performance modifications of their cars.
---
Nifty New Website Features:
There's now a "Google" search box at the bottom of every page of the website. You can use it to search through almost 400 pages and articles. You can also search the broader internet by selecting "web" instead of "site". We're experimenting with Google-provided ads too. In a nutshell, the way they work is that we only get paid if readers "click" on them. Typically it's only a few pennies per click. If the ads interest you, by all means please click to get more information.
---
Please don't forget to support our advertisers - and thank them for sponsoring this FREE newsletter!
In fact, you should use British V8 sponsoring businesses exclusively whenever possible. These folks are the best.
We welcome sponsors that are new with this issue:
Glen Towery British Cars
24 years of engine conversion experience. Complete line of MGB-V8 components.
The Motorway Ltd., Fort Collins CO
restoration, customization, race preparation and performance.
The Sports Car Shop, Eugene OR
sales, service & restoration of fine British enthusiast automobiles.

And familiar companies that have renewed and increased their sponsorship:
Advanced Distributors, LLC
distributor rebuilding and re-curving for all vehicles.
All British Car Repair
MGA and MGB V8 conversions. Quality restorations and repairs.
Classic Conversions Engineering
MGB V6 specialists, including kits, plus MGB chassis upgrades.
Fast Cars Inc.
British sports car chassis and handling. Conversions, modifications and brakes.
Mantell Motorsport
Ford V8 engine conversions for MGB, plus powder coating.
Pieces of Eight!
struts to hold open the bonnet and the boot lid or GT hatch of your MGB.
Roadtronics Automotive Technologies Co.
(aka: "RATCO") Triumph frames & performance chassis upgrades.
Reborn Company LLC
Rover engine specialists. MGB V8 conversions and big brake kits.
Richland Motor Cars
turn-key aluminum V8 motor cars. Custom interior and electrical.

A complete list of sponsors can be found here: SPONSOR DIRECTORY
Are you in the British sports car performance trade? If so, you should be supporting the newsletter too!