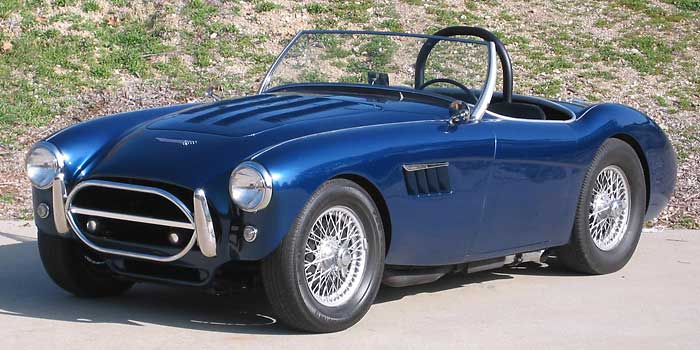 Tom Schnerk's Big Block Oldsmobile Powered 1954 Austin Healey 100
as published in British V8 Newsletter, Volume XV Issue 1, April 2007
Owner: Tom Schnerk
Contact:
wschnerk (at) impulse.net
City: Santa Ynez, CA
Model: 1954 Austin Healey 100
Engine: 1959 394/418ci Big Block Olds Rocket
Conversion performed by: Owner
Notice:
Golden Anniversary! This well-engineered conversion was originally completed in June 1957.

Engine:
1959 Big Block Olds "Rocket" V8 (394 cubic inch, bored to 418cid), 11:1cr, 2.1" intake valves. Polished chambers, and slight porting.

Cam:
Dempsy Wilson solid lifter, 274 degree (adv), 0.490" lift at valves.

Induction:
Holley 750cfm four-barrel on stock cast-iron intake manifold.

Ignition:
MSD electronic.

Exhaust:
3 inch pipes into tiny Spintech mufflers, with outlet ahead of the rear wheels.

Cooling:
1954 Chrysler Imperial radiator. 16" electric fan (pushing).

Transmission:
1937 3spd La Salle toploader (1:1 high). 11 inch clutch with 2300lb pressure plate.
13" driveshaft (half Cadillac, half Chevy, with Cadillac U-joints).

Rear End:
Narrowed '56 Chevy, 3.54:1, '57 Positraction.

Front Suspension:
Stock double A-arm with added telescoping shocks.

Rear Suspension:
Stock leaf springs, Panhard rod, rearward traction arms.

Wheels:
Original (but reinforced) 15" 48-spoke knock-offs, 70 series tires (205 front, 225 rear).

Brakes:
Stock drums all around. Porterfield carbon Kevlar front shoes.

Curb weight:
2486 lbs (Full 12 gallon fuel tank. No driver.)

Instruments:
Stock oil/water, fuel, front-wheel timer/speedometer. Auto Gage tachometer.

Performance:
Quarter mile at 118mph in 13.1 seconds on street tires.
0 to 30mph in 1.4 seconds. 0 to 60mph in 3.8 seconds.

Date Completed:

Engine installed in 1957. Body mods in 1964. Restored in 2000.


Comments :
This car was probably the first big-block V8 Healey ever constructed!

The original engine swap was completed in early 1957 with a 1949 303cid (bored to 348cid) big-block Oldsmobile engine. The present 1959 Oldsmobile engine is nominally a 394cid, but it was bored to 418cid. It was installed in 1964. The oval nose extension and all other body modifications were also performed in 1964.

My advice is to get the biggest engine available and mount it back as far as possible. A stock 1954 Healey has a curb weight of 2300# with 50/50 front-to-rear weight distribution. My car, with its big-block Olds engine has a curb weight of 2486#, with 47/53 front-to-rear weight distribution. The engine setback is 23.3 percent. (In other words, the engine's number 1 spark plug is 21" back along the car's 90" wheelbase.)

Don't be intimidated. Everything is learned by doing, and by fixing things when they break. Make things as light as possible, then strengthen them slightly when they break.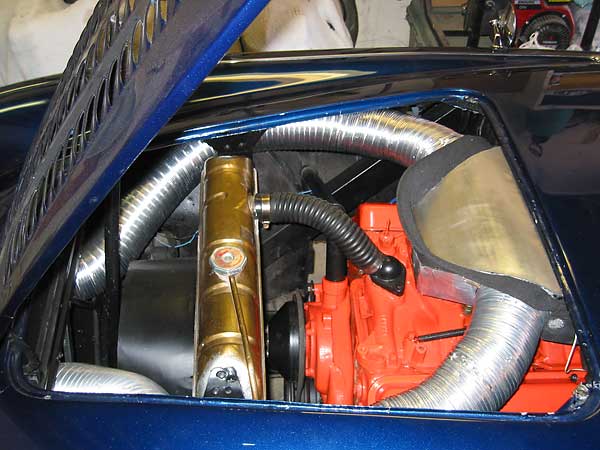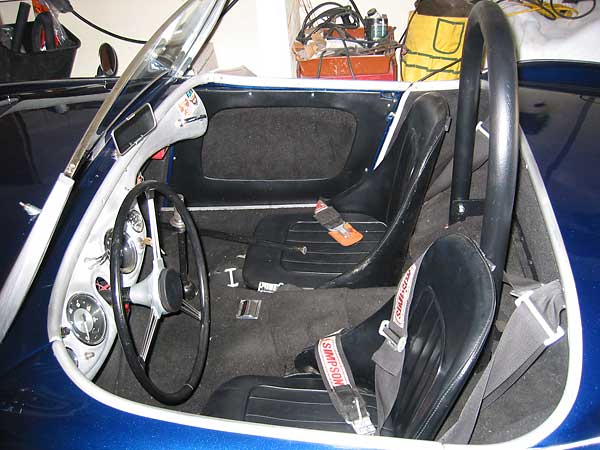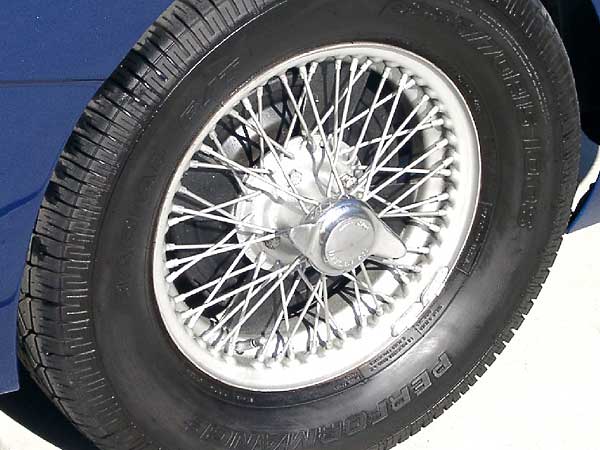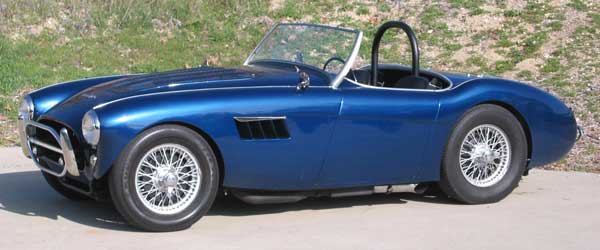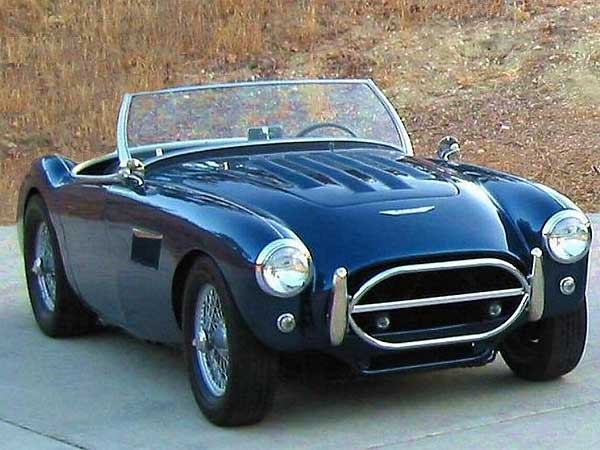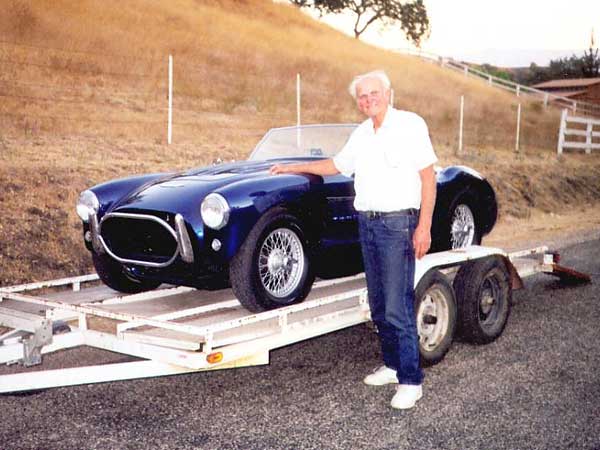 2002: moving to Santa Ynez from Palos Verdes, CA

The Fifty Year History of Tom Schnerk's Olds-Healey

In 1954, at the age of 19, I installed an original 303/348ci 1949 Olds Rocket in a 1949 Plymouth fast-back business coupe with a 1937 La Salle three-speed top-loader. This was the hot street sleeper, even against the '55, '56, '57 Chevys and Buick Centurys.

In early late 1956 I bought a 1954 Austin Healey 100-4. I liked the car, but after the Olds Plymouth it was a zero performer. Three months later at 22, I pulled the monstrous Olds/La Salle combo out of the Plymouth and jammed it into the cute little British roadster.

I did this conversion entirely by myself in a garage I shared with four Small Block Chevy (SBC) guys who were sure I was crazy to do such a stupid thing as putting an obsolete eight year old 700+ pound engine and twenty year old, obsolete three-speed in a new three year old 2100 pound British roadster. Of course I would have preferred a 500 pound SBC with the latest four-speed but none of these guys (or anyone else) would sell me one reasonably, they wanted them for themselves. In retrospect, the unavailability of small block V8s was pure serendipity. It forced me to go big block which made the Olds Healey truly unique in 1957 and still unique in 2007. I've never regretted that decision for even an instant.

The Olds engine/tranny weighed 120 pounds more than the stock Healey. The narrowed Chevy rear axle added another 60 pounds, but was all in back so it lessened the required setback. This meant the Olds would have to be moved back from the Healey engine location some 15 inches to obtain the desired 47/53 weight distribution. Since the Olds and Healey engines were roughly the same length, almost half the Olds would be under the cowling!


Approximately five months after I started I completed probably the first big block V8 Healey which still remains the only big block Olds Healey. Curb weight of this Olds Healey is 2486 pounds with a full tank, only 186 pounds greater than stock and all of that was on the rear wheels. Apart from the dual side-pipes, the car had ordinary G670X15 rear tires and looked perfectly stock and innocent. I had lots of fun at night going off with everything on the street, local unfinished freeways and other long, straight deserted back roads. Could this car be the ultimate sport car street-sleeper? It certainly had torque and stealth.

I drove the Olds Healey as a go-to-work streeter until 1964, when I got wined-up one evening and ran into a the rear of a big ol' sedan. No damage to the sedan but I folded the Healey's fragile bumper, grill and aluminum shroud sheet metal. After I got estimates for parts and labor to fix it, I conceived a truly outrageous project. I would rebuild the Olds Healey's nose to resemble a Cobra! I also replaced the engine with a '59 394/418 Olds to make it perform like a Cobra. I lost interest in the car about 1967 and assigned it to retirement alongside the garage.

In 1999 I pulled the 45 year old heap from its 32 year grave and started a "Period Restoration". With the V8 engine and body alterations I decided to restore it to its 1964 configuration, complete with 40 year old engine and 63 year old transmission. I would retain the original '54 Healey knockoff wire wheels and tall 70 series tires all around. I also decided that in no way would I flare the fenders for wide tires, and I would always run full bumpers on the street. I installed new Cobra replica bumper "ovals and overrides", front and rear. I had the car painted 1974 Corvette "Targa Blue Metallic" and I upholstered it in black vinyl and black cut-pile carpet. The only improvements I am considering are installation of my dual-quad intake with 600cfm Holleys and a more radical solid cam.

And so it is today. I respect the car as a piece of early Healey history and just make it run well. At my age, I'm not interested in starting another elaborate car project - I'll just maintain what I've got!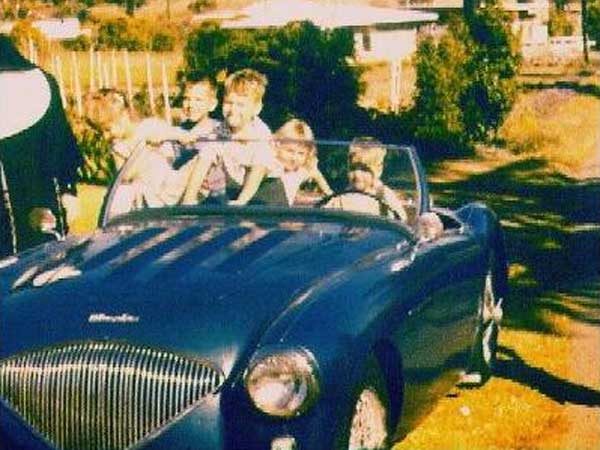 1957: After V8 install, but before the body mods of 1964. (Note the original grille).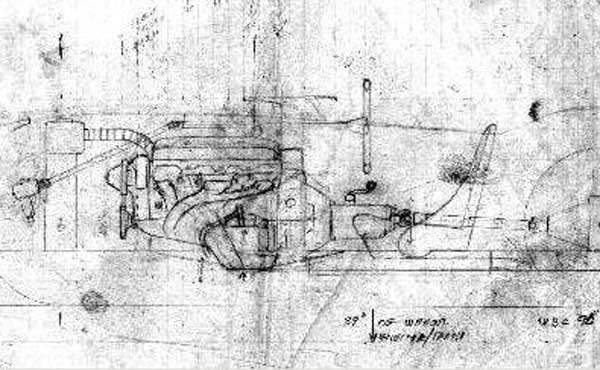 1957: Original sketch to determine hood clearance and calculate weight distribution.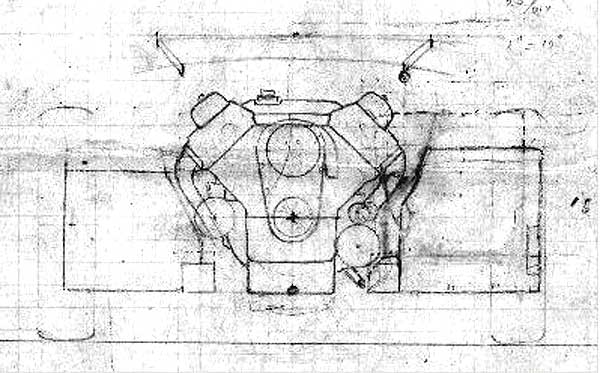 1957: Further verification of hood clearance.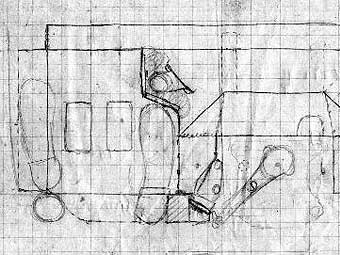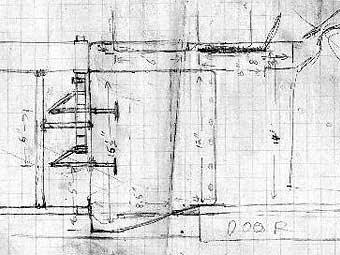 1957: Planning of the pedal box.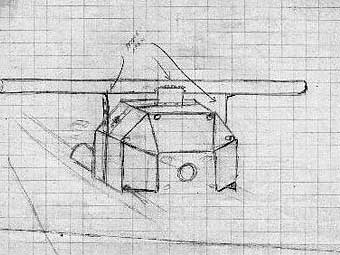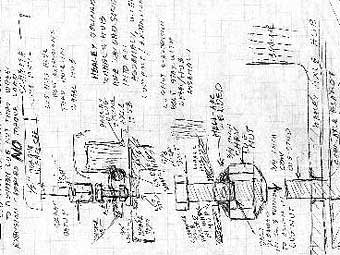 1957: Initial sketch of the flywheel shield and plans for wheel modifications.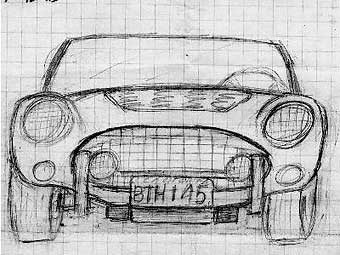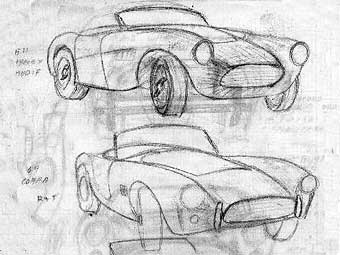 1964: Concept sketches of the Cobra-inspired new front grille.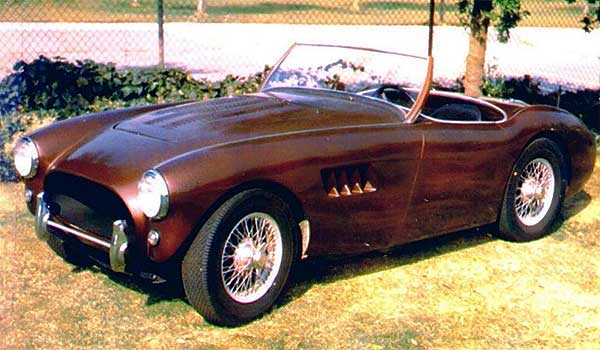 1964: Execution of the Cobra-inspired grille and fender gills.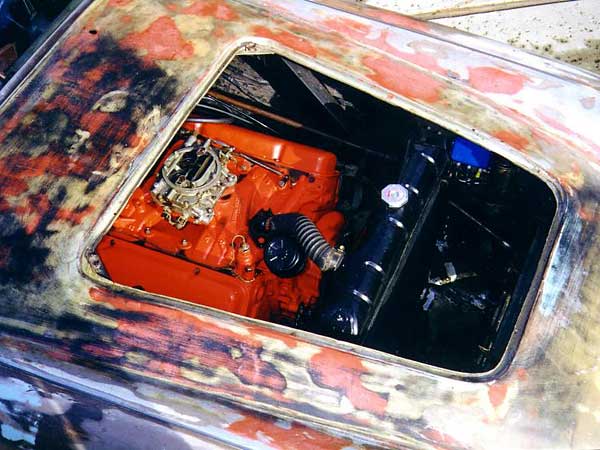 2000: In-process photo taken during the restoration.