A Day At The Races
The British V8 Newsletter, Volume XV Issue 1
by: Greg Myer
First of all, this isn't a review of a Marx Brother's movie. I enjoy their movies, but this isn't the place for it. Rather, it's a suggestion. Spend a day at the races! Grouchos Marx's "Dr. Hackenbush" would agree - for a different reason of course - but he'd agree!
If you're considering an engine swap for your British sports car, the best place to get information is right here at The British V8 Newsletter. Just keep clicking and reading! Also, make plans to go to our annual British V8 Meet. At our meets you'll see completed swaps motoring around and you can ask their owners questions. We're a friendly crowd, and you'll probably get offered a few rides. Warning! These will kick your desire into high gear.
OK, but why go to the
races
? Because at the races you'll find a whole different world of ideas that could be incorporated into your ride. All sorts of races are good for this, but especially races where you can get up close to look at the cars carefully. There are plenty of very inventive people out there. Most are willing to talk about their 'Pride and Joy' too. Beyond inspiration, talking to racers is a good way to find out what works and why. Quite often you can find out what doesn't work very well too.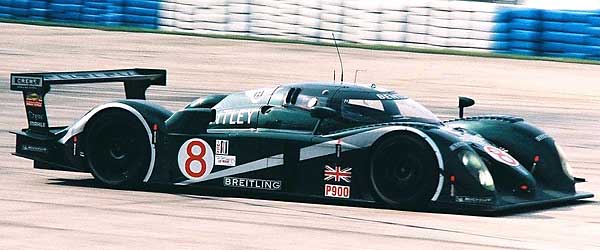 The Bentley Speed 8 (powered by an Audi V8 engine)
One of my personal favorites is the Sebring 12 Hour Race. I know, high end Porsches and Aston Martins and their crews seem like the dark side of the moon from where we are. Well, the overall winner in 2003 (when we most recently went) was a British V8! That's right: the Bentley Speed 8 is a British produced car with an Audi V8 engine. I haven't seen that swap tried here....yet.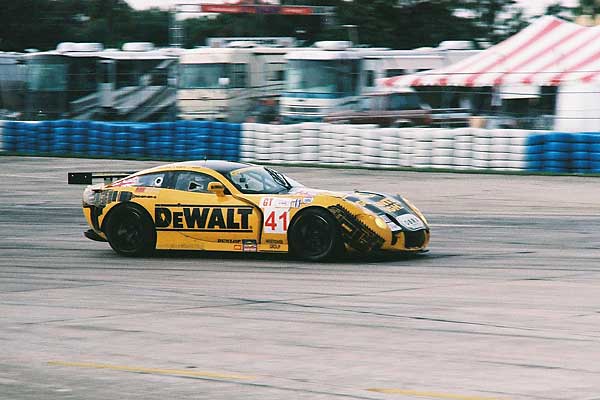 TVR (with Rover-derived V8 engine)
The GT class cars are even better in my book. A 7 liter race motor breathing through open exhaust on the side of a Corvette is FANTASTIC! (Even with ear plugs... and you'd better have them in!) You won't get that from a magazine, web site, or even cable TV no matter how good your sound system is. This may not be a "useful idea", but it's another incentive to go to the races.
Take your own camera! Endurance races like Sebring (and the 24 hour race at Daytona) are particularly laid back about providing fans opportunities to take detailed photos of the cars.
There's a lot more going on at these races besides exotic "prototypes" or fantastic GTs. There are several races each day leading up the big day. Vintage sports cars and a variety of others get out on the track too. Before and after these sprints, the owners are in the pits tinkering. Most of the competitive cars are well prepared long before heading to Sebring, so the owners are usually just fussing: polishing chrome and hoping someone will notice. If you're observant and ask the right questions, you'll be amazed at what you can learn. Look at the little details: linkages, bulkhead fittings, plumbing and wire routing, fastener selection... the possibilities boggle the imagination!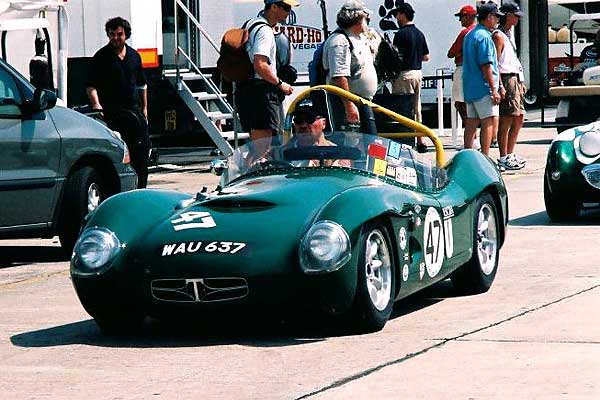 Thunderbolt (with Triumph I6 engine)
I approached one owner who was polishing something that didn't need it, and I inquired about the car. It turns out that it's a "Thunderbolt". A hand-formed body mounted on a Triumph chassis with Triumph drive train. Seems there were 8 or so built and this was the only example in the US. There were lots of interesting details to take note of on this car! As I walked away he was polishing again and looking over his shoulder, waiting for the next person to show interest.
Enjoying this article? Our magazine is funded through the generous support of readers like you!
To contribute to our operating budget, please click here and follow the instructions.
(Suggested contribution is twenty bucks per year. Feel free to give more!)
Road races, hillclimbs, and autocrosses are among the very best places to get ideas that are directly applicable to our British V8 engine swaps - regardless of what class the cars compete in. Look for Sports Car Club of America (SCCA) and historic race events. Many of the cars are very well sorted out, and by asking a few questions you may save yourself a lot of time and expense. Suspension settings and steering with larger tires and stiffer springs can be tricky to set up properly. These guys have answers! At least you can sort through information from first hand experience. Quite often you'll find they know tricks about parts we would never even think about.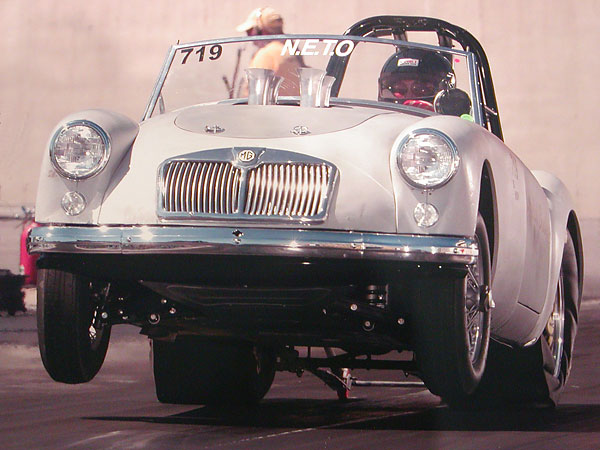 Bob English's MGA (with Chevy V8 engine)
Another type of racing that can be informative is the Drags. With just 1320 feet to get their work done, these cars have to be well thought out. Whichever sanctioning body the particular strip works with (NHRA, AHRA, or IHRA), all the cars must conform to rules which are put in place for safety first and foremost. You can feel confident using these ideas. Some won't be applicable for a British V8 car, but some are worth your consideration. For example, many classes are required to have a battery disconnect on the outside of the car so the starter (the man who controls the tree) can reach over and kill the electrical power in case of trouble. You may not want it accessible to the public, but a switch like this can save a car when there's an electrical problem. Many of these cars have the battery hidden in the trunk so pulling the cable would be difficult. Same with our cars.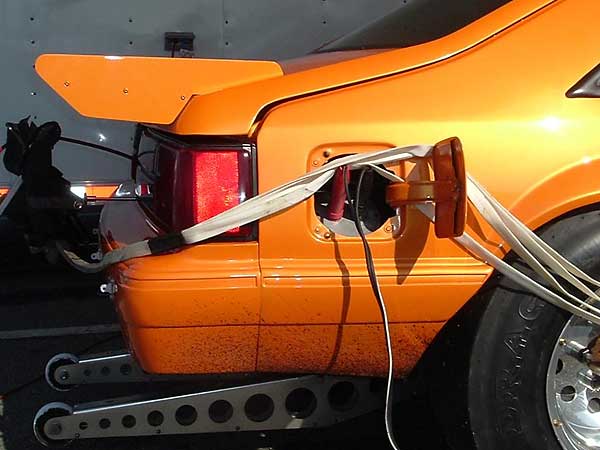 Battery Charger Studs
How about being able to charge the battery without having to do gymnastics? Check out the access under the former gas door for just that purpose. Maybe transfer that idea to the engine compartment and there are all sorts of possibilities; a power source for your timing light would be just one.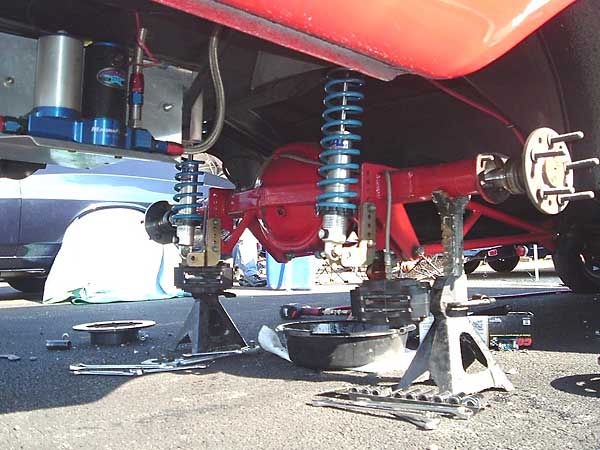 Axle
Look under a drag car. Since these cars launch hard, strong components are needed. They will still fail at times. If the owner is out of eliminations and working on the rear you might find out what went wrong. Knowing the weakest link can help you prevent using something unsuitable. The suspensions on drag cars are interesting too. While not intended for cornering, they work coming off the line and their geometry can help you in setting up your car as it's light and has more power than the suspension was designed for, or at least it will soon.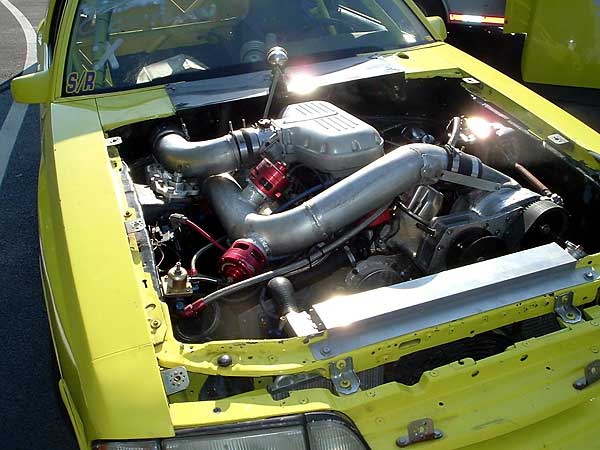 Induction Tract
Thinking of turbo charging or super charging your little aluminum Buick? Here's a good place to reduce the learning curve as drag racers have been using them for years. Intercoolers, waste gates, and handling the underhood heat are all part of what's going on. So much to learn, so little time. Remember, "Engine parts: Good. Engine pieces: Bad."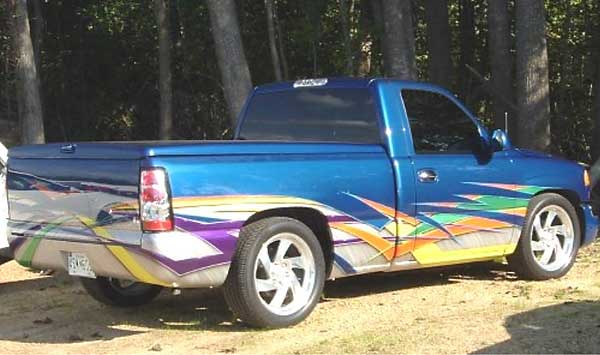 Paint
Time to re-spray your ride? It doesn't have to be British Racing Green you know. There's nothing wrong with that! (Hey, my MGB GT V8 is getting Jaguar Racing Green metallic!) but there's a multitude of options. Look around at the races.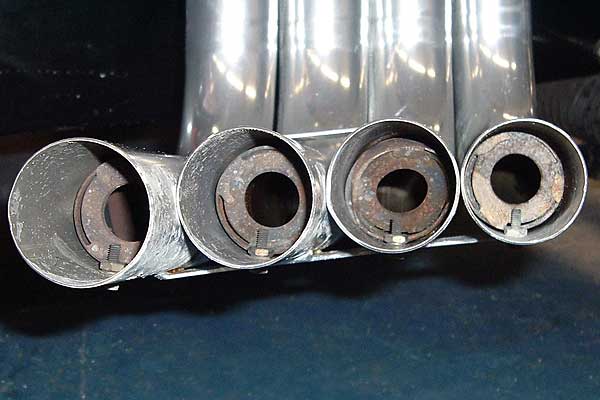 Zoomies
Other sources of info are car shows. Here the cars are on display so you can take your time and even take pictures if you like. Motorcycle baffles in zoomies may not be appropriate for 4 into 1 headers... or could they be used? No mufflers to find space for under that tight area below your bucket seat. Hmmm......... Notice how these zoomies have been installed so they can be turned for straight-through flow when desired. Street rods are fun cars and these guys use lots of imagination.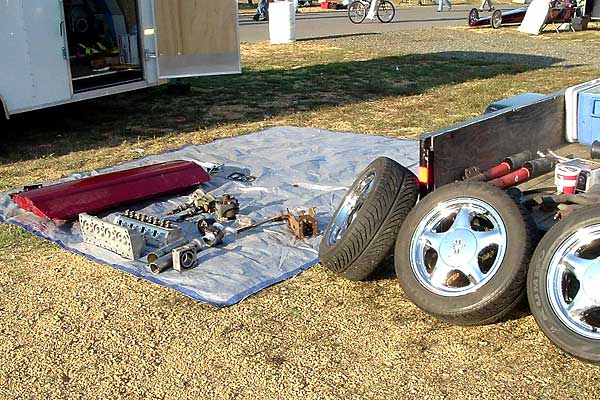 Swap
Many races and car events have swap meets included. Keep an open mind here. You can score useful items if you know what you're looking for. I picked up a set of Ford 302 long tube headers for a truck for $10.00. Good price if you have a truck, but how does that relate to a British V8 swap?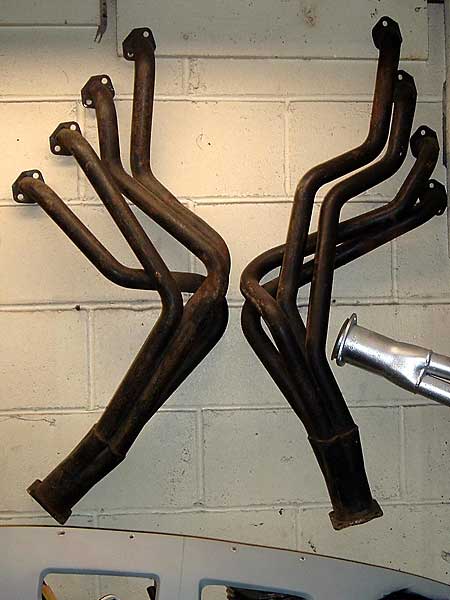 Headers
It's just such a set of headers that I cut and welded to put a 5.0 in Larry Nicholas' MGB. The long tubes and bends give you plenty to work with. The flanges are formed and the tubing already welded in. The set on my garage wall is waiting the next Ford / MGB swap I'll do. The motor is waiting under the bench and the heads are apart getting GT-40 valves and porting right now.
My Buick-powered GT isn't finished yet and I already know it won't have enough HP to keep up with Larry. That just may be another lesson; build what you want the first time.
The idea of this article is to stimulate ideas. Go to the races! You'll have a great time. And remember: if someone asks why you go, tell them you're doing research. It works for me!
Oh yeah... when you go to the races, take your wife along. She'll enjoy it just as much as you did when she took you along for "A Night at the Opera".
Disclaimer: This page was researched and written by Greg Myer. Views expressed are those of the author, and are provided without warrantee or guarantee. Apply at your own risk.
Photos and Comic Drawing by Greg Myer (except for the photo of Bob English's MGA). All rights reserved.