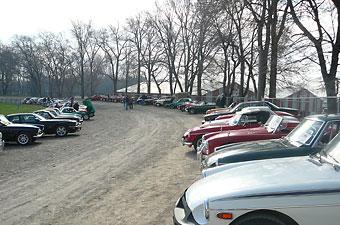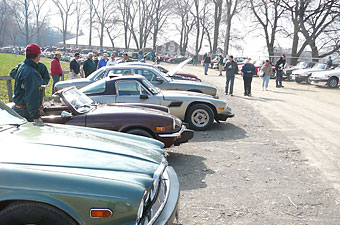 Canadian Corner (Volume XVI Issue 1, May 2008)
by: Martyn Harvey
British V8's Prominent at the 2008 Ancaster British Car Flea Market
Canadian fans of British sports car flocked to Ancaster, Ontario for the season opening event: the Ancaster British Car Flea Market on April 20th. The weather was lovely and it felt like spring had finally sprung. The warm sunshine encouraged many owners to drive their "pride and joy" to the event so there was a particularly interesting variety of cars to view - and British V8's were prominent!

I always enjoy Ancaster. In recent years, I've driven to the show in my own black 1980 MGB V8 roadster. At the moment the MGB is getting upgraded with an Advance Auto-Wire wiring kit and an aluminum radiator. It was a great thrill however to drive my TVR to Ancaster for the first time since I purchased it there two years ago. It was at this event in April 2006 that I saw the TVR for sale and "fell for it". It was un-drivable at that time but with its rebuilt T5 transmission, QA1 coil-overs and Toyota 4-pot brakes, is now quite enjoyable.

Arriving at Ancaster, I immediately found and parked near Keith Childs and his venerable Rover 3.9 powered MGB V8. Keith's BV8 has been in attendance at the Ancaster event for many years, certainly before I embarked on my BV8 project twelve years ago. Dennis McIntyre's black 1971 MGB 302 V8 "beast" was also right there, wearing a tall new reverse bonnet scoop and attracting many curious people.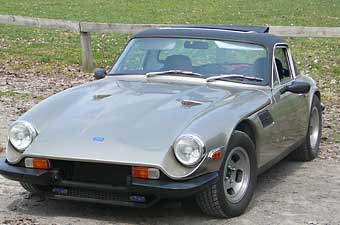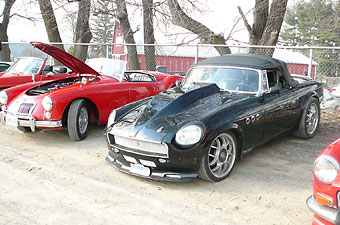 Not far away, I found Barrie Robinson's super clean and classy Rover-powered 1970 BGT V8, and although I didn't actually meet up with him I also caught a glimpse of Kevin Pesant's distinctively Rover P6B hood-scooped 1977 BV8 roadster. Ken Hiebert's superb green TR6 V8 was parked among unsuspecting Triumphs, Jaguars and MGs too - looking "innocent" (but just at first glance! Check out Ken's new roll hoops.)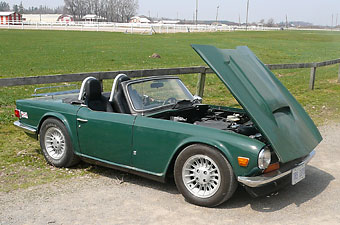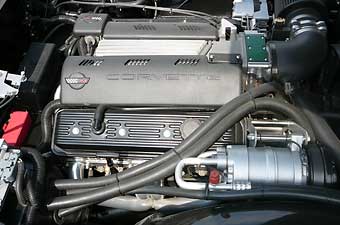 The Ancaster flea market is always a time to make new friends. I was thrilled when Brian O'Hare introduced himself. It turns out Brian is Trevor Wilkinson's nephew-in-law. Uncle Trevor founded the TVR car company in 1947, and the name "TVR" is actually "Trevor" with vowels removed. Anyway, Brian can be seen in the photo below left with his back to the camera and looking rather puzzled in the photo on the right as we discuss the Chevy small block hiding under the bonnet. It was good to hear that Uncle Trevor is still very much alive in the UK, although long retired from the sports car business.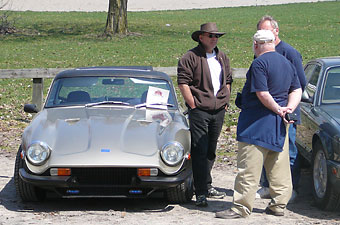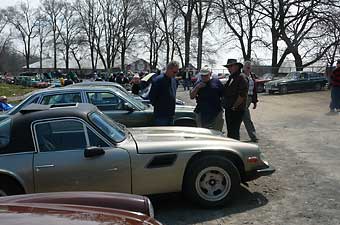 As usual, Brooklands Car Components was present at the show. Owner and designer Barry Preston can be seen below promoting his newest custom-bodied, MGB-derived roadster and selling some good used British parts.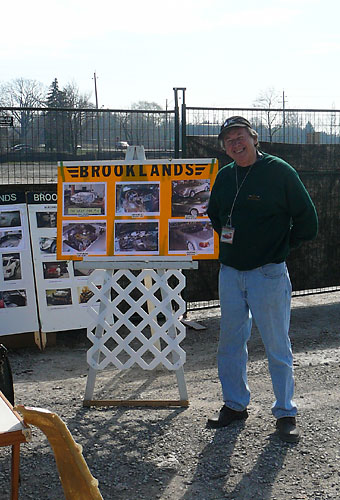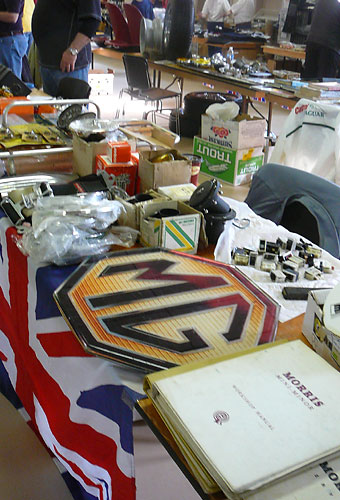 Further demonstrating that British V8's are a very diverse group, there were several factory-built V8-powered sports cars at Ancaster this year, including a pristine 1960 Daimler Dart and an awesome midnight blue 1965 Sunbeam Tiger (marked "For Sale").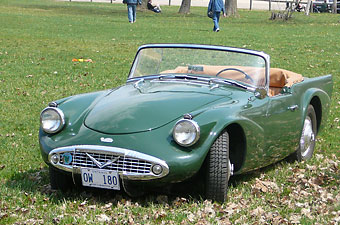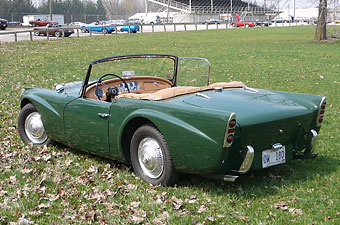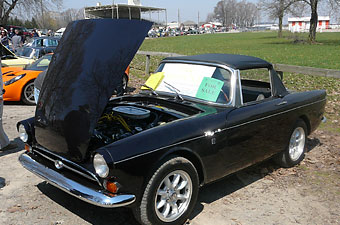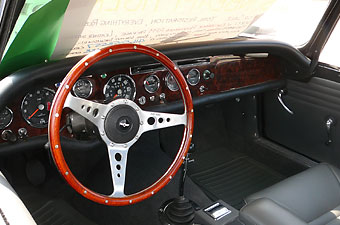 There may have been more V8 powered cars there but I quickly became focused on hunting down some good used British parts which is, after all, the "raison d'etre" of the Ancaster Flea Market.
Enjoying this article? Our magazine is funded through the generous support of readers like you!
To contribute to our operating budget, please click here and follow the instructions.
(Suggested contribution is twenty bucks per year. Feel free to give more!)
Here are more photos of good reasons to enjoy the drive to the annual Ancaster British Flea Market. It was a great start to the 2008 driving season in Ontario, Canada!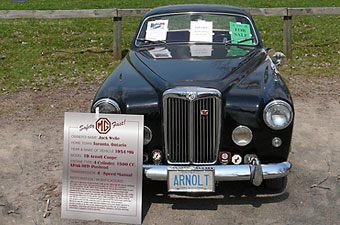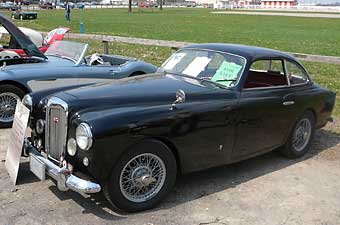 The asking price for this 1954 MG-TD Arnolt coupe (an Italian-bodied MG special) was $66,000 Canadian.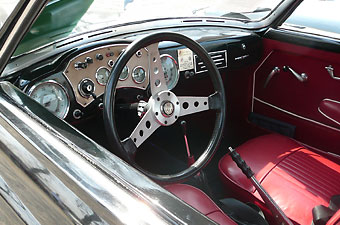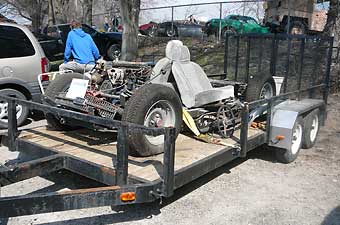 The Arnolt body was designed by Bertone. Left photo: the Arnolt interior and dashboard. Right photo: who knows?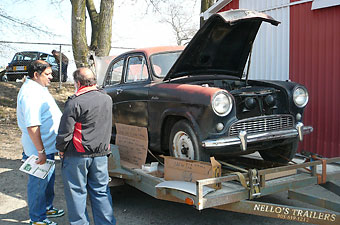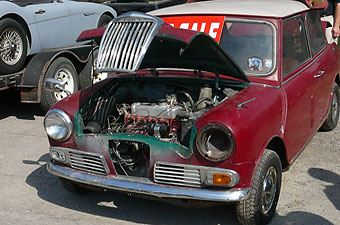 Also for sale: an Austin Cambridge and a Riley Elf, and an Austin-Healey 3000 project in the background...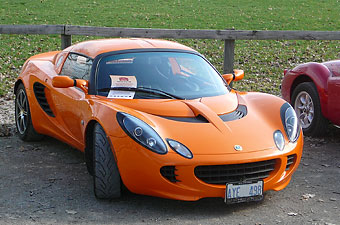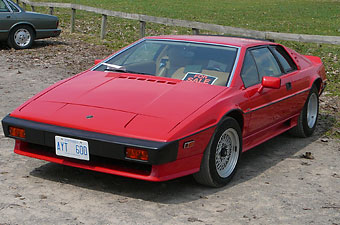 Two Lotus models for sale: an Exige (similar to Elise, but with a hard roof) and an Esprit.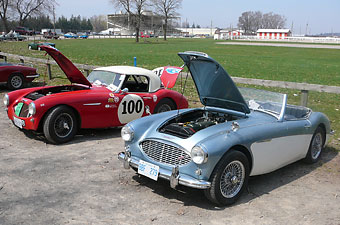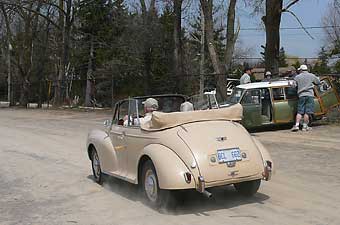 Two Healey 3000's and also a Morris Minor with split windscreen (i.e. pre 1956 model) and mechanical-arm turn signal.
Disclaimer: This page was researched and written by Martyn Harvey. Views expressed are those of the author, and are provided without warrantee or guarantee. Apply at your own risk.