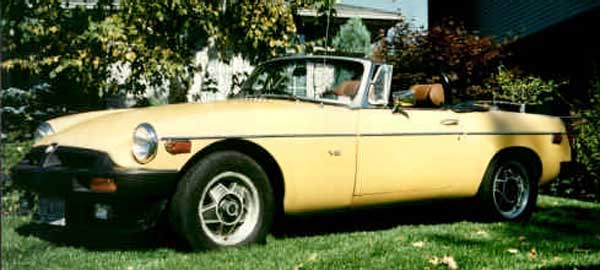 "How It Was Done" - the second time!
(originally published in British V8 Newsletter, Volume 10 Issue 2)

By Keith Childs

I would like to thank Dan for carrying on with the "British V8 Newsletter" from Kurt. I believe it crucial to keep this lifeline for wannabe V8'ers and veterans to provide the rare information and list of material suppliers available. Without this, conversions are a very daunting task. I intend to download the new newsletter for the color photos but will subscribe to hard copy as well to support The Newsletter.

I provided a "How It Was Done" in Vol. III Issue II as an account of my conversion. As I said then, in 1993 my choices were made on limited information available since there was no newsletter.

Using the V8 Conversion Co. DIY kit I re-powered my '75 roadster with a 3.5 Liter engine and kept the MG O/D transmission and 3.9:1 rear end. Like everything in life, things change with time.


The first area of concern was the rear end. I was tired of having a bulldog low first gear like a truck. Went like hell in the 1/4 mile, but driving on the highway for any time is not pleasant. I replaced it with a shortened Ford 8" using 2.79 gears. In a previous Newsletter (Vol. VII Issue 1), I read how Jack Emery (Maine) had done the same thing and had a cheap and dirty fix for emergency brakes. I contacted Jack and he told me "How It Was Done". Works great! I shortened the rear end one half inch more on each side than the stock MG to allow wider tires (195x60). After a year I finally found a set of 3.00:1 gears, which I installed. This really is a nice configuration. If I come across a set of 3:25 to 3.40's I will install them and do a comparison.

Over the years I had planned on improving the performance of my wee V8. The 8.13 compression ratio had to go. Last year I acquired 3 like-new 3.9 L engines with 9.35:1 compression. (1 long and 2 short blocks) with extremely low mileage. I didn't feel like altering another block to use the MG transmission. It had performed flawlessly and I think they get a lot of undeserved negative criticism. Having said that, I sold the MG transmission after I found a Rover 5 speed.

This past summer I stripped the interior completely and that provided the golden opportunity to weld in an extension on top of the tunnel (required for Rover 5 speed.) The upholstery was replaced with Moss panels, carpet and seat foams. The seat covers are custom made with rolled and pleated velour centre sections. Much cooler for summer driving! The 3.9 engine was sent it in to be degreased, honed, rod-ends resized, crank polished and the entire engine balanced and the heads done. I discarded the truck cam that was in the engine and replaced it with a Crane performance cam. To resolve the dilemma of starter solenoid location I'm using a gear reduction hi-torque starter from TSI. Even though I generously applied assembly lube, I still pre-oiled the engine using a tool (modified for the Rover engine) I made from a tip I read in "The MG V-8 Newsletter" (Vol. II Issue 2.)

To test the transmission oil pump, I drove the input shaft of the transmission using my impact gun. This tests the oil pump and makes sure it works before installing it. Another trick I found in The Newsletter (Vol. VI Issue 2)! The transmission mount obviously requires some attention. In the The MG V-8 Newsletter (Vol. VIII Issue 3), Jeff Foote shows a very easy method using a GM350 Turbo automatic transmission mount. It required very little crossmember alteration and the best part; it only cost $20.00 complete.

The driveshaft was the next problem. I couldn't find any detailed description of a Rover transmission to Ford differential. Some years ago I met Glenn Towery. I vaguely remembered he mentioned the TR6 driveshaft. I bought the front half of a TR6 shaft from a wrecker's yard. A quick trip to the machine shop and driveshaft was ready and balanced. I dropped 3 plumb-lines, one from the center of the front of the crankshaft, the second centered on the transmission output shaft, and the third with the center of the rear axle at the differential U-joint. I ran a string from the front to the back just touching all 3 plumbs and adjusted the transmission sideways until all 3 lined-up.


I then checked the phasing and flange angles similar to the description in Vol.VI Issue III and all was OK. I was using "London Stainless Exhaust" block-hugger stainless headers and custom 2 in. stainless dual exhaust. I replaced the headers with stainless RV8 headers. They are larger diameter, have fewer bends, and are less restricting under the bonnet than the block-huggers. They did require re-routing of the front brake lines to the front of the master cylinder to the radiator and then under to the front of the wheel to offer better heat clearance.

I completed my conversion in early December and test drove it. There is a definite power increase over the 3.5 L engine and the Rover transmission ratios are more suited to the engine. The lower first gear is really noticeable. My wife saw the grin from ear to ear after the test drive. Something I insisted on doing every day till the first snow and conclude it was a complete success. I parked it for the winter but am installing a torque rod to the engine, a new hi-volume fuel pump and pressure regulator and I'm lowering the rear of the car. I am also installing extra fuse boxes and relays with larger gauge wires in the engine bay and trunk to handle the extra loads like cooling fans, driving lights, fuel pump and stereo amp.

Well I had no plans for any other major updates, but I've become interested in the 300+ hp Ford 302 installation in a B GT!!! I may try to sell this car this summer and start again. I do all my own work (except engine machining) and I have purchased all the recommended books. I have found no greater source of information either directly from "How It Was Done" or indirectly through people I contacted from the "British V8 Newsletter".

Keep it Safe, Keep it Fast, & Keep Printing!


---
(as originally featured in British V8 Newsletter, Volume 3 Issue 2)


How It Was Done
By: Keith Childs
City: Hamilton, Ontario, Canada


Well, after a few teething problems what my neighbors felt would never run is on the road again and being driven regularly. My MG is a '75 roadster that I purchased in 1982. At the 1992 MG gathering in Peterborough, Ontario I saw several converted MG V-8's and my course was set. I purchased a 1980 Rover SD1 for the 3500 cc engine and parted out the rest of the car.
| | |
| --- | --- |
| Engine: | Rover 215 cid (3500cc) V8. 1961 Buick 4 bbl intake manifold, machined for 4-barrel Holley carburetor by Towery Foreign Cars. Holley 390 cfm 4 bbl carburetor. Early Rover oil pump cap installed to allow remote oil filter base to clear steering rack. (This late model engine already has the upgraded oil pump.) Remote oil filter with stainless steel hoses. 1964 Buick 300 water pump. (Inlet is sloped down approximately 30 degrees, aiding in hook-up to radiator.) Aftermarket chrome water pump pulley. 1961 Buick crankshaft pulley and harmonic balancer. 80 amp Delco alternator with home made mounting bracket and tension arm. Crankshaft adapter and pilot bushing supplied by The V8 Conversion Co. (Bolts the MG flywheel to the Rover crankshaft.) Starter mount removed. (MG starter bolts to adapter plate.) Torque restraint arm between block and firewall. |
| Transmission and Bellhousing: | 1975 MGB 4-speed with overdrive. V8 Conversion Co. adapter plate. (Bolts engine block to bellhousing.) Shortened first motion shaft by 1/2". Cut out bellhousing for new starter location. |
| Clutch Slave Cylinder: | original 1975 MGB. |
| Flywheel: | '75 MGB. Machined approxumately 1/8" off face to remove original annular ring. Undercut centre of flywheel to make clearance for damper springs on driven plate. Drilled to accept larger clutch pressure plate. Balanced. |
| Clutch: | MG V8 clutch. MGC clutch cover plate. |
| Exhaust: | stainless steel headers from London Stainless Exhaust Ltd., London England. Custom made dual exhaust pipes. |
| Wheels/Tires: | Rostyle wheels. P195/60R14 tires. |
| Suspension: | tube shocks on rear. 3/4" anti-roll bar. (1975 MGB had no anti-roll bar.) MGB/GT coil front springs. Moss Motors anti-tramp bars. MGB V8 bushings. New kingpins. |
| Radiator: | 1980 MGB, recored. Tanks reversed and outlets moved. Two Rover AC conditioner fans in front of radiator. 12" stainless flex fan on the water pump. Stainless steel braid on radiator and heater hoses. |
| Rear End: | '75 MGB. Waiting for Ken Costello 3.07:1 gears on an MGC differential. |
| Instruments: | tachometer altered for V-8 by Glen Towery. Speedometer will be modified with new gears. |
The conversion aside from machine work was done by myself. Major suppliers were The MG V8 Conversion Co. (England). providing the adapter plate and crankshaft adapter, and Glen Towery of Towery Foreign Cars. Not only was Glen a parts supplier, but he was also of great technical assistance. Additional pieces were supplied by M & G International (England).