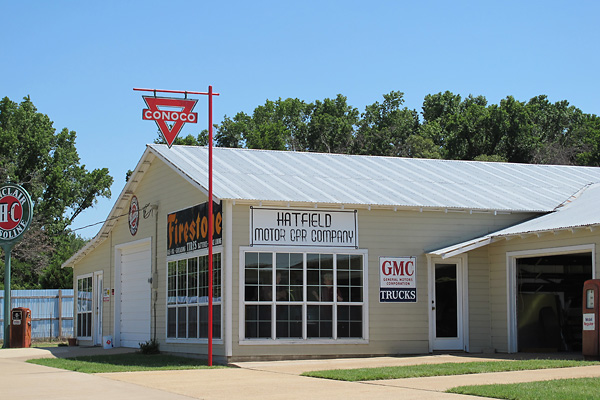 BritishV8 2012: Visit to Hatfield Restorations
as published in BritishV8 Magazine, Volume XX Issue 2, December 2012

by Curtis Jacobson, Art Gertz, Tim Body, Rick Ingram, Bill Young, John Fenner, Dave Craddock, & Mike Maloney


Introduction
One of the most exciting and inspirational outings we enjoyed during BritishV8 2012 was a tour of Hatfield Restorations in Canton, Texas. From the photos below, you won't have any trouble comprehending why this shop has such a sterling reputation. We can report that their amazing skill, knowledge, and attention to hot-rodding detail are matched by their genteel hospitality. We had a great time!


Photos From Our Visit!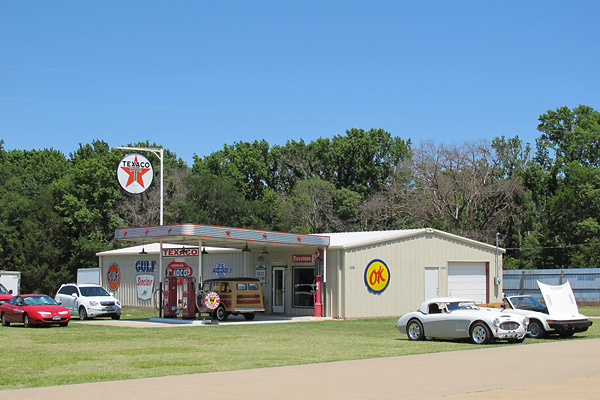 Hatfield Restorations' model gas station (with showroom inside).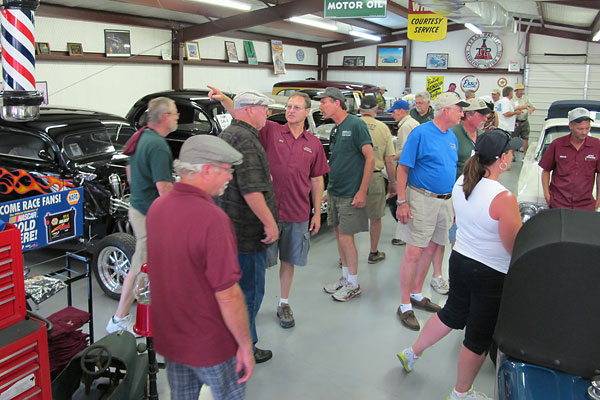 Gary Hatfield welcomes BritishV8 2012 participants to the Hatfield Restorations display room.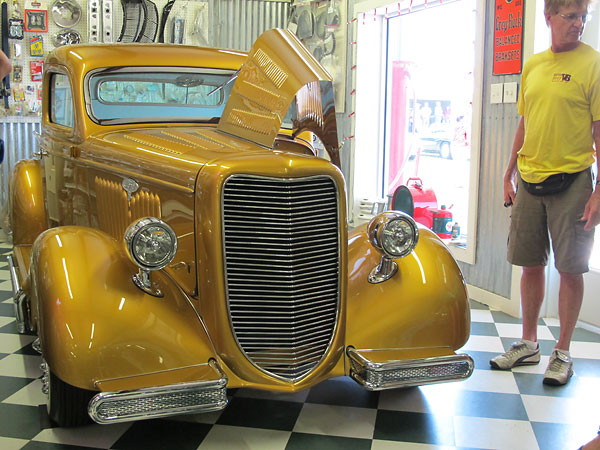 Gary Hatfield dragged this historically significant hot-rodded pickup truck back from a farmyard in rural
Oregon. Derelict and apparently long forgotten, Gary recognized this 1935 Ford Pickup as a distinguished
veteran of the California hot rodding scene of the early sixties. Gene Winfield, proprietor of the famous
Winfield Custom Shop of Modesto, originally conceived this vehicle as a shop truck but it turned into a
show truck and was substantially restyled through three distinct iterations. Gary decided to take it
all the way back to how it was presented at car shows during 1961.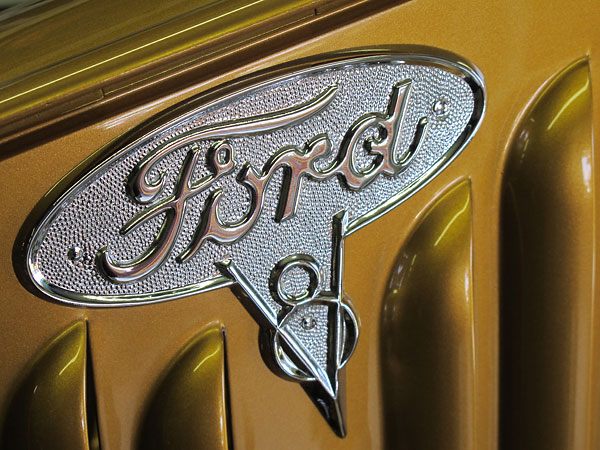 Ford V8 emblem.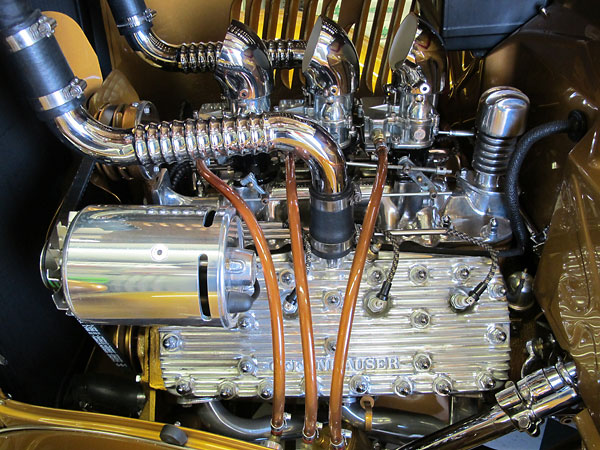 In 1961 trim, Winfield's pickup used a fully chromed Ford-Mercury flathead engine. By 1963 the flathead
had been replaced with a Chevrolet Corvette engine. For the restoration, Hatfield Restorations sourced
a proper replacement engine from H&H Flatheads of La Cresenta, California. So what's special about
Ford's flathead? Design: it was the first mass-produced "monobloc" V8 (i.e. with one casting comprising
the crankcase and both banks of cylinders). Longevity: it was produced for 21 years (1932-1953).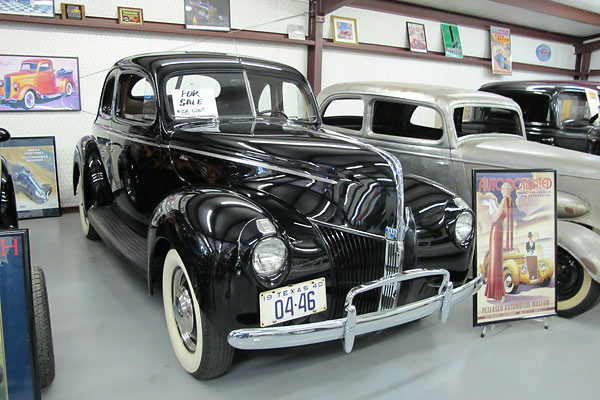 This 1940 Ford Coupe was one of Gary Hatfield's earliest restorations. It's now for sale again.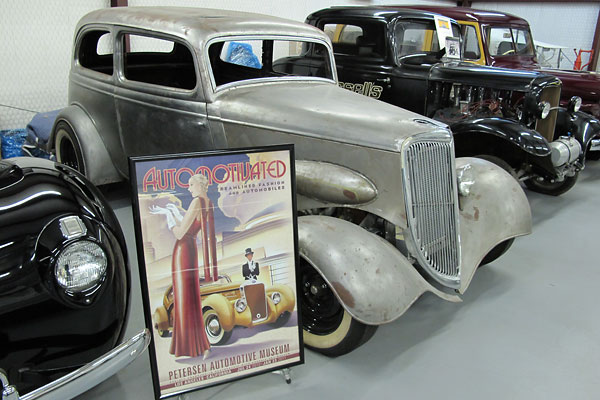 "Is that a Hemi under the hood, or are you happy to see me?" The bonnet of this '34 Ford Victoria
has evidently been modified to clear an early Chrysler Hemi or an Ardun converted flathead Ford V8.
"When I'm finished, you won't be able to tell me from a deLorean!" Well, no. This car will be painted one
day soon, but Gary Hatfield isn't worried about surface rust while it's stored here in his air-conditioned
display building. Very minor surface corrosion, mostly from hand prints, will easily come off first.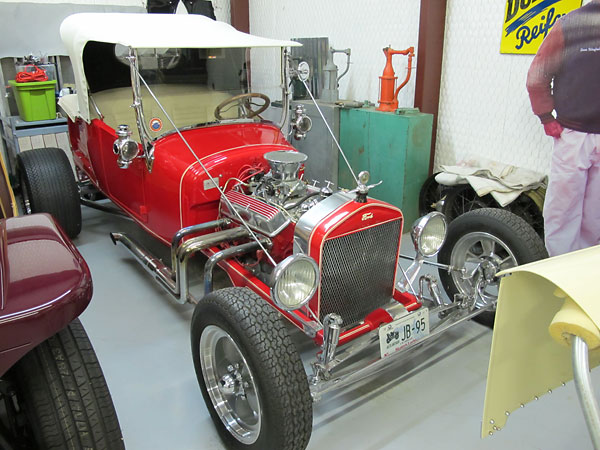 T-Bucket, in early-60s style as popularized by Ed "Kookie" Byrnes on the TV show "77 Sunset Strip".
Note windshield stays, cowl-mounted lamps, and pin-striped frame & body. Front tires aren't too
skinny and rear tires aren't too wide. See how American Racing "Torq Thrust" wheels are installed
with no front brakes? This T-Bucket appears thoroughly authentic to the 1960s period!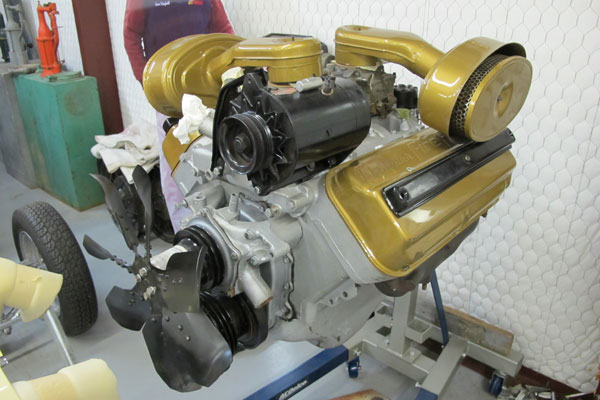 This is obviously a Chrysler Hemi engine. The valve covers read "Chrysler FireFlight" which
is a little unusual because FireFlight was a model line within Chrysler's DeSota range, so
"DeSota Fireflight" valve covers are more usually seen. The dual four-barrel induction
system was probably borrowed from a 1956 or 1957 DeSota Adventurer.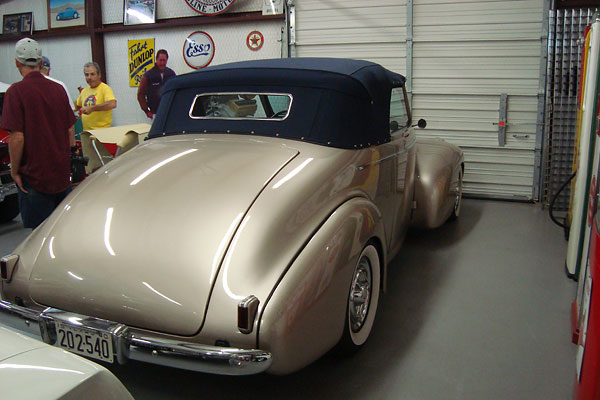 Gary Hatfield's personal car is a 1939 Buick Century Convertible. GM chose Century as a model name
to indicate that with its 320cid straight-eight engine it could reach one hundred miles per hour. In
1939, Buick pioneered directional signals: they designed turn signal lamps into a medallion housing
centered on the trunk lid. Gary has shaved that medallion, and the taillamp assemblies you see here
are for brake lights only. The Century model carried over with minimal changes for 1940. For 1941
it came with larger, more elaborate taillamps and in 1942 it was replaced with an all new design.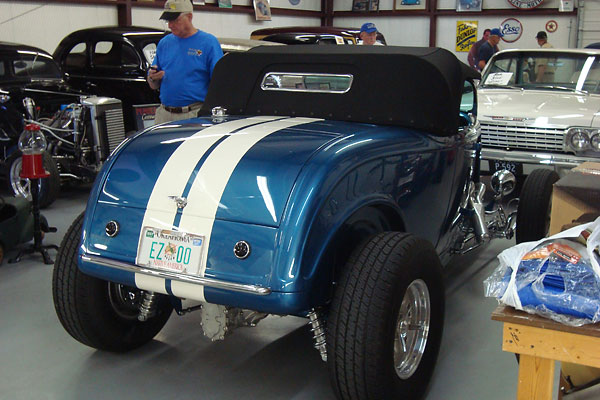 (We really like this rear bumper.)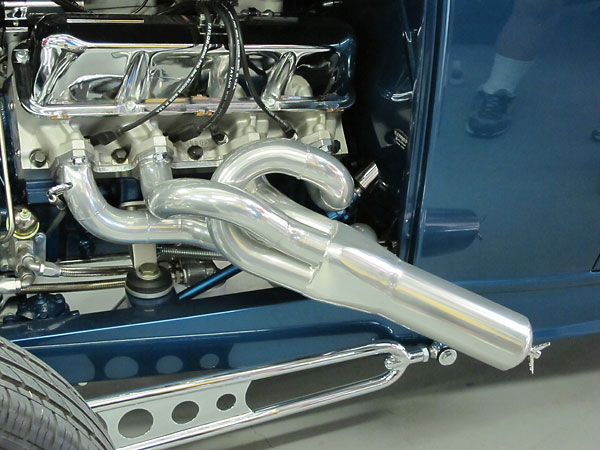 Headers with removable plugs and with exhaust flow diverted through hidden mufflers.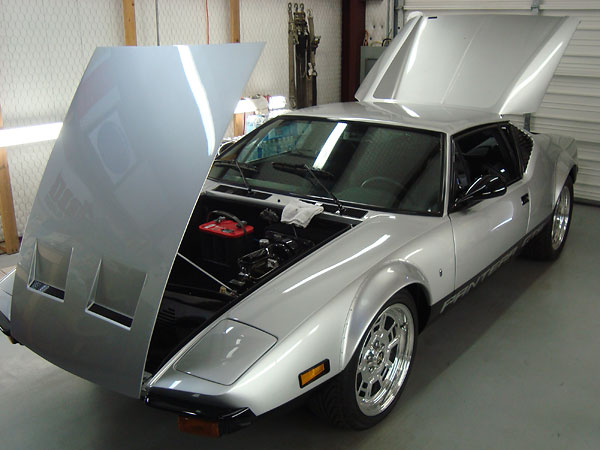 1974 Pantera GTS. Panteras were built by the De Tomaso car company of Italy from 1971 into 1991.
Ford Motor Company imported and sold roughly 5,500 of them in the United States before stopping
in 1975. In total, about 7,200 Panteras were built. The GTS variant was only offered in 1974.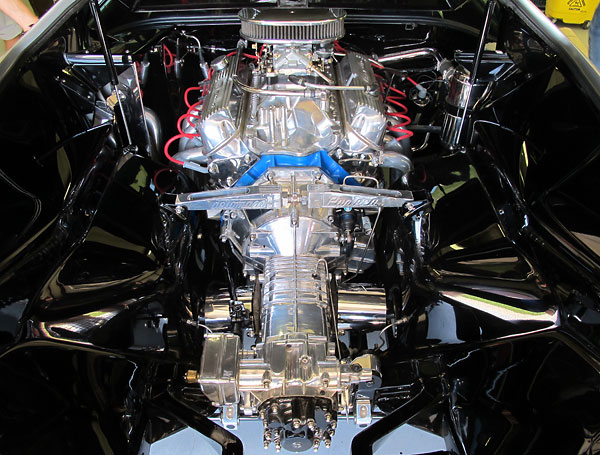 Ford 351 cu in (5.8 L) V8 engine mated to a ZF transaxle.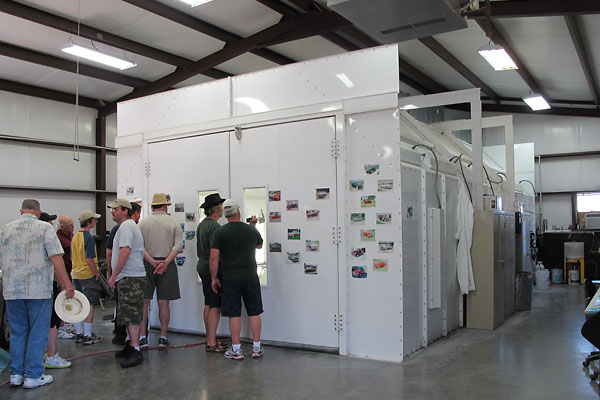 Paint booth.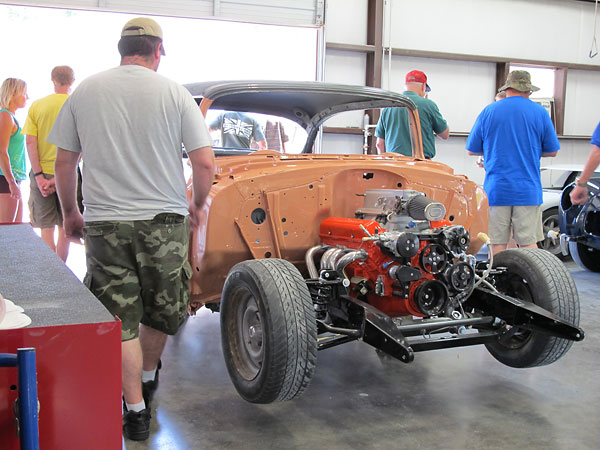 This 1955 Chevrolet is shown fresh out of the Hatfield Restorations paint booth with a two-tone
coral / shadow gray paint scheme. Chevy offered fourteen solid colors plus 23 different two-tone
combinations; and this is one of them. Chevy promoted the '55 model's "Motoramic" styling and
"Glide Ride" suspension, but their new "Turbo Fire" V8 engine would have more lasting impact.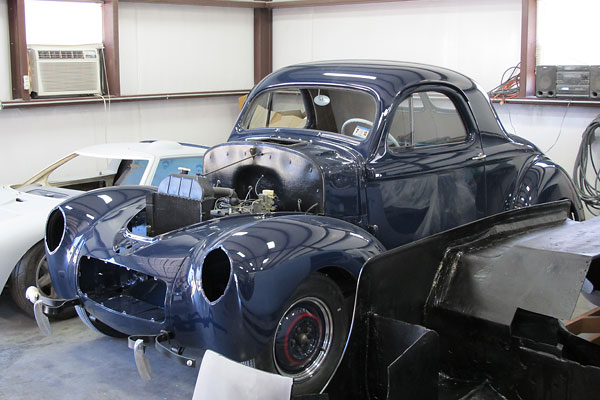 1940 Willys Coupes are cute as buttons if you take their tall, pointy hoods off! Note: 1941 models
look similar, except for their grilles. After that, production ceased due to World War II. Note
that these cars originally came with flathead four cylinder engines as seen here. Intact
examples are very rare now; so many have been hot-rodded or turned into racecars.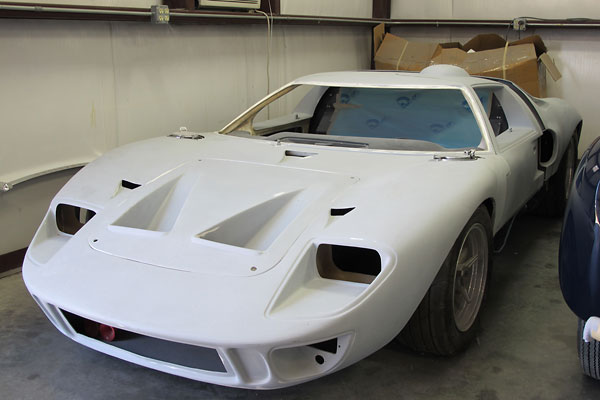 GT40 replica.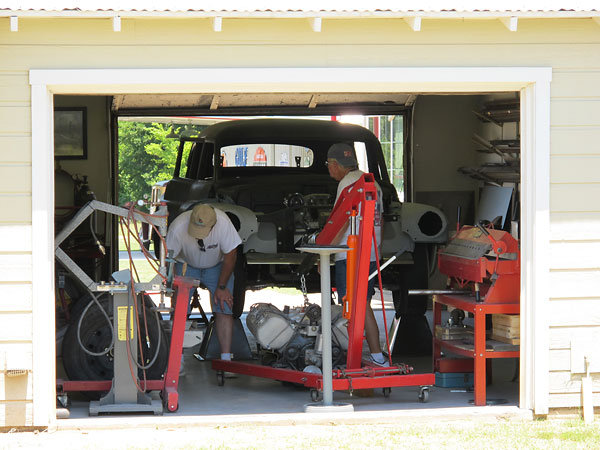 Body shop.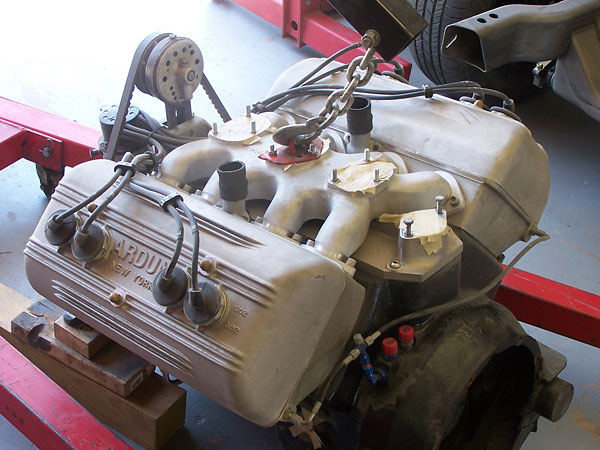 Brothers Zora and Yura Arkus-Duntov (who were newly arrived Russian immigrants at the time)
developed cast-aluminum hemi heads as an aftermarket performance upgrade for Ford "flathead" V8
engines. Production was outsourced to a foundry in England. Starting in 1947, between 250 and
400 pairs of Ardun cylinder heads were manufactured. Urban legend has it that the heads boosted
output by up to sixty percent. Accurate reproductions are available today for about $14,000/pair.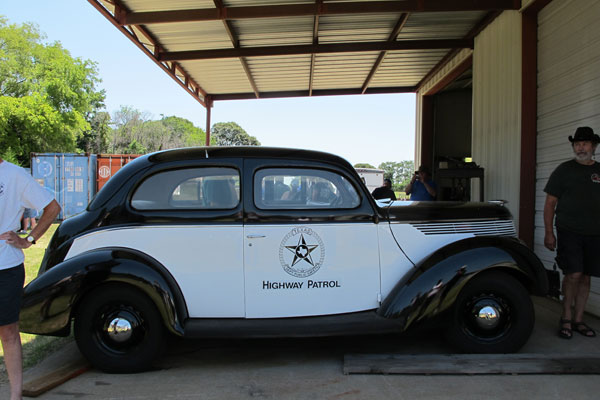 1938 Ford Police - 81A Tudor Sedan. (Tudor = "two door".)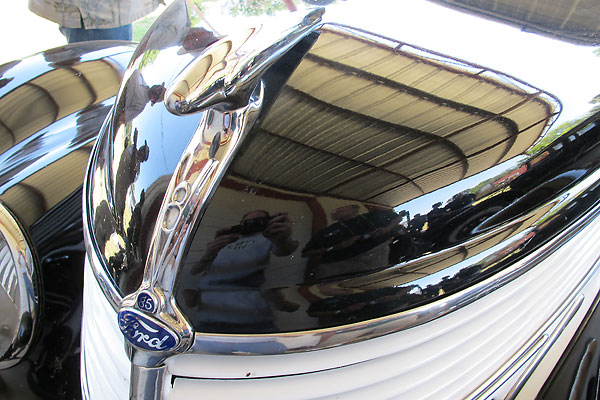 Ford V8 hood ornament.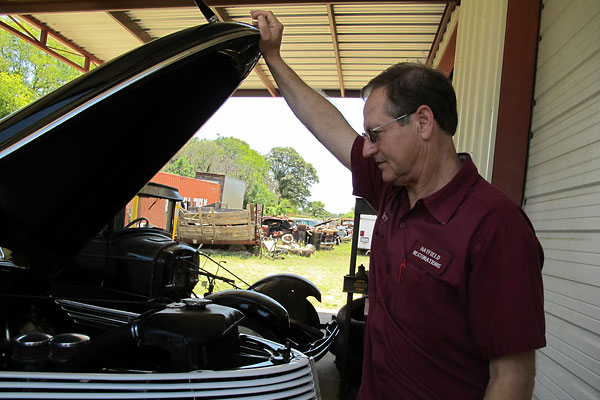 Gary seems to have a particular affection for this car.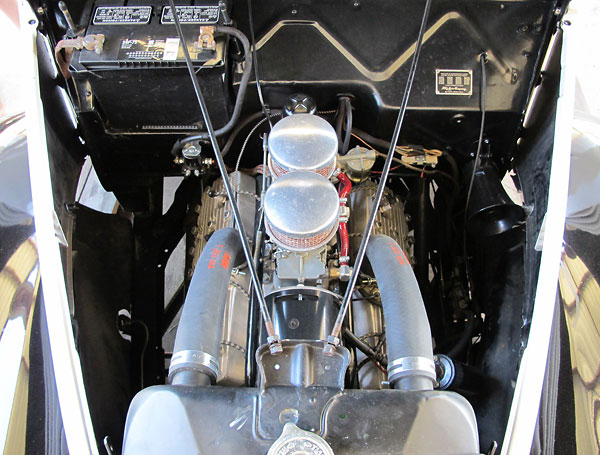 85hp flathead V-8 engine. Note radiator hoses!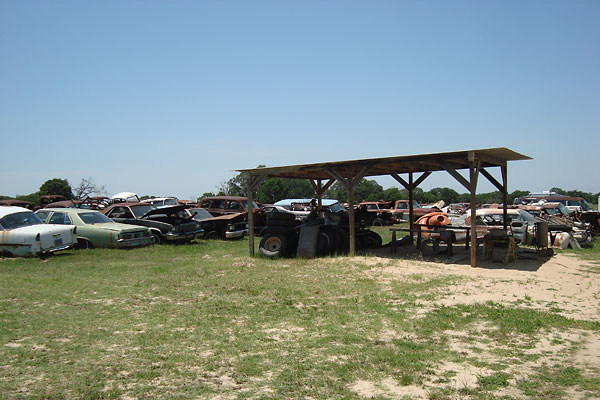 Hatfield Restorations' own little salvage yard.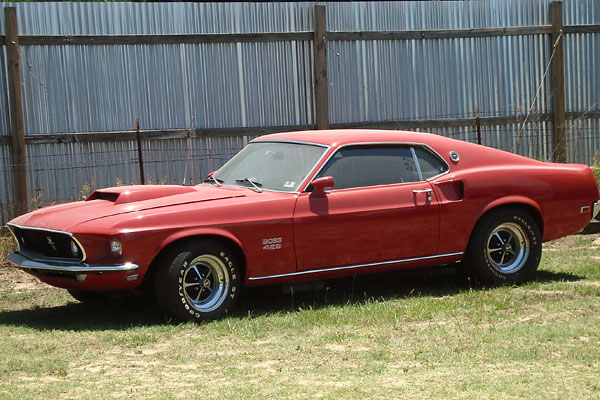 Ford Boss 429 awaiting restoration.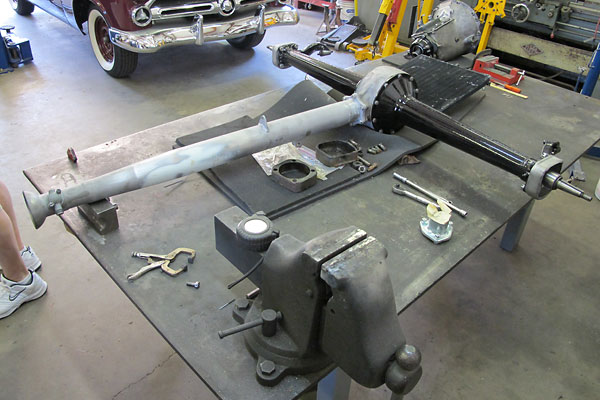 Ford Motor Company made more than its share of really cool looking stuff back in the day.


Enjoying this article? Our magazine is funded through the generous support of readers like you!
To contribute to our operating budget, please click here and follow the instructions.
(Suggested contribution is twenty bucks per year. Feel free to give more!)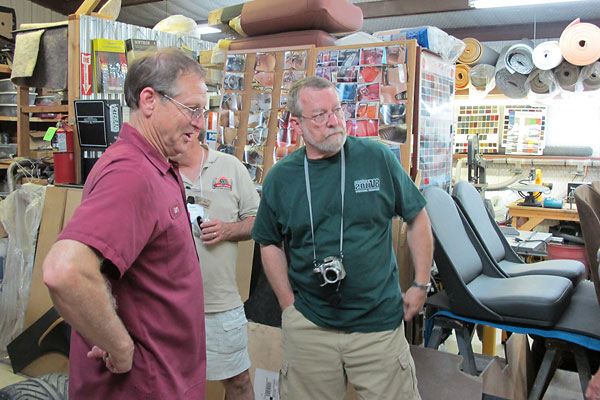 BritishV8 guys tour Hatfield Restorations' upholstery shop.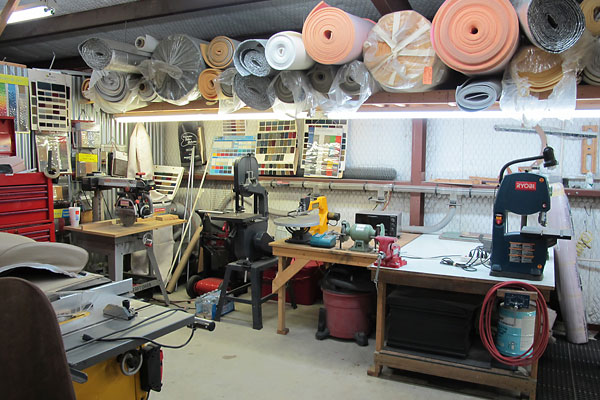 Left to right: table saw, radial arm saw, band saw, scroll saw, bench grinder, and another band saw.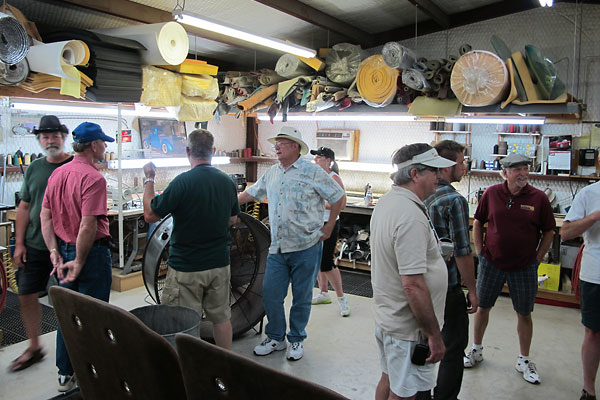 You'd see heavy duty sewing machines in this view, if there weren't people in the way.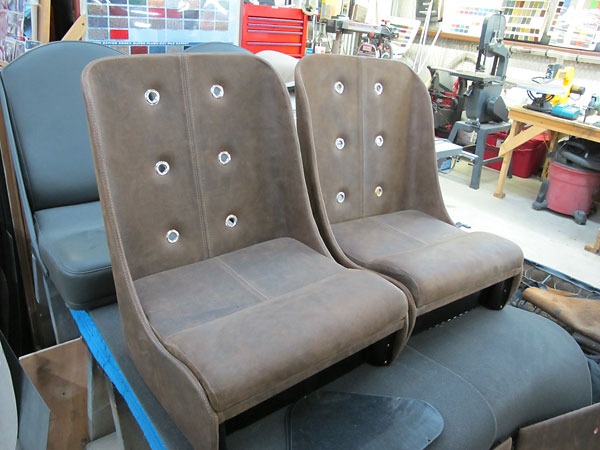 Sportycar seats!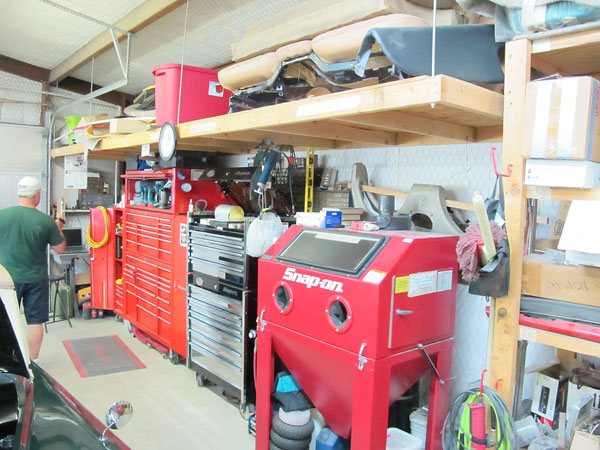 Blasting cabinet.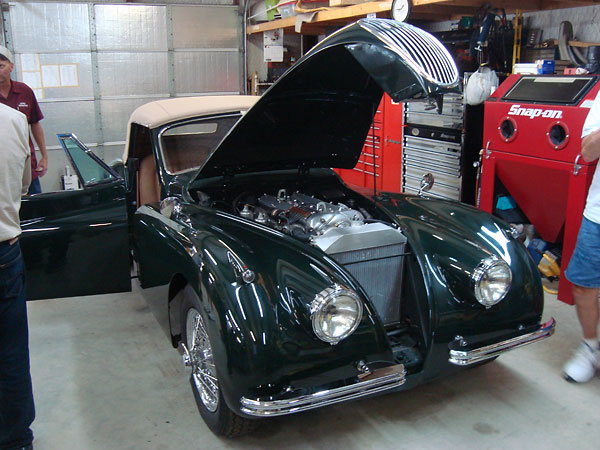 1954 Jaguar, getting reupholstered.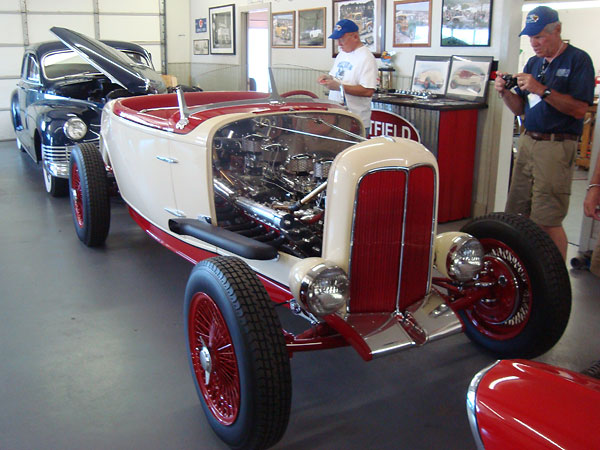 Don Smith's show stopping 1932 Ford "Riley Roadster".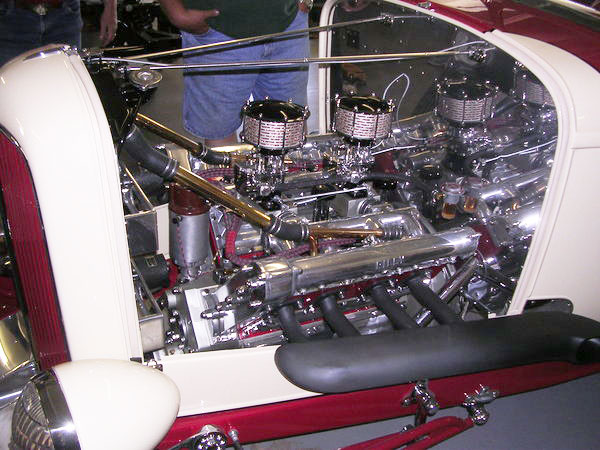 Gene Van Arx's original George Riley single overhead cam engine, circa 1936. To meet the letter of racing
class rules, Riley constructed these engines around stock Ford crankshafts, connecting rods, and pistons.
Everything else was custom; these were full-tilt racing mills mainly intended for use on the salt flats. From
a displacement of 221 cubic inches, Riley's SOHC engines produced ~200 horsepower yet weighed only
375 pounds. Of eight built, only two are known to survive. This one has a long, well documented history.
The other Riley SOHC engine resides in Bill Smith's (Speedway Motors) Museum of American Speed in
Lincoln Nebraska, which BritishV8 2013 participants will visit!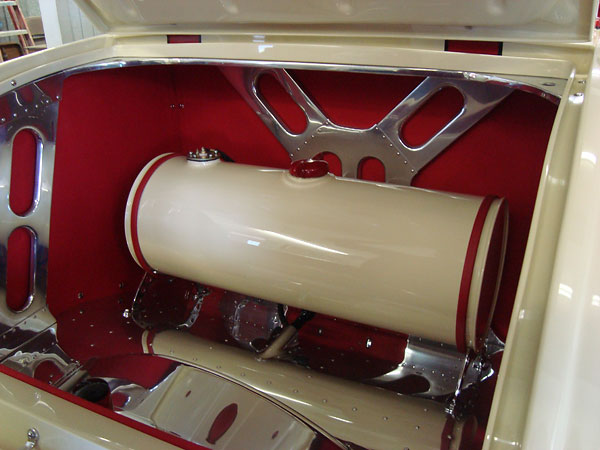 Boot details.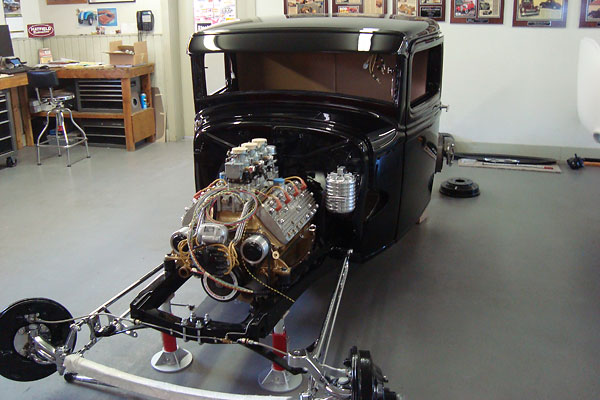 T-Bucket under construction.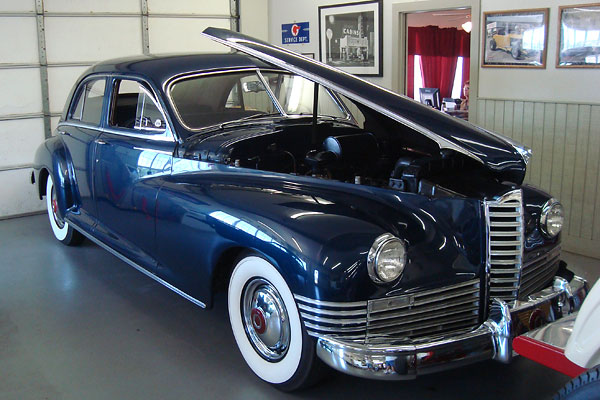 1946 or 1947 Packard Clipper.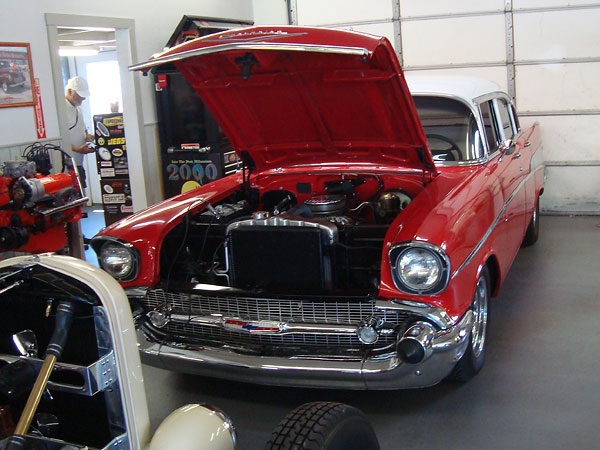 1957 Chevy.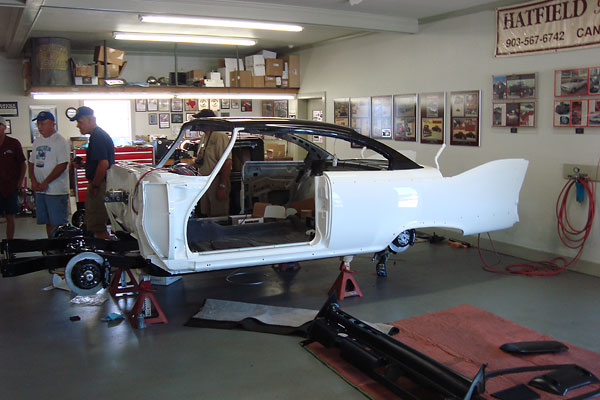 1961 Chrysler Imperial during restoration.




Disclaimer: This page was researched and written by committee. Views expressed are those of the authors listed above, and are provided without warrantee or guarantee. Apply at your own risk.

Photos by Artie Clark (12), Graham Creswick (1), Carl Floyd (1), and Curtis Jacobson (26) for BritishV8 Magazine. All rights reserved.