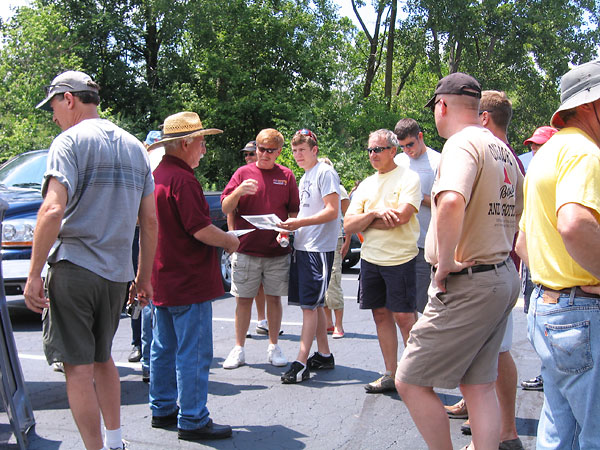 Continuing Education: BritishV8 2010 Tech Sessions
as published in BritishV8 Magazine, Volume XVIII Issue 1, December 2010
by: Curtis Jacobson
BritishV8 tech sessions are always a highlight of our annual meets. At the 2010 meet, participants had an opportunity to learn some English Wheel metal forming techniques from Gary Walker and Jim Blackwood, some ignition system tuning and troubleshooting techniques from Max Fulton of Flying Circus English Cars, and we learned about the range of superior quality composite body parts available from Dave Craddock and his company, Preform Composites. We also enjoyed learning about latest offerings from familiar vendors: Steve Carrick of Advance Auto-Wire, Ted Lathrop of Fast Cars Inc., and Pete Mantell of Mantell Motorsport. This article includes my photos and notes from the 2010 BritishV8 tech sessions.


How to Use an English Wheel
Jim Blackwood brought a new (used) English Wheel to BritishV8 2010 so that Gary Walker could give us all a first basic lesson in how to use it. One of the first projects planned for the wheel was the creation of custom steel fender flares for the Roadmaster MGB, so a trial fender flare was chosen as their example project.

Gary started his brief talk by pointing out that metal-shaping boils down to just three basic processes: stretching, shrinking and bending. Other processes like cutting, welding or annealing lay just outside the realm of shaping. Gary then pointed out that as a sheetmetal part grows in surface area, it must inevitably grow thinner. An English Wheel will cause a part to transform in this manner - it's a stretching tool - but the process is slow and gradual. (At this point, Gary showed us that sometimes a great deal of time can be saved by hammering a sheetmetal blank to rough shape, and then using the English Wheel to refine and smooth the shape.)

Gary next explained that the clamping pressure between the relatively large top wheel and the relatively small, crowned bottom roller will need adjustment as work progresses, but the metal should always roll back and forth between the wheel the roller without much resistance. Although Jim's (used) English Wheel only came with one crowned roller, Gary advised that a selection of bottom rollers with varying surface profiles are generally used, one after another, as the lower surface of the work becomes more concave. A roller with the least curved profile possible should always be used because having too much curve overstretches and leaves roller marks in the workpiece. (Jim knows where to order a complete set of rollers for his English Wheel.)

While working the center of a panel with an English Wheel, passes need to be basically parallel and close together to keep the stretching of the metal progressing evenly. We also learned that the wheel's quick-release should be used for removing and replacing the workpiece in the machine because any stretching near the edge of the panel is usually undesirable, and shrinking the edge back to size takes a lot of work. Most parts made on an English Wheel require some shrinking with another piece of equipment.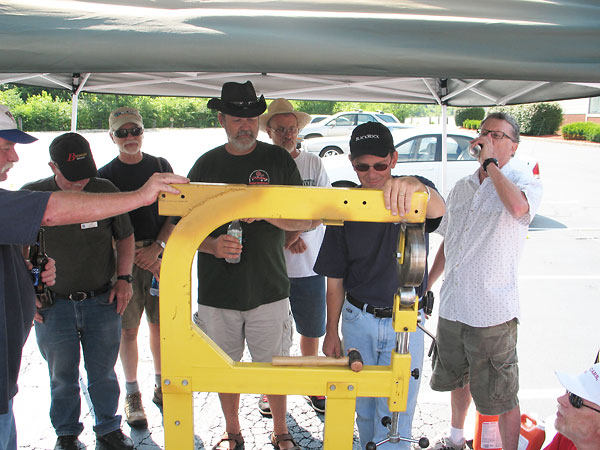 Gary Walker explains the basic theory of English Wheel use.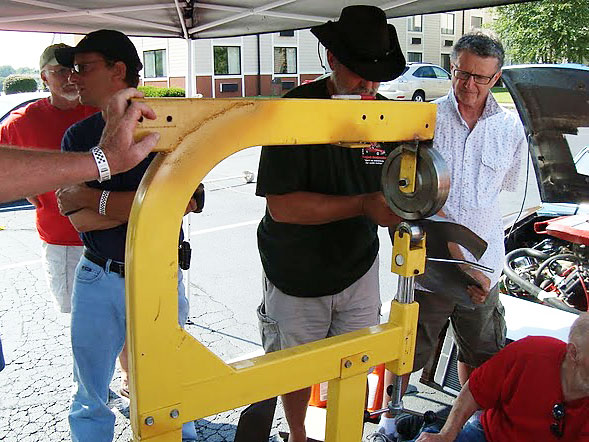 Jim Blackwood takes a turn at transforming a blank of thin flat steel into a smooth compound curve.


Composite Body Parts for MGB, Midget, and Sprite from Preform Resources
Dave Craddock already had over twenty-five years of fiberglass fabrication and racing experience before he started Preform Resources seventeen years ago. Now, after seventeen years of business in one location and after serving countless racers, Dave is expanding Preform Resources and introducing products that will surely please many MGB and Spridget performance enthusiasts.

Okay, it's no secret that our market hasn't been particularly well served by the old fiberglass shops back in the old country. The quality of British fiberglass parts, as a rule, has not only failed to keep up with rising quality expectations but has noticeably declined over many years. It's time for a new fiberglass fabricator with new ideas, new designs, new molds, and modern resins to come along and shake things up, and we're fortunate that the new ideas are coming from someone who knows and loves British sportscars as much as we do. Dave Craddock has owned a number of British cars, and is currently completing an MGB V6 conversion for himself.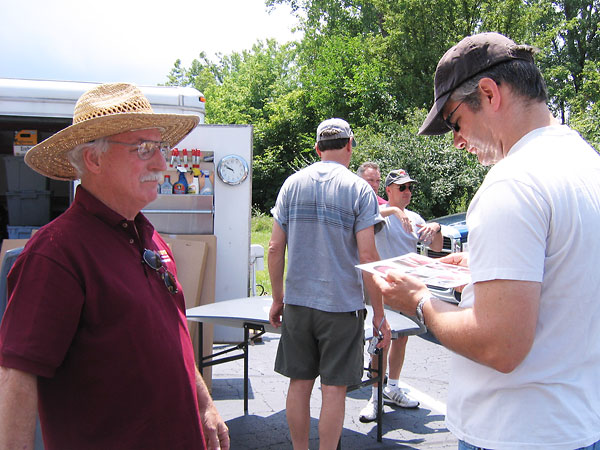 Dave Craddock shows photos of his MGB "Speedster" aerodynamic body kit to Max Fulton.
Will this kit appear on Max's B-Stingers Racing Team MGB? Probably not, because the speedster
kit is far too radical and aerodynamic for current vintage racing rules - it does comply with SCCA rules -
but perhaps it might be just the thing for Max's long-planned personal MGB V8 project.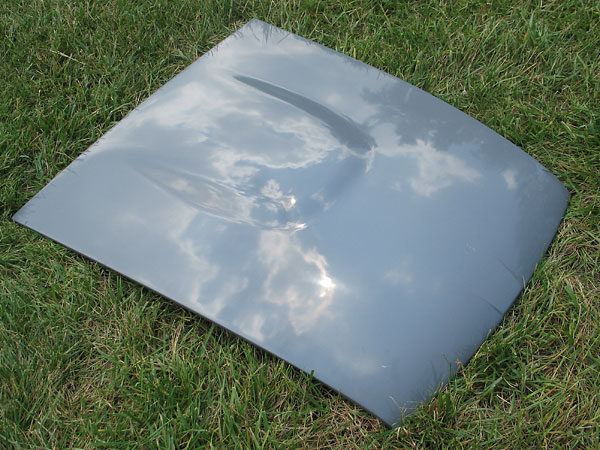 Preform Resources newest offerings are MG RV8 style hoods. They don't just look cool, they add
well over an inch of headroom over the engine compartment. The standard model RV8 hoods come
complete and ready to bolt-on, priced at just $395. The hoods are finished in smooth, sandable gray
gelcoat. Under the gelcoat, Preform Resources fiberglass parts are fabricated from E-glass mat with
an isophthalic polyester resin instead of a orthophthalic polyester resin some vendors evidently usually
use. (This is a key difference: "iso" resin is more tolerant of exposure to high heat, and it won't distort
significantly until over 220F, whilst "ortho" resin generally begins sagging at about 160F. Isophthalic
resin also produces generally stronger and more durable parts.) For weight obsessive customers and
especially racers, the RV8-style hood skin is also available without reinforcements for $185.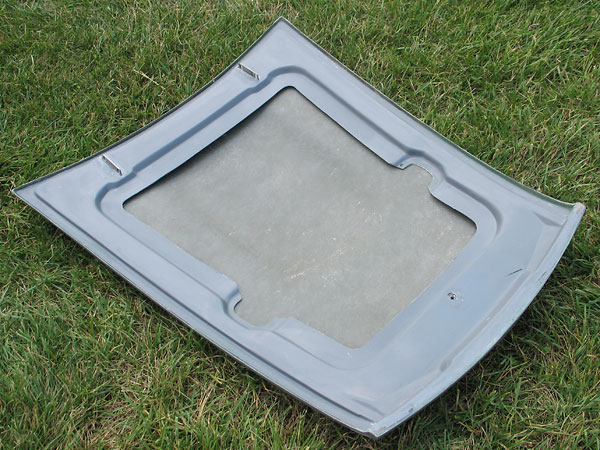 18 gauge steel reinforcements are bonded in for the hinges, for gas strut installation (both sides)
and for attaching the hood latch. (A 3/8" welded-in nut is provided for hood release attachment.)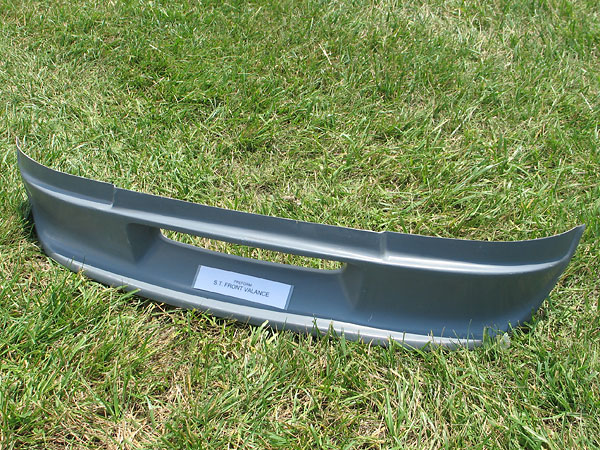 MG's "Special Tuning" department offered fiberglass air dams in this basic shape from the early 1970s.
Preform Resources take on the Special Tuning style differs in one especially noticeable area: they've
added a bumped-out area in the center/front so it fits better on later-model rubber-bumper MGBs.
The part comes complete and ready to install for $137. (Note: all prices quoted in this article have been
verified correct as of 01/01/11. Please call Preform Resources to get a shipping/packaging quote.)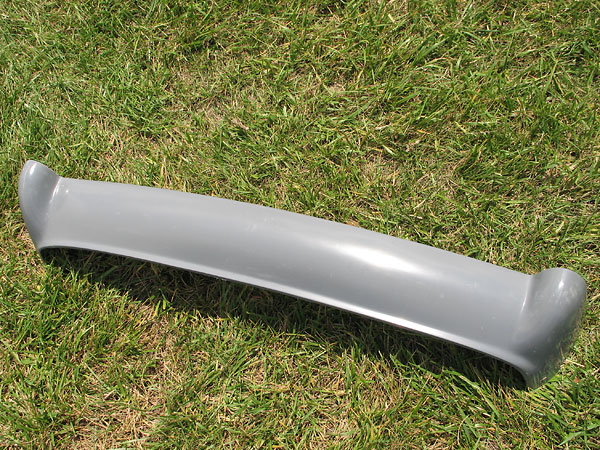 Sebring-style MGB rear valances are especially popular on MGBs with removed rear bumpers.
Other company's offer these, but before you purchase you should note that there are several key
differences. In the areas directly under the tail lamps, the Preform Resources valance continues
further downward rather than turning inward. It also fits better. Price: $160.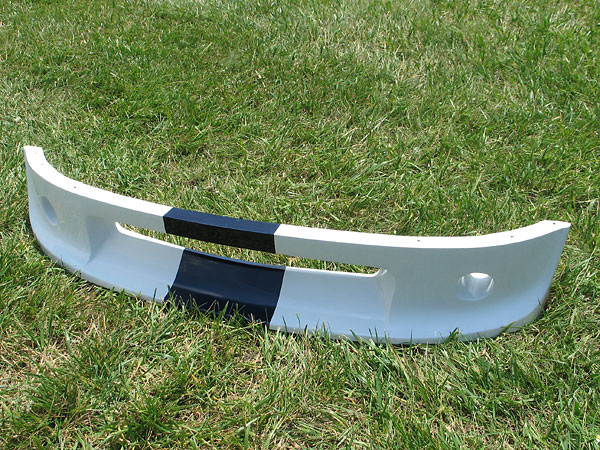 Due to limited trailer space, Dave couldn't bring a complete "Speedster" body kit to our meet, so instead he
brought color photos and an example air dam as shown here. In fact, two versions of the air dam are being
made, one nominally for street use and the other for SCCA racing. As shown here, the street air dam has a
smaller oil cooler opening and brake duct openings are located closer to the center compared to the racing
version (not shown.) The Speedster kit provides a very wide, low and aerodynamic appearance, as one
might expect on a current SCCA race car, and Dave has already shipped fifteen Speedster kits to racers.
$1900 gets you four fenders, a front valance, a rear valance, custom fiberglass rear wheel-arch inner panels
(you don't have to make your own!), bonding agent, and installation instructions.



Preform Resources fabricates superior quality Austin Healey Bugeye Sprite bonnets plus a very diverse range
of other Spridget panels, which are offered for retail sale exclusively through Rod Hahnemann of Spridgetech Inc.
Please contact Rod for pricing, etc. (Note: Mk1 Sprites are commonly called "Frogeye" Sprites in Britain. Except
for minor cosmetic and trim differences, Mk2 and later Sprites are almost indistinguishable from MG Midgets.
Hence, the two models are often collectively referred to as Spridgets.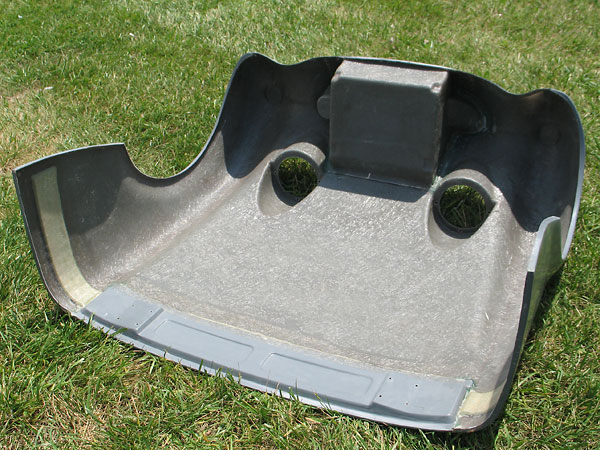 Three versions of Mk1 Sprite bonnets are offered, differentiated by wheel opening shape: stock, "vintage flare"
(as shown), and super-wide "SCCA flare." (Preform Resources also fabricates Sprite rear fender flares in vintage
and SCCA sizes respectively.) One feature that makes the Preform Resources Sprite Mk1 fiberglass bonnet
assembly unique in the marketplace is its molded in radiator box. Users can easily cut the box to match the exact
dimensions of their radiator, and thus eliminate the hassle of creating their own cooling system ductwork. A fresh
air port is provided on one side of the radiator box for easy connection to a cold-air box for the induction system.


Wiring Kits for British Sportscars from Advance Auto-Wire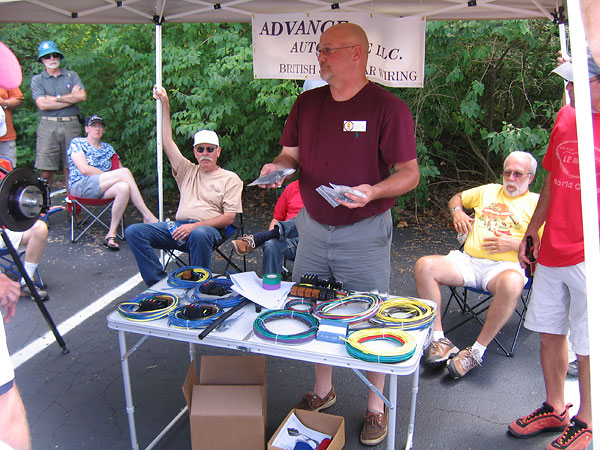 Steve Carrick of Advance Auto-Wire explains the features and benefits of his exceptional wiring kits.
Read more here: BritishV8 2006 Tech Session: Installing an Advance Auto-Wire Wiring Kit
and here: BritishV8 2007 Tech Session: Installing an Advance Auto-Wire Wiring Kit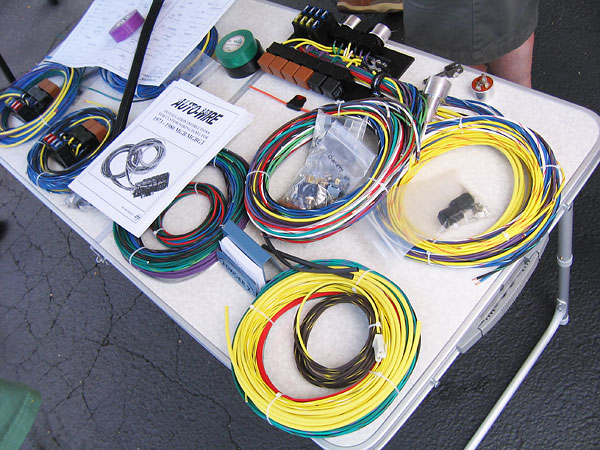 In addition to complete-car wiring kits, Advance Auto-Wire also offers wiring kits for specific
functions such as relay-switched headlamps or electric cooling fans (as shown at far left).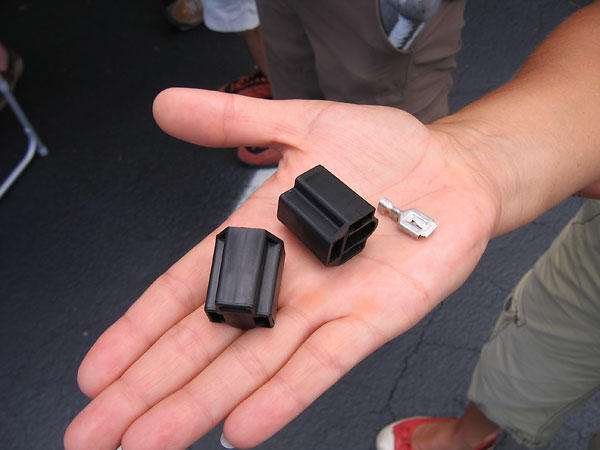 All headlamp connectors aren't created equal! The headlamps transfer quite a lot of heat through their
terminals. Inferior connectors will age and crumble prematurely. These Packard connectors are made from
from much better quality plastic. Their terminals feature separate crimp wings for conductor and insulator.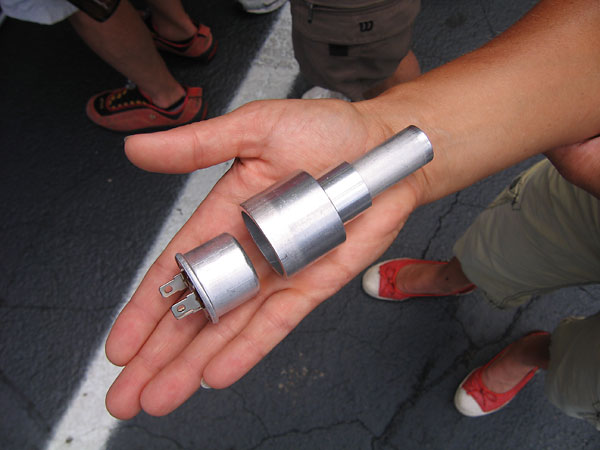 Metal-can flasher relays are fragile. To avoid compressing the back of the can during installation,
which would ruin the relay, Steve uses this nifty little shop-made turned aluminum tool.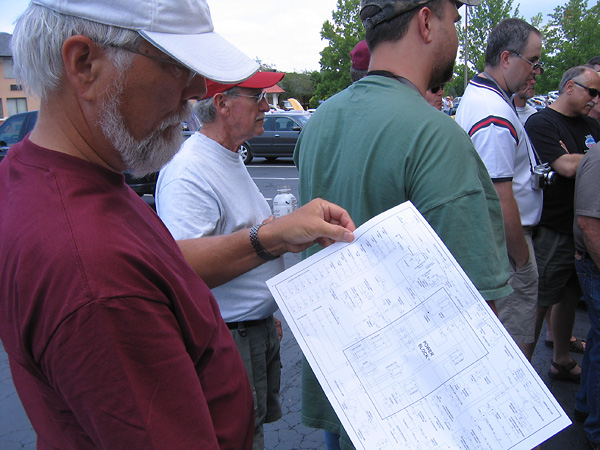 Advance Auto-Wire wiring kits come with exceptional detailed installation instructions and advice,
clear and detailed schematic drawings (as shown here), and friendly customer support. Other companies
know hot-rods, but Advance Auto-Wire is uniquely knowledgeable about wiring modified British sports cars.


Enjoying this article? Our magazine is funded through the generous support of readers like you!
To contribute to our operating budget, please click here and follow the instructions.
(Suggested contribution is twenty bucks per year. Feel free to give more!)
Upgraded Suspensions and Brakes for MGs & Triumphs from Fast Cars Inc.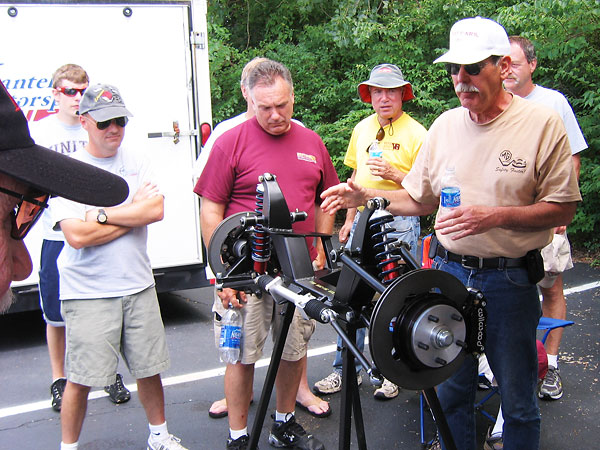 Ted Lathrop of Fast Cars explains the features and benefits of his exceptional front suspension.
Read more here: BritishV8 2006 Tech Session: MGB Front Suspension Upgrade
here: BritishV8 2007 Tech Session: Fast Cars MGB Front & Rear Suspensions
and here New and Improved Chassis for Triumph TR6.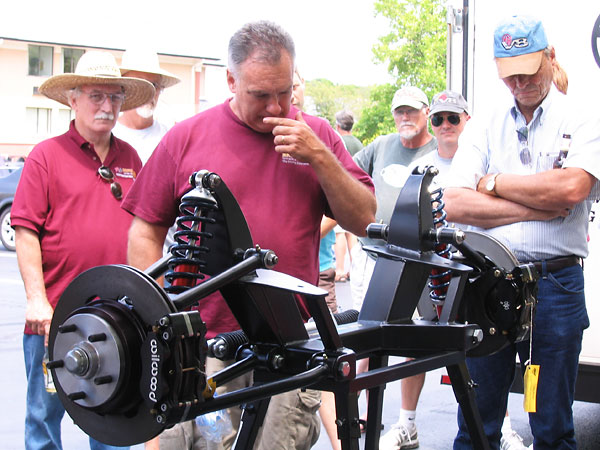 The Fast Cars MGB front suspension is available with whatever lug pattern the customer desires.
Customer may also select color, and whether Ford 302 V8 motor mounts should be preinstalled.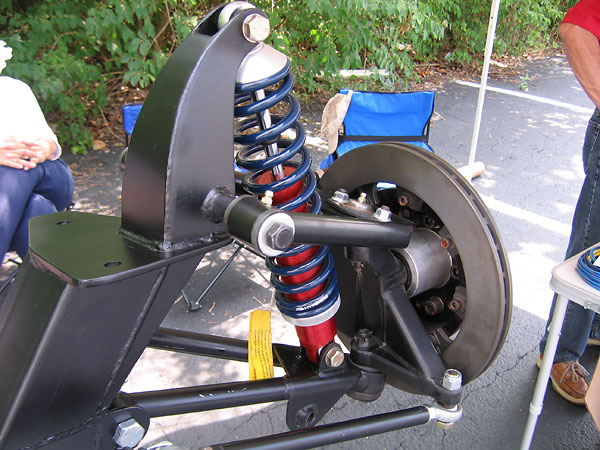 Install this suspension on your MGB and you'll notice a much smoother ride quality, better road holding,
more precise steering, easier steering at low speed, exceptional brakes, and less brake fade. Adjusting
ride height precisely becomes an easy task. This suspension facilitates easy spring rate changes too.
At least sixteen of the cars in our BritishV8 gallery already have this suspension!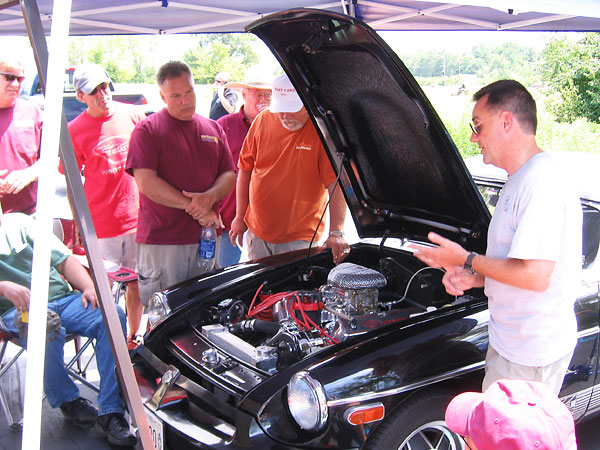 Pete Mantell of Mantell Motorsports introduces his new Ford 302 engine installation kit for MGB.


Mantell Motorsports Introduces New MGB-302 Engine Installation Kit
At past BritishV8 meets, Pete Mantell has walked us through the basics of installing a small block Ford V8 in an MGB. At this year's meet, Pete unveiled his new kit which will make the installation much simpler and quicker.

The Mantell Motorsport MGB 302 V8 Kit will enable home mechanics to bolt Ford "302" (5 liter) V8 engines into their rubber-bumper (1974.5-1980) MGBs with minimal modification, and even close the stock hood without need for a hood scoop or power bulge! The kit has been designed around a modified rubber-bumper MGB crossmember. A core charge is included in the kit price and refunded when a usable crossmember is returned. What specific modifications have been made to the crossmember? It's been channeled in the middle for clearance to the Ford oil pan and stout motor mounts have been welded onto the crossmember. Installers won't have to guess about exactly where to locate their engines. No welding is required.

In addition to the modified crossmember, the kit includes a transmission crossmember and mounts for a Ford-spec Borg-Warner T5 5-speed gearbox, RV8-style (through the inner fender) four-into-one exhaust headers, exhaust gaskets and header bolts, a remote oil filter adapter, an oil filter bracket, a set of black polyurethane crossmember mounting pads, paper templates for header holes, and comprehensive written instructions. Steel parts will be painted black, unless otherwise requested. Powdercoat options are also available.

To install the kit, you must of course first remove all the original suspension components and the associated front brake components. These will be re-installed on the new (modified) crossmember unless you decide to make other upgrades at this time (such as installing polyurethane bushings, lowered springs, or a "big brake" kit.

This 302 V8 kit's engine mounts are adjustable to enable installers to overcome MG manufacturing variance and Ford 302 engine revisions (for example, to ensure harmonic balancer clearance near the steering rack.)

Radiator installation modifications are required, and they vary with the customer's installation. The kit includes information and tips about whether and how-to relocate the radiator bracket when necessary. In all cases, the lower radiator panel must be trimmed for clearance. Some modifications are also required to the firewall next to the accelerator pedal, and above the transmission. These are relatively minor and can be best accomplished with a hammer.

The Mantell Motorsport MGB 302 V8 engine installation kit (for rubber bumper models) is priced at $1325, plus $125 core charge and shipping. Please call for a shipping quote, or if you have any questions. A "chrome bumper" (1962-1974.5) MGB 302 V8 kit will be offered in the future.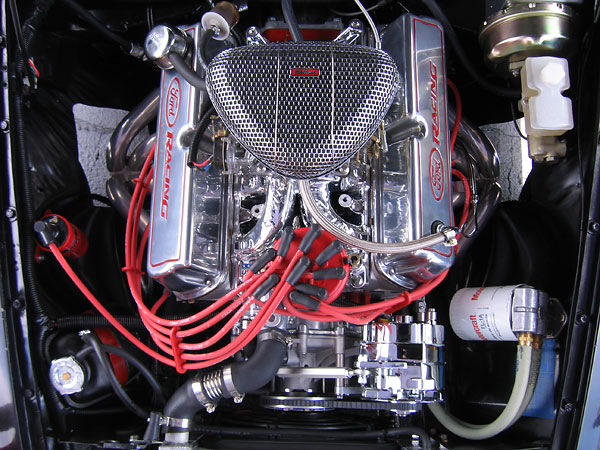 This could be yours! Mantell Motorsports' new kit will make 302 conversions much simpler and quicker.


Troubleshoot and Fine Tune Your Ignition System
Max Fulton of Flying Circus British Cars in Raleigh North Carolina and of the B-Stingers Racing Team volunteered to give a tech session on ignition system troubleshooting and optimization. In advance of the tech session, Max arranged to borrow two cars: Tim Duhamel's MGB V8 which had performed very impressively in our autocross two days previously and Rick Ingram's impressively stock MGC.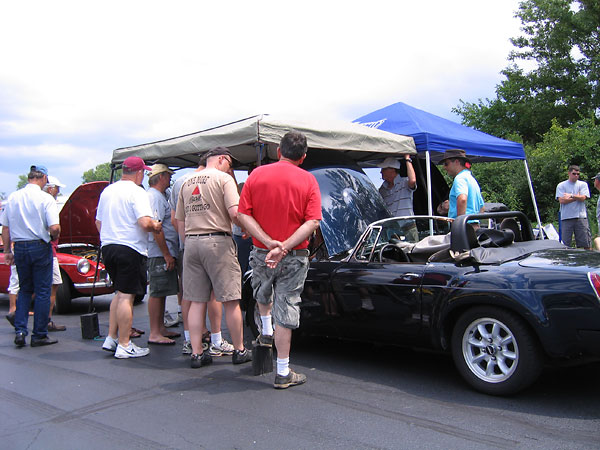 Max started by discussing Tim's ignition system and the systems he'd seen on other V8s at the meet. Max
pointed out the components Tim was running: Lucas Gold Coil, Mallory Unilite distributor, Accel HI-PO wires,
and NGK plugs. Many of us use relatively hot aftermarket ignition coils. These coils produce such a strong
spark that it can disguise downstream deficiencies in the ignition system that really deserve more attention.
Cars with high power coils will often start easily and idle well, but they may be giving up performance at
high rpm or under heavy load due to unrecognized problems.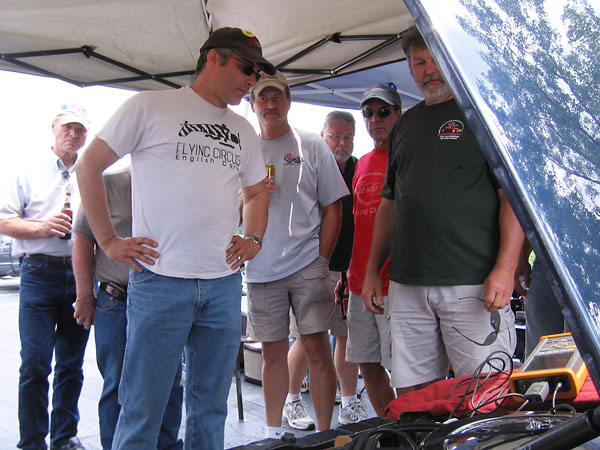 From Max's experience, the quality of aftermarket spark plug cables varies widely from brand to brand.
He likes to achieve a balanced ignition system; all eight plugs should deliver an equally strong spark.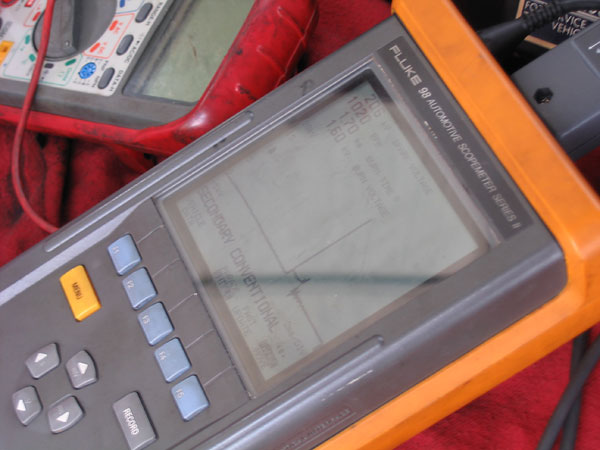 Fluke 98 Automotive Scopemeter Series II in secondary ignition test mode. Simply pressing a button on the meter
toggles the display from all eight cylinders in secession to one specific cylinder as shown here. Max explained
that "Tim's car gave an absolutely perfect graph, with nothing to investigate." If you look close: the meter reads
20.6kV spark voltage, 1020rpm engine speed, 1.70ms burn time, and 1.60kV burn voltage. As we watched,
spikes appeared to parade across the screen from right to left. On the screen, the vertical axis shows voltage
and the horizontal axis shows time. The coil delivers a strong initial spike of voltage; specifically it equals
the voltage required to bridge plug and rotor gaps. Once the gaps are bridged, the spark plug continues to arc
until extinguished at a relatively constant burn voltage. Burn time and burn voltage can be visualized by the
length and the height of the "chair seat" (i.e. spark line) respectively. Burn time and burn voltage directly affect
engine performance. (We want a relatively long, flat spark line. The burn voltage should be below 2kV because
a higher burn voltage indicates resistance in the circuit and results in a shorter line.) By observing the shapes
of pulses and comparing cylinders we can diagnose problems (e.g. a damaged spark plug cable) and then
measure progress as we optimize the ignition system's performance.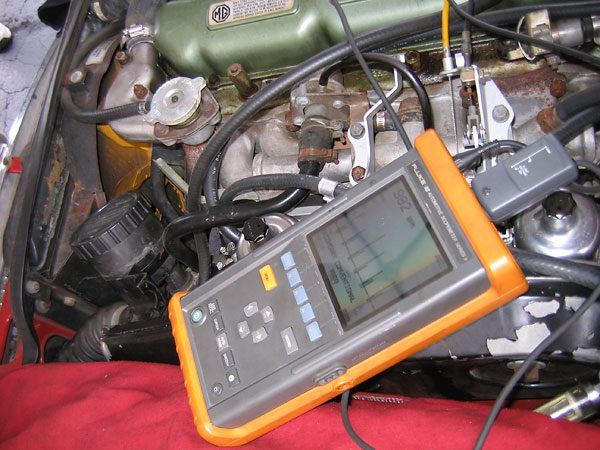 With the scope moved from Tim's V8 to Rick's MGC we see a lot more variation in spark voltage, burn voltage,
and burn time from cylinder to cylinder. Abnormally high and uneven spark voltages might indicate one or more
of the following: worn spark plugs, breaks in spark plug wires, a worn distributor cap, or an uneven (possibly lean)
fuel mixture. Abnormally low and uneven spark voltages might indicate low/uneven compression, one or more fouled
spark plugs, improperly gapped spark plugs, or a cracked spark plug insulator. Max showed us that a variety of
tests are used to isolate and i.d. problems more specifically, but we won't go into detail about that here.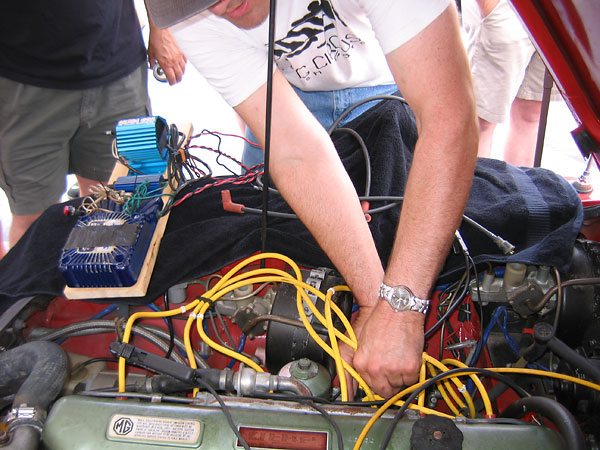 Max came prepared for the tech session with a complete Jacobs capacitive discharge ignition system mounted
on a board and ready to temporarily hook-up. With it, he was prepared to demonstrate the improvement in burn
voltage and burn time these systems promise. In the parking lot, that should translate into a smoother idle and
probably the ability to set idle speed lower. More power and better fuel economy on the road are also expected.
Unfortunately, Rick's condenser was on its last legs so the demo wasn't as impressive as it might have been.
Poor condition spark plugs and higher than desirable spark plug wire resistance were also hampering performance.
The Jacobs system did smooth out Rick's idle a little, just not as much as Max hoped. We could however see that
the Jacobs controller produced multi-spark up to around 3000rpm, with three sparks at idle shifting to two sparks
at about 2000rpm. Despite Max's frustration, this was an especially interesting and insightful tech session.


Disclaimer: This page was researched and written by Curtis Jacobson. Views expressed are those of the author, and are provided without warranty or guarantee. Apply at your own risk.
Photos by Curtis Jacobson for BritishV8 Magazine. All rights reserved.