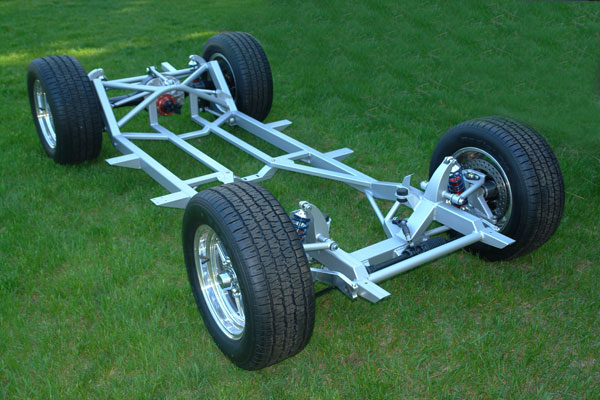 Fast Cars Offers New and Improved Chassis for Triumph TR6
as published in BritishV8 Magazine, Volume XVII Issue 1, July 2009
by: Curtis Jacobson
Fast Cars' latest offering will excite Triumph TR6 enthusiasts and probably kit car builders too!

Fast Cars has begun selling replacement TR6 chassis that include entirely redesigned suspensions with coil-over shock absorbers and Wilwood disc brakes, front and rear. The core of the chassis design is a tubular frame that easily surpasses the original TR6 frame in both strength and rigidity.

Original TR6 bodies will bolt right on, using existing body mounting points. (With some modifications, this chassis can be used under other bodies as well.)

In standard configuration, the chassis is designed to accept a Ford 302 V8 with a T5 5-speed transmission, but other options will be available on a made-to-order basis. A lightweight but tough Ford 8" rear axle is standard equipment.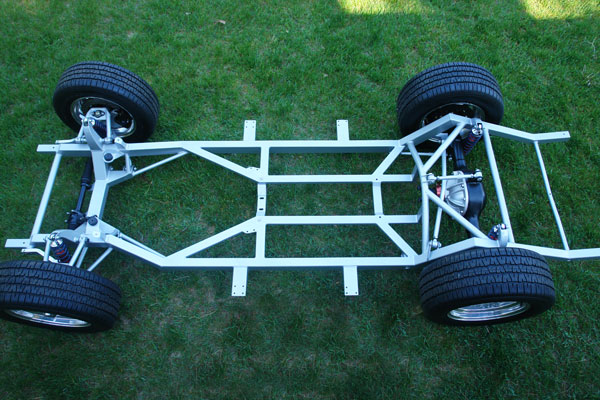 The Frame
Fast Cars' new TR6 frame is primarily constructed of mild steel "box" tubing. A handful of crossmembers and braces have round cross-sections, but they're the exceptions that prove the rule. The practical advantage of this is that it will always be easy to modify or repair the frame, and specifically it will be easy to install various brackets and accessories.

The frame comes standard with motor mounts suitable for a Ford 302 V8 engine and with transmission mounts for a Borg Warner (or Tremec) T5 5-speed transmission. However, if you prefer a different engine or transmission, Fast Cars will be happy to assist you. If you'd like to supply your engine, they'll even be happy to engineer mounts for it and install them in their shop. Don't hesitate to call for an estimate, and to discuss your specific application.

Installing a body can be tricky. Fast Cars will also be happy to provide assistance at this stage of your project. Contact them to discuss your specific needs, whether you're working with a pristine, Heritage TR6 bodyshell or considering building a one-of-a-kind body. Since Fast Cars TR6 frames are made to order, they can easily alter where body brackets are installed along the frame.

Want a roll hoop or a full rollcage? Fast Cars can help you with that too.

Various paint finishes are available, including custom colors.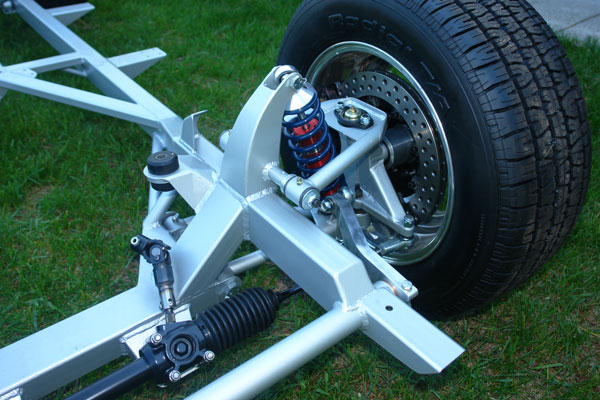 The Front Suspension
The first priority of the front suspension design was to minimize un-sprung weight. Whereas any weight reduction will make a car quicker, reduction of un-sprung weight particularly improves ride quality. To this end, the front suspensionf features fabricated 4130N spindles, aluminum alloy (6061) hubs, and Timken tapered roller bearings. The spindle assemblies weigh just 5 pounds 2 ounces each (without brakes). The brakes are 11.75" Wilwood vented rotors with robust four-pot Wilwood "Dynalite" aluminum brake calipers. Nylatron GS bushes are used at the suspension pivots.

Another design priority was to further improve ride quality and handling thru better placement of the lower spring mounting point. The lightweight QA1 aluminum-bodied coil-over shocks are mounted quite far out at the lower end, so the springs compress relatively far for any given wheel displacement. This increases piston travel for any given bump, which is advanteous. The coil-over shock absorbers also facilitate very simple ride height and corner weight adjustment.

The Fast Cars IFS has a nominal caster angle of three degrees, and like modern cars caster can be easily fine-tuned during alignment. The adjustment range is 2.5 to 5.0 degrees. The Fast Cars IFS is also designed to have very little static camber. (Camber is the relative angle of the steering pivot axis to a vertical line as viewed from the front or rear of the car. It changes with body roll as a function of suspension geometry. Better tire life and straight-line braking are also benefits of utilizing less static camber.) Ted recommends very little toe-in: just one thirty-secondth to one sixteenth of an inch.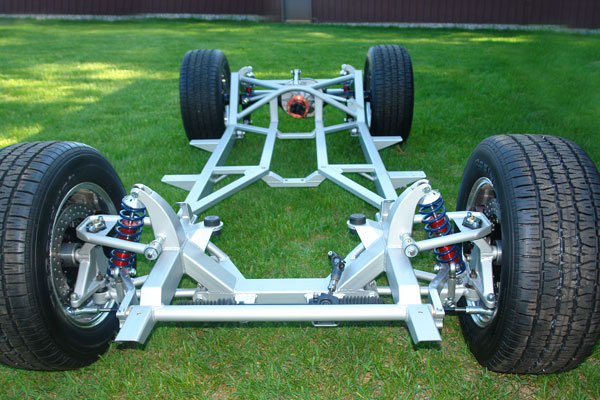 By virtue of the relative placement of A-arm attachment points, the Fast Cars front suspension has some "anti-dive" built in. The suspension geometry has been engineered so that the upward force of brake torque reaction partially counteracts the downward force of load transfer.

One of the distinctive characteristic of Fast Cars front suspensions is light, precise steering. This is partly attributable to suspension geometry. It's also partly because of the steering rack that Fast Cars uses, which is custom made to their specifications. Of course, the steering requires an intermediate shaft and u-joints to connect to the TR6 steering column. Customers can fabricate their own, or they can buy a custom-made intermediate shaft from Fast Cars.

Wider track width versions of the suspension are available for customers who are fitting fender flares.

Since hubs are made to order, they're available with whatever popular four or five hole lug spacing you prefer. Of course, your preference may depend on what wheels you plan to use.

Fast Cars' proprietor, Ted Lathrop, has earned quite a reputation for inventing trick construction details. One of our favorite details of the new chassis is the way the front anti-sway bar is housed within a tubular crossmember. Its lightweight aluminum arms are splined to match the steel bar, and they can easily be removed if a stiffer or softer bar is desired.
Enjoying this article? Our magazine is funded through the generous support of readers like you!
To contribute to our operating budget, please click here and follow the instructions.
(Suggested contribution is twenty bucks per year. Feel free to give more!)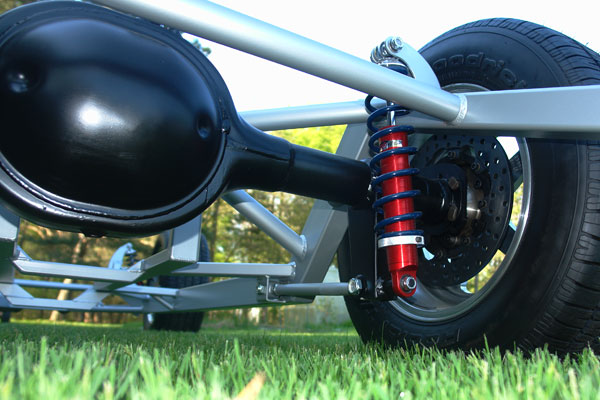 The Rear Suspension
The Fast Cars TR6 chassis comes with a Ford 8" live axle, Wilwood disc brakes, and a custom "three-link" coil-over rear suspension. The nomenclature here can be a little confusing, so to be clear: a three-link rear suspension is actually composed of four links, plus two coilover shock absorbers. The three links that extend forward locate the axle forward-to-back and restrict its rotation (e.g. pinion angle). The two bottom links run forward from brackets underneath the axle, parallel with each other. This is a nice feature because it simplifies suspension alignment. The third link runs forward from the top of the differential housing. The fourth link is a Panhard rod; it locates the axle side-to-side.

The coil-over shocks are located behind the axle, mounted straight up and down, and the Panhard rod is located in front of the axle. Therefore, to clear the axle pinion, the Panhard rod has a bend in it. The rear suspension geometry features "anti-squat". In other words, rearward weight transfer under acceleration is turned more efficiently into increased traction.

Nylatron "GS" bushings are used at the ends of the radius rods in lieu of Heim joints (which would transmit more road noise and would probably wear out quicker) or rubber bushings.

The axle itself is brand new, not just an old axle that has been "narrowed". The axle features an aluminum gear carrier ("pumpkin"), which is both lighter and cooler running than the iron alternative. The axle also comes with an Auburn limited slip differential.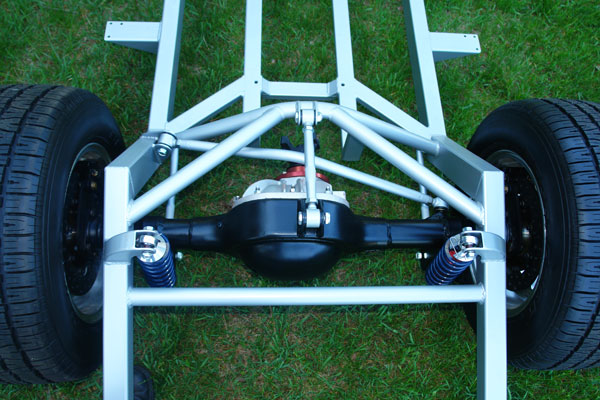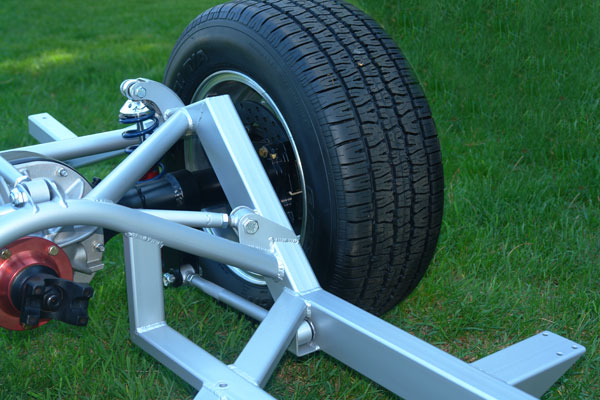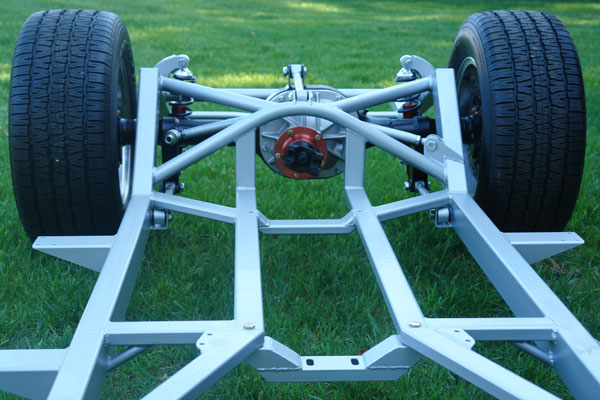 Additional Photos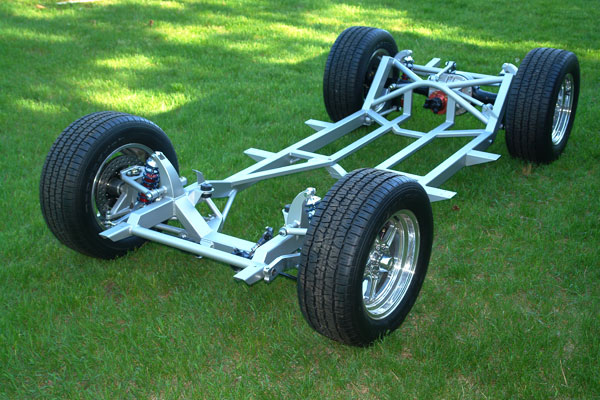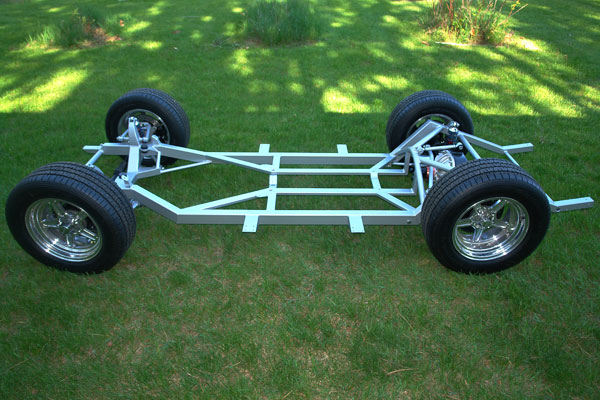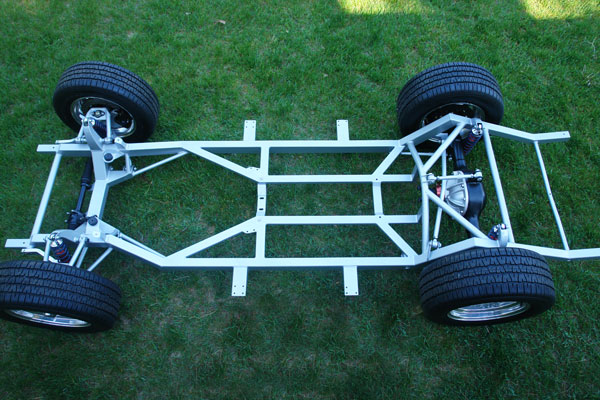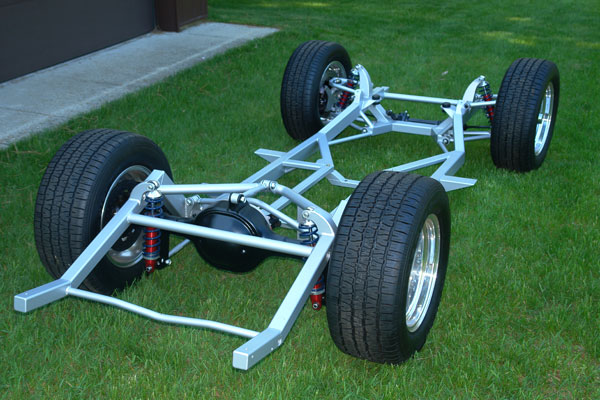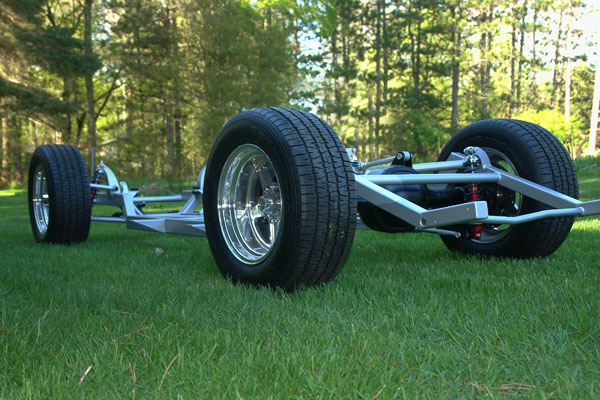 Disclaimer: This page was researched and written by Curtis Jacobson. Views expressed are those of the author, and are provided without warrantee or guarantee. Apply at your own risk.
Photographs by Wayne Edwards for BritishV8 Magazine. All rights reserved.