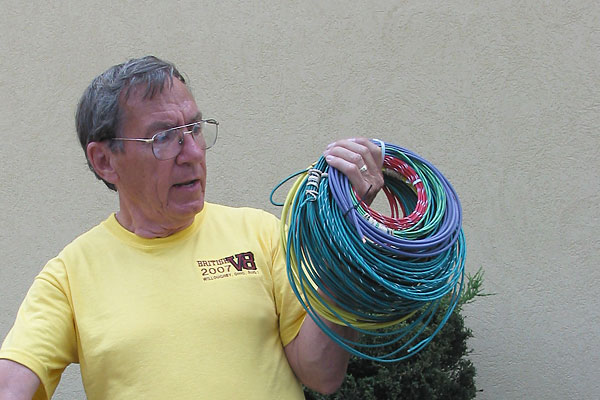 Dan Masters explained some of the unique virtues of the Advance Auto-Wire wiring kit.
British V8 2007 Tech Session: Installing a Wiring Kit
as published in British V8 Newsletter, Volume XV Issue 2, September 2007
presented by: Dan Masters of Advance Auto-Wire
coverage by: Curtis Jacobson
Dan Masters presented his electrical wiring tech session at 4pm of Friday afternoon. He focused his presentation on walking us through what's included with an Advance Auto-Wire wiring kit, and also what skills and tools are needed to get it properly installed.
What Comes In The Box?
I don't need to tell you that British sports cars don't have a great reputation for their electrical systems. Whether that's deserved or not, if you're replacing the engine in a British sports car, it makes a lot of sense to remove forty year old wiring and replace it fresh parts and newer technology. Dan makes that feasible for anyone by providing a high quality kit and including good documentation. So far, Advance Auto-Wire has shipped around two hundred wiring kits direct to customers in the U.S., Canada, England, Belgium, Germany, and Australia.
Perhaps the most important feature of Advance Auto-Wire's kit is the cable itself. The Advance Auto-Wire wiring kit comes with a great big bundle of fat wires. Frankly, every single lead is designed to be longer than it needs to be. You trim them to length. But why are they so fat? On almost all circuits the copper cable itself is thicker gauge than stock. The practical significance of fatter wire is that there's less electrical resistance and thus less voltage-drop, and consequently many devices work better. (Electric fans spin faster. Lights glow brighter.)
Enjoying this article? Our magazine is funded through the generous support of readers like you!
To contribute to our operating budget, please click here and follow the instructions.
(Suggested contribution is twenty bucks per year. Feel free to give more!)
The cable is covered with a thick layer of cross-linked polyethylene insulation. "SXL" insulation has a significantly higher melting temperature than the polyvinyl chloride (PVC) insulation that originally came on our cars' wiring. The higher temperature rating of SXL insulation provides a big safety net in the event of a mishap. With a one-off, hand-built car there's a very real possibility that a fuse won't always be there to catch an installer's mistake. The SXL insulation can withstand a lot more heat, whether the heat is caused by over-current or by letting a wire fall across a hot exhaust system. SXL insulation is also quite noticeably thicker than usual insulation. Dan has, however, color-coded the cable insulation to match the familiar British automotive standards. This is a nice feature that other hot-rod wiring kits don't offer.
Another hugely important advantage of the Advance Auto-Wire wiring is that it provides better circuit protection and more relays than the original car had. Fuses? There are more fused circuits (eight, or twelve if you buy the accessory add-on) and also modern ATC fuses in lieu of glass fuses. Take particular note of the relays. With a relay added into a circuit, electrical current through corresponding switches is reduced dramatically. Again, there's typically significantly less electrical resistance and thus less voltage-drop in the circuit, so the switched device performs better. Furthermore, the switch contacts themselves are less stressed, so they'll live longer and be more reliable.
"Typical" Advance Auto-Wire Circuit Protection and Relay Scheme
| | | |
| --- | --- | --- |
| Position | Circuits Protected | Fuse Rating |
| Fuse 1 | Windshield Wipers / Gauges / Turn Signals | 15 Amp |
| Fuse 2 | Heater / Reverse Lights / Brake Lights | 15 Amp |
| Fuse 3 | Fuel Pump | 15 Amp |
| Fuse 4 | Parking Lights | 15 Amp |
| Fuse 5 | Courtesy Lights / Radio Memory | 15 Amp |
| Fuse 6 | Horn / Hazard Lights | 20 Amp |
| Fuse 7 | Cigar Lighter / Accessories | 20 Amp |
| Fuse 8 | Cooling Fan | 20 Amp |
| | | |
Note: in all cases fuses are sized for the cables they're intended to protect
(length and gauge) - NOT the devices powered by those respective circuits.
| | |
| --- | --- |
| Position | Circuit Switched / Device Type |
| 1 | Main Power Relay (4 pin) |
| 2 | Fuel Pump Relay (5 pin) |
| 3 | Cooling Fan Relay (5 pin) |
| 4 | Horn Relay (4 pin) |
| 5 | Low Beam Relay (5 pin) |
| 6 | High Beam Relay (5 pin) |
| 7 | Hazard Lights Flasher |
| 8 | Starter Relay (4 pin) |
| 9 | Turn Signal Flasher |
| | |
How Do You Install It?
Firstly, various wire terminals are used throughout the wire harness installation. To connect terminals to cable, you will need to procure at least one, preferably two, and possibly three good-quality crimping tools. Don't be tempted to use cheap tools - this is one area where quality tools are mandatory for safe, reliable results.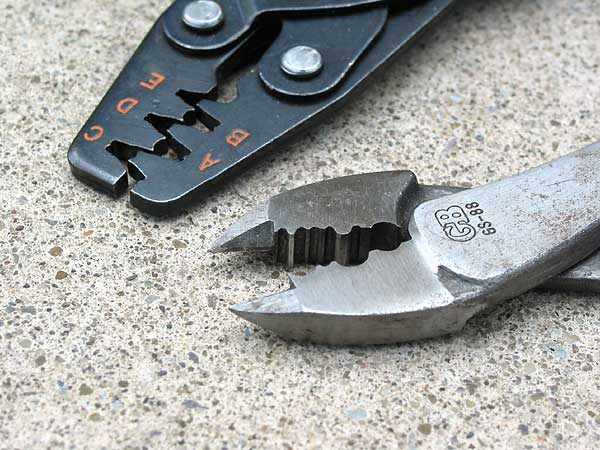 This photo provides a comparison of two styles of better quality crimping tools.
The black crimper is for modern automotive OEM-style "F crimp" terminals.
The plain steel ("GB") crimper is for barrel terminals like electricians use.
The GB brand tool is stout and crimps "along" rather than "across" the barrel
terminal, making for much stronger crimps than typical auto-parts-store tools.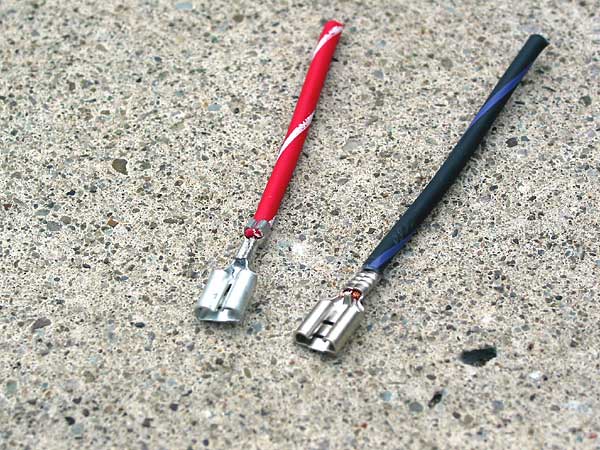 The terminal at left has two different crimps - one for the conductor and one for
the insulation. In both cases the crimp wings curl over and pinch down into the
cable. This is the prevailing modern OEM-style. The terminal at right has just one
"barrel style" crimp for the conductor. When crimping a barrel terminal, make sure
the seam in the terminal is on the concave side of the jaws, or the crimper will
tend to split the barrel open thus making a poor crimp. If terminals come with
insulation on them, Dan recommends removing and discarding the insulation. After
crimping, insulate the terminal with heat shrink tubing. Most hand-crimped terminal
installations are improved by a small amount of properly applied solder.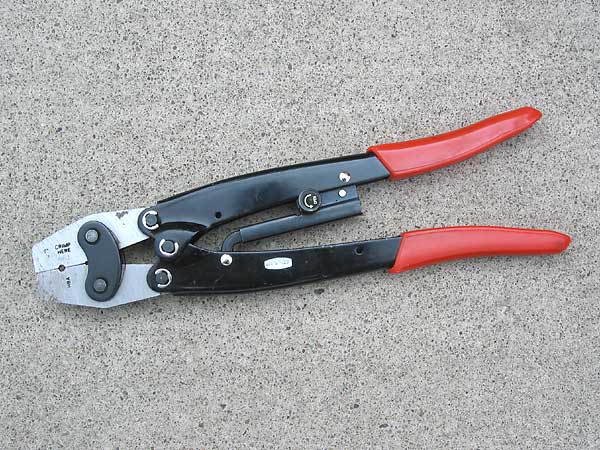 This crimper is for the original (Lucas, MG, Triumph, etc.) bullet style terminals.
It has a ratchet/latching mechanism, so you won't "under crimp" the terminal.
You only need this tool if you're leaving some original wiring in the car.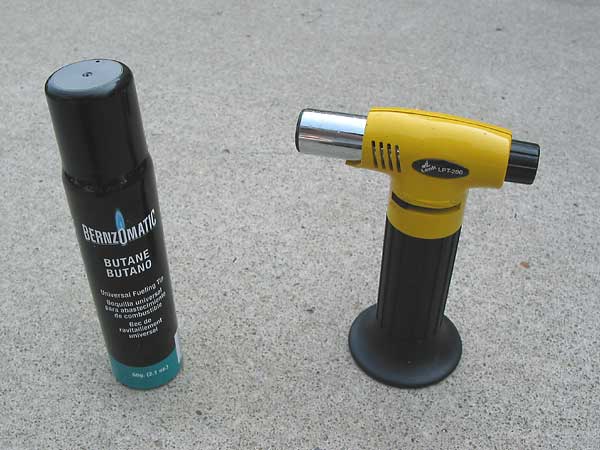 Dan's convenient butane-powered portable soldering iron. In general, Dan recommends
high-wattage irons because they can get the solder joint made without heat having
time to soak out into the wire and/or to damage cable insulation. Whatever iron you
use, Dan recommends rosin-core 60/40 thin gauge solder.


Disclaimer: This page was researched and written by Curtis Jacobson. Views expressed are those of the author, and are provided without warrantee or guarantee. Apply at your own risk.