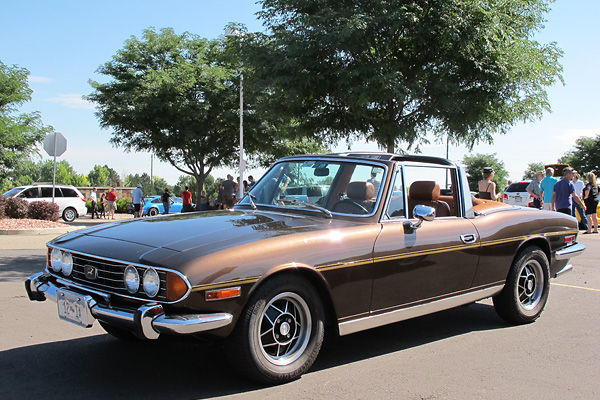 Glenn Merrell's 1973 Triumph Stag with Original Triumph 3.0L V8
as published in British V8 Newsletter, Volume XXI Issue 2, December 2013
Owner: Glenn Merrell
BritishV8 UserID:
StagByTriumph
City: Lafayette, Colorado
Model: 1973 Triumph Stag
Engine: Triumph 3.0L V8
| | |
| --- | --- |
| Engine: | Triumph 3.0L V8 engine, rebuilt. Dual Zenith Stromberg 175 CDSEV carburetors. Lucas 35D8 distributor. Pertronix Ignitor breakerless/electronic ignition module. Pertronix Flame Thrower ignition coil. |
| Exhaust: | all stainless steel dual exhaust system. Dual stainless steel mufflers. |
| Cooling: | stock radiator. Stock engine driven cooling fan. Stock dual electric fans ahead of the air conditioning condensor. Polycarbonate reproduction radiator cowling. |
| Transmission: | Borg Warner Type 35 three speed automatic. |
| Rear End: | Triumph Stag 3.43:1 ratio. Phantom Grip limited slip differential. Goodparts CV jointed rear axles. |
| Front Susp.: | stock MacPherson strut suspension. KYB strut cartridges. SuperFlex polyurethane bushes. |
| Rear Susp.: | stock independent suspension. KYB shock absorbers. SuperFlex polyurethane bushes. |
| Brakes: | stock Lockheed master cylinder and power brake servo. EBC drilled/slotted front brake rotors. EBC Green Stuff pads. Dust shields temporarily removed. Stock rear drum brakes. |
| Wheels/Tires: | stock 5-spoke alloy wheels. Pirelli P400 Touring 185/75R14 tires. |
| Body: | repainted with 2006 Ford Metallic Bronze paint. Brown mohair soft top. Body color factory hard top. |
| Interior: | interior restored. Leather trimmed dashboard top. All carpets replaced. Stock instruments. Original factory-installed air conditioning. |
| Comments: | Glenn is the third owner of this California car. He purchased it on July 2 of 2011 immediately before the Vintage Triumph Registry meet at Breckenridge Colorado, where it placed second in Concours judging! It's a very, very original car in almost all respects. The most conspicuous exception is its paint color. The hue is close to original, but the new paintjob features metallic flakes. This is no trailer queen though; Glenn drives it frequently and BritishV8 photographed it at a casual "cars and coffee" meet-up. |
Engine Installation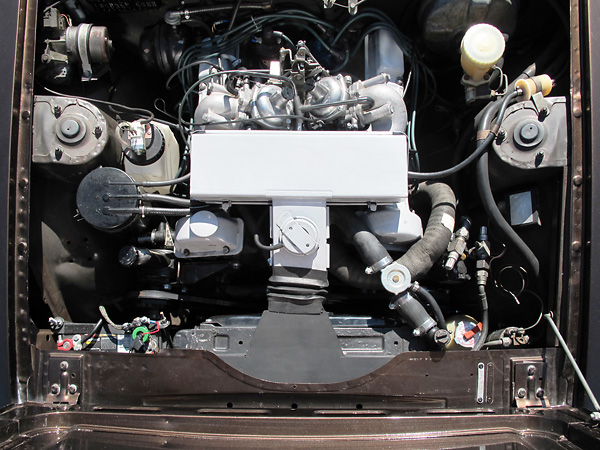 Triumph 3.0L V8 engine, rebuilt to stock specs except with flat top pistons to
slightly raise the compression ratio from a starting point of ~7.75:1.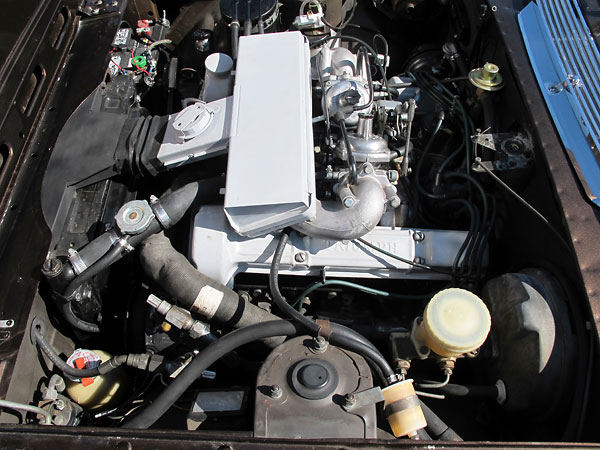 Triumph 3.0L V8 engines came in a low power version for U.S.A. and a higher power version
for the rest of the world. Initially, the U.S. version was rated 127bhp @ 6,000rpm & 142lb⋅ft
@ 3,200rpm. In early 1973, Triumph modified the U.S. variant's tuning and revised its rating
to 127bhp @ 5,500rpm & 148lb⋅ft @ 3,500rpm. 1973-on home-market engine ratings were
146bhp @ 5,700rpm & 167lb⋅ft @ 3,500rpm, achieved with a static compression ratio of 9.25:1.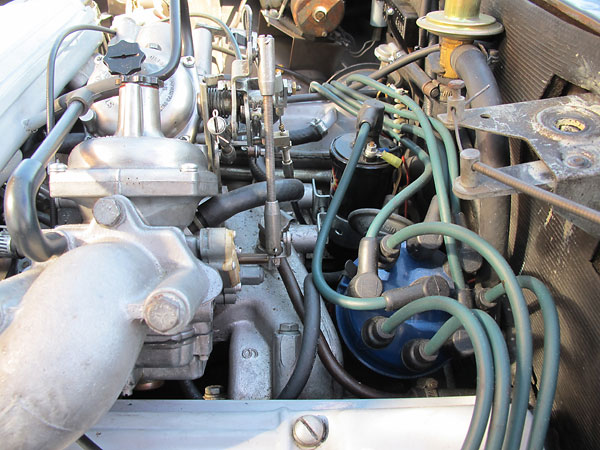 Dual Zenith Stromberg 175 CDSEV carburetors.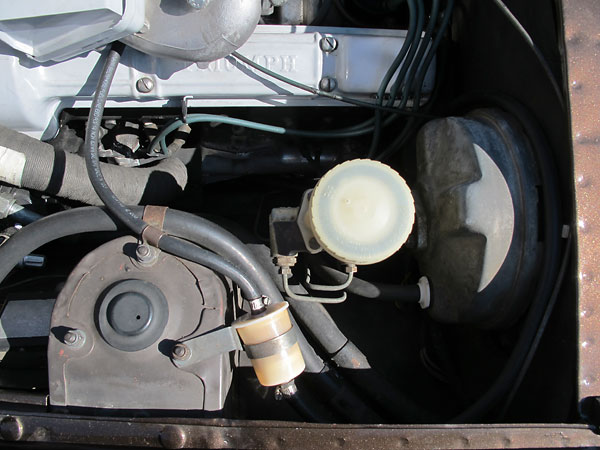 Power brakes were standard equipment on Triumph Stags. (AP Lockheed master cylinder.)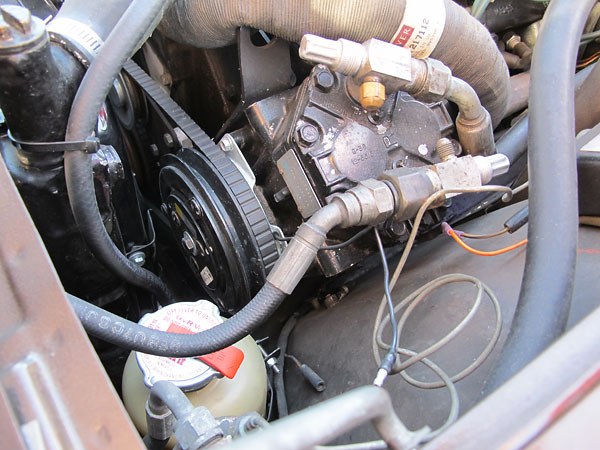 Air conditioning was a popular option on export market Stags.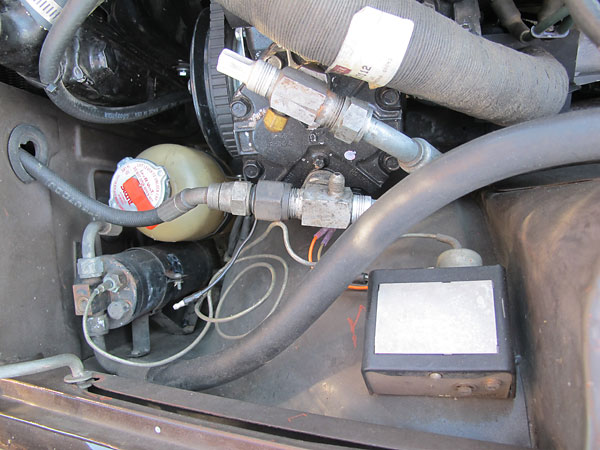 Foreground: a Panco high pressure cut-out for the air conditioning compressor.
(Note uplugged bullet terminal: the A/C compressor has been temporarily disconnected.)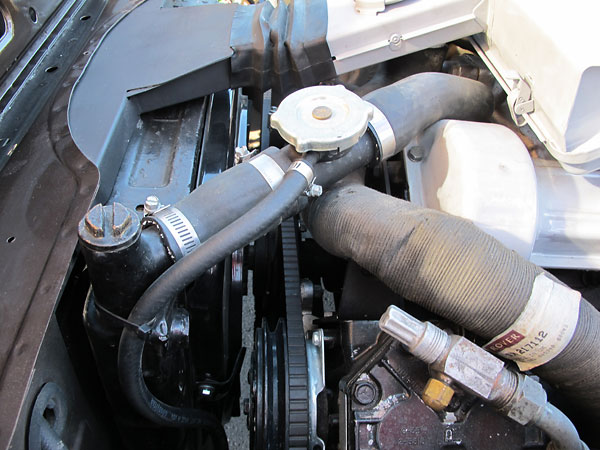 Radiator filler.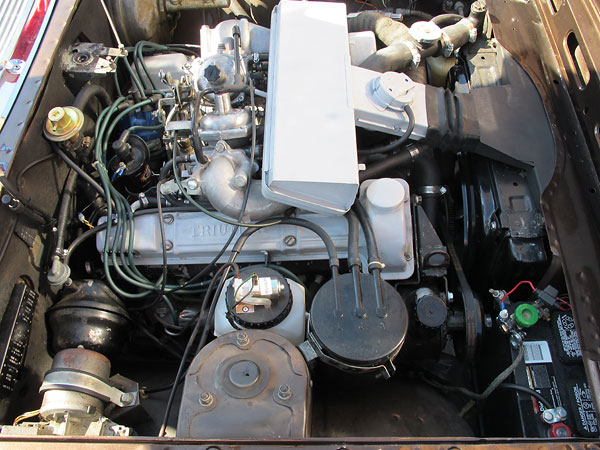 Panel air filter.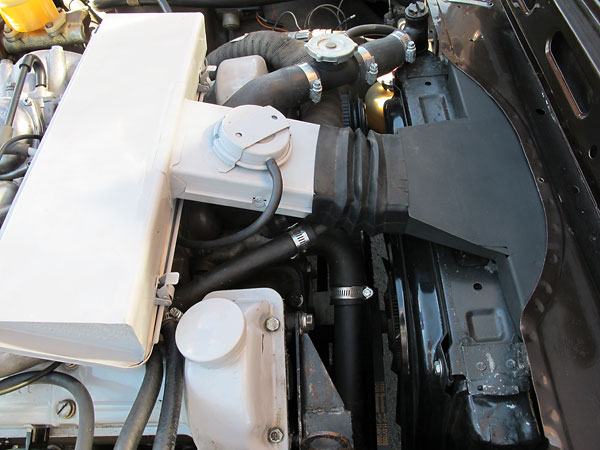 Genuine Triumph Stag stamped steel radiator cowling parts are very hard to come by.
Glenn Merrell has tooled up to make polycarbonate reproductions which look quite
authentic. He offers them as a three piece set, for $300. Bonus: they'll never rust!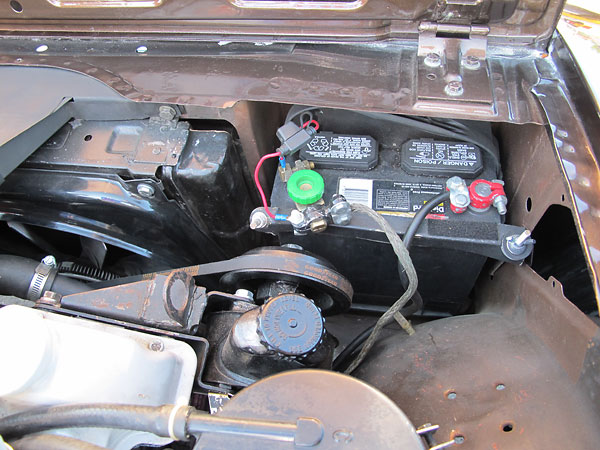 Sears DieHard battery.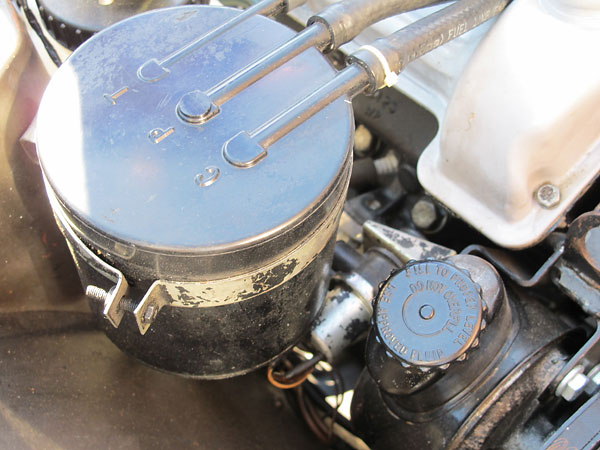 Charcoal canister: vapors from the fuel tank vent and the carburetor bowl vents are adsorbed
by activated carbon instead of polluting your garage and neighborhood. Later, fresh air is
drawn through the canister so the fuel fumes may be burned off. Evaporative emission
controls are reasonably simple, easy to maintain, and effective.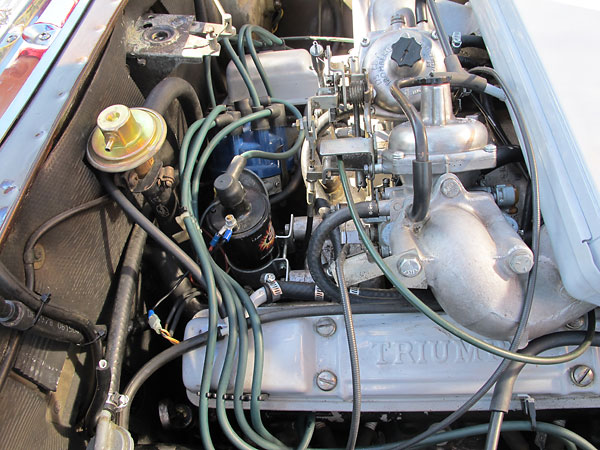 Triumph originally planned to offer the Stag with a 2.5L version of this engine, equipped
with fuel injection. At 2.5L, it didn't meet performance targets. The fuel injection
system was deemed too complicated, although Triumph was offering fuel injection on
contemporary six cylinder engines for the the British and European markets.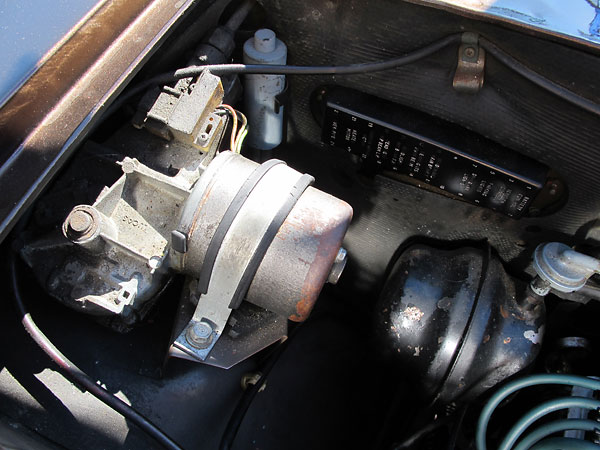 Clockwise from left: wiper motor, inertia switch, 12-circuit fuse block, and the
reservoir for vacuum operated climate control system air flaps and heater valve.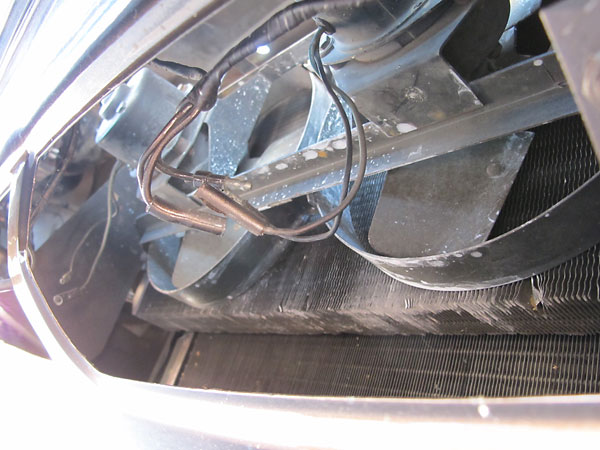 Temporarily disconnected electric fans for the AC condensor.


Front Suspension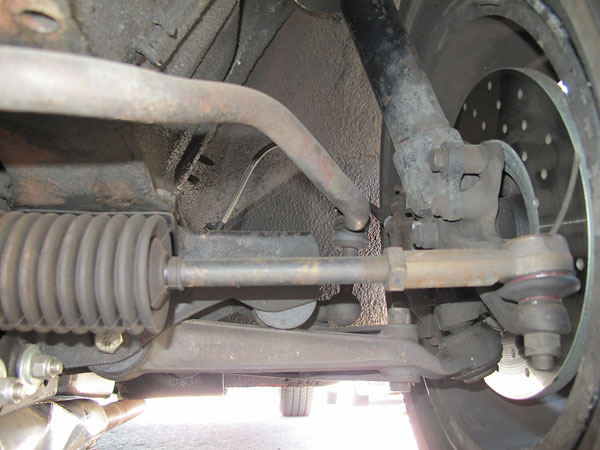 McPherson strut front suspension.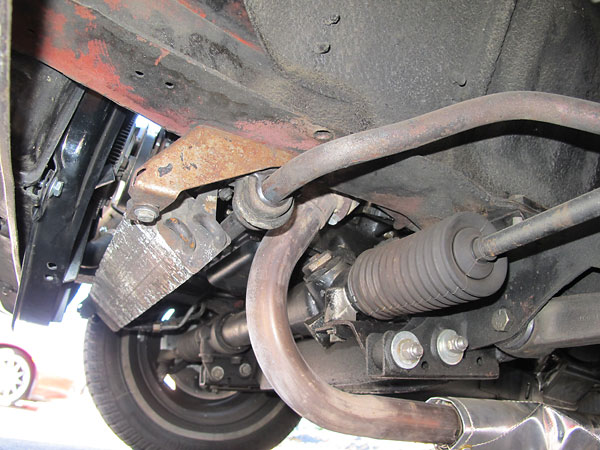 Transmission oil cooler.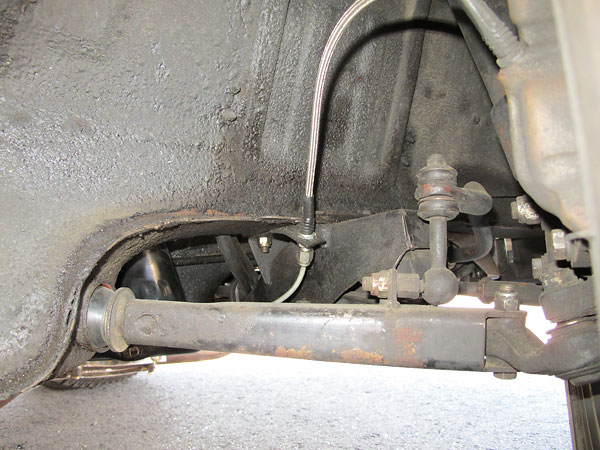 Rearward half of two piece lower control arm. (There is, of course, no upper control arm.)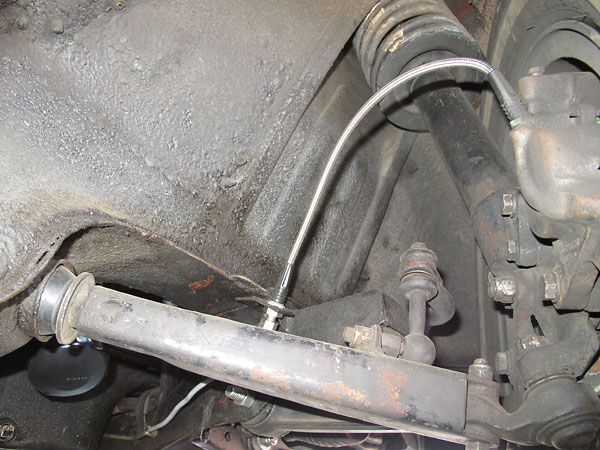 Coil spring.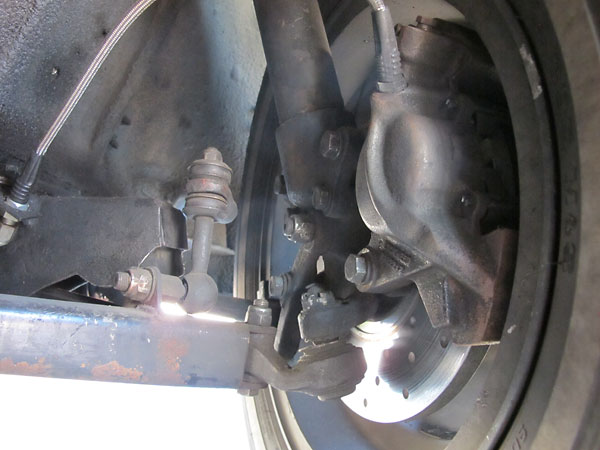 Brake caliper. (Dust shield temporarily removed.)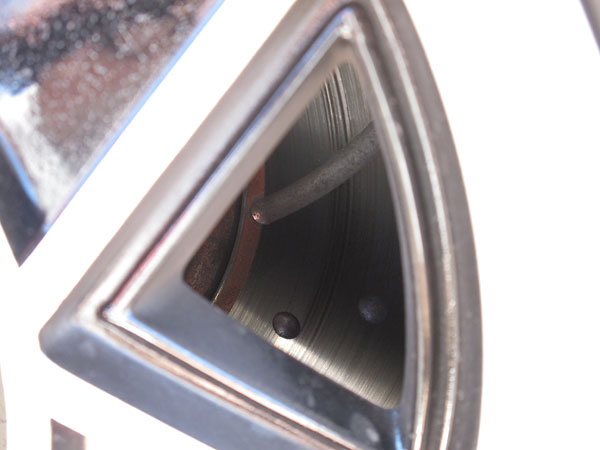 EBC grooved and dimpled front brake rotors.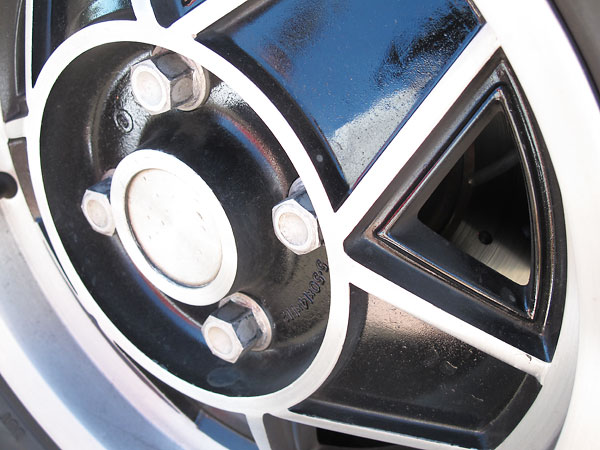 Wheels are marked: "5.50 x 14 x 1.12."


Rear Suspension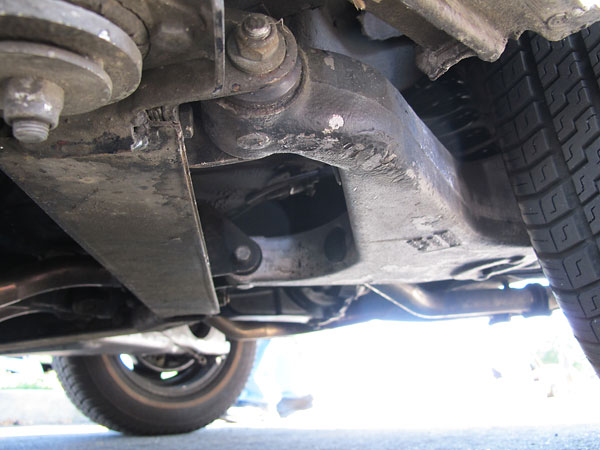 Triumph Stag independent rear suspension.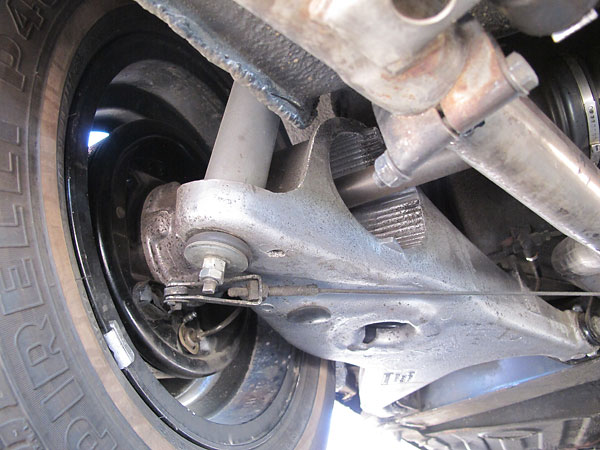 Original features: coil springs, telescoping shock absorbers, and drum brakes.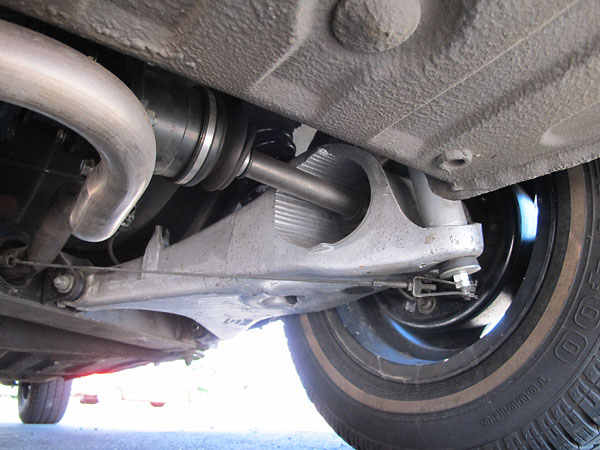 Upgraded feature: Good Parts CV-jointed rear axles.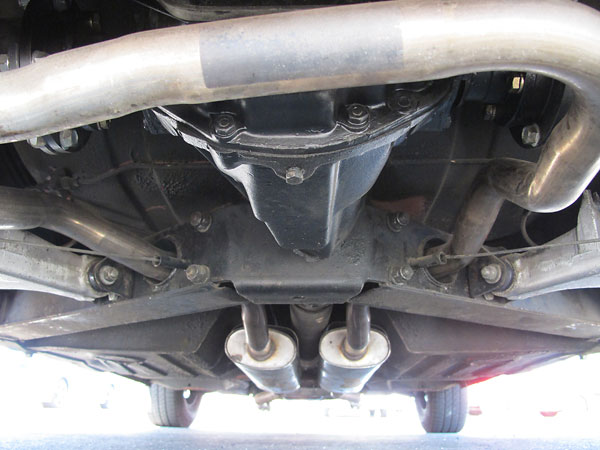 Triumph originally provided 3.71:1 rear axle gearing for Stags equipped with
Borg Warner T35 automatic transmissions. Changing to a 3.43:1 final drive ratio
is a substantial improvement as is a Phantom Grip limited slip differential.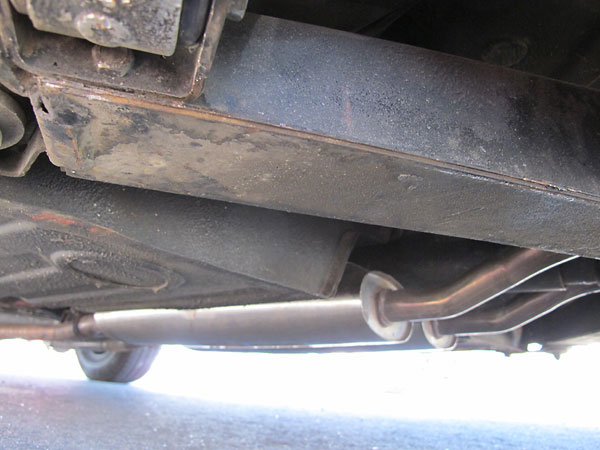 Dual stainless steel mufflers are an upgrade from stock.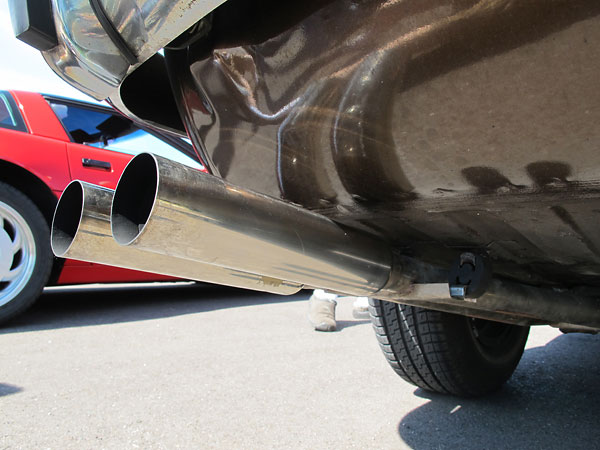 Dual tailpipes.


Interior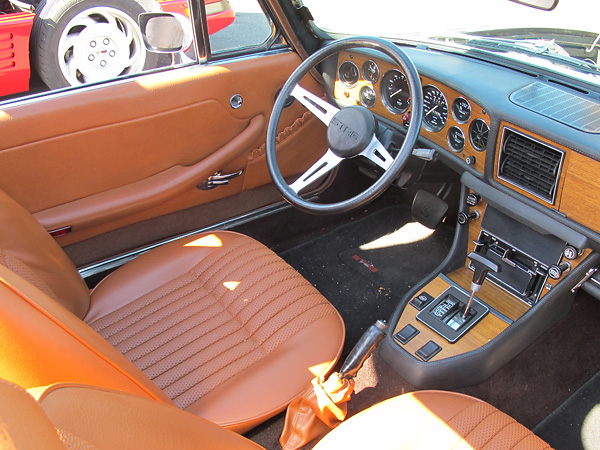 Former owner Chuck Kittelson completed most of this Triumph Stag's restoration (before he
passed away in 2009). The interior is accurate to original specifications, with one large
exception: leather dashboard trim has been installed where Triumph originally used vinyl.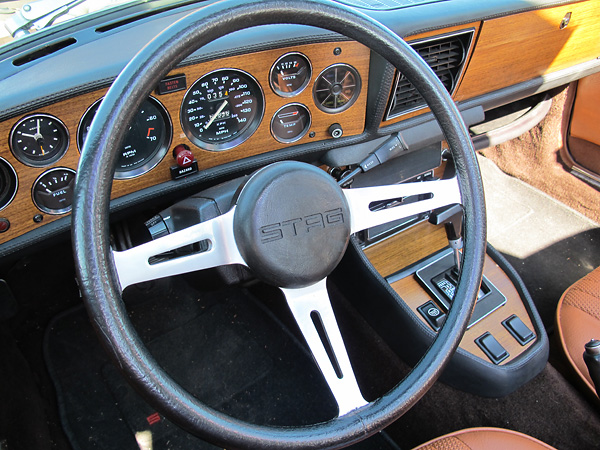 Power steering was provided as standard equipment.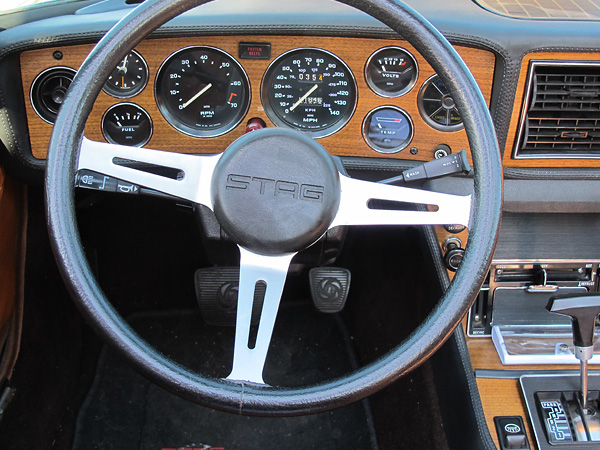 From the 1973 model year onwards, Triumph Stags came with smaller diameter steering wheels
(as shown here.)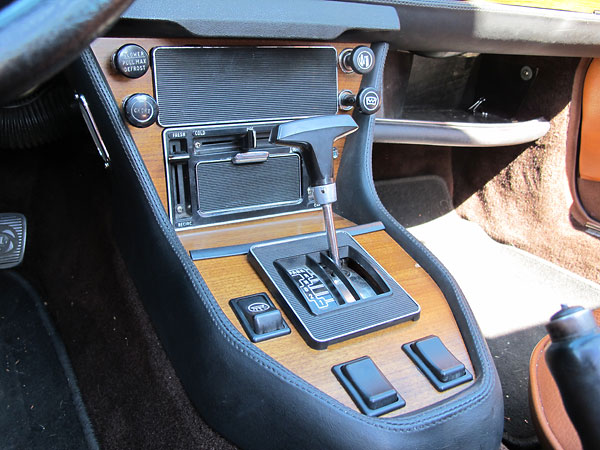 Most Triumph Stags were equipped with Borg Warner Type 35 3-speed automatic transmissions.
Four speed manual transmissions were optional equipment. Four speed transmissions with
Laycock overdrive units were a less popular factory installed option.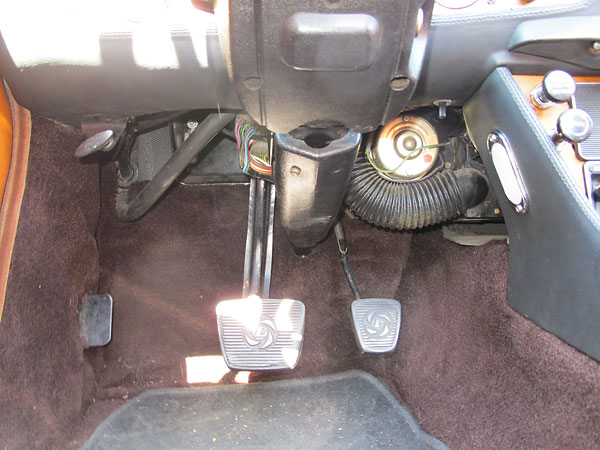 Triumph Stag pedals.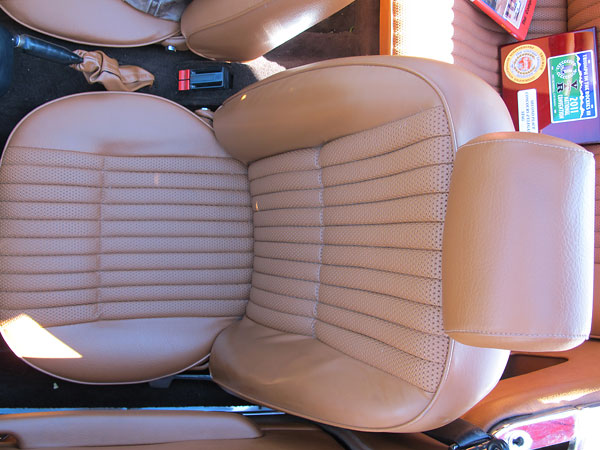 All United States market Triumph Stags were supplied with headrests to comply
with Federal safety standards. In England, early Stags came without headrests.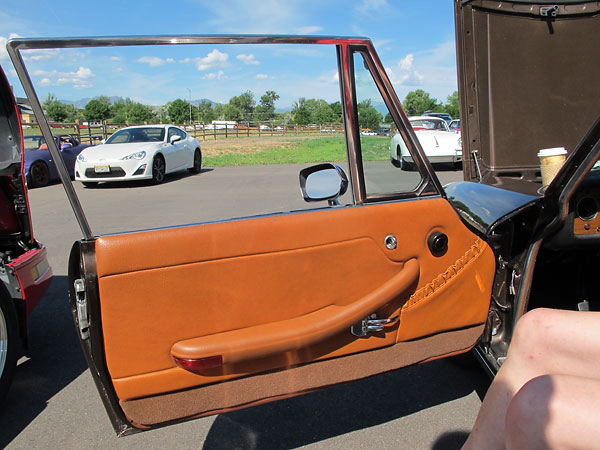 Electric windows were standard equipment.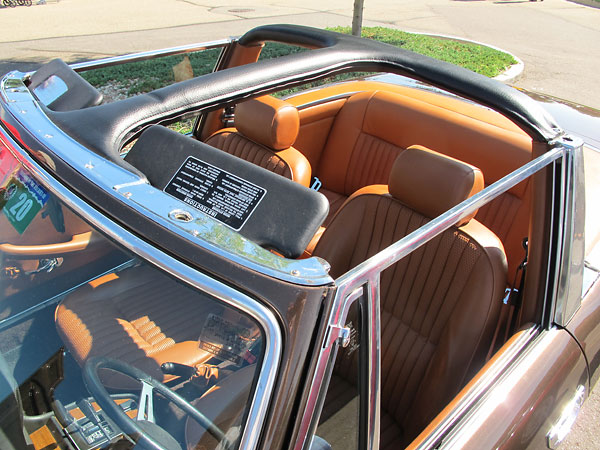 The Triumph Stag features unibody construction with a unique supplemental "T-bar" structure.
Why? Despite having vary different styling, the Stag underpinnings were derived from Triumph's
"2000" saloon, which had a full steel roof and which was equipped with a much less powerful
engine. The T-bar was deemed necessary to add stiffness to the Stag's otherwise open body.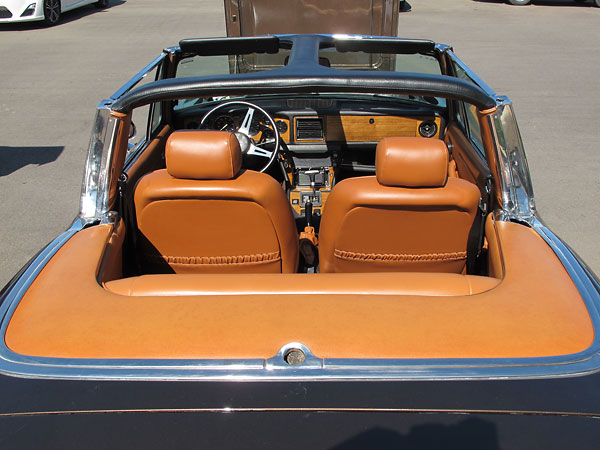 From the 1973 model year onwards, Triumph Stags were provided with both a soft top and
a hard top as standard equipment. With either top installed, the T-bar is underneath and
separate from the roof. This is distinctly different from a "T-top" design as seen on
Chevrolet Corvette models and some other General Motors products.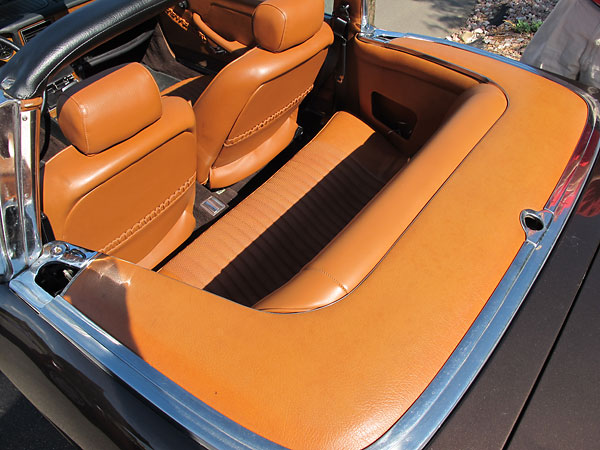 Triumph Stag back seat.


Exterior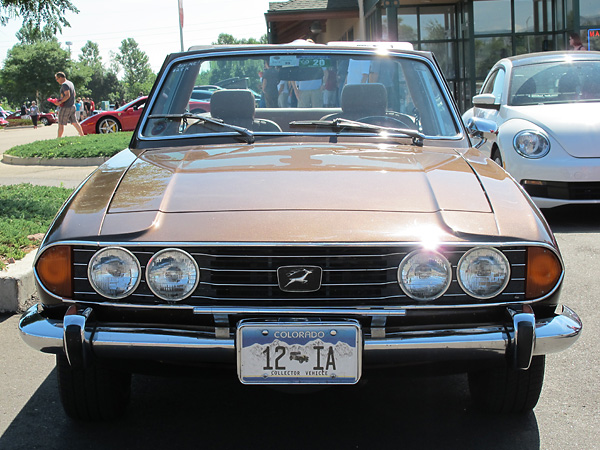 The Triumph Stag's distinctive look was created in 1964 and 1965 by Giovanni Michelotti, working
on his own initiative. Triumph executives were won over and decided to develop a "grand
tourer"; engineering commenced in 1966 and production launch was planned for 1968.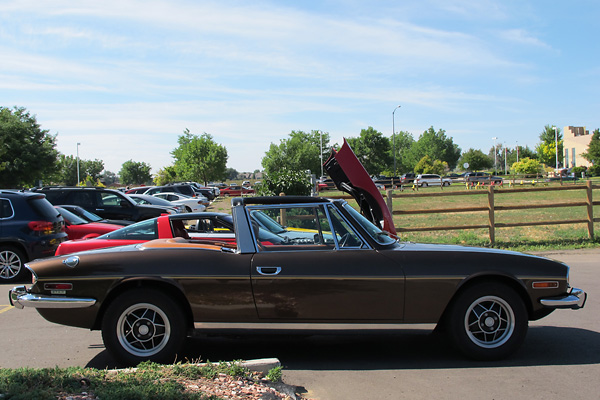 Triumph sought to position the Stag as a rival to the Mercedes-Benz SL series. For context:
230SL: ~19831 cars produced from 1963 through 1967 w/2.3L I6. 250SL: ~5196 cars, produced
1966-68 w/2.5L I6. 280SL: ~23885 cars produced 1967-71 w/2.8L I6. A second generation 280SL
carried on... From 1971 through 1980, Mercedes also offered a 3.5L V8 powered 350SL model.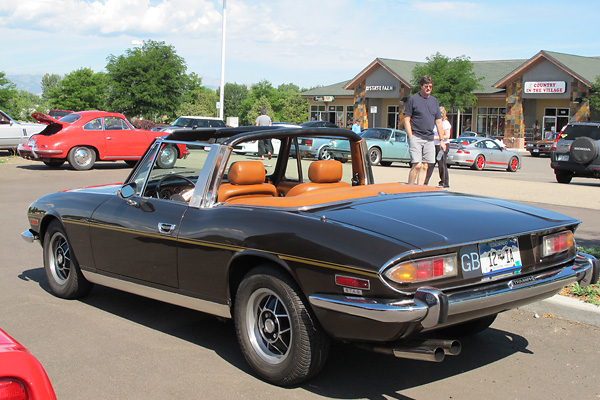 Triumph's stepsister company, Rover, introduced their "3500S" model in U.S.A. in October 1969.
Although a four dour sedan, it's worthwhile to compare its specifications to the Stag. For example:
in U.S.-market trim the Rover 3500S' aluminum V8 produced 45% more power (184bhp @ 5200rpm
& 226lb⋅ft @ 3000rpm. vs. ~127bhp as reported above.) However, its engine also weighed 22% less
(~350# vs. ~447#). The Rover V8 featured 18% more displacement (3528cc vs. 2997cc) and a much
higher compression ratio (~10.5:1). Best of all, it was a known entity with proven reliability versus
an all new design which would suffer teething pains. For more information, reference: 1, 2, and 3.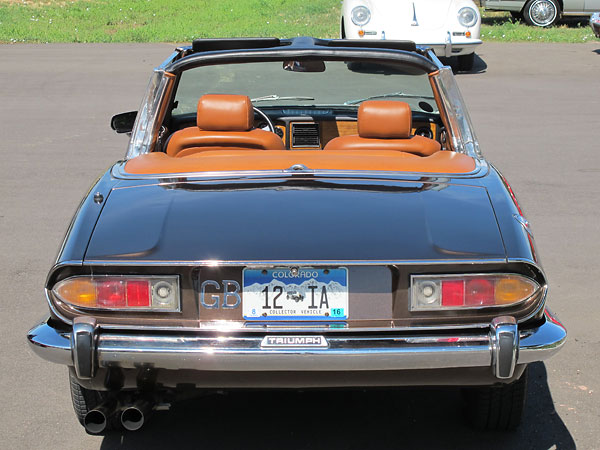 After various delays, the Triumph Stag was finally ready for the world in June of 1970.
Approximately 25939 Stags were built. Most were right-hand-drive cars for the home market.
Only 2781 Triumph Stags were exported to the United States. Although production continued
through 1977, export to the United States was discontinued after the 1973 model year.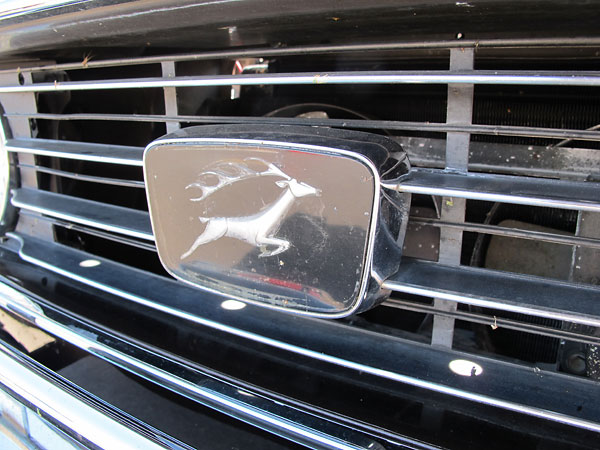 Triumph Stag grille badge.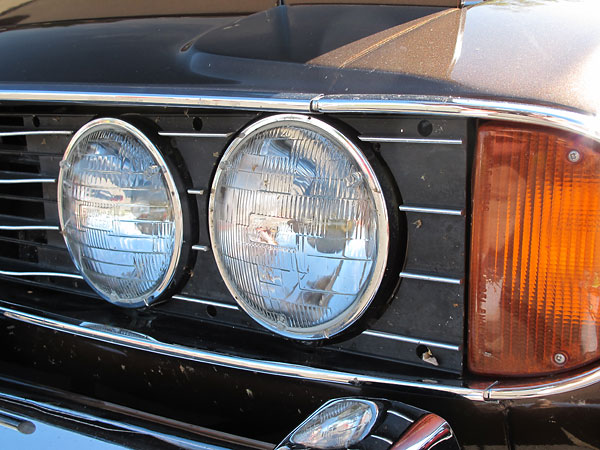 Sylvania Halogen sealed beam headlights.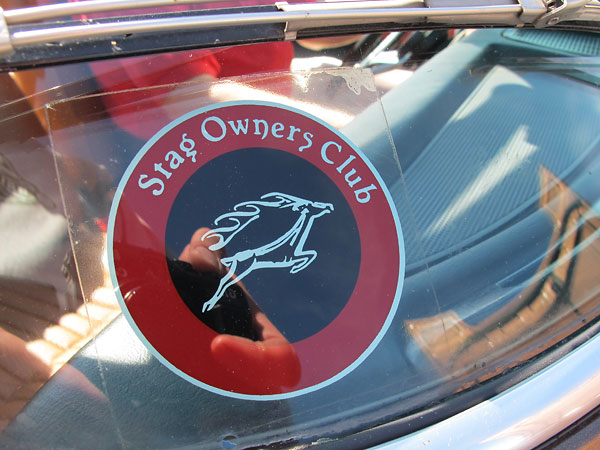 Stag Owners Club windscreen decal.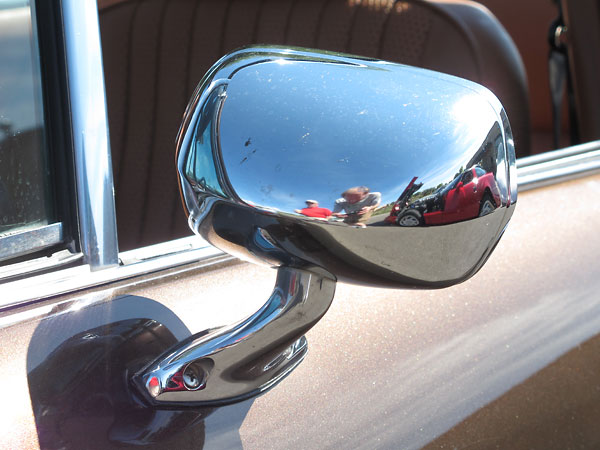 Triumph Stag side view mirror.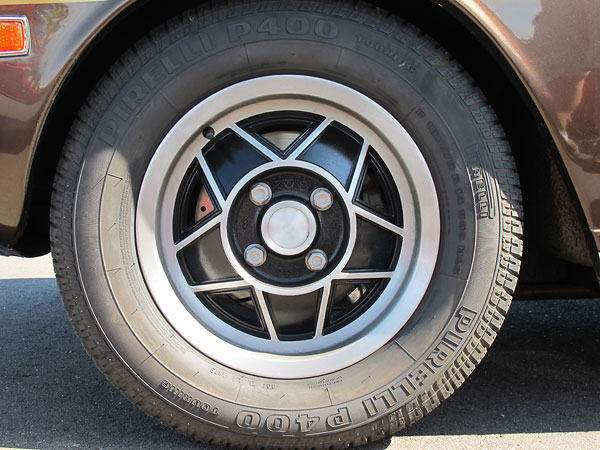 Triumph Stags were initially provided with Rostyle steel wheels as standard equipment and
with wire spoke wheels as an option. From the 1973 model year onwards, this style of 5-spoke
alloy wheels was offered instead of the wire wheel option.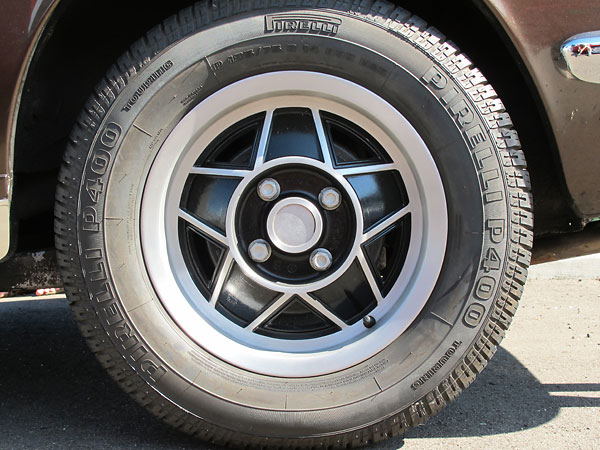 Pirelli P400 Touring 185/75R14 tires.