Rover 3500S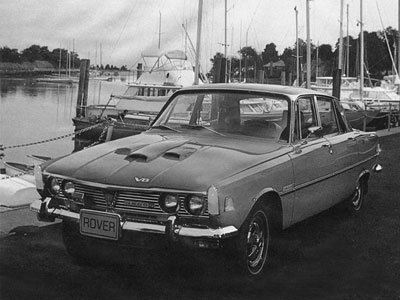 Suggested Retail Price at Port of Entry $5,398.00
Standard Equipment
V8 engine with automatic
Interior courtesy light
Front and rear ash trays
Four-way hazard warning
transmission
Deep pile carpets and
Armrests on all doors and
flasher
Heavy duty bumpers with
underfelt
in center of rear seats
Air pollution emission
rubber faced overriders
Padded sun visors with
Map pockets of front doors
controls
Front & rear towing hooks
vanity mirrors
3-point safety harnesses
Rear quarter "flow through"
Icelert warning device
Non-slip front shelf mat
for all four seats
ventilation system
Pirelli radial ply gold band
Leather covered steering
Head restraints on both
Engine and trunk
tubeless tires
wheel
front seats
compartment lights
Stainless steel hub caps
Electric windows
45 amp Alternator
Undercoating
Two exterior rear view
Power steering
mirrors
Power-assist disc brakes
Windshield washers and
Fresh air heater
Optional Extra Equipment (factory installed)
intermittent wiping system
Electric clock
Air Conditioning...........................................................$478.00
Locking gas cap
Tachometer
Tinted Glass All Around................................................. 49.50
Spare wheel mounting on
Map reading lamp
(necessary with air conditioning)
trunk lid
Adjustable safety steering
Electrically heated rear window................................... 49.00
Carpeted trunk/wheel-cover
column including anti-theft
Roof rack.......................................................................... 49.00
Tool kit
locking system & ignition
Side marker reflectors and
key audible warning
lights
Reserve fuel system
Available Accessories (F.O.B. ports of entry)
Body rubbing strip
Brake-pad wear warning
All transistor AM/FM pushbutton custom radio....$100.00*
Fully adjustable front
system
* Extra charge for installation.
bucket seats
Cigar lighter
Prices and Specifications Subject to Change Without Notice
---
British V8 Newsletter, Volume XV Issue 3, December 2007

The material above is reprinted from the original British Leyland press release for North American
introduction of the Rover 3500S model, dated Friday October 10, 1969. Our copy of the original photo
didn't reproduce well, so we substituted a clearer Leyland promotional photo (circa February 1970).

Enjoying this article? Our magazine is funded through the generous support of readers like you!
To contribute to our operating budget, please click here and follow the instructions.
(Suggested contribution is twenty bucks per year. Feel free to give more!)
The following sales literature, a one-page flyer dated February 1970, followed the press release.
---
Rover 3500S
The Rover 3500S with its V-8 engine, power steering, factory designed and installed air conditioning (optional), and power windows has been built for America. To be sure, the European version, the 3500, is already a very great success in Europe, but it was developed and engineered in response to requests from this side of the Atlantic for the features Americans want in automobiles of such a level of craftsmanship.

The basic design of the car is the same as that of the much lauded Rover 2000 series with its cage-like base unit construction, unique suspension system, excellent disc brakes on all four wheels, fine handling qualities, and concern for passenger and driver comfort and safety. To these have been added a 3.5 litre aluminum V-8 engine, Borg-Warner Type 35 3-speed automatic transmission, larger disc brakes, wider wheels and tires, Adwest Varamatric power steering, Delco electrically operated power windows, periodicity windshield wiping system, and optional fresh-air conditioning integrated into the design of the car and its heating and ventilation system.
SPECIFICATIONS
Body Exterior: Immensely strong base unit fitted with detachable body panels. Base unit paint-dipped, and all exterior panels sprayed electrostatically. All doors front hinged and have anti-burst devices. Exterior trim items in stainless steel or anodized aluminum. Front locking hood with safety catch and interior security control. Alternative spare wheel mounting position on trunk lid. Locking gas cap. Doors and fenders protected by side rubbing strip, Extra long bumpers with rubber-faced overriders and front and rear towing eyes.

Body Interior: Fully adjustable and reclining front bucket seats with head restraints; rear seats also of the bucket type with a wide centre armrest which folds to provide accomodation for an occasional third passenger. All seats trimmed with perforated top quality amblair. Heavy pile carpets throughout including trunk. Armrests on all doors. Front doors have large map pockets. Storage accomodation includes two large padded glove lockers, non-slip front shelf and full width rear parcel shelf. Leather covered steering wheel. Power windows with individual controls and driver's master override switch. Flow-through ventilation system.

Standard Equipment: Fresh-air heater, cigar lighter and ashtrays, clock, four-way hazard warning flasher. Courtesy and map lights. Windshield washers and intermittent wiping system. Two exterior and one interior rear-view mirror. Three point safety harnesses on all four seats. Engine and trunk compartment lights. Icelert warning device. Tool kit. Electrically heated rear window.

Engine: V-8 215 cu. in. (3528 cc); Bore 3.5 in.; Stroke
2.8 in.; 184 b.h.p. at 5200 rpm; Compression ratio 10.5:1; Maximum torque 226 lbs./ft. at 3000 rpm; Block: Aluminum alloy with inserted cast-iron dry liners. Cylinder heads: Aluminum alloy with in-line valve arrangements; valves operated by hydraulic self-adjusting tappets and push-rods. Crankshaft: Five bearing with vibration damper. Required anti-pollution equipment.

Electrical System: 12 volt negative ground. 45 amp-hr. alternator. 60 amp battery.

Steering: Adwest Varamatic power steering. 3.25 turns lock to lock. Column adjustable for rake and contains anti-theft lock.

Brakes: Power-assisted, self-adjusting disc brakes all around. Electrical contacts in disc pads warn of maximum wear ccondition. Disc diameter: front - 10.82in.; rear - 10.69 in. Total swept area: 372 sq. in.

Suspension: Front: double wishbone system but the top links are pivoted on a common axis across the car and so angled to resist weight transfer due to braking. Horizontally mounted coil springs. Anti-roll bar. Rear: de Dion sliding tube type with universally jointed, fixed length drive shafts located by Watt's type linkage with coil springs. Hydraulic telescopic shock absorbers all around.

Dimensions: Wheelbase: 103.375 in. Track: Front: 53.375 in. Rear: 51.75 in. Ground clearance: 7 in. Turning Circle: 31.5 ft. Overall Length: 181 in. Width: 66 in. Height: 56.25 in. Curb Weight: 3184 lb. Tire size: 185 HR14 Pirelli radial ply gold band tubeless. Fuel tank: 15 imperial gallons including reserve of 2.25 imperial gallons.
---
This article is part of a set of SIX! If you enjoyed this article, check out:
Rover 3500S Press Release (circa 1969)
Leyland "Eight GE" Concept Car Press Release (circa 1968)
Rover V8 History (courtesy of Autocar magazine)
Rover P6 Design Innovations
Lance LaCerte's Restored 1970 Rover 3500S