Not to be released before Friday, October 10, 1969


ROVER'S NEW 3500 S LUXURY SEDAN POWERED BY
LIGHT WEIGHT V8 ENGINE
Sophisticated Rover Sedan offers Aluminum Engine
With Outstanding Power/Weight Ratio
The long-established Rover Company Ltd. of Solihull, England, (founded 1878) has adopted a very modern V-8 formation engine for the new 3500 S luxury sedan. Current customer demand is for the fitment of more and more options, and so Rover goes well into the lead among European manufacturers offering more powerful multi-cylindered engines with which to meet this demand.

Thus the 3500 S, now introduced by British Leyland Motors Inc., provides in standard form a complete selection of luxury equipment normally quoted as options. These include power steering, automatic transmission, a fully integrated heating and fresh air system, with air conditioning optional.
Rover has approached the need for adequate power reserve to drive such units, by utilizing a very contemporary engine design. This engine, evolved from a famous American design, has even been successfully adapted to Grand Prix racing cars which won the World Racing Championship.

The beautifully finished V-8 engine is arranged in two banks of four cylinders at 90-degree angle and has overhead valves, operated through push rods and hydraulic self-adjusting tappets.

Aluminum alloy components include all the major units such as cylinder block, cylinder heads, rocker covers, inlet manifold, pistons, water pump, and timing cover. The engine weighs approximately 350 lbs. the same as Rover's smaller 2000 Sedan 4-cylinder engine, but develops 47 per cent more power.

Cast-iron dry cylinder liners are inserted into the alloy block and 3-ring aluminum pistons drive a five lead-indium bearing crankshaft.

Carburetion is by twin 1 3/4 in. bore SU HS6 carburetor, drawing from an 18-gallon fuel tank with 2 3/4 gallon reserve, controlled by a tap at the driver's console.

Water-cooling, with cross-flow radiator, is by belt driven pump, using a 13-blade nylon fan, driven through a viscous coupling to limit fan speed to 2500 rpm; so the fan works only when needed, reducing noise and power loss.

Thus, in many respects, the Rover 3500 S brings to the American customer the best of both engineering worlds - the exclusivity of the imported specialty car, combined with proven technical features developed specifically for American operating conditions.
---
Enjoying this article? Our magazine is funded through the generous support of readers like you!
To contribute to our operating budget, please click here and follow the instructions.
(Suggested contribution is twenty bucks per year. Feel free to give more!)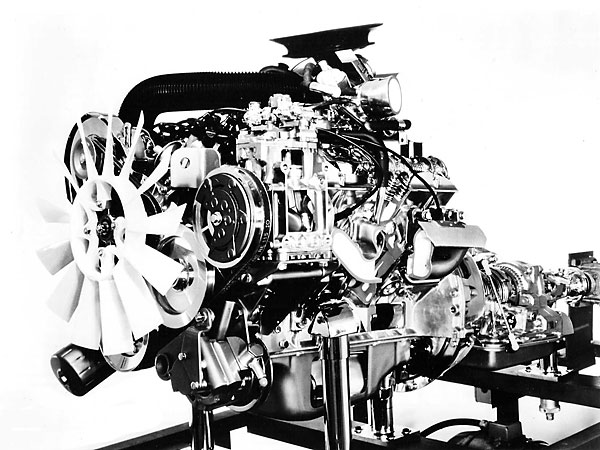 Rover's brilliant, lightweight, all aluminum V-8 power unit will be exhibited at all major auto shows in the U.S. this fall. It will be demonstrated by this fine, sectioned working model.

Fitted in the new 1970 Rover 3500 S sedan, the smooth, powerful V-8 is no heavier and no longer than Rover's smaller series 2000 sedan engines, but develops 47 per cent more power.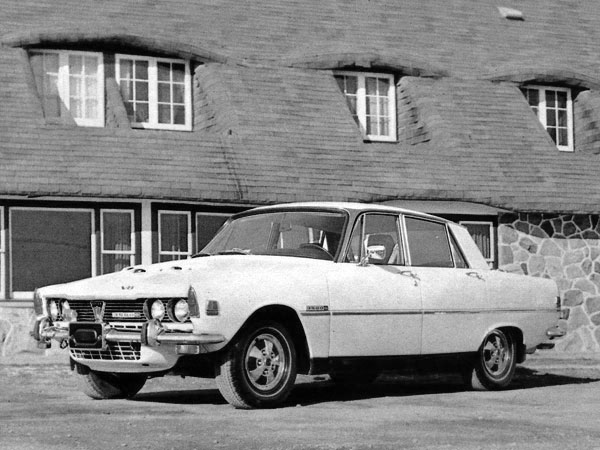 This article is part of a set of SIX! If you enjoyed this article, check out:
1970 Rover 3500S Specifications and Pricing
Leyland "Eight GE" Concept Car Press Release (circa 1968)
Rover V8 History (courtesy of Autocar magazine)
Rover P6 Design Innovations
Lance LaCerte's Restored 1970 Rover 3500S