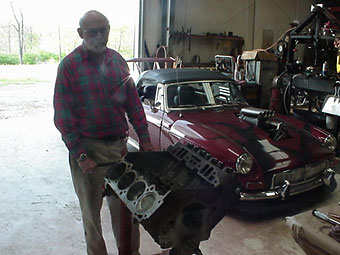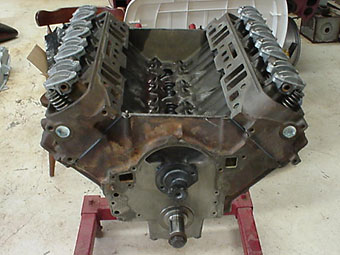 MGB Roadmaster Status Report (aka "Project BADASS")
as published in British V8 Magazine, Volume XVI Issue 1, May 2008
by: Bill Young
Project Overview
Members of Project BADASS have continued making rapid progress on the "Roadmaster" - an MGB-GT with a big block Buick engine! The Roadmaster demonstration is intended to prove that the old "no replacement for displacement" adage can be applied without sacrificing traditional British sports car values on lightweight construction, balance, and tractable road-holding. British V8 readers will recall that the mission, objectives and schedule of Project BADASS were explained by founder Jim Blackwood in our Winter 2007 issue. Curious newcomers may want to review that article by visiting this link: MGB Roadmaster - the Story of "Project BADASS"
Progress Report
The Roadmaster is being readied for its visit to British V8 2008. Engine machine work and reassembly is largely completed, although we find that the oil pan and valve covers have received some damage. (If anyone has some chrome or alloy covers - or a set that is straight enough for powder coating - we could really use them!)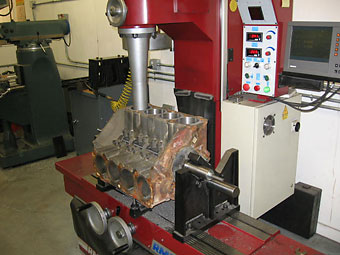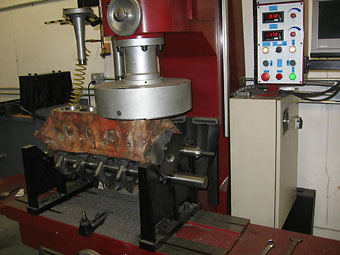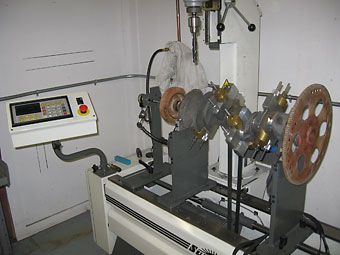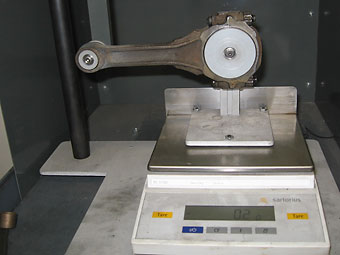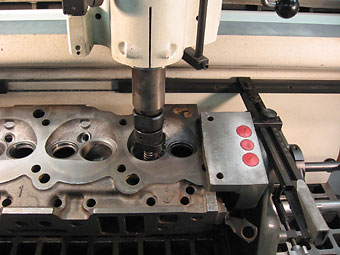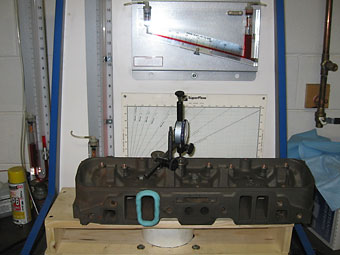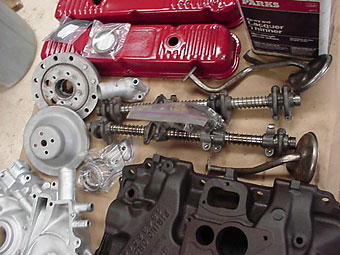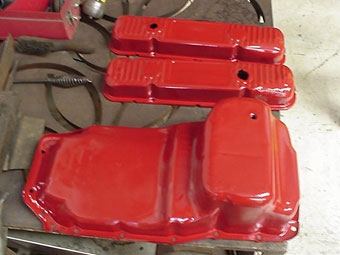 What makes a true "sports car" different from (and arguably more fun to drive than) a "muscle car" is that the sports car is designed to carry maximum momentum through curves - not just accelerate like mad on straight-aways. The suspension must be designed to optimize corner speed and to facilitate controllable braking and acceleration in the twisties. The tires must have grip throughout these rapidly transitions. Through the late winter and early spring, the project team resolved a lot of issues in this area.
Early on in the process we were planning to use MGB hubs and were going to retain the MGB's original 4-lug wheel pattern. Generous support was given and promised for that combination: Bill Guzman pledged front and rear disc brake conversions and Jim Stuart donated a set of alloy wheels. Dan Masters donated a Jaguar independent rear suspension. When a complete modified MGB (Cobra kit car) front suspension was donated by Arthur Mitchell, plans for the wheel lug pattern were adjusted to accommodate its bolt pattern. We still enjoy Bill Guzman's support and are sure that if other items are needed that he could supply, he'll be there to fill the need.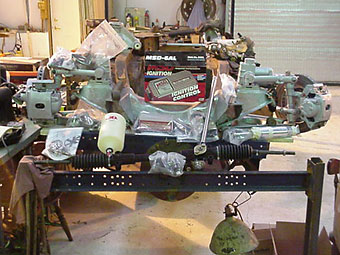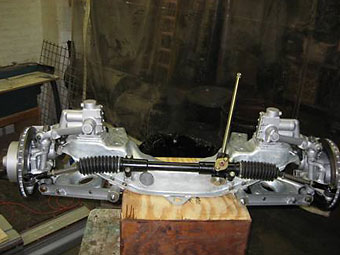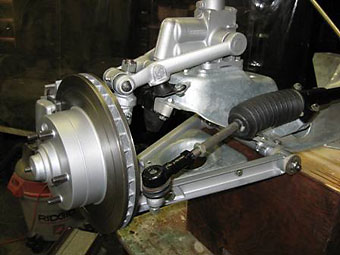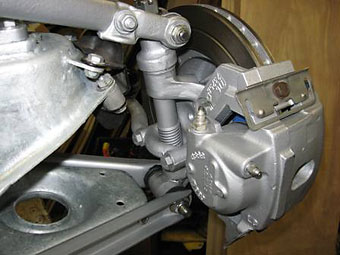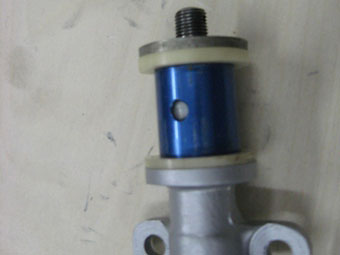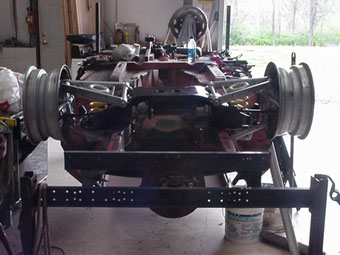 Getting the suspension fully installed and sorted out is a particular priority because the Roadmaster must roll on and off a trailer so it can be transported to this July's British V8 Meet in Wisconsin.

Throughout the building process, the team maintains a continuous conversation about design alternatives and refinements - this conversation is facilitated by the British V8 message board, and especially this running message thread: "Sticky: MGB Roadmaster".
Enjoying this article? Our magazine is funded through the generous support of readers like you!
To contribute to our operating budget, please click here and follow the instructions.
(Suggested contribution is twenty bucks per year. Feel free to give more!)
The Roadmaster is and will be the product of a large number of British V8 enthusiasts from around the world. Probably no single topic has received more input than tire and wheel size - and on the related implications for fender flares and rear suspension design.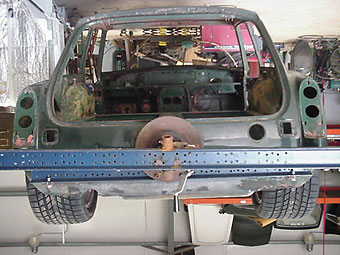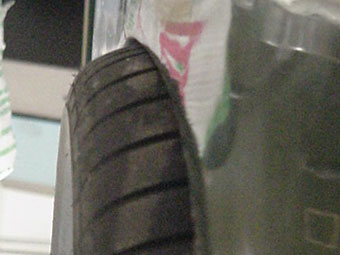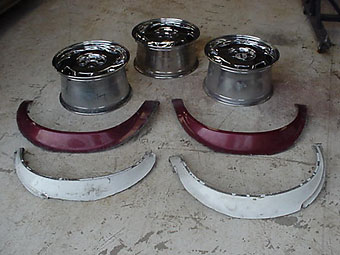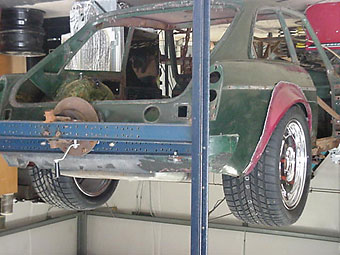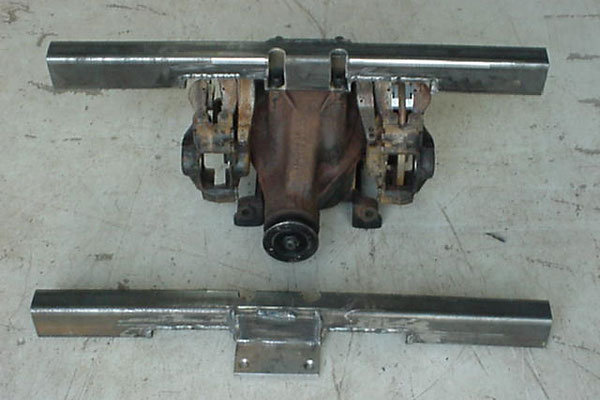 Several members of our group have contributed many miles of transportation in order to get donated items to the Florence, Kentucky build site. The body came from South Carolina, the engine from Kansas, the front suspension from Chicago, the rear suspension came from Georgia, and machine work for the engine is being completed in Virginia.

Future work will center on getting the body repaired and completing the installation of the engine and transmission and rear axle. If anyone has spare left over from a previous project, patch panels for the floors and rockers as well as doglegs would be greatly appreciated.

Dan Masters has pledged one of his excellent Advance Auto-Wire wiring kits and has volunteered to help install it.
Of course cash is always needed. We haven't had too much need for cash up to now, but there will soon be parts that we will have to purchase. If you have a few bucks to spare, we could use the help! Check out the British V8 classified section too, because surplus Roadmaster components are available for sale there, with all proceeds being reinvested into the project.

As a fundraiser and team-builder, Steve DeGroat is coordinating the design of custom-embroidered Roadmaster T-shirts which will be offered for sale at the British V8 Meet.
---
Contributors
Our contributors are too numerous to give detailed accounts of their involvement, but here is a list of supporters of the British American Deviant Automotive Sports-car Society (BADASS, NLC), parent organization of the MGB Roadmaster project and a Non-Profit Limited Liability Company.


John Ayers
Michael B. (Woodie)
Dan Blackwood
Jim Blackwood


Steve Carrick
Brad Carson
Kelly Combes
Tom Craddock


Graham Creswick
Steve DeGroat
Michael Domanowski
Eric Enneking


Rob Ficalora
Carl Floyd
Bill Guzman
(Classic Conversions)
Rick Ingram
(Pieces of Eight)


Curtis Jacobson
(BritishV8)
Dan Jones
Ted Lathrop
(Fast Cars Inc.)
Jimmy Litterell


Allen Mandeen
Pete Mantell
(Mantell Motorsport)
Dan Masters
(Advance Auto Wire)
Dennis McIntyre


Peter Melborne
Ted Nagel
Dale Spooner
(Motion Machine)
Spring Grove
Sheet Metal Co.


Dave Tetlow
Edd Weninger
Denny Williams
Bill Young
(Service Garage)
Disclaimer: This page was researched and written by Bill Young. Views expressed are those of the author, and are provided without warrantee or guarantee. Apply at your own risk.