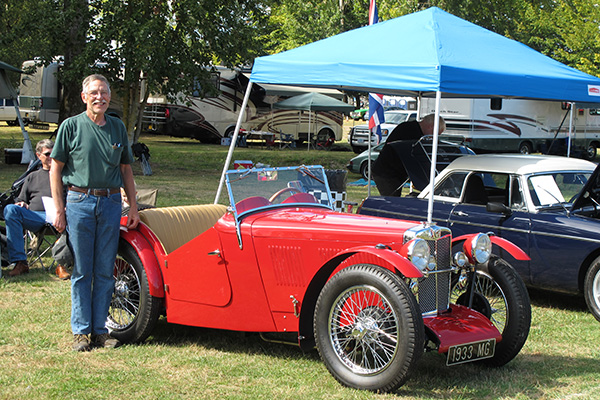 Brian Laine's 1933 MG J2 Midget with Ford "60" Flathead V8
as published in BritishV8 Magazine, Volume XXIII Issue 1, December 2017
Owner: Brian Laine
City: Arlington, Washington
Model: 1933 MG J2 Midget
Engine: Ford 60 flathead V8
Built by: owner
Introduction and Historical Context
This website traces its history to "The MG V-8 Newsletter", which was first published in 1993. In ensuing years, we've featured over 350 "How It Was Done" articles about installations of American V8 engines into classic MG sports cars. This is the oldest car we've featured to date. And this car features the earliest V8 engine we've shown too. But it's a newly completed engine swap, and we're delighted to show it in great detail because it's an exceptional example.

We anticipate some readers may like a bit of context. So, for starters... the MG marque dates to 1923. William Morris, proprietor of Morris Motors Limited, conceived MG as a "skunk works" to build exciting sports cars and racecars using off-the-shelf and modified parts from mass-produced automobiles. By 1932, "The M.G. Car Company, Ltd." was producing sports cars in significant numbers at a small factory in Abingdon, in Oxfordshire, in England. (If you're curious to dive deeper into MG's early history, we'd recommend starting with this article: Abingdon For MG Enthusiasts.)

The name "Midget" historically described many different MG cars before becoming an official model designation (in 1961). MG differentiated between early Midgets by assigning alphabetic series designations. Between 1932 and 1934, four versions of "J-Type" Midgets were produced. Of J-Types, the most numerous is the "J2": 2083 MG J2 Midgets were built. Approximately 450 are thought to survive, worldwide. The concurrent J1 model is similar, except with a modest back seat. Just 380 J1's were produced. J3 and J4 variants were built specifically for racing. Both of those models feature de-stroked and supercharged engines and larger brakes. (22 and 9 were built, respectively.) J4's are distinguishable from J3's by their special, lightweight bodies.

Although MG didn't export J-Types to North America, the MMM Register reckons at least 76 reached these shores. Famously, some were brought home by American airmen at the close of World War II. Though built in the depths of The Great Depression, in some ways the J-Type Midgets better represent the roaring twenties. Butterfly hoods, cycle fenders, tall narrow tires, cable operated brakes, and friction shock absorbers were just some of their anachronistic features. But they differ in a crucial way from American automobiles of the 1920s - or any era - they're much lighter! That's what makes them so fun to drive.

On the other hand, they weren't powerful by any objective standard. In pre-war England, annual automobile taxes were based on piston surface area, and most engines were designed accordingly. The MG engine was closely derived from the Wolseley-developed Morris Minor 847cc engine. As in the Minor, a regular J-Type MG engine had four tiny little 57mm pistons which traveled 83mm up and then 83mm back down for every rotation of the crank. That's a bore-to-stroke ratio of just 0.69:1. Which is terrible. Once you comprehend that, it's easier to understand how they only produced 36 horsepower. Now, you might expect J3 and J4 racing engines would have a larger bore diameter for more displacement, bigger valves, better porting, etc. Evidently that wasn't feasible. So, surprisingly, MG reduced stroke on J3 and J4 racing engines to just 73mm to make them eligible for competition in 750cc class racing. (Supercharging and exotic fuel cocktails were also part of the 750cc recipe.) In retrospect, choosing to compete in a smaller engine class made sense. Supported by just two main bearings, all J-Type crankshafts were fragile, and a shorter stroke would help avoid failures. Top ends were more of a mixed bag. On one hand, an overhead cam driven via bevel gears provided admirably precise valve timing. Devotees report that cam timing is reliably accurate to less than 1/2 degree of crankshaft revolution, even at speeds as high as 5500rpm. On the other hand, setting these engines' rocker arm geometry is notoriously difficult and time consuming. Also, seal failures between camshafts and cam-driven generators resulted in oil leaks and subsequent engine fires. Bottom line: many J-Types have benefitted from engine swaps.

We don't know what failure destroyed this particular J-Type's original MG engine, but it's had two very different engine swaps. A previous owner installed a British Ford "Prefect" side-valve, four-cylinder engine. "Where", "when", and "by whom" are unknown. We're left to wonder: What American would choose a Prefect engine? Indeed, where would they even find one? Yet somehow this J2 made its way to Washington state and then sat derelict with a Prefect engine between its frame rails from about 1972 onward until Brian found and purchased it.

Without the original MG engine to work with, Brian considered alternatives and the Ford "V8-60" model engine easily won out. They're almost contemporary to the J2 and many thousands were manufactured. In North America, Ford produced V8-60 engines from 1937 through 1940, but after WWII V8-60 production continued in other parts of the world. (In particular, Simca produced V8-60 engines under license until 1960.) These little engines are compact, relatively easy to source, affordable, and are still well supported with aftermarket hop-up and dress-up parts.

It's difficult to say who built the very first V8-60 powered MG sportscar, but it's pretty easy to associate some famous people to this combination.

In 1950, Bill Stroppe¹ built an MG TC V8-60 racecar for William Cramer of Los Angeles. Although Cramer sometimes drove, more often than not he shared his MG-V8 with Cal Club friends including Arnold Stubbs, Phil Hill², and Richie Ginther³. Humorously, Cramer's MG-V8 usually wore racing number "2Jr" whilst Phil Hill's Jaguar XK120 was entered as racecar "2". When Phil Hill won the 1950 Pebble Beach Cup, de facto teammate Arnold Stubbs was chasing him valiantly in 2Jr. Phil Hill got his own chances to drive 2Jr at Carrell Speedway on February 25, 1951 (where he finished 4th), at Torrey Pines in September, and at Stockton in August of the following year. Phil Hill's close friend and sometimes riding mechanic, young Richie Ginther tried out 2Jr at Pebble Beach on May 27, 1951. Ginther placed 3rd overall in a preliminary sprint race, but failed to finish the Pebble Beach Cup main event. (Incidentally, another MG TC V8-60 was entered in the 1951 Pebble Beach races by one Dick Jones.)

Famous hot-rod builder Doane Spencer of So-Cal Speed Shop fame built an MG TC V8-60 racecar for Paul W. Trousdale, who recruited driver Paul Pedigro to pilot it at many race meetings starting from the March 23, 1952 event at Palm Springs.

At approximately the same time, T. Noah "Tiny" Smith of Smith Import Motors in San Antonio installed a V8-60 in his daughter Sugar's MG. Sugar's MG impressed customers and led to more orders: an untold number of conversions and possibly some engine swap kits too. BritishV8 readers may recall Tiny Smith's more famous venture: his "Jiggler" cylinder head conversion kits added overhead exhaust to flathead racing engines as described and photographed in our extensive Speedway Motors Museum Tour article. Specific details of Smith's MG V8-60 conversions are somewhat hard to confirm, but we can easily document a bit of their racing success. At the "Guardsman's Trophy Races" at Eagle Mountain National Guard Base near Fort Worth in August 1954, Stuart Harvey drove a Tiny Smith owned MG TC V8-60 racecar to SCCA D-Modified class victory in the Blue Bonnet Cup race. (Some guy named Carroll Shelby finished first place overall in that same race, driving a borrowed A-Modified class Jaguar C-Type.) As reported by Road and Track magazine, 9000 spectators were looking on.

Brian Laine's MG V8-60 may turn out to be the last built of its breed. If so, at least it's a fantastic example. Below, we show "how it was done".


How It Was Done
| | |
| --- | --- |
| Engine: | Ford V8-60 engine (136cid, 2.2L). Offenhauser aluminum cylinder heads. Edelbrock intake manifold. Dual Stromberg 81 (0.81" venturi) carburetors. Holley fuel pressure regulator. Offenhauser block mount water manifolds. |
| Cooling: | custom radiator. 9" electric fan. |
| Transmission: | Borg Warner T5 5-speed manual, from a Mustang 5.0. 0.68:1 fifth gear. 1980 Mustang V6 clutch. Wilwood clutch master cylinder. Tilton HTOB slave cylinder. Flathead Jack bellhousing. Custom fabricated prop shaft. |
| Rear Axle: | stock MG 5.37:1 rear axle. |
| Front Susp.: | Andre Hartford Silentbloc friction shock absorbers. 1989 Subaru Justy steering rack, narrowed about 7". |
| Rear Susp.: | essentially stock. |
| Brakes: | converted to hydraulic (including Wilwood master cylinder.) |
| Wheels/Tires: | MSW chrome plated 19" 48-spoke wheels. Orson Products knock-offs. Lucas tires (4.75/5.00 x 19"). |
| Instruments: | (right to left) original optional-equipment Jaeger "8 day" clock, Jaeger mechanical tachometer (0-6000rpm with road speed ranges indicated too), Jaeger oil temperature gauge (30-100C). Jaeger water temperature gauges (30-100C), Jaeger oil pressure gauge (0-160psi), and Joseph Lucas Ltd. ampere gauge (-20 to 20 amps). |
| Electrical: | Odyssey 400cca absorbed glass mat battery. Nippondenso alternator (from a Chevy Metro), with custom machined billet aluminum pulley. Automotive Electric brand gear reduction starter. |
| Interior: | engine turned aluminum dashboard. Home-made mahogany steering wheel. Wilwood pedal set. Custom throttle pedal and mechanical linkage. Custom fabricated fiberglass transmission/driveshaft tunnel. |
| Body: | custom fabricated fiberglass front fenders, styled to match original design. |
| Paint: | PPG DCC single-stage epoxy paint, in Carmine Red. Epoxy primer. Sprayable seam-sealer. |
Engine Installation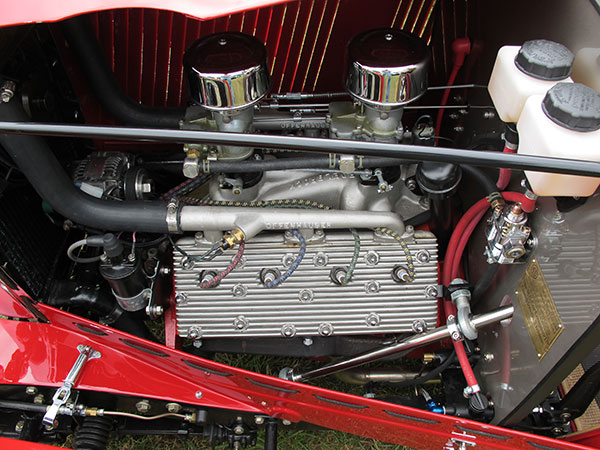 Ford V8-60 engine (136cid, 2.2L). Offenhauser aluminum cylinder heads.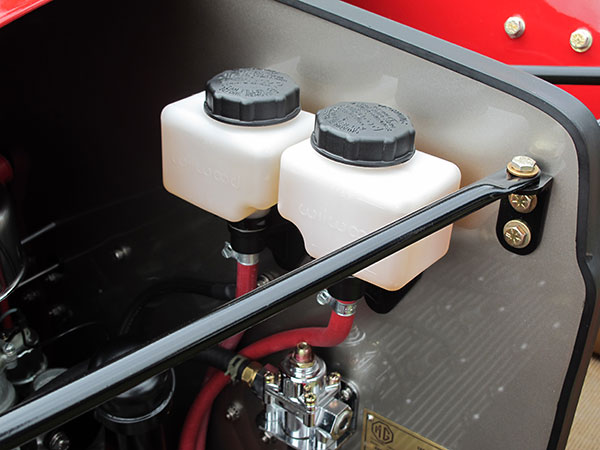 Wilwood remote reservoirs for brake and clutch master cylinders.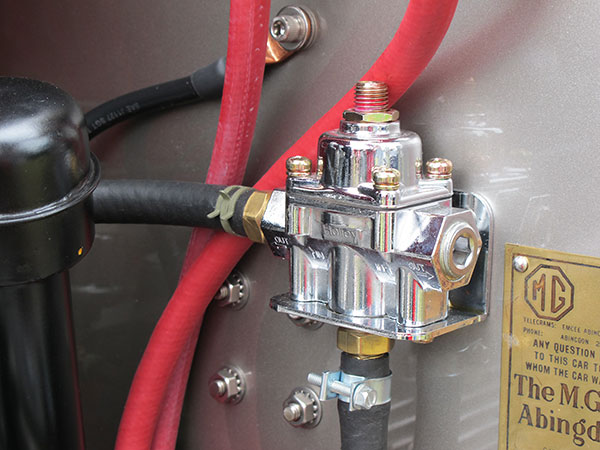 Holley fuel pressure regulator.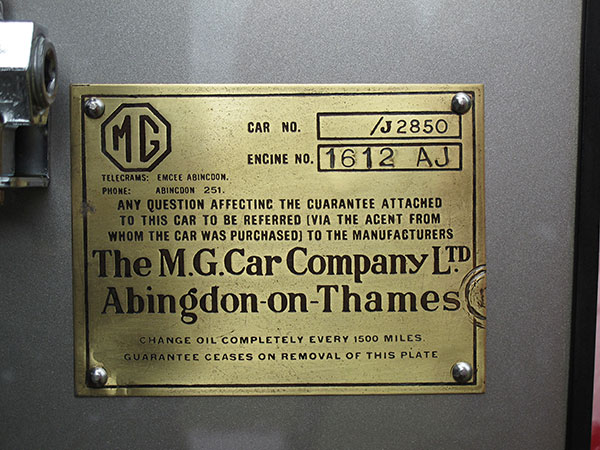 The M.G. Car Company Ltd., Abingdon on Thames
Telegrams: EMGEE. Phone: Abingdon 251. Car No. /J2850, Engine No. 1612 AJ
Any question affecting the guarantee attached to this car to be referred
(via the agent from whom the car was purchased) to the manufacturers.
Change oil completely every 1500 miles. Guarantee ceases upon removal of this plate.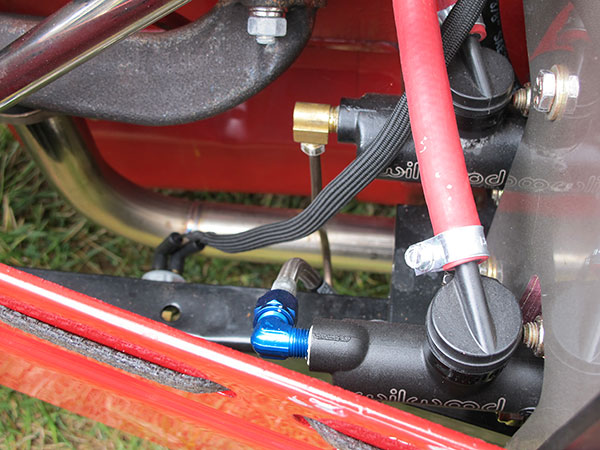 Wilwood brake and clutch master cylinders.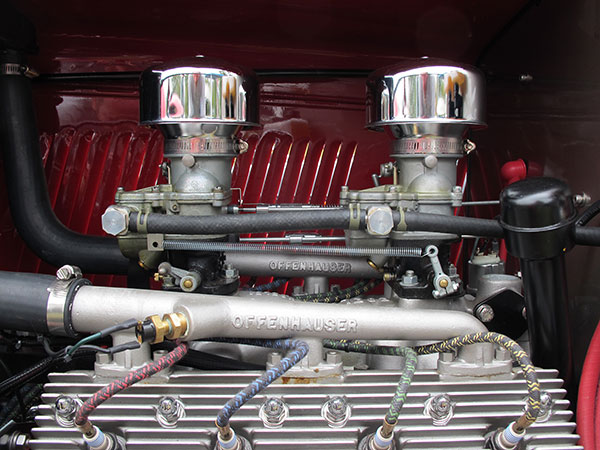 Dual Stromberg 81 (0.81" venturi) carburetors.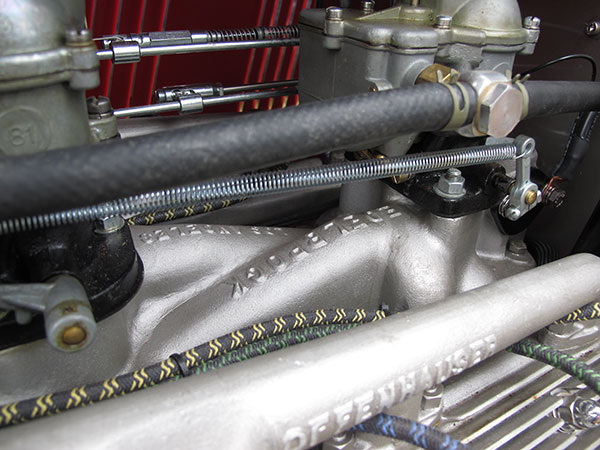 Edelbrock intake manifold.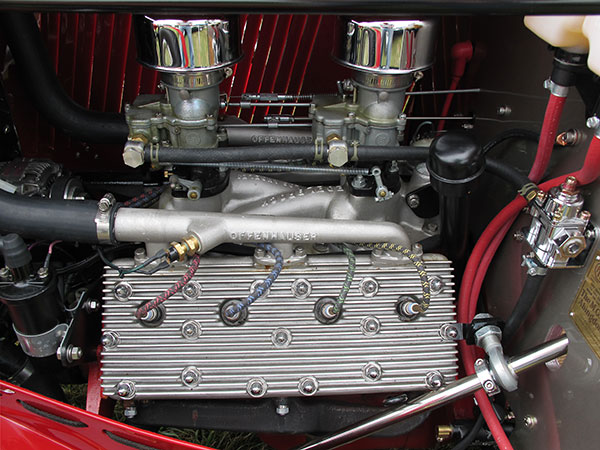 Offenhauser block mount water manifolds.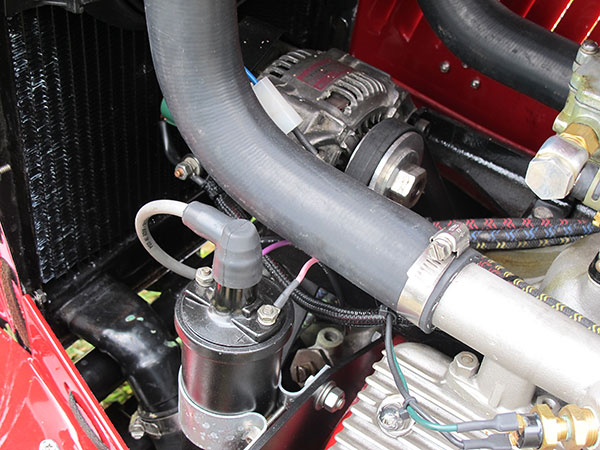 Nippondenso alternator, sourced from a Chevy Metro.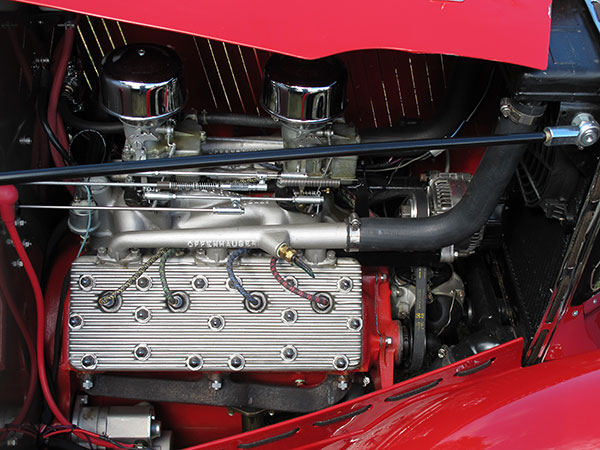 2.6" bore by 3.2" stroke, for a 0.81:1 bore-to-stroke ratio.
6.6:1 compression ratio. Originally rated 60 hp and 94 lbft.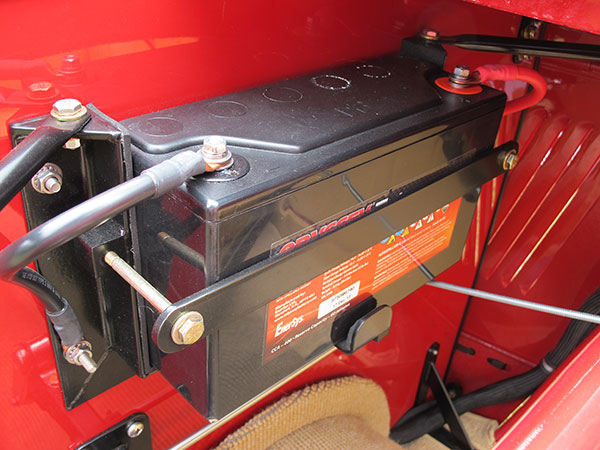 Odyssey 400cca absorbed glass mat battery.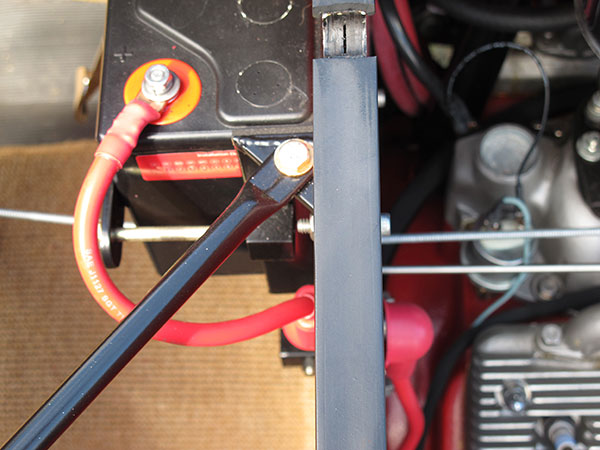 Nice, modern battery cable with continuously molded-on PVC insulation. Back in the
day, copper battery cable was wrapped in cloth and then fed through a rubber hose.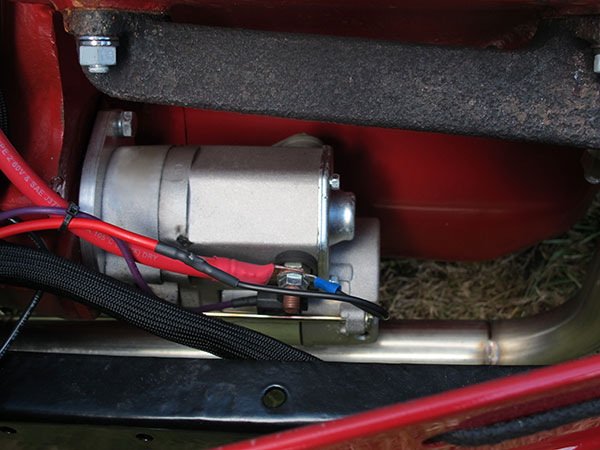 Automotive Electric brand gear reduction starter.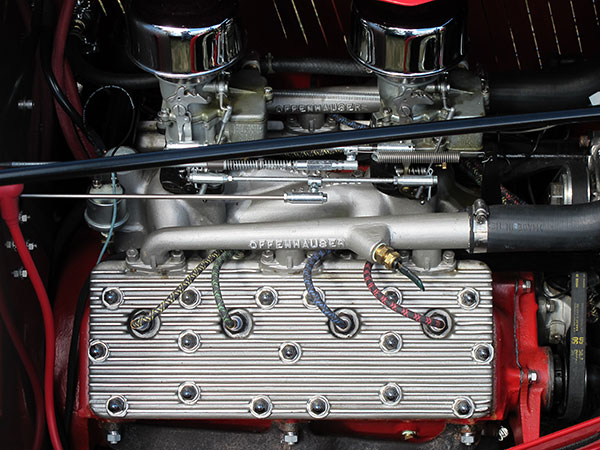 Color coded spark plug wires.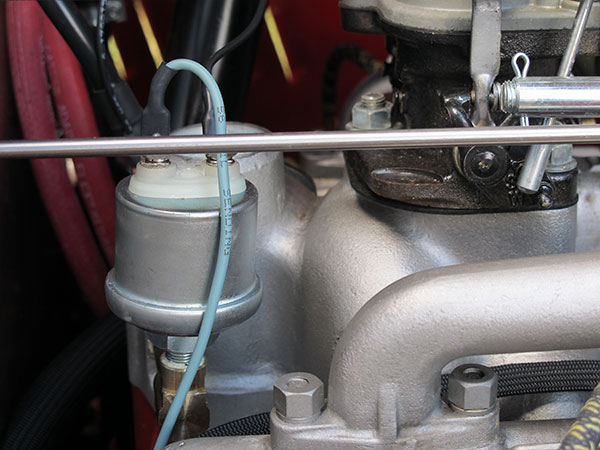 Oil-pressure sending unit.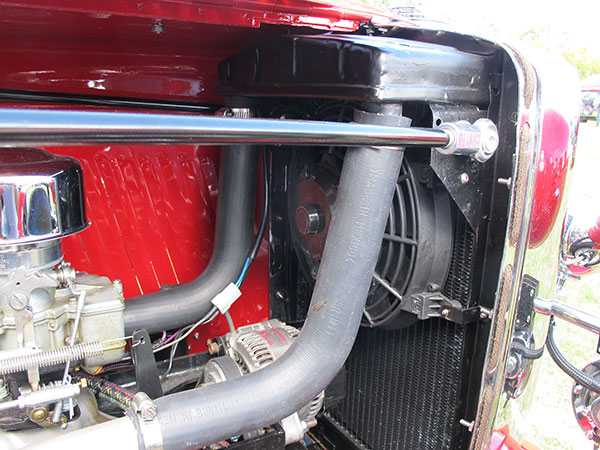 Nine inch electric fan.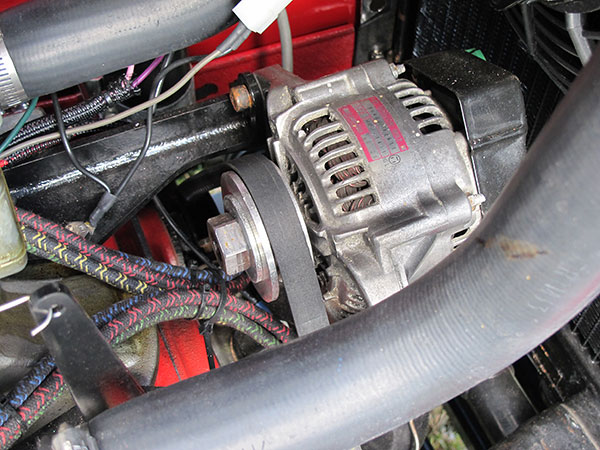 Custom machined billet aluminum alternator pulley.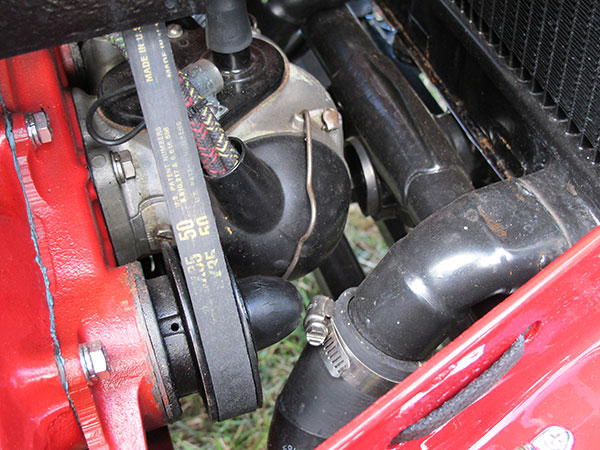 Passenger-side Ford 60 water pump. All of Ford's flathead V8 and V6 engines feature dual water
pumps, symmetrically located. Very often the iron pump housings also serve as motor mounts.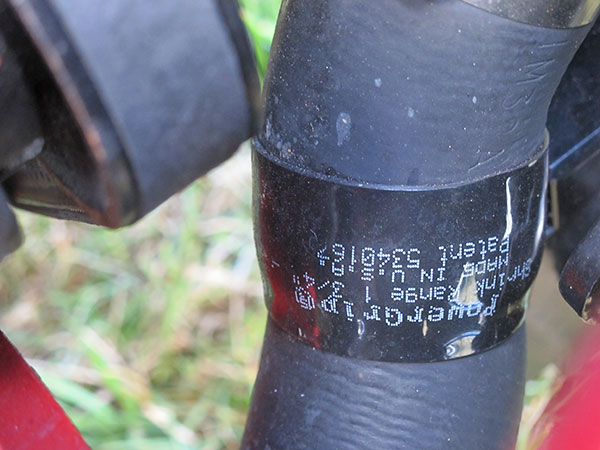 Brian enthusiastically recommends Gates PowerGrip heat shrink hose clamps.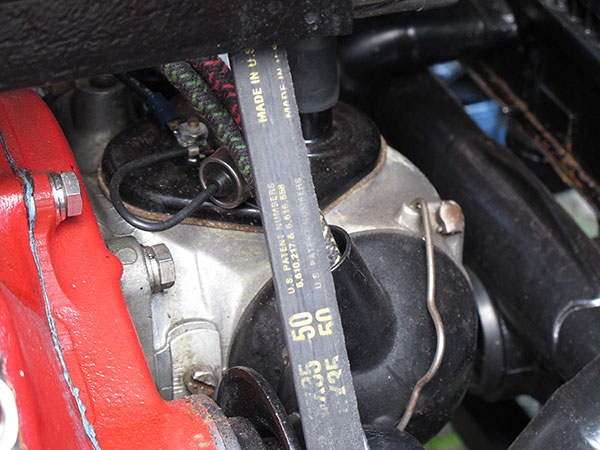 Condenser, mounted outside the distributor.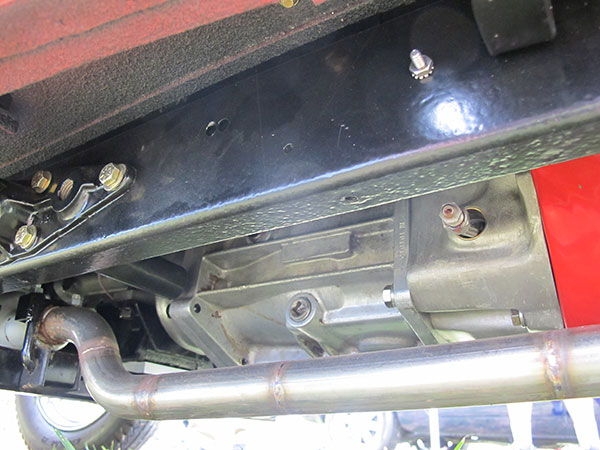 Borg Warner T5 5-speed manual transmission. Flathead Jack bellhousing.


Front Suspension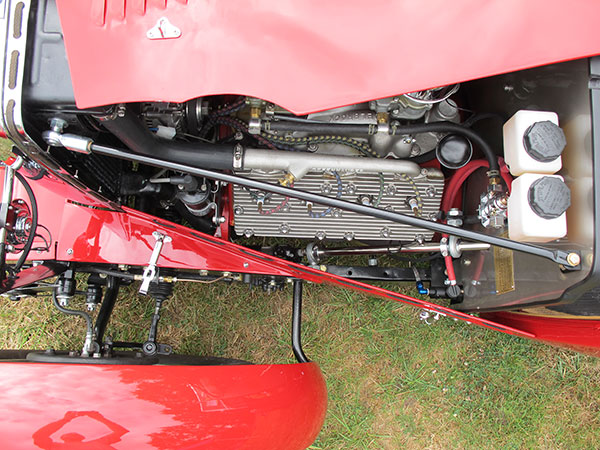 Beam axle front suspension.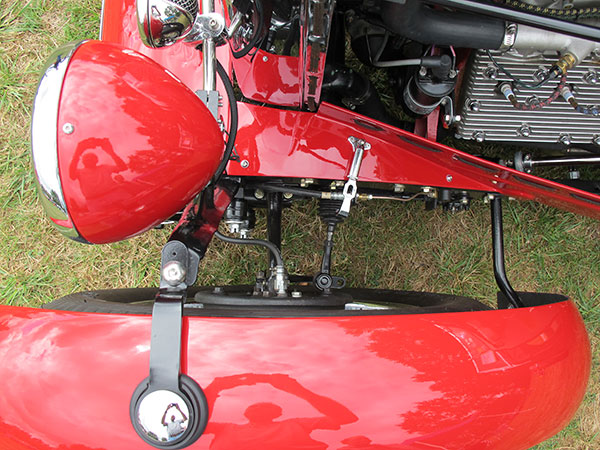 J-Types were originally built with cable operated brakes, but most J-Types were converted
to hydraulic brakes - typically from later MG models - if they survived past World War II.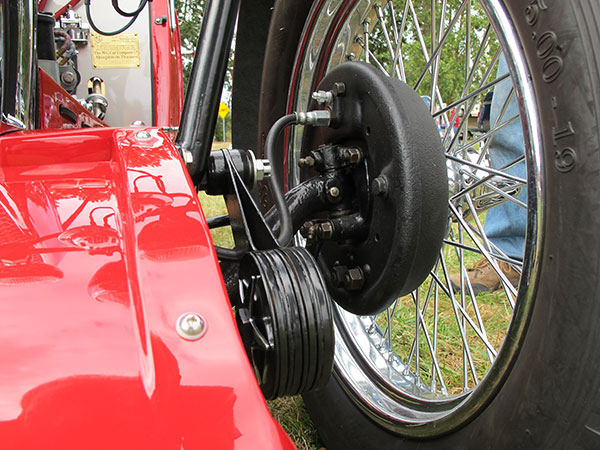 J-Types brake drums were just 8" in diameter. For camparison, P-types came with 12" drums.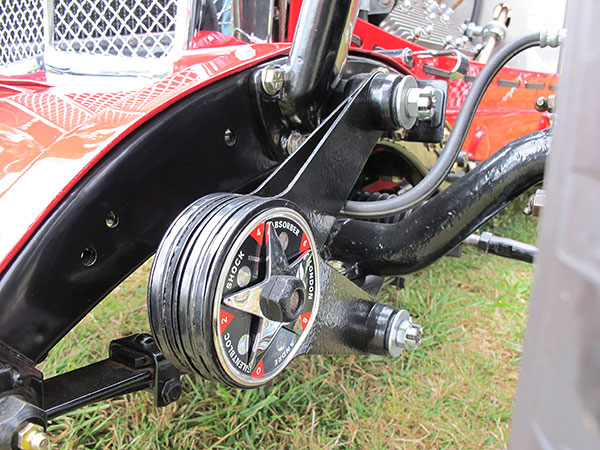 Andre Hartford Silentbloc friction shock absorbers.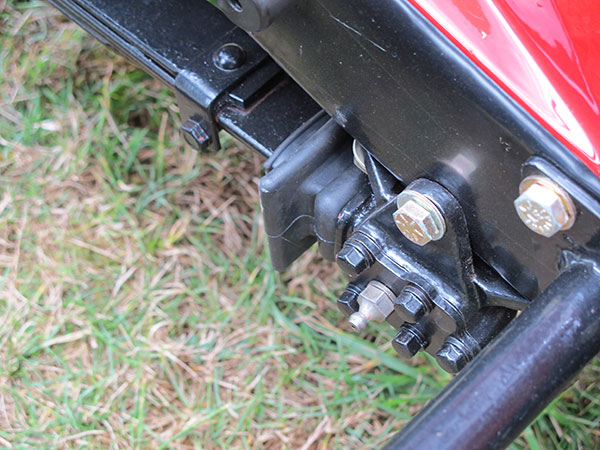 At 1427 pounds, J-types were about 225 pounds lighter than P-types.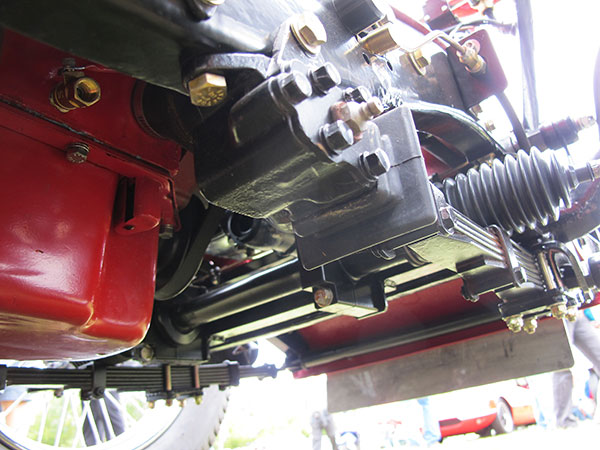 1989 Subaru Justy steering rack, narrowed about 7 inches.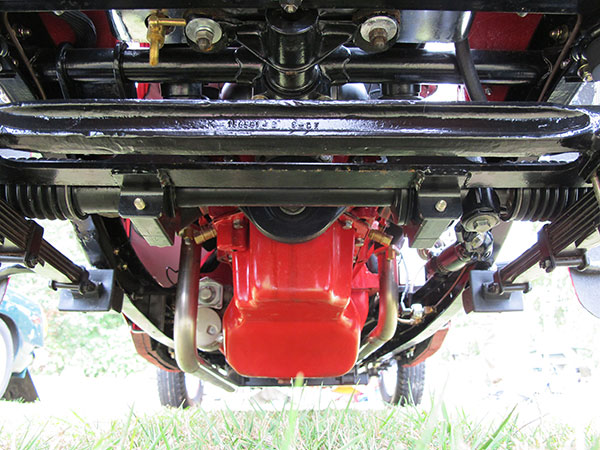 The MG's steering rack is mounted to its front axle. There's zero bump steer, but about
an eighth inch of displacement (plus and minus) must be made up in the steering shaft.


Rear Suspension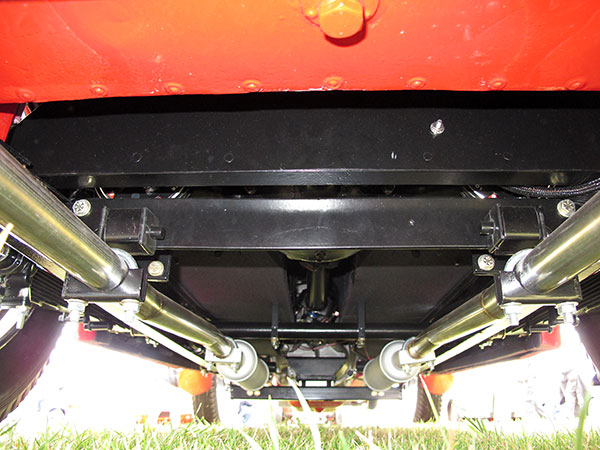 Compared to the P-type which followed, J-types have a slightly shorter wheelbase (86" vs. 87 5/16".)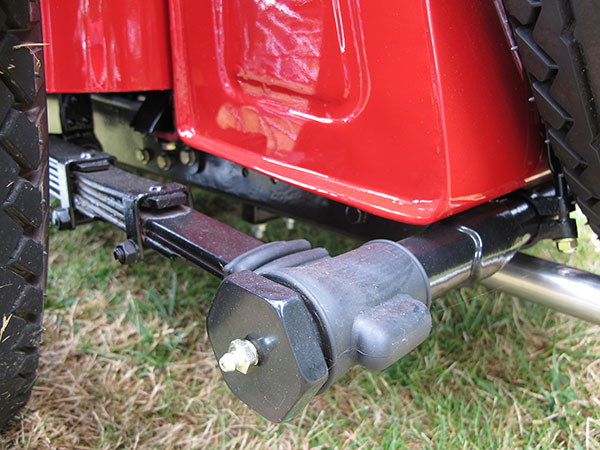 Between these two generations of MG sportscars, track width remained unchanged at just 42 inches.


Interior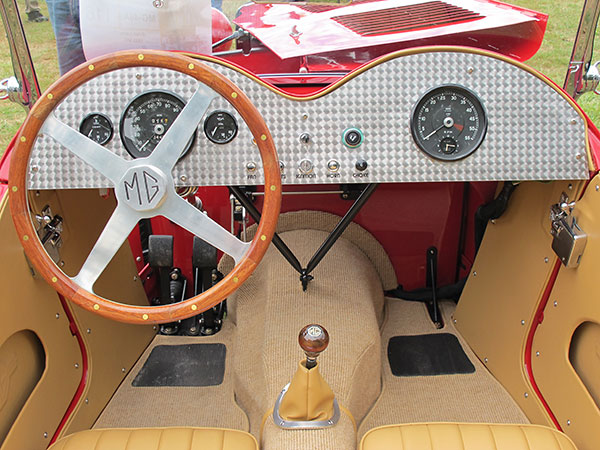 Home made 3/16"-thick aluminum dashboard.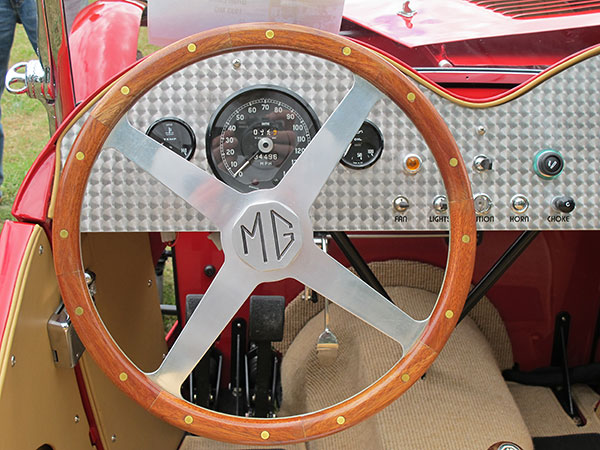 Smiths gauges, including a Jaguar XKE speedometer (and tachometer).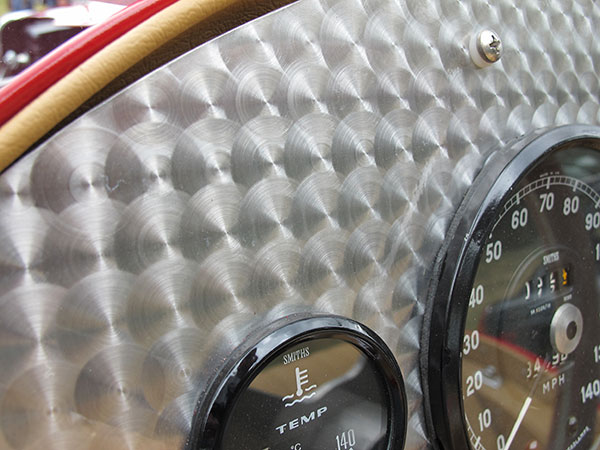 Classic decoration: Brian meticulously "engine turned" the dashboard surface.
(There are about 1500 centers, with 1/2" horizontal and vertical spacings!)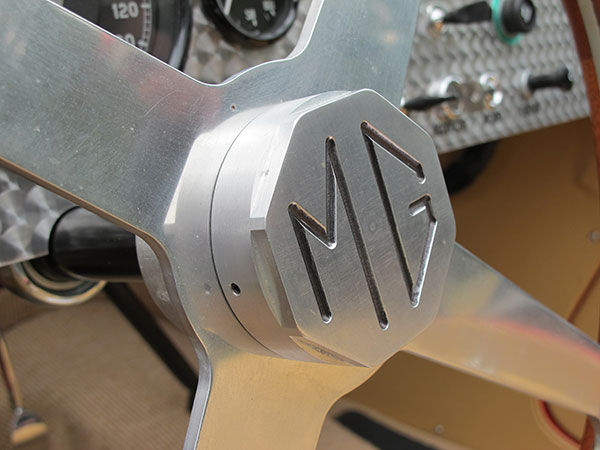 Steering wheel hub.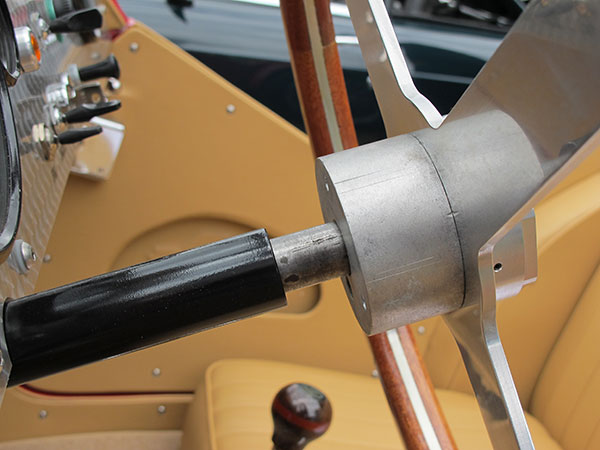 (Extended.) Brian's steering column telescopes for driver comfort.



(Compressed.) Brian's steering column telescopes for driver comfort.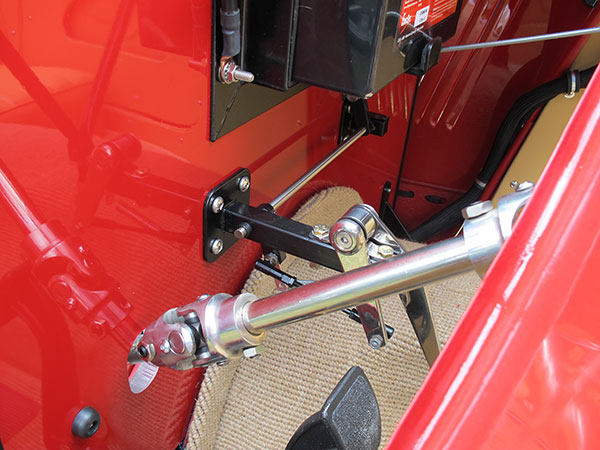 Steering intermediate shaft.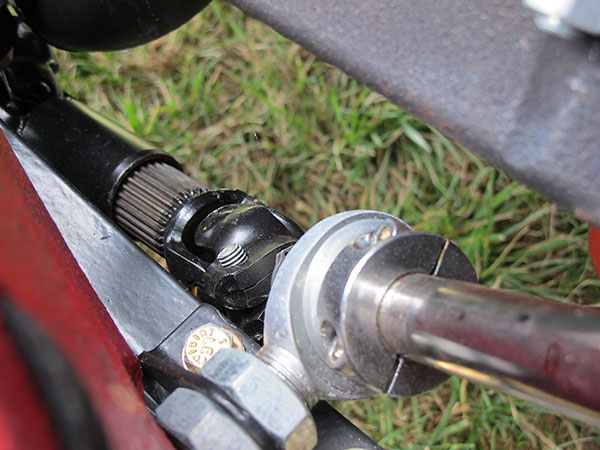 A driveshaft-type slip joint, installed in the steering linkage.



Throttle pedal and linkage.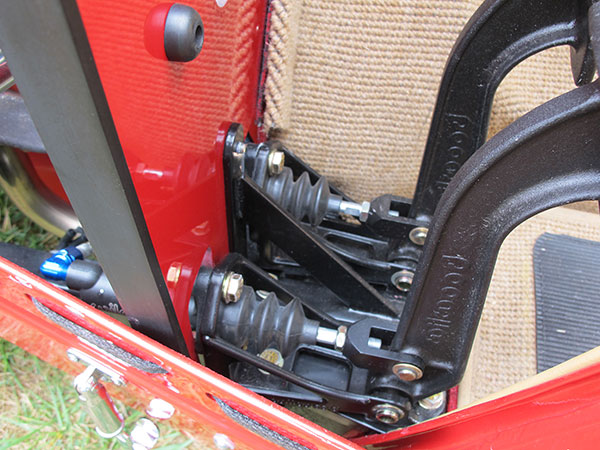 Wilwood brake and clutch pedal set.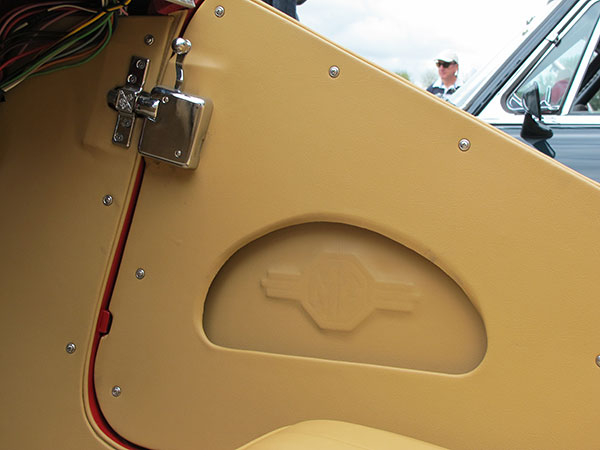 Door storage pockets.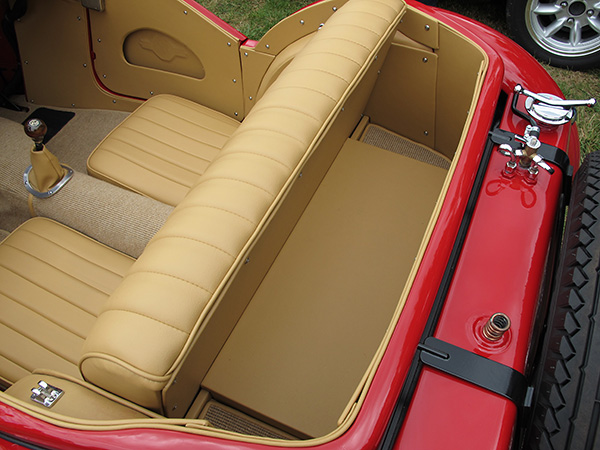 Brian's brother Mark did the custom upholstery work - and most of the bodywork too!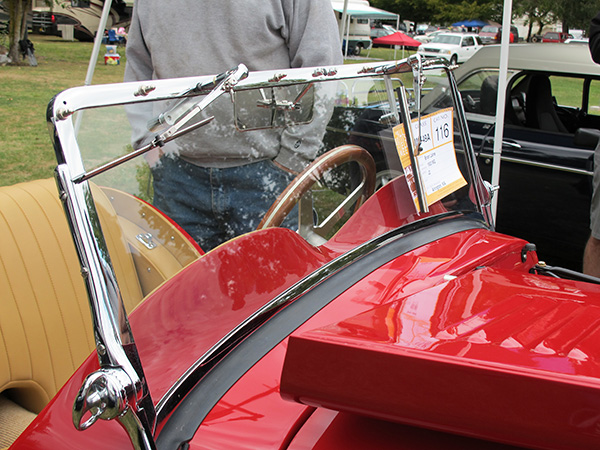 Ted's Upholstery recovered the seats and made custom carpets.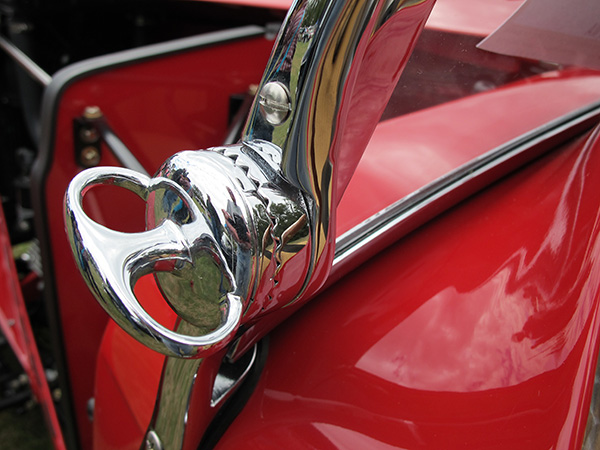 Locking hinge mechanism for the fold-down windshield.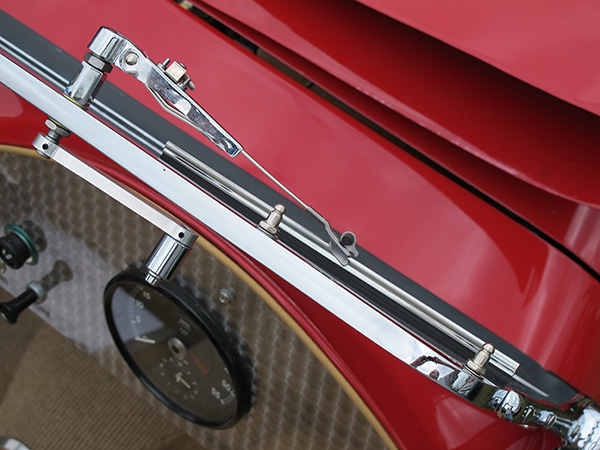 Manually operated windshield wipers.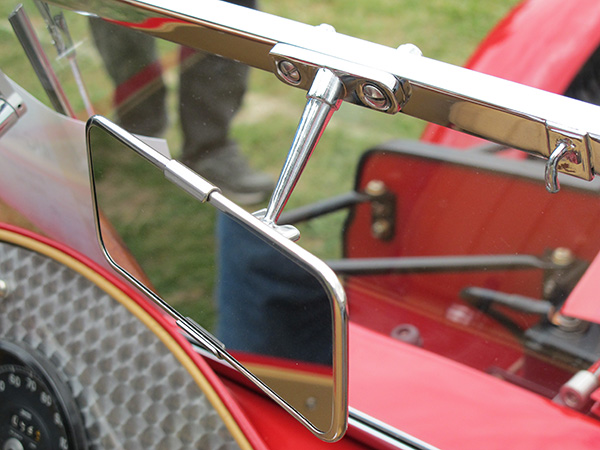 Rear view mirror.


Enjoying this article? Our magazine is funded through the generous support of readers like you!
To contribute to our operating budget, please click here and follow the instructions.
(Suggested contribution is twenty bucks per year. Feel free to give more!)
Exterior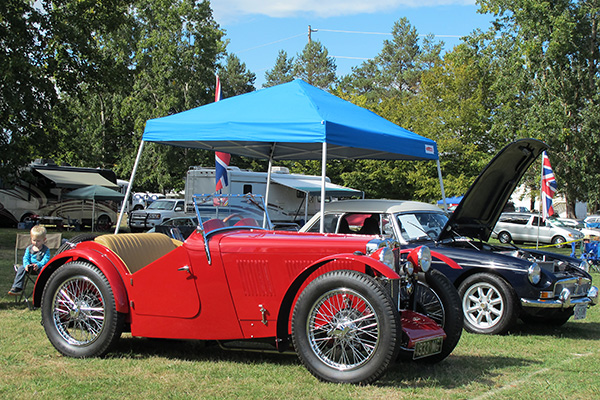 Brian's J2 is one of just six cars the MG factory completed on February 7, 1933.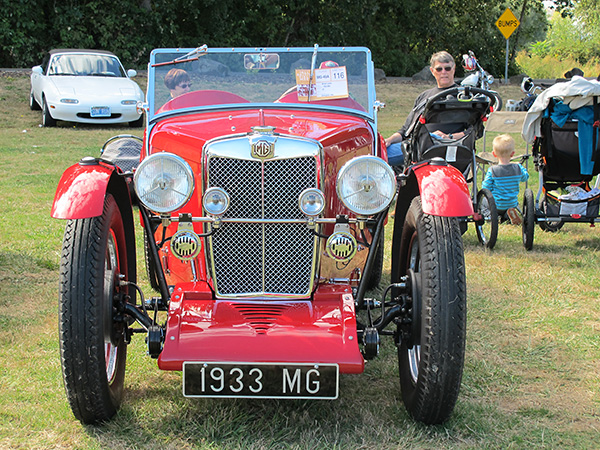 Original J-Types had single filament headlamps. The concept of a low-beam/high-beam selector switch
didn't apply to them, but "The headlamps are provided with a patented universally adjustable mounting
which allows the beam of light to be set to the best advantage. This adjustment is abtained by slacking
the hexagon nut, turning the lamp to the desired position and then locking it by tightening up the nut.
The near-side headlamp is set to throw its beam to the near side of the road and the off-side (set
straight) can be turned off or on independently." (from Blower's MG J-Type Midget Shop Manual)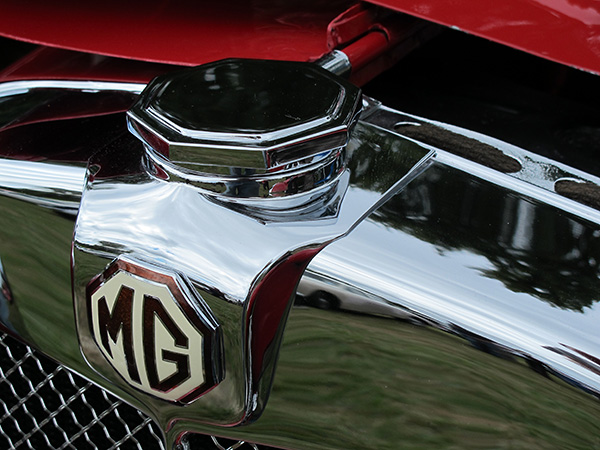 Radiator cap.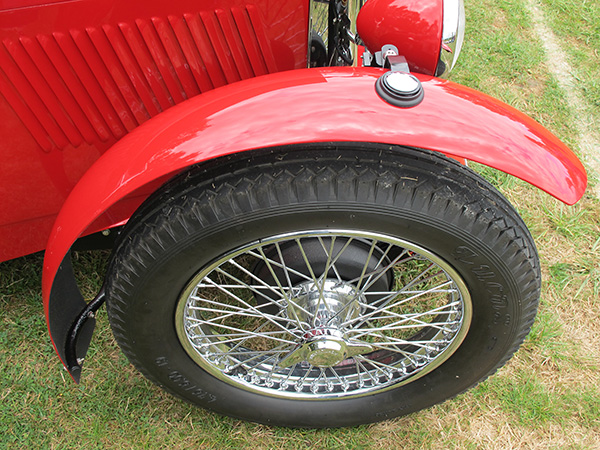 MG changed the styling of J2 front fenders during production. Brian fabricated fenders more
similar to the earlier cycle fender type, versus the later swept-wing fender type.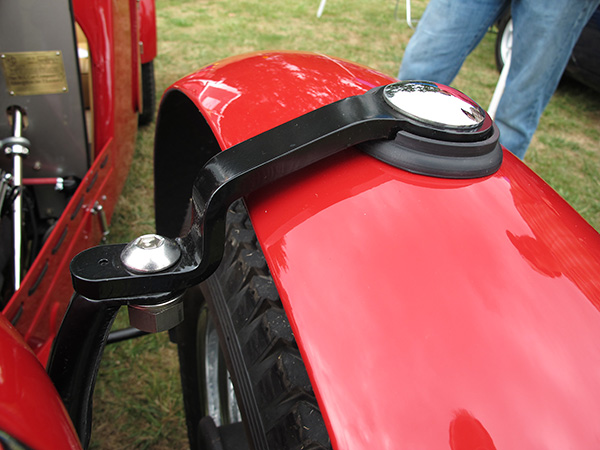 However, Brian's front fenders don't turn with the wheels as they're steered.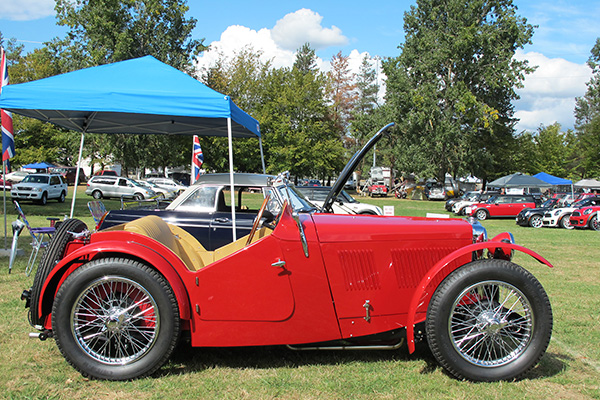 Resplendent, in Carmine Red PPG "DCC" single-stage epoxy paint (over epoxy primer)
as was applied by W.B.L. Automotive.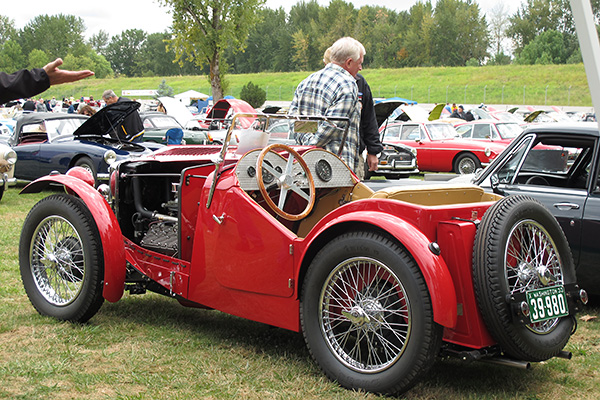 Brian Laine's J2 on display at Portland Oregon's 2016 All British Field Meet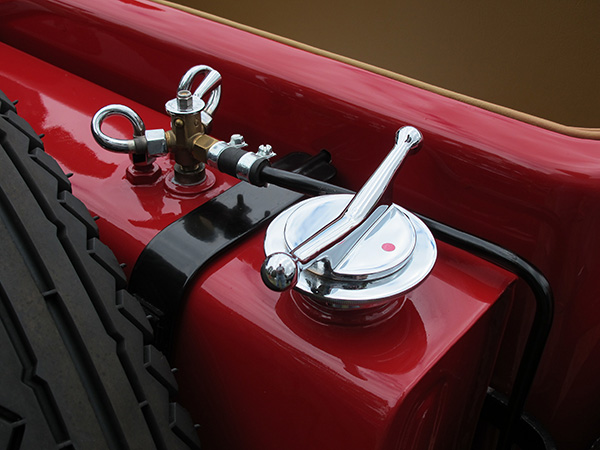 Fuel filler cap and vent.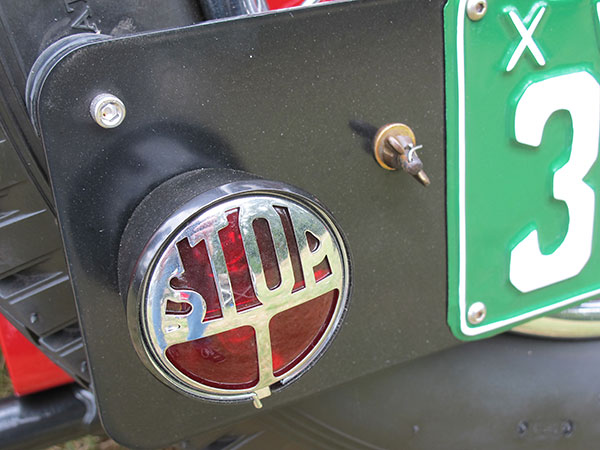 Dual "STOP" lamps are a big upgrade.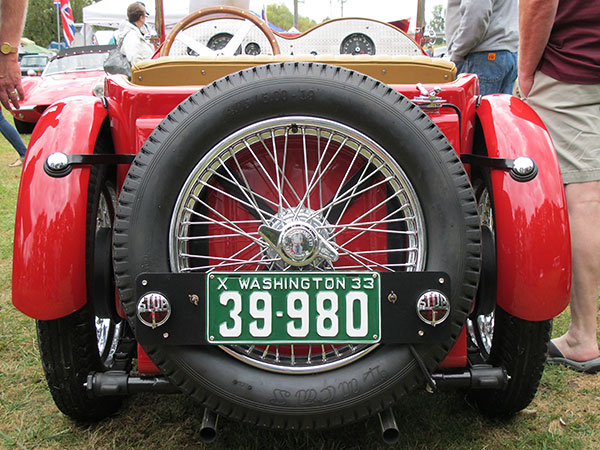 Original J-Types have one red tail lamp and no brake lights, although brake lights were
invented back around 1905 and were well known on other marques by 1933. According to
one source, 11 U.S. states legally required brake lights on cars in 1928. Buick pioneered
installation of turn signals in 1939. Other makes didn't follow suit until after WWII.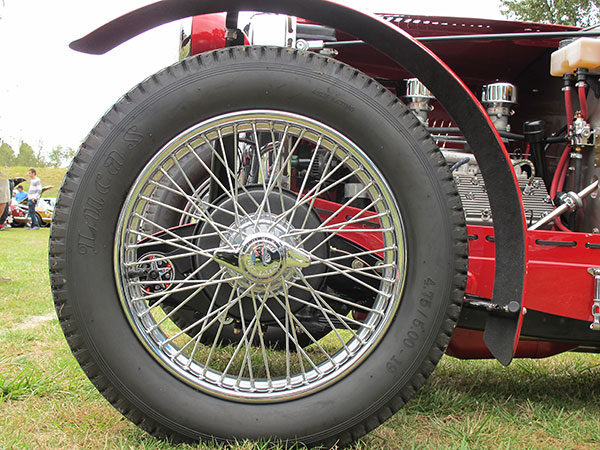 MSW chrome plated 19" 48-spoke wheels. Orson Products knock-offs.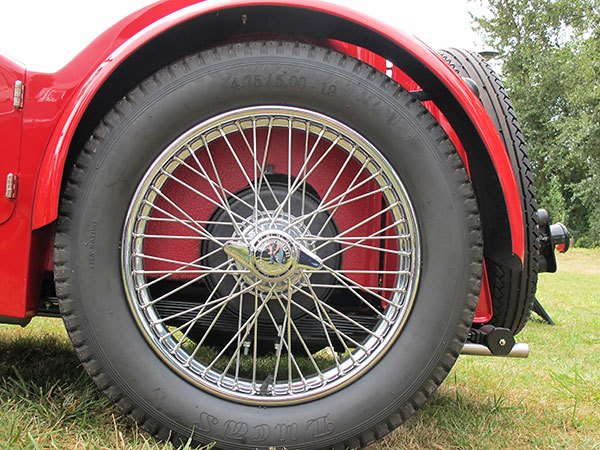 Lucas tires (4.75/5.00 x 19").


Notes:
(1)
Bill Stroppe is remembered for managing the team of Lincolns that finished 1-2-3-4 in the Touring class of the 1952 and 1953 runnings of La Carrera Panamericana, for riding shotgun with racing partner Parnelli Jones in Baja races, and for campaigning Ford Broncos in stadium and SuperTruck racing.


(2)
Phil Hill is the only American-born driver to ever win a Formula One championship (with Ferrari in 1961). Phil Hill also won the 24 Hours of Le Mans and the 12 Hours of Sebring, three times each. MG fans will recall the world speed records Hill set at Bonneville in EX181, a.k.a. "The Roaring Raindrop".


(3)
Ultimately Richie Ginther enjoyed a long and successful racing career of his own. He's the driver who gave Honda their first Formula One victory.


Photos by Curtis Jacobson for BritishV8.org. Copyright 2017. All rights reserved. Use by written permission only. (Do not print, copy to your hard drive, or post these online without permission.)