Abingdon For MG Enthusiasts
as published in British V8 Newsletter, Volume XV Issue 2, September 2007

by: Curtis Jacobson

Background Information

The charming market town of Abingdon, in Oxfordshire England, was the home of the MG car company from 1929 until plant closure in 1980. Few car companies have ever been more closely associated with a specific place, so it's natural that Abingdon would be a "must see" for any MG enthusiast who visits England. Even now, visiting Abingdon gives some insight into why MG cars were designed and built the way they were.

Abingdon sits on the quiet banks of the Thames River, upstream from London. At Abingdon the smaller Ock River feeds into the Thames. That's the old way to get to London, but now with updated train service commuters can travel into London's Paddington Station in about 45 minutes. Partly for this reason, Abingdon is growing in population. However, the town still retains its small town feel. By my quick census there seem to be about 23 neighborhood pubs within the town limits, and both of the two pubs we visited were exceptionally friendly.
The village of Abingdon was a cultural hub even before the Romans arrived in England. Abingdon is in the middle of "white horse country", the area where pre-Christian residents scratched the outlines of horses into chalky hillsides. (Did they intend for them to be viewed from space?) Roman missionaries established the Abingdon Abbey. Many people believe the abbey to date to about 166 AD; and it's certainly one of the oldest in England. Interestingly, it was a destination for pilgrimages because people believed one of the nails from Christ's cross was re-used in the building's foundation. In more recent times, Abingdon has been overshadowed by a famous nearby college town: Oxford University is just eight miles north of Abingdon.

Abingdon is situated in a rich agricultural area. The "Cotswolds" region stretches from Abingdon out toward the North and West. Historically this was a major wool producing region. Small farms border most of the narrow country roads around Abingdon. I was surprised that there weren't more hills, but perhaps I shouldn't have been. Between flatness and the relatively short distances between turns, it shouldn't be a big surprise that MG cars were never famous for powerful engines. However, Oxfordshire roads are far smoother and narrower than the roads around Detroit.

The Morland brewery was located in Abingdon until it was bought-out by the Greene King brewery in 2000. Morland's most famous beer was its "Old Speckled Hen" ale. Introduction of this beer was coordinated with the fiftieth anniversary of MG's time in Abingdon. (They closed one year later.) Old Speckled Hen ale was named after a particular MG car that was used for errands around the MG facility. The Old Speckled Hen car was a "Featherweight Fabric Saloon", made from cellulosed fabric stretched over a wooden frame! It was built in the Morris factory at Cowley and brought to Abingdon when the MG plant first opened.

In my opinion, since the closure of the MG factory the electronic rock band "Radiohead" has undoubtedly been Abingdon's most important export.

For Car Enthusiasts, Tours Begin at the MG Factory Site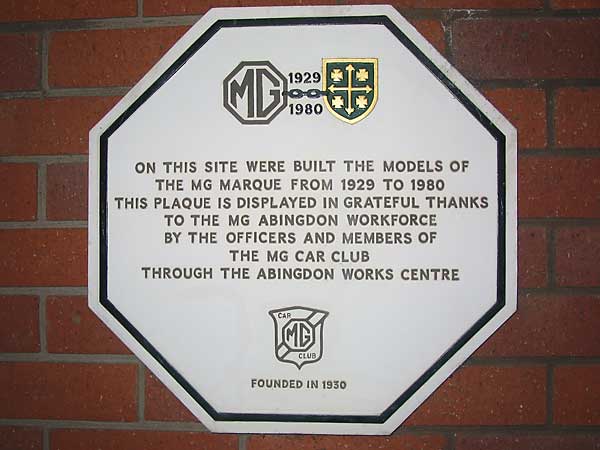 On this site were built the models of the MG marque from 1929 to 1980.
This plaque is displayed in grateful thanks to the MG Abingdon workforce
by the officers and members of the MG Car Club through the Abingdon works center.
(MG Car Club, founded in 1930)


After the MG plant closed, the entire property was sold to the Standard Life insurance company, which developed most of it into a large business park. This plaque is posted at the business park's entrance. If you can't get past the locked gate, don't worry. Probably everything you want to see is actually outside the gate.

Not Sure You Believe Me?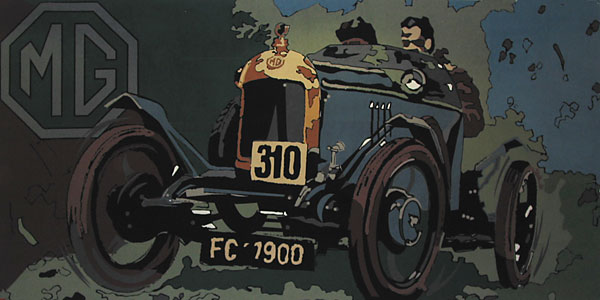 The car illustrated here ("FC 7900") is commonly known as "Old Number One".
Cecil Kimber won a Gold Medal driving this car in the 1925 Lands End Trial.
The car is at the British Automotive Heritage Museum. (The "bull nose" radiator
and number plate are distinctive. Old Number One was later painted red.)


Okay, maybe there is one interesting thing beyond the locked security gate. A kind guard unlocked the Standard Life office building and invited us inside to see two wall hangings that were commissioned by the insurance company to honor the MG company and its workers. Interestingly, neither wall hanging shows car models that were built at Abingdon. "Old Number One" (shown here) was built in 1924 and 1925 before MG moved out of the Morris facilities in Cowley. It does however capture the true spirit of MG. A second wall hanging, displayed upstairs from this one, shows an MGF. The MGF model was developed and built by Rover long after MG offices and the Abingdon plant closed.


Start Your Factory Tour at the Big Map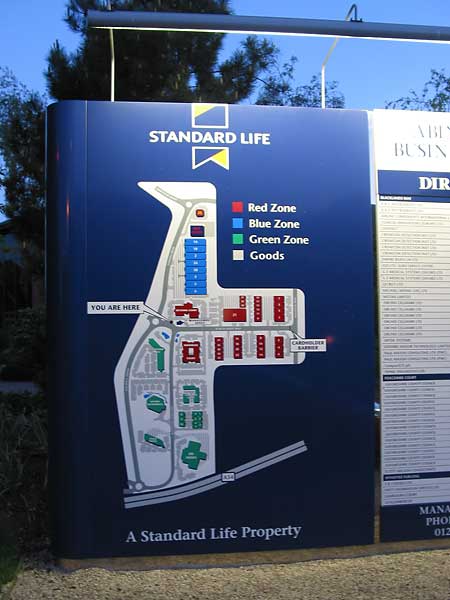 To get your bearings, it might helpful to note that this map is upside down.
North is at the bottom, and the road you came in on is at the top.


The main drag into Abingdon from the west is the A415, which is called the Marcham Road. The MG facilities were on the north side of Marcham Road, straddling both sides of Colwell Drive. Colwell Drive is shown running top-to-bottom down the map. The only MG factory buildings that remain standing are the buildings marked "Blue Zone" on this map.

The Historic "B-block"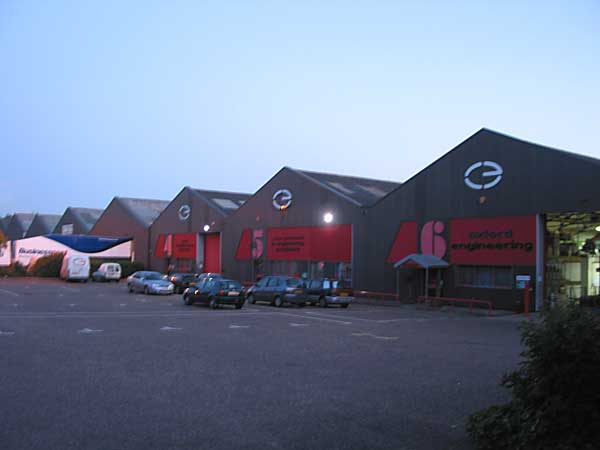 The blue zone corresponds to "Colwell Drive Units 1 though 6" but in MG days
these buildings were known within the factory complex as "B-block".


Whereas A-block (which used to stand on the opposite side of Colwell Drive) was the main assembly plant, according to the John Price Williams book "Making MGs", B-block housed the tire fitting bay, final inspection, paint repair booths, the "rectification" (mechanical repair) shop, the Competitions Department (factory race team), and the Product Design group. According to Williams, the Special Tuning (performance parts) department and the export dispatch office were located around the corner in C-block, which was among the first parts of the facility to be demolished. (Referring to the map above, they would have been to the right of the "you are here" label.)

B-block actually consists of eight equal-sized bays.

They're addressed (south to north) as numbers 1 thru 6, with units "1" and "3" subdivided.


MG Department or Function
Current Occupant (as of May 2007)


Unit 1a:
(Bay 1)
Competitions Department
(at least in later years)
Unoccupied and For Rent! (formerly Viney's Distribution)
Relocate your business into a part of the old MG plant!
Contact "Benedicts" at phone number 01865-883364.
This 1093 square meter (11767 square feet) facility
can be leased for about 56,000 British pounds.


Unit 1b:
(Bay 2)
Special Tuning Department
(at least in later years)
Barloworld
"Leading Brands" - I think they lease heavy construction machinery


Unit 2:
(Bay 3)
Tire Fitting
Creative Productivity Ltd.
a commercial printing service


Unit 3a:
(Bay 4)
Paint Repair
Howdens Joinery Co.
"Doors, Flooring, Kitchens, Hardware, and Joinery"


Unit 3b:
(Bay 5)
Mechanical Repair
Business Post
"Worldwide Express Parcels and Mail"


Unit 4-6:
(Bays 6-8)
Experimental/Development Department
(Engineering was on a Bay-6 mezzanine,
and the Drawing Office was downstairs.)


Oxford Engineering
"Total Manufacturing Solutions" - www.oxfordengineering.com

A-block has recently been replaced by a large and modern looking police station.

The Pavlova Leather Connection to MG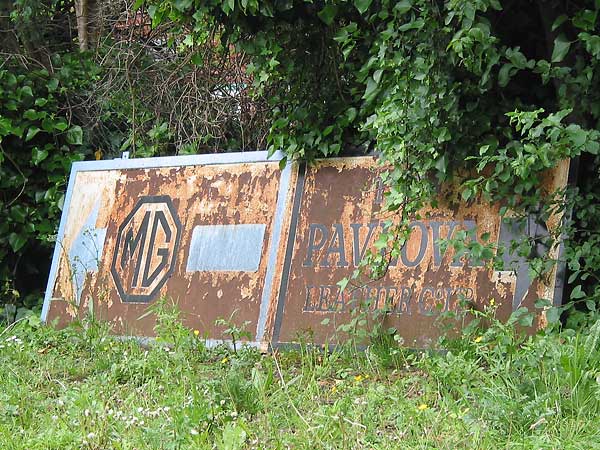 The histories of MG and of Abingdon are closely associated with the Pavlova Leather Co. Ltd.


Pavlova Leather was a tannery of glove leather that operated in Abingdon at least as far back as 1860. Its production changed over the years due to market demand. At one time it was known for book-binding leathers. Today, most people remember Pavlova for automotive upholstery. Pavlova Leather was purchased by Alfred Booth and Company of Liverpool in 1921, and came under reorganization that included sale of a large real estate parcel in 1929 to the MG car company. It was a copasetic agreement because MG became a significant customer for upholstery material. The Pavlova Leather tannery, operating from a facility just north of the MG factory, remained in operation until 1989.

We didn't drive up Colwell Drive to see what, if anything, remains of the Pavlova facility. I've been told that it's all been converted into housing. Although Pavlova Leather was established at least 21 years before the famous Russian ballet dancer Anna Pavlova was born, apparently an Abingdon real estate developer saw profit in creating an artificial association. At the former site of the tannery, Blacklands Way dead-ends into a residential street called "Anna Pavlova Close".

If you travel just north of the Blacklands Way traffic circle and peek behind a row of trees on your right, it should be possible to see the concrete pad where MG crash-tested cars.

Enjoy a Visit to The MG Car Club Ltd.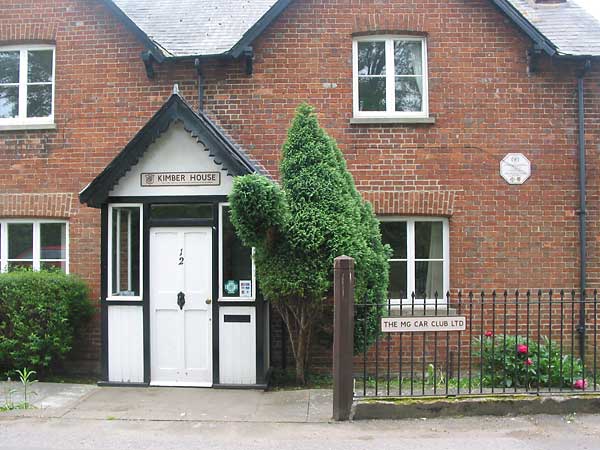 MG Car Club Offices at #12 Cemetery Road


The MG Car Club is officed in this charming brick house, which they've named "Kimber House" after Cecil Kimber, the great man who fathered the MG company (as a spin-off of the Morris car company) and who led MG for many successful years. Cecil Kimber actually lived in different homes that were less convenient to the factory. (From 1933-38 he lived at 69 Oxford Road. That very large home was converted into a modern inn about twenty years ago, and it operates under the name "Boundary House".) The car club's house was originally owned by a manager of the Pavlova Leather tannery.

Although it's far from obvious today (since Cemetery Road is blocked to through traffic at Colwell Drive, and you have to drive through a residential neighborhood to find the Kimber House), the MG Car Club office is actually next door to the original plant's administrative "top office". The administrative building still stands, although the interior was completely gutted and remodeled in 2005, and the original red brick exterior has been covered in wood. The building is now a residential apartment building.

The MG Car Club Office has an excellent gift shop and a small but interesting collection of MG memorabilia on display.

It's Interesting to Note what MG Car Club Employees Drive To Work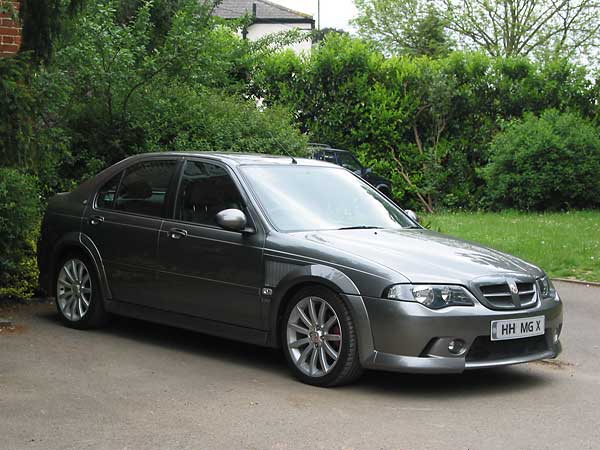 2004 MG ZS180 in "XPower Grey".


"MG Rover Group" operated from 2000-2005. In that time they produced about 340,000 cars. The company was led by CEO John Towers, and reached a peak size of about 6000 employees. MG Rover Group production was at Austin's old Longbridge plant, near Birmingham, not at Abingdon.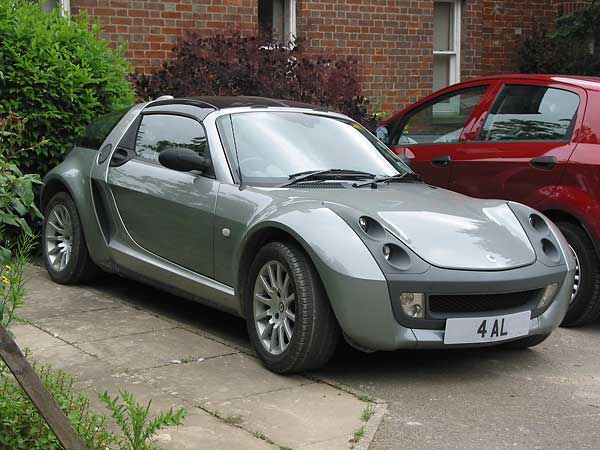 Smart "Roadster Coupe" (not to be confused with the company's earlier, dowdy "Coupe" mini-car model)


Smart GmbH was formed by Mercedes Benz in joint venture with the Swatch Group Ltd. watch company. Engine: rated 60kW (80hp). Weight: 790kg (1742lb). About 43,000 were made from 2003 through 2005. Lightweight and nimble, this car is often compared to classic British sports cars like the MG Midget. The tooling has been sold to an English investment group (called "Project Kimber") and plans are being made to reintroduce a re-styled version with Mitsubishi engine, badged as an "AC Ace".

The Abingdon County Hall Museum

After visiting the MG Car Club Office, proceed to the Abingdon County Hall Museum, which is located downtown in the old county hall building. This 1678 building was designed by Sir Christopher Wren's master mason, Christopher Kempster. It's interesting in that its open first floor served as a covered market. Immediately opposite this building are the medieval abbey grounds.

Reportedly, the Abingdon County Hall Museum has an excellent collection of MG materials. They're currently featuring a special exhibit called "The Making of MG". Although the museum is open daily, this special exhibit is only open Saturdays and Sundays through April 27, 2008. Sadly, the exhibit hadn't started yet when we were in Abingdon. Check the museum's website for further or updated information: Abingdon Museum, or call telephone number 01235-523703.

Abingdon Public Houses

Based on my too short visit, I can't recommend one pub over another. (We only got to try two.) Instead, here are notes I made for next time! For directions, Google the pub names followed by the word "Abingdon".

As mentioned above, "The Boundary House" is located in Cecil Kimber's house (where the founder of MG lived from 1935-39.)

"The Barley Mow" at Clifton Hampden has an excellent river-side location and a distinctive thatched roof. It's about 650 years old! I'm told that it appears in many early MG promotional photos, although the entrance has changed somewhat and the pub has burned down and been lovingly rebuilt since those days.

"The Magic Midget" (named after a particular famous MG, "EX127" that topped 120mph in 1932.) was a pub seemingly particularly for and by MG enthusiasts. Rumors of its demise aren't all true, but the latest information we have is that the name has been shortened to "The Midget" and the interior has been remodeled to more of a "wine bar" aesthetic.

One kind gentleman told me that "The Kings Head" was most popular with his fellow MG employees after hours.

"The White Horse" is the closest pub to the old factory or to The MG Car Club, followed by "The Cross Keys" about one block further down the street. I was dissappointed to not find one single item of MG memorobilia at The White Horse. The place was cheerful, so we stayed and enjoyed a couple pints with the locals.


Driving the MG Test Routes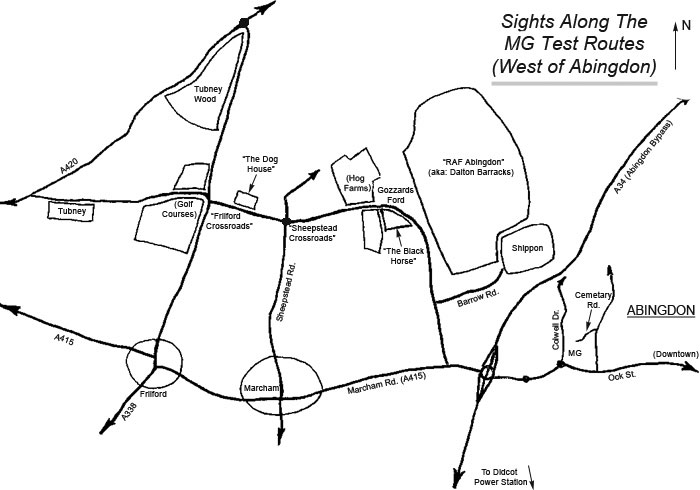 Until about 1970, all MG cars were taken for test drives before they were released from the factory. At that time, the factory started using rolling road test stations to check the majority of cars, although they continued road testing a statistical sampling. Also, they test drove every MGB GT V8. (Maybe the V8 cars were irresistable to the test drivers?) It's interesting and enjoyable to retrace the MG test routes, even if you have to settle for doing it in a modern rental car.

The MG Car Club has published an excellent map that shows four principal MG test routes. You can download it from their website. As it shows, the pre-war route traveled out to Frilford and then looped clockwise back to Marcham. The second era route traveled only out to Marcham, but then looped clockwise back through Gozzards Ford. Rather than reprint the MGCC map here, we've chosen to make our own map with more emphasis on sights along the post-1950 routes.

We're told that, from 1950 pretty much all MG cars took one basic test route. The only deviation was that MGB-GT V8 cars continued a little farther out so that the cars could travel briefly on the A420 and thus reach higher speeds. The basic route was about 5.7 miles, whereas the extended (V8) route was about 11.2 miles. The basic route is "out-and-back", whereas the extension adds a big counter-clockwise loop.

All MG test drives started by leaving the factory and traveling west on the Marcham Road (route A415). In retracing the routes, you'll leave the built-up area of Abingdon and cross the A34 Abingdon bypass. Immediately after the bypass, you'll probably notice two truck rest-areas on opposite sides of the A415. Then, take the first road that turns off to the right. Apparently this road doesn't have a proper name, but you should see a sign marked "Frilford, Shippon & Dalton Barracks". Once you turn right and head north on this road, your navigator can relax and just enjoy the ride.

If you start at the MG factory, the turn-off from Marcham Road will be at about the one-mile mark. At about the 1.4 mile mark, the Barrow Road will turn off to the right. Don't take the turn unless you're curious to leave the route and visit the village of Shippon. Immediately after this turnoff, however, look to the right and see if you can catch a glimpse of the old "RAF Abingdon" airfield. The airfield actually dates to 1932, and it was an active bomber base during WW2. It continued to be operated by the RAF into the 1990's, and then was turned over to the Army who renamed it the "Dalton Barracks".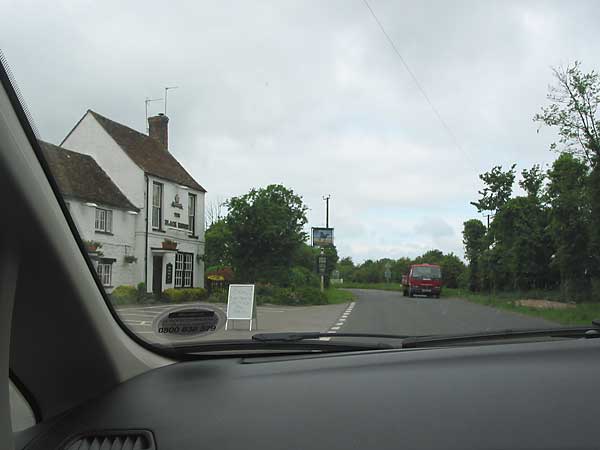 The Black Horse is a country pub along the test route, in a place called Gozzards Ford


As the road curves left, away from the airfield, the Black Horse pub will be on your left. This is at the 2.1 mile mark.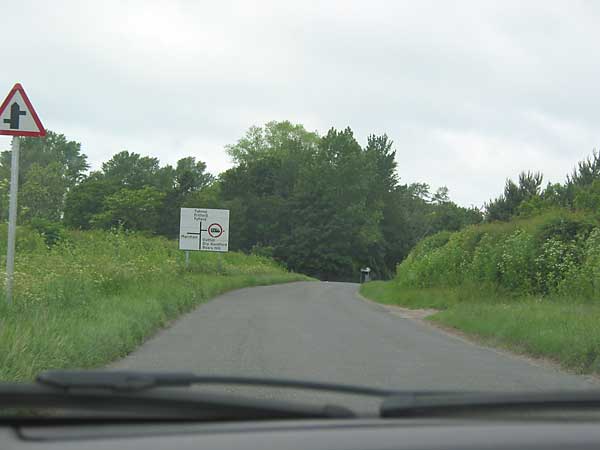 Thick hedgerows are one of the distinquishing features of rural British roads.


Before you know it, you'll be at the Sheepstead Crossroads roundabout (i.e. traffic circle, which comes up at about the 2.9 mile mark). For a non-V8 MG it would be time to head back to the factory. Live a little! The V8-extension adds some very interesting sites to the test route.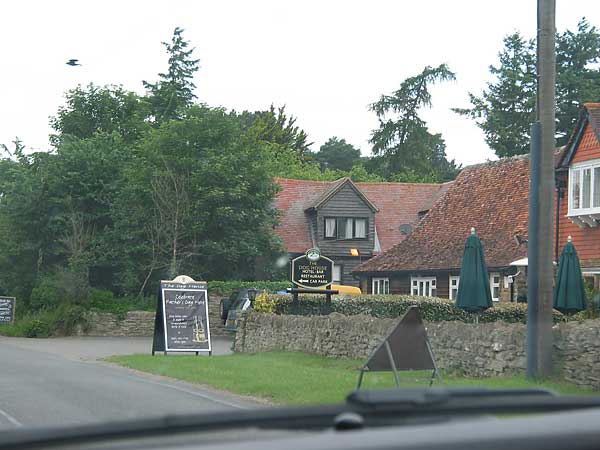 The Dog House - a pub and country inn near Sheepstead Crossroads


About 3.2 miles into your drive, you'll reach The Dog House, a charming pub and country inn. There's no reason to drink alone in this part of England! If you stop at any of these establishments, you'll likely find that the natives are particularly friendly. This matches something we've always read about the MG factory at Abingdon. Throughout all of the unrest and poor labor relations that plagued the British car industry, Abingdon maintained its reputation for having the most cooperative workforce. The MG Car Club motto is "the marque of friendship", but by many reliable accounts this label applied first and foremost to the Abingdon workers who built the classic MG cars.

Unfortunately British Leyland's Chairman, Sir Donald Stokes, came into his job with an unfriendly view of MG. He'd previously been Chairman of Triumph. It was Stoke's decision to let MG and the Abingdon plant languish while Triumph developed and tooled-up to produce the TR7 (a unibody, 4-cylinder, live-axle coupe that was intended to replace the body-on-frame, 6-cylinder, independent-rear-suspension TR6 roadster.) Stokes also decided to build the TR7 at Speke (Liverpool). In the TR7 model's unhappy lifespan the Speke factory had to be closed, and production was moved first to Canley (Coventry), and then to Solihull. That couldn't have been very cost effective! Abingdon, where unibody sports cars had been built since 1958, looked on...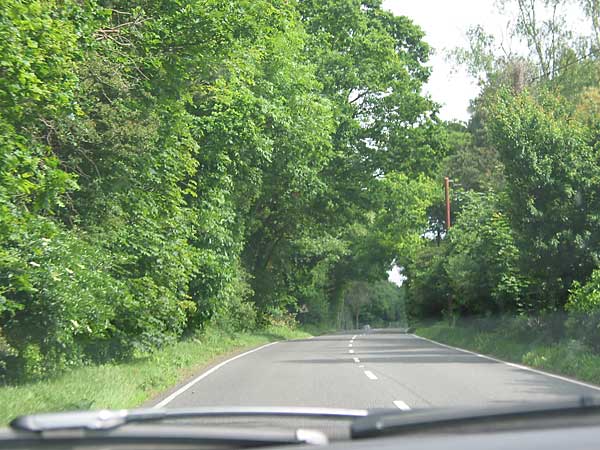 Turn right on the A338 at Frilford Crossroads, and enjoy driving along the woods.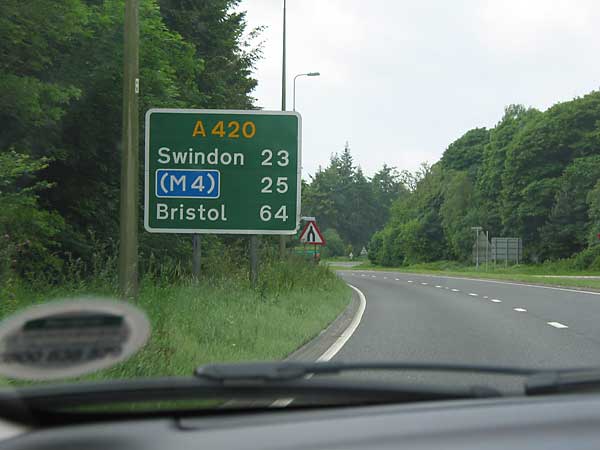 The A420 expressway gives you a chance to stretch your legs.


Continuing on, at about 4.6 miles into the drive you'll reach the A420. It's England, so you'll enter it from a roundabout - not an American-style highway clover leaf. The road is divided-highway for a section, and then merges. Pay attention, watching carefully for the turn to "Tubney" (at about 6.6 miles) which will take you back toward Abingdon.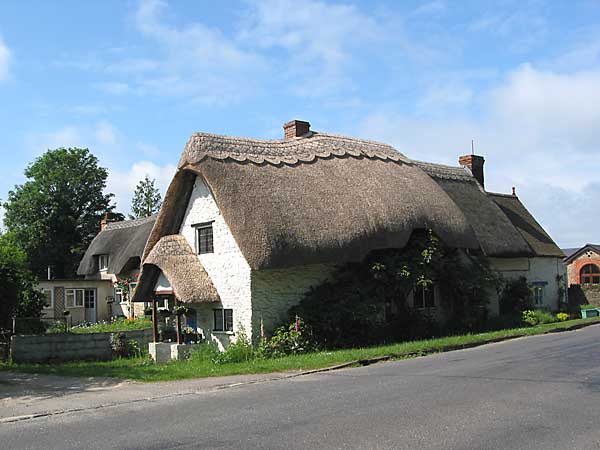 Thatched-roof houses in the village of Tubney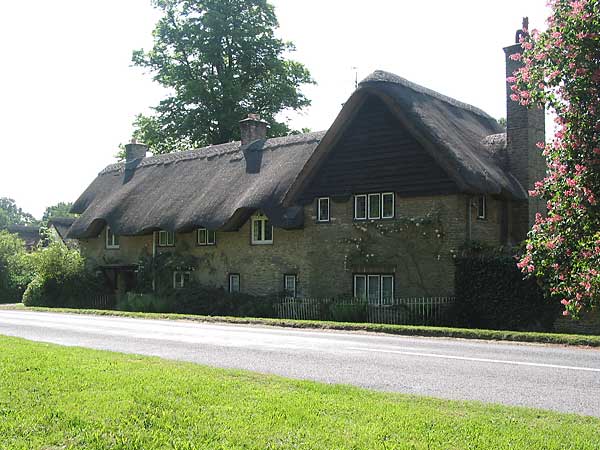 I challenge you to drive through the quaint village of Tubney without stopping and taking pictures. Thatched-roofs and half-timber walls, flower filled gardens, trained vines, and ornamental trees in bloom... this is a really pretty place!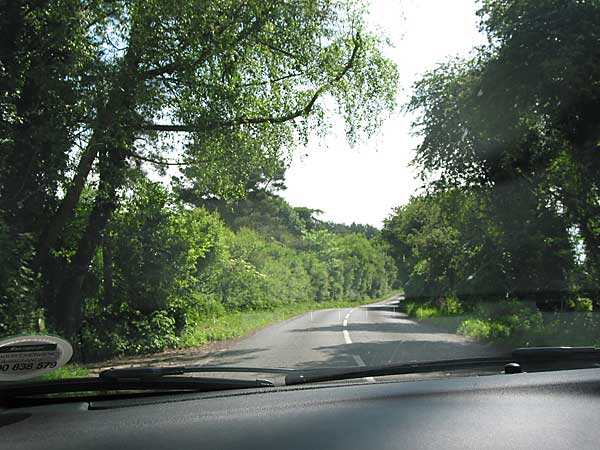 This photo was taken immediately east of Tubney.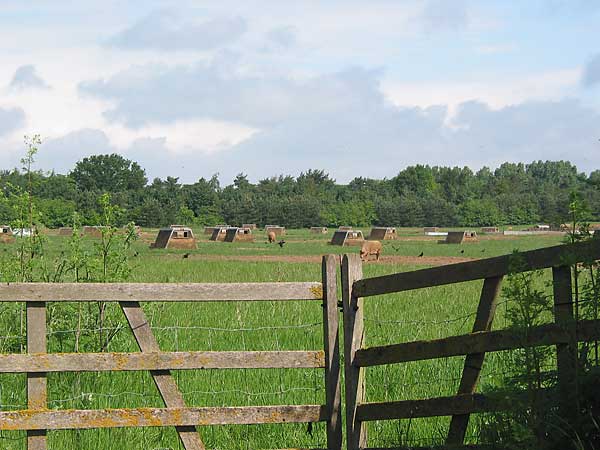 A hog farm between Sheepstead Crossroads and Gozzards Ford.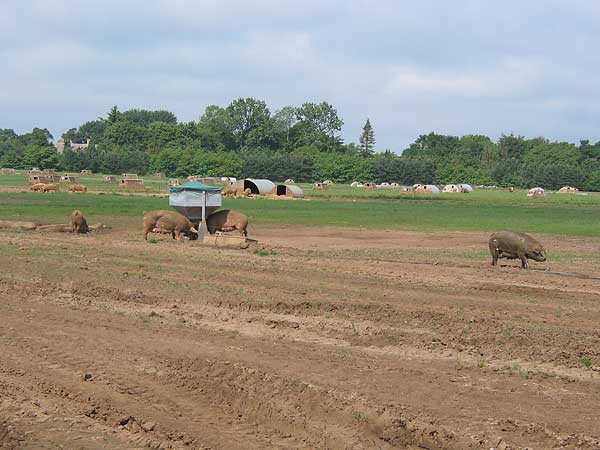 Some things are easier to spot when you're driving eastbound.


On the way back to Abingdon, you almost feel like you're driving a different road. For example, between Sheepstead Crossroads and the Black Horse pub, you'll pass a couple fairly large hog farms that flank both sides of the road. They must have been hidden behind hedgerows when we were traveling the other way.

In my opinion, it's certainly worth pulling over and checking these farms out. (Be careful though. Customs won't let you back into the USA if you admit to getting mud on your shoes here.) In the modern age of "factory farms", the hogs of Oxfordshire certainly seem to enjoy fresh air, green grass, and sunshine!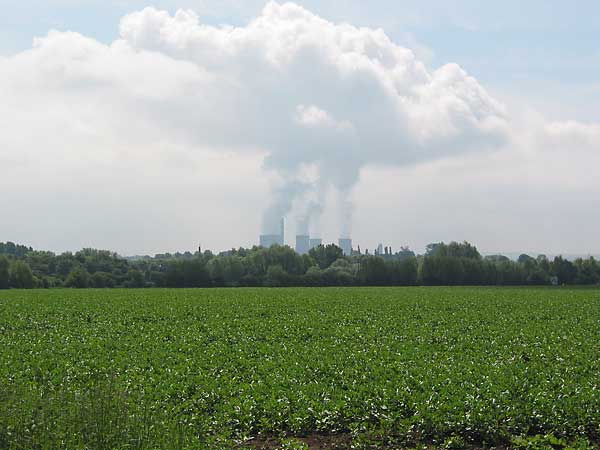 The Didcot Power Station


As you pass the Dalton Barracks and you're driving south, it would pretty hard to miss this view of the Didcot Power Station. This is a coal fired power plant. (Let me be perfectly clear; this is not a nuclear power plant.) Readers of venerable old "Country Life" magazine were once polled... and they voted this power station the Third Worst Eyesore in all of Great Britain! On the other hand, the station won architectural awards when it was built. Architect Frederick Gibberd was very proud of his idea to clump the towers into two groups of three, instead of one group of six.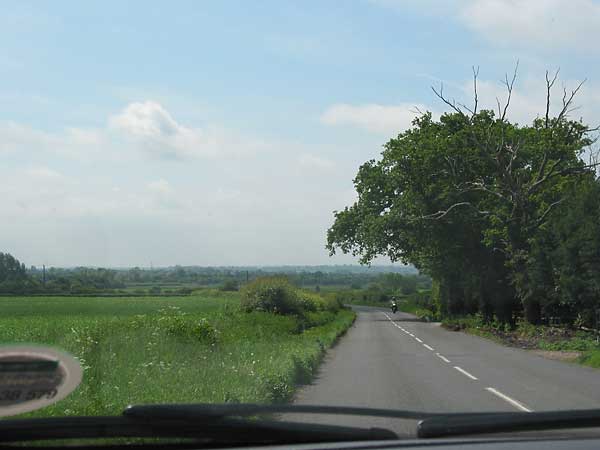 One more turn in the road and you're headed back into Abingdon.


Note: we wish to thank Andy Knott of The MG Car Club (and Editor of "Safety Fast!" magazine), MG historian Brian Moylan (author of "MG's Abingdon Factory"), and Mike Yeadon for their help with fact-checking this article.