| | | | |
| --- | --- | --- | --- |
| | | | |
| FROM: | Gertrude I. McWilliams | | PRESS RELEASE |
| | Director, Advertising and | | 29 March 1968 |
| | Public Relations | | |
LEYLAND GROUP EXPERIMENTAL CAR
The Leyland Motor Corporation of North America will exhibit an experimental eight cylinder grand touring car on its stand at New York's International Automobile Show opening March 30th. The specification of the car is likely to cause the kind of excitement that greeted exhibition of the first Leyland Eight at the London Motor Show back in 1920. The latter car was designed by the great Perry Thomas, then Leyland's chief engineer.

The new Leyland experimental car is very different from its great predecessors of the 1920's but there are also certain points in common, eight cylinder aluminum engines being an important one. However, the new Leyland experimental car features a V-engine positioned mid-ships and not a straight eight mounted up front.
The Leyland experimental car has been designed as a high performance machine that is, nonetheless, equally satisfactory as a car for every day use. It is easy to get in and out of. There is plenty of luggage room. Provision has been made for fresh air heating and air conditioning. Although essentially a two-seater, a third passenger can be carried on an occasional basis.

The Leyland Group experimental car is a design exercise aimed at achieving experience with a completely practical automobile. It does not, therefore, fall in the category of the so-called "dream cars" so frequently exhibited at automobile shows. For this reason, its trim, finish, and general appearance are at a level commensurate with its function as an experimental project.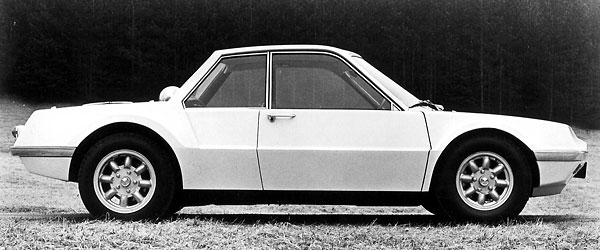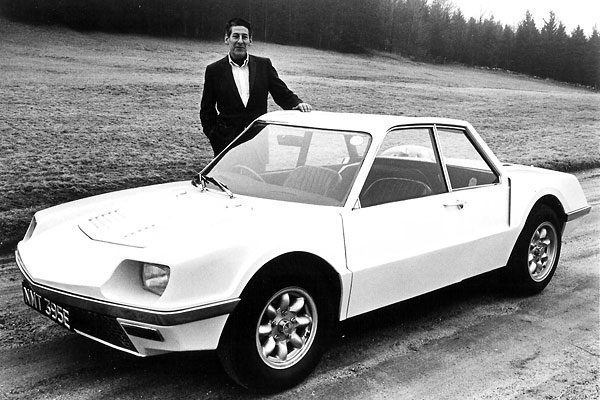 The Leyland Eight GE ("group experimental") is a throroughly modern, exciting, and practical sports coupe. It is a mid-engined, two-seater, with room for an occasional third to be added. Clothed in a skin of steel and aluminum panels, the car is a mechanical embodiment of a practical design concept. The body is neither designed nor finished to satisfy aesthetic requirements although the functional appearance thus created has found considerable favor in the view of many who have seen it.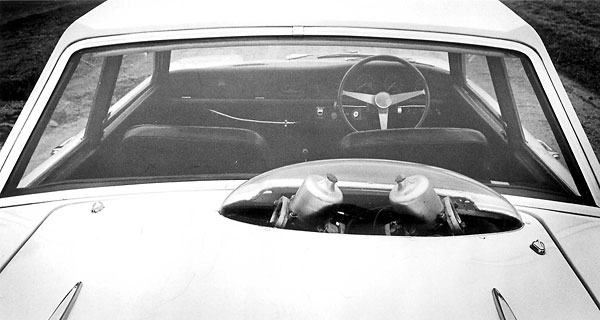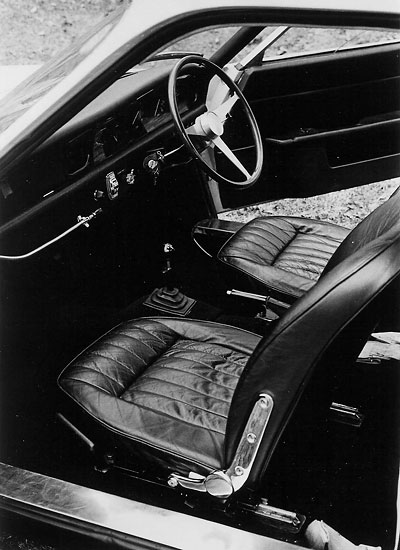 The instruction was to build an experimental car that would be fun to drive, preform well and easily, comfortably, accomodate two discriminating people and their luggage, and exact no penalty because it was not a full sized sedan. That meant it should be air conditioned on the production line, have a first rate heating system and utilize such modern features as electric windows. It should meet all existing safety and similar standards and add any others that are practical and desireable at this time. Furthermore, it should be possible to manufacture it for a sales price that would be tolerable to a fairly wide segment of the public. Say around $5,000.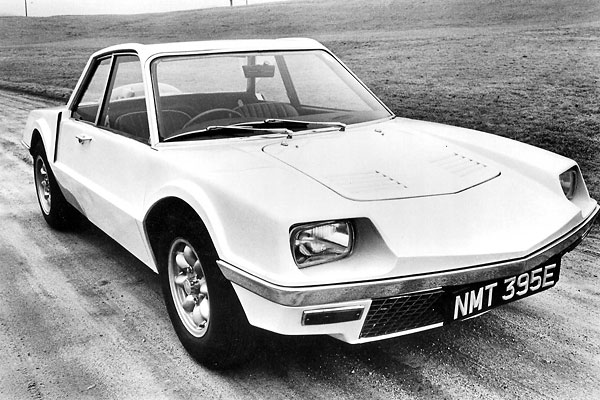 The person climbing into the Leyland Eight GE is immediately impressed by the extraordinary spaciousness of the interior and the really very superior visibility from its large glass area. The car burbles into life as the engine is started up and its performance does it credit: 0-60 mph in 7 seconds and a top speed of 140 mph. On the other hand its flexible 3.5 litre, 185hp aluminum V-8 engine can be run at "crawl" speeds without difficulty.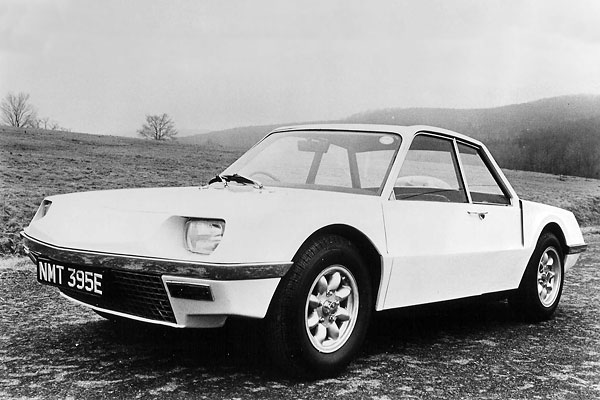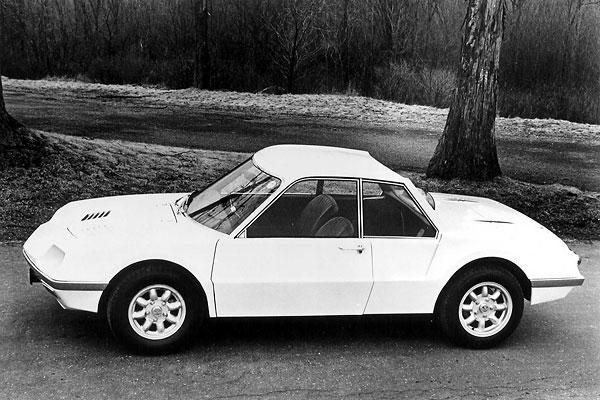 The location of the engine - in front of the rear axle and 6 inches to one side - contributes to its extremely fine handling qualities. In the past several years all the really successful competition machines from Indianapolis race cars to the Formula One Grand Prix machines have used this configuration because the improved balance makes the car handle better at higher speeds - so with the Leyland Eight GE. Sophisticated double wishbone independent front suspension with anti-roll bar and de Dion rear suspension are part of the design to further enhance the car's handling, and rack and pinion steering gives the driver fine control.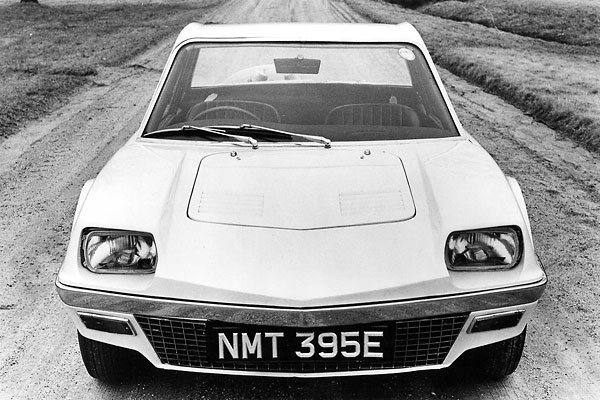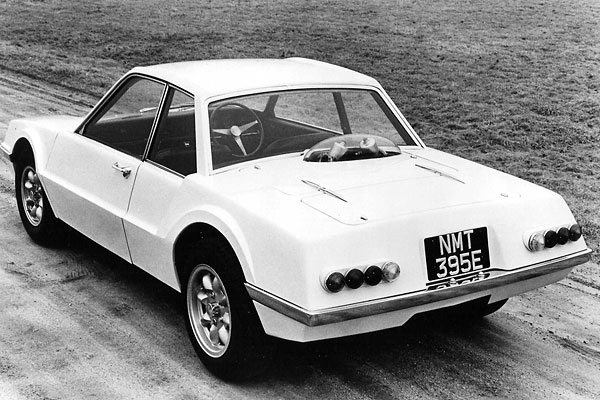 The Leyland Eight GE is very much of an engineering project. Its shape was determined by what had to be covered and where air had to be deflected or inducted for engineering purposes.
---
Enjoying this article? Our magazine is funded through the generous support of readers like you!
To contribute to our operating budget, please click here and follow the instructions.
(Suggested contribution is twenty bucks per year. Feel free to give more!)
This article is part of a set of SIX! If you enjoyed this article, check out:
Rover 3500S Press Release (circa 1969)
1970 Rover 3500S Specifications and Pricing
Rover V8 History (courtesy of Autocar magazine)
Rover P6 Design Innovations
Lance LaCerte's Restored 1970 Rover 3500S