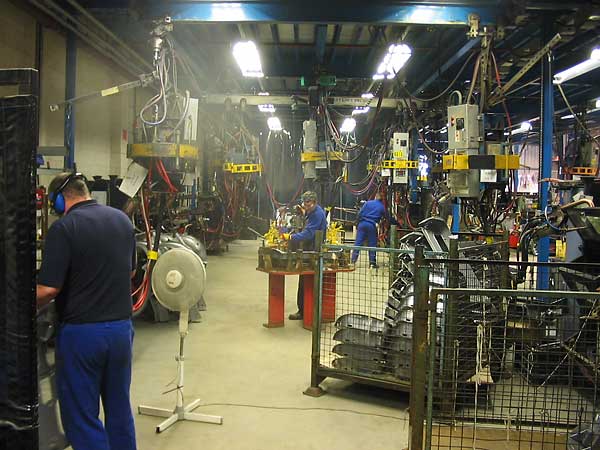 MG Midget Bodyshells - Being Assembled by British Motor Heritage
as published in British V8 Newsletter, Volume XV Issue 2, September 2007

photos by: Steve Clark and Bill Mohan

The Midget and Sprite Club visited British Motor Heritage in April 2006 to see a production run of "square-wheel-arch" Heritage MG Midget bodyshells being produced. After a cordial greeting with coffee and biscuits, a brief meeting with company staff, and the ritual hand-out of eye-and-ear protection the group was invited to come on out and see Midget bodyshells being made.

The British V8 Newsletter is very pleased to document their visit in photographs.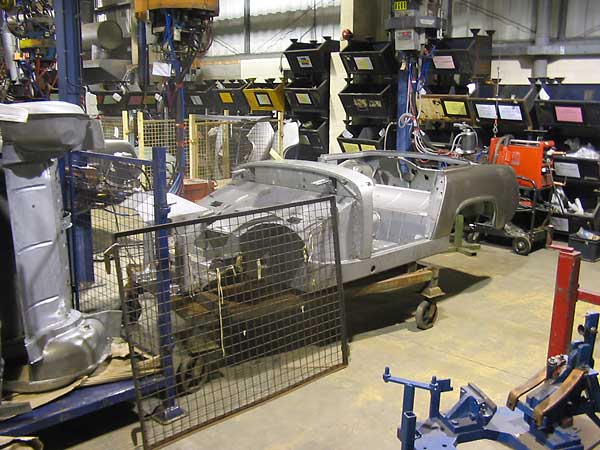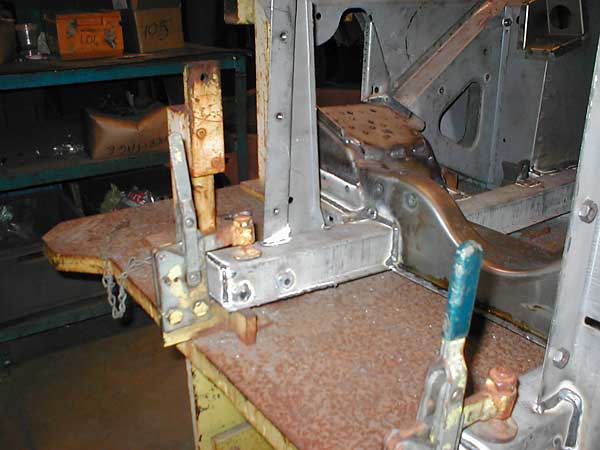 The curved (almost sculpted) front crossmember identifies this as a later Midget 1500 (rubber bumper) shell.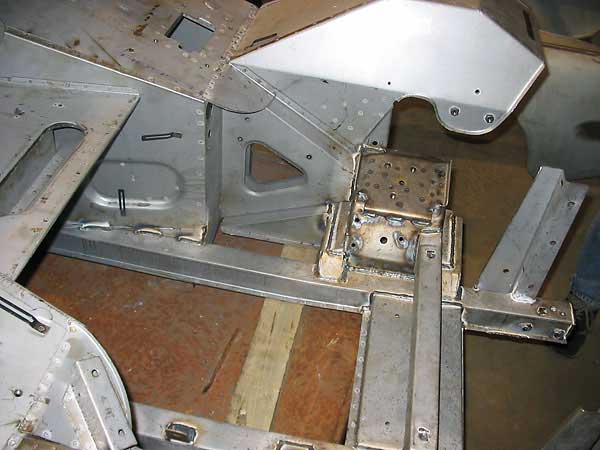 The straight-across (square tube) front crossmember identifies this as a chrome-bumper Midget bodyshell.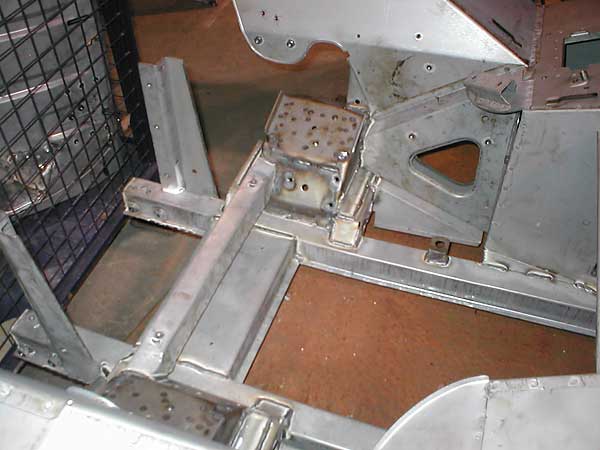 Although the crossmembers are different, the motor mounts look similar.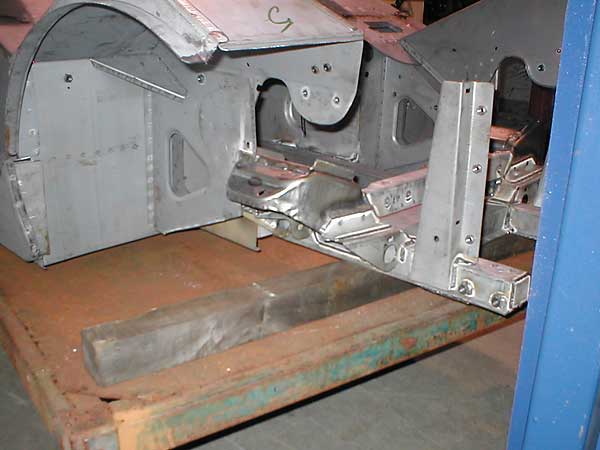 Front wheel-arch assembly.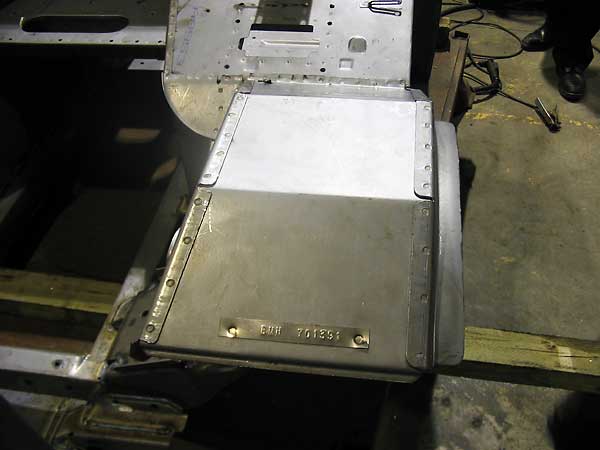 British Motor Heritage serial number plate... on the wheel arch.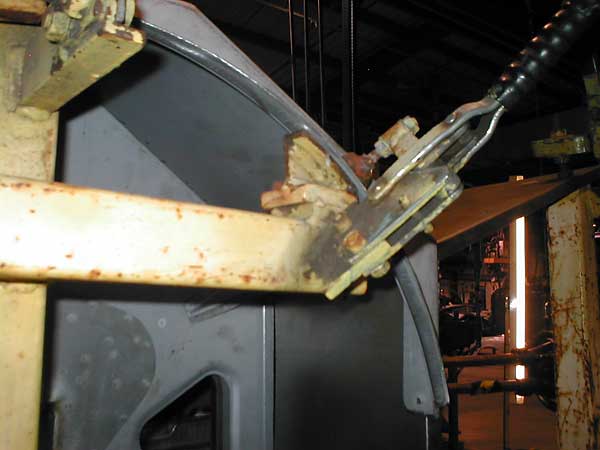 Wheel arches are clamped tightly in place before the assembly is welded-up.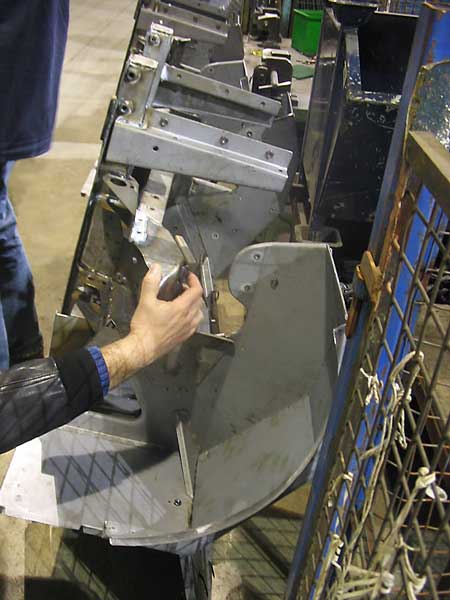 Front subassemblies are lined up in a que.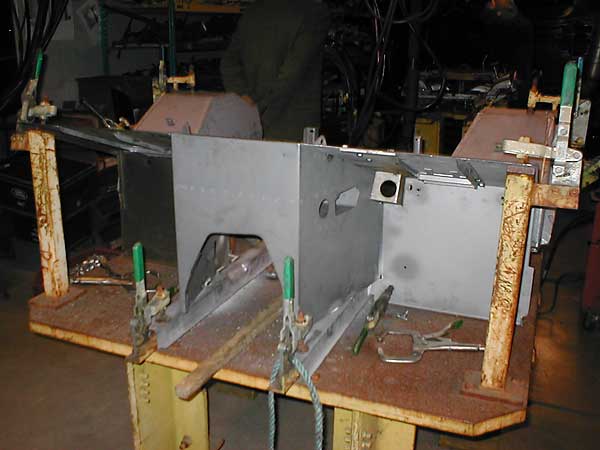 This photo and the next illustrate the difference between a subassembly fixture and the main assembly fixture.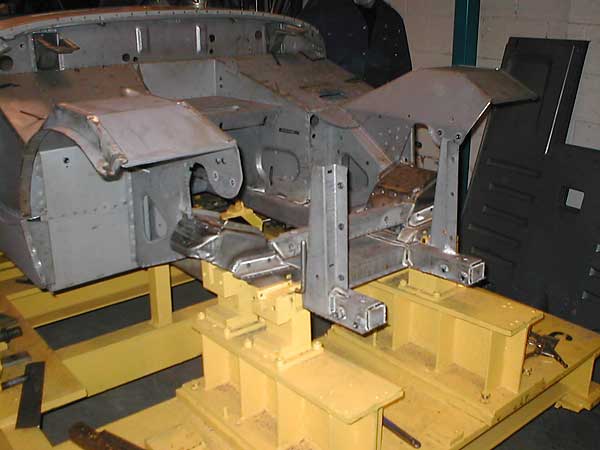 Precise, rigid body assembly fixtures are critical to proper alignment.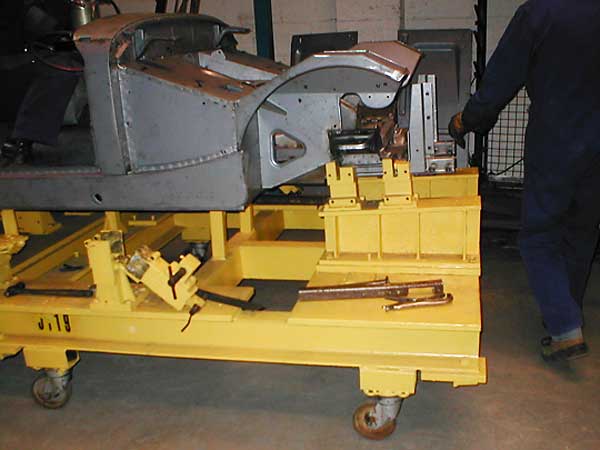 "This shows the infamous front chassis curve being built in on the assembly jig." - Bill



Battery and heater shelf.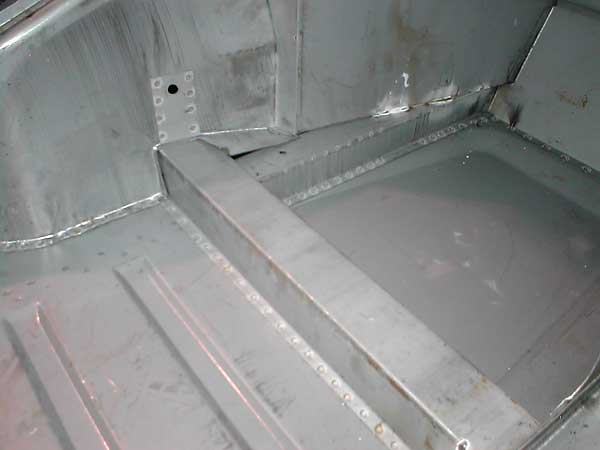 An initial MIG weld (from the transmission side of the front bulkhead to the front rails)...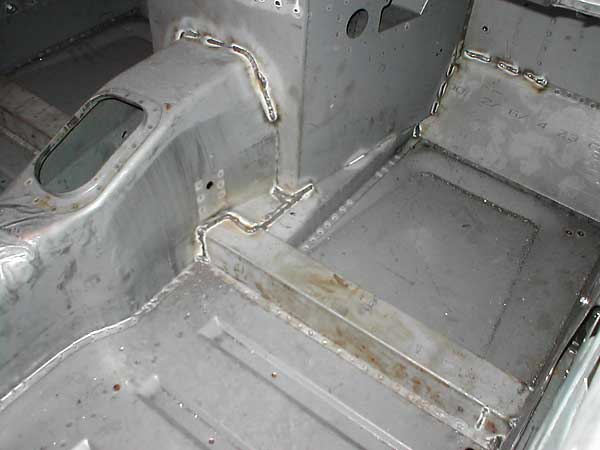 ...then they weld more extensively from the interior side of the cockpit, once on the big fixture.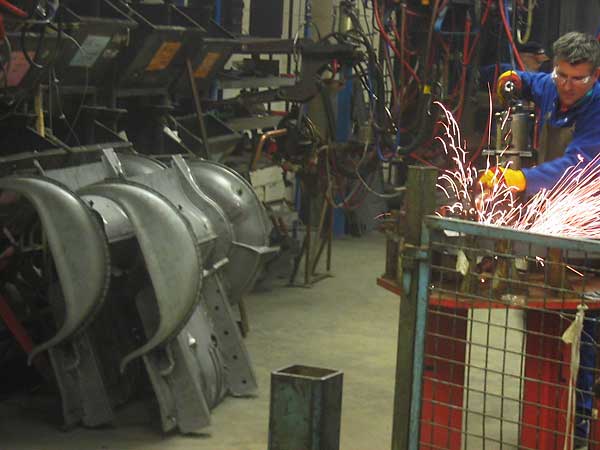 Rear subassemblies are lined up in a queue.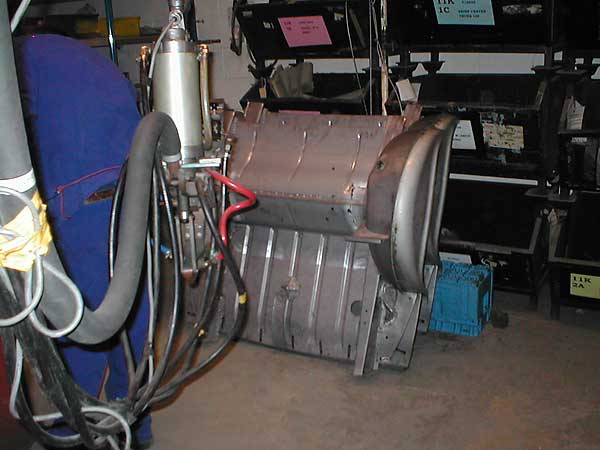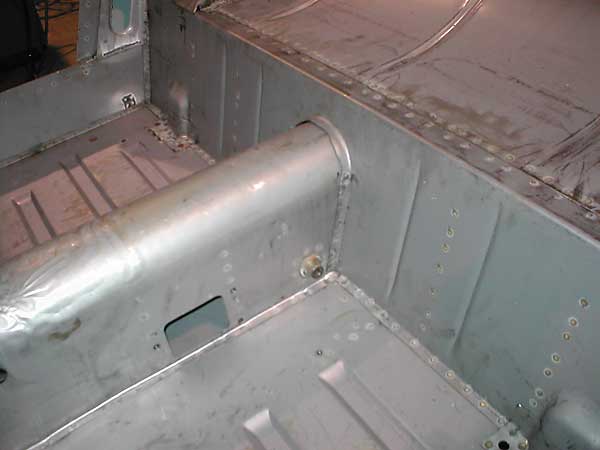 Rear cockpit bulkhead.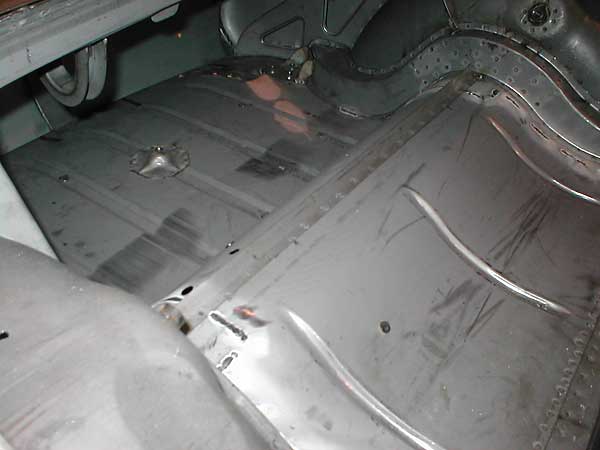 Rear luggage floor assembly.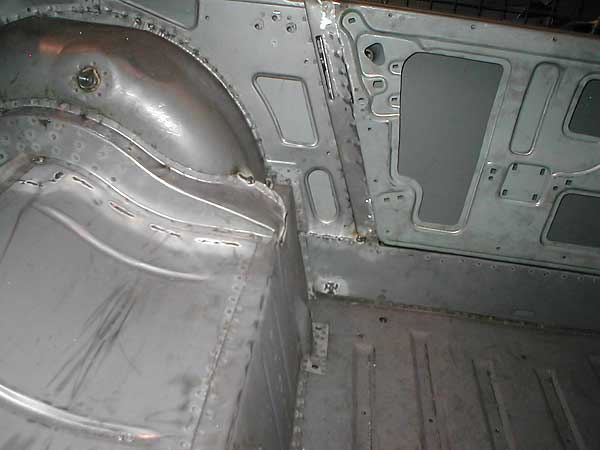 Reinforcement panel, rear wheel arch to B-post.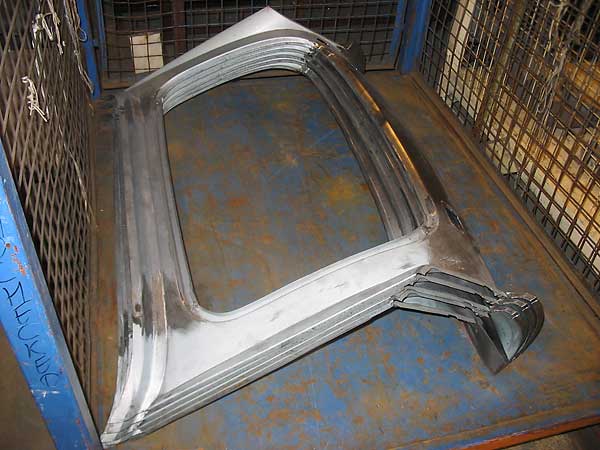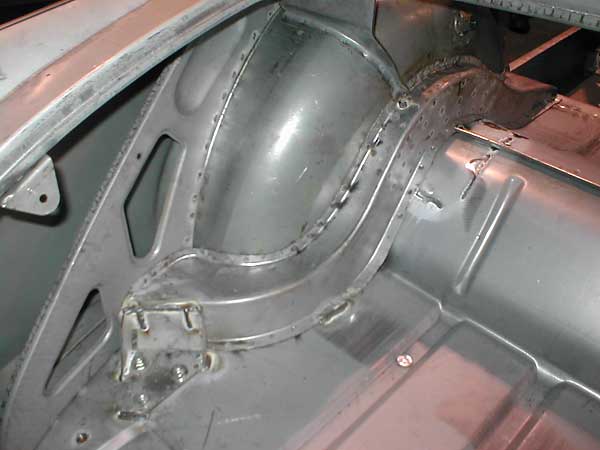 Rear wheel arch inner assembly.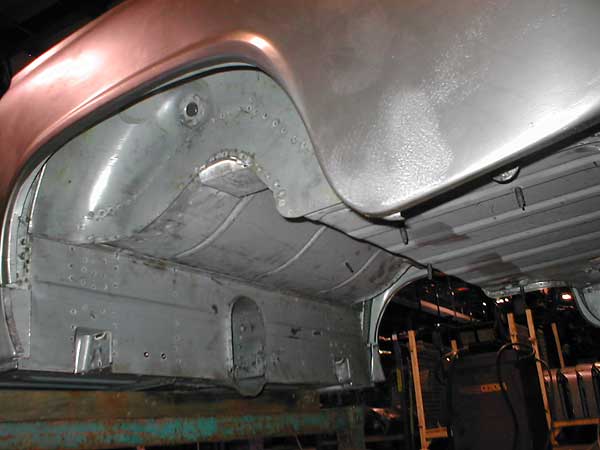 Notice that on a Midget the rear cockpit bulkhead is mounted parallel to this "shut panel",
and that together these two panels support the leaf spring hanger boxes.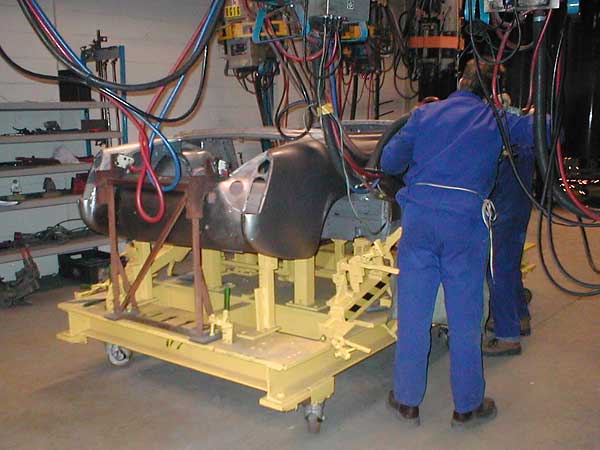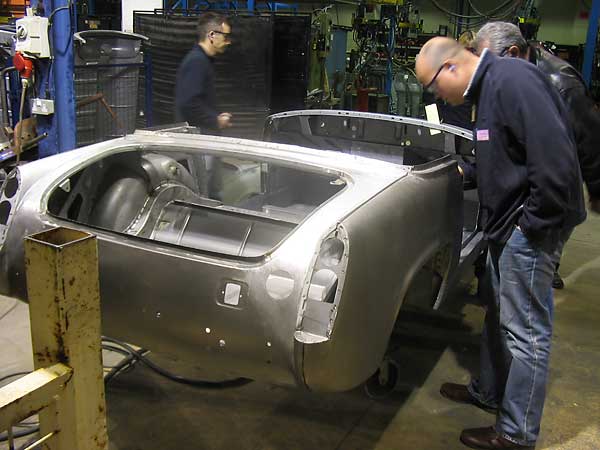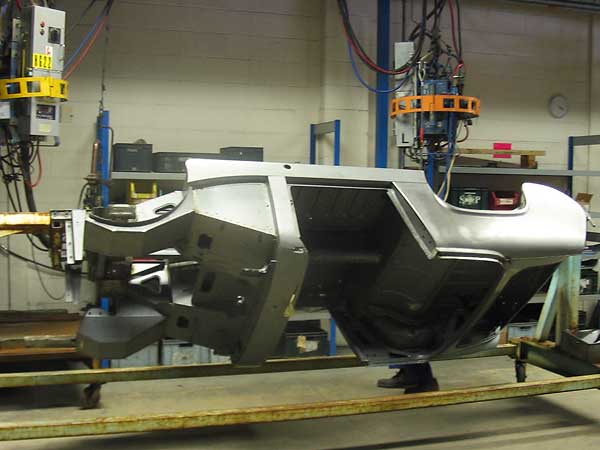 Rotisserie!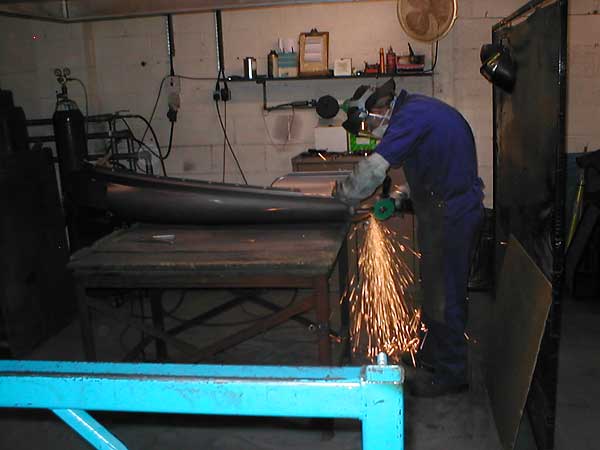 Prepping fenders for installation.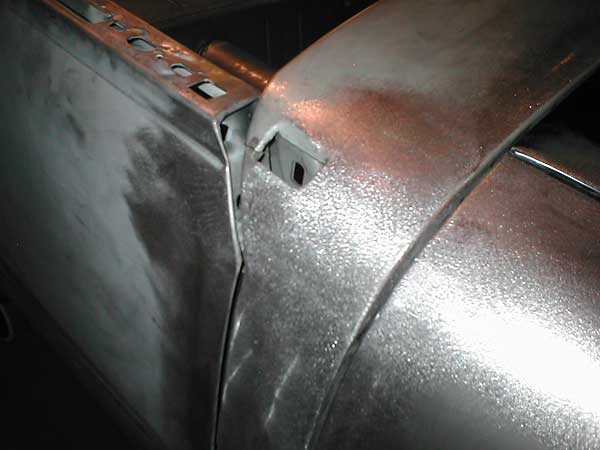 After installation, fender, cowl, and door alignment is fine tuned.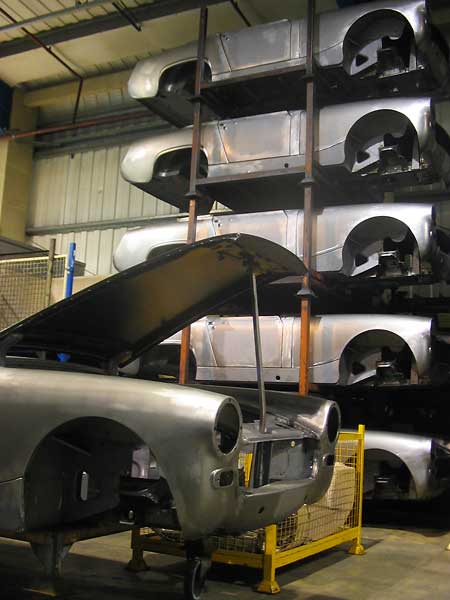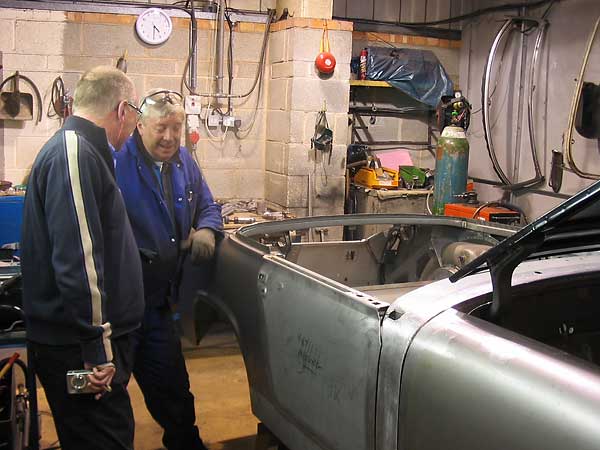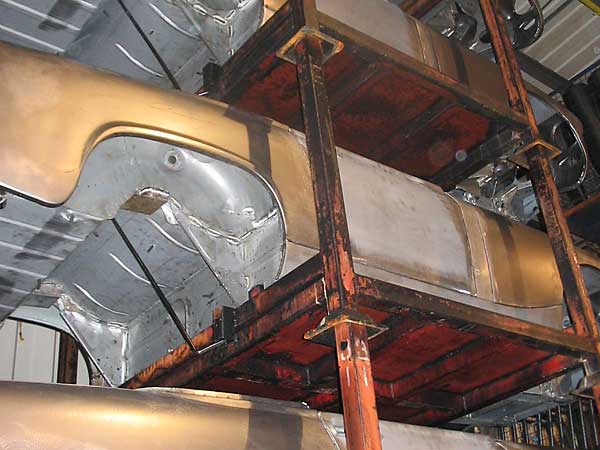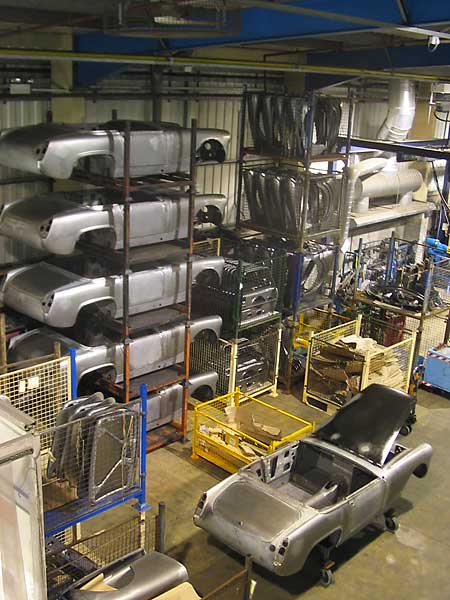 When the whole batch is ready, they'll be sent off to be E-coat dip-primed together.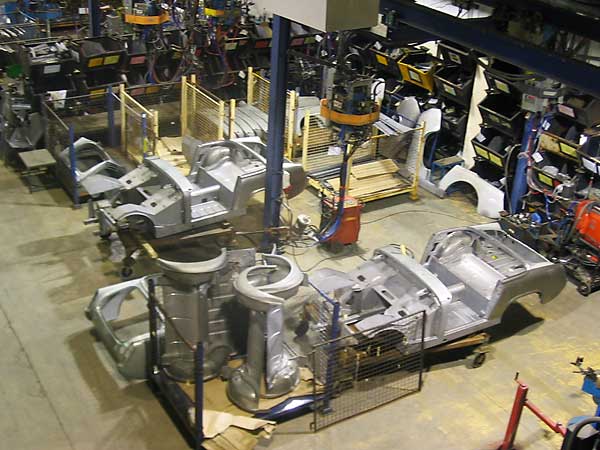 A nice overview... from the mezzanine.
Enjoying this article? Our magazine is funded through the generous support of readers like you!
To contribute to our operating budget, please click here and follow the instructions.
(Suggested contribution is twenty bucks per year. Feel free to give more!)
Customer Comments about Using a Heritage Bodyshell
K. Harris (on the Isle of Wight) wrote: "I would advise not to buy a sprayed shell, but build the car up as much as you can to see what doesn't fit, then dismantle, have the shell sprayed, then build. This may seem stupid and long-winded, but in the long run it saves hassle, rather than cock-up a new spray job - having to do alterations due to ill-fitting parts or pre-drilled holes in the wrong place on the shell!!!"

Richard Boobier (of North Somerset) wrote: "I would definitly build-it-up (to trial-fit everything) prior to getting a body shop to spray it for you. There were numerous bits that required some fettling, especially any new bits! Lights/badges/chrome bits etc. I had an issue with a rear light/panel fit that required a bit of filing to make it just right, various welds needed dressing, and a dashboard captive nut below the dash top required repositioning (i.e rewelding). The odd bit of filing/filling when in primer is not an issue, but when it's in top-coat it's scary! The file has a will of its own. Well, at least all of mine do!"

Clive Berry (of Gloucestershire) wrote: "My Heritage shell was built in '94 and is yet to hit the road. The fit is slightly random and there are a few dings. I bought it already sprayed and can agree that virtually building the car, stripping, then spraying is the way to go. The thing is though, it is rust free and likely to stay that way for a long time. All I have to do is finish the blardy thing!

Bill Mohan (of Streetly, in the West Midlands) wrote: "Visiting the BMH factory, I had the impression that they have a little time to take greater pains with the shell than was available back in the mists of time and I'm sure that the shells get far better 'service' than they used to. Of course they don't spend hours fettling them as they build them. They're supposed to make money too!"
"So how would I go about buying one?"
British Motor Heritage bodyshells are available through Heritage approved distributors... or since September 2006 they can be purchased directly from BMH. British Motor Heritage prices bodyshells and accessories in local currency ("pounds sterling") and adds 17.5 percent Value Added Tax ("VAT"). If you're purchasing for use outside the European Community you may be able to get a tax refund. Shipping is additional, and will need to be quoted. Check with your credit card company for exchange rate and fees. Exchange rates vary daily, so the dollar figures below are approximate. (They were current on September 1, 2007.)
MODEL #
SPECIFICATION AND KEY FEATURES
G.B. POUNDS
U.S. DOLLARS
MG Midget
BMH8057
Oct.66 - Aug.69 MG Midget (square wheel arch)
£ 3800
$ 7669
CZJ366 (& 203)
Aug.69 - Aug.71 MG Midget (square wheel arch)
£ 3800
$ 7669
CZJ83 (& 84)
Aug.71 - Oct.74 MG Midget (round wheel arch)
£ 3800
$ 7669
MG Midget "Competition Bodyshell" Options
?
incremental charge for MG Midget seam welding
£ 750
$ 1512
?
incremental charge for MG Midget roll-cage
£ 1400
$ 2822
?
incremental charge for MG Midget FIA-spec tow-eyes
£ 100
$ 202
?
incremental charge for MG Midget shoulder harness reinforcement
£ 95
$ 192
Disclaimer: This page was researched and written by Steve Clark. Views expressed are those of the author, and are provided without warrantee or guarantee. Apply at your own risk.
This article is part of a set of FIVE! If you enjoyed this article, check out:
A Visit to British Motor Heritage
BMH's Exciting New Competition Bodyshell Program
How BMH Built a Brand-New Vintage Race Car
The Building of an MG MGB Body
Note: Photos with filename suffixes A through N were provided by Steve Clark.
Photos W through Z, plus all photos with two-letter suffixes, were provided by Bill Mohan.
All photos were taken in April 2006.