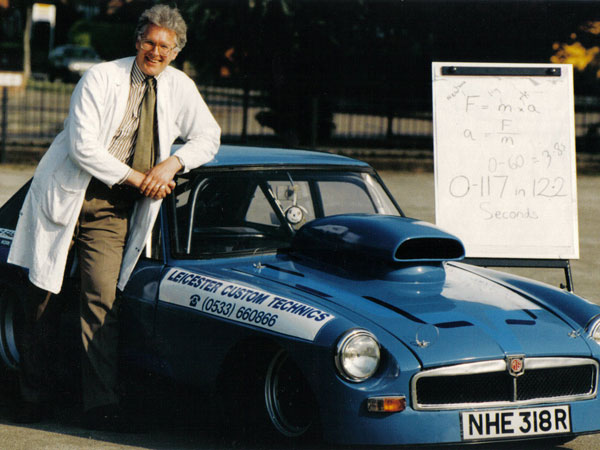 Philip Herrick's MGB GT V8 Race Car
A Physics Teacher Demonstrates Newton's Second Law
as published in BritishV8 Magazine, Volume XVII Issue 1, May 2009
Owner: Philip Herrick
City: Melchbourne, Bedfordshire, England
Model: 1975 MGB GT
Current engine: Rover V8
Conversion performed by: owner
Having built and raced Austin-Healey Sprites from 1975 though 1988, I was ready to move up to an even faster class. (See the article: Philip Herrick's Austin Healey Sprite Race Cars, in BritishV8 v17/i2.) To do it right, I really needed to start from scratch. I had long admired the MGB-GT shape. A roof would certainly be a nice feature: getting soaked in open sports cars, watching rain come down whilst waiting to race had lost its attraction!

I approached a friendly local garage that specialized in MG restorations ("Moat Garage") and a sponsorship deal was struck. I would advertise them in exchange for MG parts they didn't want. So I spent a day with a hammer and chisel taking the body off a rusted out BGT that had acted as a donor car for a new "Heritage" roadster they were building. The rusty GT also provided two fibreglass (aftermarket) front wings and another car a provided a fibreglass (aftermarket) rear wing. Two old rusted doors were gutted; later, new door skins would be fitted.

I considered various options for the front suspension and steering. A Sprite or Midget suspension would be much lighter than the MGB front end. Smaller wheels and narrower track would mean that I could radically lower the front end. I located a suitable donor car and cut off the front with a hacksaw and gas torch. Midget pressed-steel, square section, chassis rails worked nicely because they allowed two 2" box tubing to be forced inside and welded. These main, lower chassis rails ran to the back where they were then kicked up and welded to go over the rear axle.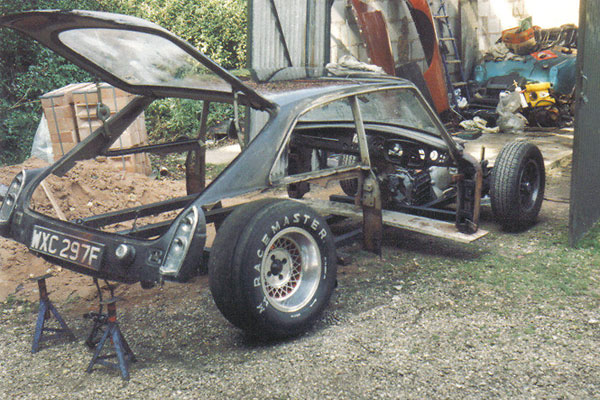 The bodyshell was temporarily positioned over the frame, and an 8-point roll cage was designed, cut, bent and welded together. The front tubes located onto the front cross-member and the rear diagonal tubes tie in the back of the car and provide lateral strength to the back axle location.

The Engine and gearbox were positioned as far back in the chassis as possible, without cutting through the scuttle, to allow maximum weight transfer for traction. Suitable brackets were cut and welded onto the chassis rails; then mounting plates were cut and drilled to bolt the engine and gearbox in place.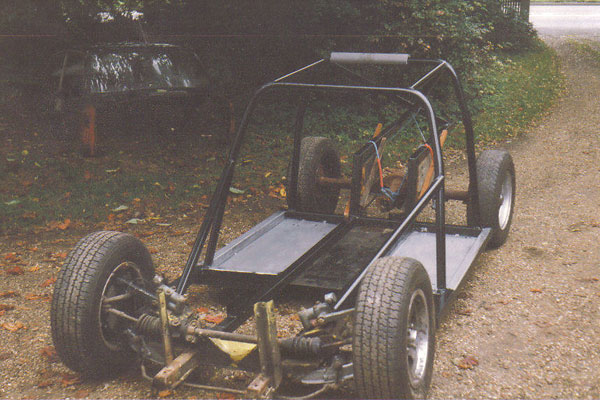 November 1988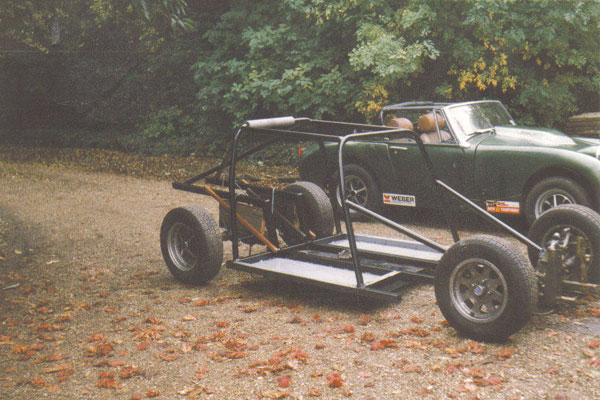 A steel floor pan was installed.

An additional central down tube was added later from the rear roll hoop down to a cross member at the top of the kick-up section. This provided more structural strength. (I made a physical model of the chassis out of wire to see how it withstood forces in miniature). Two further tubes were placed diagonally across the door openings.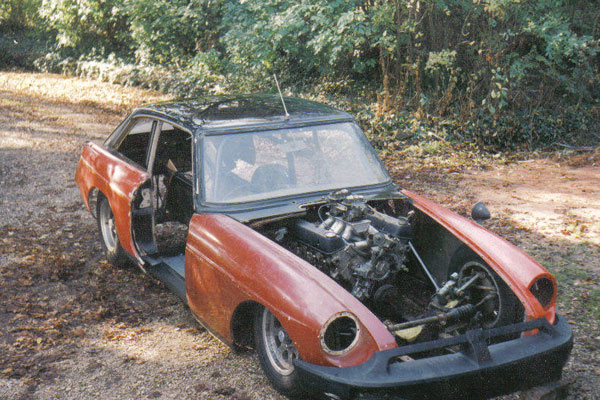 February 1989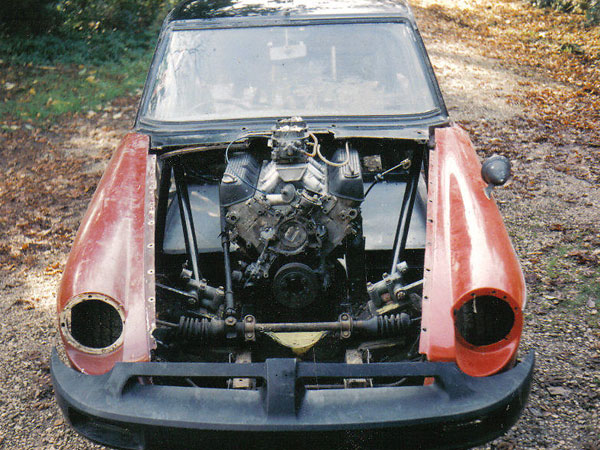 The bodyshell was then positioned on the chassis and the door pillars bolted to the front lower crossmember. The rear was secured, using tubes to act as a hinge, to allow the bodyshell to "flip up" for maintenance. A new fibreglass rear wing, bonnet and "Sebring" style rear valance were purchased and fitted. New steel outer sills were bent to allow the car to be lowered even further.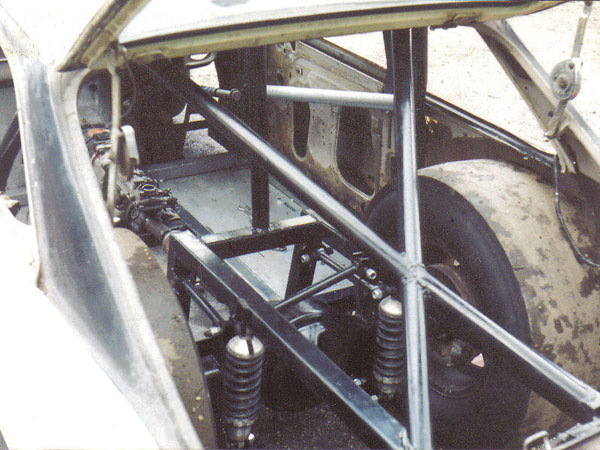 February 1989: building the rear suspension.

A BMC "C series" Sherpa van axle was purchased from a wreckers yard and stripped down. The outer tube was sectioned and the half shafts cut and shouldered. The flanges were bored to suit and the shafts welded at the shoulder and around the flange. The half shafts were then used to guide the re-welding of the narrowed outer casing. Mounting plates were welded-on for a four bar suspension system. Second hand Bilstein telescopic coilovers were purchased from a local Formula 3 circuit racer and 3 ½" dia, 250 lb/in springs were fitted. A short Panhard rod completed the rear suspension. Rubber "Metalastic" bushes were used.

The steering column was a Mark 1 Sprite shaft that was lengthened so that the seat could be as far back as possible. A 5-point racing harness was fitted together with a second hand fibreglass bucket seat.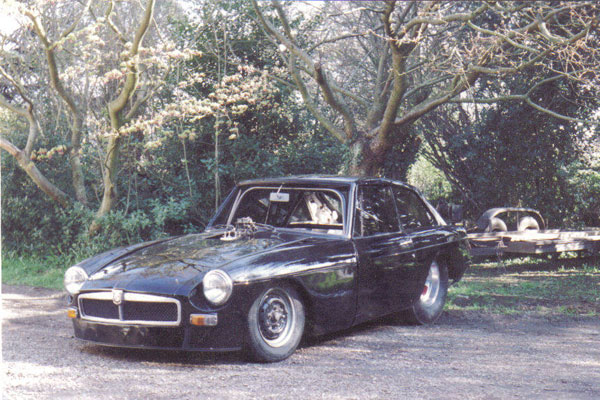 April 1989: the body was then sprayed black at Moat Garage.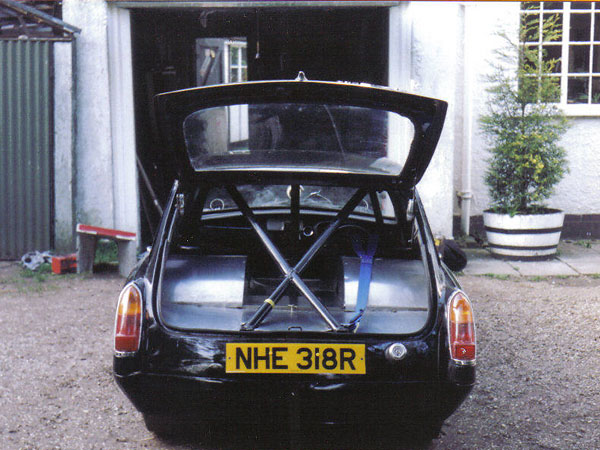 May 1989: The interior was panelled in aluminium sheet. I also fabricated an aluminium fuel tank.
(BP Fabrications did the TIG welding for me.)

Electrical wiring and plumbing of the water, fuel, brake and clutch systems then took place. I used a reversed MGB combined brake and clutch master cylinder assembly with the pedals cut and re-welded. The radiator from a BMC Mini was installed with a manually controlled electric fan.
Enjoying this article? Our magazine is funded through the generous support of readers like you!
To contribute to our operating budget, please click here and follow the instructions.
(Suggested contribution is twenty bucks per year. Feel free to give more!)
Needless to say it was a last minute rush to get the car just about finished. The engine was finally started the night before the first race... but it caught fire in the engine valley area! The dry powder fire extinguisher did its job magnificently, but then it was yet another job to clean up the powder.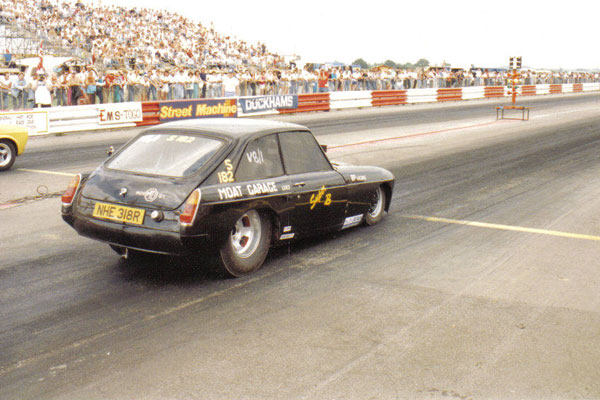 Avon Park Raceway, 1989

Initial runs were plagued with huge backfires because the camshaft was worn out. (The second-hand "good" engine was anything but good!) A new cam and a nitrous oxide system soon had the engine performing well.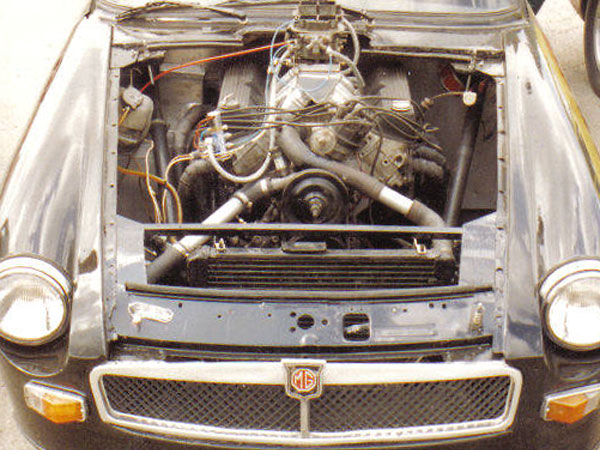 Weber 34 DGAS on a custom fabricated aluminium high-rise manifold.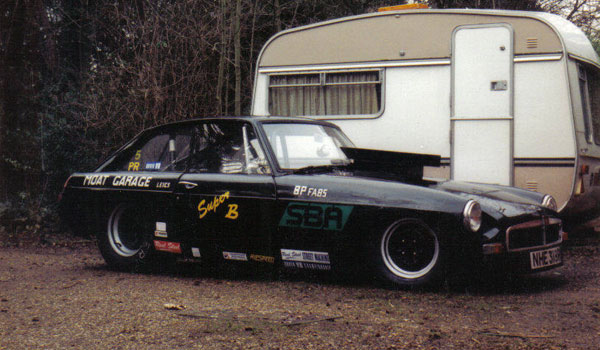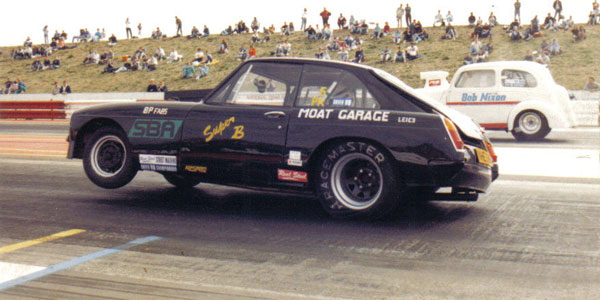 Avon Park Raceway, 1990: "It had a pronounced 'twist' off the line."

I changed to stiffer rear springs (350 lb/in), then removed the Panhard rod and put a lower diagonal brace together with Rose joints (i.e. Heim joints) in lieu of rubber bushes. One of the rear axle mounting plates broke away from the axle and was re-welded.

The exhaust was changed from an 8-to-4-to-2-to-1 system, to a 4-to-2-to-1 pair of pipes.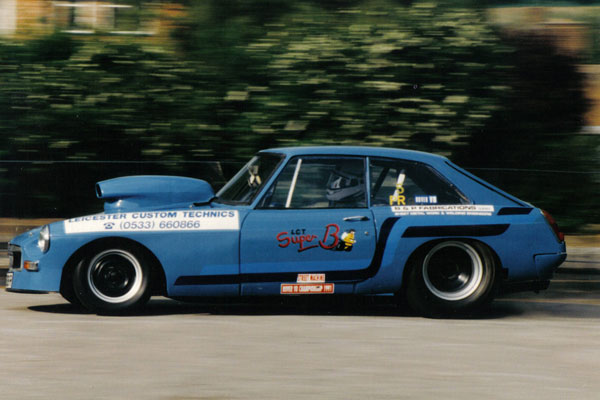 For the 1991 season, the black paint scheme was replaced by the pale blue
"Leicester Custom Technics" colours, and the bonnet received a proper hood scoop!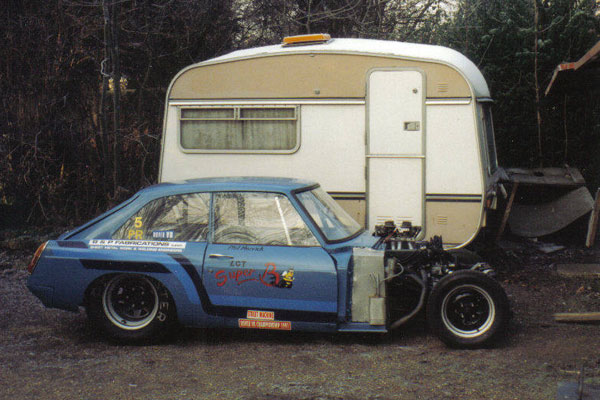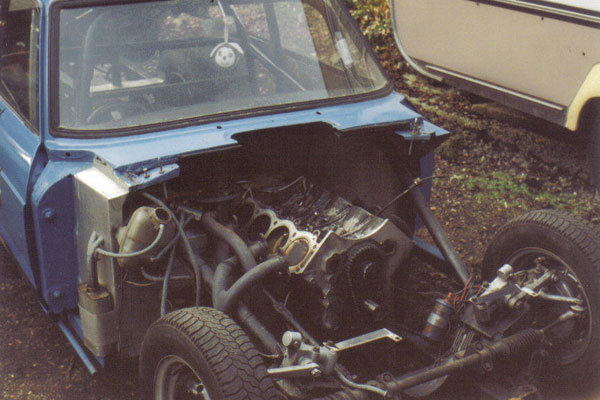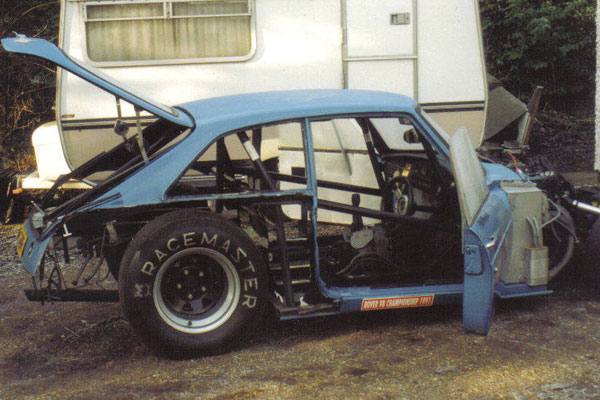 At the rear: 15x8 steel wheels and 8"-wide M&H "Racemaster" drag slicks.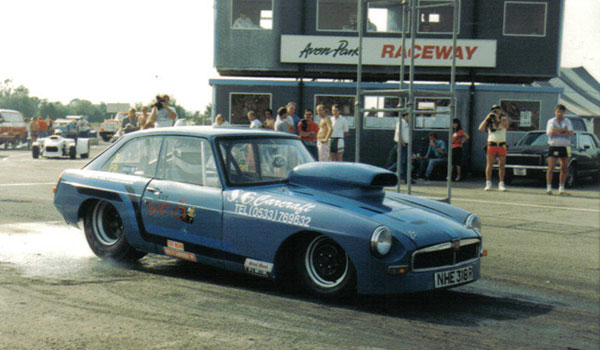 In 1992, my main sponsor "LCT" became "S.G. Carcraft"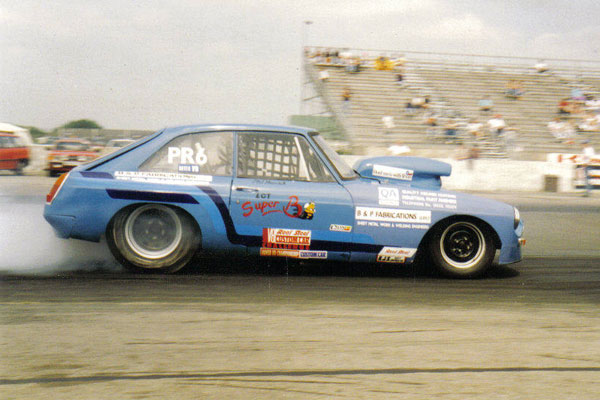 Avon Park Raceway, July 92

In 1992 a new engine was built with a solid lifter RS 256 Crane cam, Crane solid lifters and adjustable pushrods. A set of forged pistons (+0.020") meant that I could increase the nitrous oxide injection quantity and hence power output. The SD1 cylinder heads were ported and larger diameter valves were fitted with stronger valve springs.

The carburettors were initially a pair of Weber 34 DGAS on a custom fabricated aluminium high-rise manifold with a four jet nitrous system. In June 1993 I fitted a 600cfm Holley "Double Pumper" with a single central nitrous jet.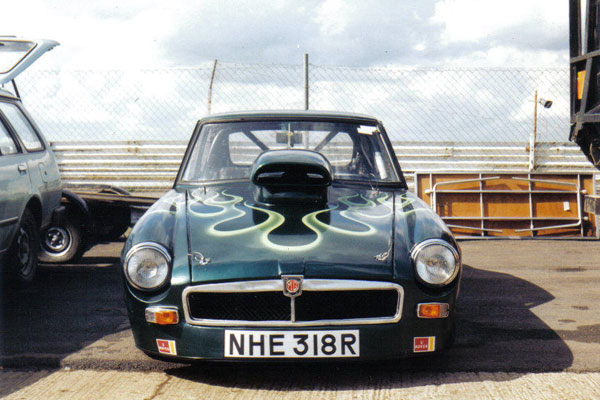 In 1993 the car was resprayed in metallic "Rover Racing Green"
with pale green flames by Calvers Autotech.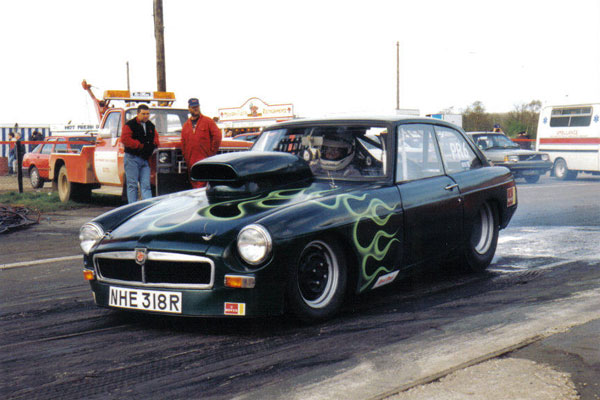 York Raceway, May 93

Final Configuration
Engine:
Rover V8 215ci (3523cc). Custom 2 x 34 DGAS Weber on fabricated high-rise manifold, or 600 Holley "Double Pumper" carburettor. Hi-Power Nitrous. Crane F256 mechanical race cam and Crane solid followers Crane adjustable push rods. Stock Lucas plus Lumenition Electronic Ignition

Cooling:
British Leyland "Mini" radiator, plus manually switched electric fan.

Exhaust:
fabricated tubular tri-y headers.

Transmission:
standard Rover 5 Speed manual with direct top gear. Standard Rover V8 diaphragm clutch. Shortened Rover V8 prop shaft.

Rear Axle:
British Leyland "C" series (from a Sherpa van), narrowed and with a locked differential. 3.9:1 ratio.

Front Suspension:
standard 1275cc Sprite/Midget coils springs and lever arm shock absorbers.

Rear Suspension:
custom 4-link rear suspension, Panhard rod, Bilstein coil-over shock absorbers.

Brakes:
stock MG Midget front discs and pads. Sherpa rear drums and shoes.

Wheels/Tires:
front - MG 13x4.5 wheels, 145 x 70 tires,
rear - 15x8 steel wheels. 8" wide M&H "Racemaster" drag slicks.

Weight:
Approx 1700lbs

Electrical:
standard Smiths Sprite/Midget gauges, except for a recalibrated (for 8 cylinders) rev counter.

Other Mods:
full 11-point roll cage. MG Midget front cross member. Fibreglass bonnet. Fibreglass front and rear wings grafted around MGB GT body and roof section. Stripped steel doors, Perspex/Lexan windows. Aluminium sheet interior. Steel plate clutch shield.

Performance:
standing start quarter mile in 12.2 seconds (119mph).

Date Completed:

build started Nov 1988. First raced in May 1989.
(I drag raced it for about five years before selling the car.)

Comments:

the car was very reliable and with development to the engine, did run faster each year. One welded bracket broke on the rear axle. The differential shattered after about 4 years racing. However to run much faster I was going to need to spend much more money. Having raced for 20 years, I decided to sell the car - and I started to restore railway wagons on a preserved steam railway!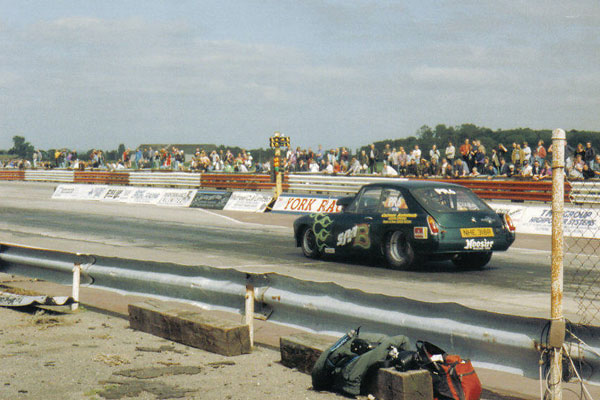 York Raceway, June 1993: By mid 1993 I was frustrated by the car not going significantly faster despite
the new engine, big valve heads, new carburettor, new fuel pump and updated nitrous system.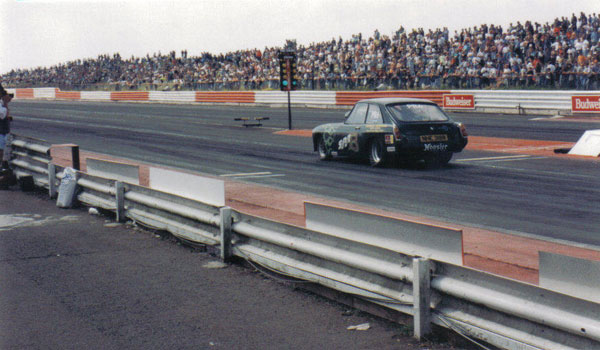 I put mg MGB GT racecar up for sale and went to one final race in August.
The car sold quickly, and it was taken away on August 31st.


Editor's note: although Philip has given up drag racing, he's still enthusiastic about building cars. At present he is putting an Alfa Romeo 3.0L 24-valve V6 engine into the rear of an Alfa Romeo Sprint. The results will resemble the Group B "6C" rally car built by Autodelta for Alfa in the mid 80's. However, Philip's version will use an Alfa "164" (transverse mounted) 3.0L donor engine, rather than the 2.5L engine from a Alfa "GTV" (longitudinally mounted) engine.