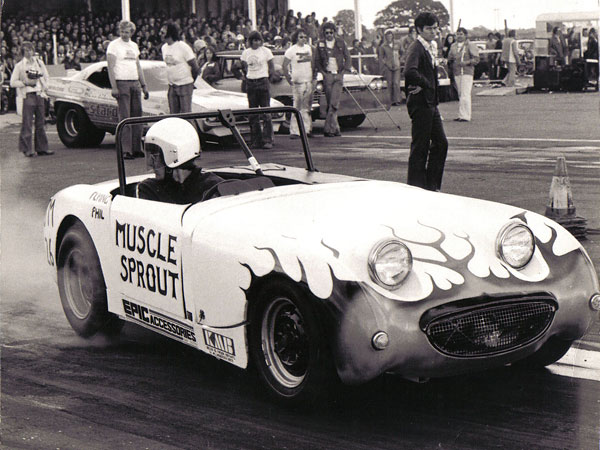 Philip Herrick's Austin-Healey Sprite Race Cars
The Story of Sprite "VNR 448"
as published in BritishV8 Magazine, Volume XVI Issue 2, October 2008
Owner: Philip Herrick
City: Melchbourne, Bedfordshire, England
Model: 1960 Austin Healey Sprite Mk 1
Current engine: Rover 3.5L V8
Conversion performed by: owner
In 1973, I purchased a wrecked 1960 Sprite as a "write-off". It had been owned and modified by a friend of mine, who sold it... and it was crashed three weeks later! I bought it, dismantled it, straightened it, and re-built it as a drag racing car. It had a full-race 970cc engine, it weighed 1170lbs, and it achieved a best standing-start quarter mile time of 15.1 seconds (at 90 mph).

Named "Muscle Sprout", my 1960 Sprite was the RAC (Royal Automobile Club) Junior Modified class champion in 1975.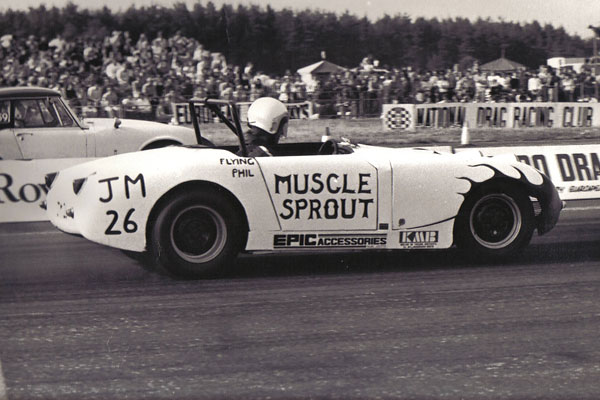 Royal Automobile Club "Junior Modified" Class Champion (circa 1975, Blackbushe Dragstrip)

Encouraged by this success, I decided to move up and compete in the "Competition Altered" class. The second version of Muscle Sprout featured a tube chassis and a one-piece, tilt-up "funny car" body with the driver position centered. In this configuration, the car was powered by an Alfa Romeo 2.6L straight-six engine. It was much faster of course, running 13.1 second quarter miles (at 110 mph).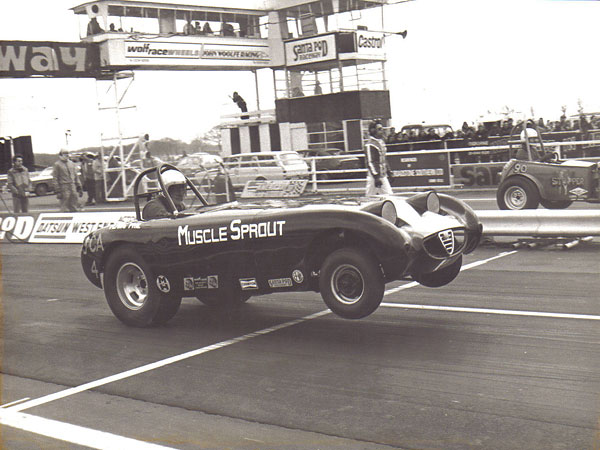 The Second Generation of Muscle Sprout, at England's famous Santa Pod Raceway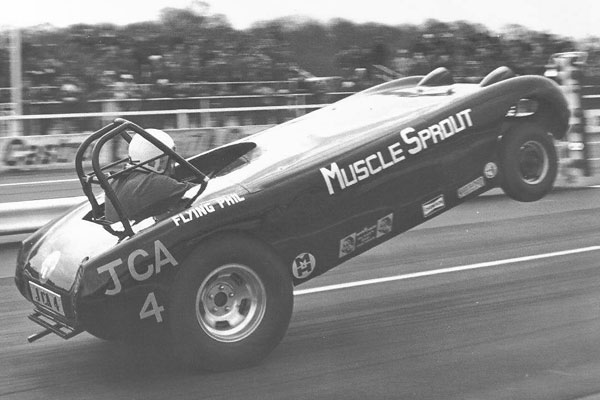 Later, a change to Rover V8 power brought my best quarter-mile time down to 11.6 seconds (at 125mph).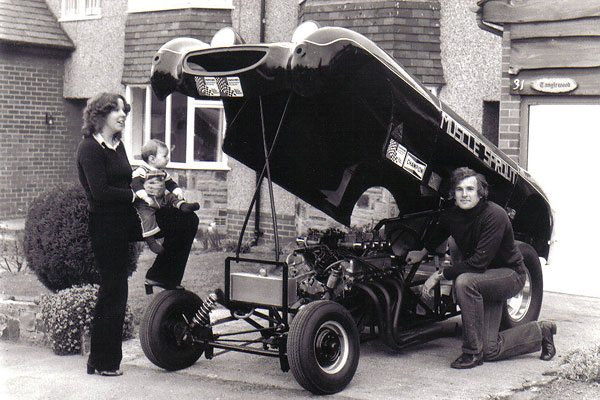 Newly installed Rover V8 engine, with four Weber DCOE two-barrel, side-draft carburetors.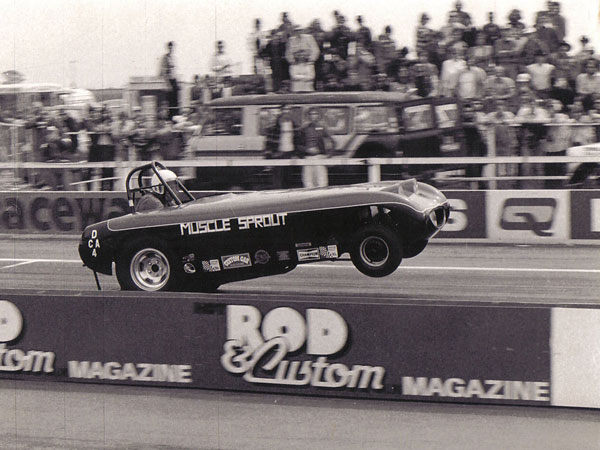 Philip Herrick's "Muscle Sprout" (circa 1981)


Muscle Sprout was re-bodied to create "Vicious Trait". We hoped at the time that the TR8 body would help us attract sponsorship. (The body was actually pieced together from steel TR7 panels from a wrecker's yard, and it was thus obviously heavier than the Sprite body.) We didn't get the new body constructed quickly enough! By the time we were ready to race Vicious Trait, Triumph TR7/8 production was discontinued. The possibility of Triumph sponsorship evaporated.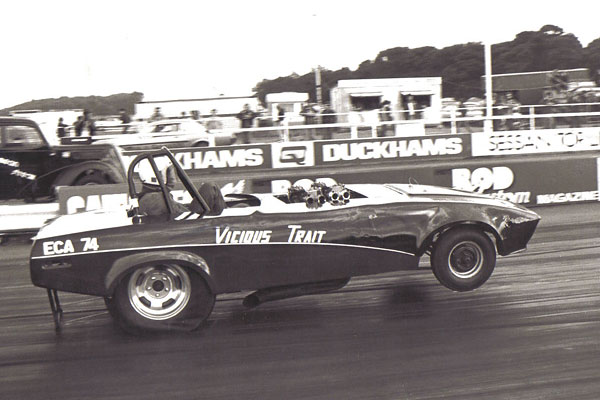 This is what Vicious Trait looked like at one of her first outings to Santa Pod Raceway.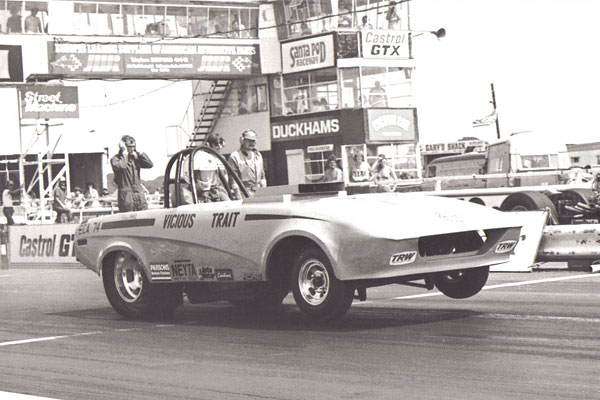 An updated version of "Vicious Trait". (Note the new hood scoop, paint, front axle, and wheels.)


However, by 1985 I wanted a fresh challenge and decided to build a Rover powered street legal Sprite, so I put Vicious Trait up for sale. However, I kept many of the spare parts I'd accumulated over the years. Most importantly, I kept the Muscle Sprout's fiberglass body - and the registration plate that came with my 1960 Sprite back in 1973! I'm still using it to this day.

In April of that year I purchased a badly bent, written-off Midget 1500. This was stripped, and the floorpan was straightened using a "Porta-Power" ram, various blocks, struts and the concrete roof of my garage! Attention then moved to the front and how to fit the V8 engine and gearbox. I purchased a second-hand Rover 4-speed manual box as it was smaller than the five-speed, and cheaper!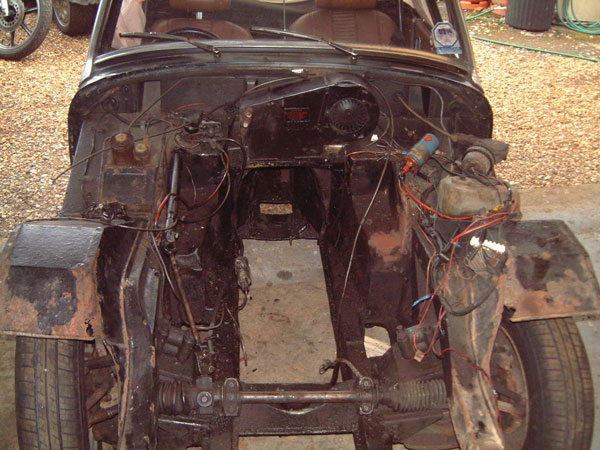 Enjoying this article? Our magazine is funded through the generous support of readers like you!
To contribute to our operating budget, please click here and follow the instructions.
(Suggested contribution is twenty bucks per year. Feel free to give more!)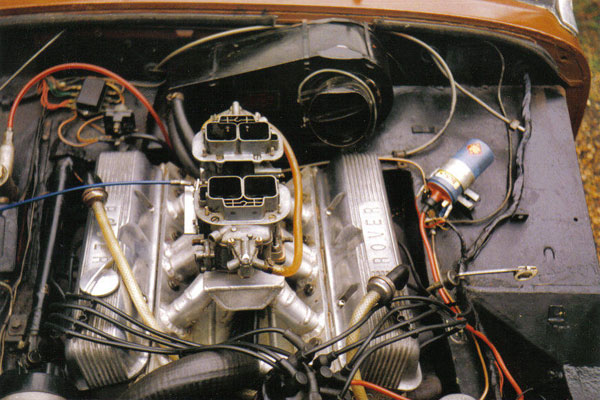 Rover V8 with two 34 DGAS Weber carburetors.


The main problem areas were the width across the foot well "boxes" at the top and the bellhousing / gearbox size. After careful measuring and positioning of a bare engine block, I cut out the top front corners of the footwell boxes, inverted them, and welded them back into position. The under heater ducting was cut out and the heater positioned against the bulkhead where the battery was originally positioned. The interior heater flaps were the moved to the bulkhead above the transmission tunnel.

The transmission tunnel was cut out all the way back to the handbrake, and part of the bulkhead was removed too. It was raised approx 2" using sheet steel strips and widened to fit around the Rover bellhousing. The box section in the tunnel had to be removed. (A roll cage would be added to restore lateral strength.)

With the exhaust manifold in position, the steering column had to have its angle changed to run above the exhaust manifold. As the 1500 had a collapsible steering column, it was easy to shorten by shearing the plastic pin and re-pinning it through a newly drilled hole. The outer tube was also shortened, and the front flange was bolted to the bumper support section that runs to the front of the car. A short steering column section with two universal joints (Triumph 1500, I think) was sourced from a scrapyard to run the steering down to the standard rack, which was rotated slightly to suit. Fortunately, the splined sections matched!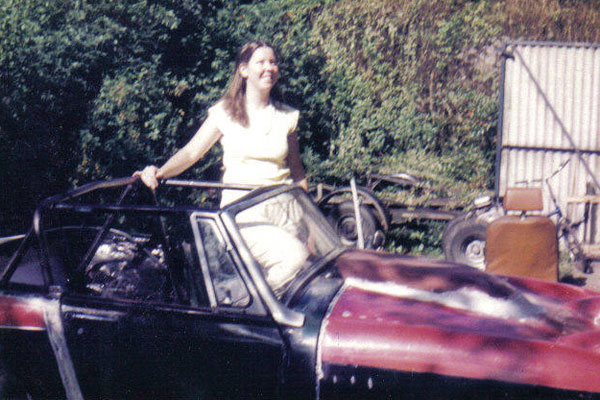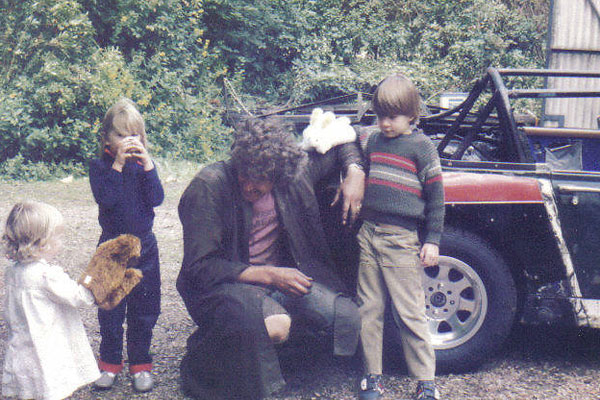 A six-point tubular roll cage was fabricated and welded into the body shell. This was braced against the dashboard section at the front and down to the rear spring mounting channel section in the boot. (Note: the Midget 1500 bodyshell has reinforced sections front and rear to suit the Federally-mandated "rubber bumpers".)

A remote oil filter system was plumbed-in using an adapted oil filter top, hydraulic hose and a hydraulic remote oil filter which is clamped under the radiator onto the steering rack.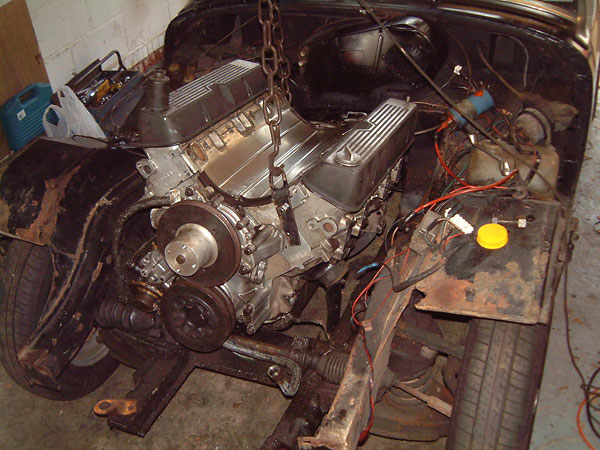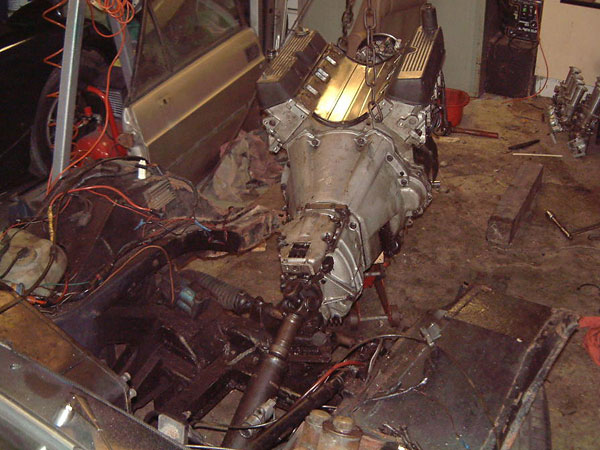 A Rover 4-speed manual transmission was selected because they're very compact!


As mentioned earlier, the Rover 4-speed gearbox was used, but the gear stick was too far back. After a close look, I realized that the gear stick could go directly into the selector rods by just drilling and tapping for the three holes of the collar that holds the gearstick. These are around the square hole in the aluminum gearchange extension housing. It popped out when going for reverse but a bit of welding and shaping, to extend the ball end, cured that.

The Midget rear axle was replaced by a stronger one from a Ford Anglia 105E. (This type of axle was also under Ford Escorts, but the Anglia version has a slightly narrower track dimension). I selected the lowest ratio I could easily find: 3.54:1. Ford u-bolts were used with the modified Midget spring mounting pads and existing lever arm shock absorbers.

A hybrid propeller shaft was fabricated with a Rover front section and Ford rear section. Similarly the Midget handbrake cable front was linked to the Ford handbrake cable rear with a brazed splice.

The Muscle Sprout's fiberglass "frogeye" bonnet needed to be trimmed down, and a "power bulge" needed to be added over the carburetors. The bulge was actually a section from a fiberglass L88 Corvette bonnet! I molded it in to cover the standard Rover twin 1.75" SU carburetors. At the back, the Muscle Sprout's fiberglass rear wings were fitted as well.

Tip: To prevent cracking when shutting the doors, it is essential to keep as much of the rear door pillar as possible and overlap the fiberglass panel. The bonnet was blended into the steel top section to retain the later style hood fitting. The boot lid and surround were retained for practicality and increased rigidity.

I initially kept the Midget 1500 springs (front and rear), but when the car was finished it sat too high because it now weighed less than the stock! (The Triumph 1500cc engine has a cast iron block and the "rubber bumpers" each hide a steel girder!) To correct for this, I used the shorter Midget 1275 front coil springs and less-curved 1275 rear leaf springs. A pair of anti-windup "slapper bars" were fitted under the front of the leaf springs. The standard lever arm shocks were retained as it was a road car not a track special.

I retained the standard front disc brakes, except with new discs and pads of course! The Anglia rear axle had larger drum brakes than the Midget. As the car is lighter than an Anglia, from any given speed the brakes are doing less work. Unless I drive like a lunatic and hammer the brakes, they're fine for road use. The rubber flexible brake lines have been replaced by Aeroquip fittings.

I discovered that a local factory machined "Falcon" alloy wheels and so I purchased a set of five 13" by 5.5" Sprite wheels. I had three of them drilled for both MG and Ford lug patterns. Some 185x70 tires were then fitted all round.

Just as I was finishing the car I read that there was to be a new drag racing competition for road legal Rover powered street cars... so it ended up racing in the summer and being used on the road in the winter!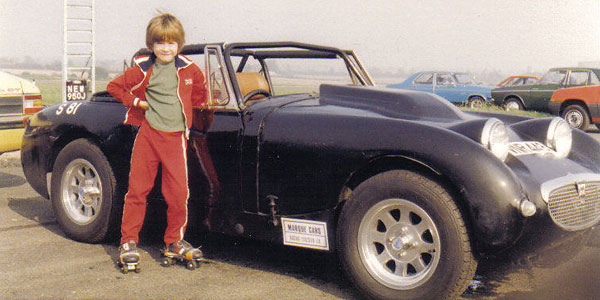 The very first outing of the "Super Sprite V8", circa 1985.
It was a long day: "I tried a very short oil filter in the stock position, but it rubbed against
the chassis, punctured, and lost all the oil - hence the change to the remote filter!"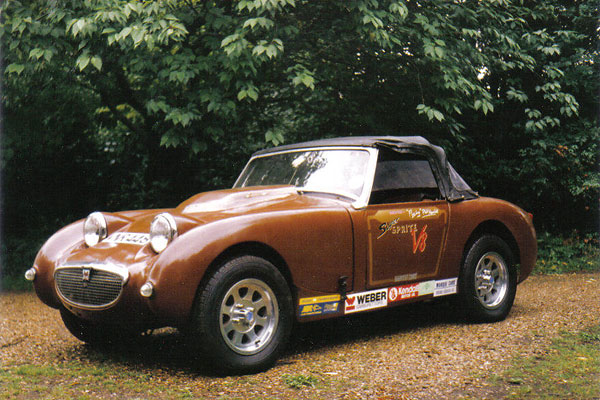 Back for 1986 with a new paint job! Note: the windscreen was installed and removed as required.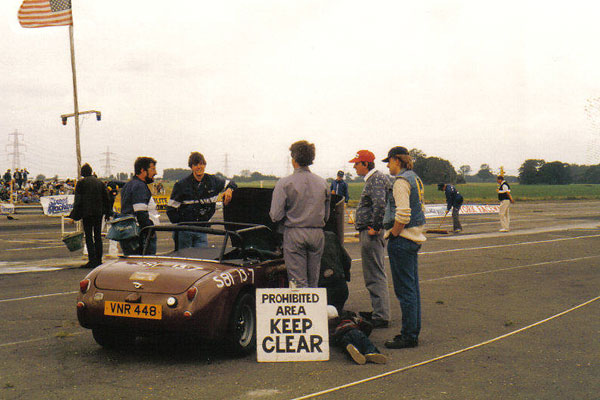 For racing, I fabricated an aluminum inlet manifold to take 2 x 34 DGAS Weber downdraft carburetors (as used on 3L Ford Capri engines). I then made up a pair of tubular exhaust headers with 4-into-1 collectors. The camshaft and followers were replaced with a Crane H234 hydraulic race-cam set-up.

I removed the windscreen, hood assembly and the passenger seat. The doors were replaced by stripped ones, with no glass and fittings. The differential was changed for a 3.9:1 ratio "locked" unit. Wider rear wheels and tires, narrower front wheels and tires completed the transformation.

With this arrangement the car achieved a best quarter mile time of 12.9 seconds at 113mph, and finished runner up in the 1987 Street Machine Rover V8 Street Rover Championship.

Since then the car has been used occasionally on the road and this year I finally achieved a long held ambition and fabricated another inlet system. This uses 4 x 34 DHLA Dellorto downdraft carburetors (S/H ex Alfa 1.5 Sud/Sprint engines) on a pair of aluminum manifolds with 1.5" spun alloy ram pipes - now I need a bigger bulge in my bonnet!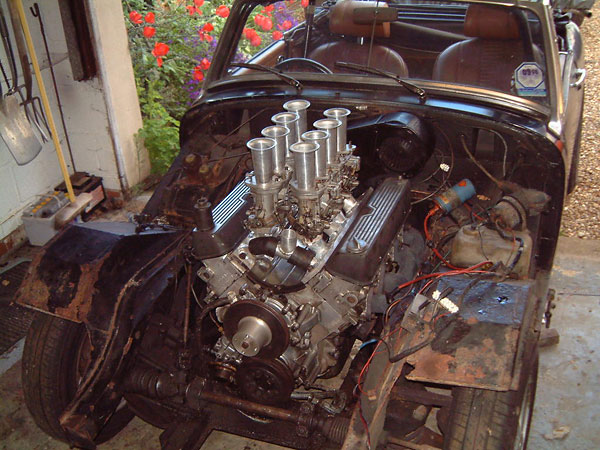 4 x 34 DHLA Dellorto downdraft carburetors (S/H ex Alfa 1.5 Sud/Sprint engines)


Current Configuration
Engine:
Rover 215ci (3523cc) V8. Crane H234 hydraulic race cam and Crane followers. Stock Lucas distributor, with a Lumenition Electronic Ignition module in lieu of breaker points.

Induction:
standard Rover twin 1.75" SU or custom 2 x 34 DGAS Weber, or custom 4 x 34DHLA Dellorto Carburettors...

Cooling:
uprated (diesel specification) BLMC Morris Marina radiator.

Exhaust:
either full 2 x 4-into-1 tubular headers for racing, or stock cast iron Rover P5B V8 Exhaust manifolds with custom downpipes.

Transmission:
standard Rover 4-speed manual transmission, with direct top gear. Standard Rover V8 diaphragm clutch. Custom driveshaft created from a Rover V8 front section welded to a Ford Anglia 105E rear section.

Rear Axle:
stock Ford Anglia 105E with a (stock) 3.54:1 ratio differential (for road use) and a locked 3.7:1 ratio gear set (for race use). Anglia van half shafts.

Front Suspension:
standard 1275 Sprite/Midget coils springs and lever arm shock absorbers.

Rear Suspension:
standard 1275 Sprite/Midget leaf springs and lever arm shock absorbers.

Brakes:
stock MG Midget front discs and pads. Stock Ford Anglia Rear Drums and shoes.

Wheels/Tires:
(road) Falcon 13x5.5 alloy wheels with 185x70 tires.
(racing) 13x 3.5" or 4.5" front wheels with 145x70 tires. Rear 13x6 wheels with 205x65 tires.

Weight:
~1700 pounds.

Electrical:
standard Smiths gauges, except the tachometer has been modified for V8 use.

Other Mods:
full 6-point roll cage (welded in place). Fiberglass "Frogeye" style forward-hinged bonnet. Fiberglass frogeye rear wings grafted around the Midget Boot section. Transmission tunnel raised and widened. Engine bay and footwells modified.

Performance:
in race trim, standing start quarter miles in 12.9s at 113mph.

Date Completed:

on the road (and raced) since 1985, but not yet "completed"! (It's been driven approximately 12000 miles since 1985.)


Comments:

the Midget 1500 chassis has reinforcements that make it stronger than earlier chassis. It also has a dropped section behind the steering rack which makes it easier to fit longer engines and clear the front pulley.

The rear axle started to rotate on the U-bolts, which caused rapid failure of the rear universal joint. I welded a reinforcement of the axle spring pads to prevent that from happening again. "Slapper bars" under the front of the rear springs prevent spring "wind-up" on acceleration.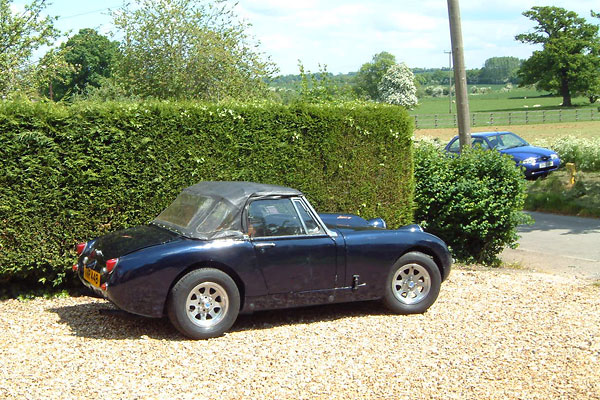 It's a Midget 1500 bodyshell, but it's wearing Sprite Mk.1 style fiberglass bonnet and quarterpanels.
(This photograph was taken in May 2008 and it shows the current paint color, which is navy blue.)