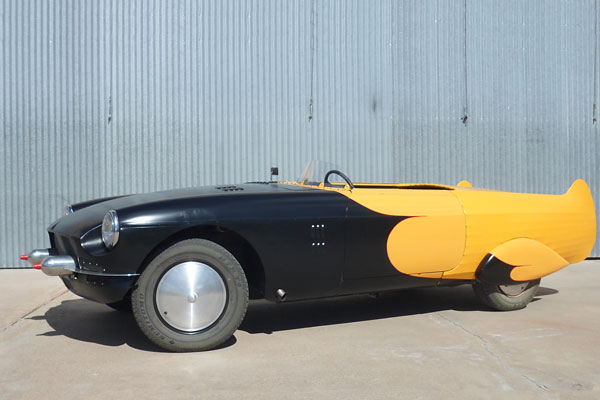 Steve Kimball's 1977 "M Gee Bee" with Buick 215 V8
as published in BritishV8 Magazine, Volume XXI Issue 1, July 2013
Owner: Steve Kimball
BritishV8 UserID:
eyeosteverino
City: Columbus NM
Model: 1977 MG MGB
Engine: Buick 215 V8
Built by: owner.
Steve Explains his M Gee Bee Project:
My interest in aircraft from the Golden Age of Air Racing and my scale model of the 1931 Gee Bee Model Z aircraft were the inspirations for this build. Distinctive exterior features of the car include a custom fabricated aluminum front bumper that mimics an airplane propeller, spinners made from Freon canisters, a special low-profile aerodynamic windscreen, twin cockpit openings, Dacron (Ceconite) fabric and Butyrate dope covering on the aft portions of fuselage, wheel pants, and of course... tail fins!

Major problems encountered were interference between the steering rack and oil pump base and the harmonic balancer. A Perma-Cool adapter and large ball peen hammer solved the first problem and the second was solved by cutting the aluminum ring off the harmonic balancer.

I made my own engine mounts utilizing Tin Man Fabrications parts and the engine side of stock Buick mounts. This placed the engine well back and low but at the time I was using a bare block without the front cover or pulley and therefore wasn't aware of the harmonic balancer's proximity to the steering rack until installing the complete engine.

I mounted a coolant expansion tank on the firewall and utilized the heater outlet from the stock intake manifold.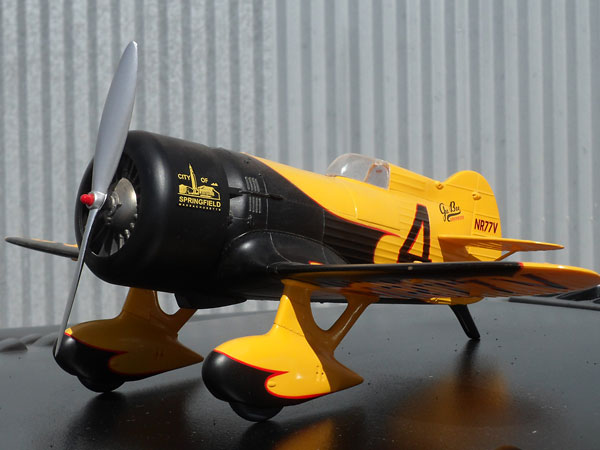 1931 Granville Gee Bee Model Z


The design of the exhaust put the outlets where a radial engine aircraft's would be and hid the mufflers in otherwise wasted space. Louvers in the fenders provide an exit for the heated air.

The brake master cylinder was reversed by using an old style bracket; otherwise it would have been too close to the exhaust system. On the clutch side, I used a GT6 slave cylinder and by replacing the left side bellhousing locator pin with a hollow one, the push rod could pass through to the modified stock clutch fork. I kept the stock mechanical fuel pump, and also the stock cooling fan which I painted yellow like an MGB fan. The Buick valve covers were painted with leftover MG engine paint.

To sum up, this was another fun, and at times frustrating project, combining my fascination with the Golden Age of Air Racers, and MGs: my "M Gee Bee".


Features and Specifications
| | |
| --- | --- |
| Engine: | Buick 215 V8. Kenne Bell 114A grind camshaft. Stock Buick four barrel intake manifold. Stock Rochester 4GC carburetor. Stock mechanical fuel pump. Offenhauser carb cover and custom (cowl induction) air cleaner. Stock Delco-Remy distributor, with breaker points. Melling high volume oil pump with stock bypass spring. |
| Cooling: | stock MGB radiator with modified inlet and outlet ports. Stock Buick engine driven cooling fan. Auxiliary (heater core) radiator mounted under left headlight bucket. |
| Exhaust: | homemade custom four-into-one headers. Dual Jeg's mufflers. |
| Transmission: | Borg Warner T-50 five speed transmission. Stock Buick bellhousing, flywheel, and pressure plate. Modified General Motors clutch fork. Triumph GT6 slave cylinder. |
| Rear End: | stock MGB Salisbury axle, updated with MGC 3.07:1 gears. |
| Front Susp.: | stock, but lowered one inch by cutting one coil from springs. |
| Rear Susp.: | stock, except lowered. Front leafspring mounts connected directly to body channels with 2x2 square tubing. Homemade Panhard rod added. |
| Brakes: | master cylinder and mounting bracket from an MGB Mk2 (i.e. a chrome-bumper MGB with tandem master cylinder.) Stock MGB front disc and rear drum brakes. |
| Wheels/Tires: | stock MGB Rostyle wheels (under hubcaps) with Sumitomo "HTR T4" 175/70R14 tires. |
| Electrical: | Delco Remy alternator. MGB wiring harness, reconfigured to suit. Battery disconnect switch added. Top half of MGA tail lights. |
| Instruments: | Fiat 850 panel, with modifications. |
| Completed: | January 2013. Driven approximately 200 miles as of March 2013. |
| Performance: | no hard numbers yet, but it makes my MGB V6 seem a bit slower. |
Engine Installation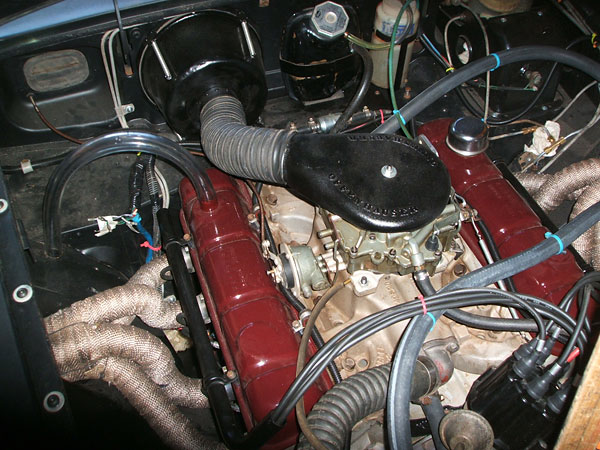 Buick's lightweight aluminum V8 has powered many homebuilt airplanes before. This one features
a stock Buick four barrel intake manifold, Rochester 4GC carburetor, and cowl induction.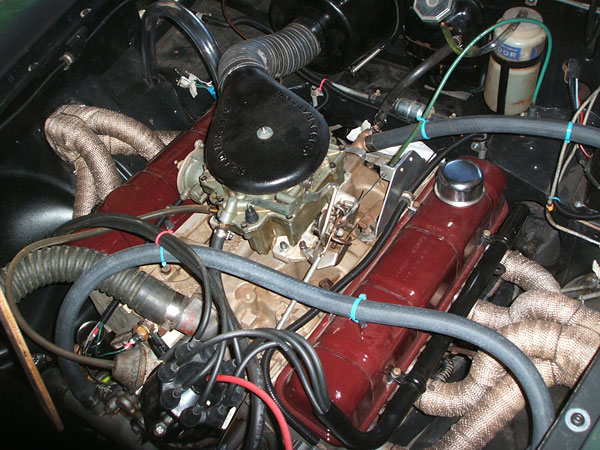 Spark plug wires are routed through tubes made from an old TV tray.
Stock Delco-Remy distributor with breaker points.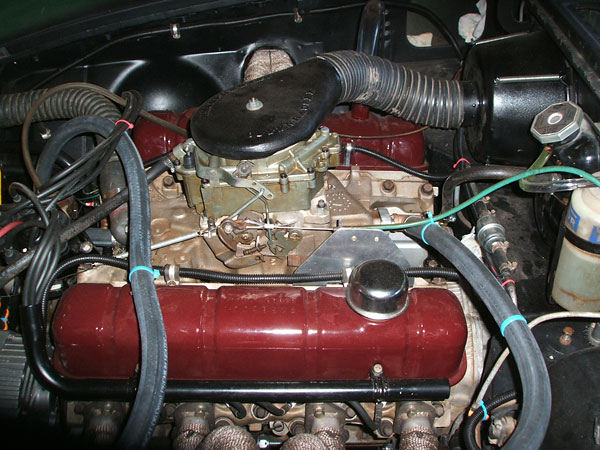 The MGB coolant header tank has been relocated to high on the engine compartment bulkhead.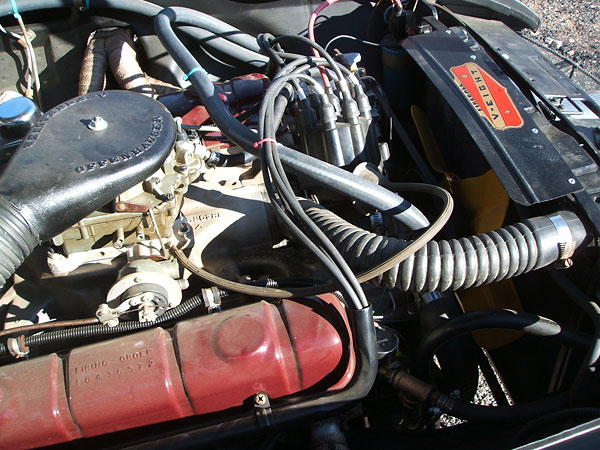 This rare Offenhauser cast aluminum carb cover was purchased from JC Whitney many years ago.
It suits the Rochester 4GC carb, but is too small for Holley, Carter, or Edelbrock alternatives.
Note classic Buick "Fireball V-Eight" decal at right.


Engine Installation Process Photos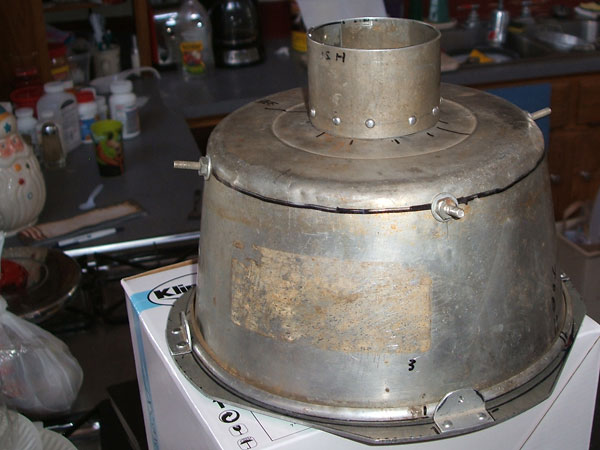 Custom air cleaner housing made from an old soup pot is part of a cowl induction system.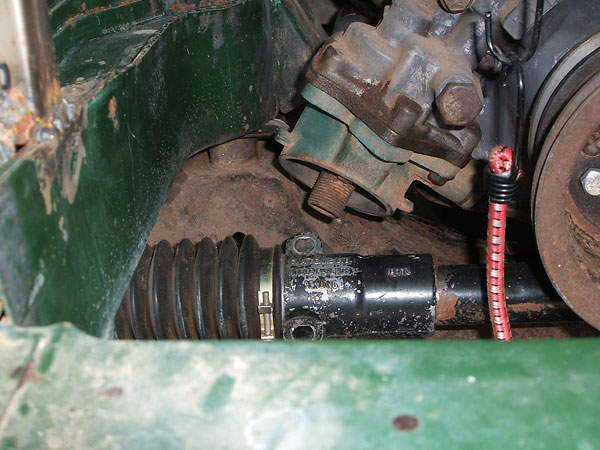 While doing a trial installation, Steve discovered a clearance problem between oil filter and
steering rack. This photo shows the Buick 3.2L V6 oil pump base he initially planned to use.
If the engine had been one or two inches higher it might have worked. Instead, he ended up
using a Buick 300 oil pump base with a Permacool adapter and a remotely mounted oil filter.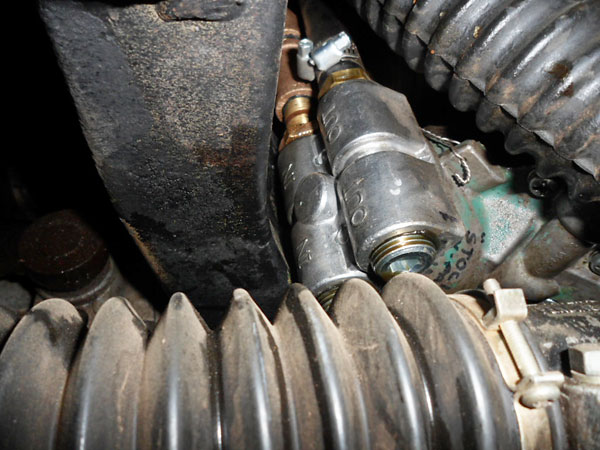 This photo shows how close to the frame the Permacool adapter ended up. Just enough room!
The adapter spins on, and Steve was careful to make sure it pointed the right direction.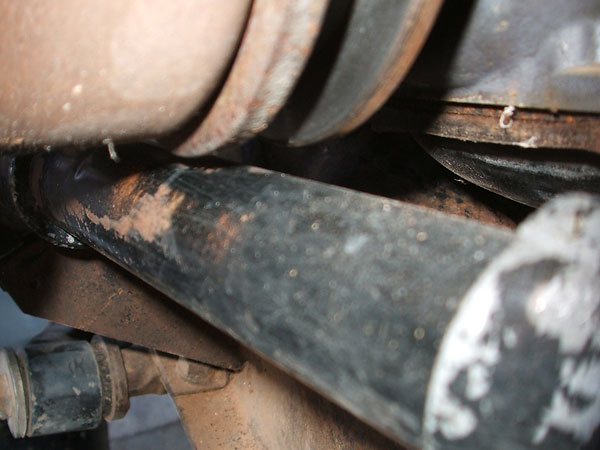 Tight clearance between crankshaft pulley and steering rack.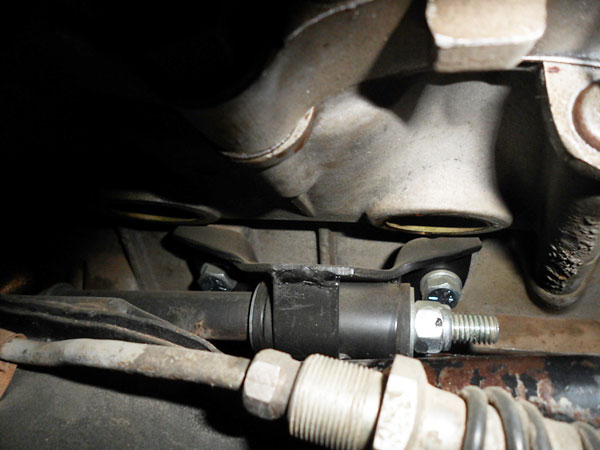 Custom motor mounts made from Tin Man Fabrication tubes and bushings combined with the engine
side of stock Buick mounts. A 1/2" bolt connects to a tube welded to the stock MGB motor mount pad.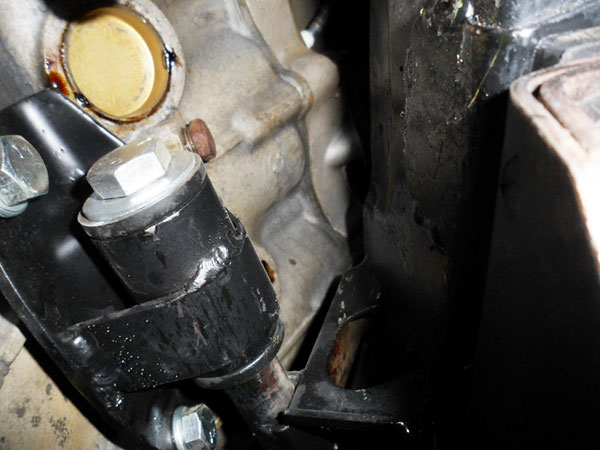 Steve feels this type of mount locates the engine better (fore and aft) and prevents torque problems.


Custom Exhaust System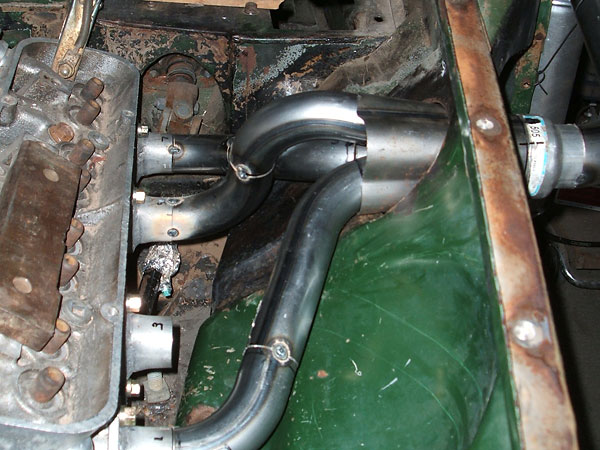 Fabricating custom four-into-one headers.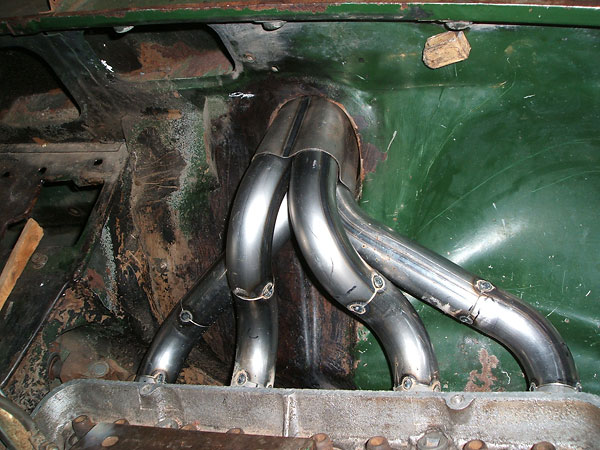 Tack welds will hold the headers together for now. Final welding will be done off the car.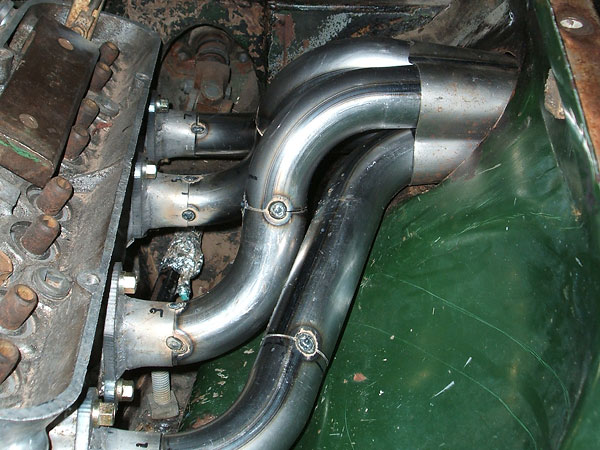 Header flanges from D&D. Pre-bent 1.5" diameter tubes from Don's Speed Shop in Tucson AZ.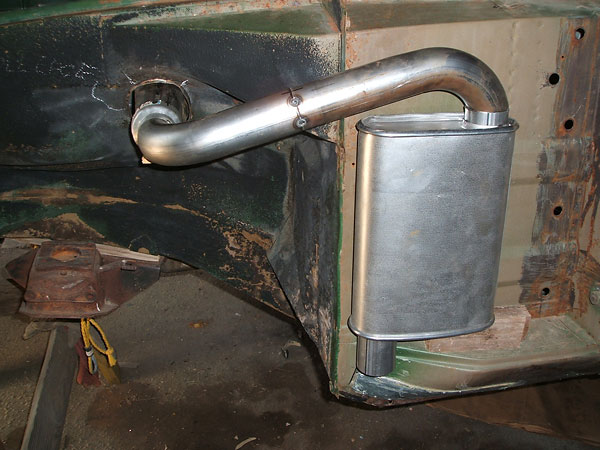 JEGS High Performance muffler tucked into otherwise unused space.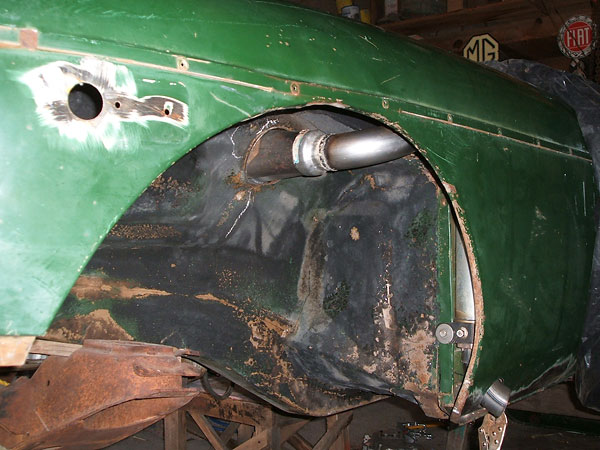 Exhaust exits from holes in the side of the fuselage, airplane style.


Chassis Strengthening

Front leafspring mounts are connected directly to body channels with 2"x2" square tubing.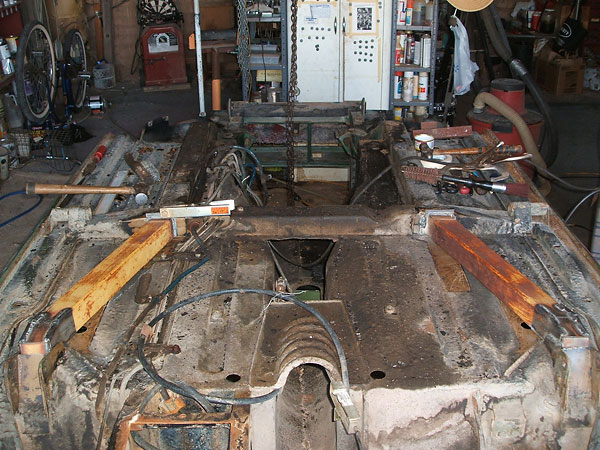 These reinforcements may also come in handy as alternate jacking points.


Interior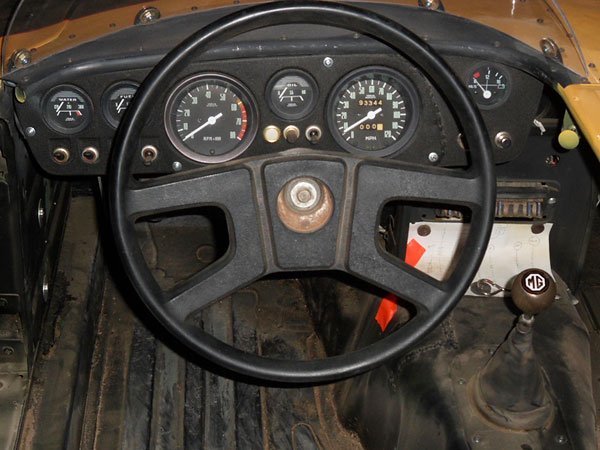 A Fiat 850 Sport Coupe gave up its instrument panel, small gauges and switches. Steve added
a voltmeter, 12V power socket, and a starter button. Yellow knob at right is the choke.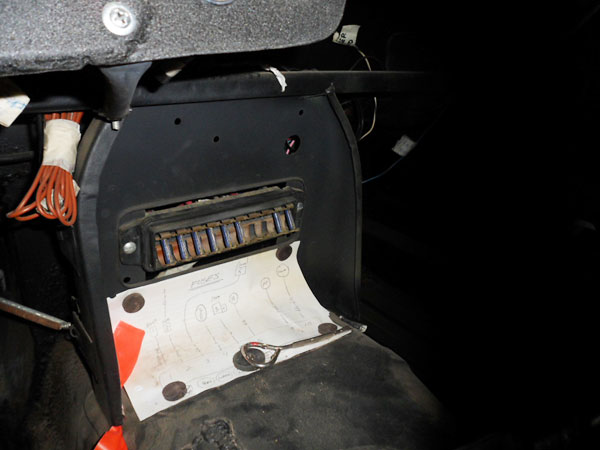 Fuse panel from a Yugo parts car.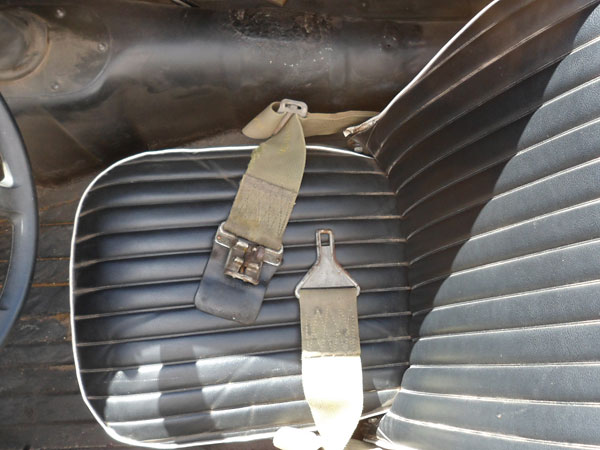 MGA seat with vintage aviation seat belt.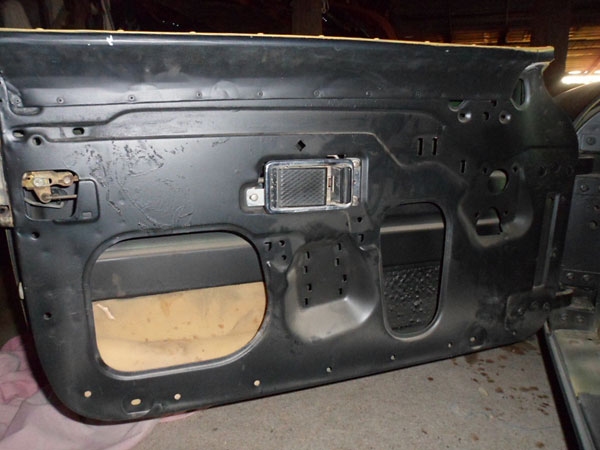 Door pocket holds a fire extinguisher, wrapped in foam rubber.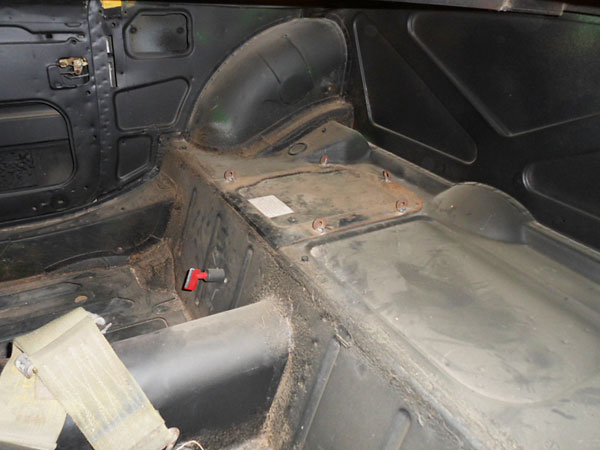 As Steve puts it: "interior by Rust-Oleum and dust by New Mexico."


Enjoying this article? Our magazine is funded through the generous support of readers like you!
To contribute to our operating budget, please click here and follow the instructions.
(Suggested contribution is twenty bucks per year. Feel free to give more!)
Bodywork - In Process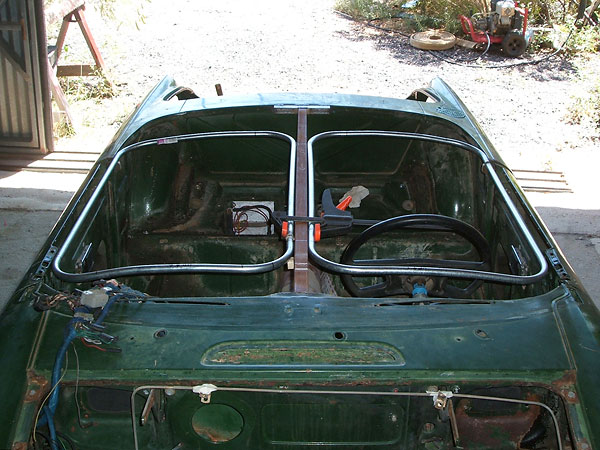 Steel conduit carefully bent to frame the cockpit openings.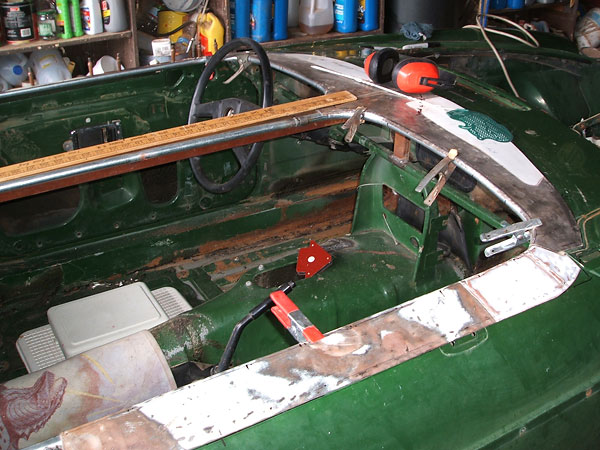 Skinning up to the edge of the cockpit openings.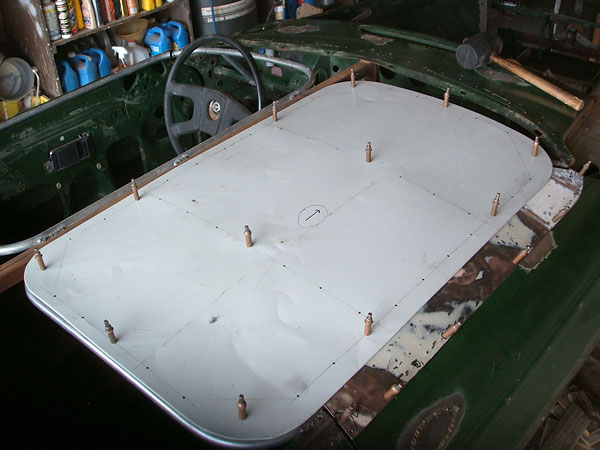 Removable passenger-side aluminum tonneau cover.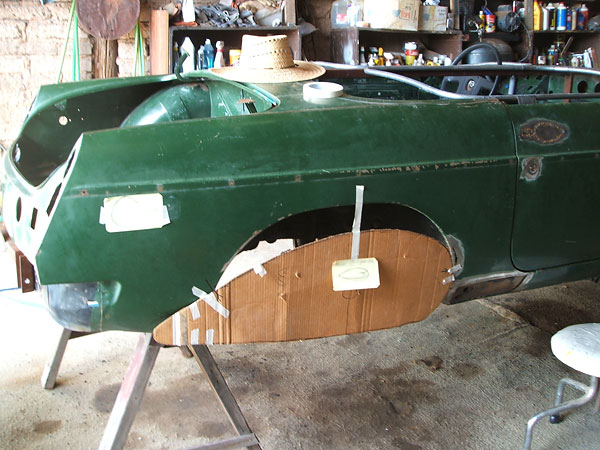 Shaved door handles, door locks, fuel filler, exterior lights, and side-view mirrors.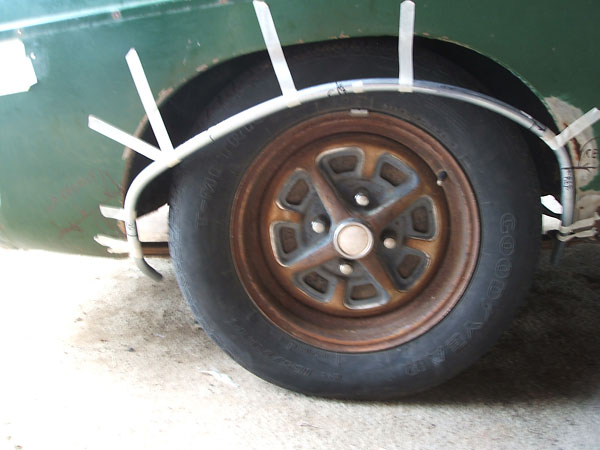 Framing the downsized rear wheel openings.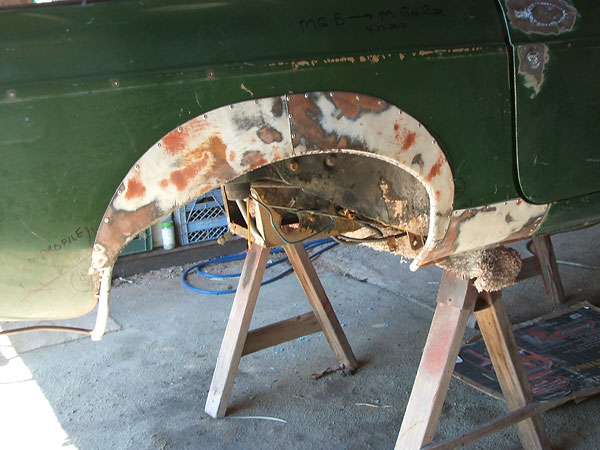 Skinning the downsized rear wheel openings.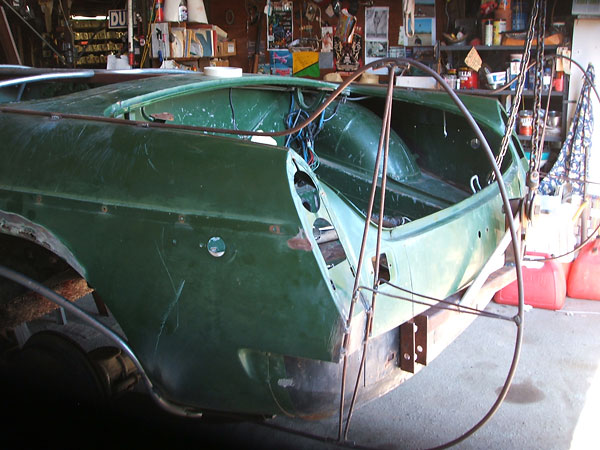 Starting to lay-in new tail fins.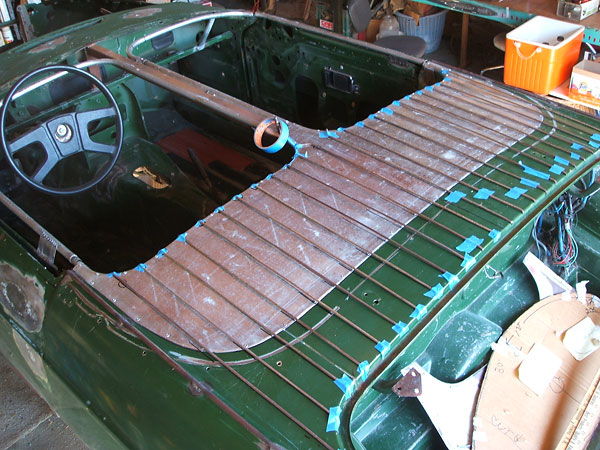 Welding in stringers made of thin steel rod.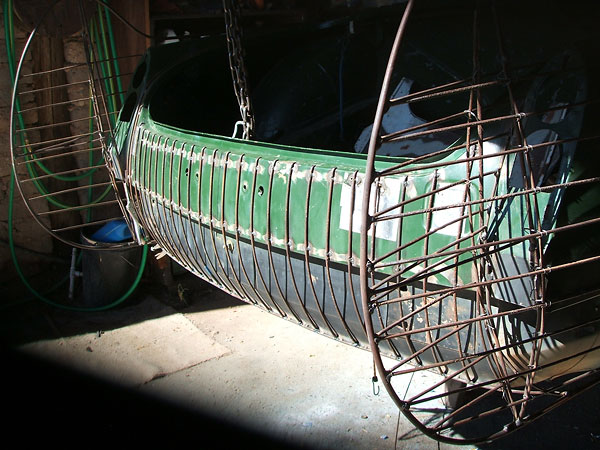 Tailfins on an MGB!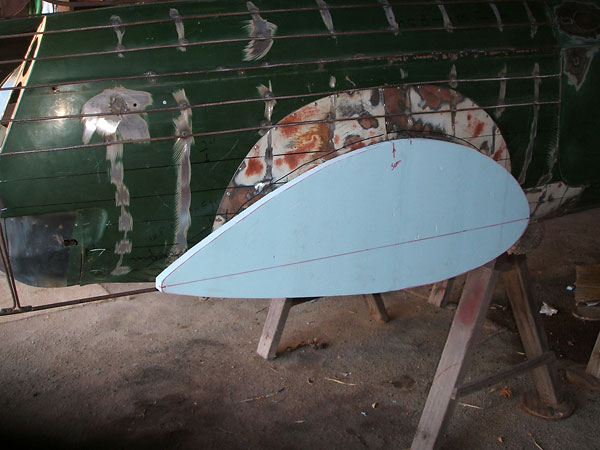 The first step of fabricating aerodynamic "wheel pants" for the landing gear.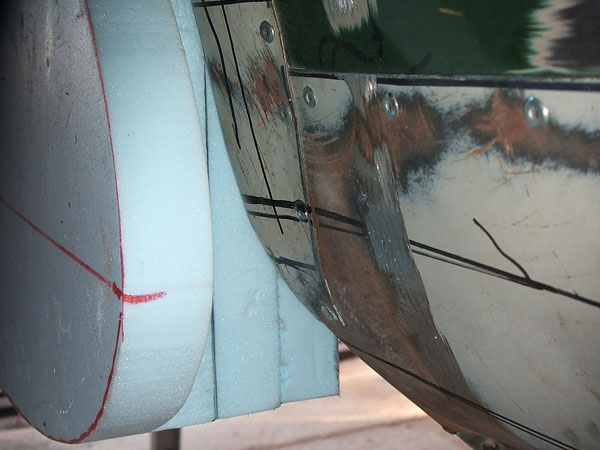 Styrofoam extruded polystyrene foam insulation board, in four 1" thick layers.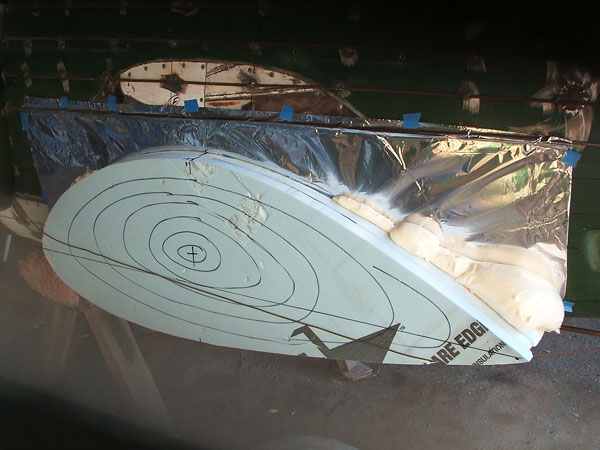 Expanded urethane foam was used to fill odd-shaped voids.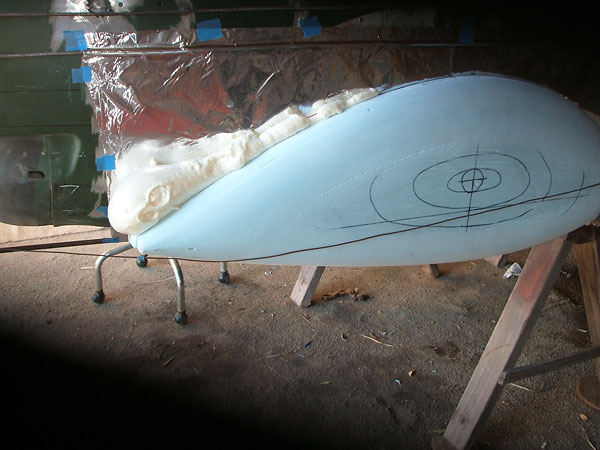 Urethane foam can be carved and shaped.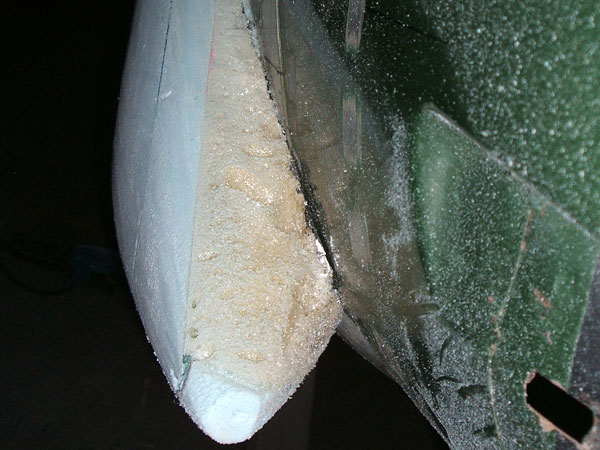 Carving and shaping well underway.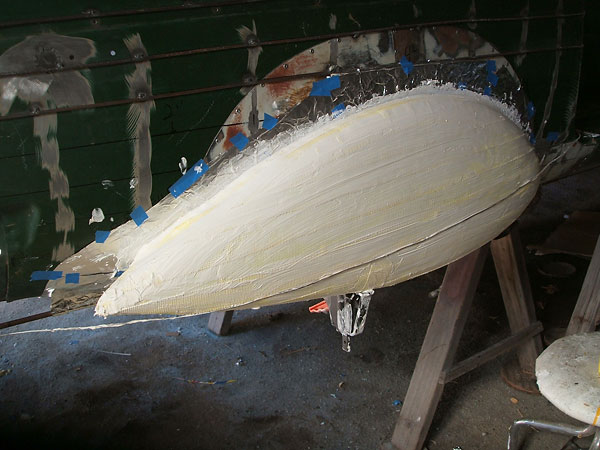 Steve used drywall mud over drywall mesh tape for the final shaping, then covered both with
two coats of latex paint to protect the styrofoam from a covering of polyester resin.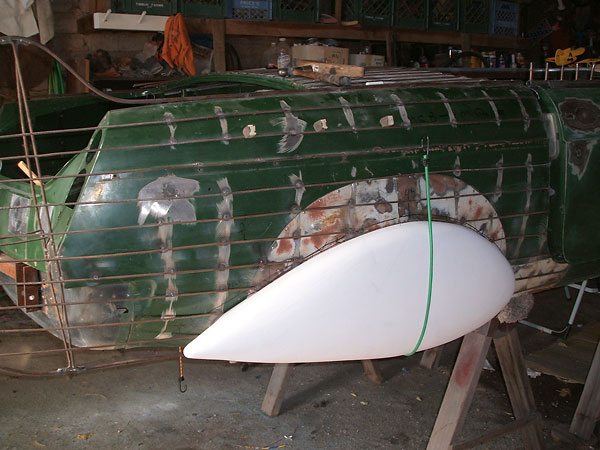 A shell of polyester (fiberglass) resin will make the wheel pants reasonably durable.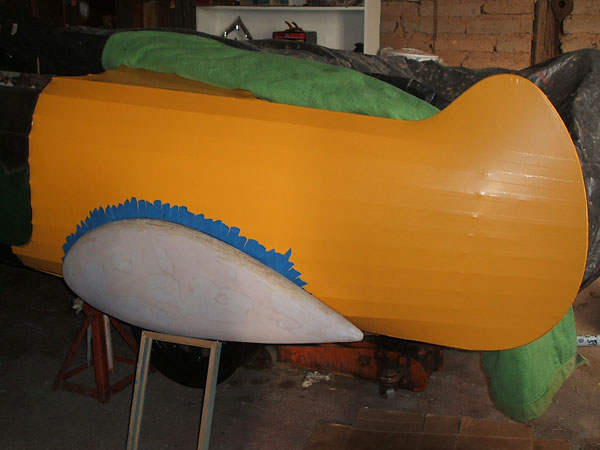 Steve covered the fuselage with Ceconite brand heat-taughtened fabric and Butyrate dope.
Historically, dopes were formulated to shrink and taughten fabric as they dry to achieve
a drum-tight covering. Traditional nitrate dope only comes in clear and isn't fuel proof,
whereas Butyrate dope comes in various colors and is fuel proof.


Exterior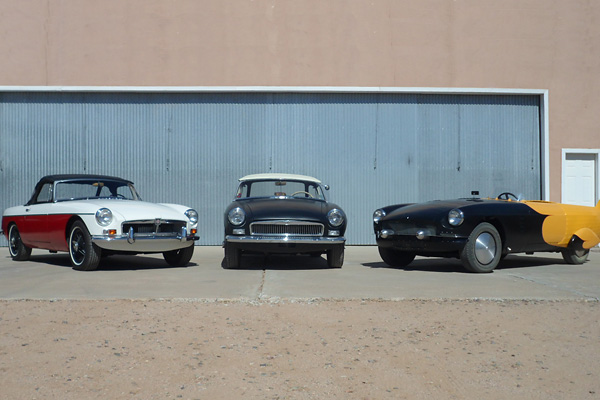 Steve Kimball's three amigos.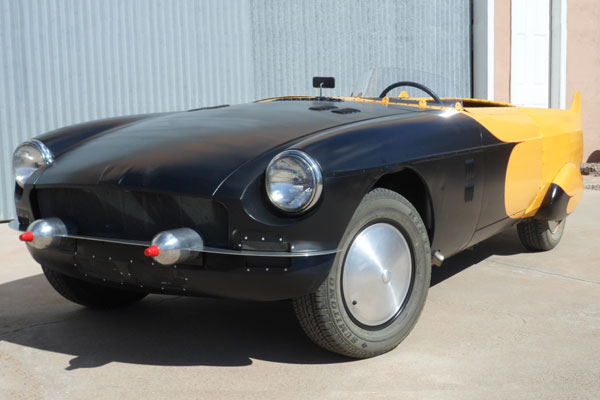 The custom fabricated aluminum front bumper mimics an airplane propeller.
Freon canisters have been re-purposed as propeller spinners.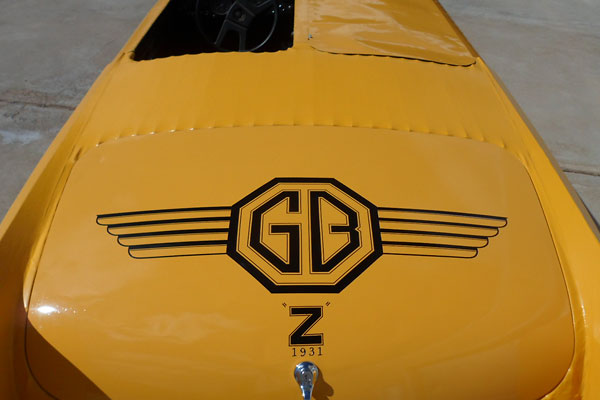 GB - "Z" - 1931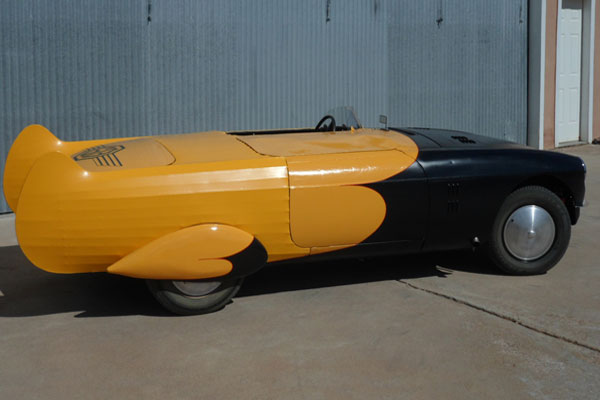 Cleared for flight!