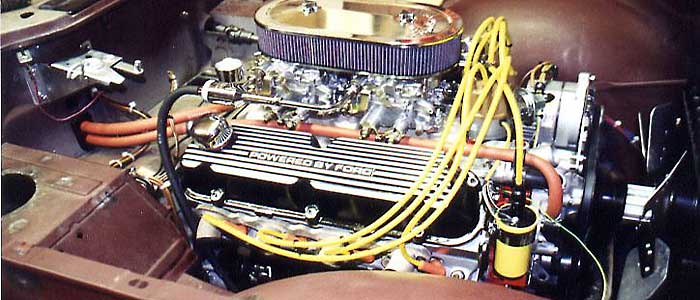 Dual-Carb 302 Ford being trial-fit in a Triumph TR6 (owner: Dan Masters)
Big Motors in Need of Little Cars
This guide discusses three suitable V8 engines, with some (objective) hard numbers and some (subjective) statements of "pros and cons". There are certainly other excellent engine alternatives, including high performance six cylinder, four cylinder, and rotary engines. Please don't take offence is this article failed to discuss your favorite engine - no personal insult was intended! If you'd like to provide corrections to this write-up, or sufficient (objective and subjective) information to support extending the write-up to another alternative, please contact the webmaster.
Disclaimer:
this write-up was originally prepared by Dan Masters. Dan's background includes having personally
installed a Ford V8 in his own TR6
. The write-up has been mildly edited throughout, and additions have been made to the "BOP/R" section, by Curtis Jacobson. Curtis's background includes having personally installed a Buick V8 in his own 1971 MGB/GT. Opinions expressed are those of the authors. You've been warned.
BUICK / OLDS / PONTIAC and ROVER ALUMINUM V8
Generally considered a small engine, this engine is small only in weight. Physically, it's approximately the same size as a Chevrolet engine. Many would argue that its only big advantage is its weight, but there's also something to be said for its "coolness factor".
One of the biggest concerns people have with these engines is "parts availability." Although the kids working at your local Auto-Zone have probably never heard of these engines, they're not exactly obscure either. All the parts required to keep a Buick 215 motor in good repair are available from your local NAPA or CarQuest. (Probably 60 percent are in stock, and the rest can be delivered in a few days.) Many of the parts interchange with newer motors. The Oldsmobile version may be a little harder to get certain parts for. The Rover version should be easier, especially if you live near a RangeRover dealership. Complete replacement engines are routinely available on ebay, or from specialists. (See the newsletter for their ads.)
Enjoying this article? Our magazine is funded through the generous support of readers like you!
To contribute to our operating budget, please click here and follow the instructions.
(Suggested contribution is twenty bucks per year. Feel free to give more!)
There are a surprising variety of high quality performance parts available if you know where to look (e.g. Britain), but they can be pricey! So what if only a dozen or so different cam grinds are easily procured? How many different cam grinds do you need?
PROS:
a) Light weight; approximately 320 pounds, less than many four cylinder engines.
b) For an MGB swap, this engine may be the best choice available, as the factory produced a V8 version using this engine, and there are many, many, examples of this swap on the road. Most any problem you may have has been solved at least three ways, and information is readily available to help you with the installation. For the MGB, there is also a fairly wide assortment of parts available from various venders to make this swap easy.
c) This is THE engine for "retro" guys! A classic "underdog", it remains the only production American engine to win a Grand Prix championship. Actually, it won twice. Jack Brabham used it in '66 and '67 with Australian Repco overhead-cam heads on stock Oldsmobile blocks. That wasn't the 215's only racing success. Back in 1962, Mickey Thompson had taken two rear-engined Buick-215-based racecars to the Indy 500. Rookie Dan Gurney qualified 8th and raced well for 92 laps before retiring with transmission problems, but that was very big news at the time because since 1946 there hadn't been any stock-block cars at Indy! In fact, in 1962, the Buick motor was the only non-Offenhauser powered entry in the field of 33 cars. (1963 marked the first entry of Lotus, plus Chevy and Ford engines.) An engineering marvel in its day, Oldsmobile's turbocharged version of the 215 engine set many firsts. Can you name an earlier production engine that produced one horsepower per cubic inch? In an affordable family sedan? Its rarity today is a good thing if you're looking for a conversation starter!
d) Especially in General Motors (investment-cast vs. Rover sand-cast) versions, the castings are really pretty. They shine up nice.
CONS:
a) Limited displacement. Although the BOP version (nominally 215cid) can be stroked easily to about 266cid, it's usually conceded that the Rover block castings are better suited for higher displacement and specifically for larger bore sizes. (All BOP/R engines have iron sleeves, but the Rover castings are more predictable.) Later-model Rover versions start at 4.2L (258cid) and have been successfully taken to 5.0L (302cid). On the cutting edge, TVR offers a 5.0L version in their limited production sports cars. There's also a write-up right here on our website about
Lanocha Racing's success with a built 5.0L Rover engine in their TR8
.
b) Relative rarity. BOP versions haven't been made for over forty years, so good examples are getting hard to find. The Oldsmobile version is rarer than the Buick version. The Rover version, however, is actually becoming EASIER to find as more RangeRover's are showing up in scrap yards now. Obviously, these numbers are nothing like the numbers of Chevy or Ford engines.
SMALL BLOCK FORD
The dark horse of swappable engines, the Ford 302 has only lately come into its own. Since the introduction of the Fox bodied Mustang 5.0 in the mid eighties, the popularity of the Ford small block has grown by leaps and bounds, along with the availability of aftermarket parts.
PROS:
a) Weight. At 519 pounds stock, and 424 pounds in fighting trim, the Ford engine falls between the BOP/R and the Chevy. Still quite heavy as a replacement for four cylinder engines, it is actually lighter than the stock TR6 or Austin-Healey engines. Dramatically lighter than the MGC engine!
b) Size. It is the smallest domestic V8 on the market. The width of the Ford can be a real lifesaver in many small car installations.
c) Displacement. Even though less than the most Chevy small blocks, 302cid is still a big improvement over stock British engines. Stroker engines are obtainable up to 347cid at a relatively low cost.
CONS:
a) Weight. Even at a reasonable 424 pounds, the weight can be too much for some of the smaller sports cars. Aftermarket aluminum heads aren't inexpensive.
b) Front mounted oil pump and distributor. In some cases, this can be a real problem, as it takes a lot of room in front of the engine to accommodate these items.
c) Oil sump clearance problems. Because the oil pick-up is located in the front, the oil pan sump is also located in front, where it can cause interference with the crossmember in many cars. Dual sump pans are available, but even with these, the front sump is still deep enough to interfere in many installations.
SMALL BLOCK CHEVROLET
If there is such a thing as a universal engine, it would have to be the small block Chevy. These engines are so common as to be called "belly button" engines - everybody has one! If this engine will fit and you don't have a bias towards another brand, this engine is hard to dismiss, except it's a pig.
PROS:
a) Availability. Millions and millions of these engines were produced over the years, and the scrap yards are full of them. Chances are, unless you live in a rural area, there are at least two engines available within a ten minute drive from your home! It's not uncommon to pick one up for free.
b) Displacement. It has been said there is no replacement for displacement. The small block Chevy is most common in 350cid form, but can range from 265cid up to 400cid. Compared to the itty-bitty engines we are talking about replacing, these engines are huge.
c) Parts availability. There is an almost unlimited variety of after market speed components available. Because of their popularity, most of the parts are relatively inexpensive as well. Good used parts are also plentiful.
d) Power potential. How much power do you want? Generally speaking, power levels start at around 200 HP and go up to 500 HP.
e) Cost. Because of its extreme popularity, mass production of aftermarket parts has kept the cost way down for Chevrolet parts.
f) With the oil pick-up/oil sump located at the rear, there are seldom any problems with chassis or crossmember clearance.
CONS:
a) Weight. For use in a small sports car, weight is a real disadvantage with the Chevy small block. Even using aluminum heads, the weight is well over 500 pounds in ready-to-run condition.
b) Rear mounted distributor. In some cases, this is an advantage, but in many cases special provisions have to be made to make room for the distributor. Access for adjusting the distributor (point dwell and timing) can be a problem.
SIZE / WEIGHT / DISPLACEMENT CHART
In this chart, length is from the bellhousing mounting surface to the front of the water pump pulley, height is from the bottom of the pan to the top of the air cleaner, and width is at the widest point of the engine, including the stock exhaust manifolds. The data supplied by Street Rodder magazine show the Ford engine to be taller than the other two, but most other sources I've seen describe the Chevy engine as taller than the Ford. My own measurements on the Buick V6 (basically the same design as the 215 V8, less two cylinders) indicate that the BOP/R V8 is also taller than the Ford.
| | | | | |
| --- | --- | --- | --- | --- |
| | Width | Length | Height | Weight |
| BOP/R | 26 | 28 | 27 | 320 |
| Ford | 24 | 29 | 27.5 | 460 |
| Chevy | 26 | 28 | 27 | 575 |
| Chevy/w alum heads | 26 | 28 | 27 | 525 |
| Ford/w alum heads | 24 | 29 | 27 | 424 |
| TR6 | 22 | 29.5 | 25 | 460 |
| Buick V6 | 26 | 28 | 29 | 412? |

The first three entries came from a recent issue of "Street Rodder" magazine, and are reasonably accurate, except for the weights. Without knowing precisely what ancillaries are included, a real comparison can't be made for weights. Length can vary tremendously by the choice of water pump and pulleys, and height will depend on the intake set-up. The fourth entry was obtained by subtracting the weight savings of aluminum heads from the third entry. The last three entries came from my own measurements, and are very precise. The weights given include everything required to make the engine work - starter, alternator, flywheel, clutch, intake, carburetors, exhaust, distributor - everything except oil and water! In this trim, the weight for the Ford in entry two becomes 519 pounds, from actual measurement! The BOP/R and Chevy weights will most likely go up a similar amount in the same trim.