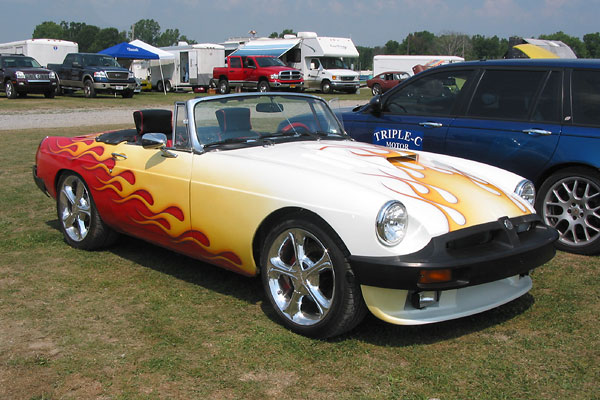 Like a Phoenix: the Story of Steven Ward's MGB V8 Project
as published in British V8 Newsletter, Volume XV Issue 3, December 2007
by: Steven Ward
The difference between the sexes could be defined when my wife and I spotted this MGB on a used car lot in Montreal. She saw a cute little car that we could buzz around town in, and I saw the monster car it could be! That was the beginning.

For 19 years, the MG remained virtually original. However, lurking in the back of my garage was a 1962 215 cubic inch Buick V-8. (During my formidable years I owned both a '62 Olds Cutlass convertible and also a '62 Buick Special.)


I raced our 4-cylinder MGB at 13 British autocrosses, winning all but 1 of them and actually setting a lap record at one of them. I thought I had a fast little "B". My wife referred to it as "The Little Engine that could."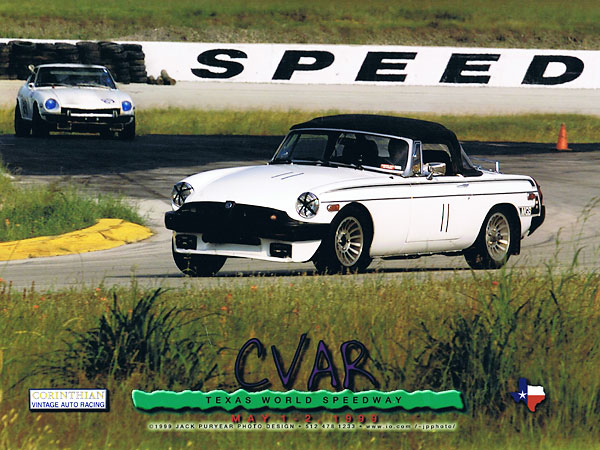 I eventually took the "B" to Texas Motor Speedway in the exhibition class (translation: gentleman's class - no passing in the curves.) Not that I had to worry as I was racing against a Lotus Elan, Shelby GT 350s, a big block Corvette, and a 427 AC Cobra, just to mention a few. After being black-flagged "Give Way!" (Like I had a choice!) On the front straightaway the 427 Cobra and the big block Corvette flew by me on either side. They lapped me three times in a 20 minute period. I swore that it would never happen again!

I got home from the races and dusted the cobwebs off that Buick V-8. I studied it for awhile. I measured the space I had to work with. I searched on the computer for conversion sites. Eureka! I found "The British V8 Newsletter" page - and the sacred chart of engine comparisons (in an article by Dan Masters, which included Buick, Ford and Chevy V8 weights and dimensions.) That convinced me that a Chevy was the way to go. The Buick motor was pushed back into the dark corner of the garage.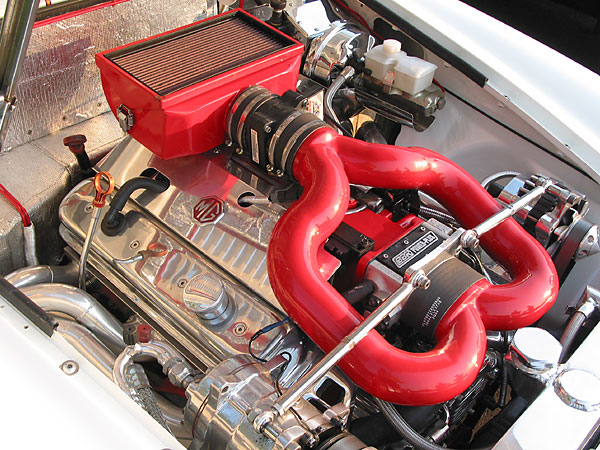 Steve's Chevrolet 350 LT-1 engine, from a 1995 Corvette.
My choice of engines was a second generation 350 LT-1 from a '95 Corvette. For the next three years I worked just about every day designing and building the parts to make my dream come true. I completed the project April 24, 2004 at 2:30am. I showed the B at All British Car Day in Dallas at 12:00pm that same day!

The following week I revisited Texas World Speedway, this time looking for vengeance. I was 13th on the grid of 26 cars - a few of them my old nemeses. In just a few laps, I moved through the pack to find an old friend - the big block 427 Corvette. I followed him through several left and right hand curves until we found ourselves on the back straight, where I drag raced him and left him behind. How sweet it is!

A few laps later, 2 more old friends were within my reach and I took my shot. There on the banked front straightaway, I passed between a pair of 65 Shelby GT 350s. This day was mine! I now lead the pack. However, the B being automatic, I did not have the luxury of downshifting going into the curves. Tried it once, not again! So I had to rely on my Wilwoods to slow me down. Eventually, it was too much even for them, as my pedal got soft and went right to the floor. I slowed down for 3 laps and the brakes recovered and I finished 3rd overall.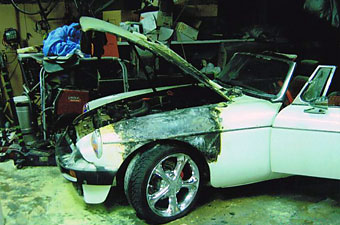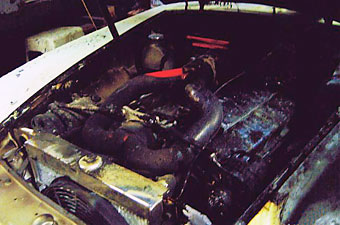 107 days later, just 3 days before I was to leave to go to the 2004 British V8 convention in Grand Rapids, the B caught fire in my garage. Brake fluid got spilled onto the headers! I had taken it for a couple shots in a secluded part of my neighborhood - drove into the garage and closed the garage door behind me. Several months of dealing with insurance companies, I was ready to start again. However, this time I could build it bigger and better!
Enjoying this article? Our magazine is funded through the generous support of readers like you!
To contribute to our operating budget, please click here and follow the instructions.
(Suggested contribution is twenty bucks per year. Feel free to give more!)
I stripped the body to bare metal, removed all the chrome, trunk rack, welded up and removed the body seams, removed the air cowl in front of the windshields, removed the heater box, and closed up the hole, and installed a mini Generation II heat/AC/defrost unit behind the firewall.

Next was a new paint scheme. First time around it was Arctic White, over-sprayed with Violet Pearl. Beautiful, but missing the pizzazz factor. Hence, several artist renderings, resulting in the obvious choice!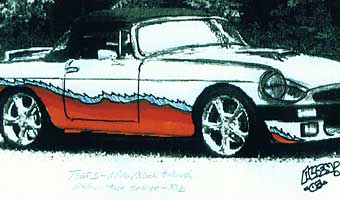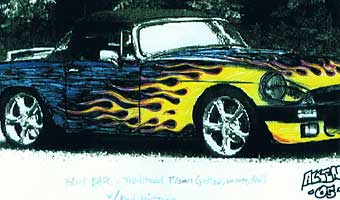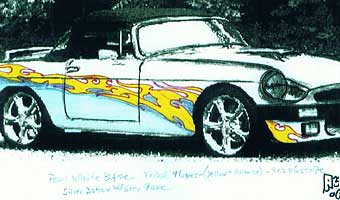 The entire car was initially sprayed Arctic White, then over sprayed with Silver Pearl, and then a base clear. Base clear was used between each level of the paint process so that if something went wrong, it would not have to be stripped all the way down. The "Oh So Yellow" and the "Orange Glo" were shot, followed by base clear. The flames were laid out using the blue fine line tape. A clear masking sheet was then laid over the flame design. The back end of the car was shot with "T-Rod Red". The masking sheet and fine line were removed to expose the fading flame design. The car was then sprayed with base clear. A hand-painted purple enamel pinstripe was used to outline the flames. It was then cleared with three coats of polyurethane. The pinstripe was sanded until it was flat with clear. The entire car was shot with Amber Glo" and then cleared with two additional heavy wet coats of polyurethane clear. The "B" was then color-sanded using 1200, 1500, 2000, 2500, and 3500 grit wet sandpaper and then compounded and polished.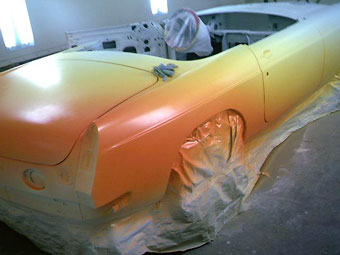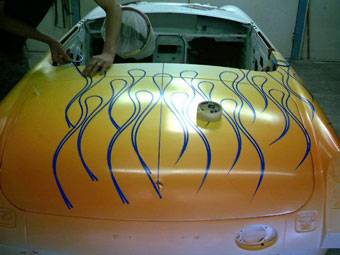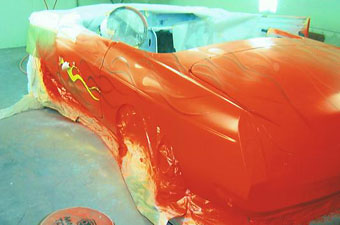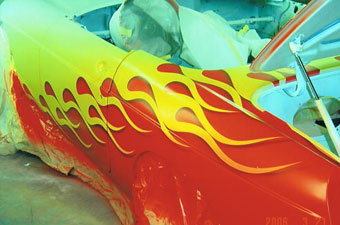 The final product, I showed at the 2007 British V8 meet. It was a painstaking three years (twice!) of restoration, but well worth the time.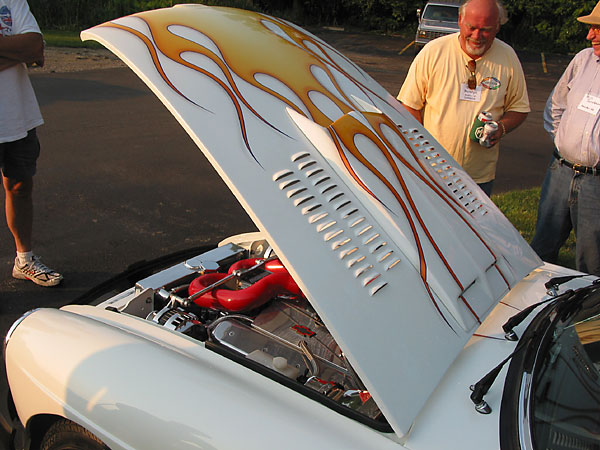 British V8 2007 participants Graham Creswick, Dave Burstyn and Bill Jacobson enjoying Steve's completed MGB V8.


For more detailed specifications and photographs please refer to Steve's "How It Was Done" article!
Disclaimer: This page was researched and written by Steven Ward. Views expressed are those of the author, and are provided without warrantee or guarantee. Apply at your own risk.