the editor's car
In The Driver's Seat (Volume XVI Issue 1, May 2008)
by: Curtis Jacobson
Is this your first visit?
You're in for a treat! You've found the one and only magazine that's focused on serious performance mods to classic British sports cars. We also feature British cars that originally came with V8 engines. Our mission is to provide a very diverse range of quality content: entertaining, educational, technical, and inspirational articles and photographs.

There are other websites and magazines who "sell the sizzle", but it's our policy to serve the whole steak and to do it for tips alone. We use as many large, close-up photos as it takes to tell each story completely. In this new issue, that averages out to over 18 high-quality photos per article. When we feature a car, we include detailed specifications. In our articles, we don't shy away from going into thorough analysis or careful explanations, because we don't have to conserve paper or postage. For example, the excellent article by Roger Parker in this new issue runs to over 10,500 well-chosen words.

Our niche of the British car hobby isn't the largest, but it's the most vibrant and the fastest growing. The term "restomod" describes it: today's enthusiasts want to combine classic styling with modern performance, and they demand modern reliability. If you're skeptical of these trends, consider this website itself. We reliably serve over 2600 visitors every single day! Over a thousand people have elected to be on our e-mail list (to receive announcements of new magazine editions.) Over 250 people have completed registrations for our message board. About 2900 messages have been posted there.
But this may be our online magazine's last edition...
... at least in its current three-issues-per-year format. Frankly, bundling articles together makes a whole lot more sense for a printed newsletter than it does for a huge, free, online resource.

Websites perform best when they present dynamic and interactive content to visitors. In other words, we need to give people more reasons to check back in day-after-day, week-after-week, throughout the year.

This new edition of British V8 contains 41 articles and over 740 big color photos. Who has time to absorb that in one visit? Wouldn't it be better if we published one article at a time, throughout the season? What if we announced each article boldly right on the website's front page?

Then there's another challenge: British V8 isn't producing enough ad revenue. We want to keep British V8 free for all readers - because that "open door" is the key to introducing more people to our hobby - but we need to find new ways to raise funds. "Not for profit" doesn't mean the editor shouldn't get paid for his time. Although my time as editor is probably coming to a close, British V8 will need to earn more revenue so it can attract new staff and continue to grow.
What's new in this issue?
In my opinion, we've probably never had an issue with as many examples of elaborate, high-quality, custom bodywork. I'm not going to tell you which cars I'm thinking of. Go look for them. You'll find widened cars, stretched cars, custom hand-made body panels, and even one MGB with an almost entirely custom-made body.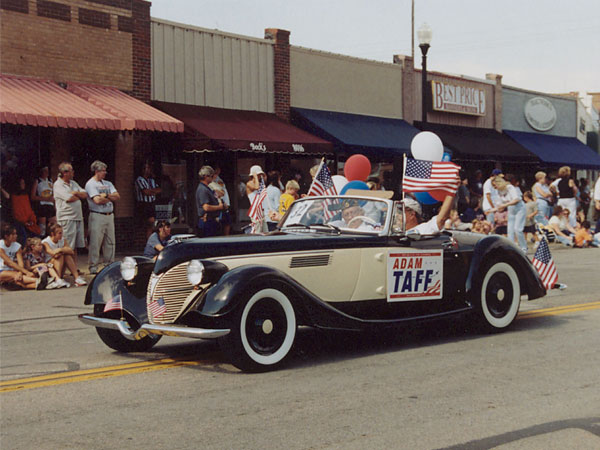 This is not your father's MGB - unless your dad is Dan Root of Leawood Kansas!
Enjoying this article? Our magazine is funded through the generous support of readers like you!
To contribute to our operating budget, please click here and follow the instructions.
(Suggested contribution is twenty bucks per year. Feel free to give more!)
Of course it wouldn't be British V8 without spectacular engine installations too. For example, how about a Jaguar V12 with fabricated induction system, supercharger, custom electronic fuel injection, and direct ignition. (Bonus: it's shoe-horned neatly into a Healey 100!)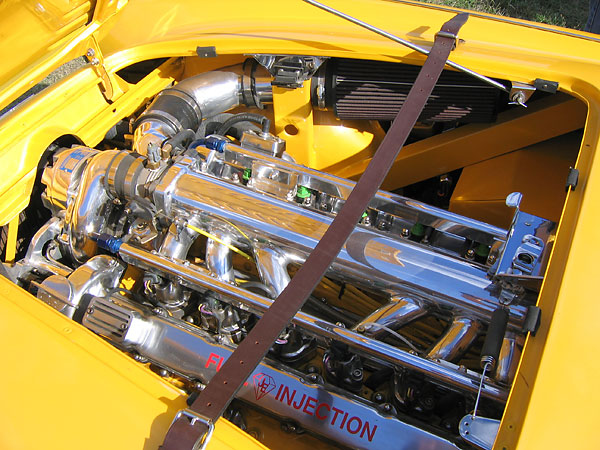 The very special supercharged Jaguar V12 in an Martin Jansen's Austin-Healey 100.
At British V8, we celebrate the talents and creativity of our diverse community: a community with varying experience and training, tool and shop resources, financial budgets, time constraints, and transportation needs. Our unique "How It Was Done" format lets everyone pass along some of what they learned, as they show off their unique projects! No two modified British sports cars are identical; their differences are what makes them so charming. In this edition, we celebrate twenty new "How It Was Done" articles.

We also have a second special installment of historical and reference articles that are in one way or another related to the "factory" MGB GT V8 model. These articles were collected by Ken Smith a veteran MG journalist, a passionate MG enthusiast, and a dedicated historian. (Ken has contributed to "Safety Fast", "MG Enthusiast", and "Abingdon Classics". He was the founding editor of "MGB Driver", he's the Editor of "Classic MG", and he's the Executive Editor of Moss's "British Motoring". He also authored the outstanding book: "Aspects of Abingdon".) Ken collected these materials for a book project he hoped would commemorate the tenth anniversary of the factory MGB GT V8. He carefully tracked down original authors and publishers to get permission to reprint their work. Unfortunately, the project was delayed... until now! (Actually, I still haven't found the bottom of the box Ken mailed me. Look for a "Part 3", coming soon. I should further mention that Jack Renaud, Jake Voelckers, and Simon Austin have contributed valuable information and photos to complete or supplement articles in this section. Thanks guys!)
Very Sad News
We've lost a friend.

On Sunday May 25, Mike Masters passed away.

Mike had many friends in the British V8 community. He had a great sense of humor and a generous nature. His skill and hard work contributed to some of the highest-class cars on this website; he was the proprietor of Advance Auto-Wire, where he built rugged wiring systems from top quality cable and components.

Our sympathy goes out to Mike's whole family including his father Dan. (Dan was Editor of "British V8" from 2001 through 2003, and host of our 2003 and 2006 meets.)

Please consider making a donation to the
National Alliance On Mental Illness in Mike's memory.


Register for British V8 2008 (July 13-16, 2008 in Port Washington WI)
The annual British V8 Meet is the best place to enjoy a large number of performance-modified (and original V8-powered) British sports cars in their element, and you're invited! You're welcome no matter what kind of car you're currently driving. Please note that the name "V8" wasn't selected to exclude anyone. V6 and other engine types are totally welcome too. But your project isn't done yet? Our meets are the best place to gather information to complete your project.

This year's meet is being coordinated by Paul & Mary Schils and they're planning a diverse range of exciting activities. If you haven't registered or booked a room, take action now!

Start by downloading the registration form here: PDF version or here: Microsoft Word version.

Next, book a room in the host hotel. We have a good discount on a block of rooms, but it's filling up quickly. Here's the contact information for the host hotel. (Remember to mention "British V8 Meet" when placing your reservation to get the group-discount price of $87.)

Country Inn and Suites
350 E Seven Hills Rd
Port Washington, WI 53074
(262) 284-2100

Finally, check the pub section of our message board to see who else is coming, and the meetings page to see if any small schedule changes have been announced.
Preliminary Schedule (all times and details are subject to refinement)
Sun. July 13:
1pm - 7pm
People Start Arriving (Registration Open)
Mon. July 14:
9am - 12pm
Tech Sessions (see below)
~12:30pm
Leave for Elkhart Lake / Road America Race Track

~3:30pm
VIP Tour of Road America Race Track

~5:30pm
In-Car Track Tour of Road America

~8:30pm
Parking Lot Pizza Party
sponsored by Ted Lathrop of Fast Cars Inc.
and Dan Masters of Advance Auto-Wire.
Tues. July 15:
~9am
Leave for "Experimental Aircraft Association" museum in Oshkosh
~2pm - ~4pm
Tech Sessions (see below)
5pm
Badgerland Bash (Cook-out dinner at Paul and Mary's)
Wed. July 16:
9am - 12pm
Autocross (co-ordinated by Steve Carrick)
1pm - 3pm
Tech Sessions (see below)
3pm - 4pm
Valve Cover Races (co-ordinated by Kurt Schley)
4:30pm
Banquet, Auction, Door Prizes, Etc.
7pm - ??pm
Parking Lot Party
Note: the following Tech Sessions are currently planned (but haven't yet been assigned to time slots)
Jim Blackwood
Project BADASS
MGB "Roadmaster" Project
Bill Guzman
Classic Conversions
MGB 4-Link Rear Suspension
Dan LaGrou
D&D Fabrications
to be determined
Ted Lathrop
Fast Cars Inc.
MGB Front Suspension
Pete Mantell
Mantell Motorsports
High Performance Brake Systems
Dan Masters
Advance Auto-Wire
Wiring Your Little British Car
Jeff Schlemmer
Advanced Distributors
Tuning with An Air/Fuel Meter
Plan to Stay Over for Vintage Racing!
Nearby Elkhart Lake is the home of the Road America race track. We'll visit the track during our meet, and also some of us will be staying over in Wisconsin a few extra days to enjoy the Kohler International Challenge (with Brian Redman). It's a full weekend of SVRA sanctioned vintage racing, plus associated activities such as a concours d'elegance. Our group discount for the race events is 20% off, and Road America will allow us to buy tickets at this discount when we visit the track.
British V8 is a Volunteer Effort
The British V8 Newsletter and website represent the work of many people. I want to take a moment to recognize and thank all the folks who've contributed articles, photos, and information. Returning readers will probably recognize some familiar names including Martyn Harvey, Larry Shimp, and Bill Young. I also want to thank brand-new contributors Randy Schultz and Peter Mittler plus all the folks who've contributed photographs and "How It Was Done" write-ups.

I continue to be encouraged by the generosity of readers. Since the last issue, we've been blessed with financial support from the following individuals: Tony Andrews, Tom Balutis, John Barilaro, David Beemer, Grant Berry, Dave Burstyn, Rob Ficalora, David Gable, Calvin Grannis, Herb Gundy, Bruce Harland, Art Hart, Ken Hiebert, Doug Ingraham, Les Matthews, Arthur Mitchell, Darren Jones, Jerald Keys, Jack Renaud, Barrie Robinson, Daniel Root, Peter Sherman, Rick Stevens, James Tencate, Thomas Vagasy, Michael Willis, Al & Patty Wulf, and Jeff Young. You folks are wonderful! Your contributions will be put to good use expanding the depth and breadth of our coverage.
Please Support This Edition's Sponsors!
Here's a great performance tip: pick up your telephone and work through the list of companies in our Vendor Directory!
It really pays to get to know these guys. I've been discovering that most of them offer more different performance parts and services than are advertised on their websites. I can honestly say that every one of our sponsors is friendly, knowledgeable, and will be happy to help you with anything they can. But keep in mind that our sponsors/advertisers are mostly small businesses with limited advertising budgets: Please thank them for sponsoring "British V8"!