Before BritishV8 2009 officially started, we had a pre-meeting at Virginia International Raceway
and we witnessed a weekend of vintage racing action: The Heacock Classic Gold Cup!


British V8 2009 Photo Album
by: Curtis Jacobson
We Met Both Old and New Friends in the Parking Lot of the Host Hotel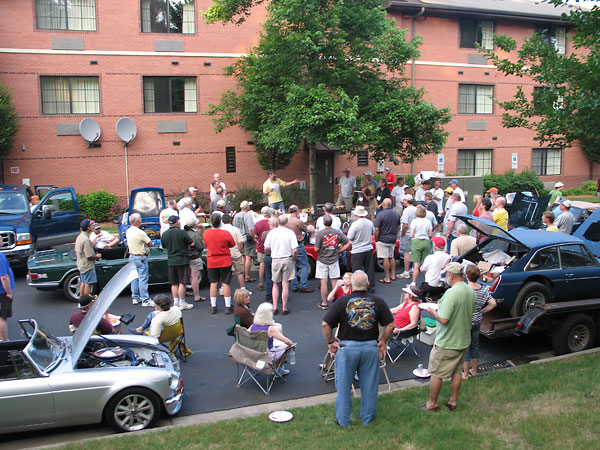 Max Fulton welcomes everyone to BritishV8 2009.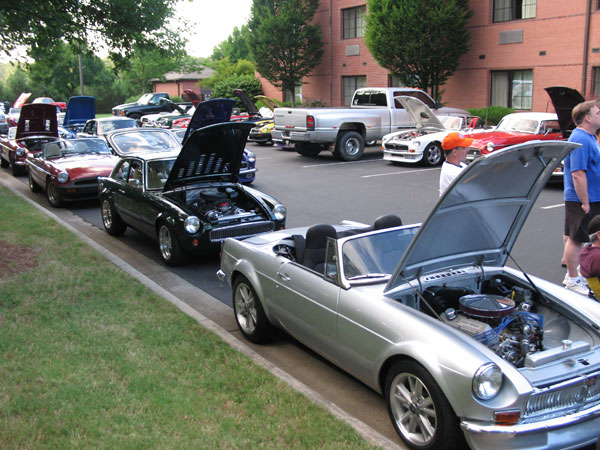 Paul completed his "Silver Bullet" Ford 302 powered MGB just in time for the meet.
Parked just behind it, we see Dan Masters' Ford 302 powered MGB GT. Paul and Dan
have each hosted previous BritishV8 meets.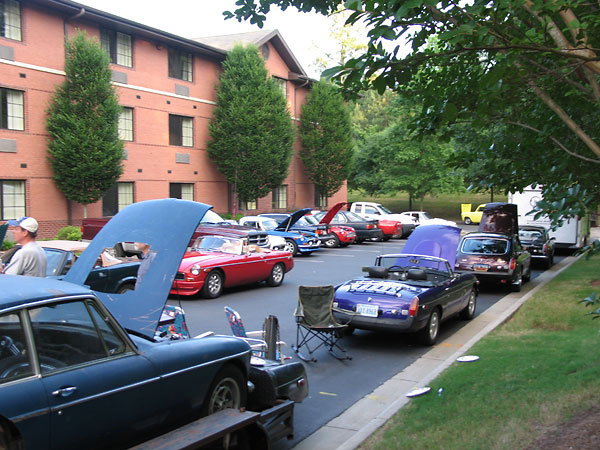 Foreground: The "Roadmaster". (Under the hood lurks a potent big block Buick.)
Background: Tony Andrews's MGB, Dale Spooner's MGB, and Wayne Rippy's MGB-GT...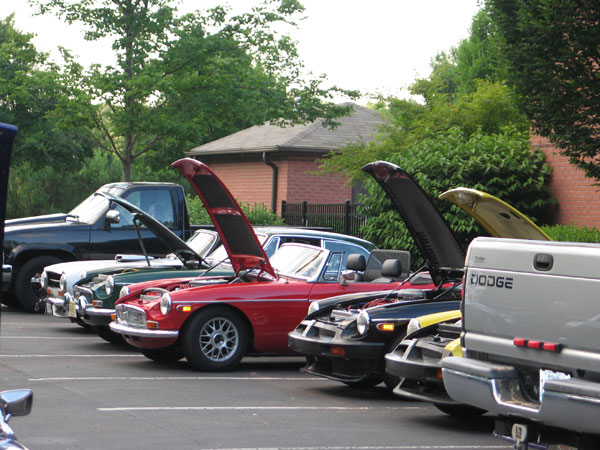 The red MGB belongs to Merv Hagen. Pete Mantell just upgraded it to Boss 302 power!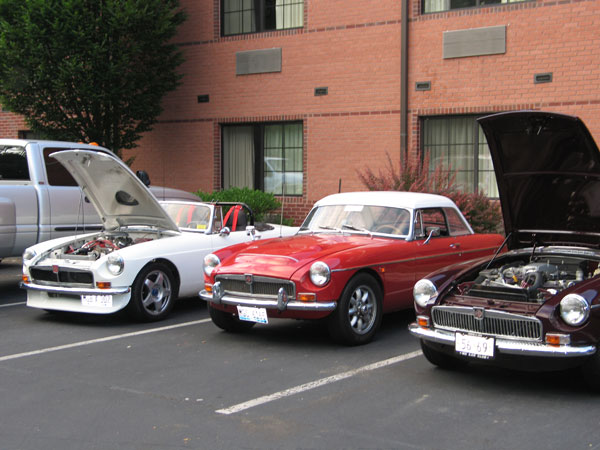 Rick Ingram's stock MGC, between MGB's belonging to Pete Mantell (Ford 302) and Jim Stuart (Rover 4.0).


Enjoying this article? Our magazine is funded through the generous support of readers like you!
To contribute to our operating budget, please click here and follow the instructions.
(Suggested contribution is twenty bucks per year. Feel free to give more!)
We Had Coffee and Donuts at Flying Circus English Cars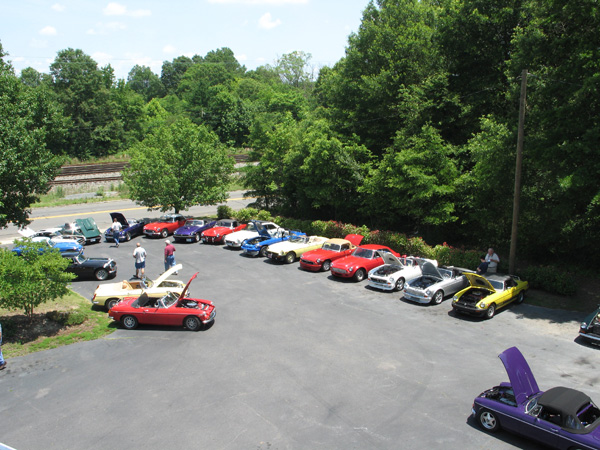 (Desmond invited me onto the roof of Flying Circus to take this nifty photo.)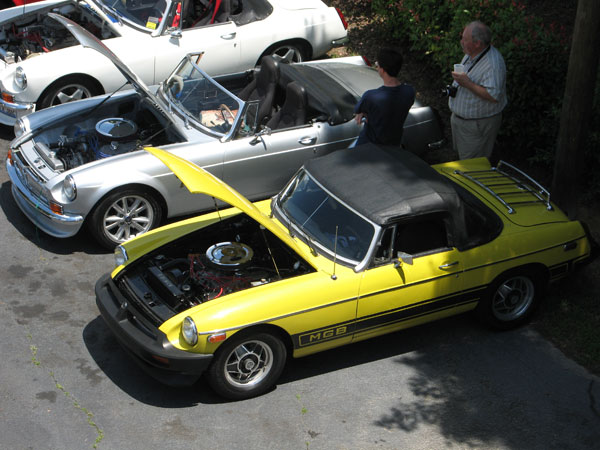 Jack Renaud's newly upgraded and now Rover 4.6 powered MGB-LE.


We Enjoyed Tech Sessions at Flying Circus English Cars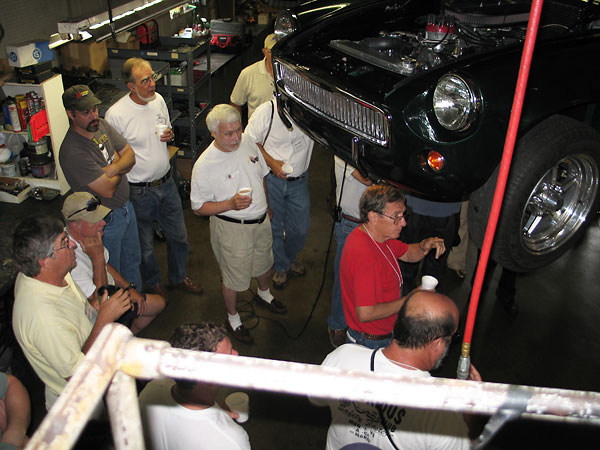 Dan Masters' points out subtleties of Fast Cars MGB front suspension.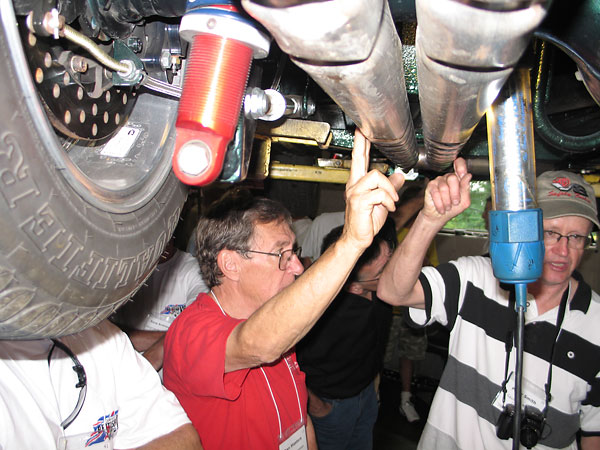 Peter Smith taps on the chambered exhaust system.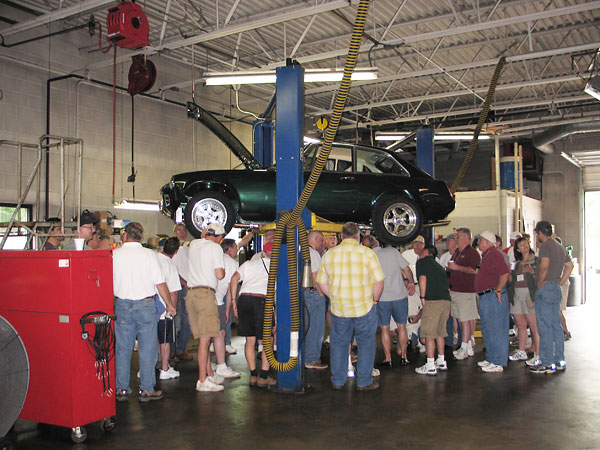 The lifts in the Flying Circus garage gave us outstanding access to view the undercarriage...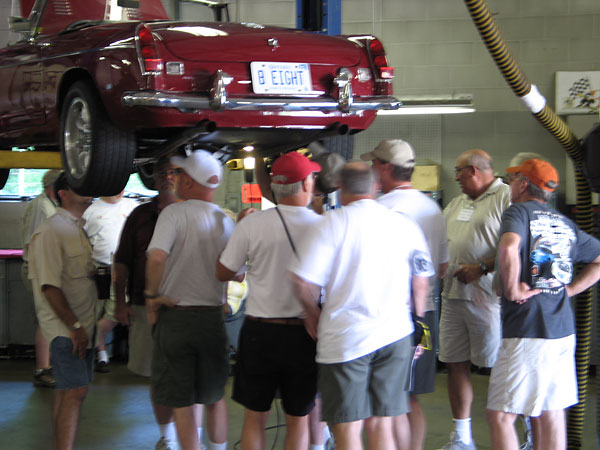 Graham Creswick's car... newly updated with Classic Conversions 4-link rear suspension.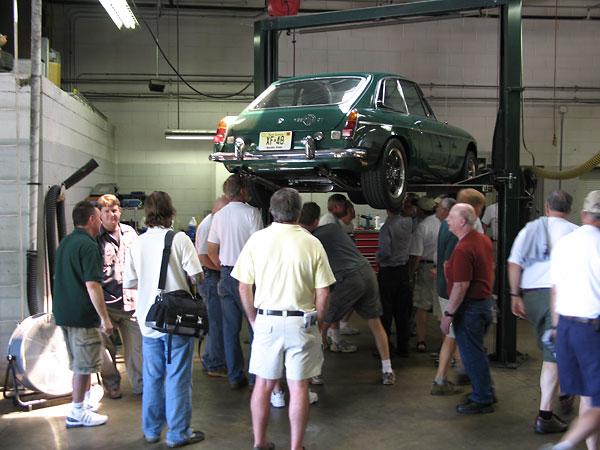 Larry Shimp's MGB GT has Hoyle suspension, both front and rear.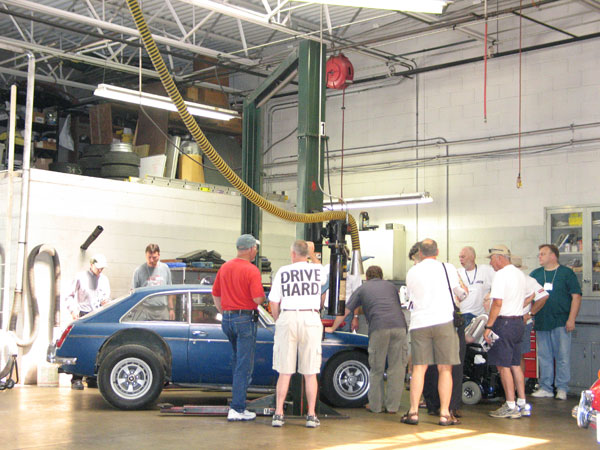 "ROADMASTER". Sounds like a great name for a superhero, no?


We Ran Our Cars on the Dynamometer at Carolina Auto Masters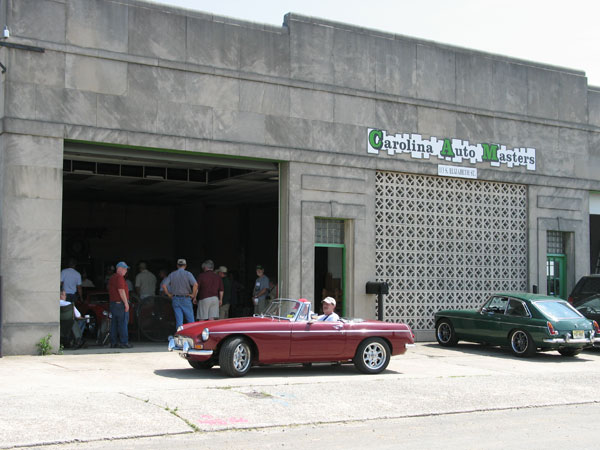 Graham Creswick arrives at the Carolina Auto Masters dynomometer shop.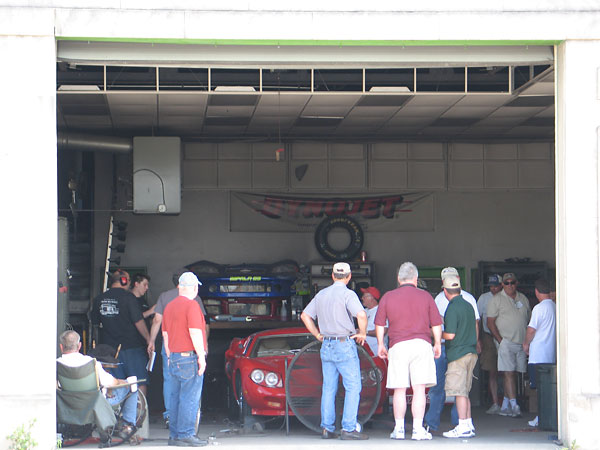 Richard Moor's Fiberfab Avenger (with turbocharged 3.8L Buick V6.)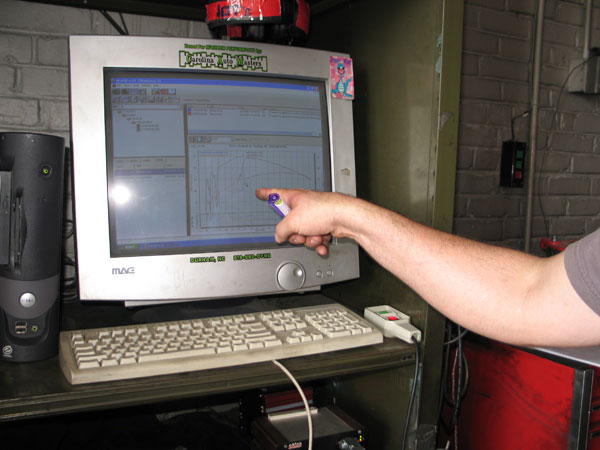 It's not just the peak that matters. We want to raise and smooth the whole curve.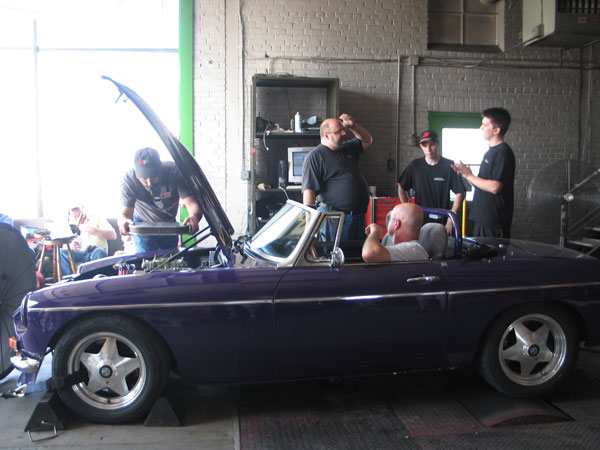 Steve Carrick's MGB is a BEAST.


James Browne Presented an Outstanding Tech Sessions on Detailing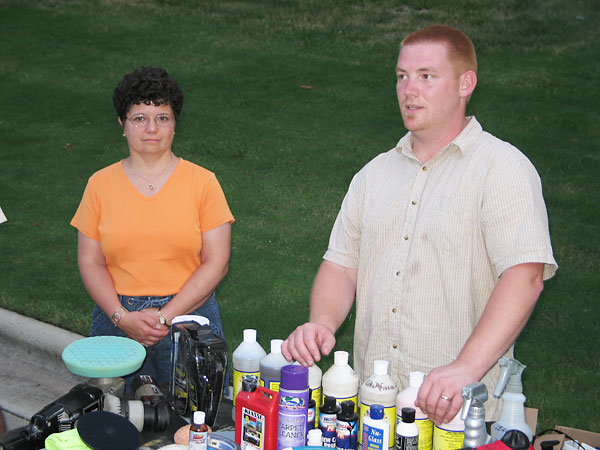 James Browne's tech session was especially well received. By all accounts it was chock
full of information and insight, on a topic we haven't covered at other BritishV8 meets.
(Sadly, I was unable to stay and learn. Happily, James passed along some notes!)


James' notes:
Product recommendations:
(from "www.topoftheline.com")
Car Wash Shampoo
HT-203 HiTemp Sparkling Suds
Wheel Cleaner
HT-710 Safe Wheel Cleaner
Engine Cleaner
HT-49 Top Shot
Tire Dressing
HT-10 Hi Temp Grape Tire Dressing
Light Polish
HT-61 Smooth Cut
Scratch Removal (by machine)
HT-357 HiTemp 357 Magnum
(This should be followed by HT-61 "Smooth Cut".)
Paint Chip Repair
TS-TUM Touch-Up Magic
(Don't forget to get plastic razor blades from your hardware store.)
Clay Bar
TOL-CA308 Auto Detail Clay
(Works very well.)
Micro Suede Towels
TL-MFUS
(These are AMAZING for wax, polish, and for sealant removal.)
Buffing Pads
(You can't go wrong with any of their "Lake County" pads.)
Paint Sealant
HT-62 Hi-Temp Terminator Paint Sealant.
(The most durable paint protection you will find!)
Trade Secret Wax
TOL-TS208
(For a great shine, a little goes a long way.)
Black Velvet Carnauba Wax
TOL-BV12
Great for black and dark blues, purples, etc.
KLASSE
KL-AIO32 Plastic and Chrome Polish
(Leaves an amazing shine, especially if coupled with Trade Secret Wax.
Use it for protecting any surface of your car except rubber.)
Glass Cleaner
HT-18 Hi Temp Glass Cleaner Concentrate
(This is a 10:1 concentrate. Use Distilled Water for best results.)
Aquapel
PPG-98994 Glass Treatment
(Like Rain-X on steroids!)
Convertible Top Cleaner
RAGG TOPPS
(Choose the one for your application, vinyl vs. cloth.)
Product recommendations:
(from other suppliers)
Rubber and Plastic Dye
E.T.R. Kit II - Color Guard
(http://www.valugard.net/store/p-31-etr-kit-ii.aspx)
Scratch Removal (by hand)
HT-801 AKRYA Cut 600
(Hi-Temp: 1-800-878-9199 Ask for Scott!)
Buffing Pads
Various part numbers. Call Hi-Temp at 1-800-878-9199 and ask for Scott.
(I use Hi-Temp pads because they're a great value. Yellow pads for the deepest scratches.
Green for light/heavy polishing, blue for lighter polishing, and white for finishing.
Remember you must step down to continually work out swirls until they're all gone.)
We Toured Dale Spooner's "Motion Machine" machine shop in Danville Virginia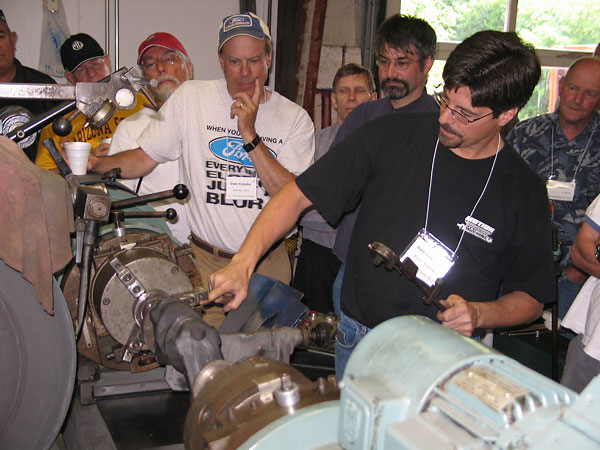 Dale Spooner showed us how to grind crankshaft bearing journals.


More photos and a description of the tour can be found here: Motion Machine Shop Tour.

Motion Machine shares a building with a race car preparation shop called Tivvy's Autocraft. Tivvy Shenton welcomed us in to have a look around. Here's an article about Tivvy and his own vintage racecar: Tivvy Shenton's Jaguar XK140 FHC.


We Tested Our Skills With Some Kart Racing at V.I.R.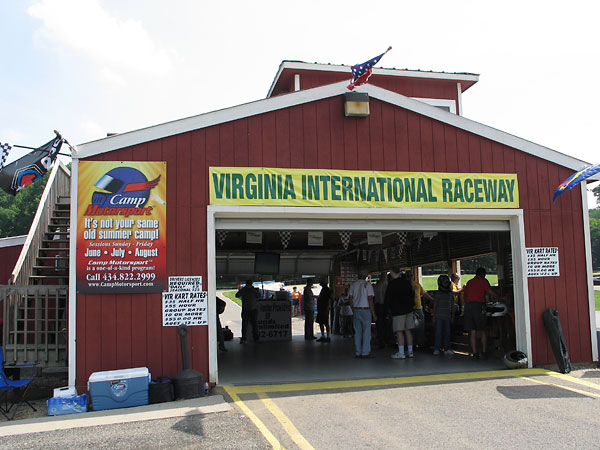 The Plantation Valley Kart Track at Virginia International Raceway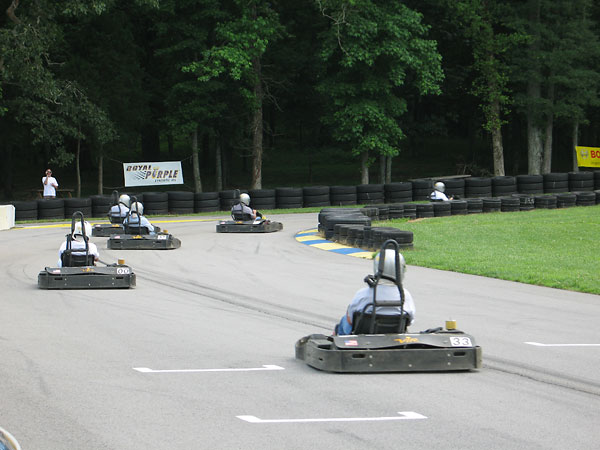 Racers try a variety of lines through turn one.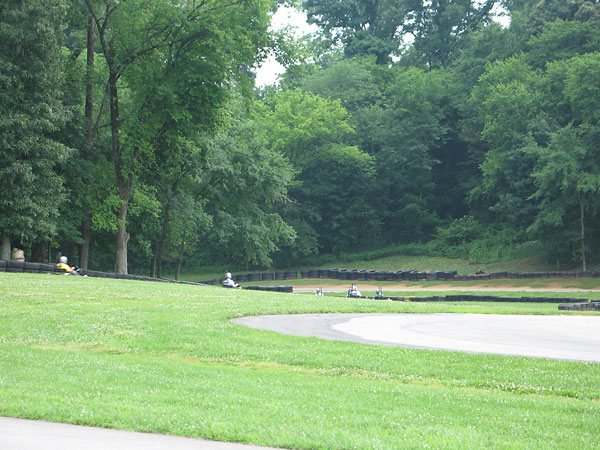 Down throught the chute... turns two, three and four.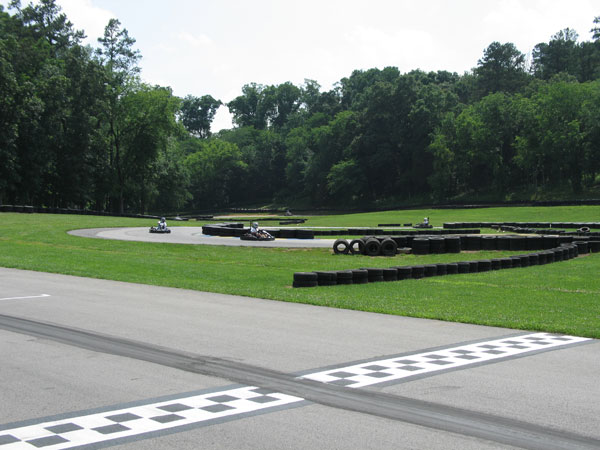 The perilous middle ground.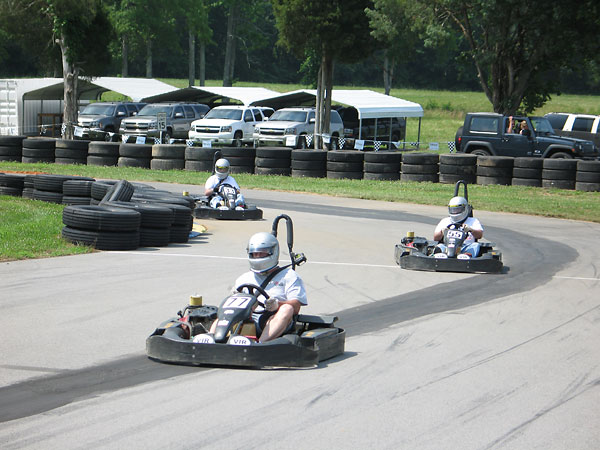 Graham Creswick, Richard Moor and Steve Degroat entering the front straight.


| | | | | | |
| --- | --- | --- | --- | --- | --- |
| | Driver | Qualifying Time | Kart # | Final Group | Finish |
| 1 | Pete Mantell | 47.90 | 71 | C-1 | 9 |
| 2 | Dale Knapke | 48.41 | 88 | C-2 | 6 |
| 3 | Max Fulton | 48.56 | 111 | C-3 | 1 |
| 4 | Ken Hiebert | 48.76 | 44 | C-4 | 2 |
| 5 | Carl Floyd | 48.79 | 111 | C-5 | 3 |
| 6 | Scott Costanzo | 48.86 | 00 | C-6 | 4 |
| 7 | Les Shockey | 49.73 | 88 | C-7 | 5 |
| 8 | Alex Mantell | 49.77 | 99 | C-8 | 7 |
| 9 | Steve Carrick | 49.85 | 71 | DNR | DNR |
| 10 | Tony Andrews | 49.89 | 99 | C-9 | 10* |
| 11 | Jim Blackwood | 49.99 | 55 | C-10 | 8* |
| 12 | Tim Duhamel | 50.03 | 77 | A-4 | 1 |
| 13 | Rob Ficalora | 50.57 | 44 | A-1 | 3 |
| 14 | Mike Moor | 50.75 | 57 | DNR | DNR |
| 15 | Eric Alexander | 51.12 | 57 | A-2 | 2 |
| 16 | Graham Creswick | 51.39 | 77 | DNR | DNR |
| 17 | Bill Guzman | 51.41 | 00 | A-3 | DNF |
| 18 | Richard Moor | 51.49 | 55 | DNR | DNR |
| 19 | Steve DeGroat | 51.58 | 33 | A-5 | 4 |
| 20 | Merv Hagen | 51.76 | 11 | A-6 | 5 |
| 21 | Jim Brucato | 51.87 | 88 | DNR | DNR |
| 22 | Bill Young | 51.97 | 88 | DNR | DNR |
| 23 | Artie Clark | 52.13 | 00 | A-7 | 9 |
| 24 | Gordon McFaull | 52.30 | 33 | A-8 | 6 |
| 25 | Dan Blackwood | 52.22 | 71 | A-9 | 10 |
| 26 | Marc Weitzman | 52.37 | 57 | A-10 | 7 |
| 27 | Matt Blackwood | 52.51 | 00 | B-2 | 2 |
| 28 | Peter Smith | 52.64 | 111 | A-11 | 8 |
| 29 | Dave Germain | 53.07 | 68 | B-1 | 4 |
| 30 | Rick Ingram | 54.39 | 11 | B-3 | 1 |
| 31 | Curtis Jacobson | 54.42 | 77 | B-4 | 3 |
| 32 | Katie Ermakovich | 57.08 | 99 | B-5 | 5 |
| 33 | Jim Stuart | 57.56 | 11 | DNR | DNR |
| 34 | Mike Alexander | 59.24 | 11 | DNR | DNR |
| | | | | | |
Max Fulton Describes The Racing Action:
The middle qualifiers raced first. Tim Duhamel was improperly denied Pole Position as we thought there would be 12 cars in the fast group and he'd be twelfth. Instead, he slotted into the open car (4th) vacated by Graham Creswick. He then moved to the front and ultimately beat Eric Alexander by only 0.09 seconds! A good dice to the finish. Bill Guzman parked an ill-handling car #11 after just 3 laps. Fast lap of the race belonged to Merv Hagen in the #77, who posted a 49.6 while coming in 5th. Ficalora was 3rd, DeGroat 4th, then McFaull, Weitzman, Smith, Clark and Dan Blackwood rounded out 6th thru 10th.

The "least fast" group went out next, using the last 5 cars from the previous group. As karts were assigned in order as they were lined up, you got the luck of the draw. Rick Ingram took a "slow" kart (it hadn't broken 50 seconds all day) and made it work, getting to the front and then cruising to a 3 second win in an abbreviated race. The dice was for 3rd, with Curtis Jacobson just nipping Dave Germain by 0.34 secs at the finish. Fast lap of this race belonged to young Matt Blackwood who turned a 53.16 while coming home 2nd. Katie Ermakovich improved 2 seconds on her qualifying time, coming in 5th.

The Fast group featured some poor gridding. With only 11 cars left operational, the #11 kart was sitting "on pole". So, our hot shoe of the day, Pete Mantell (the only one to break 48 seconds!) got slotted into this car. Well, bad luck! Despite differences in size, Pete couldn't make it handle any better than Bill in the first race, and dropped back through the back to ultimately finish 9th in what he described as "The worst kart I've ever been in!"

On the opening lap, while Pete was still leading, he and Dale Knapke went wide in the hairpin. Ken Hiebert-who'd already passed Max Fulton after the green-then muscled through and set off into the lead. Max tucked in and followed. Flying up behind them was Carl Floyd in the very fast #88 kart. Carl kept gaining on Max and while Max was staying close to Ken, he wasn't able to make much of a move. (Ken faster down the straights, Max would catch him up through "the twisty bits".)

Going into the off-camber braking zone, Max gave Carl a "point-by", offering him the outside lane. Max drifted wide though and was furiously checking over both shoulders to make sure not to collect Carl, whom he was sure must be there somewhere. Well, he wasn't. Carl's overzealousness to get the pass had him locking up his brakes and spinning off! He would valiantly give chase again, but not get close.

Once Max realized he wasn't going to be passed, he set his sights on Ken again. The lead at one point was a solid second and in the fast group there weren't going to be any backmarkers to help slow Ken up! Ken kept checking over his shoulder down the front straight and Max was always there, but not that close.

In the final laps, Max got through the off-camber his best ever and really closed up the gap (turning his fastest lap in the process.) By the twisty bits, Max was right on Ken. Coming into the last twin-turn combination, Max got inside. They bumped in the final corner and kept neck and neck down the straight!

The Checker was out! It's waving! Who won? Max looked over and threw his hands up in the air, positive he'd seen a good 6" of Ken's kart in front of his and fallen short.

But, not so... apparently Max had won by the smallest margin: 0.01 second! A great race and wonderful end to a fun day.

The rest of the fast guys came through on the same lap, with Scott Costanzo coming in behind Carl with Les Schockey, Dale Knapke, Alex Mantell, and Jim Blackwood all managing to finish ahead of pole sitter Pete and Tony Andrews, who'd spun.
We Participated in Some More Tech Sessions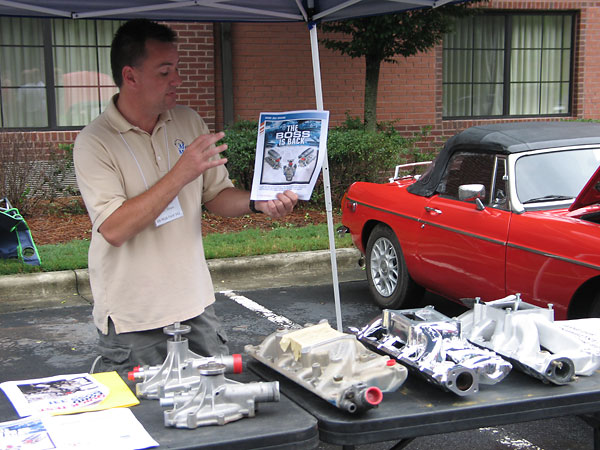 Pete Mantell: The Boss is Back.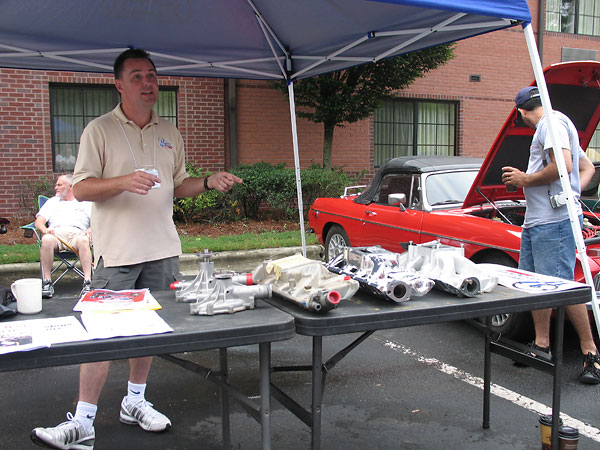 Pete is the proprietor of Mantell Motorsport.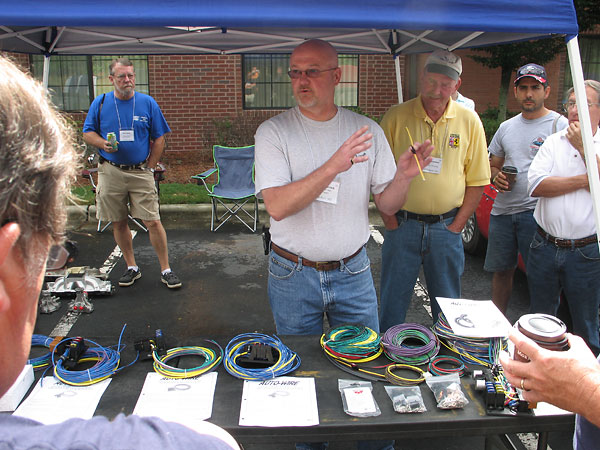 Steve Carrick explains new additions to the Advance Auto-Wire product line.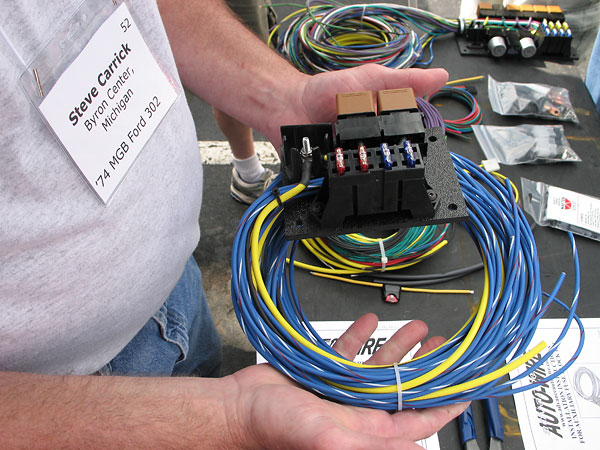 We Picnicked in Beautiful Umstead State Park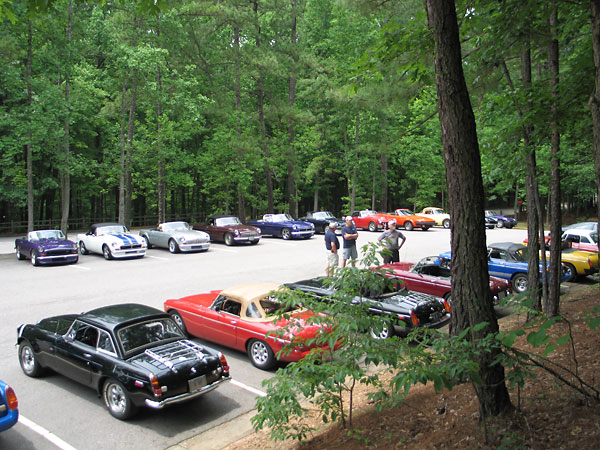 Umpstead State Park is so very, very, very green.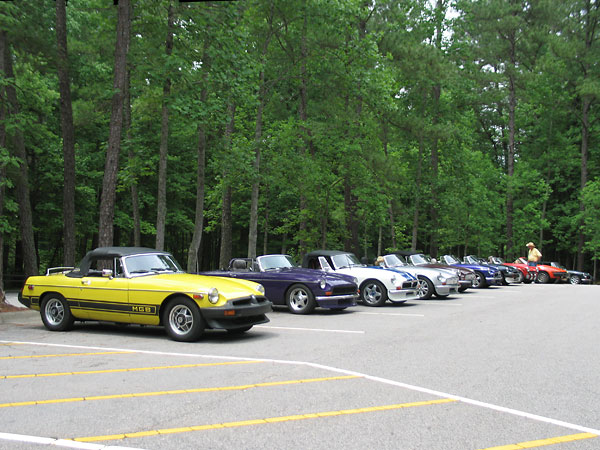 Jack Renaud's MGB has newly been updated with a Rover 4.6 litre engine.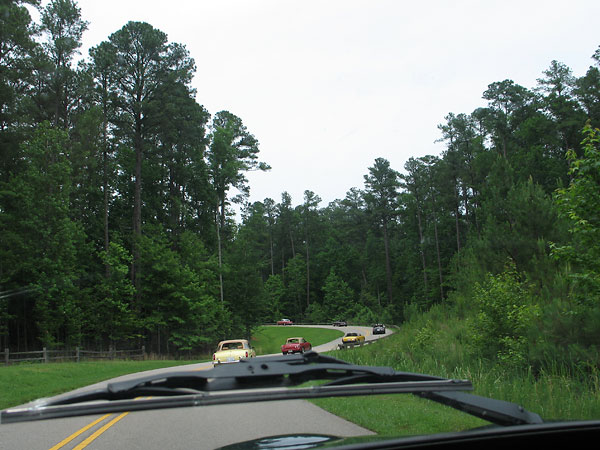 Mike Alexander (pale yellow MGB), Tony Andrews (red MGB), Jack Renaud (yellow MGB)...


We Toured Apex Vintage Racing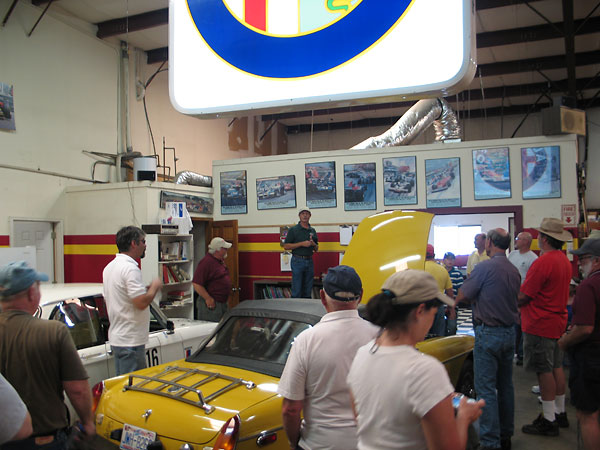 Apex Vintage Racing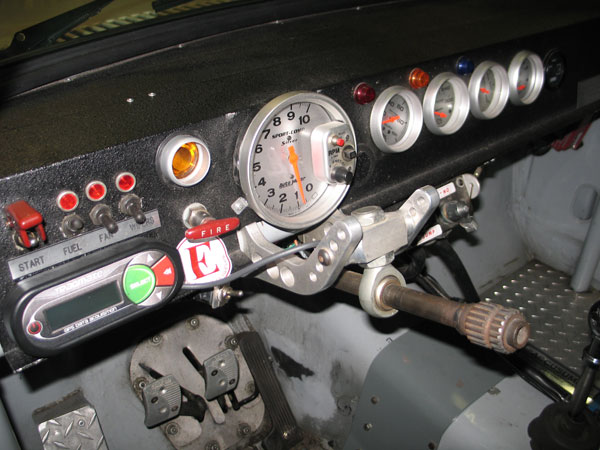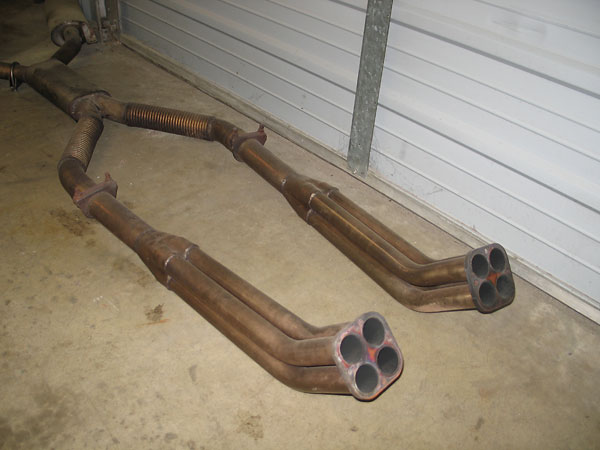 Are these magnificent, or what? Aston Martin "V8" header secondaries.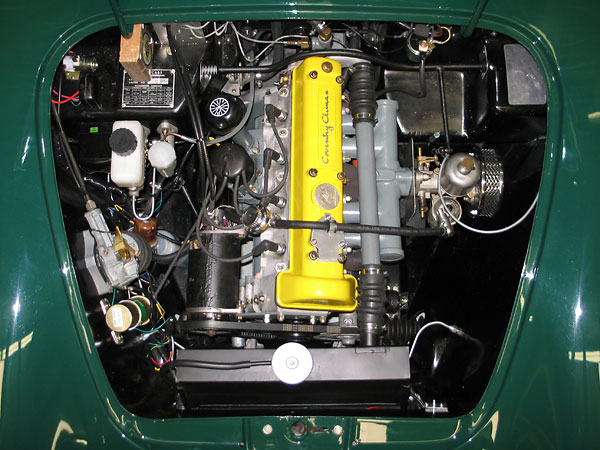 Lotus Elan, with its Coventry Climax engine. (What's up with that intake manifold? Eeeek.)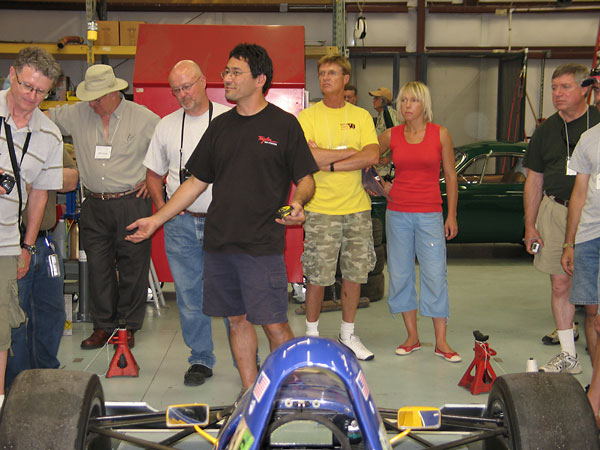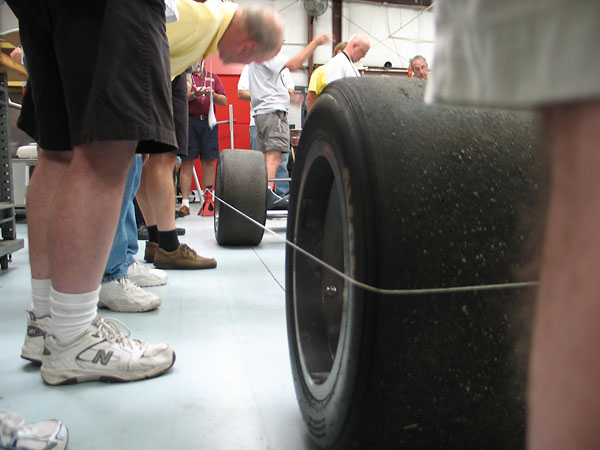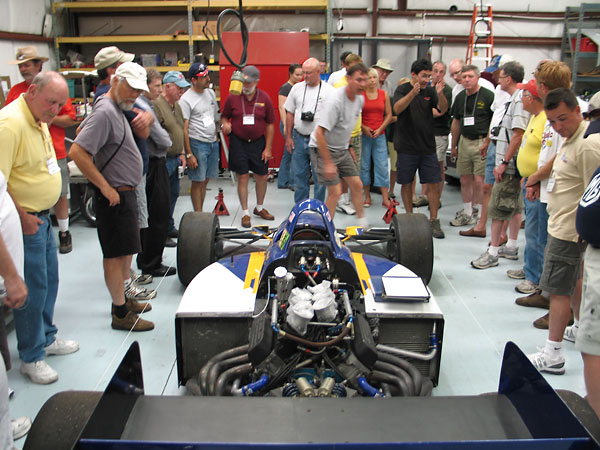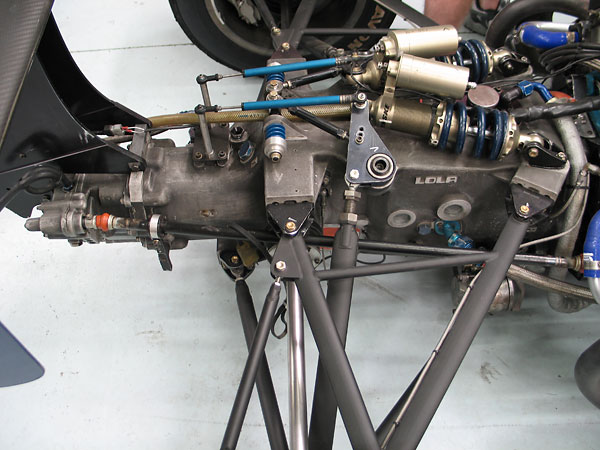 Lola "Indy Lights" car... (These were raced from 1993-2001. They used Buick V6 engines.)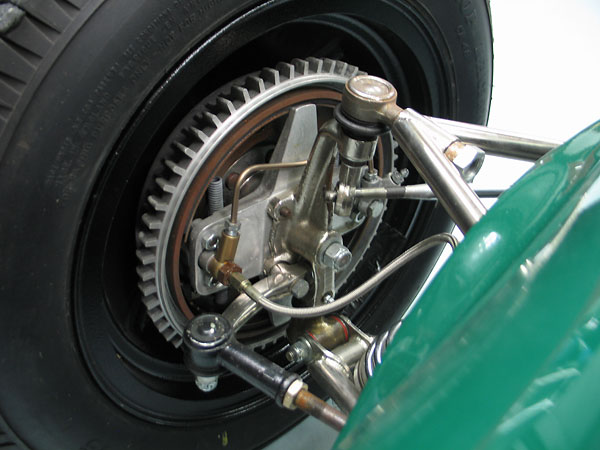 Lotus 18 Formula Junior (with essentially the same forged front uprights as a Triumph Herald.)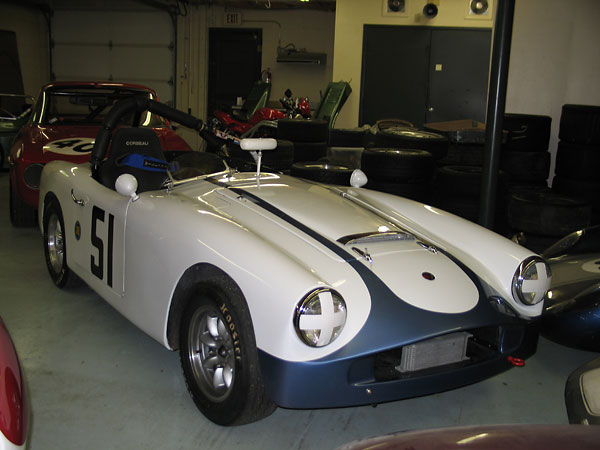 Turner didn't make a lot of cars but the one's they made were lightweight, stiff, and quick!


We Closed With a Banquet and Auction at Four Square Restaurant in Chapel Hill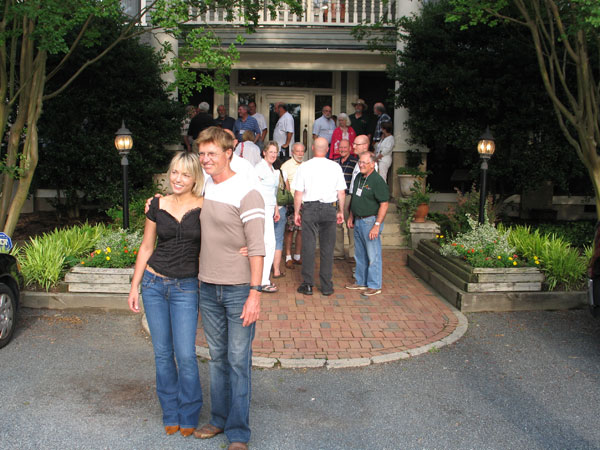 The lovely young couple poses for a photograph.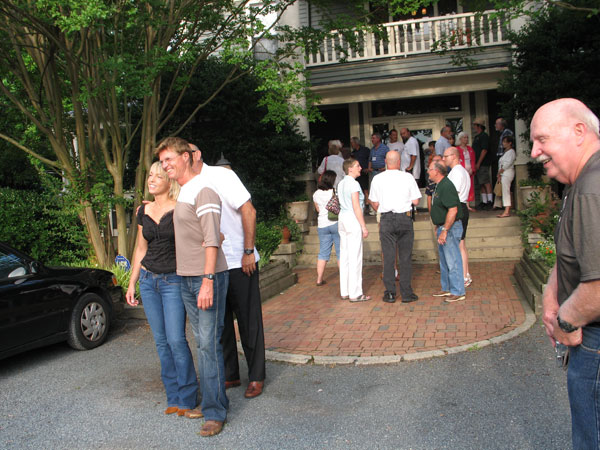 Silently, a stranger sneaks stealthily up behind them.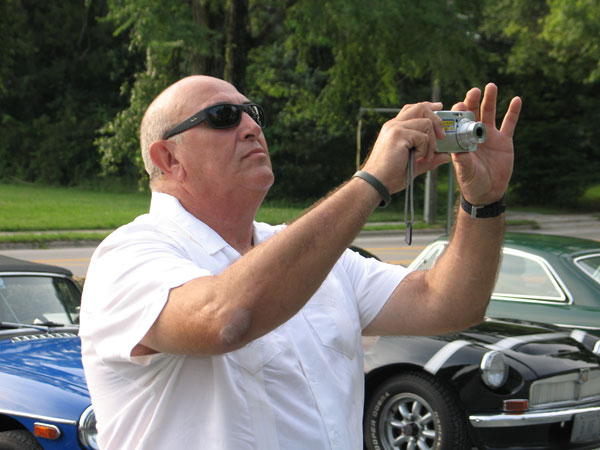 After the big laugh, that "stranger" pauses to take his own snapshot of Ken and Katie.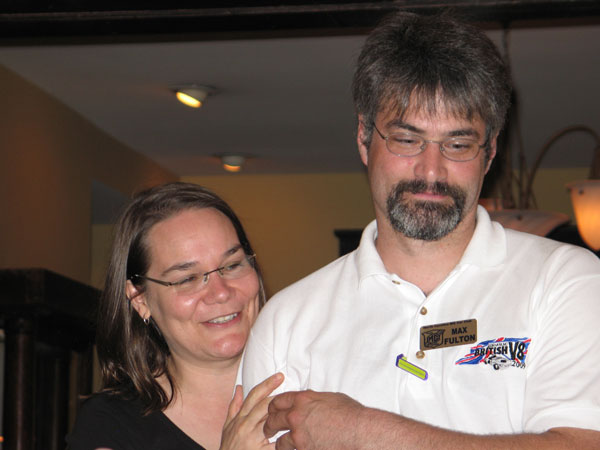 Max and Emily - our gracious hosts and hostess - relax as a wonderful party begins to wind down.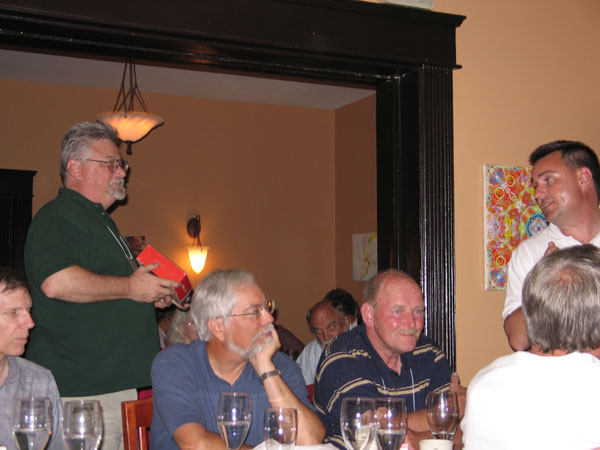 A BritishV8 tradition: an auction to raise seed funds for next year's meet.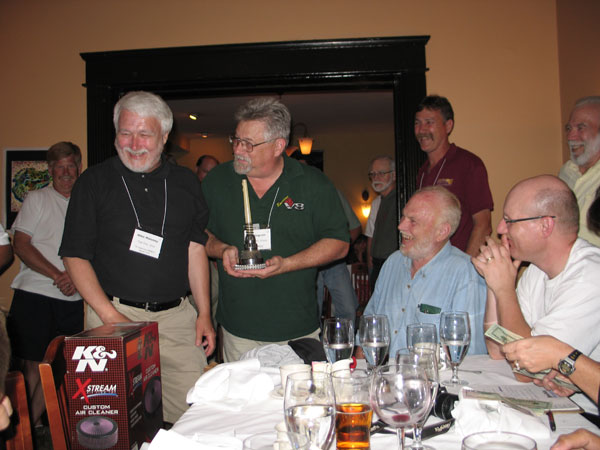 Apparently Mike Maloney just bought some lovely home decor items... made from auto parts.
It's all for a good cause, of course.


Disclaimer: This page was researched and written by Curtis Jacobson. Views expressed are those of the author, and are provided without warrantee or guarantee. Apply at your own risk.
Photos by Curtis Jacobson for BritishV8 Magazine. All rights reserved.