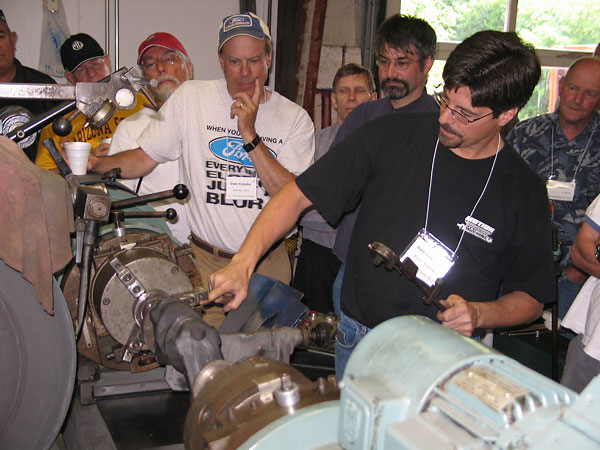 Dale Spooner's Motion Machine machine shop in Danville Virginia
by: Larry Shimp
During BritishV8 2009, we took a group tour of Dale Spooner's Motion Motion automotive machine shop. This shop has state of the art equipment capable of producing the fine tolerances needed to build reliable racing engines. Extra precision may not be as important in a street engine, but it doesn't hurt either.

Dale prepared demonstrations of each of the major types of machining operations to show just what is involved. Hopefully, the information will help us to evaluate local machine shops before trusting our engines to them. Of course, engines and parts can always be sent to Dale.

In addition to the machining demonstrations, coffee and pastries we served at the start followed by a hot lunch at the end. It was a very well spent morning.

The following snapshots show just a portion of what we saw and discussed.


Crankshaft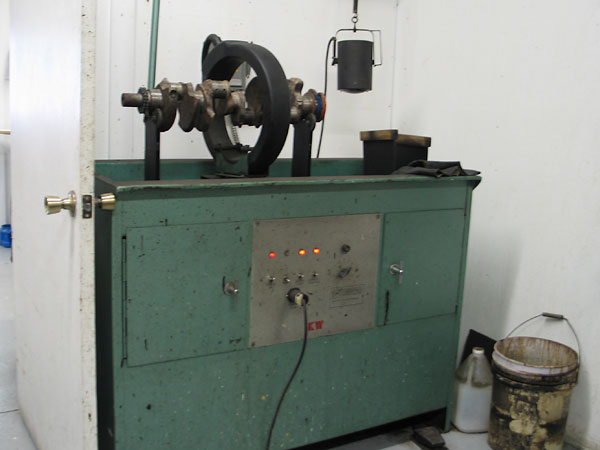 The Magnaflux machine is used to check for cracks. Its coil is magnetized and moved over the item
to be checked (such as a crankshaft, as shown here). Magnetic powder collects at cracks because
the cracks disrupt the induced magnetic field in the object. This only works on ferritic materials
Non-magnetic materials like aluminum must be checked with other methods, such as "Zyglo".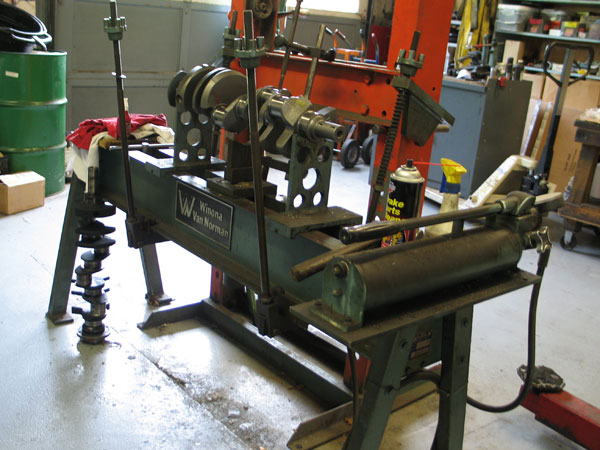 Winona Van Norman crankshaft checking and straightening fixture, with bent crankshaft in place.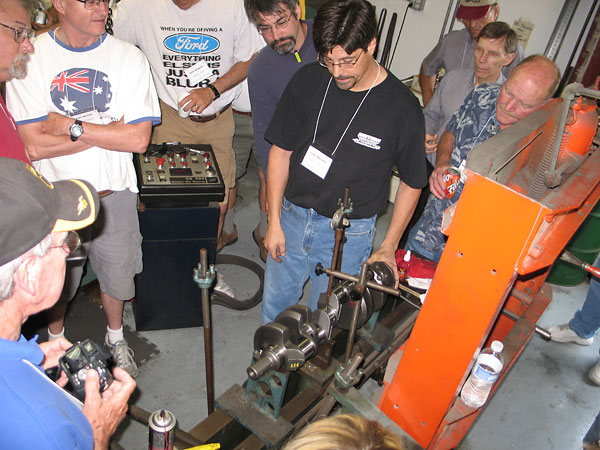 Turning shaft to measure "wobble". A badly bent shaft will turn hard or unevenly in an engine. This can
be checked with the main bearings bolted down and the rods not attached. Another cause for these
symptoms is misaligned main bearing bores. Even if the crankshaft turns freely, it should be checked
anyway because there could be minor bending that is accommodated by the bearing clearances.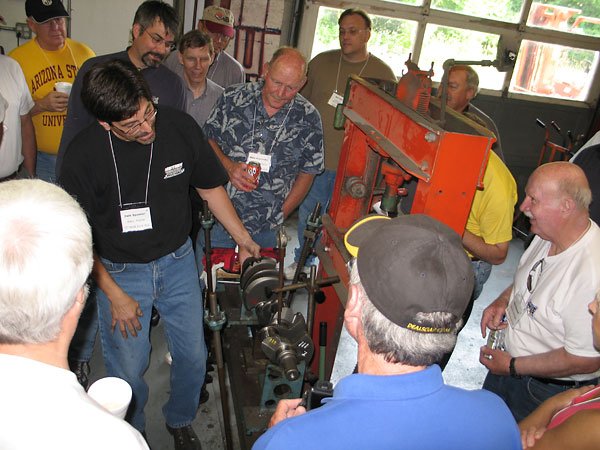 Putting the high spot on top.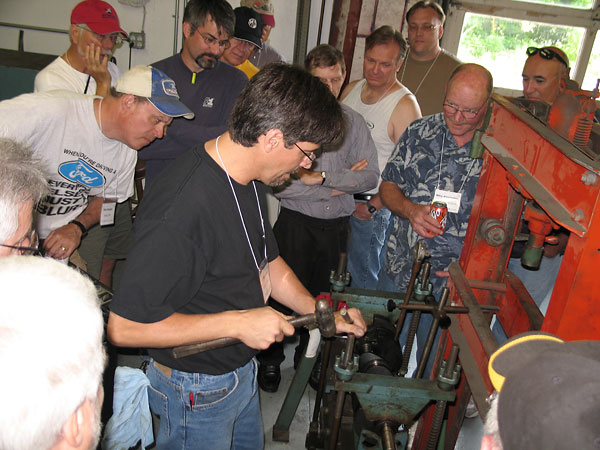 Hitting the high spot with a hammer and drift to straighten the crankshaft.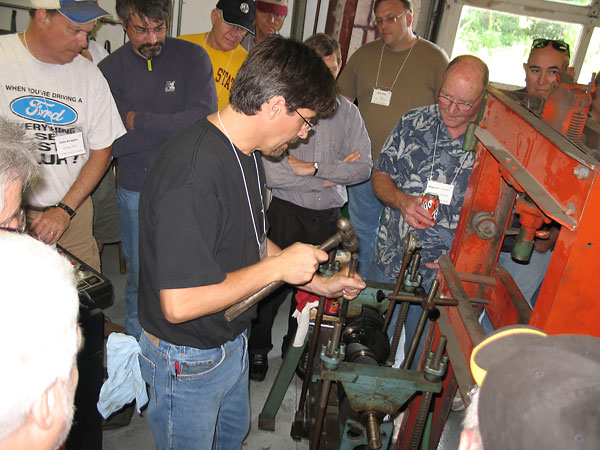 Another view of hammering on the high spot. After one round of hammering, the crank was within a few
thousandths of straightness. At this point, it could possibly have been installed and used, except that
this particular crank had severely damaged journals due to previously spun bearings and a thrown rod.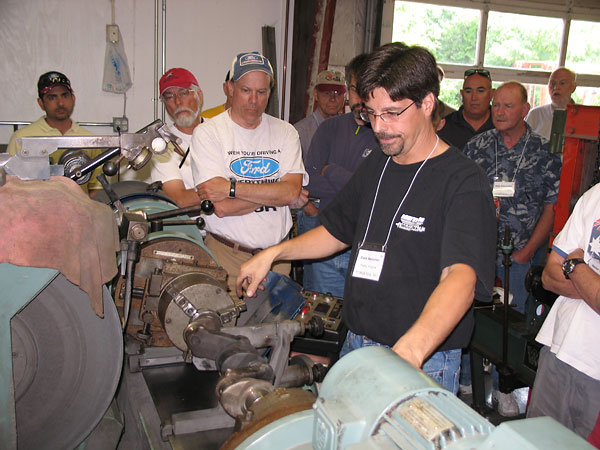 Crankshaft mounted on the Winona Van Norman CG250 crankshaft grinder.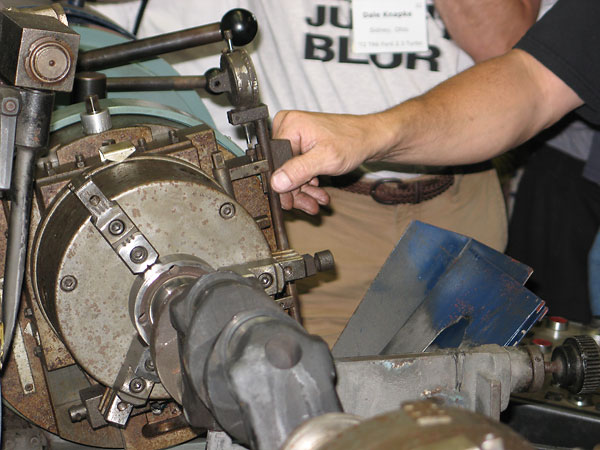 Indexing chuck. This chuck allows the rod journals to be moved to the center of rotation
of the lathe. The offset distance and degrees of rotation can be precisely controlled to
bring the journals into precise alignment, and even-out the stroke on all cylinders.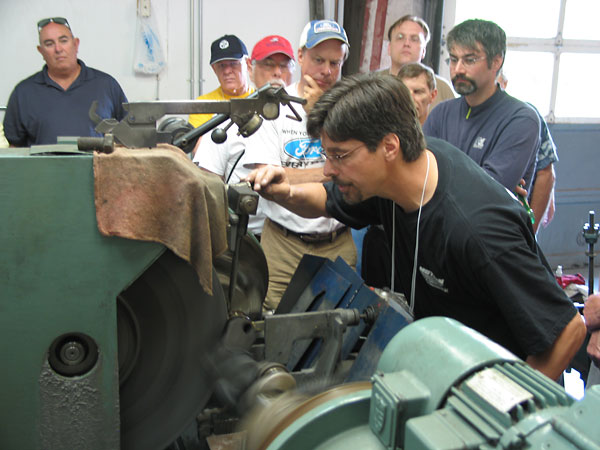 Grinding the crankshaft's bearing journals.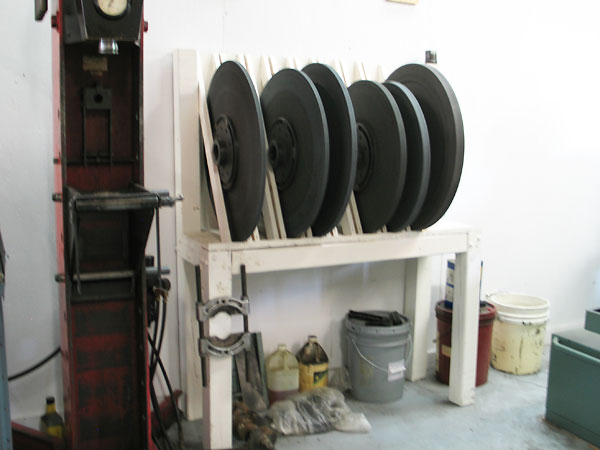 A variety of grinding wheels are needed to suit various widths of crankshaft bearing journals.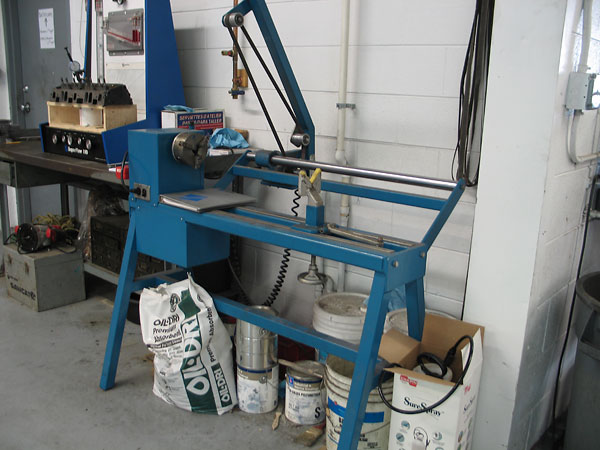 Journals are further polished using very fine abrasive belts.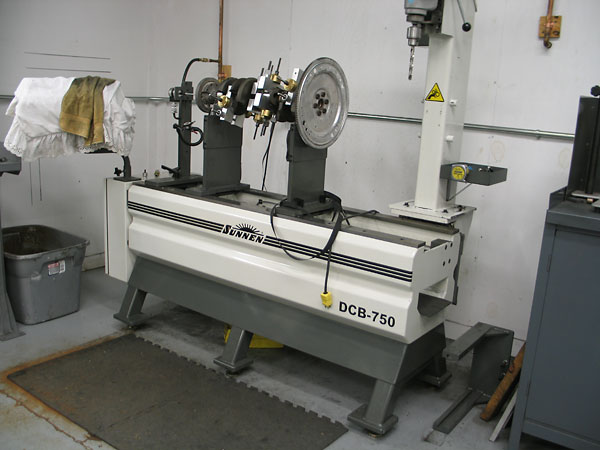 Sunnen DCB-750 computerized digital crankshaft balancer.
The crankshaft and flywheel are installed with weights that duplicate the
combined rod-and-piston weights. It works like a wheel/tire balancing machine.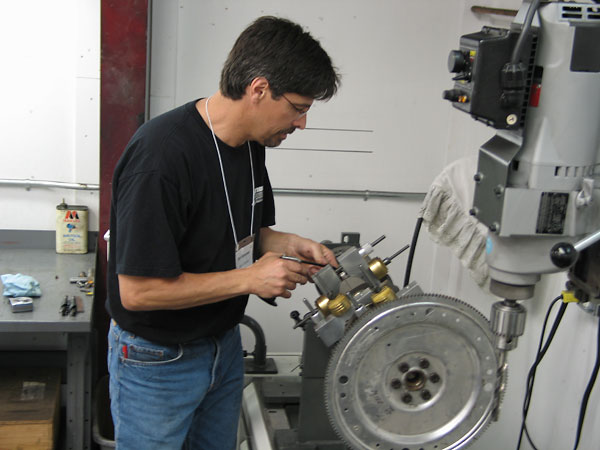 Oiling a journal under a weight assembly. The weights remain in vertical alignment while the crankshaft turns.


Enjoying this article? Our magazine is funded through the generous support of readers like you!
To contribute to our operating budget, please click here and follow the instructions.
(Suggested contribution is twenty bucks per year. Feel free to give more!)
Engine Block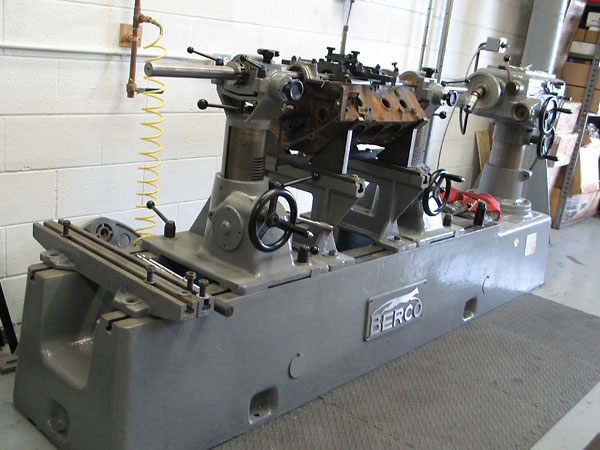 Engine block work starts with line boring or align honing because the set-up for
other machining operations reference the bearing journals. They need to be accurate!
This is a Berco S.p.A. (Italian) line boring machine.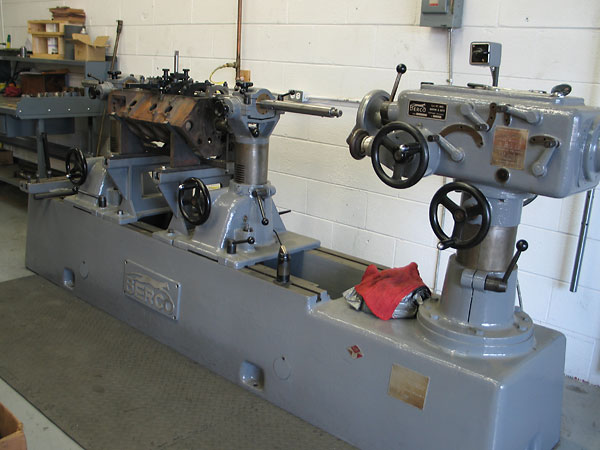 An engine block has been mounted on the line boring machine. The boring bar is in place, ready to be
connected to the boring drive head.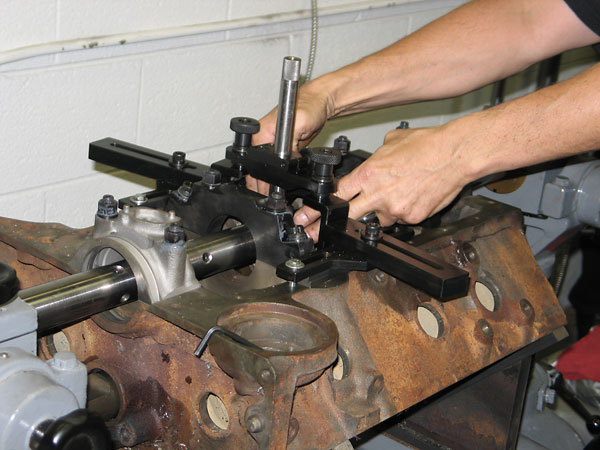 Close-up view of main bearing cap that is to be bored to match the seat already in the block.
Boring bar guides are in place.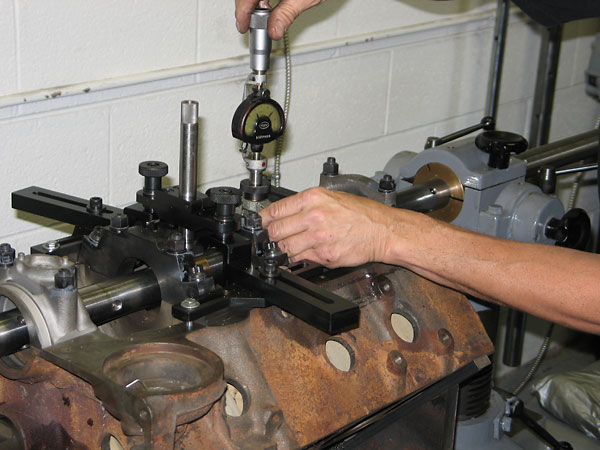 Measuring alignment.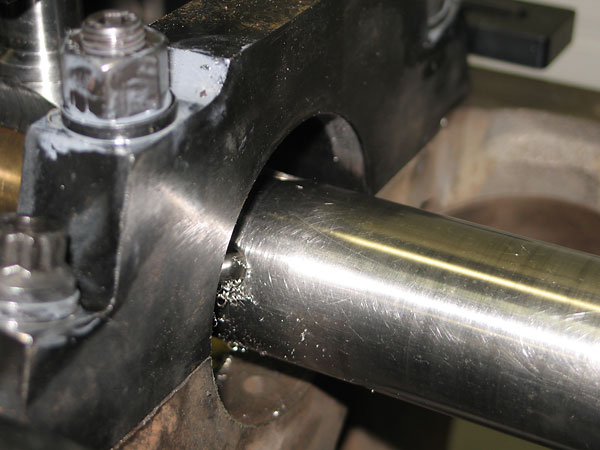 Close-up view of bearing cap being bored.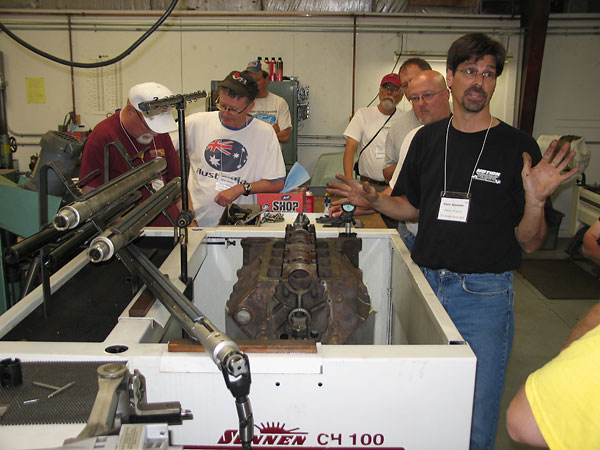 Sunnen CH100 align honing machine can be used instead of the line boring machine if the bearing
seats aren't badly misaligned, or for putting a final finish on bearing seats after boring.
Honing bars self-center themselves in the bearing journals.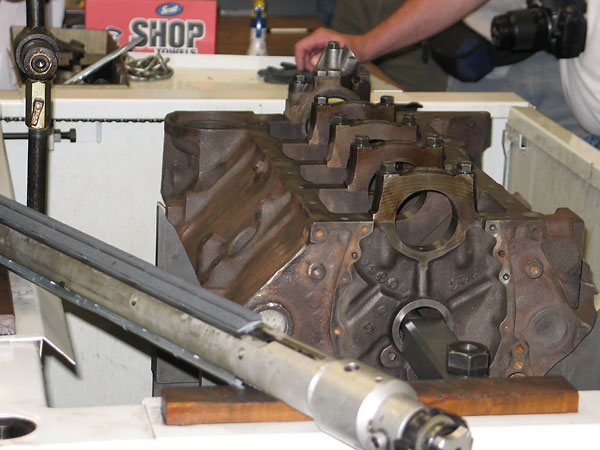 Close-up view of the honing stone.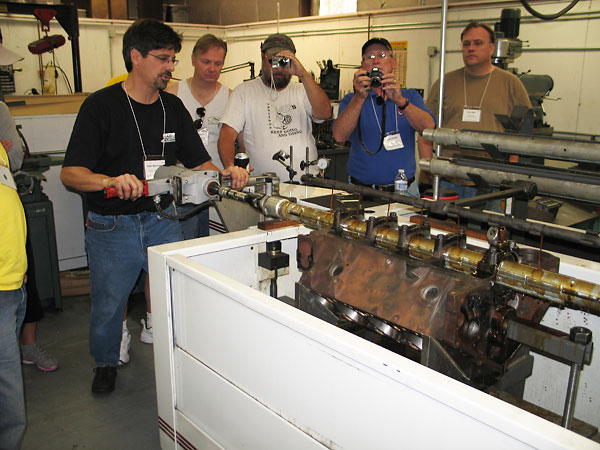 Bearing seats being honed.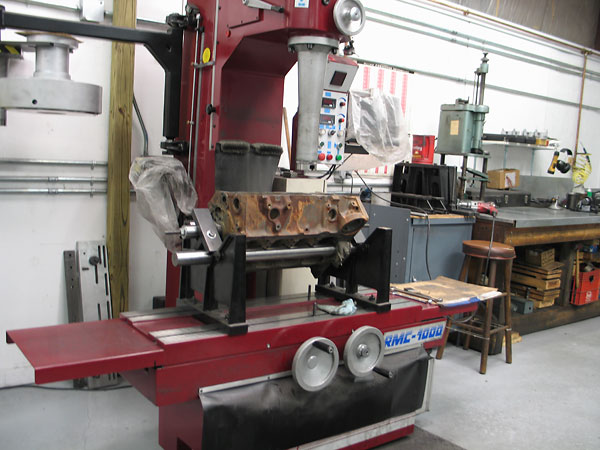 RMC-1000 cylinder boring machine with power column, auto table feed, and electronic bore centering.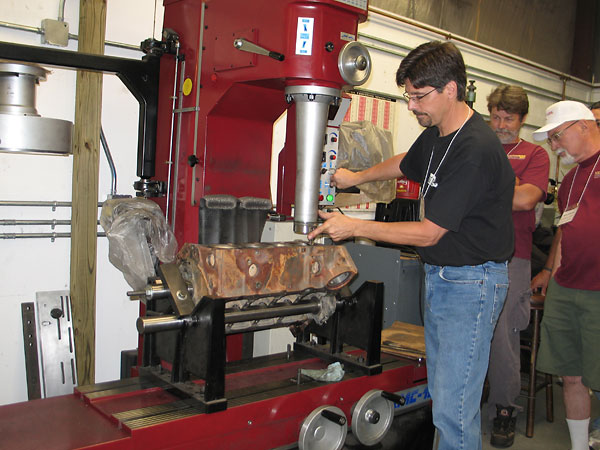 Another view, showing close up of boring bar.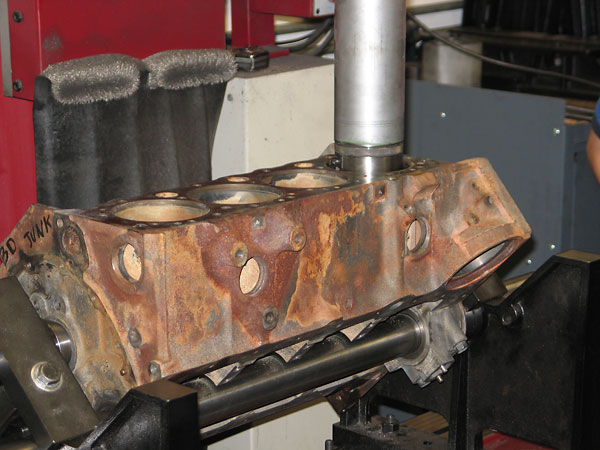 Cylinder boring operation in progress.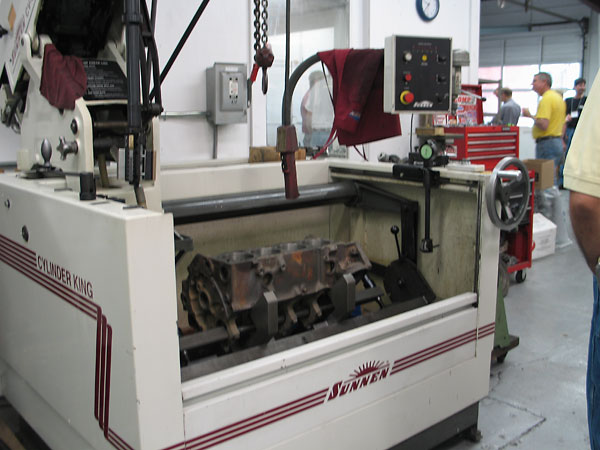 Sunnen CV-616 Cylinder King vertical honing machine. Honing is carried out after boring to provide
the final finish. The finish varies depending on the type of piston rings being used.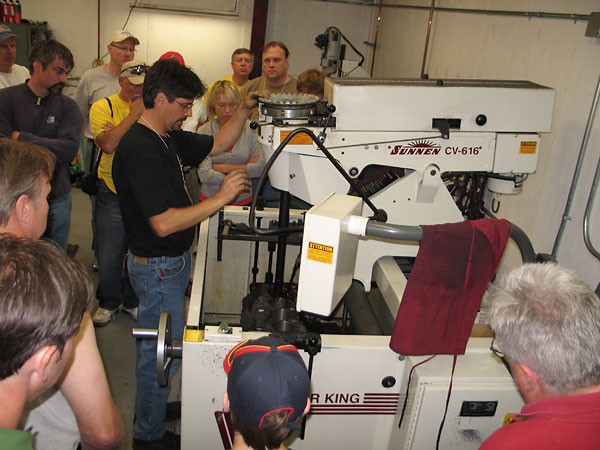 Cylinder honing in process.


Cylinder Head and Valves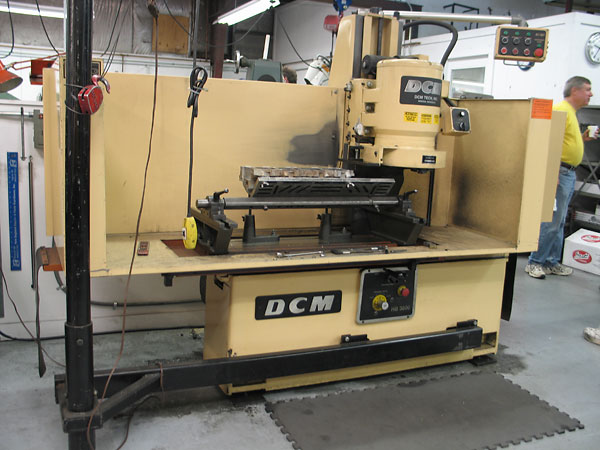 DCM Tech surface grinder. Surfacing a head removes warpage and "slope".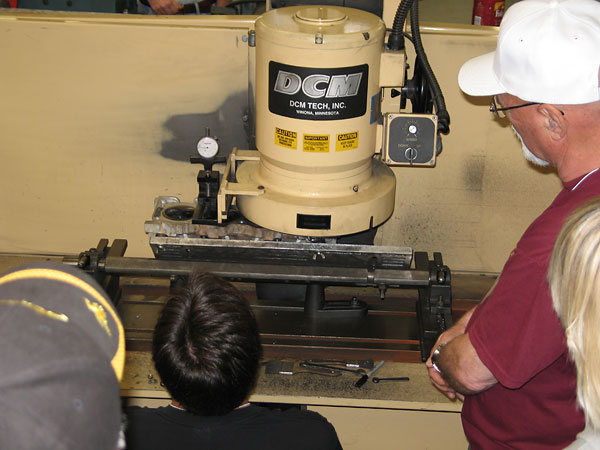 Measuring the slope of the cylinder head.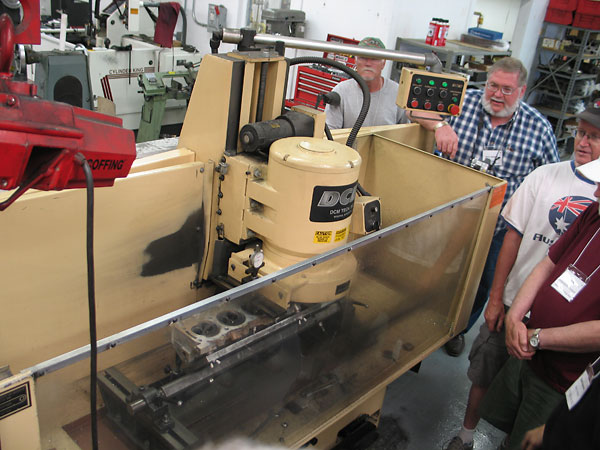 Surfacing in progress.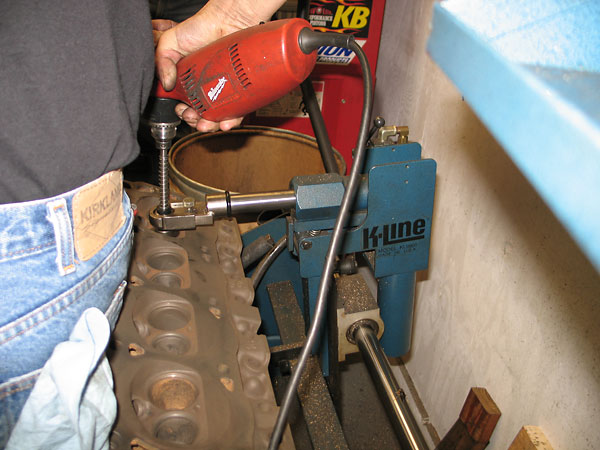 Boring valve guides. This head has cast in valve guides that must be bored out for a liner to be
inserted that will to correct the guide wear. An alternative is to bore the guides out even more
and put new guides in, but the liners actually work better. In this operation, the head is held
in a fixture and the boring tool is guided by another fixture on the machine bench.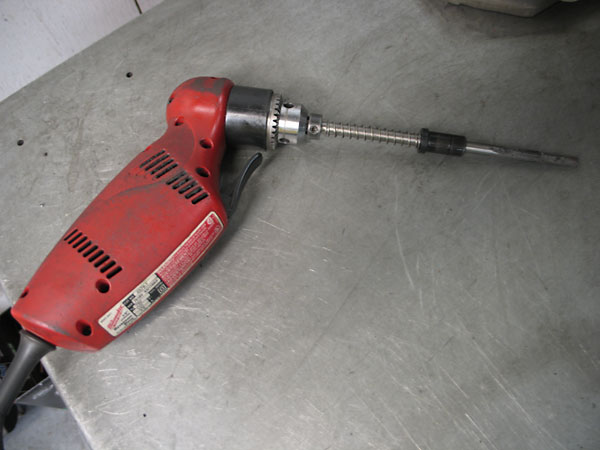 Close-up view of the valve guide boring tool, powered by an ordinary Milwaukee drill motor.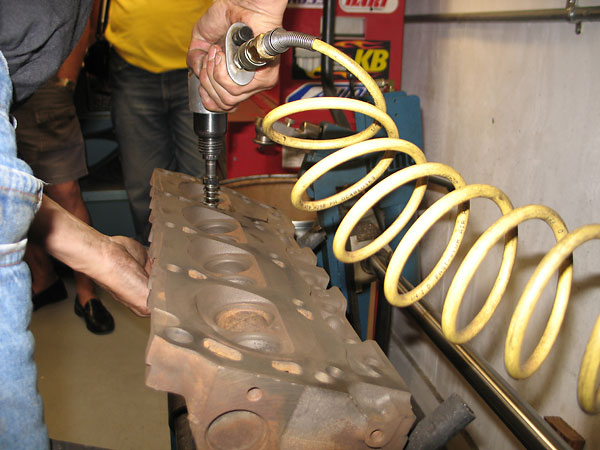 Some machine shops knurl worn valve guides to reduce clearances. Dale warned us that this is a poor idea;
if it works at all, it only lasts a few thousand miles. To repair the guides, Dale recommends thin-wall
phospher bronze liners be inserted and honed to correct guide wear as illustrated here.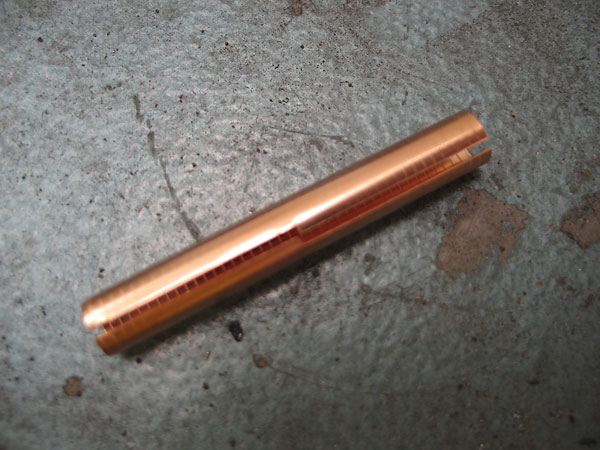 K-Line interrupted spiral guide-liners as supplied, ready to use.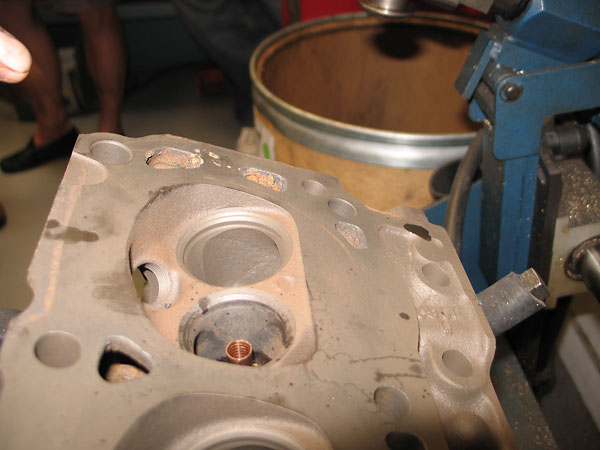 Valve guide liner pressed in place. It now needs burnishing to its final diameter.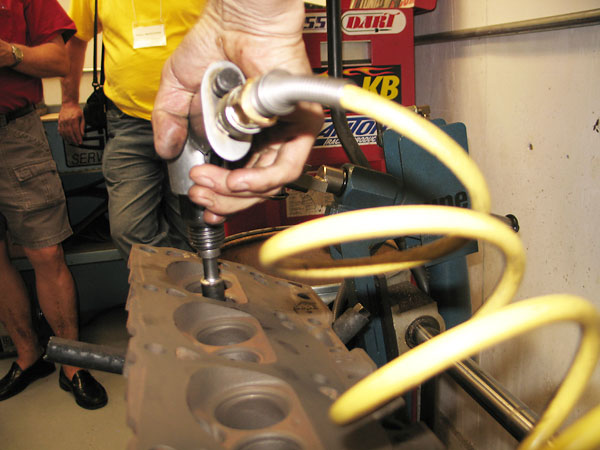 Valve liner burnishing operation, in process.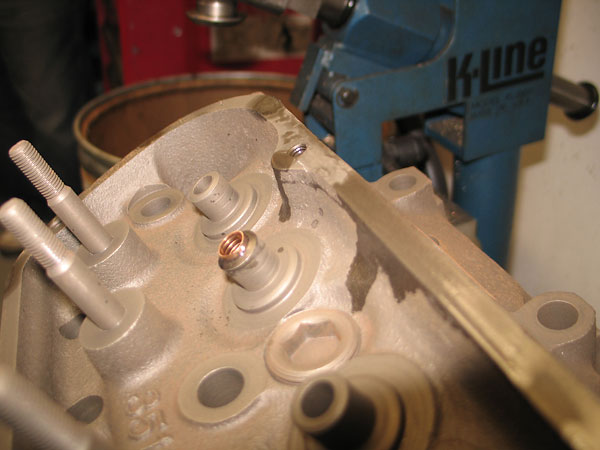 Finished guide, ready to cut to length with a special tool.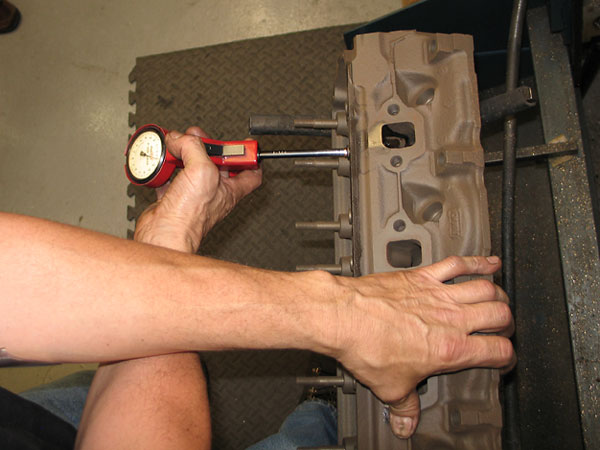 Checking guide bore. It should have a slight taper to account for differential thermal
expansion when the engine is operating.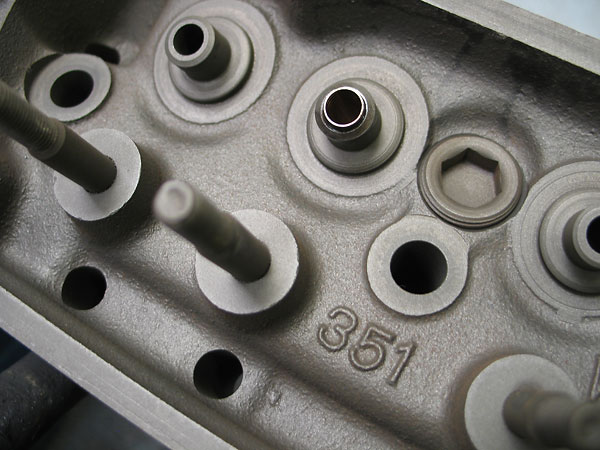 Finished!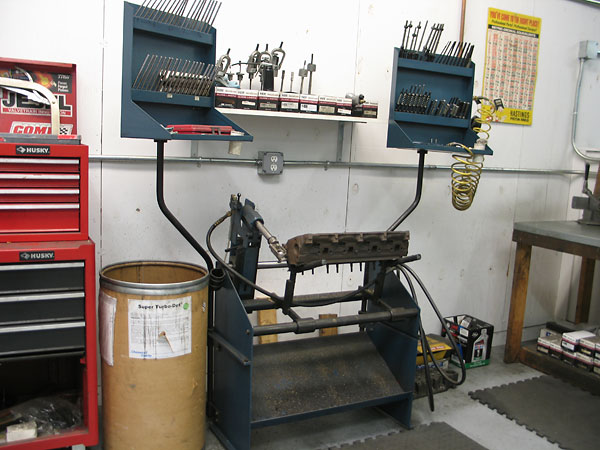 General view of valve guide bench.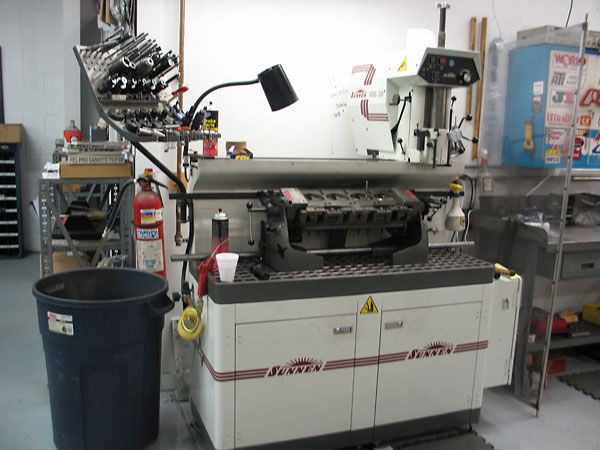 Sunnen VGS-20 valve guide and seat machine. The valve guides must be machined first because they
define the position of the valves.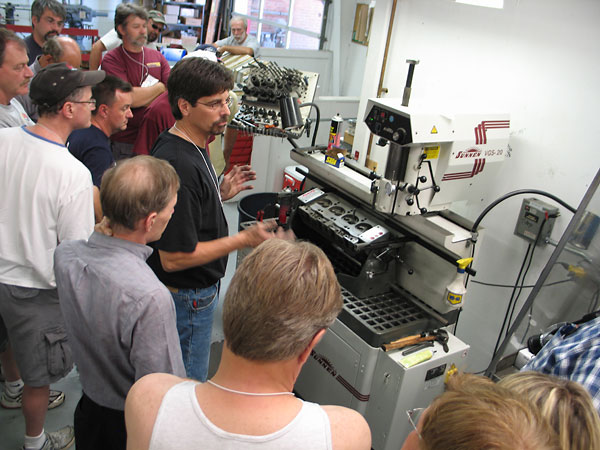 Valve seat grinding, using valve guide as the reference point. Various cutters are used
to give multi-angle valve seats. Three-angle seats are good; five angle are better.
The graduated angles help to improve gas flow through the seat area.


Disclaimer: This page was researched and written by Larry Shimp. Views expressed are those of the author, and are provided without warrantee or guarantee. Apply at your own risk.
Photos by Curtis Jacobson for BritishV8 Magazine. All rights reserved.