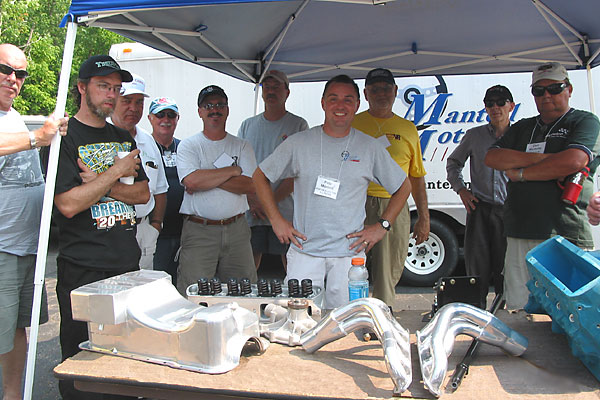 Pete Mantell's tech session on MGB Ford 302 engine conversions was very well-attended!
British V8 2007 Tech Session: MGB Ford 302 Engine Conversions
as published in British V8 Newsletter, Volume XV Issue 2, September 2007
presented by: Pete Mantell of Mantell Motorsport
coverage by: Curtis Jacobson
The purpose of Pete Mantell's tech session was to introduce and discuss a few Ford 302 V8 related components that will make MGB engine conversions easier.
This was a continuation of a discussion from last year, which you can read about here:
MGB Ford 302 Engine Conversions
.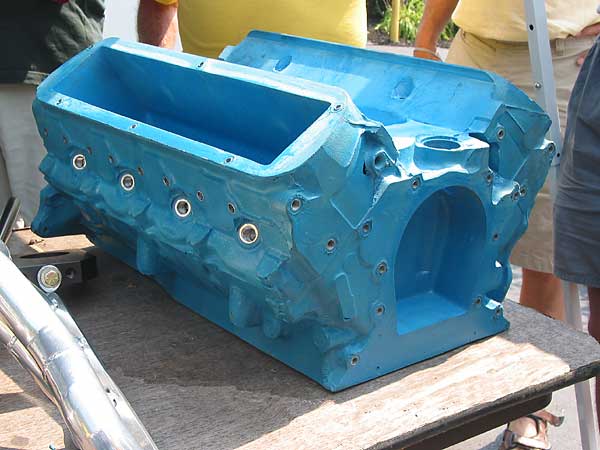 Pete highly recommends using a P-Ayr Products Inc. plastic replica engine block
because it facilitate quick and easy mock-ups and set-ups. They normally retail
at about $300, but occasionally are available at a substantial discount.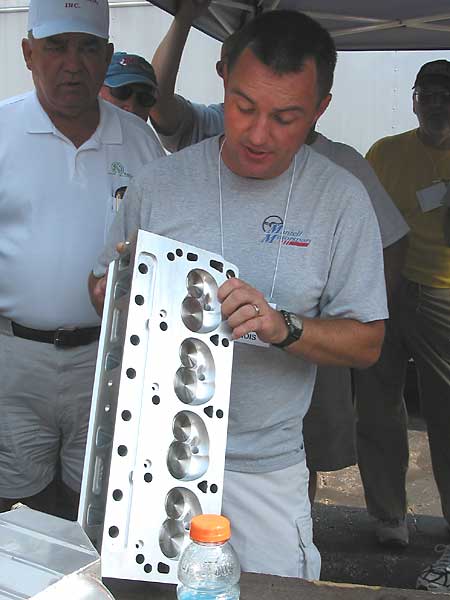 Airflow Research (AFR) small block Ford "Outlaw Race" (205cc) aluminum cylinder heads.
These CNC-machined beauties are about a seven month wait, but they're worth it for their
combination of weight savings and improved flow. Pete pointed out that you need to know
your cam specs before you order because AFR will install valve springs to match your cam.
Budget about $1850 if you want these.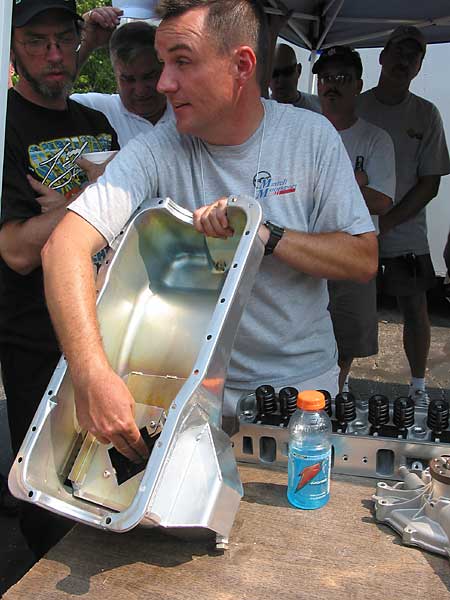 Pete demonstrated a Canton Racing Products oil pan, and showed how its trap-door
baffles, runners, and windage tray work together to direct oil to the pickup.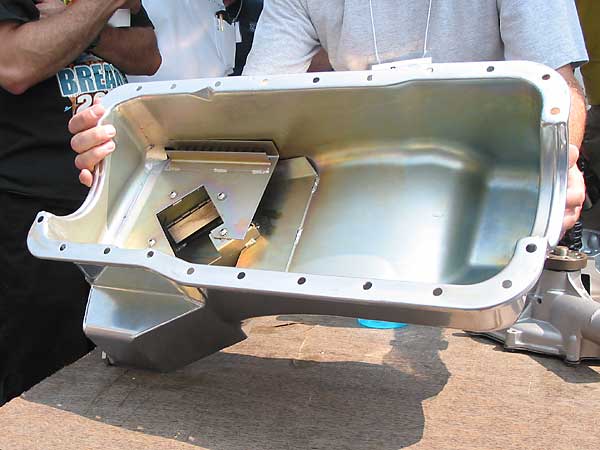 Another view of those oil pan baffles... This Canton oil pan also provides greater (7 quart) oil capacity.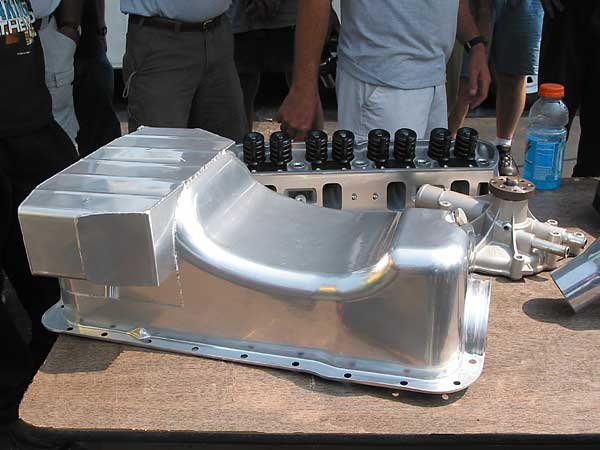 Pete powder-coated this oil pan in a single-stage "Reflective Chrome" finish.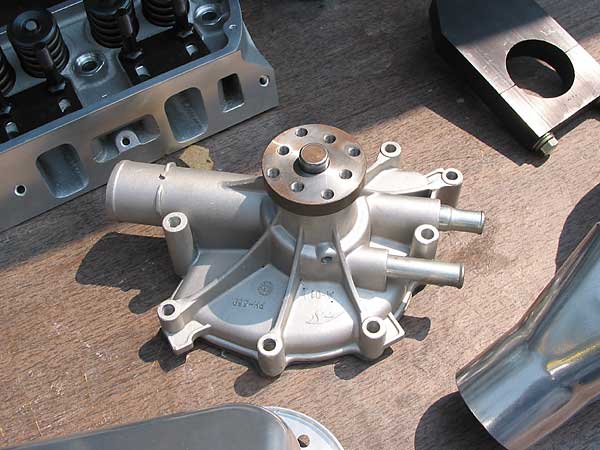 Ford shortie water pump... available in serpentine or v-belt versions.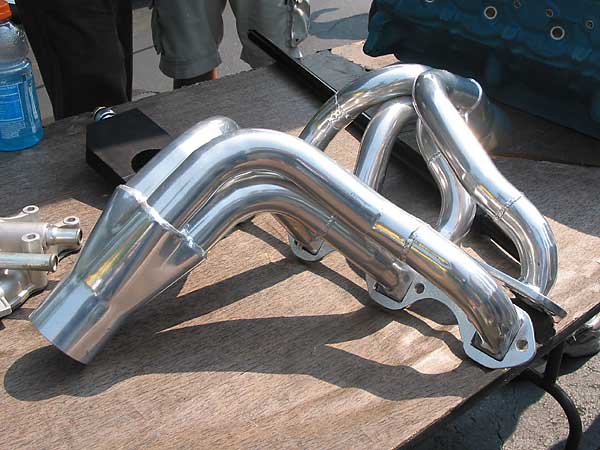 Pete has several pairs of Coyote four-into-one RV8-style (through the fender)
headers available for MGB / Ford V8 conversions.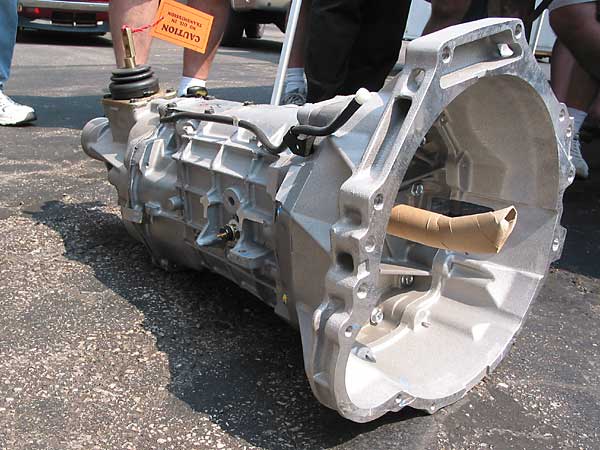 Tremec T56 6-speed (side view) provides two overdrives (0.82 & 0.62), but keep in
mind that T56 boxes are heavy! (They weigh about 125 pounds, vs. about 75 for a T5.)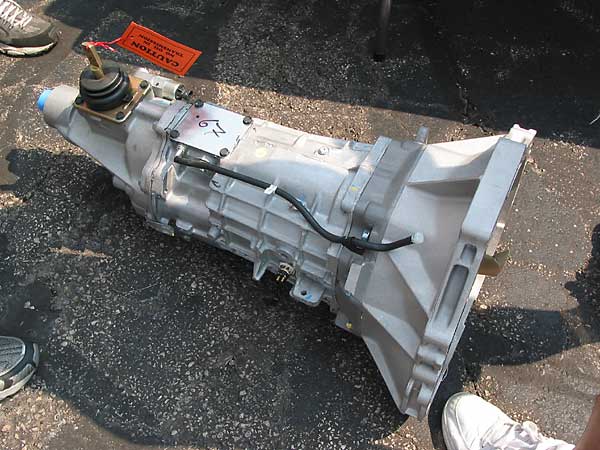 The Tremec T56 6-speed (top view) is expensive too. It's about $3000, vs. about $1800 for TKO-600.
These photos don't quite communicate how wide the T56 transmission is either.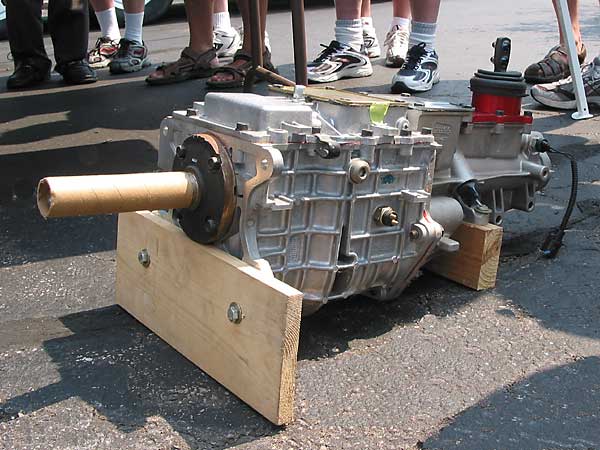 This is a Tremec TKO-600, which is a heavier duty version of the T5 5-speed. It's rated
at 600 foot pounds of torque. That's roughly three times the T5's torque rating. On the
other hand, it weighes about twenty pounds more (i.e. 95 pounds vs. 75 pounds.)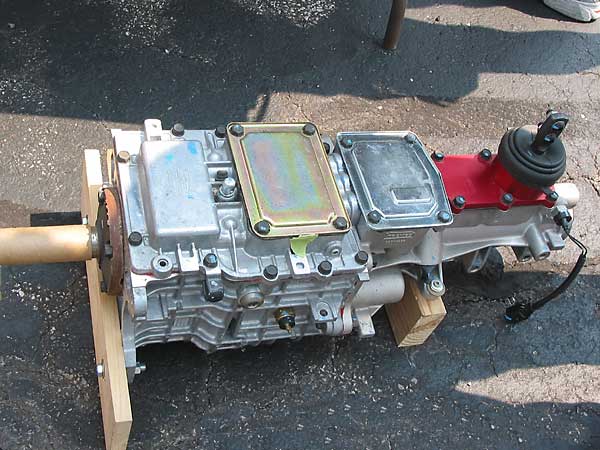 This Tremec TKO-600 has a 0.64:1 overdrive fifth gear. It uses GM Synchromesh fluid.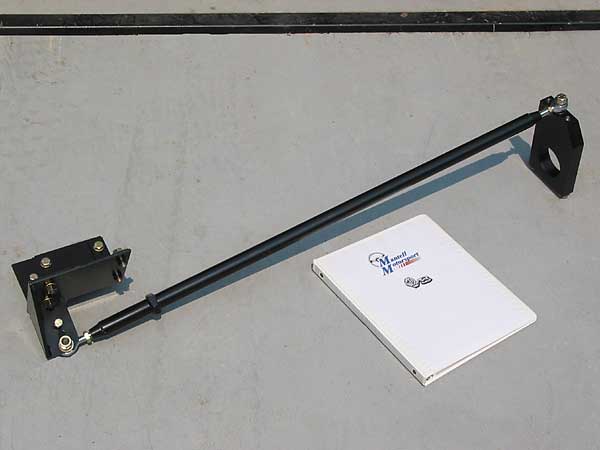 Doug Jackson has retired, and is no longer making Panhard rod kits for MGB. Pete has bought up his old stock,
and will be offering them for $295 (or $395 for a wire-wheel axle). They'll fit narrowed S10 or 8" Ford axles too.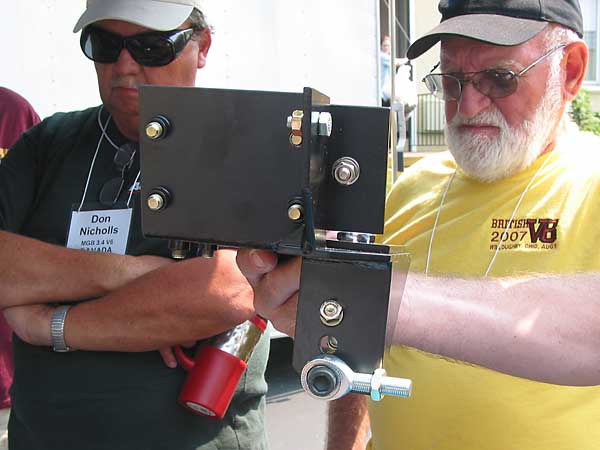 Chassis bracket for MGB Panhard rod system.

Disclaimer: This page was researched and written by Curtis Jacobson. Views expressed are those of the author, and are provided without warrantee or guarantee. Apply at your own risk.