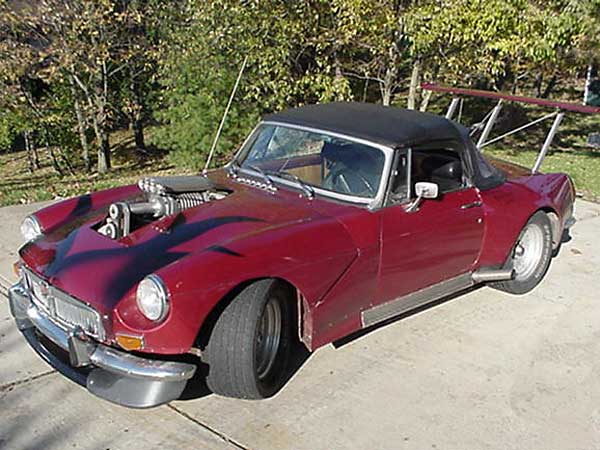 Jim Blackwood's 1971 MGB V8 Roadster
The British V8 Newsletter, Volume XV Issue 1
by: Jim Blackwood, Blackwood Labs LLC
The Four-Cylinder Days
I began this write-up using the British V8 submission sheet but considering the unique character of the vehicle and the path it has traveled I felt a bit of literary license was warranted.
My car was ordinary enough in the beginning. It was a standard North American spec red MGB convertible, but by the time it reached me the car had already differentiated itself. It had acquired a racing history.
The racing was not at all what you would expect from an MG, as it had run on the dirt tracks of southern West Virginia. I don't know with what success, but the remarkable thing was that it hadn't been beat up as you might expect though it had been repainted about a year before I bought it due to minor dings and deterioration of the original paint. The carpet was gone, the seats were worn and the car had about 50,000 miles on it. We pulled the engine, installed new bearing shells, and serviced the clutch. Overall it was sound.
After paying the princely sum of $1100 for it, I swapped in the lowered suspension of its twin (which was ultimately to be a parts car) including a GT sway-bar, Delrin(tm) bushings and competition shock valves. I was ready to head off to Los Angeles, stopping for a couple months in Florida and reinstalling lever arm shocks in the rear along with oversized U-bolts on the axle. (Ride quality improved noticeably.) With a short stop in Louisiana to replace a bad U-joint and a brief visit in Texas to see my young son and ex-wife, I was soon on the west coast.
In LA I de-arched the rear springs and added a leaf, bringing the car down level and stiffening it, and then using a pair of shortened front wire wheel hubs, cut off the flange and welded on a new one drilled for a 4-1/2" 5 lug pattern. To these I mounted Mach-I Mustang ventilated rotors, 14 x 8" Cragar SS wheels and 265/50-14 BFG radial TA's and mounted the Mustang calipers using a bracket I welded up and machined out of steel plate.
To get the back to match, I used a pair of wheel adapters, figuring I would either change the axle out later or make up new rear hubs. (Note: a couple of years later I made and fitted a new set of axle flanges similar in construction to the front hubs. The gears finally started making noise after driving The Tail of the Dragon during the 2003 British V8 meet so I swapped those axle shafts into the replacement axle. I had been planning on a Currie 8" Ford axle with limited slip differential and disc brakes, but they didn't have a suitable brake package (I wanted discs with an integral parking brake) and besides, I didn't have the money.
In order to fit the rear tires, the fenders needed to be modified and as the only appropriate tool I had to work with was a cutting torch that's what I used, which left a rough edge and turned the paint yellow where the flame hit. In this condition, I next headed east up into Utah, visiting friends for a few weeks through Christmas and then headed over Vail Pass on the leading edge of a huge winter storm.
Knowing the storm was coming, I stopped at Checker Auto in Provo and bought the biggest set of tire chains they had, and then shortened them to fit the rear tires. About a quarter way up the mountain range the wisdom of this foresight was proven. With several inches of snow accumulated, I pulled over and put the chains on. On up the mountain we went. Eventually I hit interstate and as we neared the summit I was keeping up a steady pace driving along two ruts in the snow in the slow lane, the snow dragging on the bottom of the car constantly and passing lumps in the fast lane which I figured to be cars that stalled, though you really couldn't tell.
At one point there was a hitchhiker out in the middle of nowhere and I stopped and gave her a ride, but when we got to Vail conditions were so bad that I stopped in the traffic lane rather than risk not being able to get started again. Luckily that didn't get me stuck and I was soon headed down the mountain into Colorado, once again back to the front of the storm with the snow turning to rain and then finally stopping altogether. I was the last car down the mountain that night before they closed down the highway!
I had the entire highway all to myself coming down the mountain into Denver. As you might imagine for a guy who dearly loved drifting the turns, I was having quite a time. (The chains were back in the trunk of course.) Developing a miss, I drove into Denver looking for a set of points for the Mallory dual-point distributor I had installed a month or two earlier but it being very early in the morning no parts places were open. So pulling back on the interstate I hoped to drive awhile and then get parts.
Mistake! The engine quit and I had to stop. It was cold, and I mean really cold. It was clear to me that the only reasonable chance I had at survival was to fix the distributor and I wasn't going to get any extra chances at it before my fingers got too numb to use. So using every means at my disposal to conserve warmth, I climbed out and quickly removed both the distributor and the external ballast resistor I had installed with it and got back in the car. Inspecting the distributor and finding one set of points burned beyond use, I removed the bad set and adjusted the other and turned my attention to the ballast resistor which had tested "open".
Using a small screwdriver, I broke out the ceramic and unwound the ni-chrome wire. Finding it burned out in three places, I twisted the ends back together, wrapped the length of it around the housing and looped the ends under the lug screws and was ready to reinstall. Luckily the MGB distributor only goes in one way so once I had it back in and hooked up with the cap back on I was real glad to be back in the car, even though my hands were shaking so bad from the cold it was hard to turn the key.
The engine fired right up and I was able to head on back to West Virginia without further incident, having spent just about a year making the loop.
More Modifications
Once back home I began making some further changes: finishing the rear wheel-wells, building the adjustable brake bias assembly, and reworking the dashboard, then moving on to building the first forward tilt hood assembly and finally doing the V8 swap.
To form the rear fender flares, I spliced a 3" strip of sheet metal into the inner fender by splitting it at the seam. Then bent a length of half inch conduit around a 55 gallon oil drum to get the curve I wanted for the opening. Next I shaped sheet metal to match that to the outer fender. Once it was all welded and brazed together I bumped the inner and outer fender out as one to give more tire clearance and a more aesthetically pleasing curve. (Shortly thereafter, a friend who was a body man informed me that brass continues to outgas for about a year, so I quit using brazing rod and gave it plenty of time to cure before final paint.)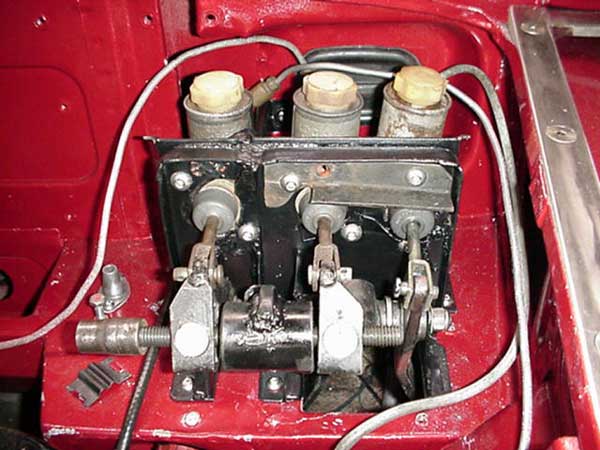 I worked up the brake pedal assembly mostly from parts lying around, reshaping and using arms from an extra pedal assembly and a few other parts. A half inch hardened jackscrew provided the adjustment shaft along with a spherical bearing for the pivot and some custom made swivels. The pedal box was widened to accommodate three single piston cylinders. To allow adjustment while driving, a flex shaft was run through the firewall and dashboard where a large custom made walnut knob was placed and a rubber shifter boot sealed the cable connection to the cover.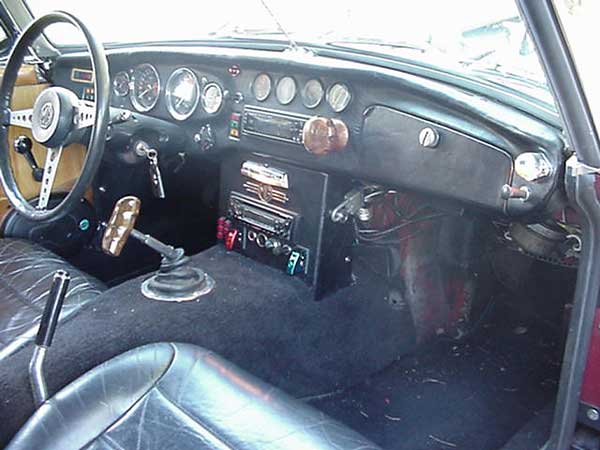 The dash pillow had developed a crack, so I removed it, stripped off the vinyl and the pad and made a few changes there before re-covering it all in black leather. Early gages were substituted and the square hole welded up. Provision was made to mount a 7-band graphic equalizer, and 5 round gage holes were added, one of which was used for the brake adjuster knob. Further to the right, an early glove box opening was grafted-in as well as a map light and switch. Part of the original pad was retained as a brow, and the center console below the dash was reworked as well. I found a molded-plastic glove box liner out of a compact GM that fit the opening nicely.
Enjoying this article? Our magazine is funded through the generous support of readers like you!
To contribute to our operating budget, please click here and follow the instructions.
(Suggested contribution is twenty bucks per year. Feel free to give more!)
I had long admired the easy accessibility of the Spitfire and GT6 and felt this was possible with the MGB, but it wasn't until after a mishap left me with a damaged fender that I felt there was no loss in trying my hand at making one. (Had I known the cost of MGB fenders I might have thought better of it!)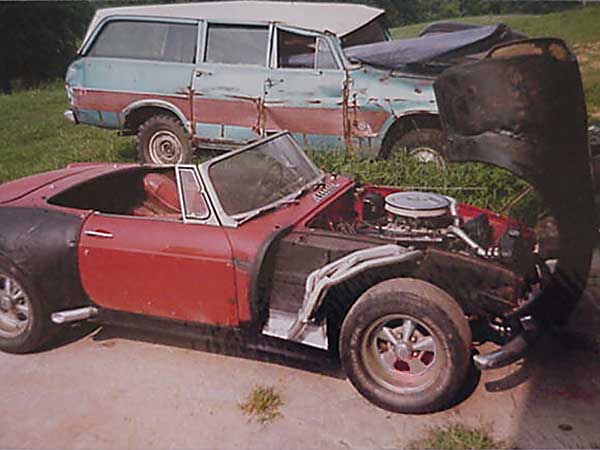 I set to with hammer and dolly and when I was done I had what was then a very "unique" design. Unbolting the fenders and cutting them at the rear hood line, I welded the fenders to the hood, did a bit of reinforcing, cut out the headlight buckets, flattened the bulge and spread the sheet metal out to cover the tires. When finished, it had a continuous line that followed the curve of the hood out to the edge. Again conduit provided the lip. A set of quad rectangular headlights were procured and mounted, two in the fenders and two in the grille space.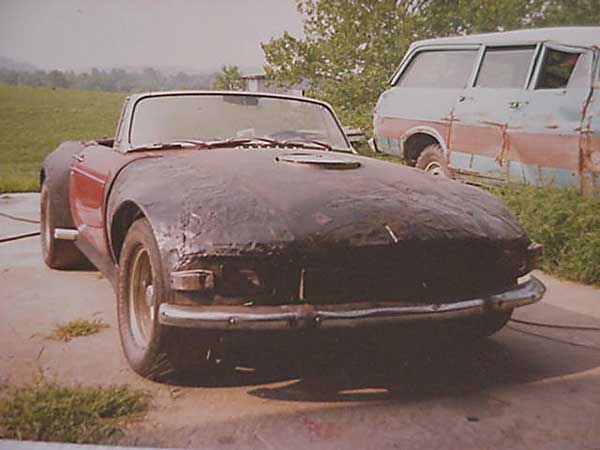 I built a pair of simple hinges and spliced together a pair of old bumpers. A center section for the front spoiler was built which served double duty as a radiator guard. Two cut-down MGB hood latches were positioned at the rear, and were operated by the standard hood release cable. No bumper over-riders were fitted at that time (due to the tilt geometry). A stock hood prop kept it off the ground when open. This design is shown in the included photos and though very rough, I was happy with it for a time due to its unique character.
My First V8 Conversion!
Some time later I'd expended all of my engine spares and with the last remaining engine giving up the ghost, I was determined to proceed on my V8 transplant, even though I had only heard rumors that it had been done before at the factory. I had learned of a disused junkyard where 215's might be found, and arriving tool bag in hand climbed the hill, fought through the multi-floral roses, and discovered several cars with the desired engine. Picking a 2 barrel F-85 automatic as the easiest one from which to remove the engine, I spent an hour or two unbolting it, then climbed into the engine compartment and physically wrestled the engine out and onto the ground. I then rolled it onto the hood of the car, looped a couple of fan belts together and attached them to the hood and dragged the works back down the hill like a sled, a distance of probably a couple hundred yards through brush and ruts so deep it was impossible to get a vehicle up there.
Once broken down and at the machine shop two things became apparent. There was a crack in the water jacket, and this wasn't the best engine choice. So back I went and between me and a buddy we ended up hauling 4 or 5 engines down off that hill. I began test fitting. I found that if a small diameter oil filter was used, it could be positioned to fit between the steering rack and sway-bar. This determined the engine position, giving just barely enough room between the steering shaft and rear header bolt, just enough starter clearance, and no need to cut the firewall. The one thing in the way was the slam panel, but since the latches would be in the rear that wasn't much of a concern, and I simply cut it out. Using stock Buick engine mounts, I fabricated bosses onto the cross-member for them to bolt into. These were made up of a couple different sizes of black pipe and some gussets, test fit a few times, tacked in place and welded up.
Being the mid 80's, the transmission I selected was a Warner T-50 5 speed. With just a little bending the shifter came up through the hole in the stock MG shifter plate. So far this had all been done very cheaply, but the big expense was the engine. I used a Buick 215 4bbl. which had about 20,000 miles on it. I tore it down, cleaned it up and put it back together with new rings, bearings, etc. along with a 600 Holley mounted on a modified stock intake and the hottest cam I could find.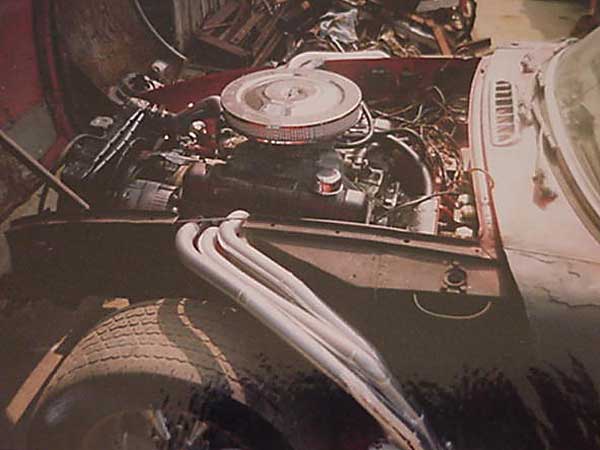 The next job was to build that wild set of headers you can see in the photo. I used parts from "Headers by Ed", and completed the job in 80 hours. The finished headers have 34" x 1-3/8" primaries all of which were within 1/8" in length; swirl scavenged into 2-3/8" collectors. This was followed by glass packs housed within flared rockers (to simulate "ground effects" and blend nicely with the front and rear bodywork). The exhaust dumped in front of the rear tires. The exhaust was sent out for coating, which was still a very new process at that time, and the total cash outlay was around $750 for the exhaust and $1400 for the engine. There were other conversion costs, of course, but nothing on that order of magnitude.
I originally used an external slave cylinder for the clutch. I shortened the clutch fork as much as I could get by with, made a box in the floor under the gas pedal, and shortened the pedal. For the driveshaft, I found a junkyard GM shaft and had a local shop splice the two together. (I later replaced it with a small diameter heavy-wall driveshaft.)
The radiator had been re-cored with a 4" longer core a few years earlier so some modification of the necks was all that needed. Exhaust tubing was welded up into coolant lines. A stock aluminum-nose 215 starter was found and the nose modified to reposition the solenoid by welding on new ears and cutting down the snout on a belt sander. (I still use the same starter today, though it has been rebuilt!)
That was really about it except for cutting a big hole in the hood for the air filter. I found a JC Whitney scoop to cover the hole and painted the whole car flat black and it looked like something out of a Mad Max film, but it ran like a scalded dog. I first got it running with the V8 in '88 and estimated about a 240hp output. Finally I had the power to go with the handling, and the mountain roads of West Virginia once more found me power sliding around the turns the way I had been doing with my 1970 Olds Cutlass back in the early 70's, but going a good bit faster.
In fact, the MGB had at this point gotten so fast that, as I often told people, "If it's a blind turn and the tires are squealing, there'd better not be anything in the road because I'm going to hit it." It had become faster than my reaction time which was really quite good, and I found myself no longer at the point of tire adhesion in those blind turns purely for reasons of self preservation.
Have you ever crossed the New River Gorge Bridge on Rt. 19 in Fayetteville, West Virginia? (Editor's note: a "must see", it's famous for bungee jumping!) From a dead stop at one end, I once hit 130mph about 2/3 of the way across. I had to back off the throttle due to the front end getting light. It was after this run that I added the front spoiler. It wouldn't do to float over the guard-rail 900 ft up!
Upgrades and Interior
I drove the car like this for a few years, trading the Cragar wheels for polished Centerlines as soon as the old BF Goodrich's needed replaced, which didn't take long, and thus began a long period of incremental upgrades.
A buddy sold me a close ratio T-50, and it proved a much better choice than the (ex-V6) wide-ratio box I was using. Years later I sold the original T-50 on eBay. It was bought by (fellow MGB V8'er) Jake Voelckers out in Utah. Regrettably, I'd damaged the transmission before removing it and forgotten about it, so I had a mess on my hands. I refunded Jake's money and let him keep the remains in exchange for his shipping costs. He found this acceptable as he was able to use some of the parts in his first transmission for his V8 swap, but it would have been better for us both if I'd checked out the tranny before listing it! That's hindsight, so an apology is the best I can do.
Next up was a better radiator. Having moved to Cincinnati to attend UC law school, I found a local shop that would build me a custom brass radiator along with fitting a crank-driven fan and I soon thought I had the answer to my intermittent overheating problems. That helped, but was not the complete answer and I continued to fight this bugaboo for a long time. I tried several different electric fan setups, two different crank fans, a correctly engineered fan shroud, re-coring the custom radiator with the most efficient core possible, adding a surge tank and overflow tank, re-plumbing to automatically remove all air from the system, and finally learning to tune the engine for temperature control, but I'm getting ahead of myself.
During this period I made new wooden interior trim which really improved the inside appearance and comfort. To match the brake balance knob, I carved a black walnut "T" grip for the shifter and shaped new cap rails for the doors. I bought some thin Birch plywood and cut new door and trim panels. I carved thick walnut planks into door-pocket/speaker-mounts. This was a pretty big project, done with a Forstner bit, a Skilsaw, a large hole-saw, and small belt sander. The end result has allowed me to ditch the foot-well pocket. I finished the doors out with chrome window cranks.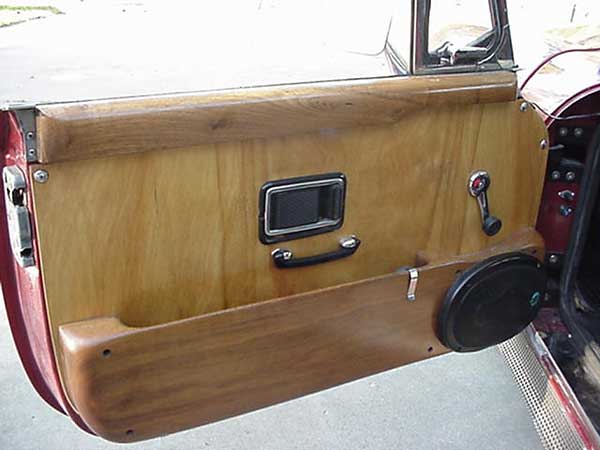 After stripping and polishing the rear cockpit surround, modifying the top frame for speedy removal by utilizing the tonneau brace sockets and reconditioning a Parish Plastics hard top for winter use, I was satisfied for the time being.
The Turbo
Then the engine blew up. This was entirely foreseeable as I had been winding it to 7 grand frequently and it still had the original cast pistons. Still, losing power, overheating, blowing out smoke and rapidly slowing to a stop was not what I wanted that particular afternoon. I got a buddy to tow it back to my place and I had an alternate plan already in the works.
When my old friend Harry Johnston moved to Virginia he sold me the Olds 215 that we'd built in his basement. (The same engine I'd sledded down the hill a couple years before.) Harry had impulsively bought a set of low compression Buick pistons and there was no way I could talk him out of using them in the engine. With the 2 bbl Olds heads, the resulting compression ratio was probably around 6.5:1. Although this was exceptionally low, the motor still ran and made better power than you might expect. It was still a very significant improvement over the 4 cylinder engine. I knew this because I'd swapped it into the MG temporarily while I did a cam change on the Buick engine a year or two earlier.
In the meantime I'd been scouting for an Olds Jetfire turbo and found not just the turbo unit, but also the engine, mounted in, you guessed it, an MGB. The car was toast. The previous owner had hacked up the sills and tranny tunnel extensively, but I bought the works for a thousand bucks and began adapting the turbo to the ultra low compression Olds engine.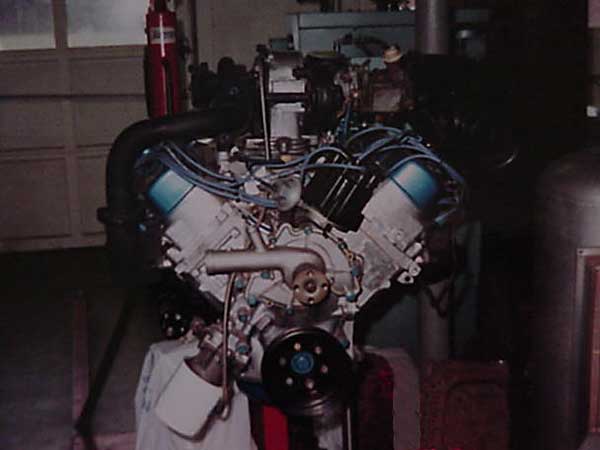 Why not the fresh Jetfire? I was saving it for later after all the bugs were worked out. I set to work making up a set of turbo headers, some adapters, linkages and such, and making it all work in the MG. Once it was back together, I began tuning the 2" SU carb I had feeding the turbo. I lathe turned new needles and drilled out the main jet but midrange tuning was tricky. In order to get it right, I enlisted the aid of a fellow whitewater guide and motorcyclist who I've been close with ever since the early 80's named: "Cosmic" John Janzen. I knew I could count on him to be comfortable in the wind! I had John stand up, lean over the windshield, and with a screwdriver adjust the main jet of the SU while we drove up and down Clifton Hill in Cincinnati. (Unlike the 1-3/8" SU of the MGB, this 2" version had a rocker linkage on the jet with a top adjustment.)
John still ribs me about that ride (exaggerating the speed and such) but we got the adjustment right after a few tries and with the turbo putting out 7 lbs of boost the engine ran nearly as well as the Buick until it started gasping for air around 5 grand. Fuel mileage was poor, but response was pretty good if you could overlook the turbo lag. It wasn't a lot of lag, but it was near impossible to time it accurately and it put me sideways so often that I had two freeway collisions because of it in a period of just a few years. I began to look for another option.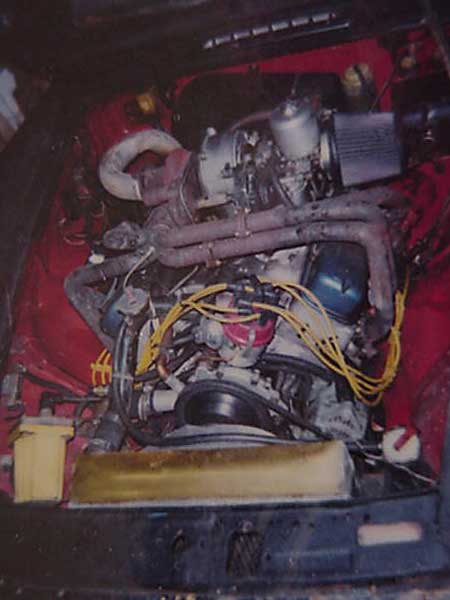 Along about the same time as the turbo swap, I grew weary of being asked by looky-loos if the car was a Porsche. The front end was never going to be right anyway and besides, I had recently seen another car in the area that looked suspiciously similar. Commonly nick-named the "Clown Shoe". That was just too much for me! I decided my car needed to look more like an MG.
I thought up a brilliant scheme to make a new front end out of fiberglass. I envisioned it as being basically similar but having a raised snout with an MG grille that was tall and narrow, like a cross between a TD and an MGB. I began building this apparition and actually drove the car with it in place for a number of weeks before deciding that my free-form fiberglass skills were not up to the task. The fiberglass hood followed my first homemade hood into the dumpster in favor of more traditional sheet-metal.
I had a set of fenders and hood from the Jetfire car, so I mounted them and cut a line from the cowl to the inside of the headlight bucket. Then I spread the fender 3" to the outside at the front edge, and spliced in some steel to close the gap. The resulting design looked more "MG", so I was very satisfied with it. I drove with this prototype until the turbo shaft bearing began to wear. At that point I was fortunate enough to be in a position to buy new sheet metal as well as a new Eaton M-90 blower form Magnuson Enterprises in California. M-90's had not yet appeared on production cars, and I actually had to call and twist their arms to have the boys ship me one, but at last the final plan was set into motion.
The car was torn down to the basic shell and prepped for paint. At the same time, I finished up some details. The rockers were trimmed for new perforated stainless grilles that would allow some of exhaust heat to escape. I decided not to remove the box section under the gas pedal at that time as the hydraulic throw-out bearing would be new and was as yet untested. Along with the new sheet metal and the blower equipped engine it would be getting an experimental heat-pipe based intercooler, distributor-less ignition, and sequential fuel injection, plus the wing from the Cutlass would at last be mounted. Other changes were in the works as well, meaning that this time the car would be down a couple of years.
I made a point to do some work on it every day, even if it was a tiny step. In this way, the project kept moving forward. I highly recommend this approach to anyone doing a conversion. It keeps the project foremost in your mind, gives you a constant feeling of accomplishment, and prevents the car from languishing in the corner. Tasks that seem insurmountable become much easier when you tackle one part at a time.
Clearly you have to sort out some of the largest issues before you start though. What kind of blower, what kind of intercooler, how to make sure there was space for both, and things like that. If you're a CAD wizard so much the better, but I am not. What I'm saying is that you don't necessarily have to know where every bolt will go before you begin. "Anything worth doing is worth doing twice!" Keep that in mind as you work on your conversion and you will find the entire experience much less frustrating. You will be less tempted to walk away from it.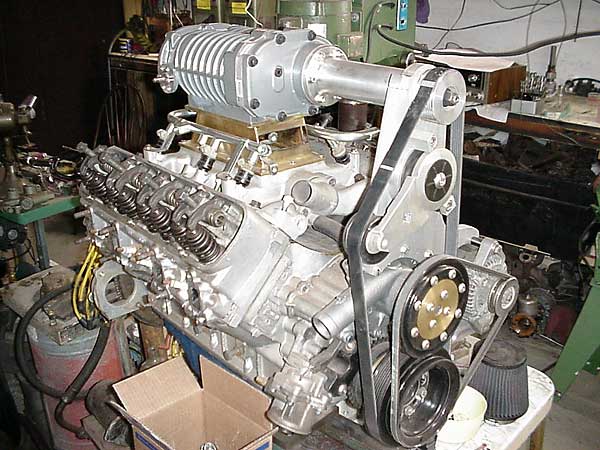 Turbos are great but a Blower is Better
It was along in here somewhere that I met Kurt Schley and attended the Indianapolis V8 meet. With the car down for redesign, I felt a little out of place, as many new participants do. I felt as if there had to be some doubt as to whether I really even had an MGB, much less a fire breathing monster like the one I eventually showed up with. So be sure to show extra consideration to the new guys.
Skipping the intimate details of how the ports were machined or the rivet nuts installed, in more general terms I next proceeded to mount the blower to the Jetfire engine by modifying the old Offenhauser dual port intake. I chose this one because of the large plenum space, which after all internal dividers were removed gave me room for the intercooler.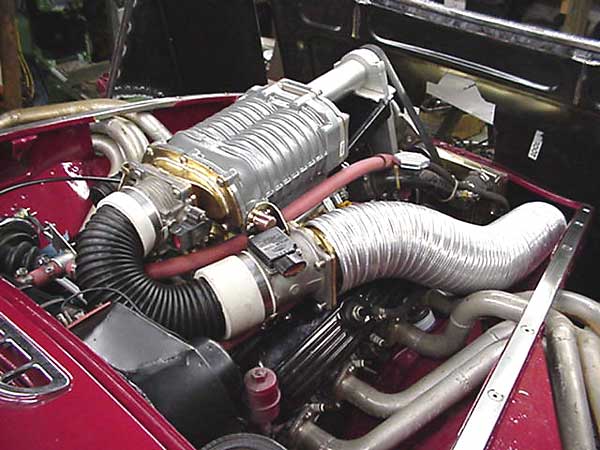 Originally a Ford EEC-IV SEFI/EDIS system was used for injection and ignition by cannibalizing a Crown Vic. The Delco distributor was cut down and used only as an oil pump drive and cam sensor, thereby leaving room for the blower drive. 5/8" aluminum plate was used to make the front drive support, which also serving as the tensioner and alternator mount. (It supported the front of the intercooler as well.)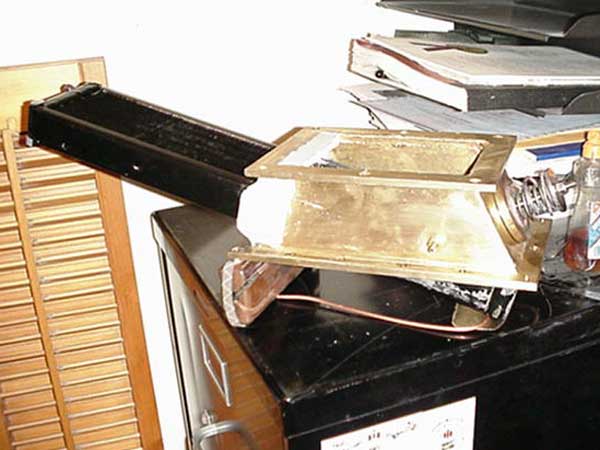 A brass plenum box was built to house that unit and raise the blower above the fuel rail. The fuel rail turned out to be a very tight fit, but there was enough room to install and remove it with everything else in place. I learned to cast silicone rubber in the process and have made good use of that skill several times since.
I know some people will want to know more about that intercooler! I had a special custom 2 row brass radiator made up, I forget the exact dimensions but something like 4-1/2 x 18" long with a 1/16" NPT thread in each of the end caps which were intentionally kept as small as practical. The outer cap was fitted with a Schraeder valve and the inner with a tube connected with another Schraeder valve through the wall of the plenum. In this way when assembled I was able to completely fill the intercooler with ethanol thereby determining the internal volume, and then with a vacuum pump and recovery chamber draw out half of the volume, leaving only ethanol and ethanol vapor in the intercooler. Set at an angle and at vapor pressure only, any heat introduced to the liquid in the lower half immediately upsets the equilibrium, causing production of more vapor which rapidly transfers the heat to the cooler end where it is radiated.
How effective is it? I don't know yet, but I now have sensors in place and a means of measuring it, so it's just a matter of setting up data-logging to record the outputs. It was never my intention to try to keep the blower concealed beneath the hood. With the already radical bodywork and extremely wide tires it was not going to be mistaken for a stock MGB by anybody so the cat was out of the bag. No, I *wanted* that blower to stick through the hood, mostly because of an image from my adolescence. There was a TV commercial with a kid who had an AMX Javelin with a GMC blower fitted and an Enderlie intake. When his dad ragged on him for some unremembered crime, he casually blipped the big red throttles of that Enderlie, drowning out all possibilities of conversation. That made a statement that stuck with me through all the years and that was what I wanted. But nobody made an Enderlie for the M-90 and the EEC-IV was a hotwire system so that would have to wait. Nonetheless when the time came the hood was cut to fit. A lot of details are going to be skipped in the interest of brevity, but eventually I designed and manufactured an Enderlie intake for the blower which would fit through the hood cutout, had three big red butterflies, a throttle position sensor, and an internal K&N air filter.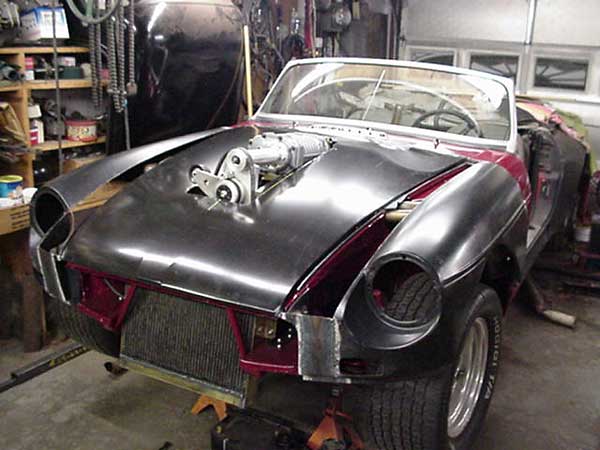 More Bodywork
Taking the best features of the first tilt assembly and the final prototype hood, I made new revisions and built the front end assembly that's on the car today. It uses a double-hinged gas-assisted mechanism, secured by the stock latch in the stock location on a forward mounted slam panel that was installed with the last hood. UHMW (Ultra High Molecular Weight polyethylene) "fingers" secure the rear. Stainless steel inner fender braces to prevent cracking of the inner fenders replace the white oak ones from my first forward-tilt hood, and tie into the fender stubs for crash-worthiness.
The steering shaft was modified to give more room at the header location, and a completely new forward cross-member was designed and built combining the functions of skid plate, spoiler center section, and hinge mount into one extremely stiff but lightweight piece. As before, the fenders were widened by adding a wedge of sheet metal. The bumper was widened by MIG welding sections from two new bumpers together. To avoid discoloration of the chrome (from the welding heat) I first made a jig. Some dry ice was procured and sliced into slabs about an inch thick and shaped to fit the bumper contour. I secured it in place with springs holding it against the chrome side. The dry ice providing a gas shield and cooled the metal so that the discolored zone ended up being only about a quarter inch wide, and the weld picked up some chrome as well (making it more resistant to corrosion). These welds were positioned behind the bumper over-riders, the new hinge geometry allowing them to be retained. As a result, they are well hidden and most people would mistake it for a stock bumper.
The end portions of an LE spoiler are bolted to the ends of the bumper and are attached on the inside to the cross-member assembly which makes up the center section.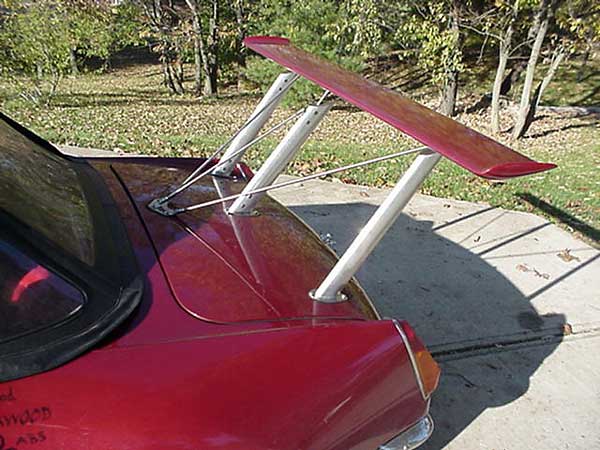 In the rear, the right side leaf spring mount was lightly reinforced by adding a channel section and the rear spoiler (wing) was mounted using aerodynamic struts sourced from Aircraft Spruce and Specialty. The wing I chose to use had been with me since 1973. While driving my 1970 Cutlass Supreme I was stopped by a 442 owner and asked if I wanted to buy a fiberglass spoiler and hood. I kept the wing even after the car was long gone because in the early 70's Hot Rod Magazine did a test of spoilers on cars of the period and concluded only two were effective: the Olds 442 and the GTO "Judge". The difference between them was in the end treatment. I had always favored the Olds-style turned-up ends, and after buying the MG I was constantly scheming to mount it. The struts provided the answer. I also incorporated an idea from a college buddy's radio control racer by tying the leading edge to the car's differential, so body movement would be offset by wing angle. The resultant down-force holds the car to the road but decreases drag when not needed.
Finally, the car was ready for paint. I selected a dark red metallic after much searching for just the right tone, hue and shade. At last it was a Ford color that caught my eye. On the car, I highlighted it by laying out some black flames around the blower. All this was done on a carport, with tarps on the sides to keep out debris. The results were pretty good, but not professional. I can live with it though, having long tolerated a hot rodder's wax job (e.g. rattle can flat black.)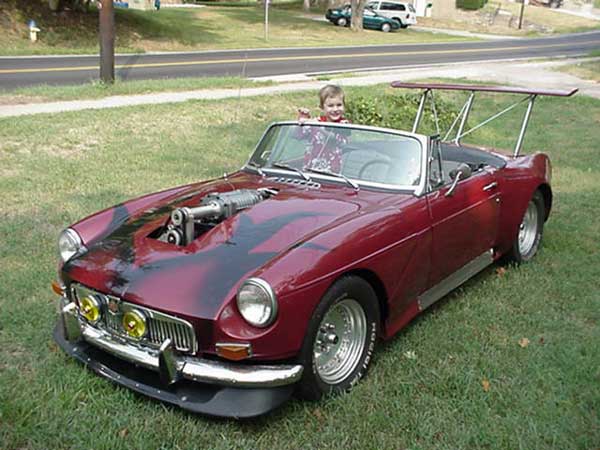 After final assembly, start-up and registration I was once more ready to drive. Although the car ran, there was some tuning to do and my first step was to buy a TwEEcer unit to interface the EEC-IV controller with a laptop. To say I was overwhelmed by this experience would be a gross understatement. The learning curve was the steepest I've ever seen anywhere, and to make it worse, with the proprietary controls and software most of the tuning parameters were unknowns. The sheer number of tuning settings was daunting. But I set to, and I was able to eventually get a tune that worked well, had good power, started easily and was generally smooth to drive except there was a surge at 2000 rpm that I simply could not get rid of. I tried different controllers, swapping out components, and verified every input, all to no avail. Finally, having learned of the MegaSquirt controller, I built one, experimented with it, and I decided to get rid of the hot-wire system. (MegaSquirt is a manifold-absolute-pressure based system.) The hot-wire system wouldn't work with an Enderlie scoop anyway.
Wires, More Wires, and Spaghetti
By this time, Dan Masters had developed an excellent wiring kit for the MGB and with his son Mike had set up the company Advance Auto Wire (AAW) to sell it. One of the distinctive features of their wiring is that they specify cross-linked polyethylene cable insulation instead of vinyl insulation. (Editors note: this kind of insulation is commonly available in several insulation thicknesses: "SXL" has a very thick wall. "GXL" has a medium thick wall. "TXL" has a relatively thin wall.) Although their kit wasn't what I wanted for my wiring harness, they agreed to sell me bulk SXL cable. Dan and Mike continuously upgrade their kits and are now offering a new variation with thinner insulation and lighter gage signal wires while still retaining their signature oversized wires for load carrying conductors, meaning it's now possible to completely rewire the car and have a more compact wiring bundle. In my opinion this is an excellent development and greatly simplifies the rewiring task.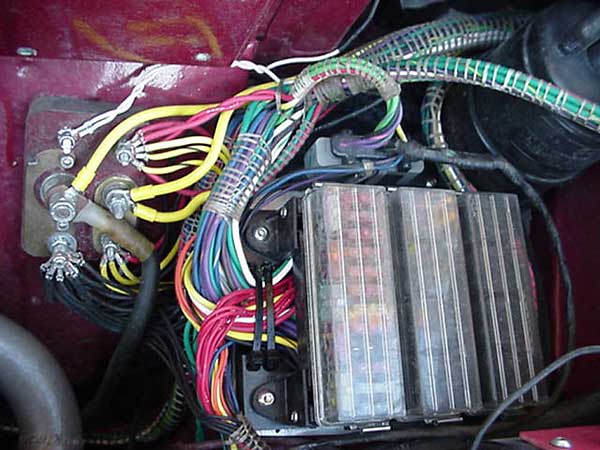 For power distribution I chose modular snap-together fuse and relay bases with clear o-ring sealed covers from Furneaux Riddall & Co Ltd Relays in the UK. These are more expensive than the domestic selection but can be combined in any order or quantity to give a neat and tidy appearance. I machined a black nylon base to keep the wires organized and used the new LED equipped blade fuses, another wonderful innovation. Relay selection is a bit particular as heights vary but I found that half of my selection of stock Ford relays fit, if somewhat snugly. This panel was located on top of the passenger side shelf for easy access. I had previously fitted a phenolic terminal block nearby on the inner fender at the old coil location and retained that as well as adding new ones behind the glove box and in the trunk.
I used a great many ring terminals, and learned that an open barrel-crimp similar to those used by automakers is perhaps the most secure means of terminating wires for general connections. However there is great variation between various brands of crimpers and terminals. AAW and others sell a crimper for automotive terminals which does an excellent job with the matching terminals, but it does not work well with industrial terminals. This might not be an issue if automotive open barrel ring terminals were readily available. Practically every other type is, such as the terminals for various EFI connectors but I had great difficulty sourcing ring terminals and ended up with industrial ring terminals which are made of a thicker material and require a different crimper.
I really like sealed connectors. Unlike the bullet type we all know and love (NOT!) they seal out air and last indefinitely. I had a surplus of the Ford type left over and found a source for most of the pins. Some are carried by auto parts stores but another good source is: RJM Injection Tech. I replaced all bullet connectors with sealed connectors, including the steering column wires. This was a good deal of trouble, but worth it in the long run as I shouldn't have any more connector troubles. Now I know some say all you need to do is keep the bullet connectors clean and use good dielectric grease, but I have just eliminated that maintenance item from my schedule and am very happy about it.
At the same time I replaced the light bulb sockets with the newer blade type, except for the dashboard lights, and had already gone to Bosch 100 watt headlights. I should have probably done the dash lights as well, but am still not satisfied with what is available and will wait for new developments, hopefully in the form of durable high intensity LED type bulbs at some point. It appears I may change to a newer type electronic speedo anyway with the impending transmission upgrade.
Switches and Such
I never liked the MGB headlight switch. It seems a poor design to begin with, and it's only reliable when used to drive a headlight relay rather than powering the lights directly. Besides, I wanted an indicator to remind me not to leave the lights on, and I wanted to be able to switch on the headlights independently of the running lights. (It's an old street racer thing, don't ask.)
Anyway, I found that commonly available lighted rockers would fit in the dash cutout stacked three high, which gave me an additional switch for fog lights. I also wanted a 3 speed fan on the heater so the same thing applied to the heater switch. (Relays were in place for both.) Originally, I had epoxied the switches together and used standard spade connectors but this meant that one switch could not be replaced independently and making the connections was tedious, confusing, and not terribly reliable. So putting my silicone casting skills to use I had a solution. By now I had learned to mix copier toner (carbon black) with the silicon resin for color, durability, and a harder cure, so I devised molds to hold the switches with connectors in place and encase them in silicon rubber, resulting in 9 pin connectors that the individual switches could be plugged into, and in the process sealing out the air except for where the blade was inserted. This was a dramatic improvement and should be very reliable. I used the same method for the transmission reverse switch and the brake light switch (which was a Chrysler item and a direct fit in the cover). I substituted a toggle switch with a metallic red hinged guard for the emergency flashers. Since I had installed an electronic cruise control unit, I used one of the remaining console openings for a compact pushbutton package to control that, and the other for an auxiliary back-up light switch.
The Marantz graphic equalizer was replaced with a more modern one, the radio with a CD player head unit, amps front and rear, and poly cone 6x9 speakers in the doors and rear bulkhead. The MegaSquirt harness, purchased as a semi-finished kit also had been installed before the main harness was in place and all the wiring bundles were laced with flat lacing twine, an old aircraft technique. A wide-band O2 sensor from Innovative Motorsports was installed, and a knock sensor circuit was added to the controller.
The rest of the gauge package consists of an exhaust gas temperature gauge, ammeter, voltmeter, vacuum/boost gauge, '67 vintage dual water temp/oil pressure gauge and fuel gauge, and the early MGB speedo and tach.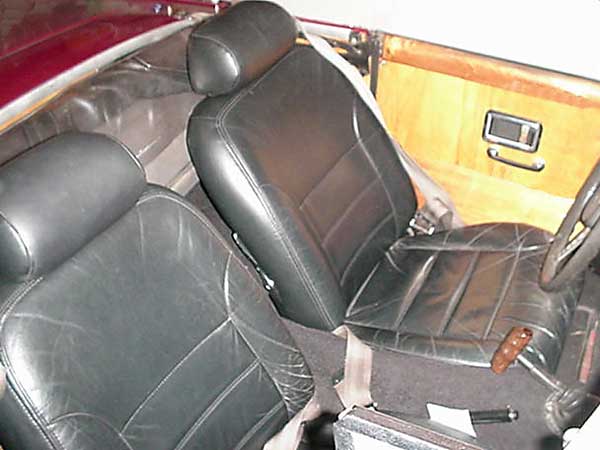 Upholstery
By now the MG seats had gotten pretty ratty even with parts store slip-covers. I wanted to re-cover them in leather and had even gotten the seat foams one year for Christmas but buying the leather was not looking cheap and stitching them up was going to take a lot of time. Buying custom covers would be even more expensive. I went looking for an alternative and found it in a set of swap meet seats from a Mercury Marauder. They're black leather with adjustable lumbar support and electric rails, all for $100. But they wouldn't fit. I removed the electric rails. They still wouldn't fit. What to do? Removing the covers, I found I could combine the MG seat base and recliner mechanism with the Marauder seat back, lumbar and head rest. Soon they were in the car and looking good. I won't claim it was the easiest swap, and it did take significant cutting and welding, but in the end I was satisfied and the ride was improved, to say nothing of the appearance.
What's Next
The immediate concern is the transmission. I have now demolished my second T-50. (I wouldn't recommend one for an engine over 200 hp.) It's beginning to look like the replacement may be a T-56 six speed or perhaps a TH200-4R overdrive automatic with lock-up converter, but the details are yet to be determined. With perhaps the most forward engine position of any MGB V8 swap, there appears to be room for it. But it looks like a replacement T-50 may need to be fitted in order to give me time to mate the replacement tranny to an upgraded engine, the Buick 340. The money is an issue, as always.
Then a roll-hoop is needed so I can play with it on the track, but of course an off-the-shelf product just won't do and I want one that can be raised for track days and lowered to fit under the top, and still comply with SCCA rules.
New carpet would be nice.
Finally, I hope to finish the IRS project in a few years. As planned, it will use T-bird components and geometry, inboard brakes, and tubular lower control arms with long suspension travel and extremely low un-sprung weight. However, there is a relatively new GM SUV IRS that also looks promising. An adjustable-height revision of the suspension design may be in the works as well. If my income has increased by then I may even buy one of Ted Lathrop's fantastic ("Fast Cars") front suspensions, though I'd probably have to modify it some.
The gas struts for the front clip will probably be modified into hydraulic units to give positive control of hood movement using a Mercruiser trim pump, which is reasonably light and compact. Most of all, I just intend to drive it!
What I'd Do Differently
If I was starting over? Everything! Possibly a normally aspirated SBC engine or a (surprisingly lightweight for its size) early Buick 455... Everything else is up for grabs, but I would find a way to include air conditioning, which I may add to my '71 at some point. If re-doing a '71 padded dash, I would also entirely discard the pillow and use other materials to build up the right side brow before re-covering. I'd use a glove box lock that could be keyed to match the door and trunk locks. The headlight buckets should probably have been pointed inwards slightly as well, as I had done on the previous fenders. Another thing I meant to do but misplaced the parts was to install the early type air doors on the foot-well vents. Maybe some day I'll find them.
Disclaimer: This page was researched and written by Jim Blackwood. Views expressed are those of the author, and are provided without warrantee or guarantee. Apply at your own risk.
Photos by Jim Blackwood. All rights reserved.