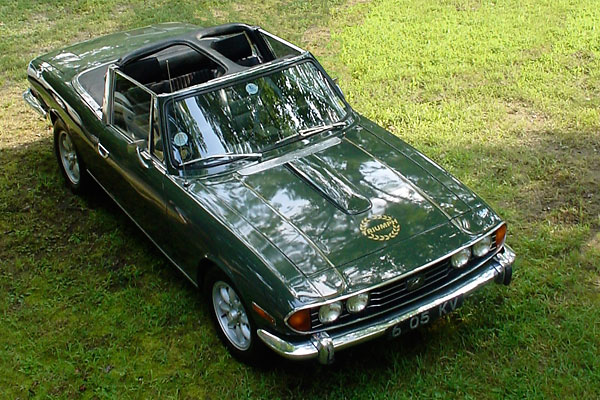 Simon Briggs' 1971 Triumph Stag with Small Block Chevy V8 Engine
as published in BritishV8 Magazine, Volume XVI Issue 2, October 2008
Owner: Simon Briggs
City: Durham, NC
Model: 1971 Triumph Stag
Engine: Small Block Chevy
Engine:
small block Chevy V8 with 4 bolt mains, bored oversize (to approximately 6 liters), balanced and blueprinted. Edelbrock Performer intake manifold, carburetor (600cfm), and cam. Jacobs computerized ignition system. Remote oil filter, with thermostatic controlled valve and oil coooler.

Exhaust:
iron exhaust manifolds. (Note: passenger-side manifold is the "rams head" style center-dump variety, whereas on the driver-side a later-model manifold was selected to clear the un-modified Triumph Stag steering system.) Custom exhaust pipes, fabricated by owner.

Cooling:
alloy radiator and electric fan.

Transmission:
TH400R7 automatic. Custom driveshaft, fabricated by owner.

Rear End:
stock Triumph Stag, except with 3.45:1 (in lieu of original 3.7:1) final drive ratio, and also the original Stag halfshafts (cheap peened-over U-joint style) were replaced with custom fabricated halfshafts utilizing larger Triumph U-joints (similar to TR4/TR250 and TR6).

Suspension:
(front) stock, except with urethane bushes.
(rear) stock.

Brakes:
stock, except with cross-drilled rotors.

Wheels/Tires:
8-spoke alloy wheels ("+1" size).

Interior:
sport seats and re-veneered dashboard. Stock electrical system. Custom audio system, featuring a Blaupunkt radio/CD player mounted in a custom console.

Performance:
I really need to get on a dyno and find out, but this car has surprised a lot of Mustang 5.0's!

Comments:
this project started with a parts car rescued from a Virginia field! It had been deserted after someone had started installing an odd-fire Buick V6 and a 2-speed automatic transmission. It never ran in that configuration. I bought a '72 Chevy Nova donor car (with a reputed-to-be-rebuilt engine... Ha!) and started the transplant using a stock small block Chevy 350, TH350 and Stag radiator. It ran well, but revs were high due to the stock rear end and small wheels. Surprisingly, it did NOT overheat on the highway and the electric fan managed the heat in traffic, at least until the summer when the temperature rose into the high 90's, The stock radiator could 'just cope' with the Chevy 350 so long as I did not stop. A testament to the factory that took a lot of flak for cooling issues, Not that they did not exist, but my experiment seems to indicate the radiator was not the problem. The engine didn't fair well and I eventually rebuilt another one myself to a higher spec and swapped the transmission also. It is an ongoing project as I try different things.


Enjoying this article? Our magazine is funded through the generous support of readers like you!
To contribute to our operating budget, please click here and follow the instructions.
(Suggested contribution is twenty bucks per year. Feel free to give more!)