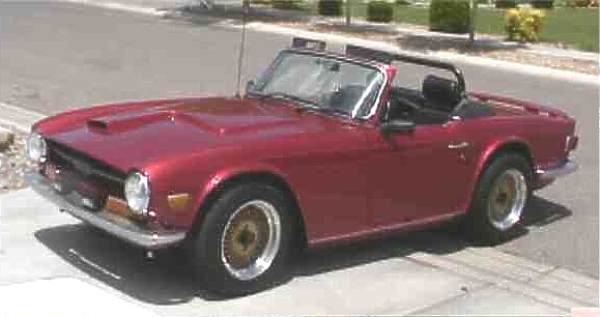 Russ Grantham's 1969 TR6 with Ford SVO 2.3L Turbo Engine
(as recorded by Dan Masters)
from: Albuquerque NM
This project started with a 1969 TR6 with a very trashed engine. After several phone calls to various bone yards across the country, I was able to get a line on an early 85 SVO Mustang which had been rolled, but the engine and transmission were intact. The odometer indicated 70,000 actual miles. The engine was removed and disassembled. The head was rebuilt and "O" ringed, but no porting or polishing. The motor was completely rebuilt, balanced and blueprinted. Surprisingly after 70,000 actual miles, the engine was still in great overall shape. An Engle TCS-55 cam was installed, and a T-03/04 turbo was installed feeding a 3" exhaust. An intake manifold and injectors from an 88 TC replaced the early 85 SVO manifold (this provides a balanced intake and slightly larger injectors). A K&N air filter, adjustable fuel pressure regulator and adjustable cam sprocket were added. The clutch was replaced, even though it also was in good shape, and an aluminum flywheel was added. A Chips module programmed for this engine configuration was added and a forced air TC intercooler was added. An aftermarket knock indicator was added and boost control is cockpit selectable from 10 PSI to 21 PSI in five steps. The larger compressor on the turbo allows the full boost of 21 PSI or higher, even at Albuquerque's 5000 feet.
I have not had the chance to put the car on a dyno yet but we have calculated the output of the engine should be around 300 HP at 18 PSI boost.
By purchasing the whole trashed Mustang SVO, I was able to get everything I needed for the swap and then some, selling the unused bits back to the bone yard. Fabricating engine/transmission mounts, hood modification and driveline construction were the only real major challenges. With the shifter positioned to exit at the same position as the old TR shifter, the engine and transmission were set back in the engine bay, enhancing the overall weight distribution. The fact that the SVO engine weight is actually about 65 pounds less than the TR-6 engine does not hurt weight distribution either.
The SVO motor in this light sports car performs very well indeed. The car has been raced locally and the driving characteristics needed to keep the turbo charged motor on boost took some getting use to, especially on a short track. But I was pleasantly surprised that even with 4 degree retard on the cam the low end torque of the SVO motor seems to be at least equal to the previous high compression TR-6 motor, and when spooled up and on boost, fantastic!
Overall the Ford SVO 2.3L motor in the TR-6 has proven to be a real good match. The TR-6 suspension is basic enough to allow a lot of tweaking and the SVO motor replacing the inadequate six gives new life to this fine old roadster.