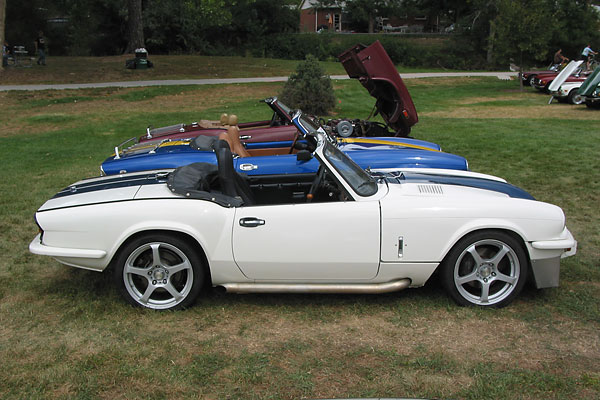 Max Brewster's 1979 Spitfire with Turbocharged 2.3L Ford Inline-Four
as published in British V8 Magazine, Volume XVI Issue 1, May 2008

Owner: Max Brewster
City: Thornton, CO
Model: 1979 Triumph Spitfire
Engine: 2.3 liter Ford (turbo)
Conversion by: owner
Engine:
2.3L Ford Turbo, factory rated at 190 HP and 240 lb ft torque @3400 RPM, with fuel injection upgraded to Turbo T-bird VAM, computer, and temperature sensor. Wiring harness from 1986 Merkur XRr4ti. Intake modified for clearance. Stock cam. Porsche 944 intercooler.

Exhaust:
side pipe.

Cooling:
Griffin aluminum radiator.

Transmission:
Borg Warner T5 5-speed with 0.79:1 overdrive. Custom driveshaft. Triumph clutch hydraulics.

Rear Axle:
second generation Mazda RX7 differential housing with first generation limited slip third member and 3.909:1 gear ratio.

Front Susp.:
stock Triumph.

Rear Susp.:
custom coilover IRS with unequal length control arms and custom antisway bar (designed by owner.)

Brakes:
(master) stock Triumph master cylinder. Adjustable proportioning valve.
(front) 1989 Mazda RX7 GXL 11" rotors and 4-piston calipers.
(rear) 10" ventilated rotors and single piston calipers.
Wheels/Tires:
16x7 Rage 5-spoke aluminum wheels with 205x40x16 BFG g-Force tires.

Instruments:
Cobra style 160 MPH electronic speedometer and boost gage. Other gages stock Smiths: fuel, temp, oil pressure, etc.

Body:
1968 GT6 bonnet section raised two inches and welded to the Spitfire bonnet for engine clearance. Aluminum front air dam. Rear license plate relocated to below the bumper, and hinged so that it swings down to reveal a receiver hitch which will be used for my Spitfire trailer (see photo below).

Interior:
Mazda Miata seats.

Weight:
2080 pounds.

Completed:
November 2004. Approximately 20,000 miles driven as on January 2008.

Comments:
I tried to use complete assemblies from the pull-it-yourself junkyard (mostly), and to keep aftermarket parts to a minimum.

Selecting a rear differential: I chose the RX7 2nd-generation because the outer bearing housings were removable from the control arms. I could then figure out how to attach my control arms. Because I used the stock housings, I could also use the stock Mazda brakes, emergency brake cables, etc. To narrow the rear suspension, I located a local vendor who rebuilds CV axles at the manufacturer level. He matched up shorter axles so I didn't have to cut and weld the originals, thus avoiding a potential weakness.

Front brakes: since the spindle on the Spitfire is removable from the front upright, I machined a spindle with the triumph tapered shaft that fits in the upright and the Mazda profile so that the rotors would be a direct fit. I built a simple adapter plate to mount the calipers. (See photos below to compare the Triumph and Mazda-adapter spindles.)

Bonnet clearance for the engine: I parted out a GT6 and used the top section of the bonnet. I welded in this piece and added one more inch in height compared to a stock GT6 bonnet. I also cut down the upper intake manifold and rotated it 90 degrees, then had it welded to the lower intake as part of solving the clearance issue.

Future plans: the interior needs to be finished with a new wood dash, carpet, etc. The transmission will be rebuilt with different gear set (2.95 first gear vs. 3.97, and 0.63 overdrive vs. 0.79). Currently working on fabricating and installing a roll bar. I have also started building a Spitfire trailer (see photo below). I need more luggage room! The back half of a Spitfire has been mounted on a frame and axle from a pop up camping trailer. Its rough right now, but I can roll it around when I want to work on it.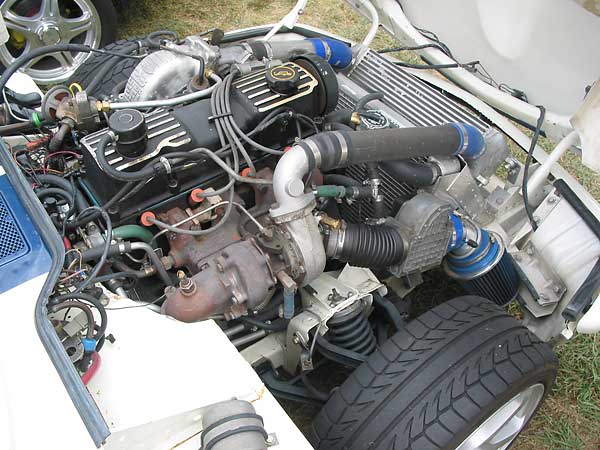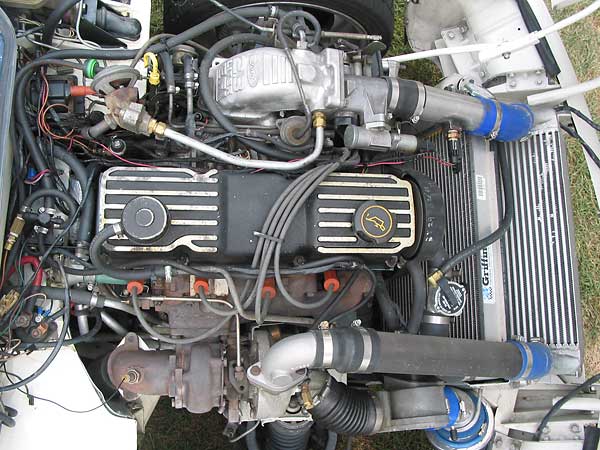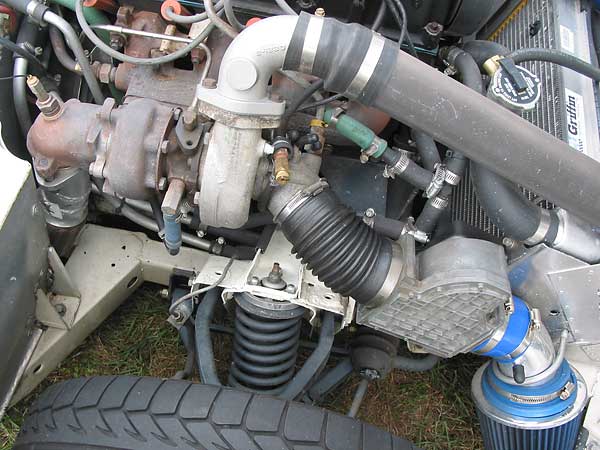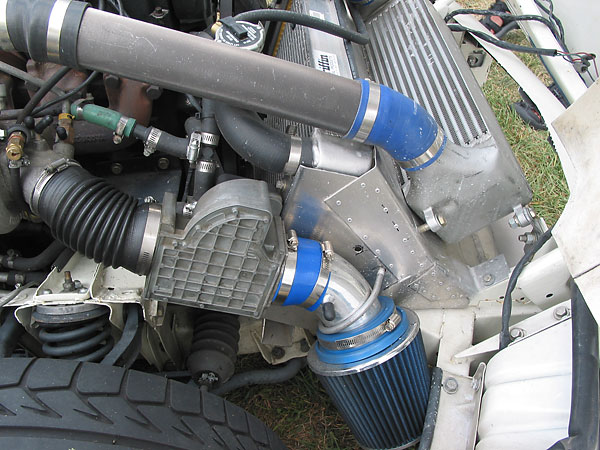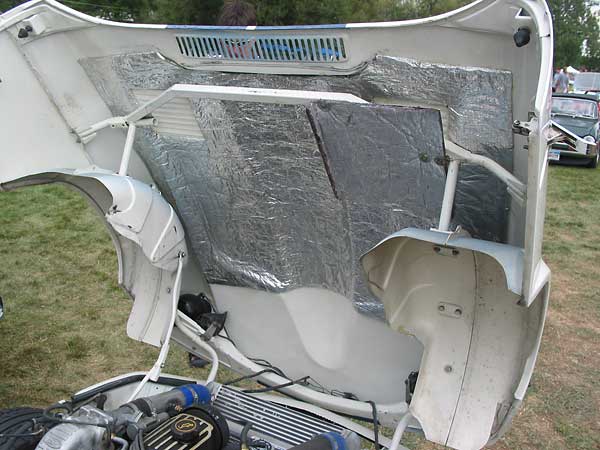 Custom bonnet made by combining a Triumph GT6 center section with Spitfire sides.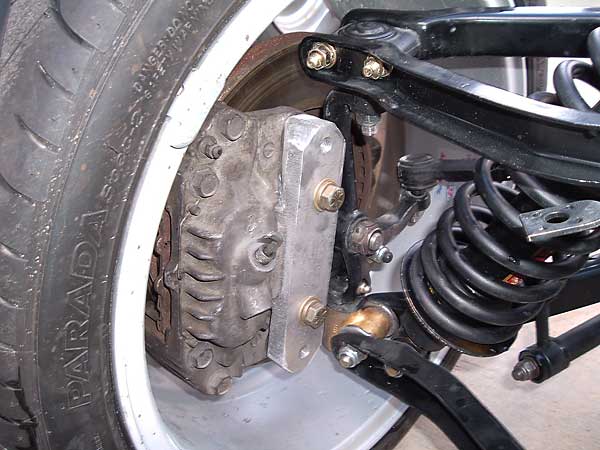 1989 Mazda RX7 GXL 11" rotors and 4-piston calipers.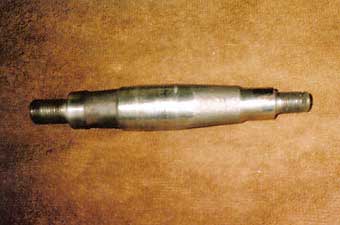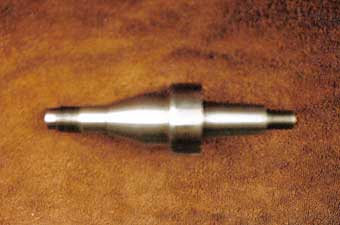 Left: original Triumph spindle. Right: new adaptor spindle to accomodate Mazda brakes.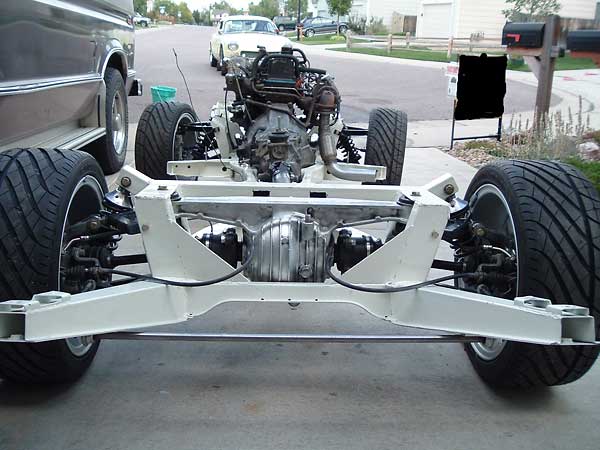 2nd generation Mazda RX7 differential housing with 1st-gen limited-slip third member.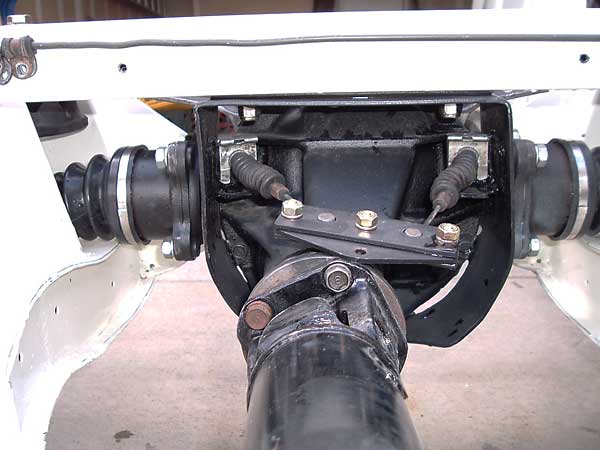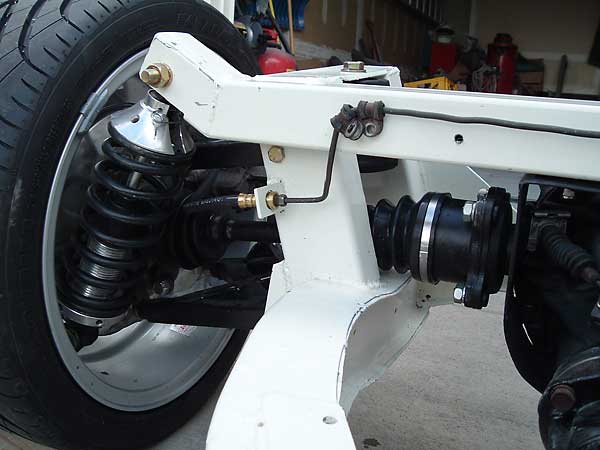 Custom coilover IRS with unequal length control arms and custom antisway bar.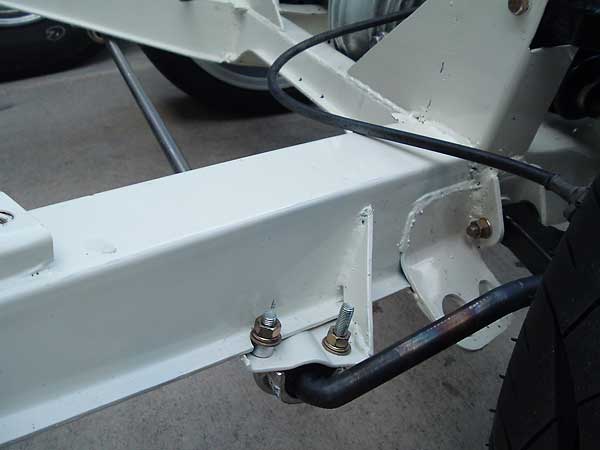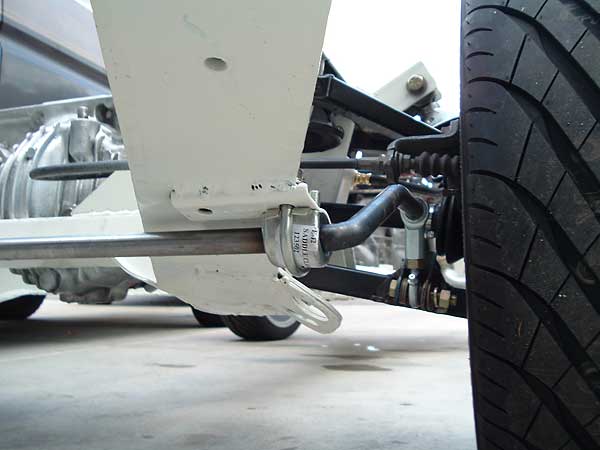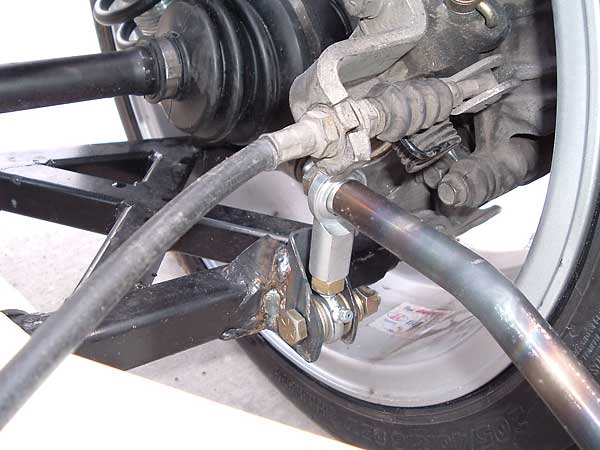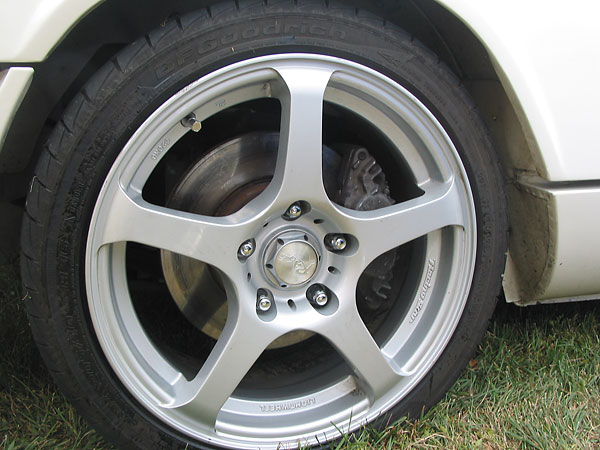 Enjoying this article? Our magazine is funded through the generous support of readers like you!
To contribute to our operating budget, please click here and follow the instructions.
(Suggested contribution is twenty bucks per year. Feel free to give more!)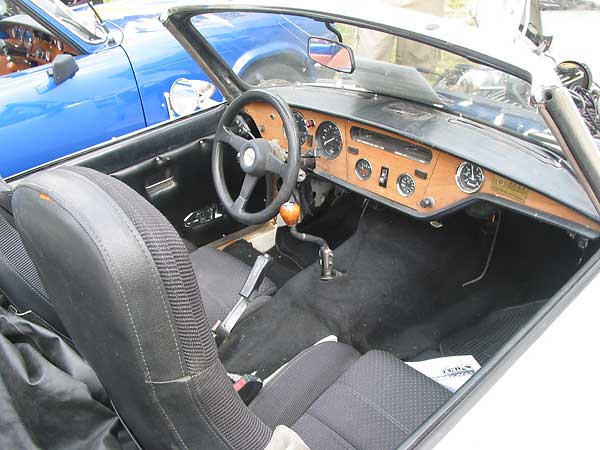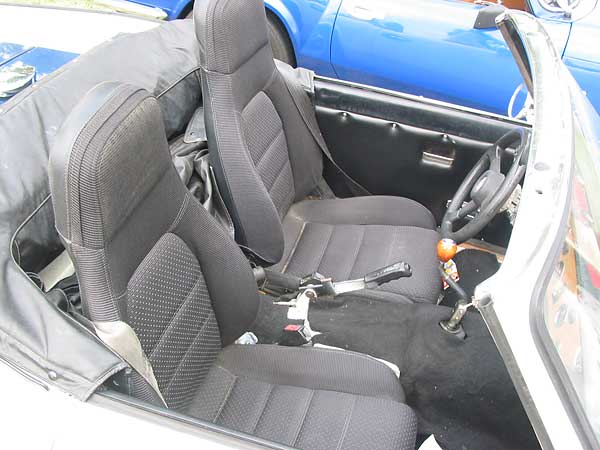 Mazda Miata seats.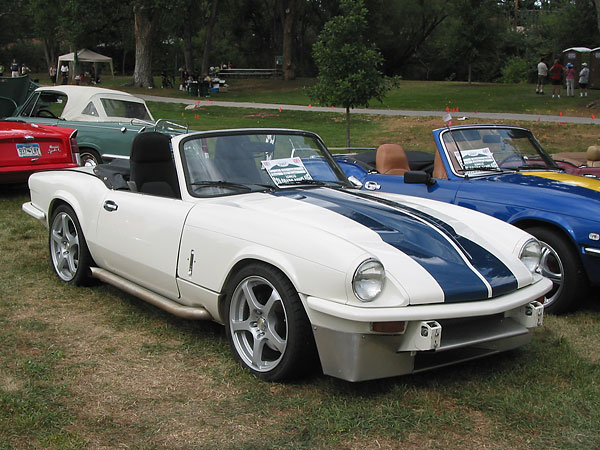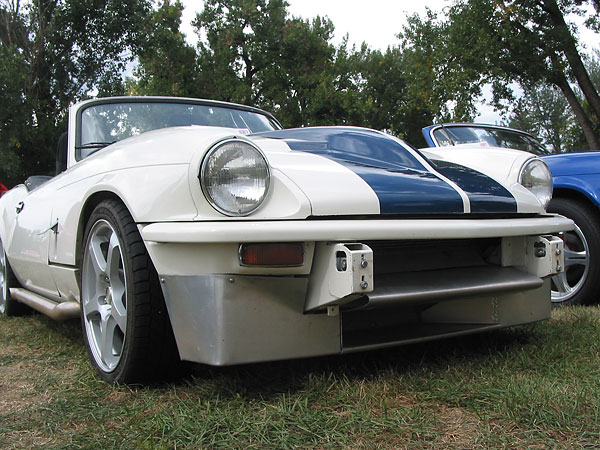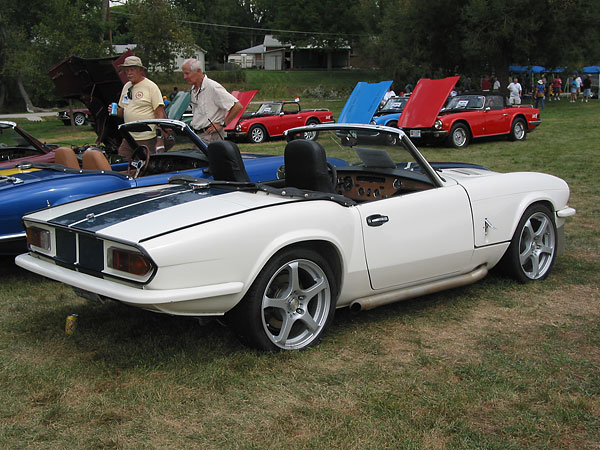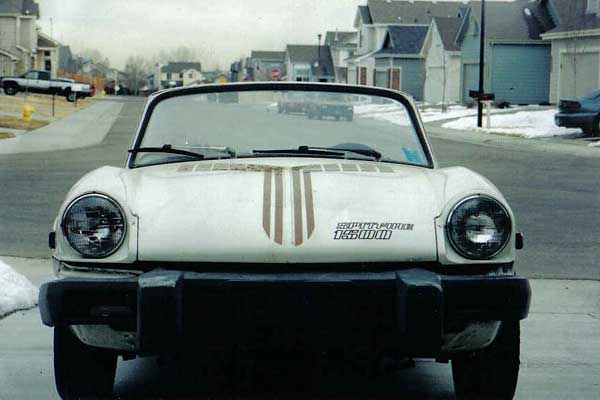 The "before" picture. This is what the Spitfore looked like when Max got it.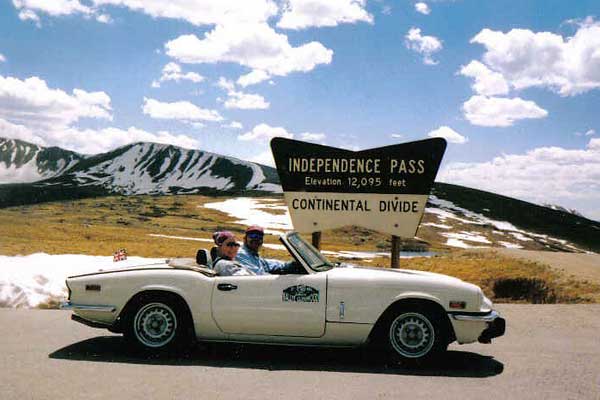 The decision that an engine swap was necessary was made while climbing this hill.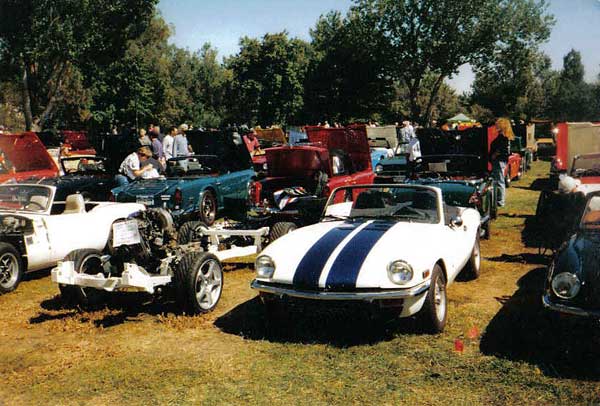 New chassis and old, parked side-by-side at a Colorado Conclave annual meet.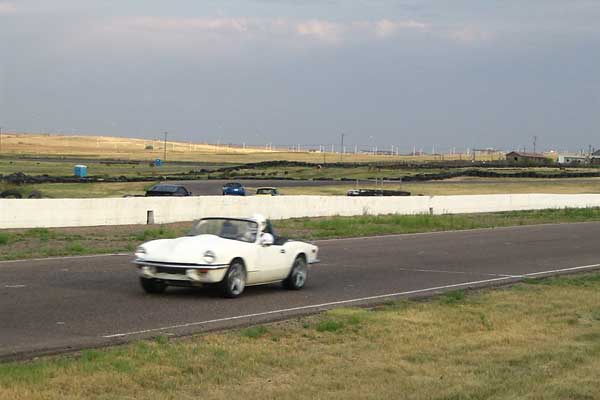 Testing and tuning at the Second Creek race track.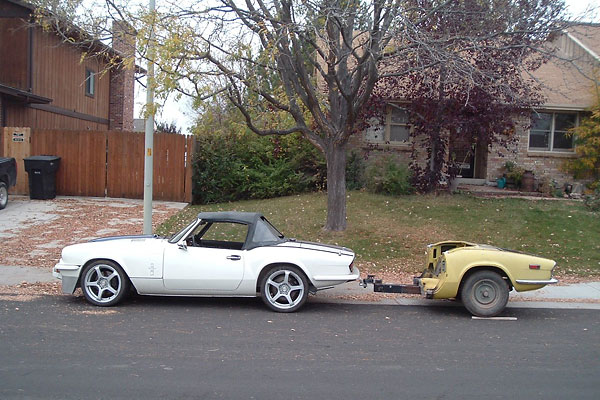 The next project? A Spitfire trailer!