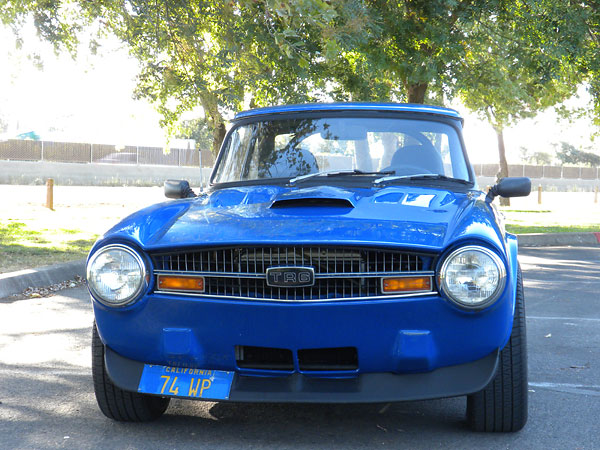 Ken Percival's 1972 TR6 / Ford 289 V8 Conversion
as published in BritishV8 Magazine, Volume XVII Issue 2, December 2009
Owner: Ken Percival
Phone: 916-368-1965
City: Sacramento, California
Model: 1972 Triumph TR6
Engine: 1965 Ford 289
Conversion performed by: Ken Percival and friends
Engine:
1965 Ford 289 "H.P." block and steel billet crank. The top end has been converted to "4V" specification (with hydraulic lifters.) The engine has a performance camshaft, but it was installed by the engine's previous owner, and its specs are unknown. Edelbrock Performer intake manifold. Holley 600cfm double-pumper carburetor. K&N X-Stream filter top. Ford distributor with Crane pick-up and rev limiter. Aluminum water pump. Front-sump oil pan. The motor mount assembly is from a kit that's made for putting a Ford 5.0 V8 into a 1953 Ford truck (see below). Canton oil pan, windage tray and racing pick-up.

Cooling:
modified stock TR6 radiator, with dual intake and exhaust ports and a 4-row core. Flexalite 16" electric fan.

Exhaust:
1965 Mustang HP iron exhaust manifolds, into a custom 2" O.D. exhaust system with dual inlet, dual outlet Dynamax muffler. (The sound is a little more "European".)

Transmission:
Borg Warner T5 5-speed (circa 1993) with 0.63:1 fifth gear. Cable operated clutch. The TR6 clutch pedal was used without modification. Ford Racing lightweight flywheel. Custom shortened driveshaft.

Rear End:
TR6 with Quaife limited slip differential and 3.69.1 ring and pinion set. Stock TR6 axles.

Chassis:
front crossmember cut 2.5" for engine clearance, and strengthened by chambering. A 1" x 1.5" channel was added in front, and a second crossmember was added with motor mounts on in. Lower A-arm suspension mounts and suspension towers were tied together with a long piece of 1/8" steel. A roll hoop was also added.

Front Suspension:
competition springs that were cut down 1". Spax telescoping shocks. Modified lower A-arms with spacer and shims to provide about 2.2 degrees of negative camber and about 4.2 degrees of positive castor. Derling bushings.

Rear Suspension:
competition springs and tube shock conversion. (A large plate was added to the body at the top mounting point.)

Brakes:
normal aftermarket upgrades from Moss Motors.
Wheels/Tires:
stock TR6 wheels. Ohtsu 205/65HR15 front tires, 215/70HR15 rear tires.

Body:
entirely custom-made, front-hinged, fiberglass front clip. German-market Triumph TR6 turn signal lamps have been mounted in the grille. Mazda Miata seats.

Instruments:
Autogauge tachometer. New temperature gauge and voltmeter.

Weight:
only 2087 pounds.

Performance:
Calvin Grannis reports that the car will easily smoke its tires in first or second gear, and that third gear is a total hoot. He also reports that the car handles especially well, apparently largely on account of the negative camber front suspension set-up.

Completed:
May 15, 2009. (Driven approximately 3000 miles as of September 2009.)


Comments:
This car was autocrossed when it had the original TR6 engine in it, and I won first place over a high dollar Jag. I beat the Jag by 4 tenths of a second. I had the negative camber in front and this helped the handling a lot. The person that owned the Jag was pretty upset at the time, so on a straight length of road he showed me who was boss.

The Ford 289 was originally installed in my MGB (with a C4 transmission and a 9" rear). The MGB was built in about 1996, and was driven until it was wrecked in September 2007. I already owned the TR6, and decided to transfer the V8 to the Triumph which took about 2 months for the basic conversion plus time for bodywork, paint, electrical, etc.

I've owned the TR6 since 1981. In 1989, I hit a patch of black ice and crashed. I lucked into a set of fiberglass fenders and a hood. I bought them used but they had never been installed, and in total they cost me less than a new steel hood. Instead of simply installing the fiberglass fenders and hood in the conventional way, I tied them all together into a one piece front clip and installed them with a custom front-tilt mechanism. The hood vents were installed in about 1994. I found that air was packing-in under the hood and causing it to bulge at speed. The Ford Mustang style hood scoop was installed when I did the V8 conversion.

This car continues to be an ongoing project. I plan to add 16" wheels and stickier tires soon. Aluminum heads and a new camshaft are also planned. Quite a lot of work has already gone into shaving weight, and weight savings continues to be a priority.

The philosophy of this build was "keep it simple". A few fundamental decisions were made early on with a view to keeping costs down: the engine was placed very carefully in the chassis, the throttle and clutch pedals were kept basically stock, a cable operated clutch was designed instead of a hydraulic clutch, and the stock radiator was used. All of these decisions have worked out well. The engine placement also facilitated use of Mustang HP manifolds, which are quieter and transfer less heat into the passenger area.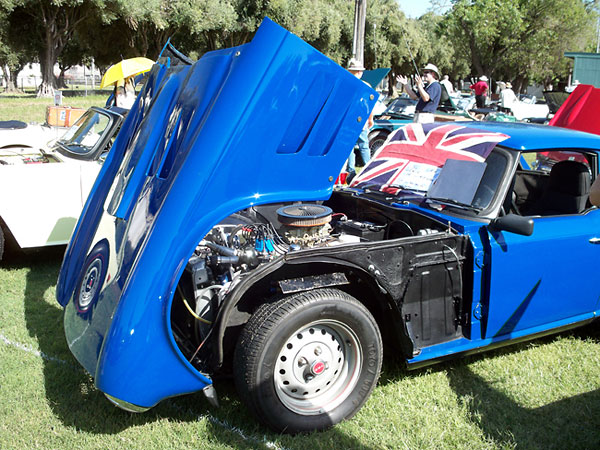 Front hinged hood!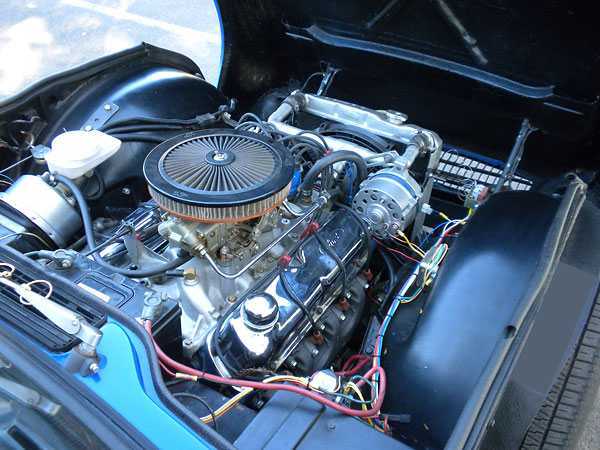 1965 Ford 289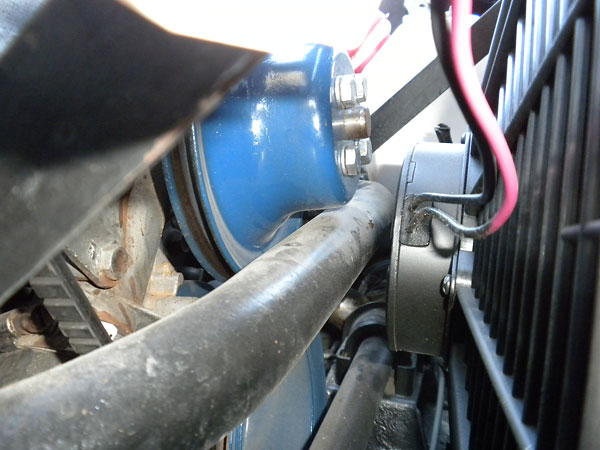 This horizontal tube is the stock Triumph TR6 upper suspension support (unmodified).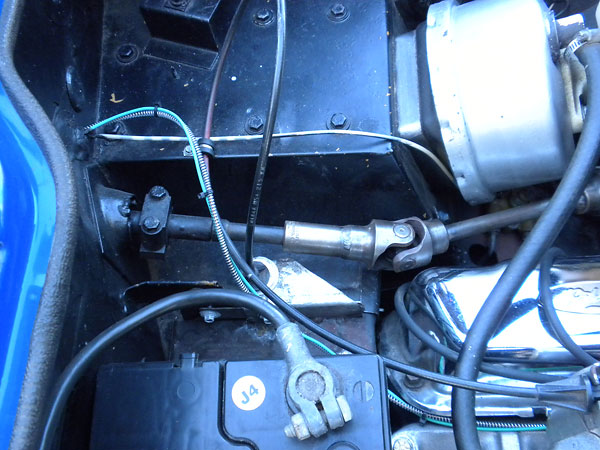 Borgeson universal joints (2).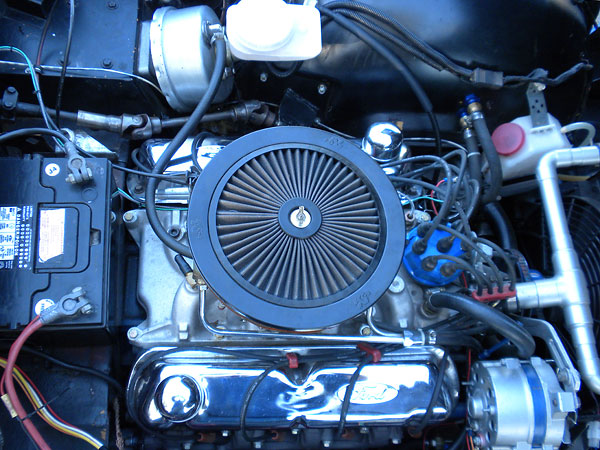 Ken strongly recommends the K&N X-Stream filter top. A Crane pick-up has been installed in the distributor,
but after using it, Ken would recommend installing a Pertronix.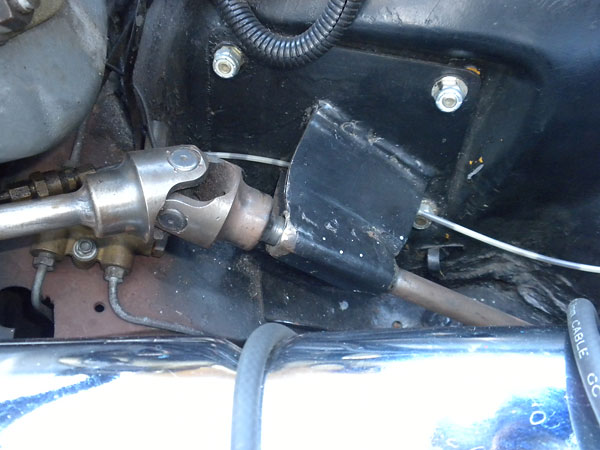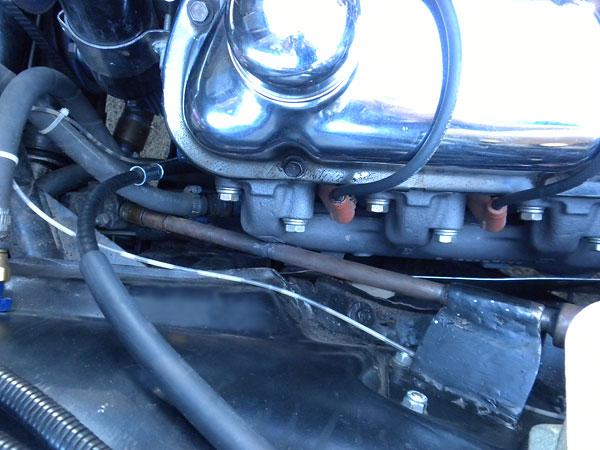 The clutch release cable can be seen in the foreground.


Enjoying this article? Our magazine is funded through the generous support of readers like you!
To contribute to our operating budget, please click here and follow the instructions.
(Suggested contribution is twenty bucks per year. Feel free to give more!)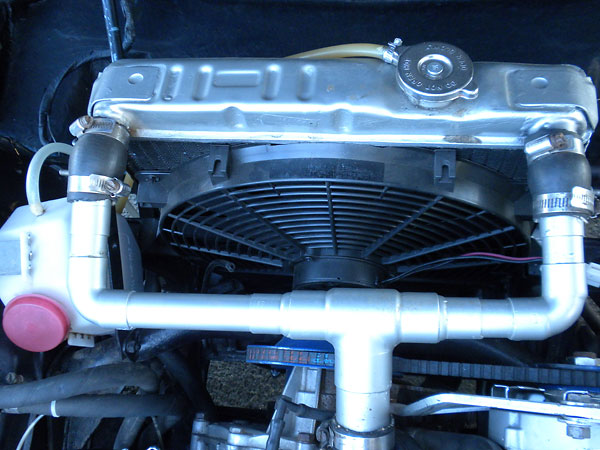 Stock TR6 radiator: since the tanks are relatively small, Ken has added a second one inch intake port. The
ports on the engine are 1.5" diameter. A similar approach was used for both top and bottom radiator tanks.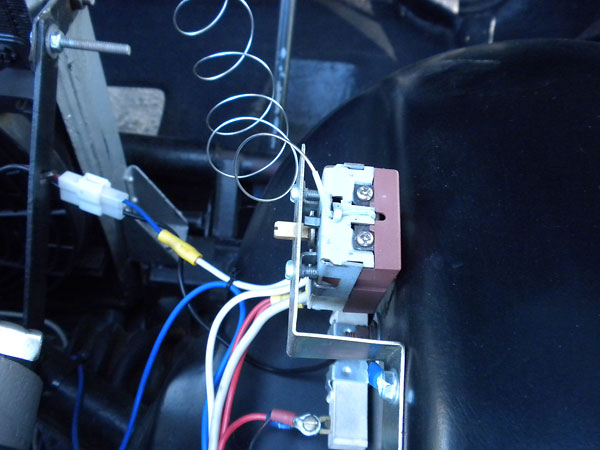 Cooling fan thermostat.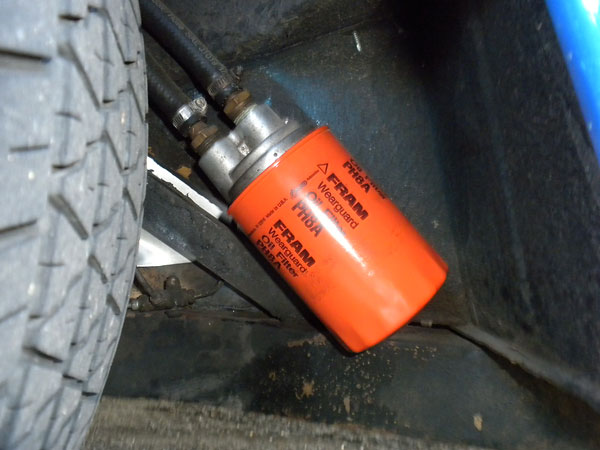 Remote oil filter installation.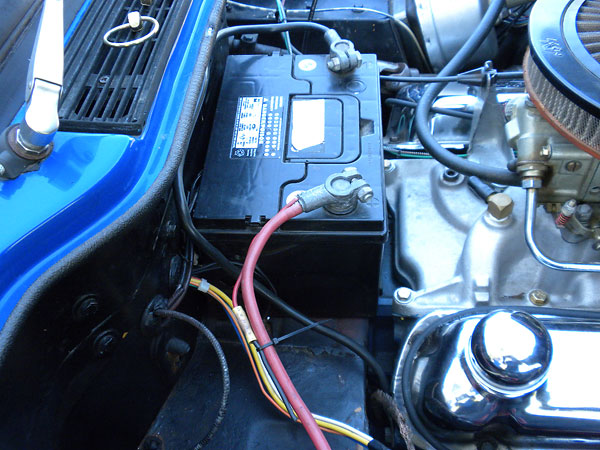 Battery remains in the stock position, on an unmodified battery shelf.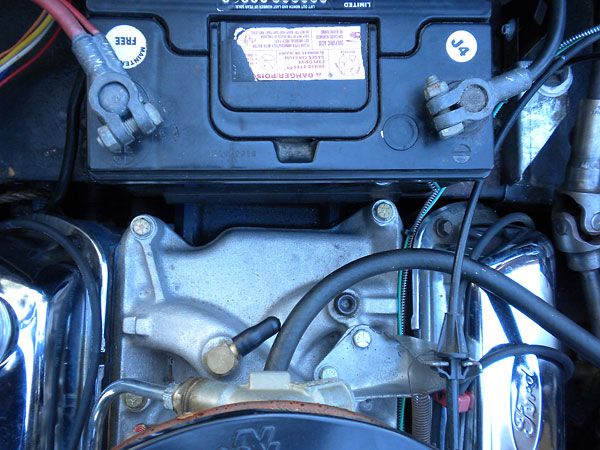 Clearance between engine and battery tray.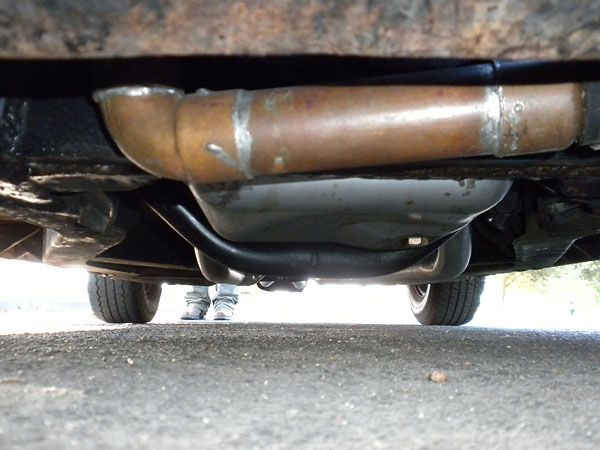 It's impossible to see here, but this copper adapter converts from a single 1.5" radiator port
on the engine, to two 1" diameter ports on the bottom radiator tank.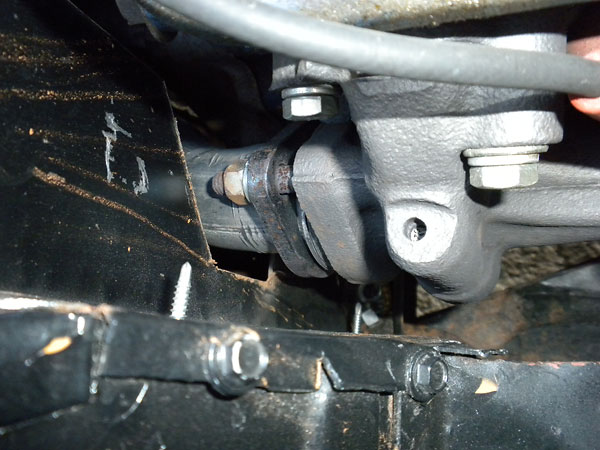 Couplings on the iron exhaust manifolds.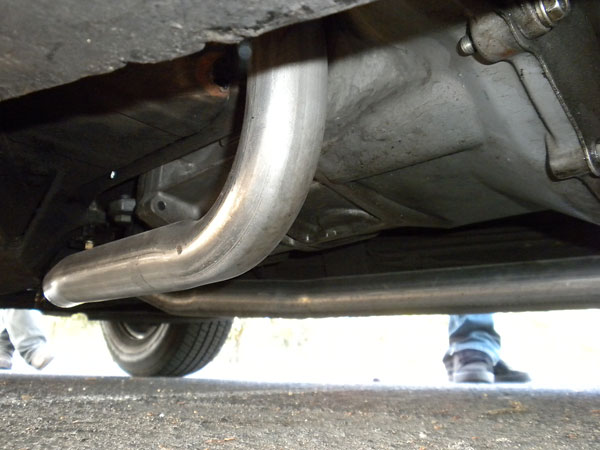 Exhaust pipes from the manifolds rearward.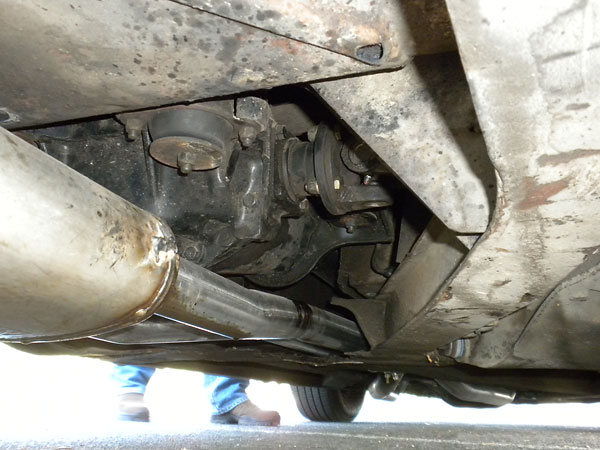 Exhaust pipe routing.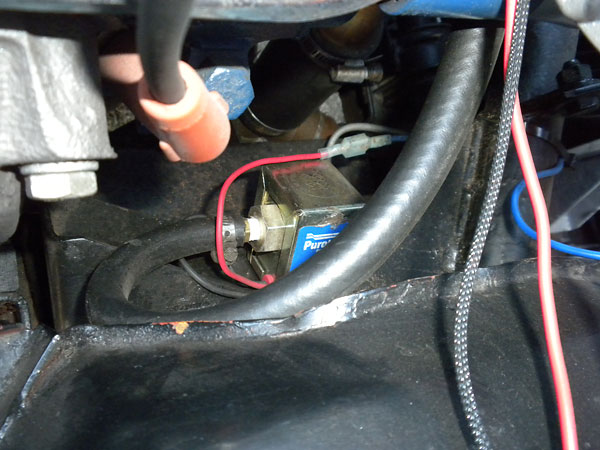 Purolater fuel pump.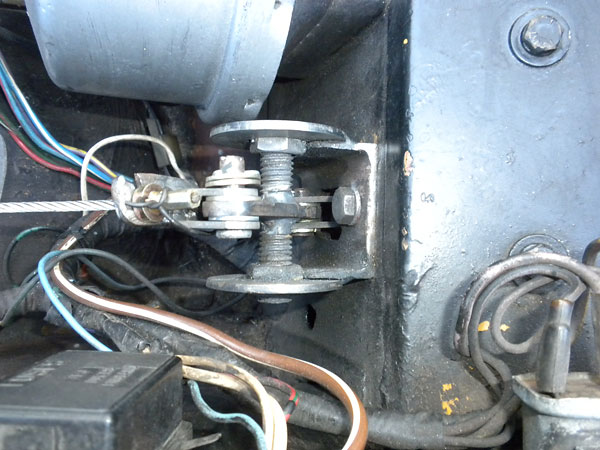 Clutch cable bracket/bellcrank on firewall, bolts through existing bolt holes.
The crank levers only need to be about 1.5" long.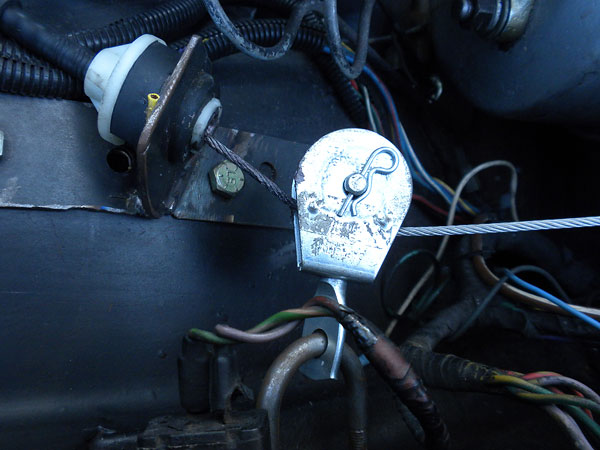 The clutch release cable core is actually a modified emergency brake cable, which is quite robust.
The cable needs to have crimped-on terminals at the right length. Shops do that locally for about $30.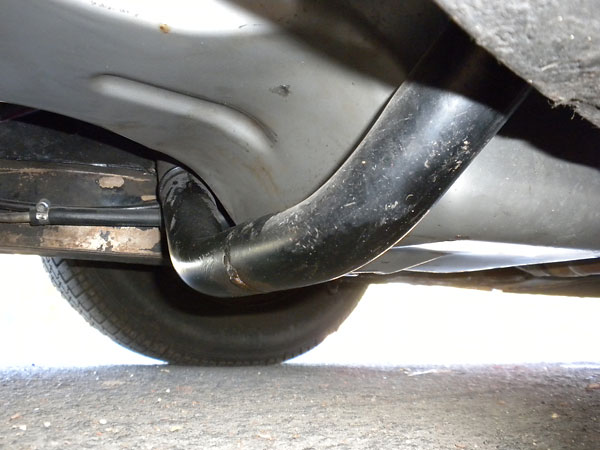 The crossmember shown here is the lowest point on the chassis. It's part of the motor mount
assembly from a kit that's made for putting a Ford 5.0 V8 into a 1953 Ford truck, and it's
welded to the Triumph frame. The actual rubber motor mounts are standard Ford parts.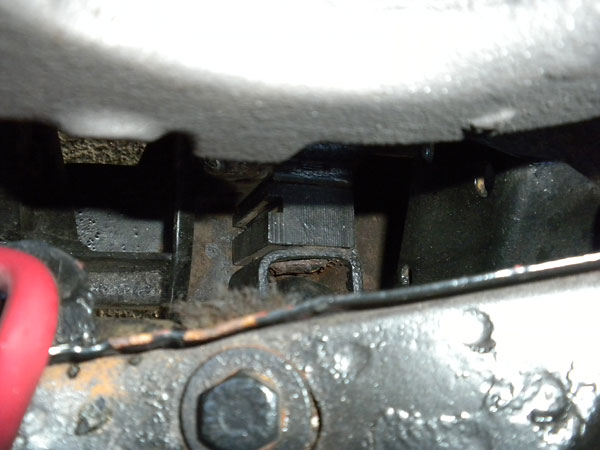 Spacer blocks provide negative camber.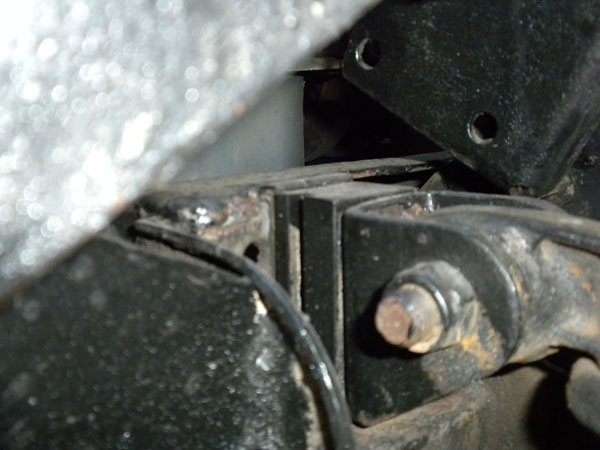 (The mounting points of the lower control arms have been spaced away from the frame.)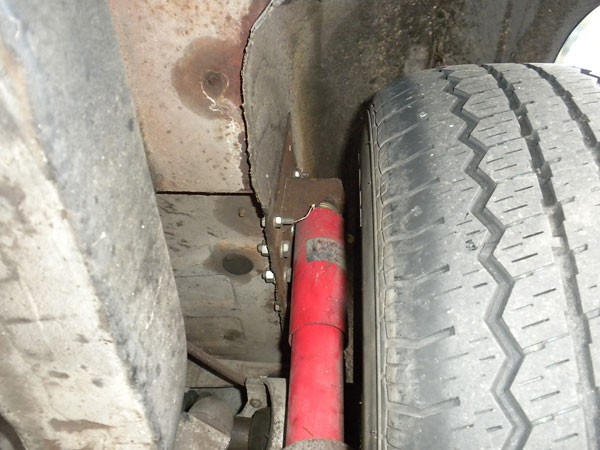 Rear tube shock conversion.


Customized TR6 Body: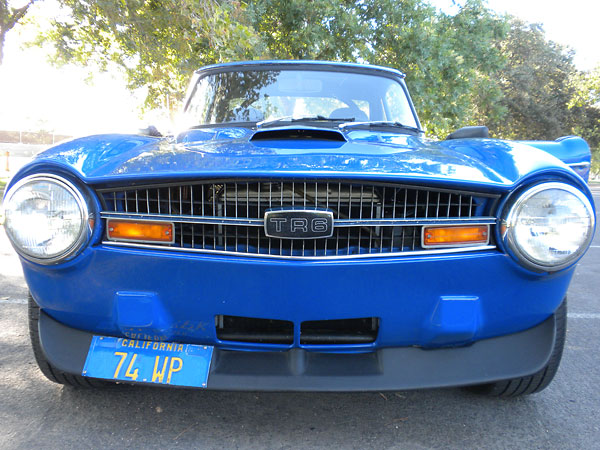 Removed front bumper.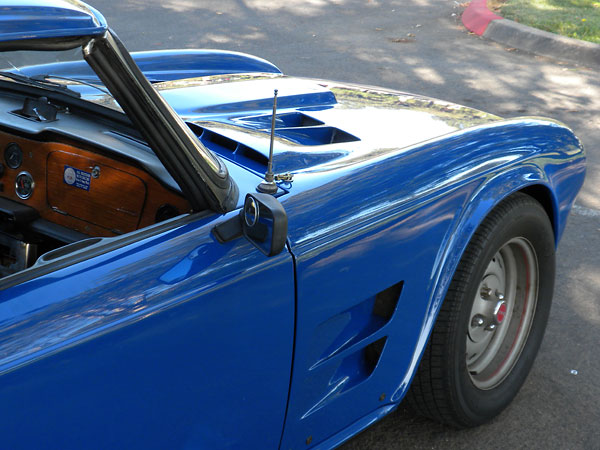 Vented hood.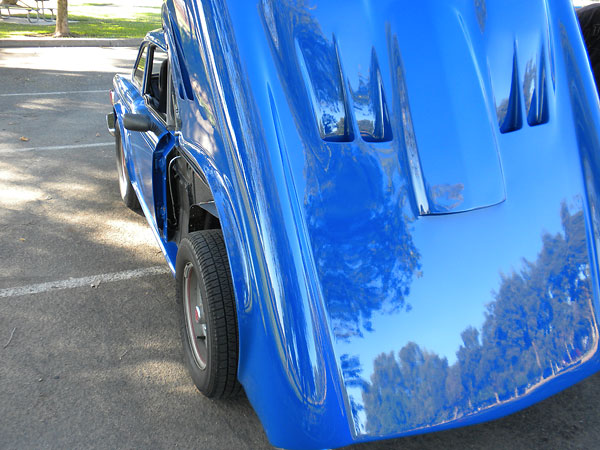 Ford Mustang style hood scoop.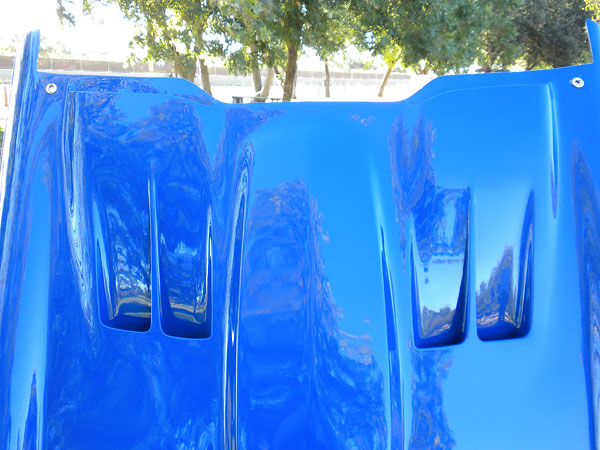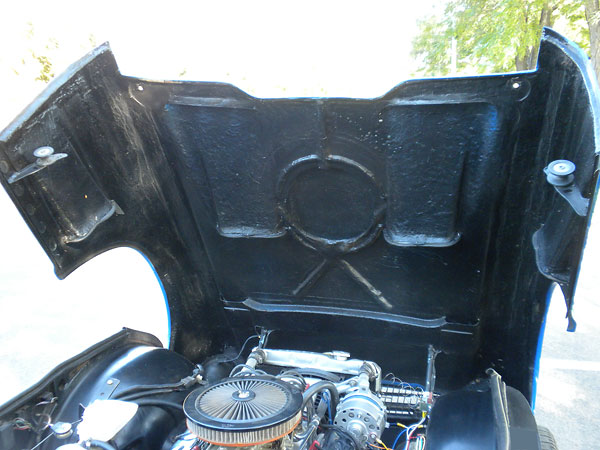 Instead of installing fenders and hood the conventional way, I created a one piece front clip...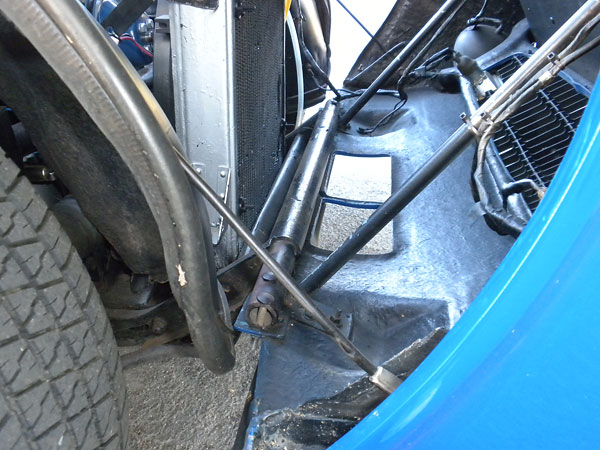 ...and installed it with a hinge at the front.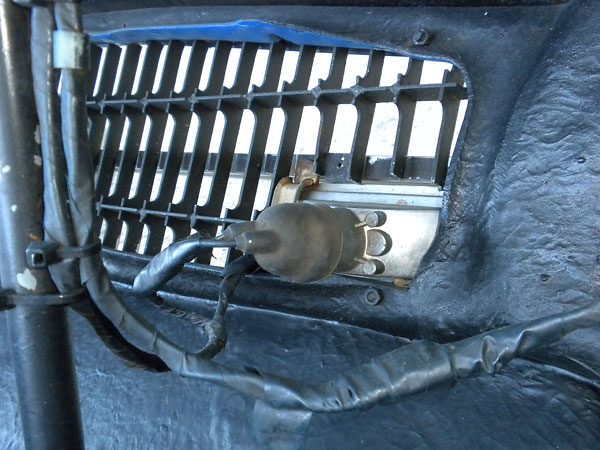 German (Merkur?) turn signal lamps have been mounted in the grille.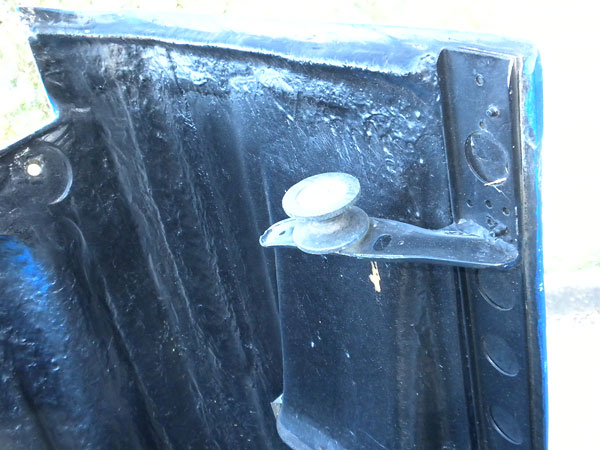 Hood latch pin.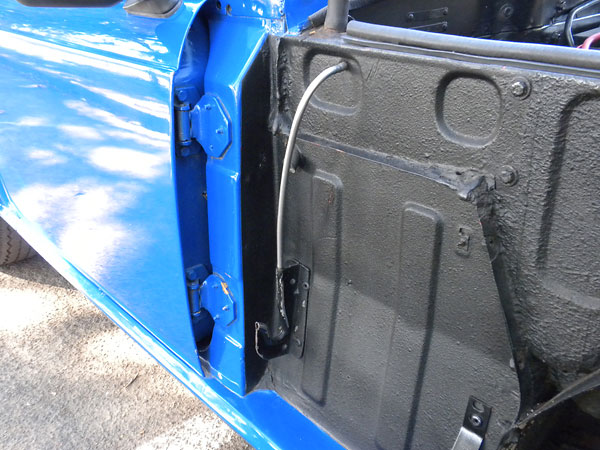 The roller and clip hood alignment parts are from BMW 2002. Metal guides have been added above the clips.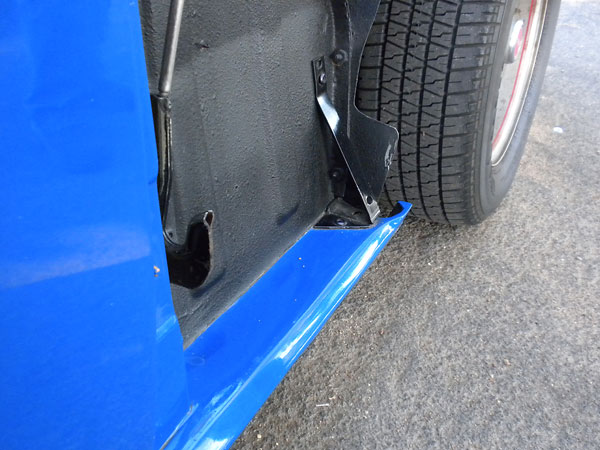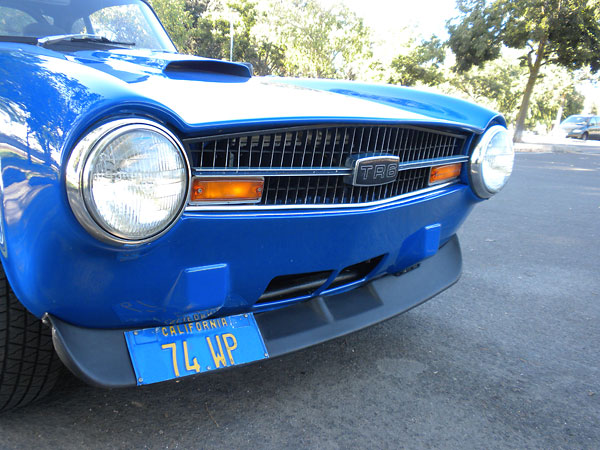 Air dam.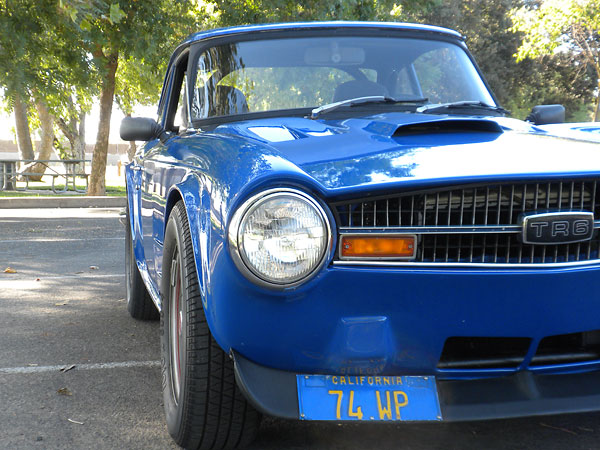 In this photo you can percieve the negative camber front suspension alignment.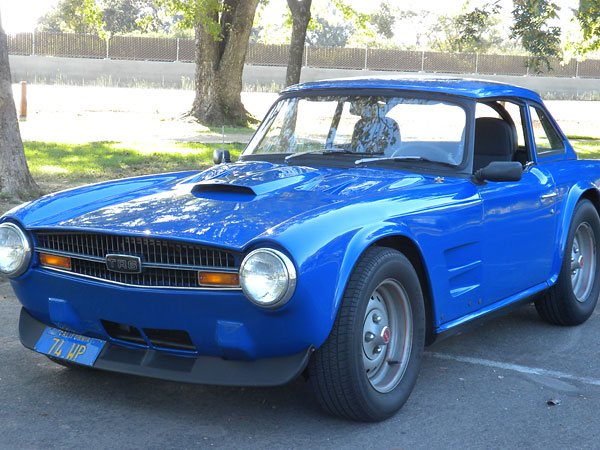 Stock Triumph TR6 wheels.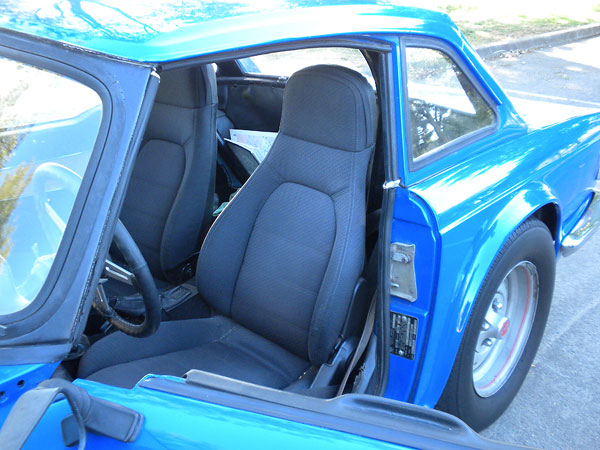 Mazda Miata seats.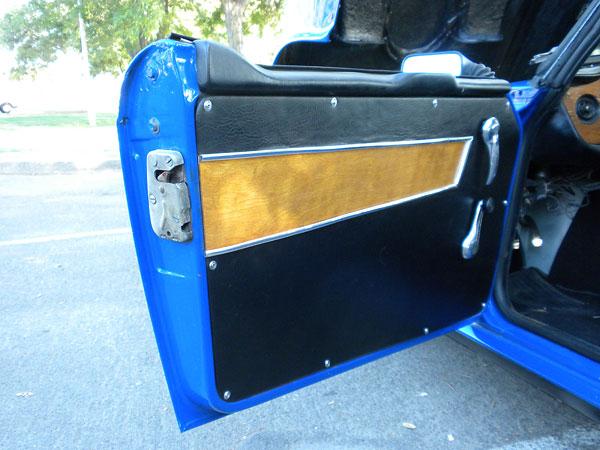 Door trim panel.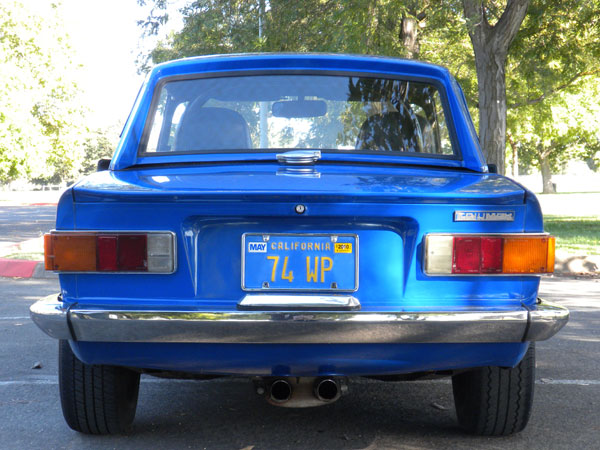 Subtle dual exhaust tips.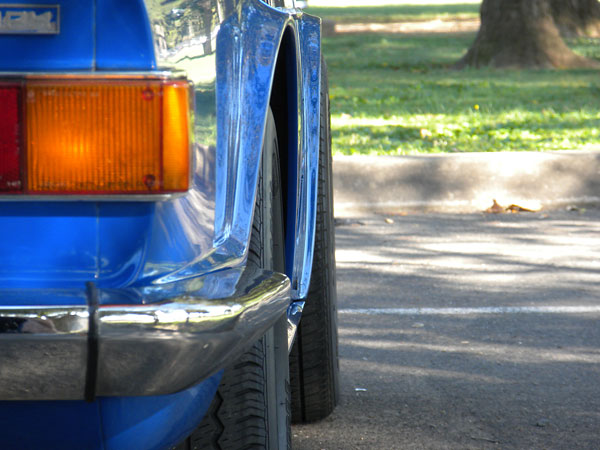 Stock Triumph TR6 fender flares.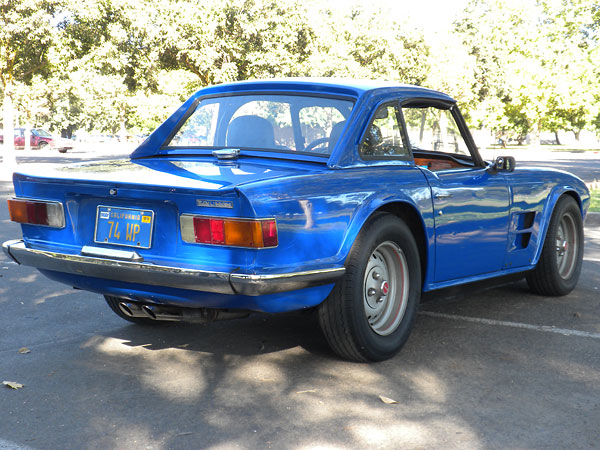 Chrome trim has been removed from this Triumph TR6 factory hardtop.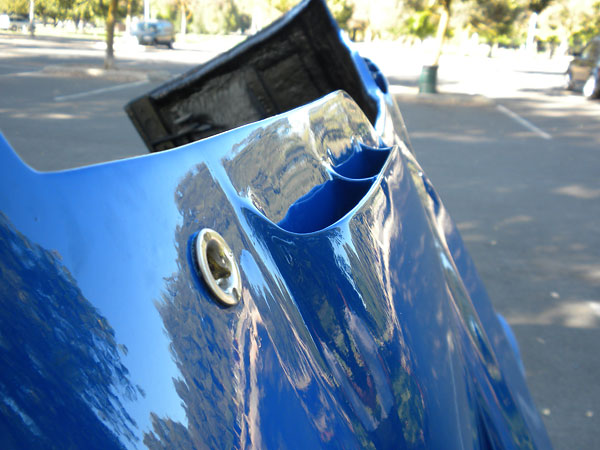 Hood pins provide peace of mind.


The photos shown here are were taken by Calvin Grannis for exclusive use by BritishV8 Magazine.
Copyright 2009. All rights reserved.