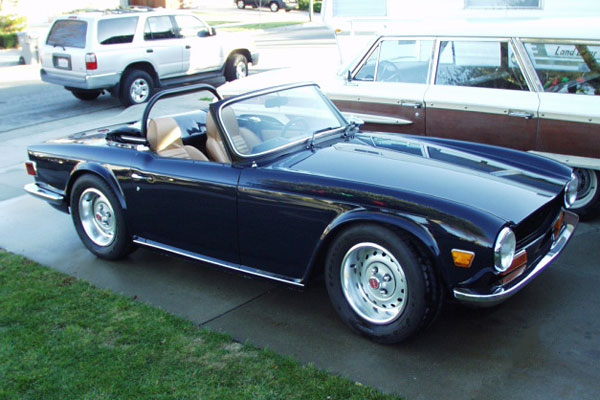 John Butruce's 1972 TR6 with a Ford 302 V8
as published in British V8 Newsletter, Volume XV Issue 3, December 2007
Owners: John Butruce
City: San Jose, CA
Model: 1972 Triumph TR-6
Engine: Ford 302
Conversion performed by: Owner
Engine:
Ford 302 from a 1970 Torino. Stock intake manifold, heads, and cam. Mallory distributor. Ford alternator.

Exhaust:
"Quiet" dual exhaust (Ford iron manifolds) with 2 small stock-type mufflers.

Cooling:
Griffin aluminum radiator. Moroso water pump.

Transmission:
C4 automatic from a 1969 Ford F100. Shortened Ford driveshaft.

Rear axle:
narrowed Ford 9 inch, with 3.25:1 final drive ratio.

Suspension:
(front) uprated front springs, Koni shocks, lowered by spacing lower A-arm plate.
(rear) TR4A leaf springs and KYB shocks.

Brakes:
stock front discs. Ford drum rear brakes.

Wheels/Tires:
stock TR6 wheels with BF Goodrich Comp T/A 225-60-R15 tires.

Interior:
Stewart Warner gauges in a custom aluminum dashboard.

Date completed:
the engine swap was completed in 1983 and the car was used as a daily driver until 1987, when it was completely disassembled, painted and updated with the Ford 9" rear axle. It was back on the road in 1999, and has been driven 20,000 miles since then (as of December 2007).