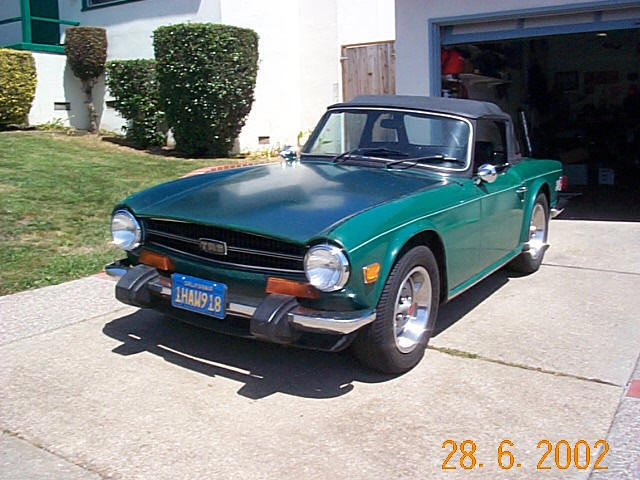 Hank Kingon's 1974 TR6 with Buick 3.8 V6
(as recorded by Dan Masters)
Hank writes:
I e-mailed you months ago and you asked me to send you some pictures of my 1974 TR-6 when I had them.
Well over the past month I did some work on it and decided that since is was somewhat apart, I would take a few pictures. I will be happy to explain anything to you.
The car has a 1979 3.8 V6 with a 3 speed automatic transmission. The car looks very stock expect for the exhaust pipe. I just didn't want that pipe sticking out the back of it. The car needs a paint job but I'm not going to that until I'm happy everything is working as it should and I'm not tinkering with it.
As you can see, it has ALL the smog equipment (required in California) and it is currently registered and driven. I'm considering either putting in an overdrive or changeing the rear end gears. I can't stand the engine turning over 3,000 RPMs going 65 mph. I want to get it down to about 2,300 RPMs, at least. However, at this time I really enjoy the "Off the line acceleration". I leave everyone in the dust. I especially like to leave those Z3's standing.
When it is time, I also want to install a bigger radiator, like one of the other TR6 conversion shown on the website.